Emily - 8/31 - Posters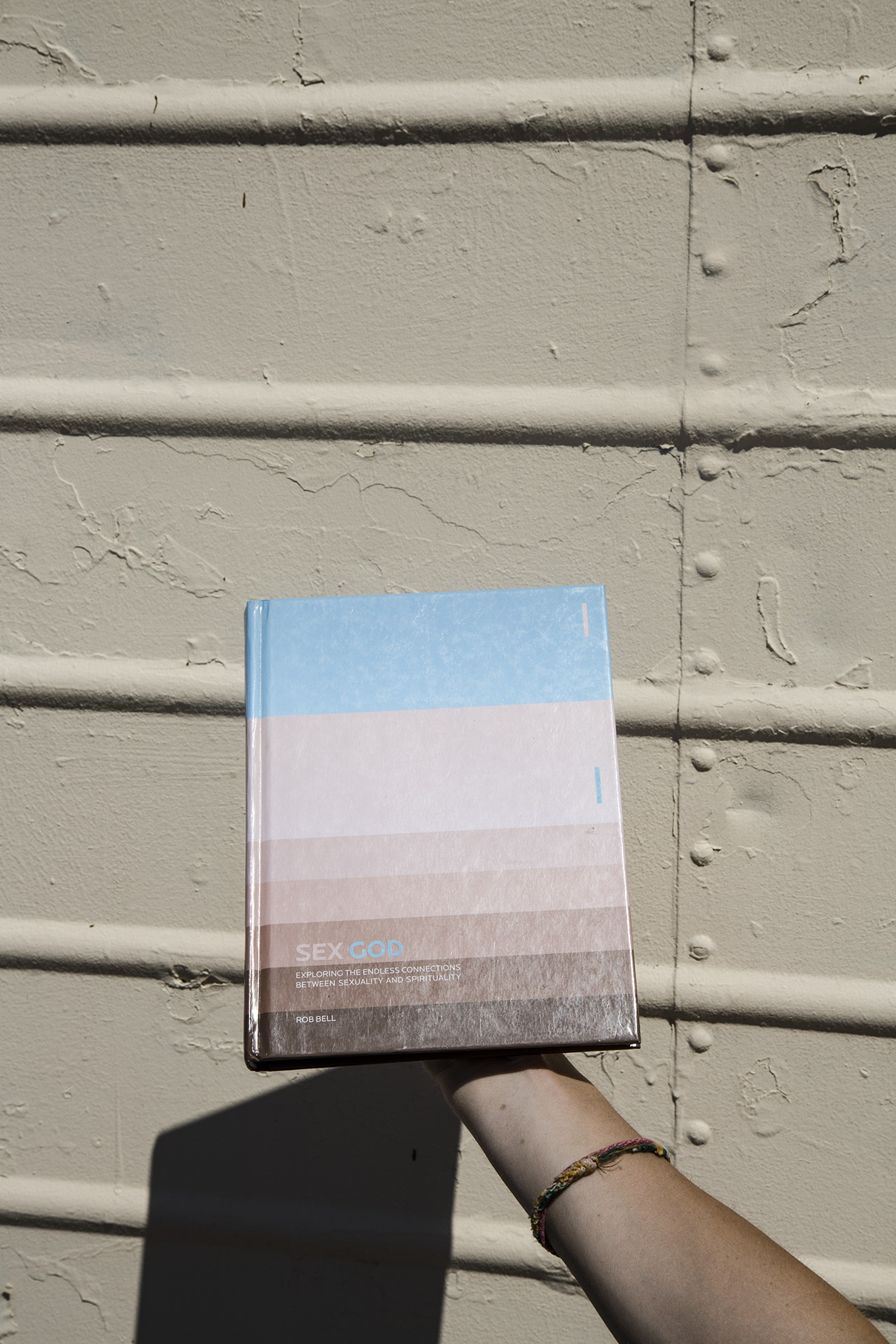 Corey - 8/31 - Sex God, by Rob Bell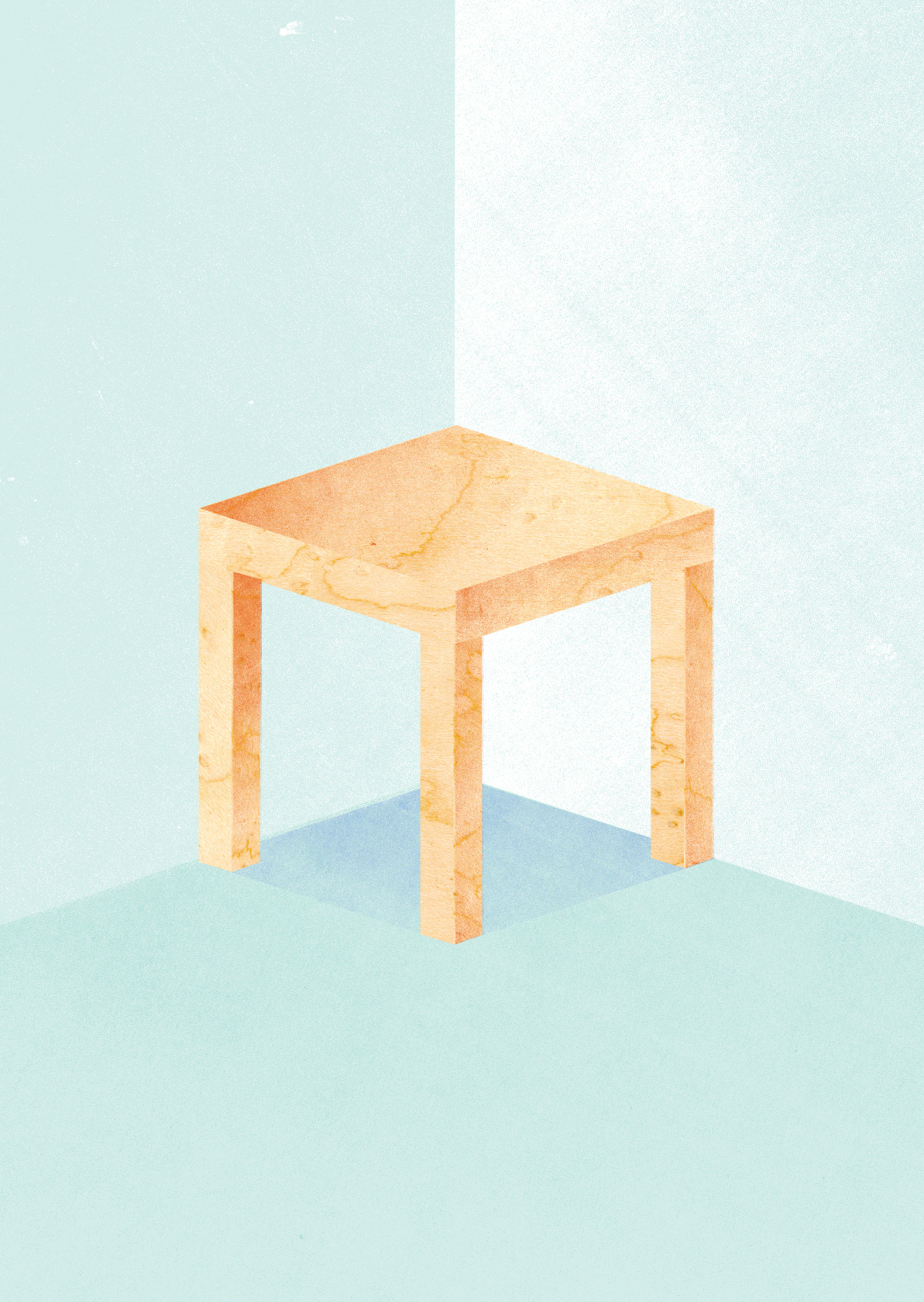 Emily - 8/30 - IKEA Side Table
Corey - 8/30 - Sun Midnight Sun, by Sara Watkins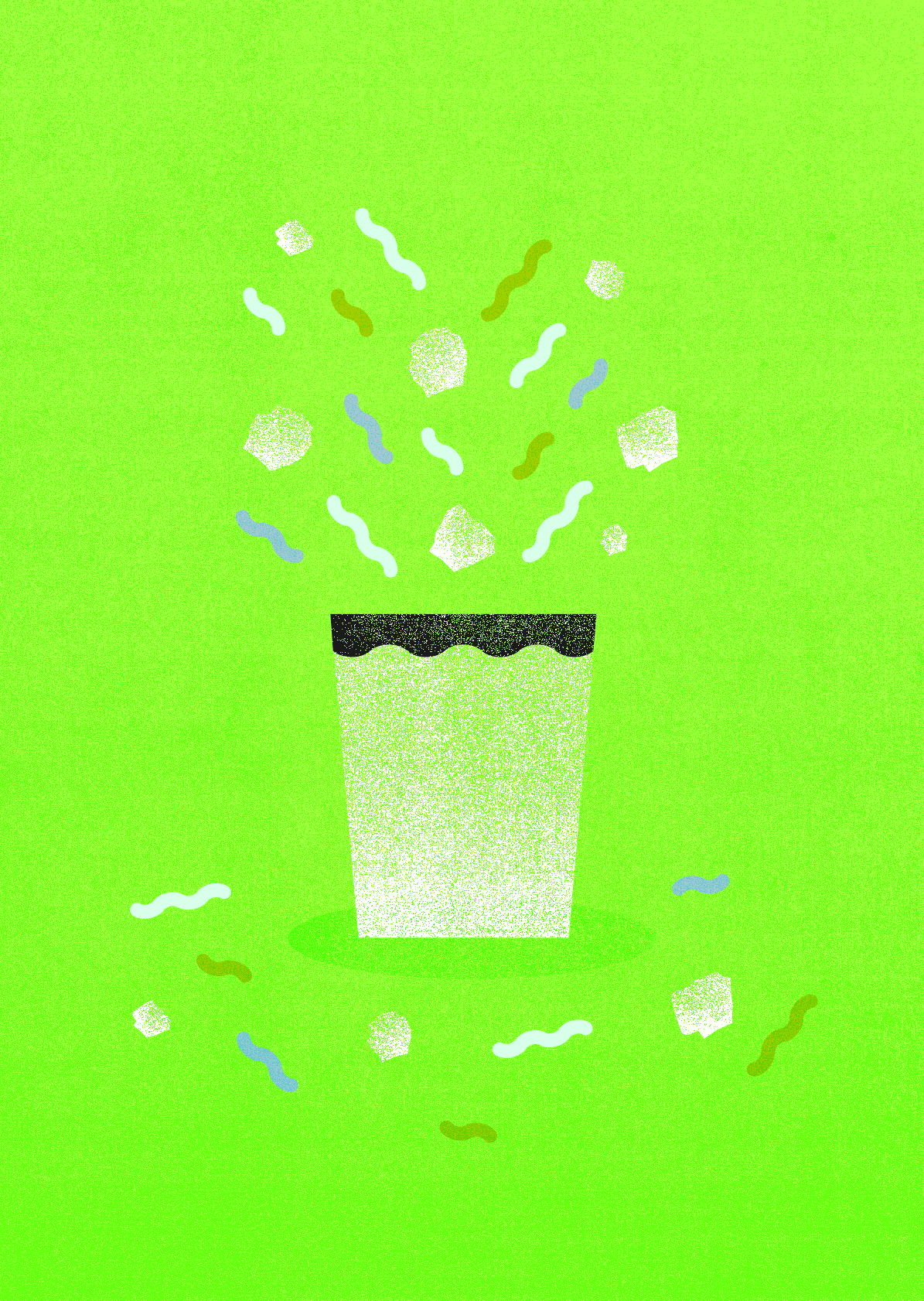 Emily - 8/29 - Trash Can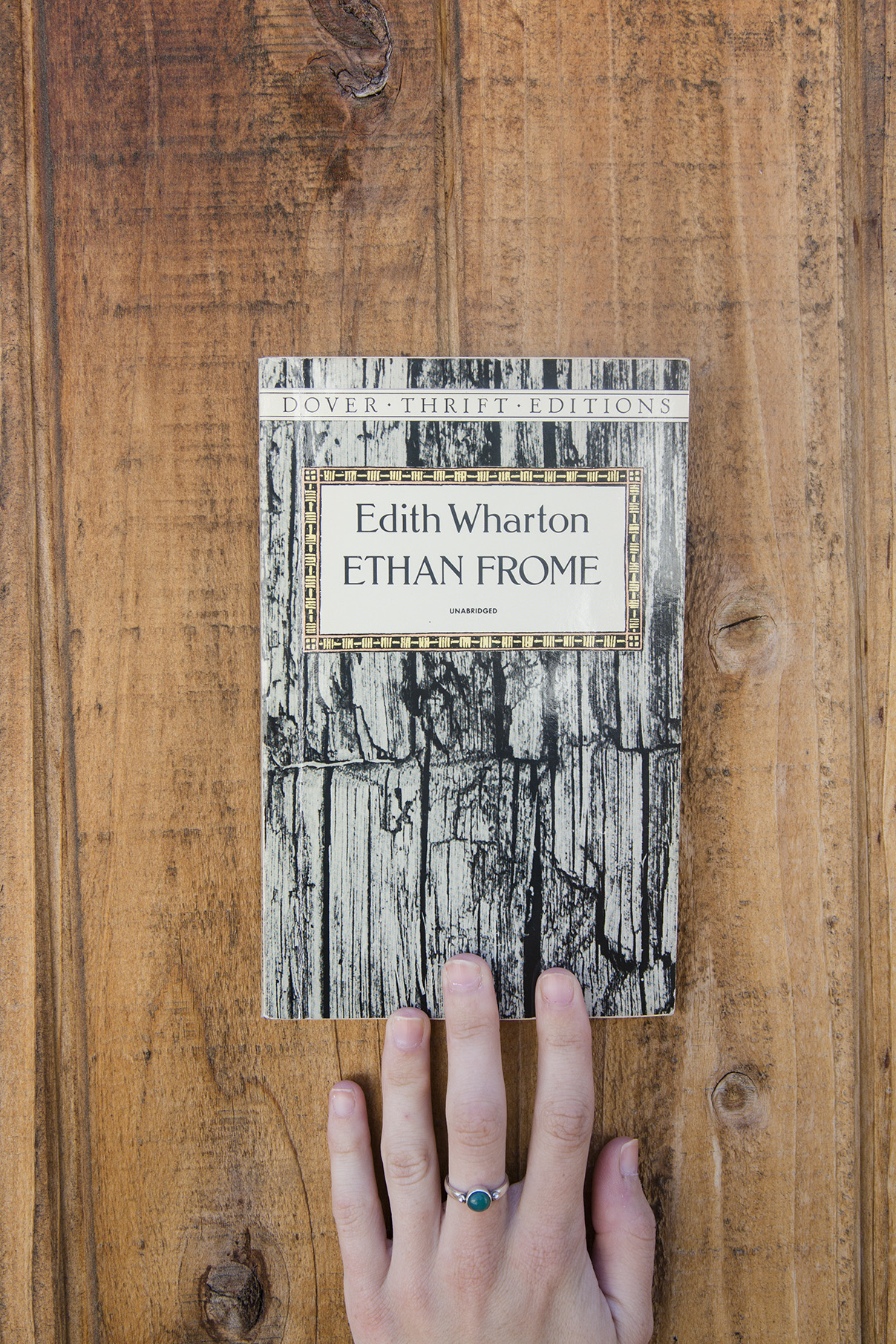 Corey - 8/29 - Ethan Frome, by Edith Wharton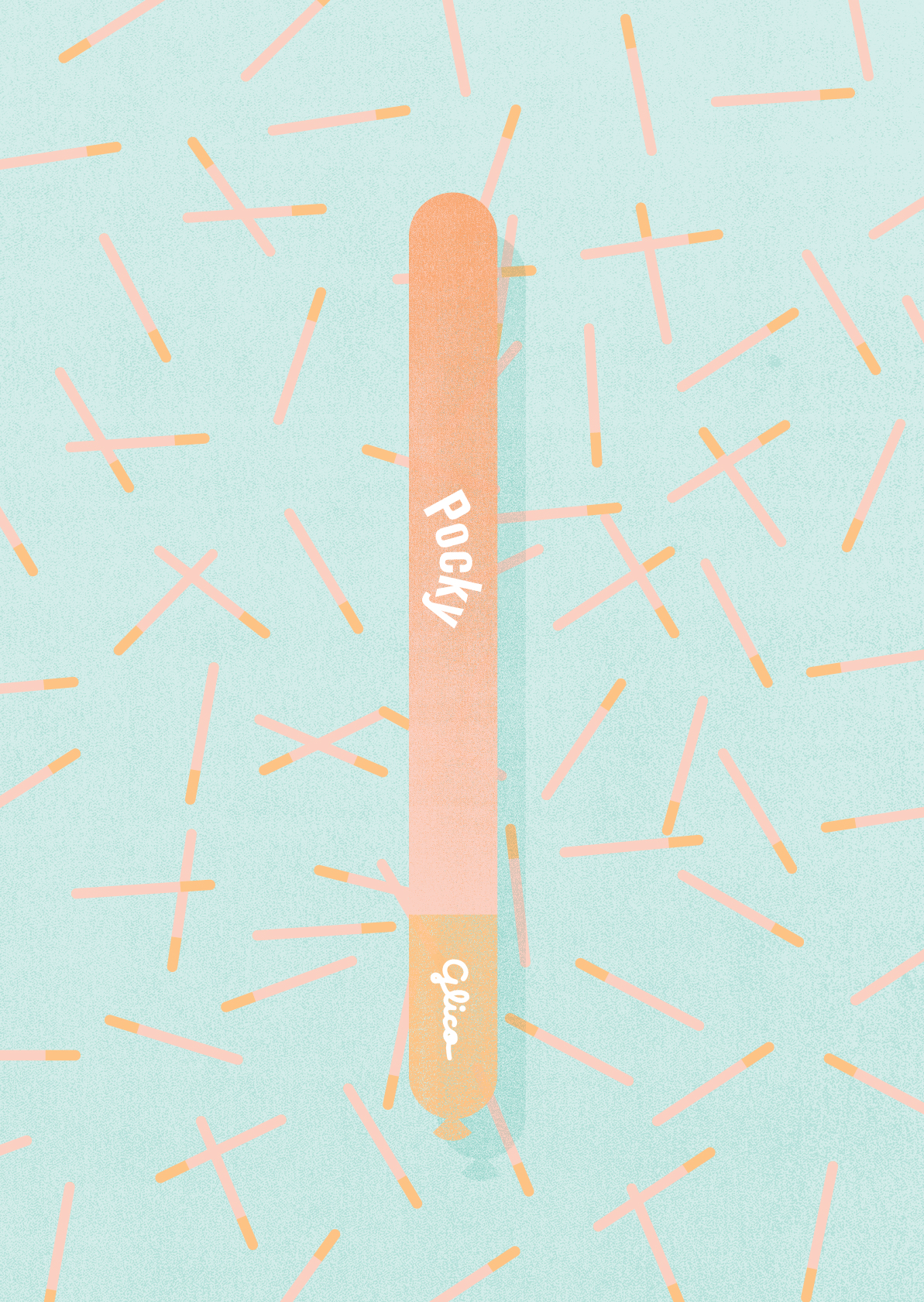 Emily - 8/28 - Pocky Balloon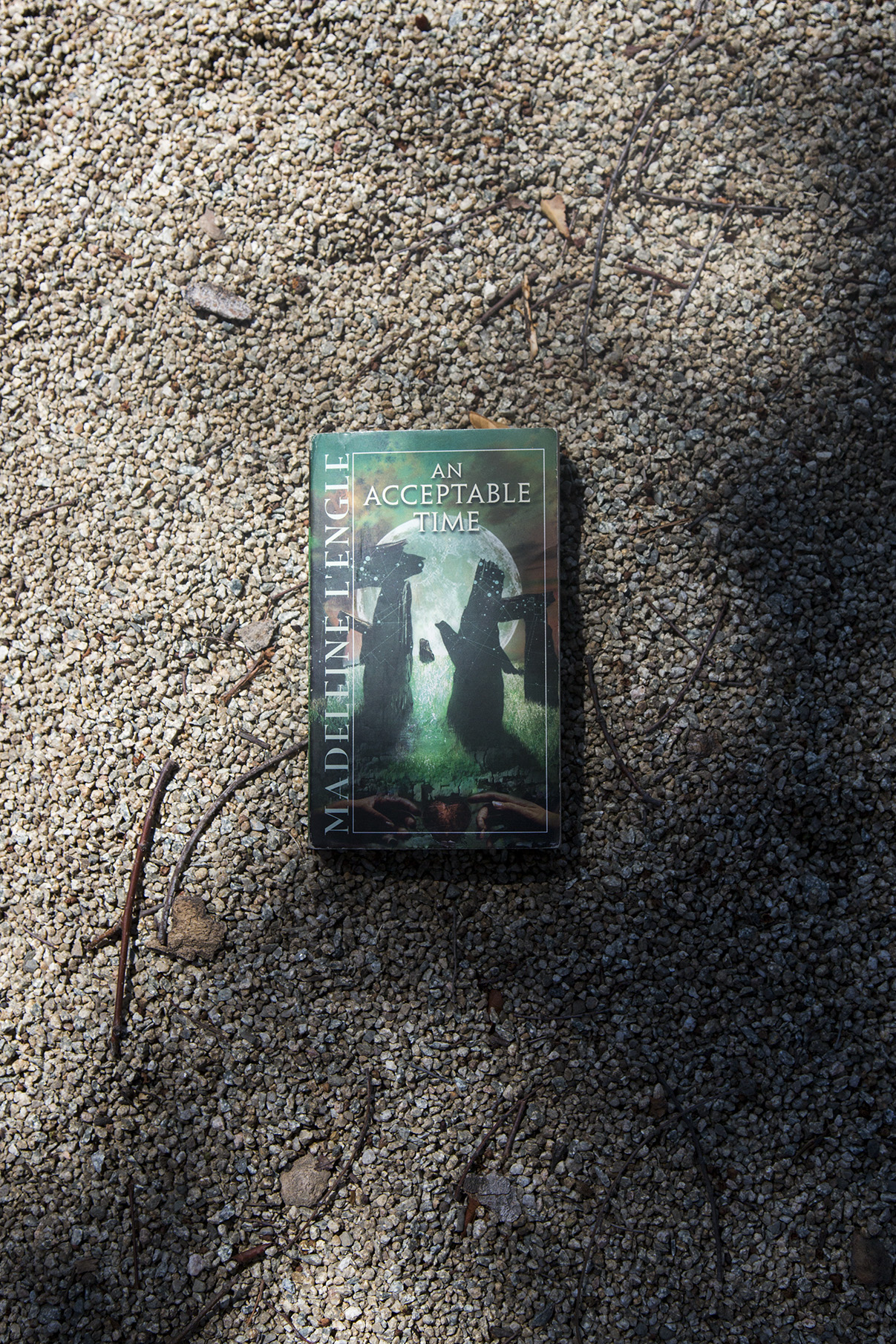 Corey - 8/28 - An Acceptable Time, by Madeleine L'Engle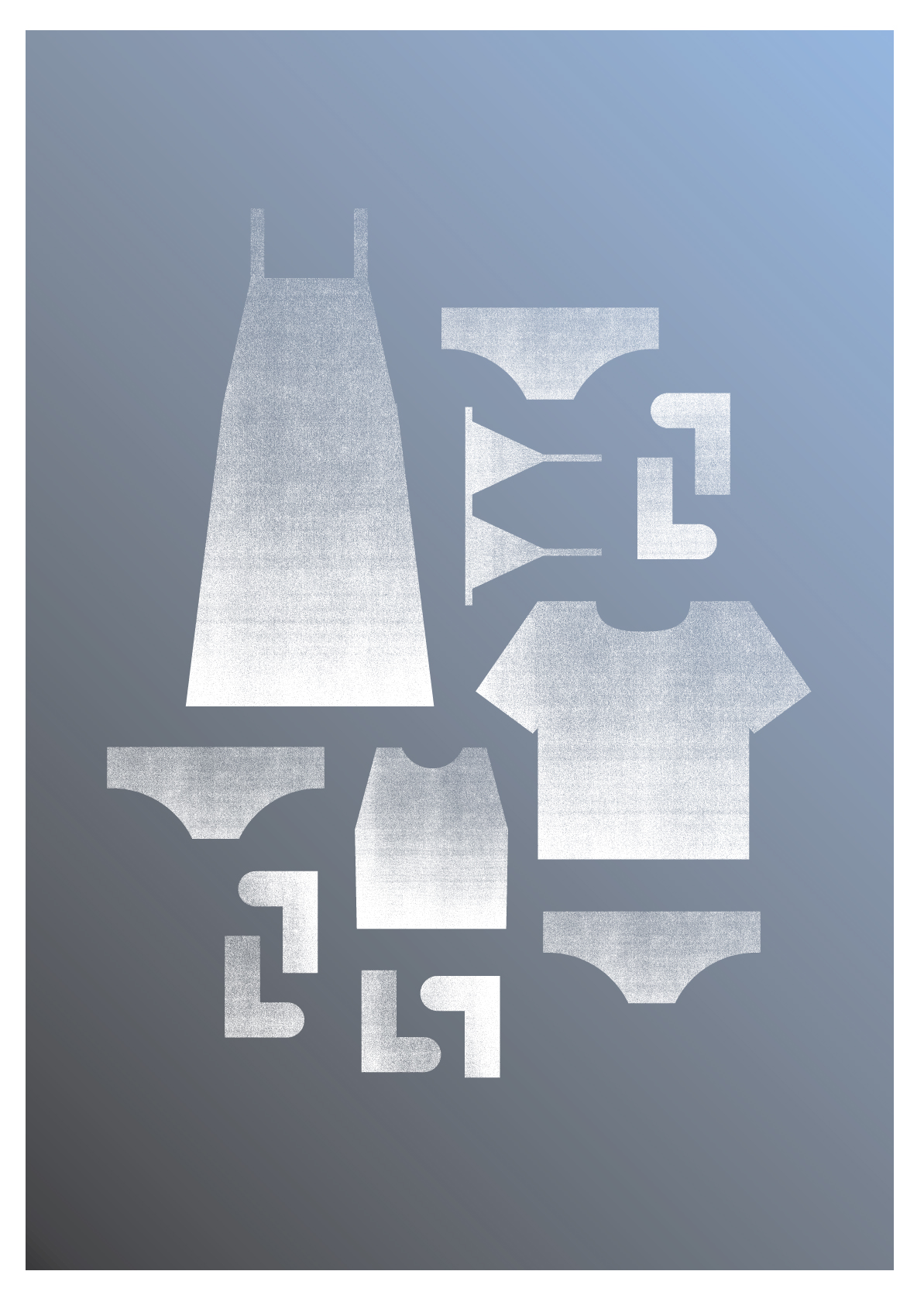 Emily - 8/27 - White Clothes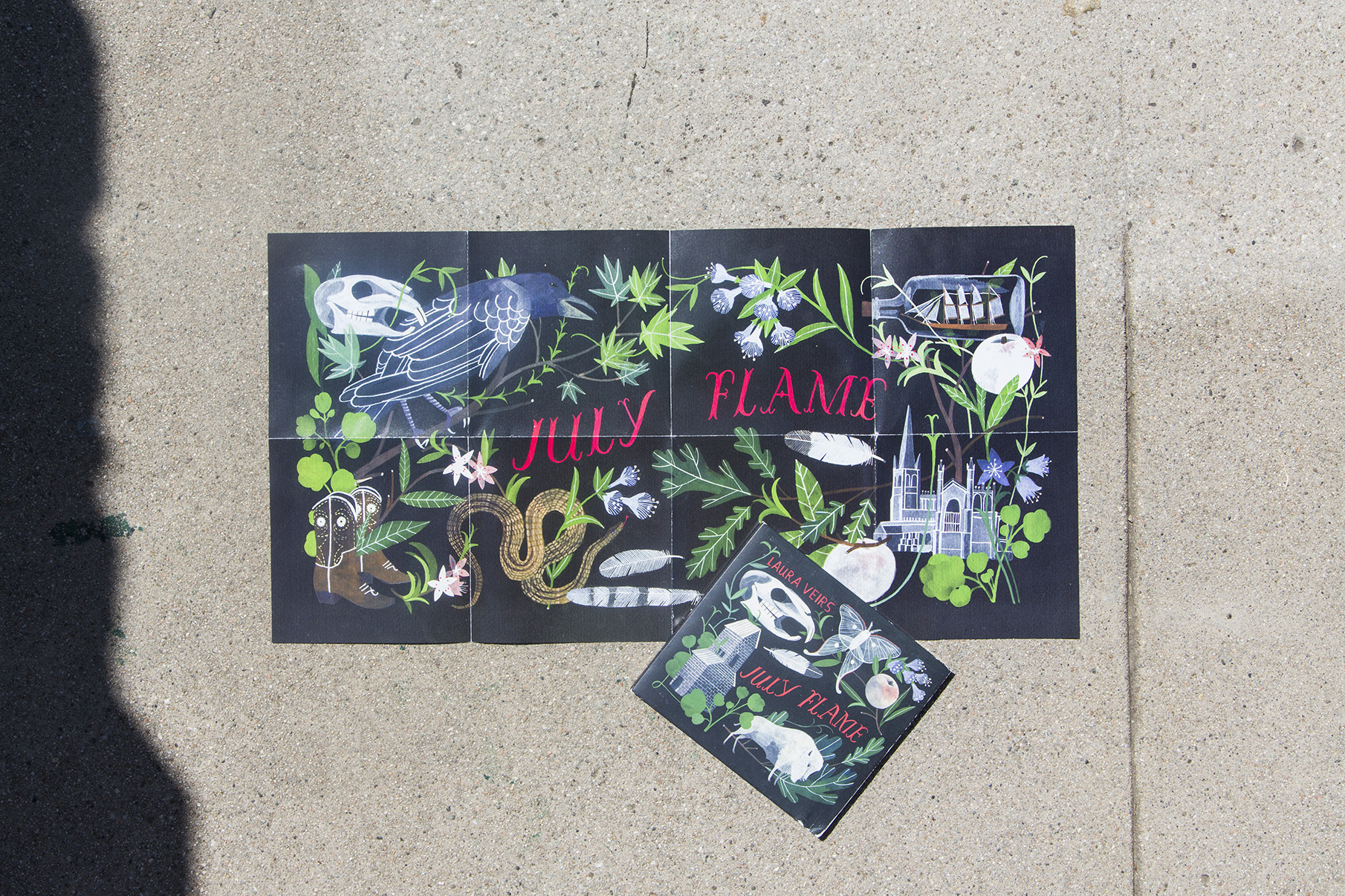 Corey - 8/27 - July Flame, by Laura Veirs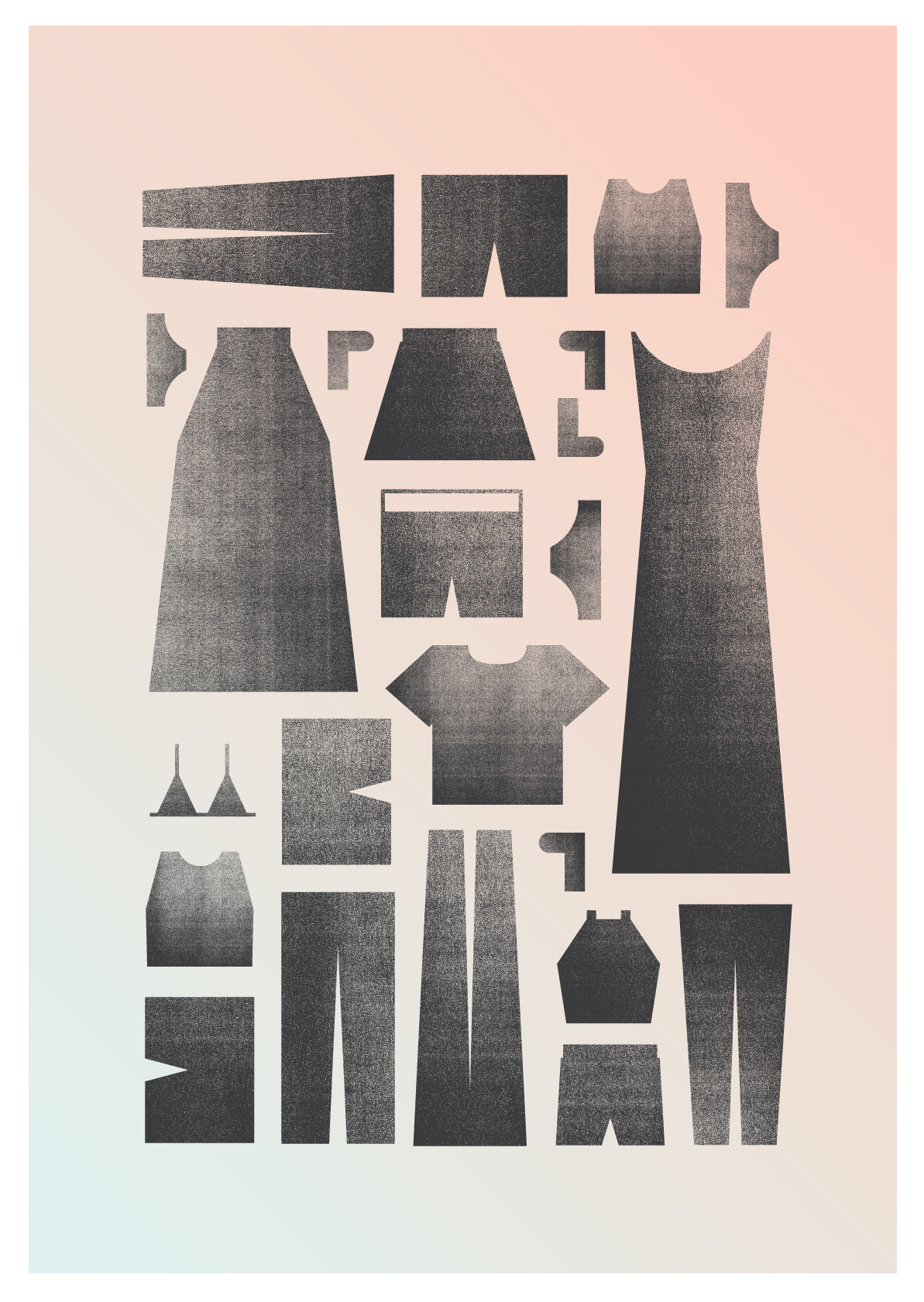 Emily - 8/26 - Black Clothing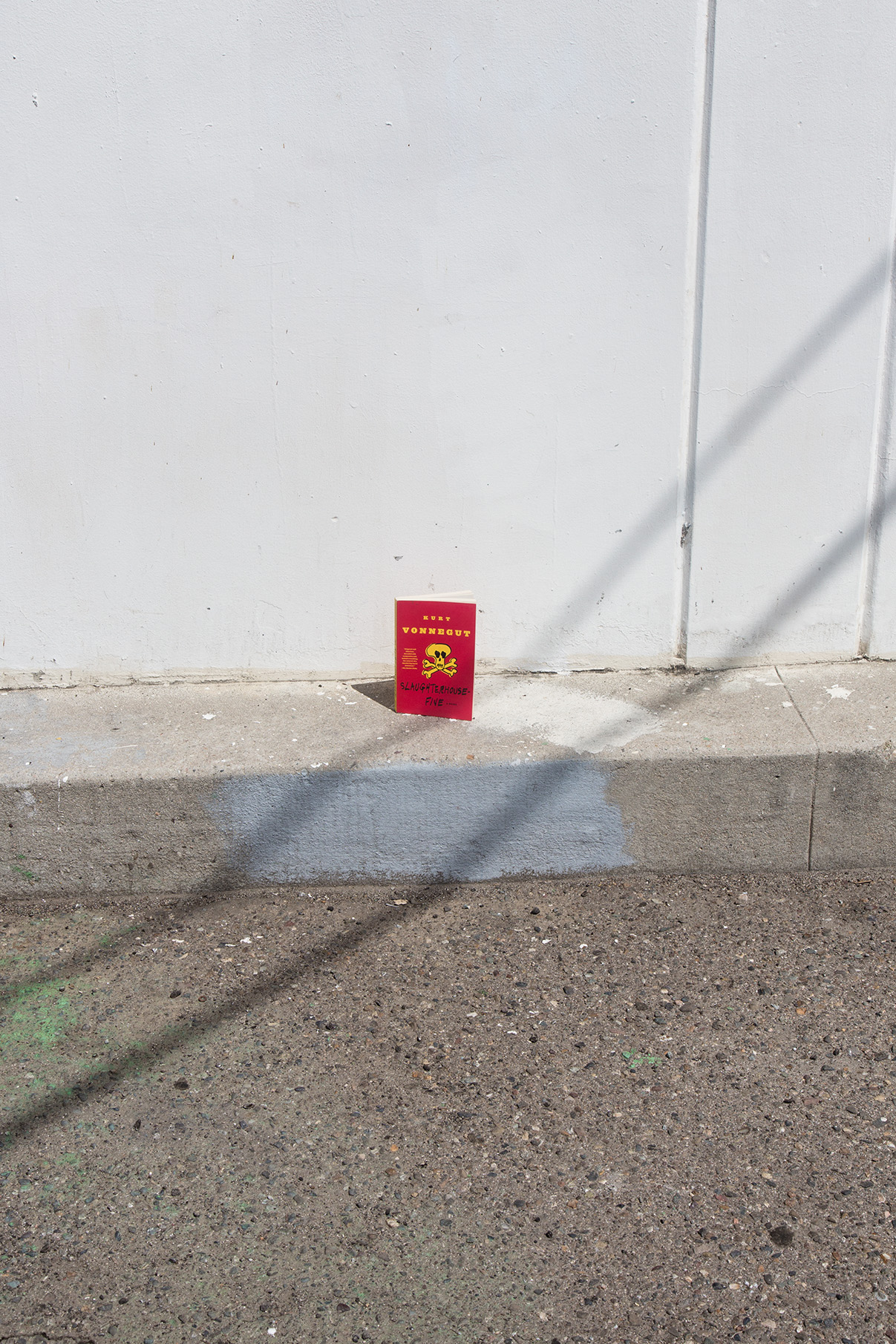 Corey - 8/26 - Slaughterhouse 5 by Kurt Vonnegut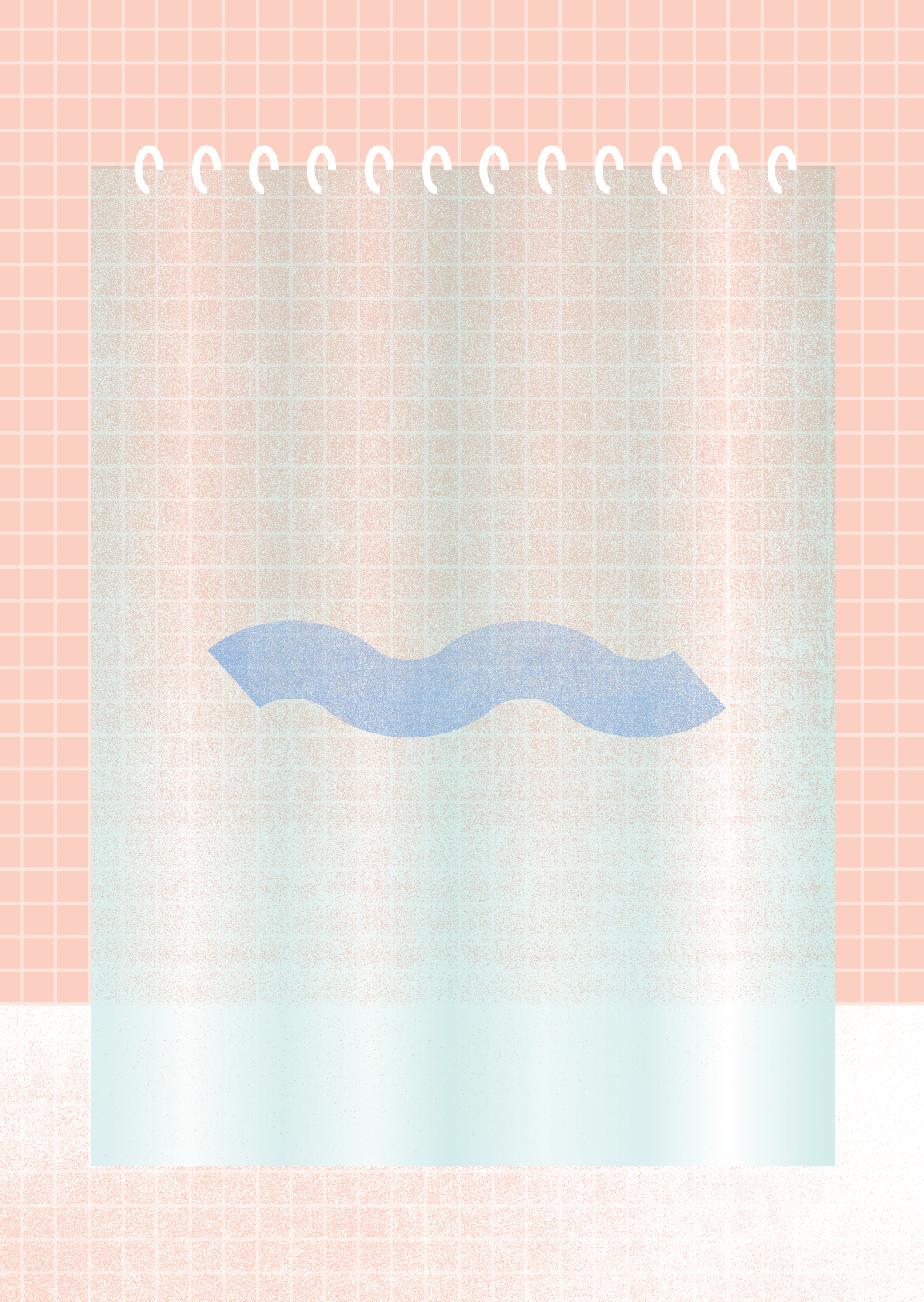 Emily - 8/25 - Muji Shower Curtain and Towel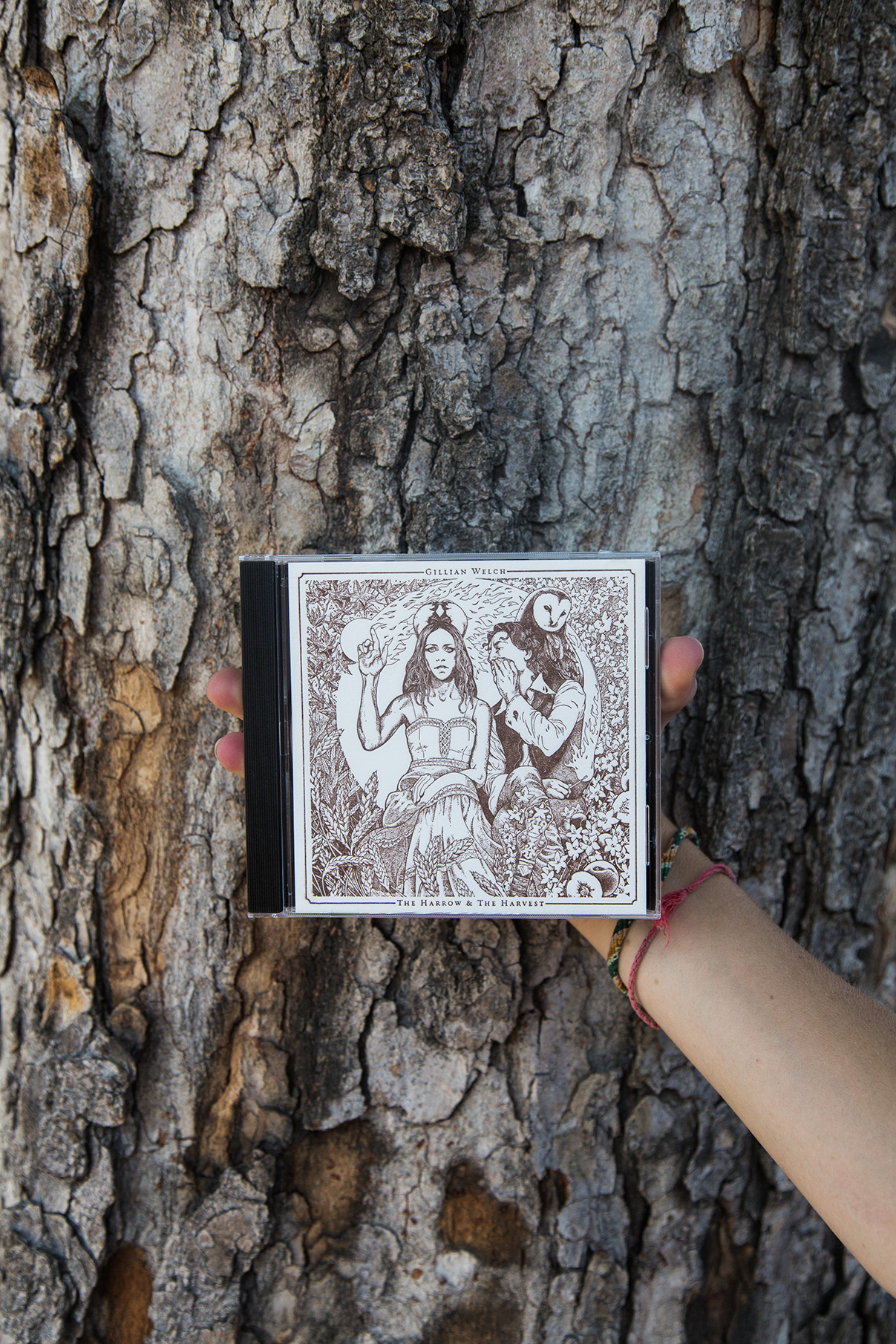 Corey - 8/25 - The Harrow & The Harvest by Gillian Welch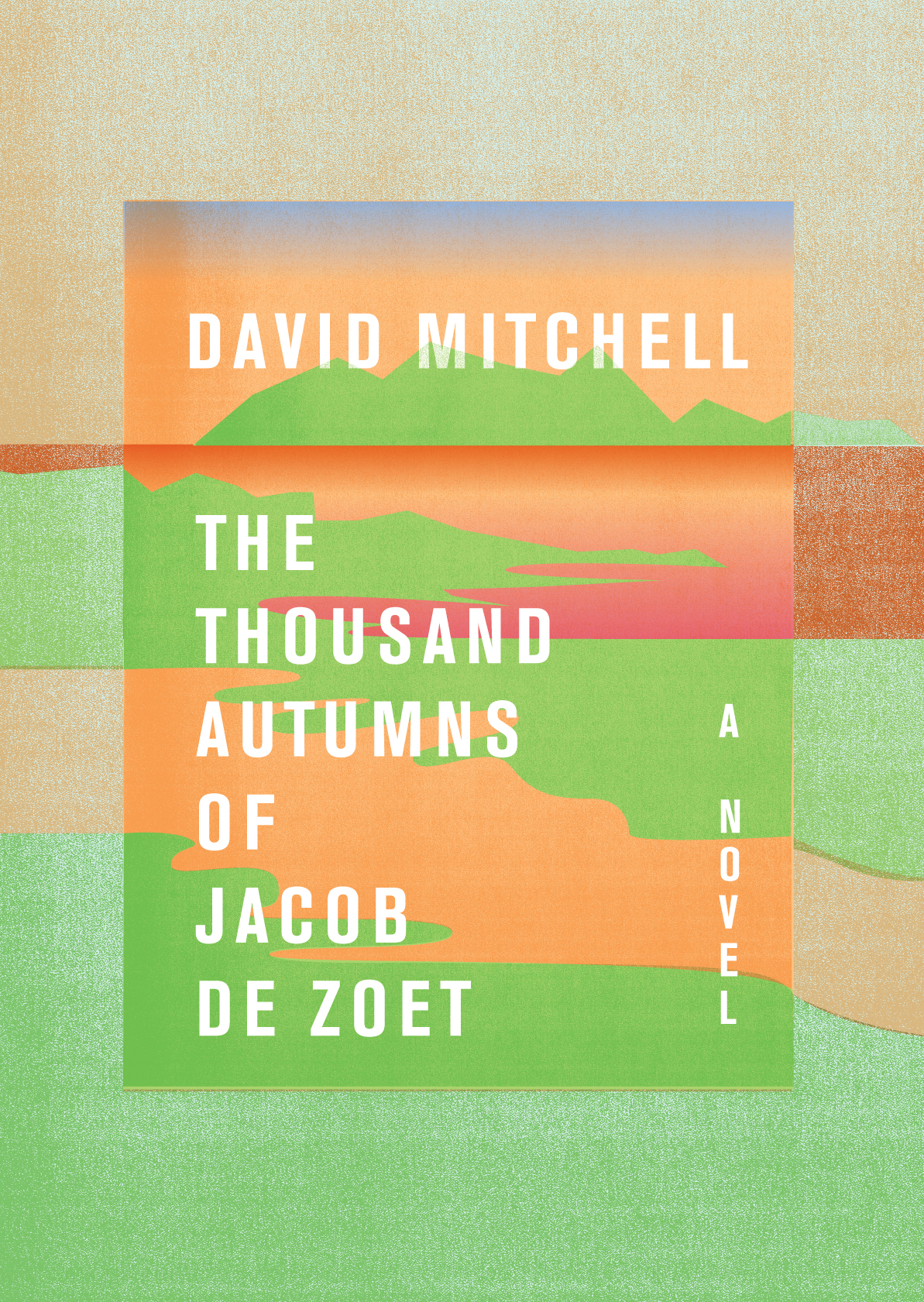 Emily - 8/24 - The Thousand Autumns of Jacob de Zoet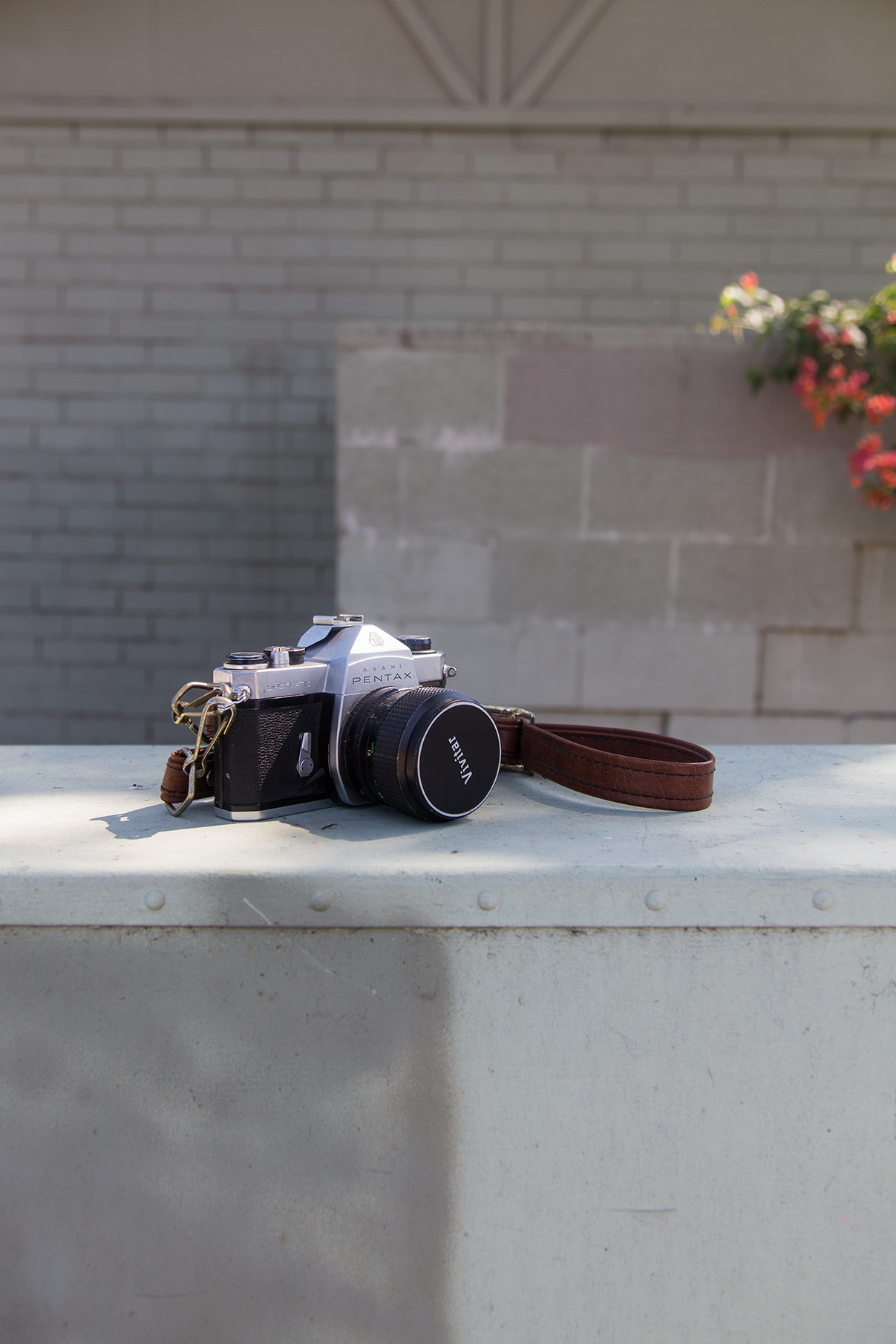 Corey - 8/24 - Asahi Pentax Spotmatic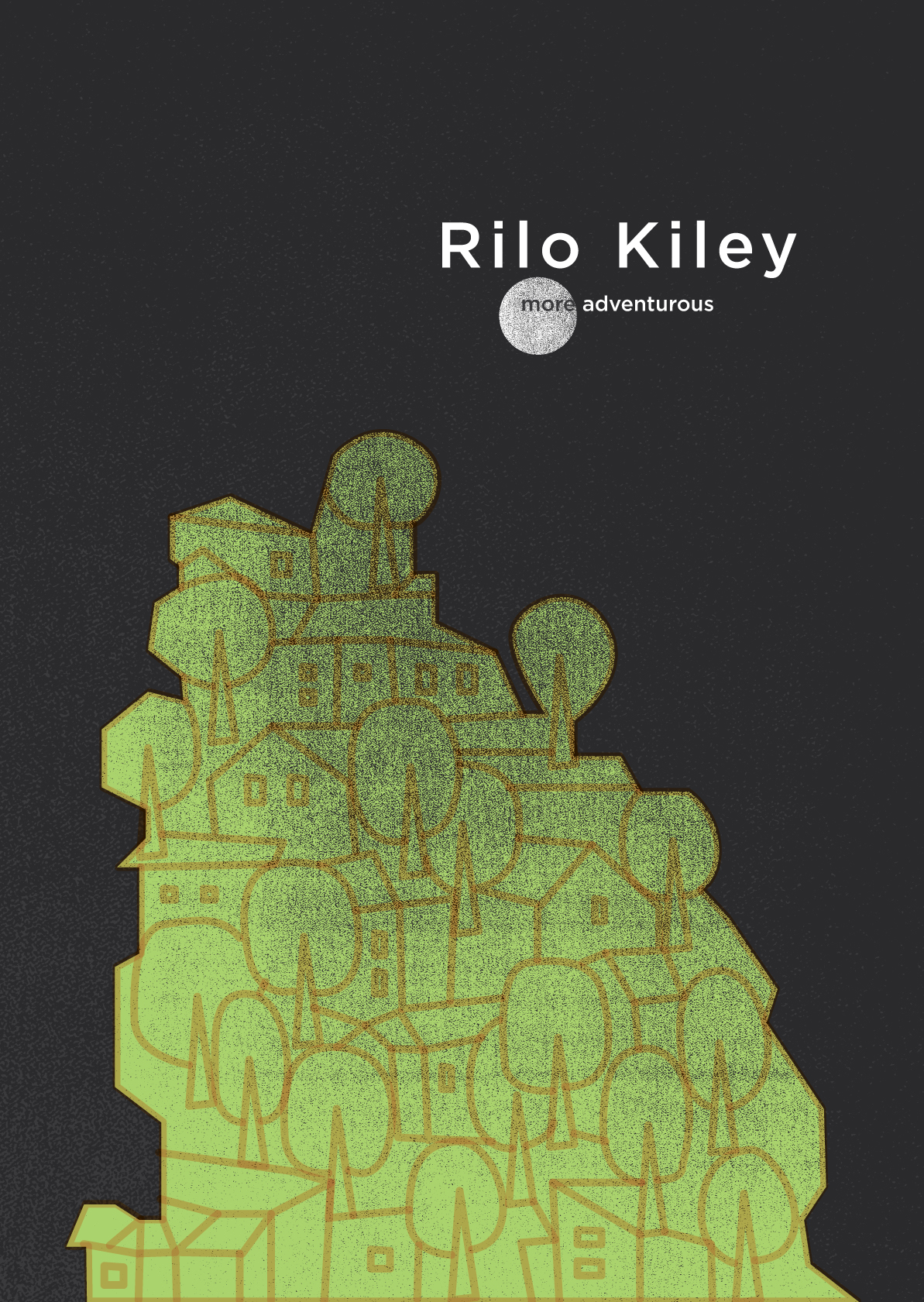 8/23 - More Adventurous Vinyl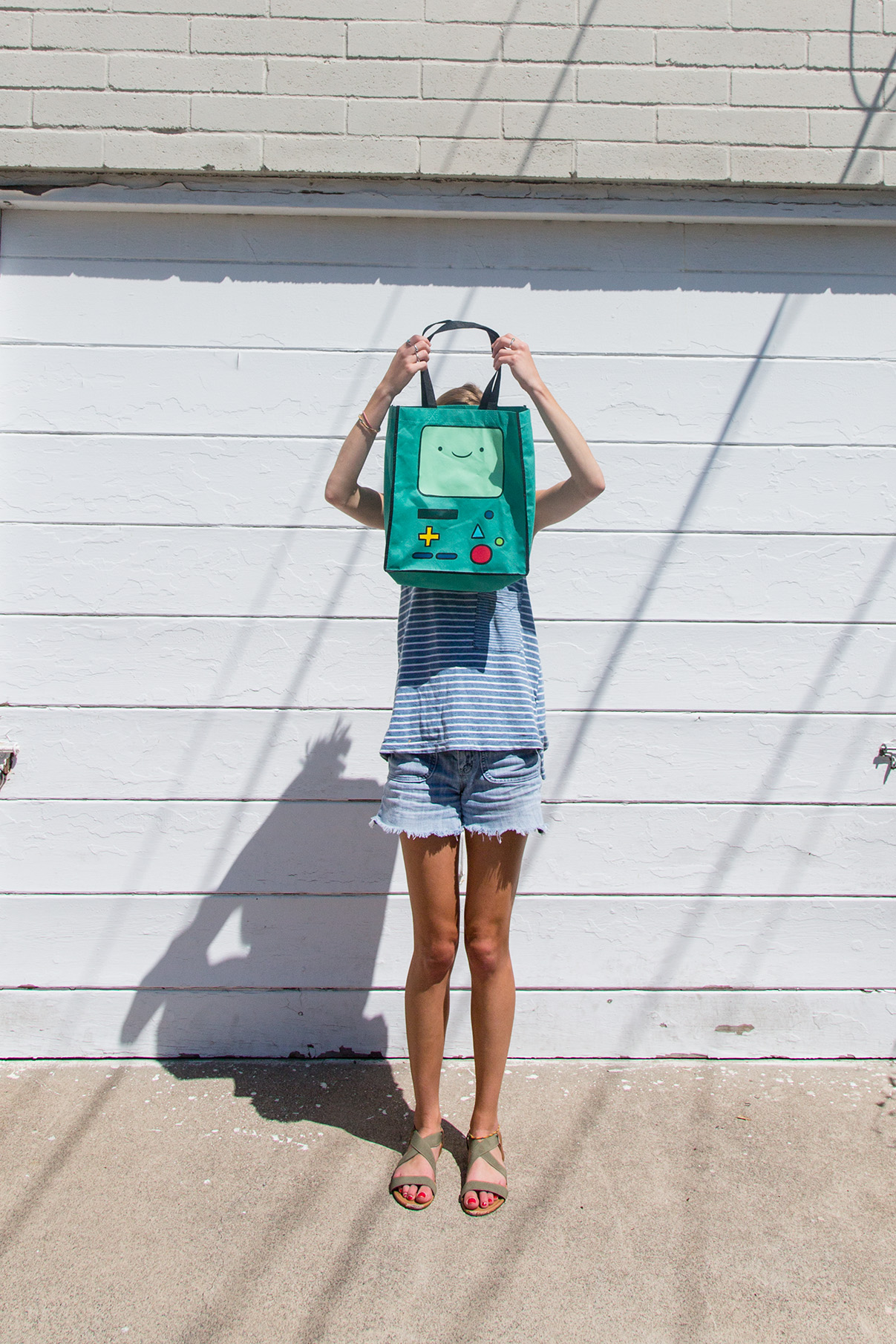 Corey - 8/23 - BMO Tote Bag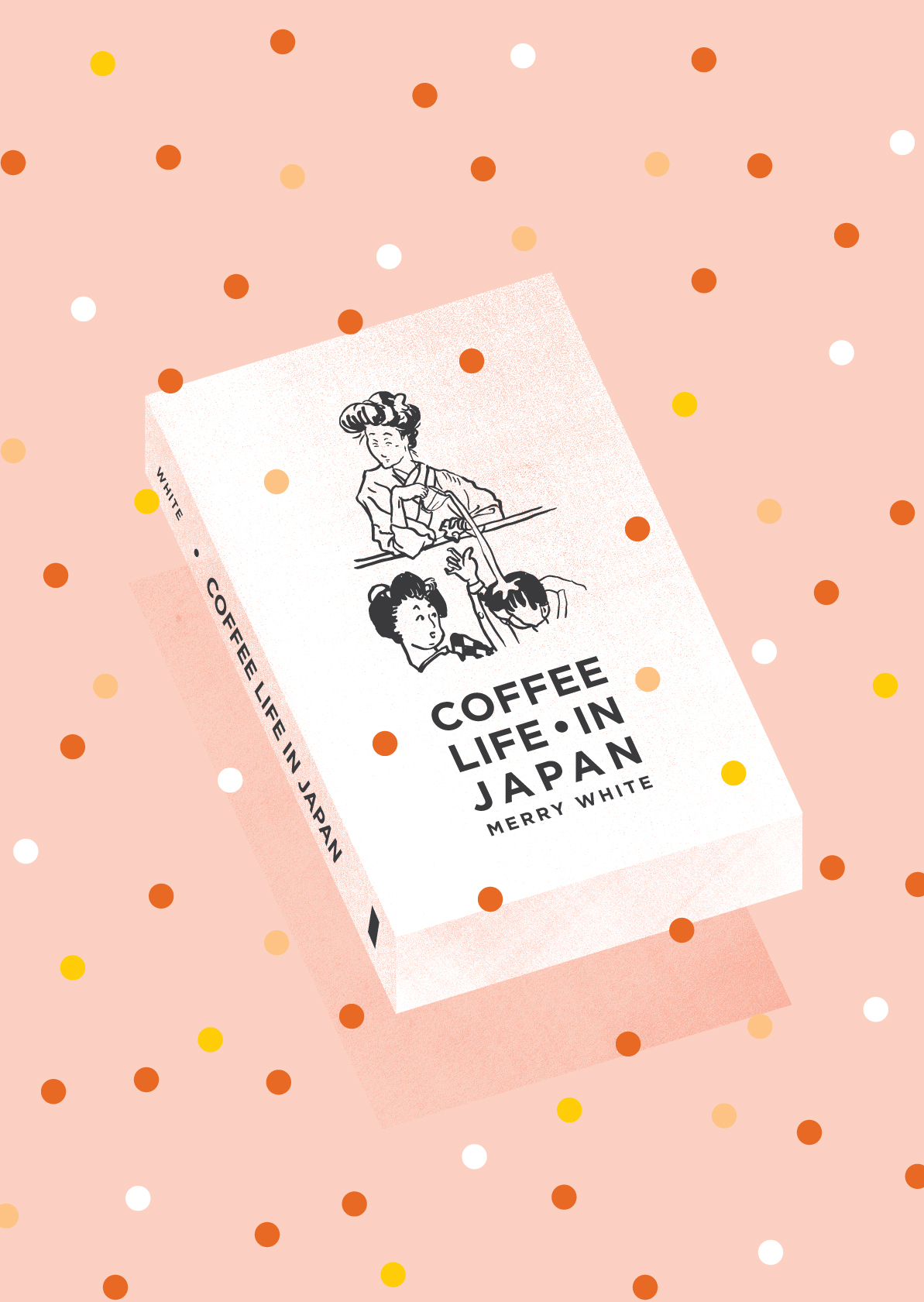 Emily - 8/22 - Coffee Life in Japan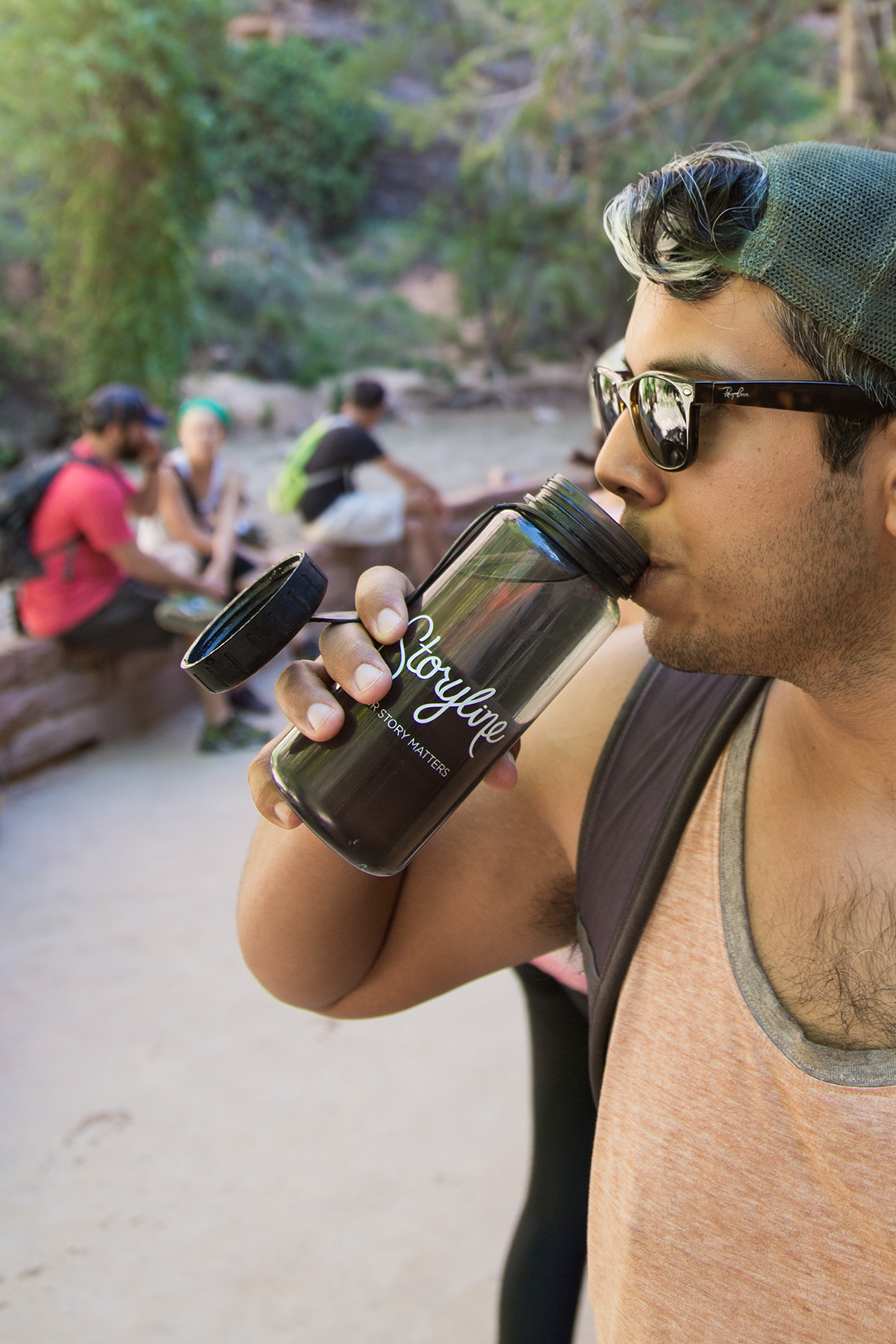 Corey - 8/22 - Storyline Canteen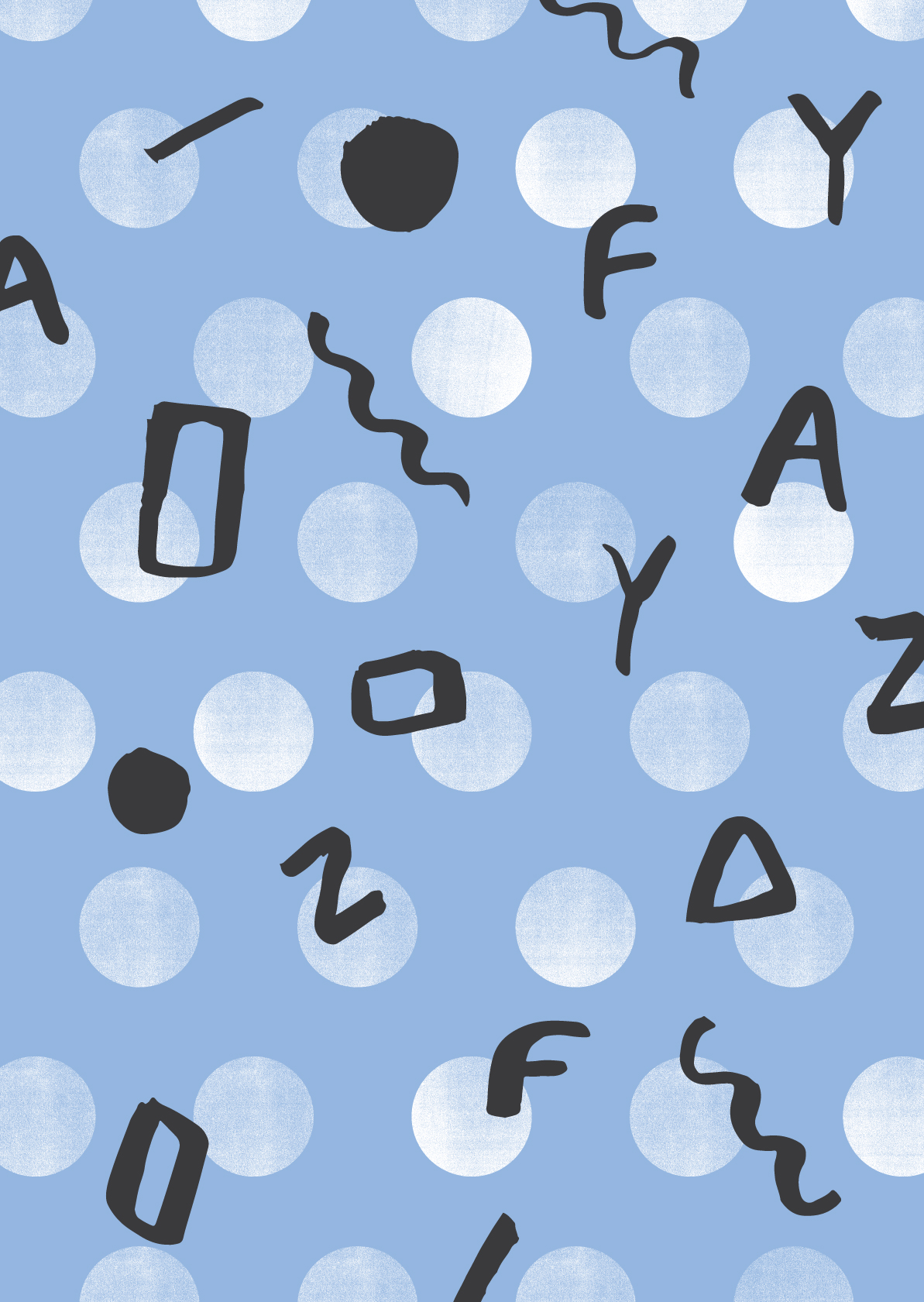 Emily - 8/21 - Lazy Oaf Dress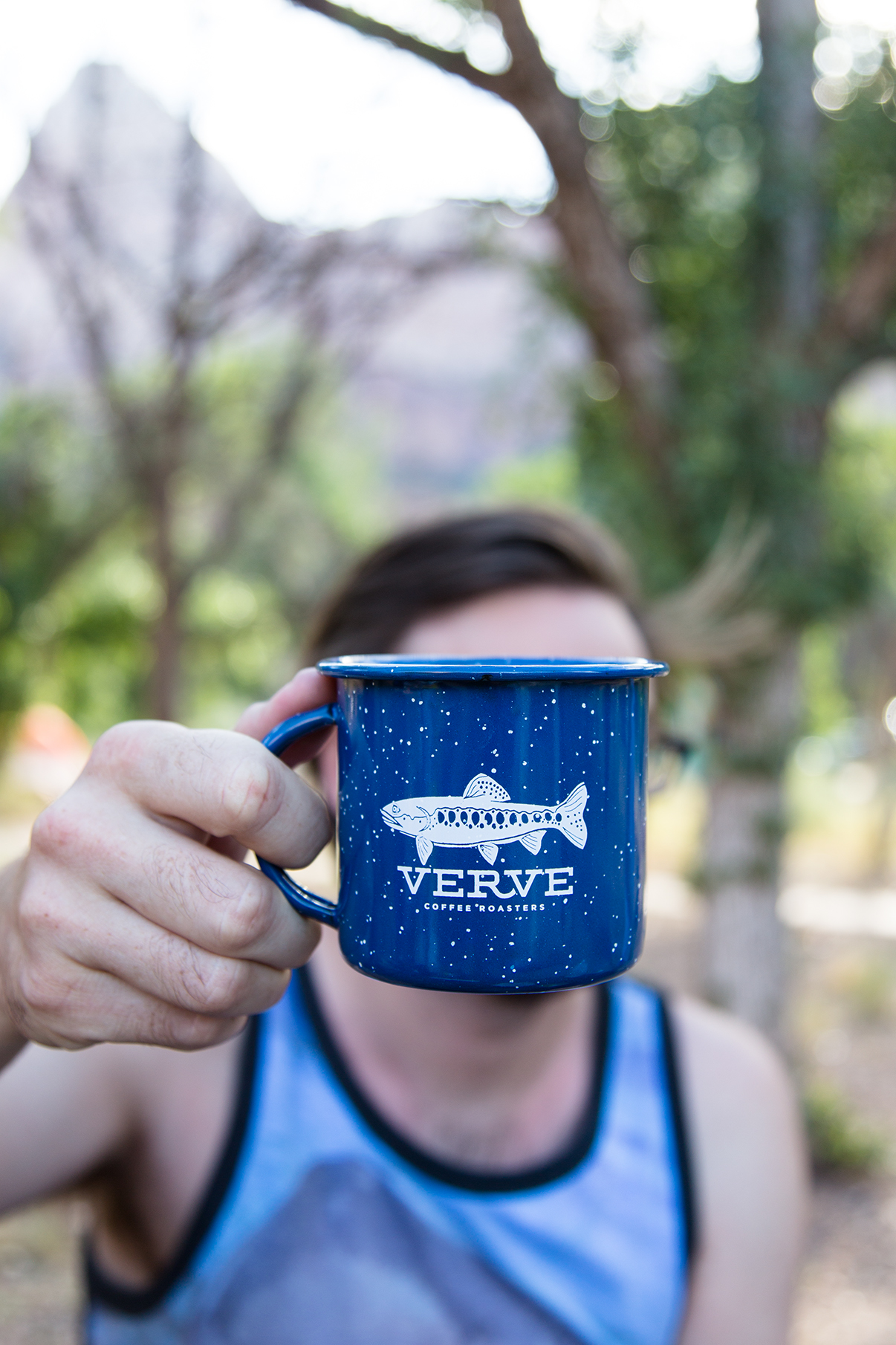 Corey - 8/21 - Verve Camping Tin Mug
Emily - 8/20 - Floral Print Skirt
Corey - 8/20 - Old Navy Amsterdam T-Shirt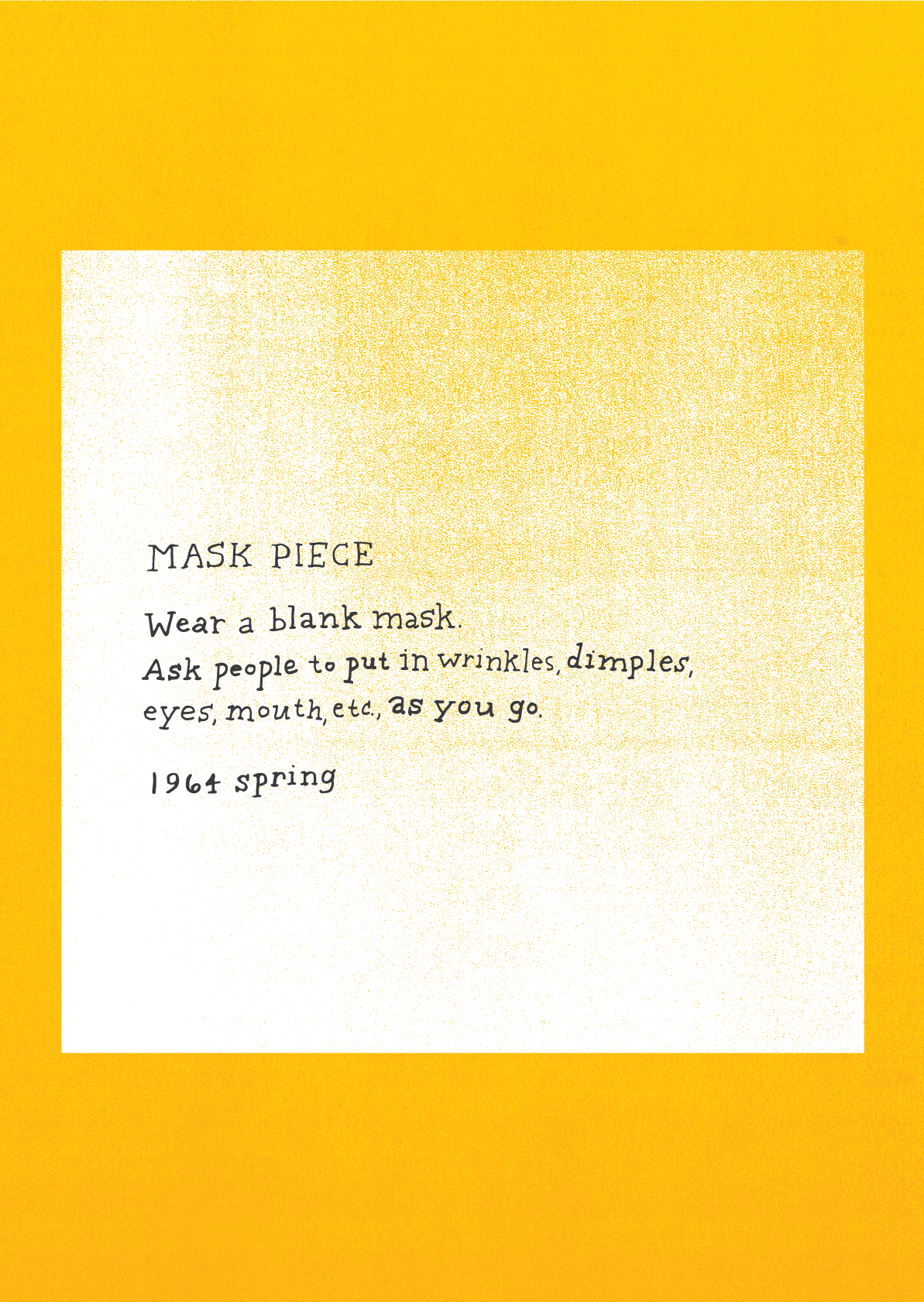 Emily - 8/19 - Grapefruit by Yoko Ono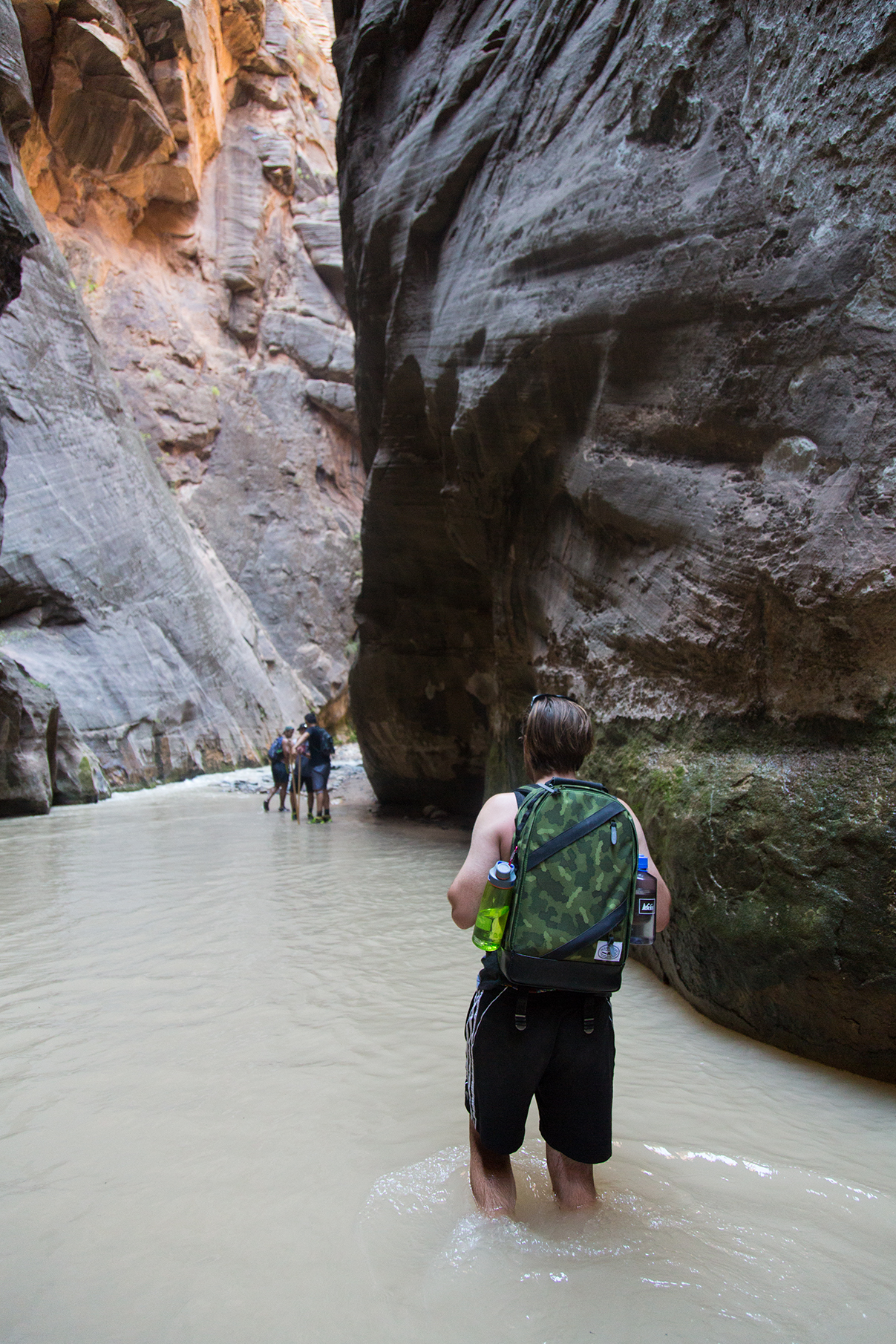 Corey - 8/19 - Poler Stuff Excursion Pack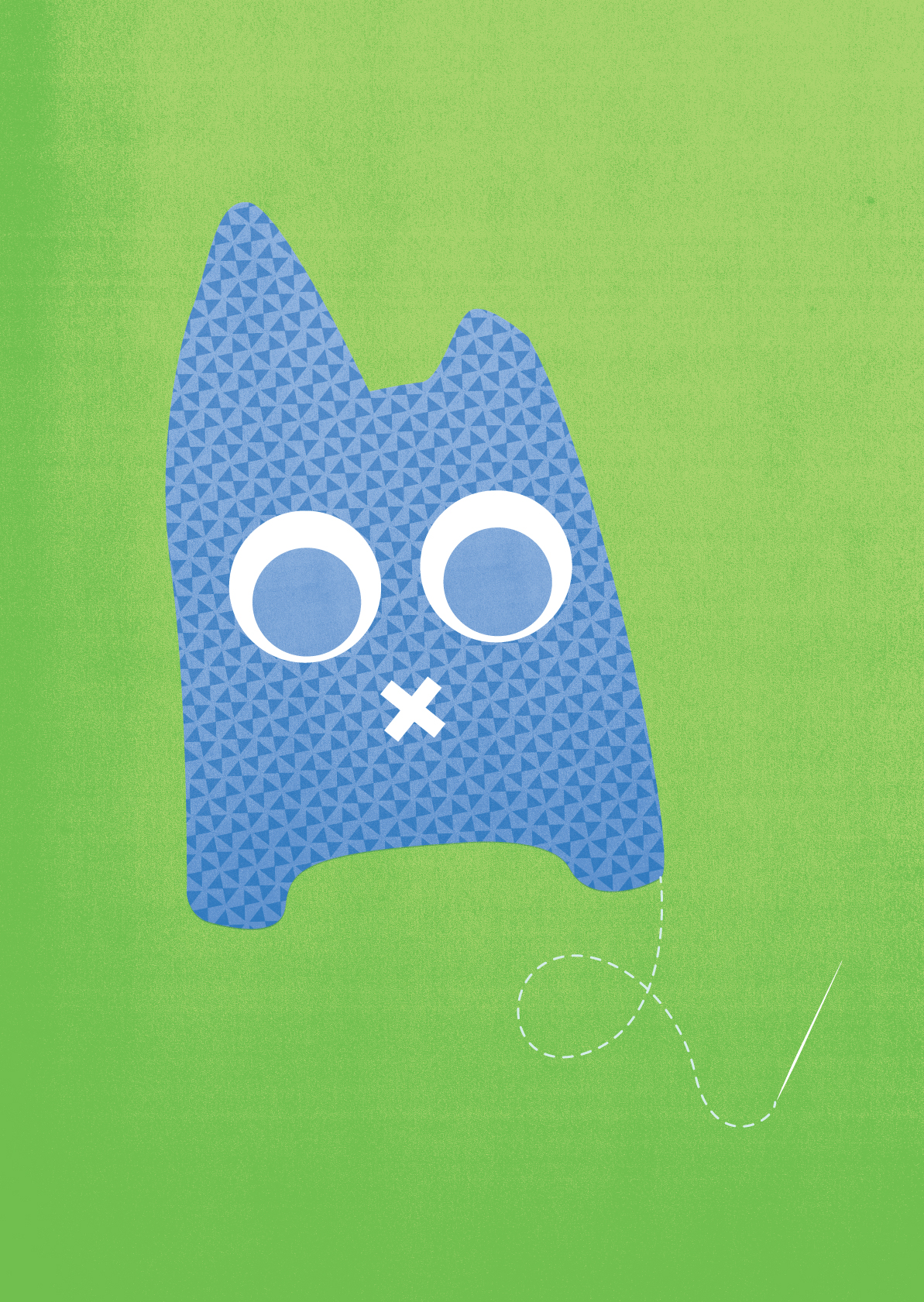 Emily - 8/19 - Stuffed Creature
Corey - 8/18 - Arcade Fire The Suburbs Vinyl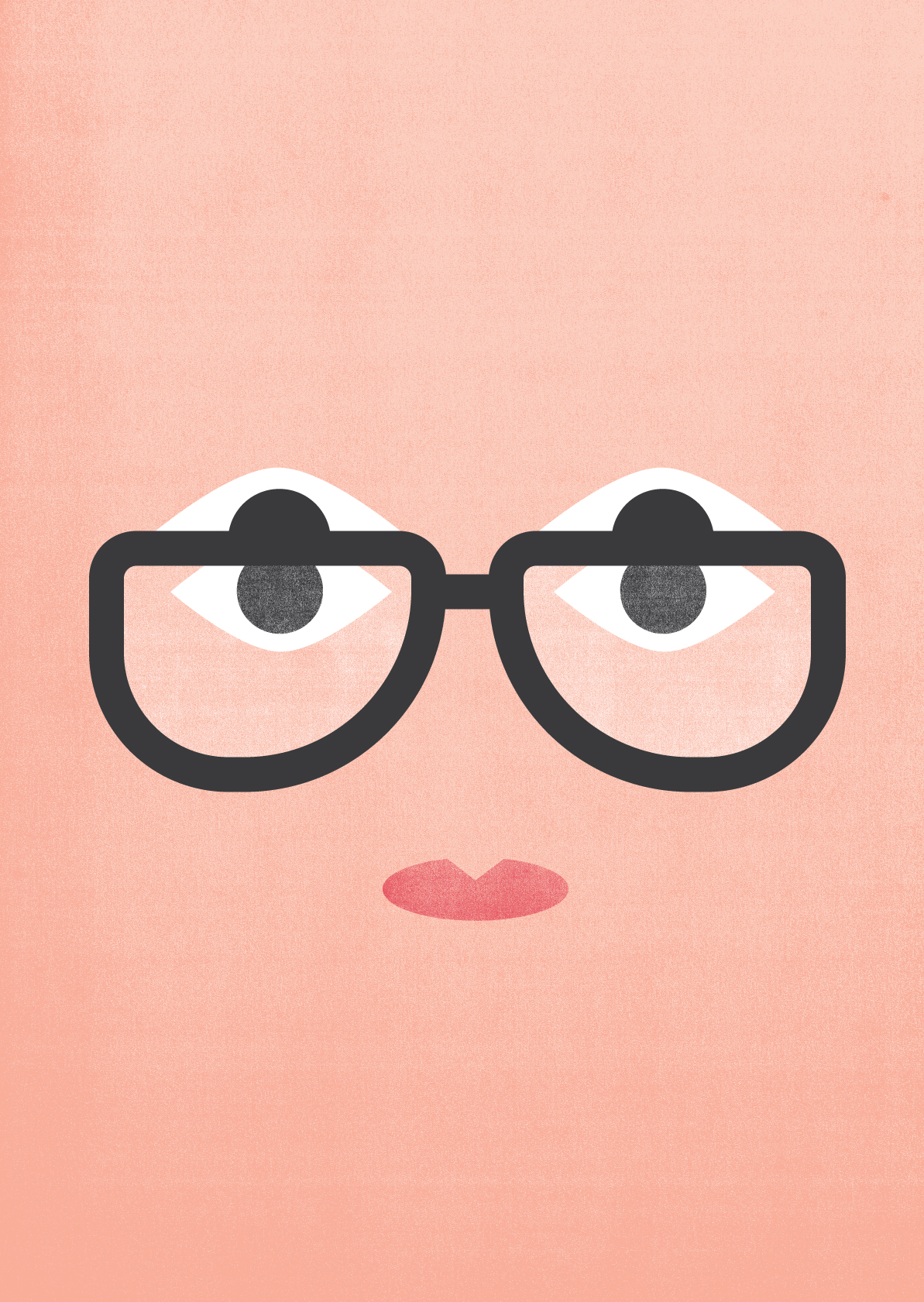 Emily - 8/17 - Glasses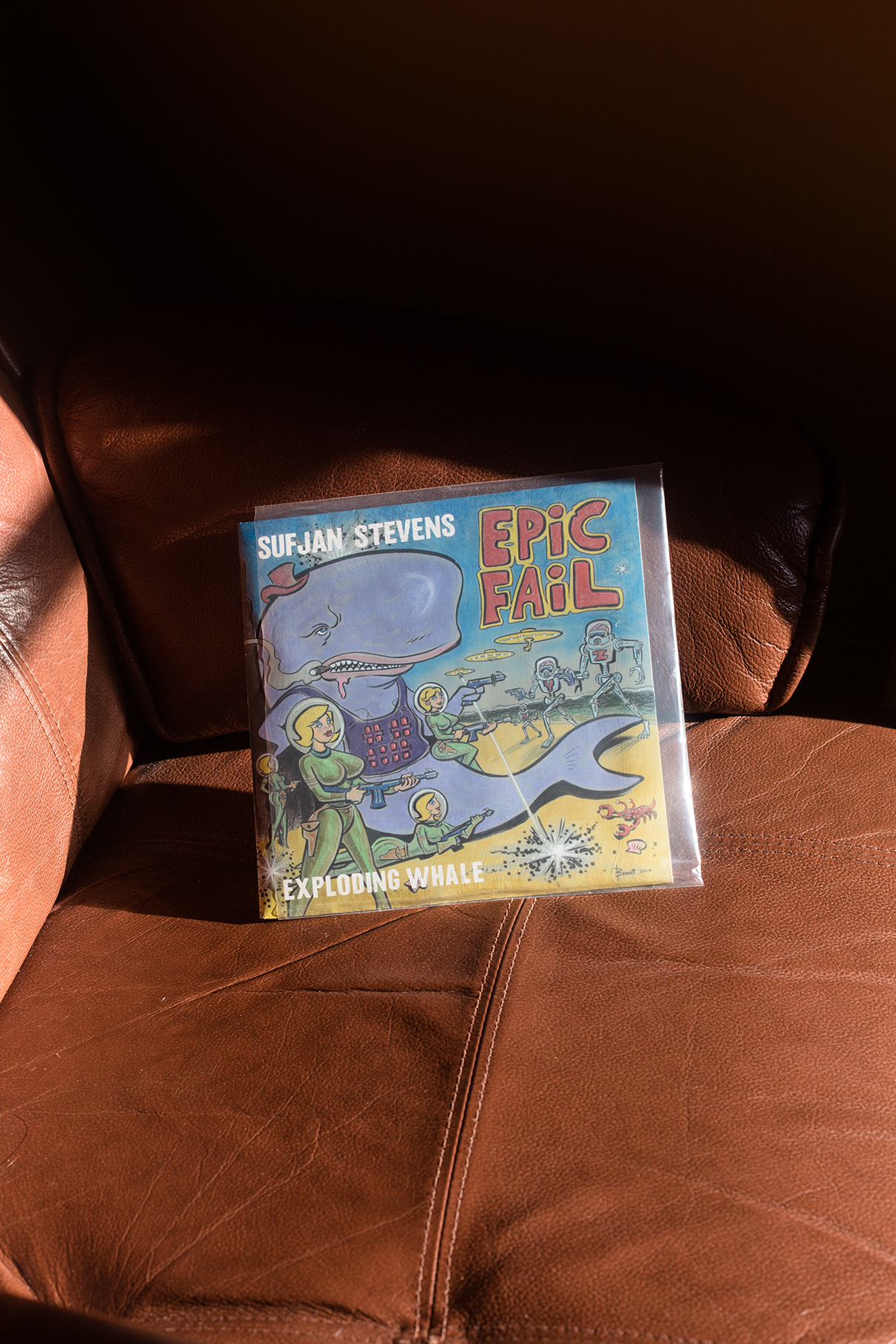 Corey - 8/17 - Sufjan Stevens Epic Fail EP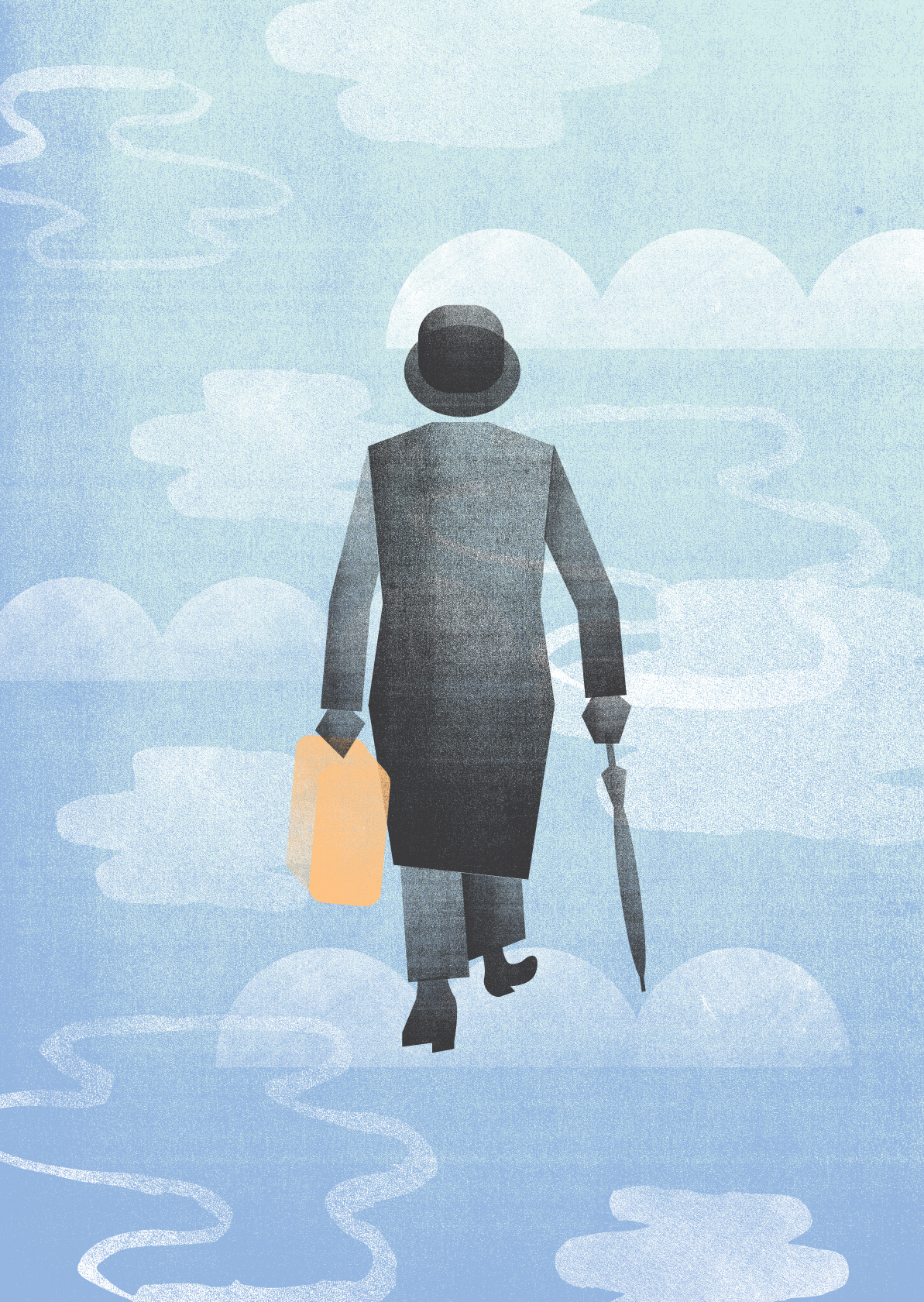 Emily - 8/16 - Being There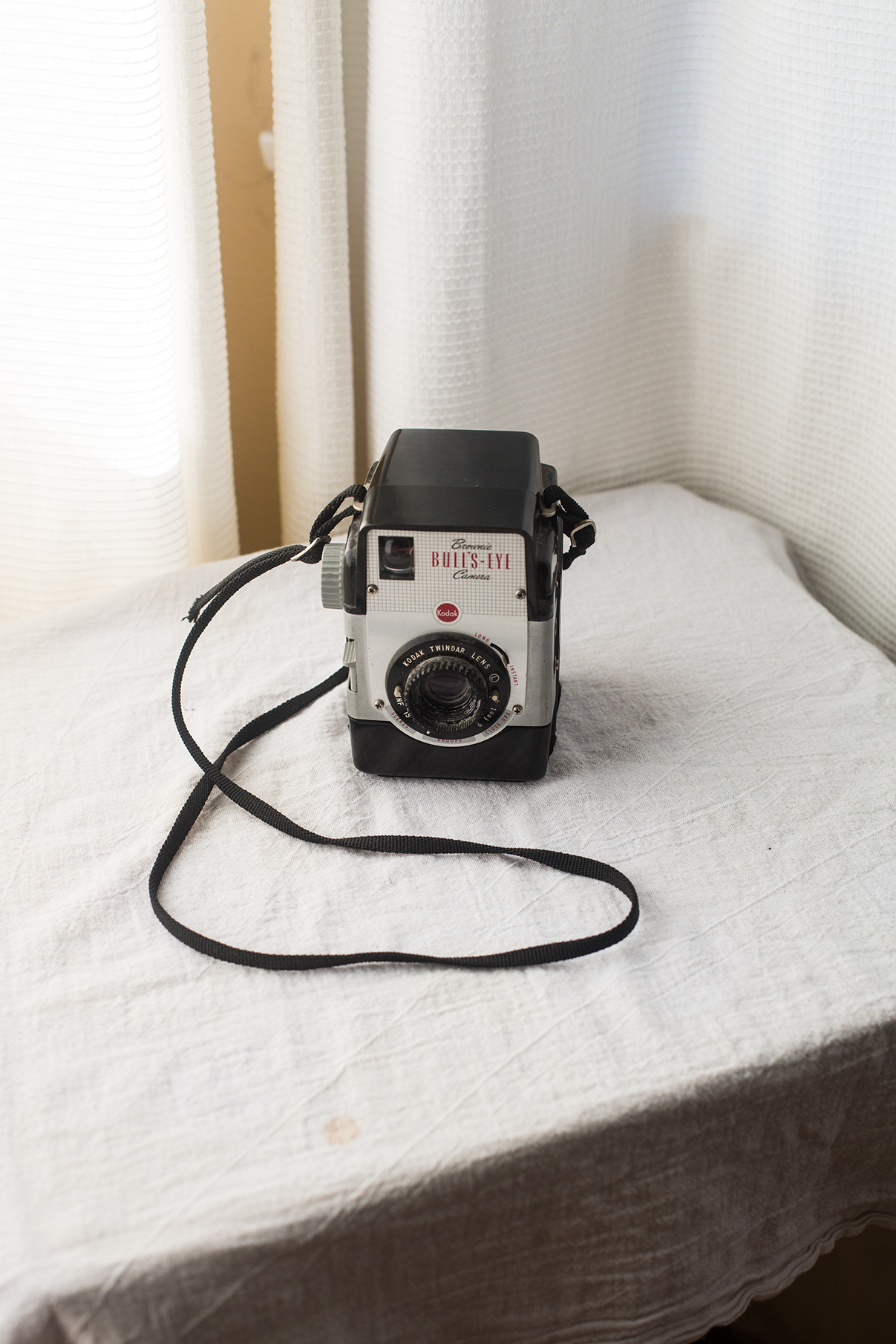 Corey - 8/16 - Brownie Bull's-Eye Camera
Emily - 8/15 - Wrap Magazine Issue 11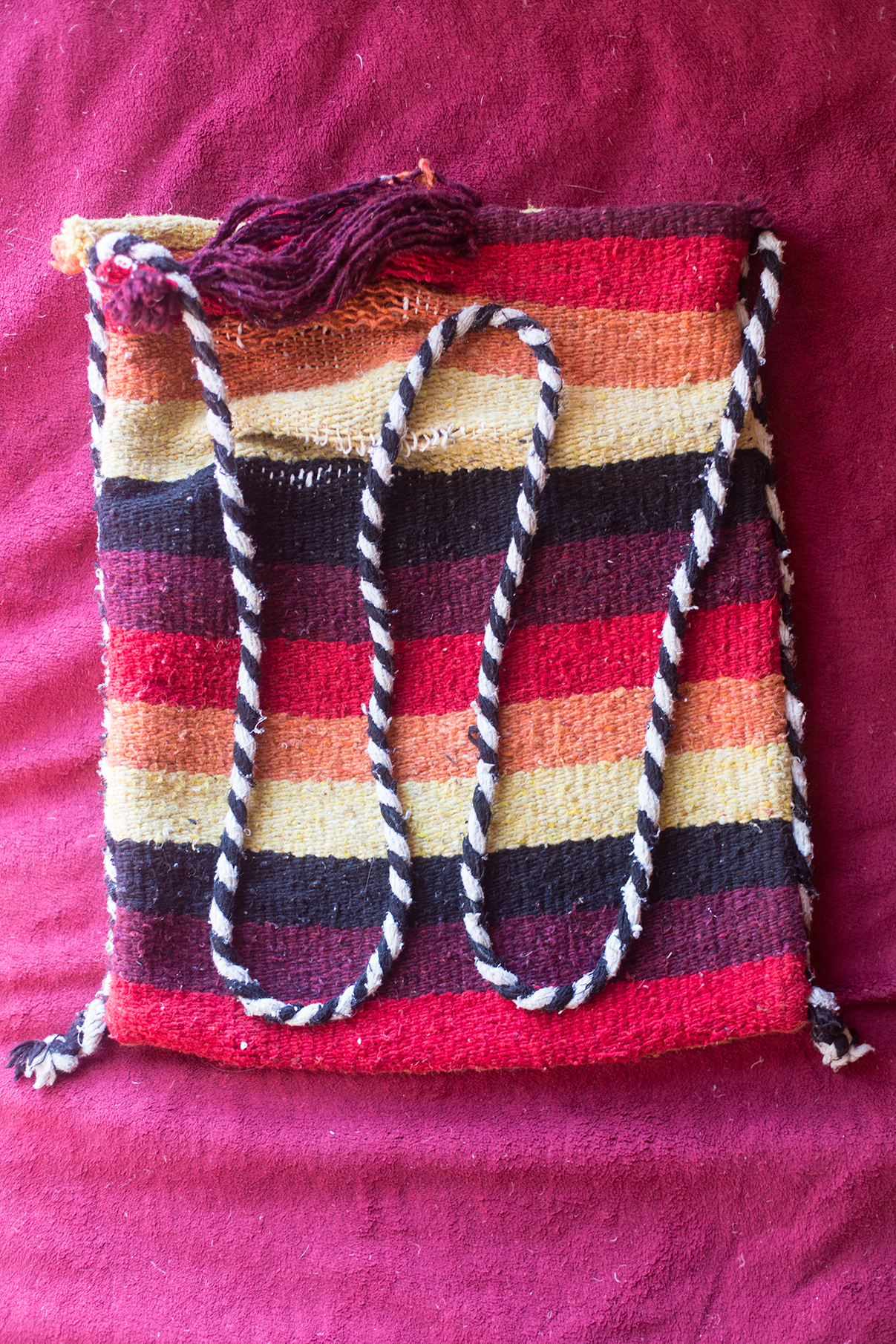 Corey - 8/15 - Mexican Tote Bag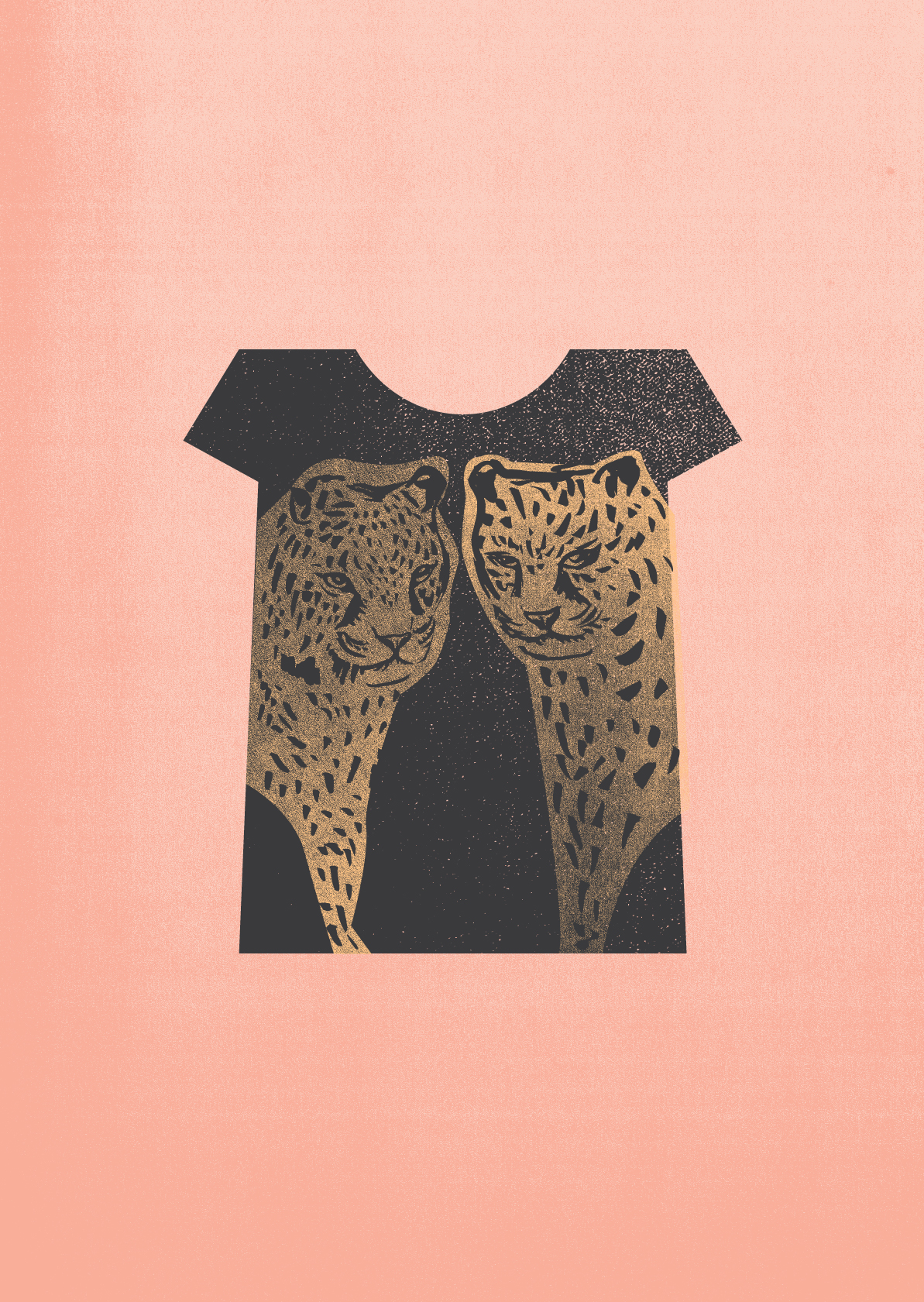 Emily - 8/14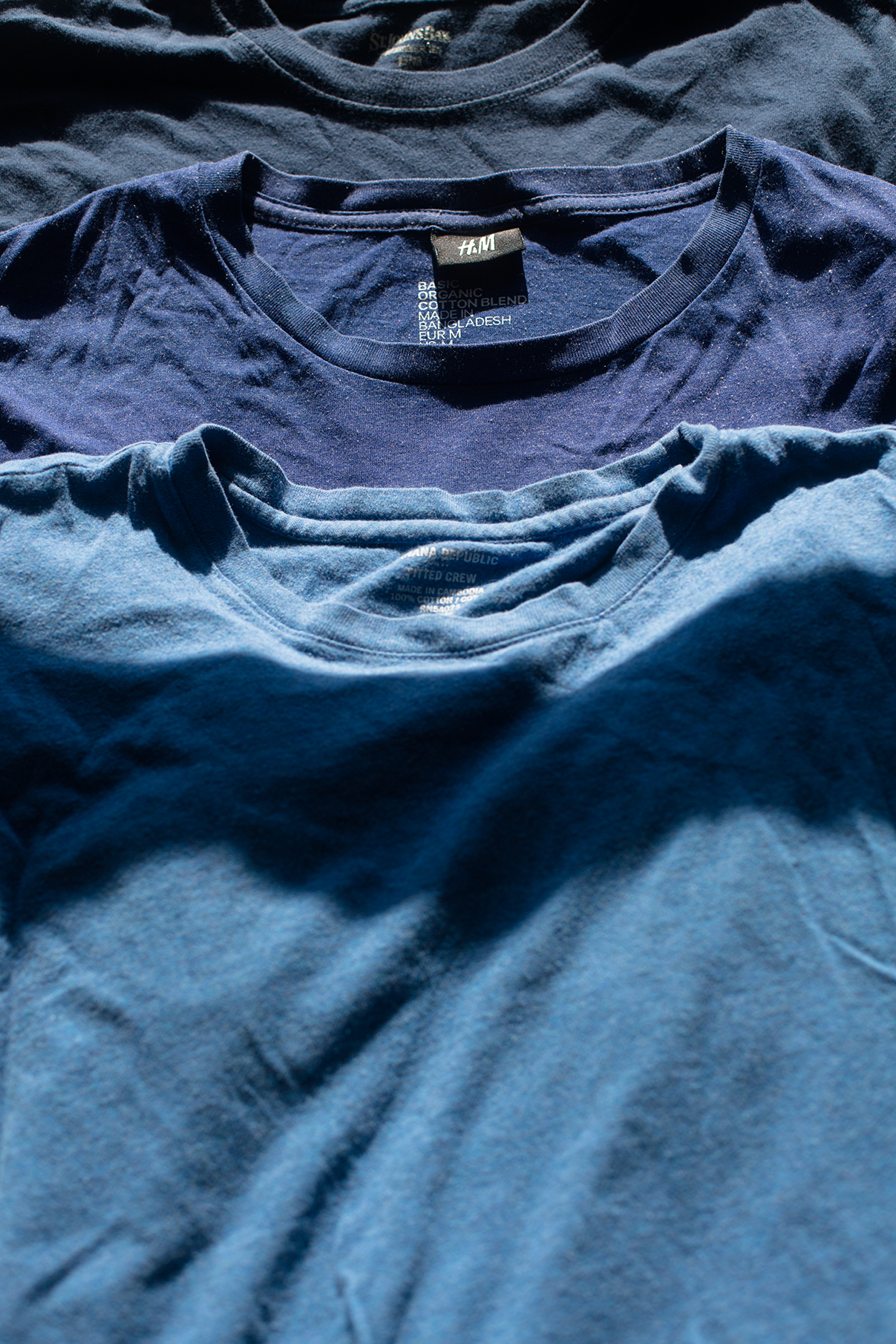 Corey - 8/14 - Blue Shirts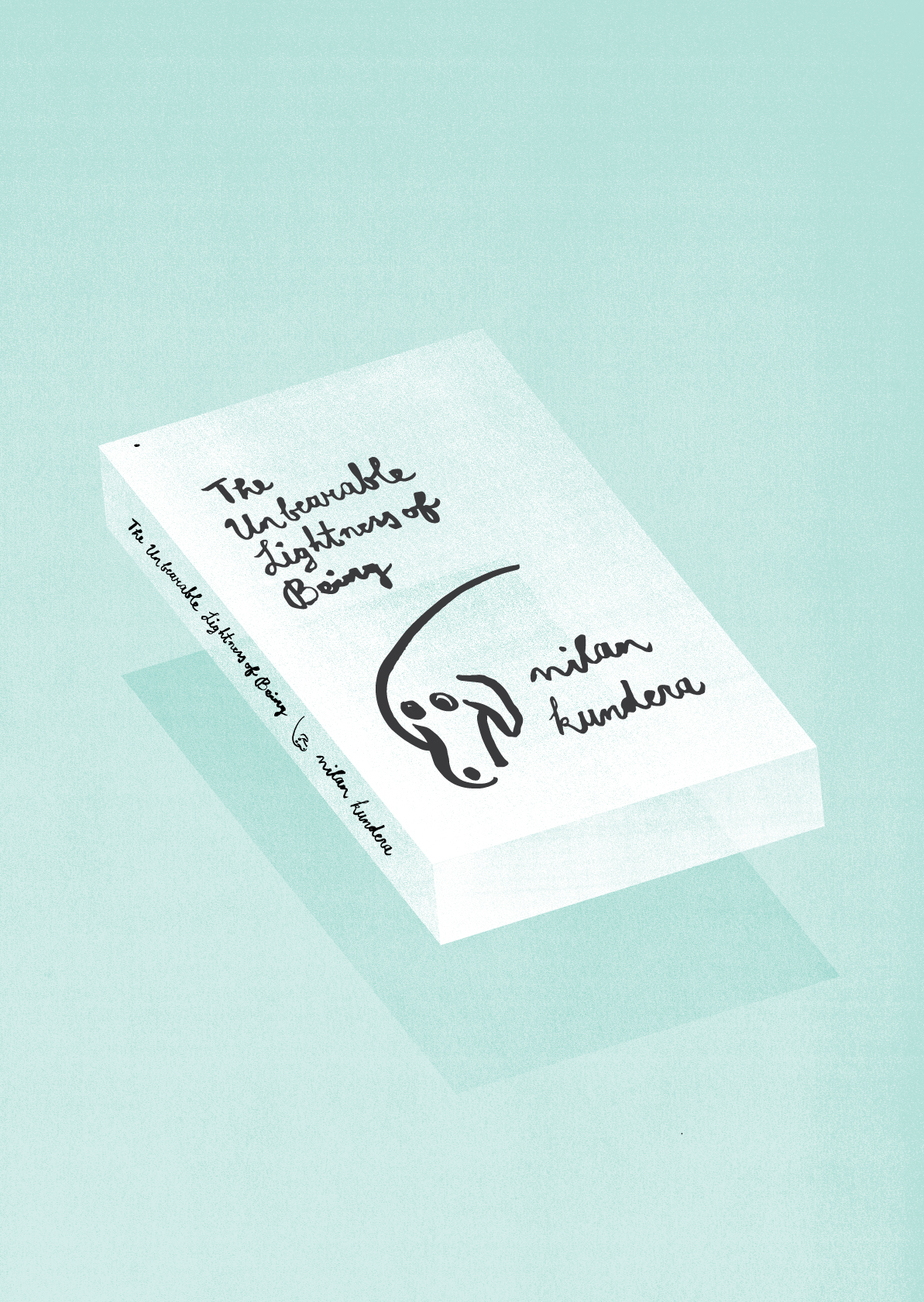 Emily - 8/13 - The Unbearable Lightness of Being
Corey - 8/13 - Brown T-Shirts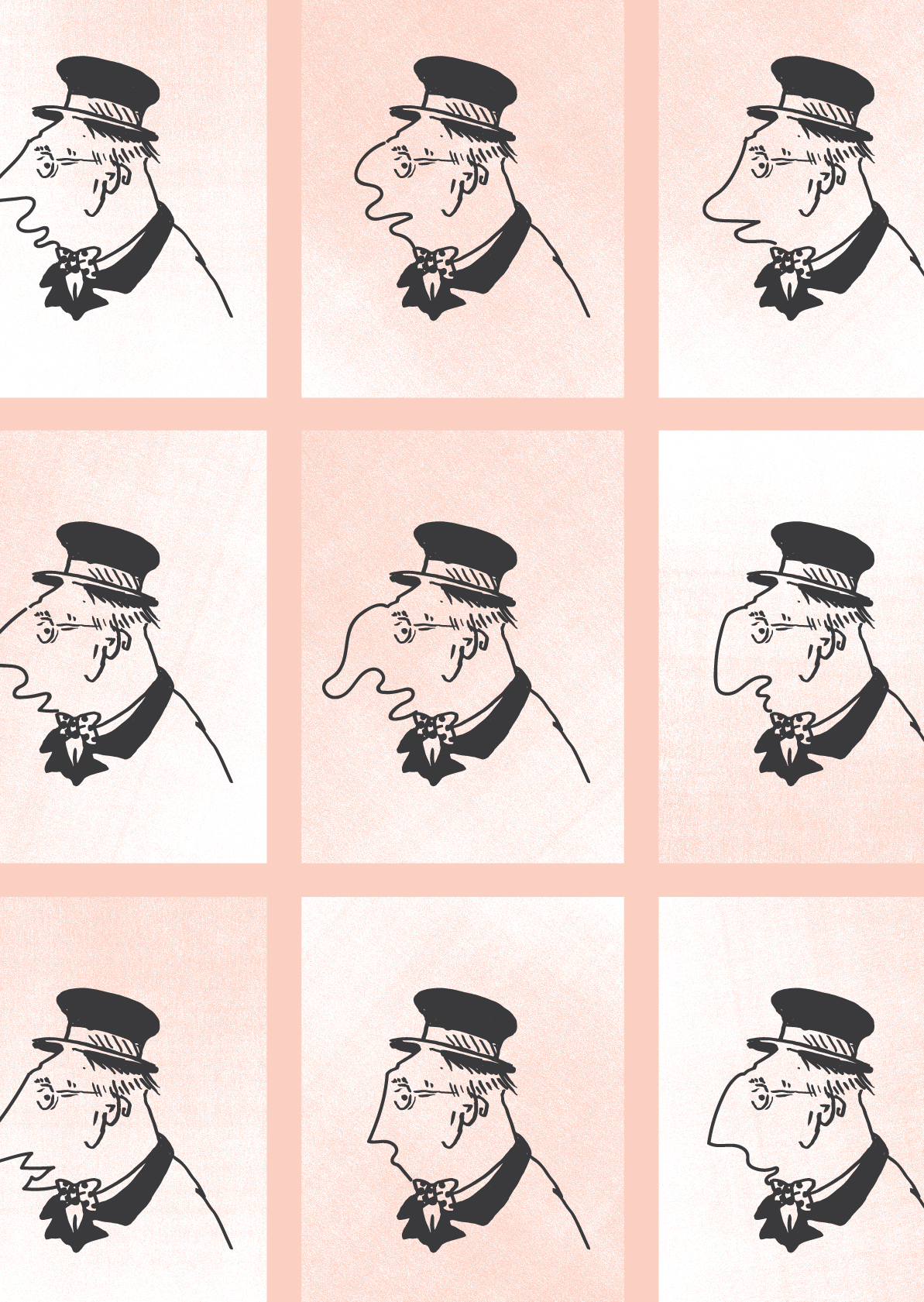 Emily - 8/12 - Nose Chain Toy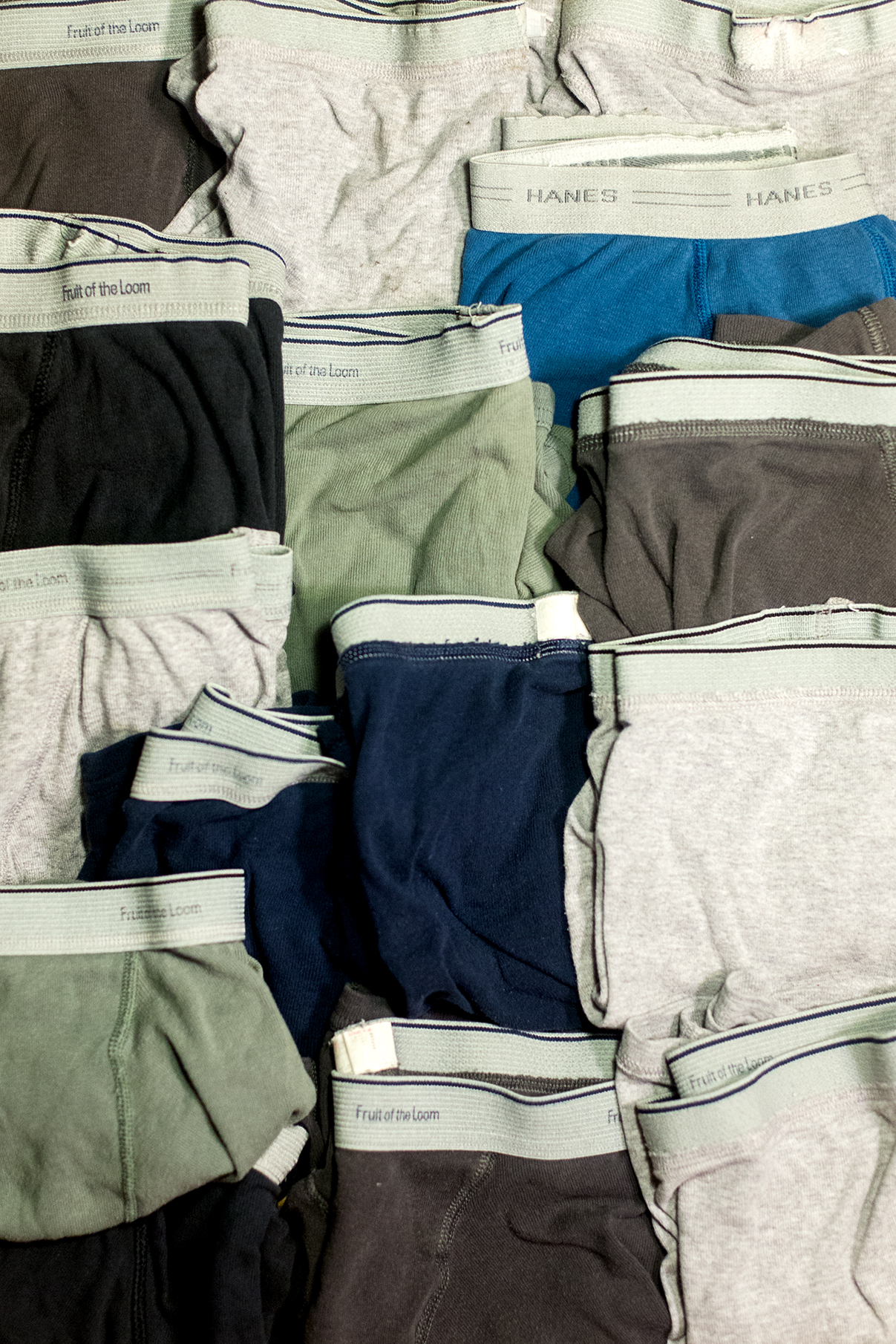 Corey - 8/12 - Underwear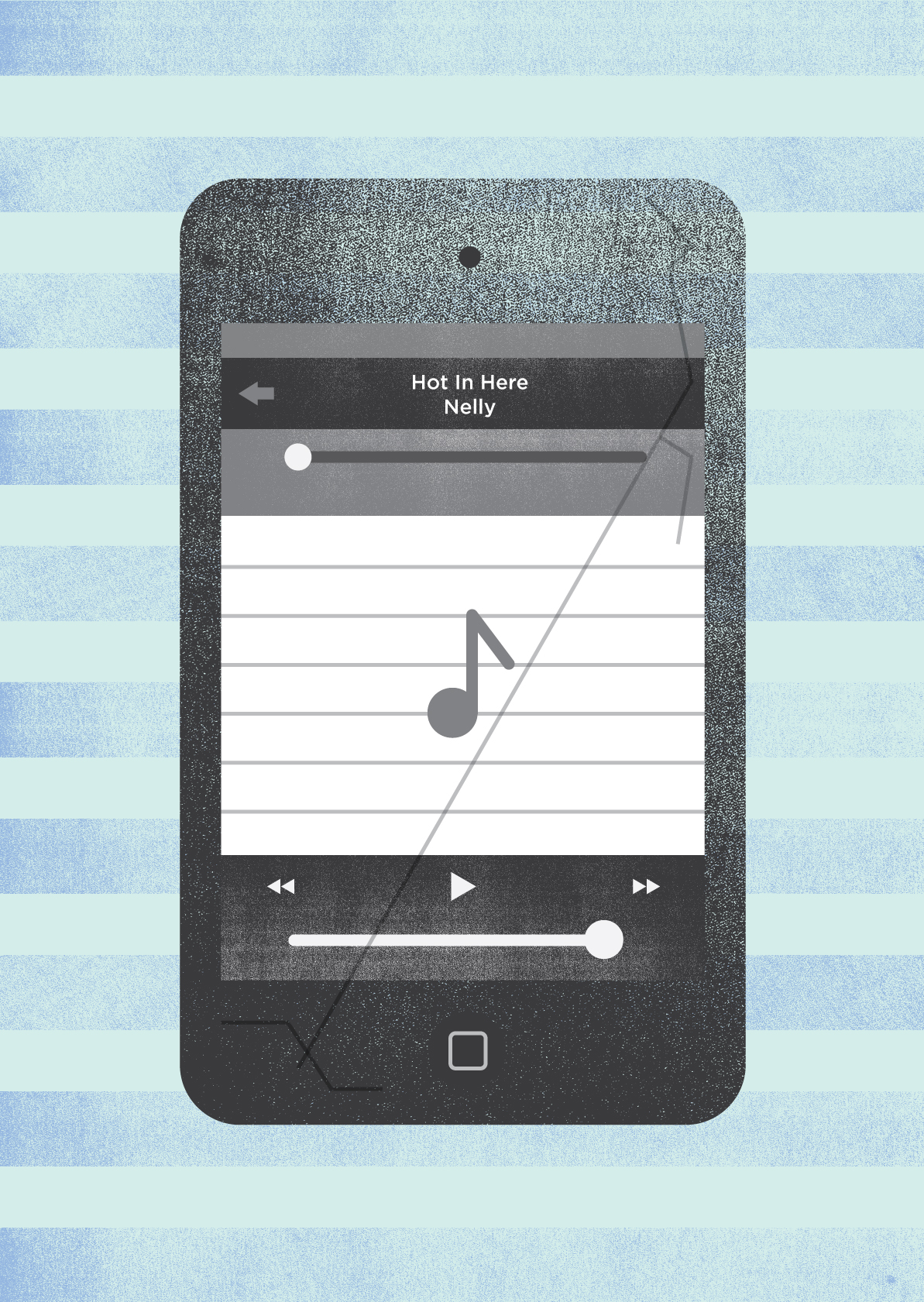 Emily - 8/11 - iPod TouchI lov
Corey - 8/10 - Dark and Colored Socks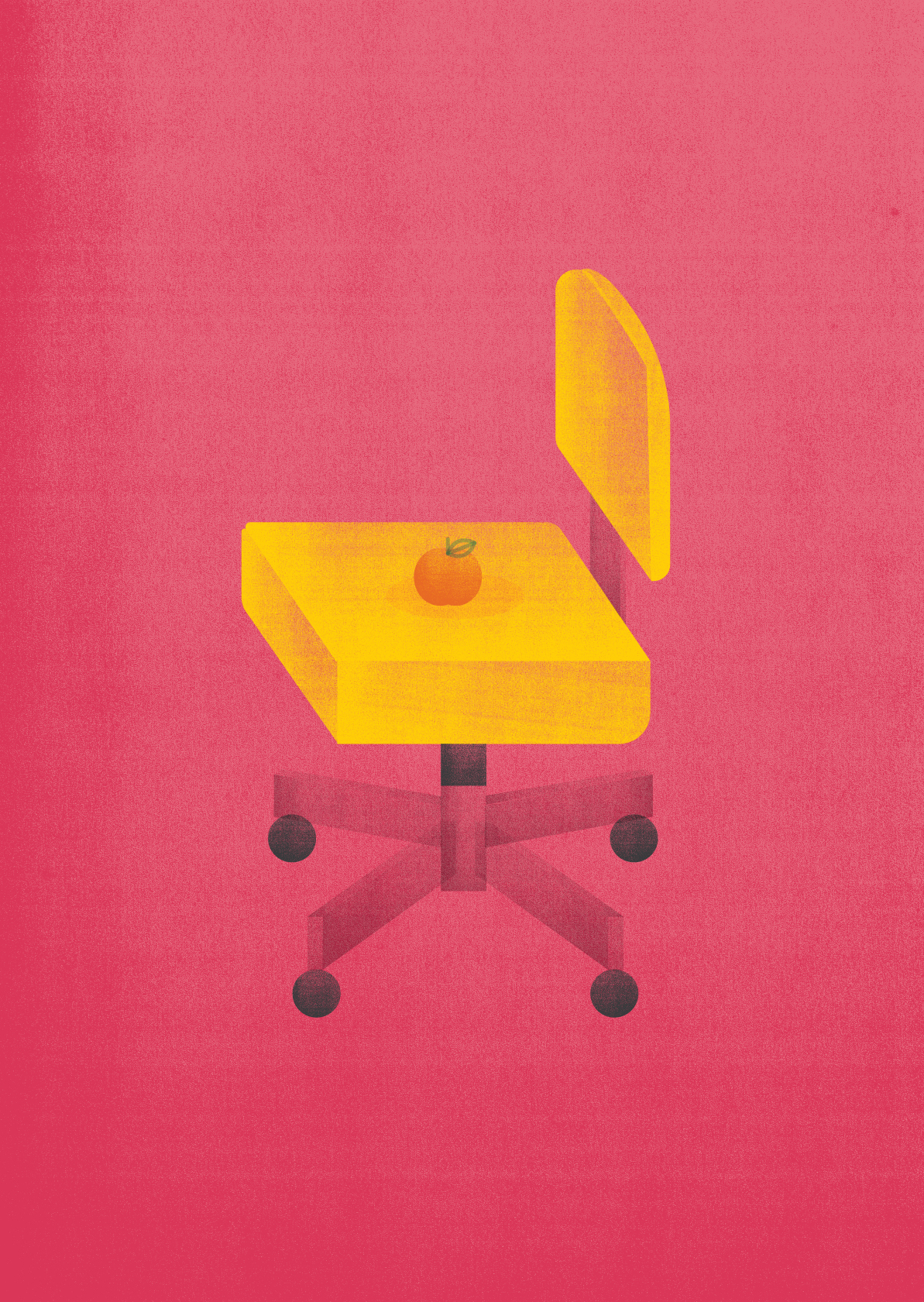 Emily - 8/10 - Yellow Swivel Chair
Corey - 8/10 - White Socks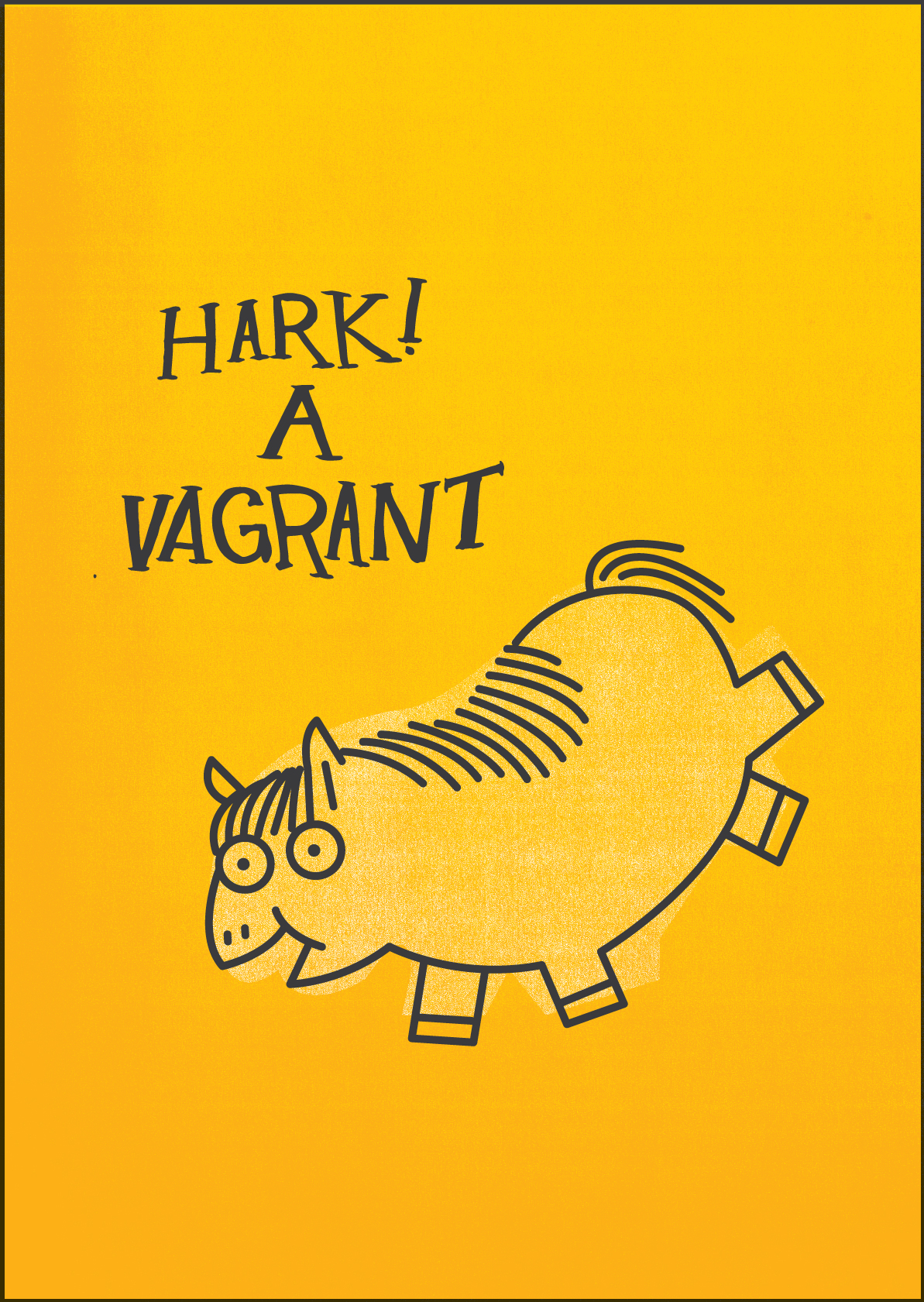 Emily - 8/9 - Hark! A Vagrant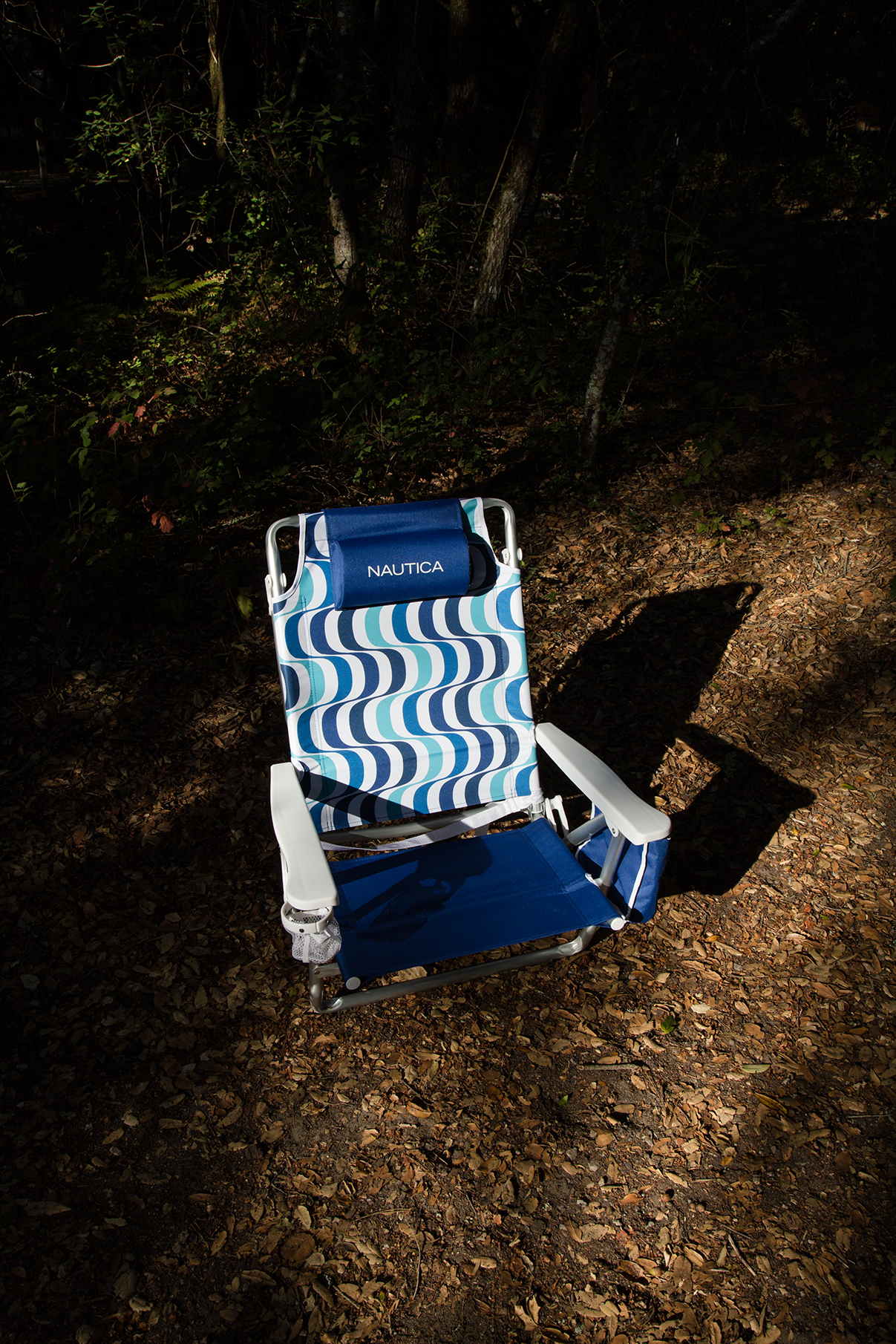 Corey - 8/9 - Nautical Beach Chair
Emily - 8/8 - Plant Shelf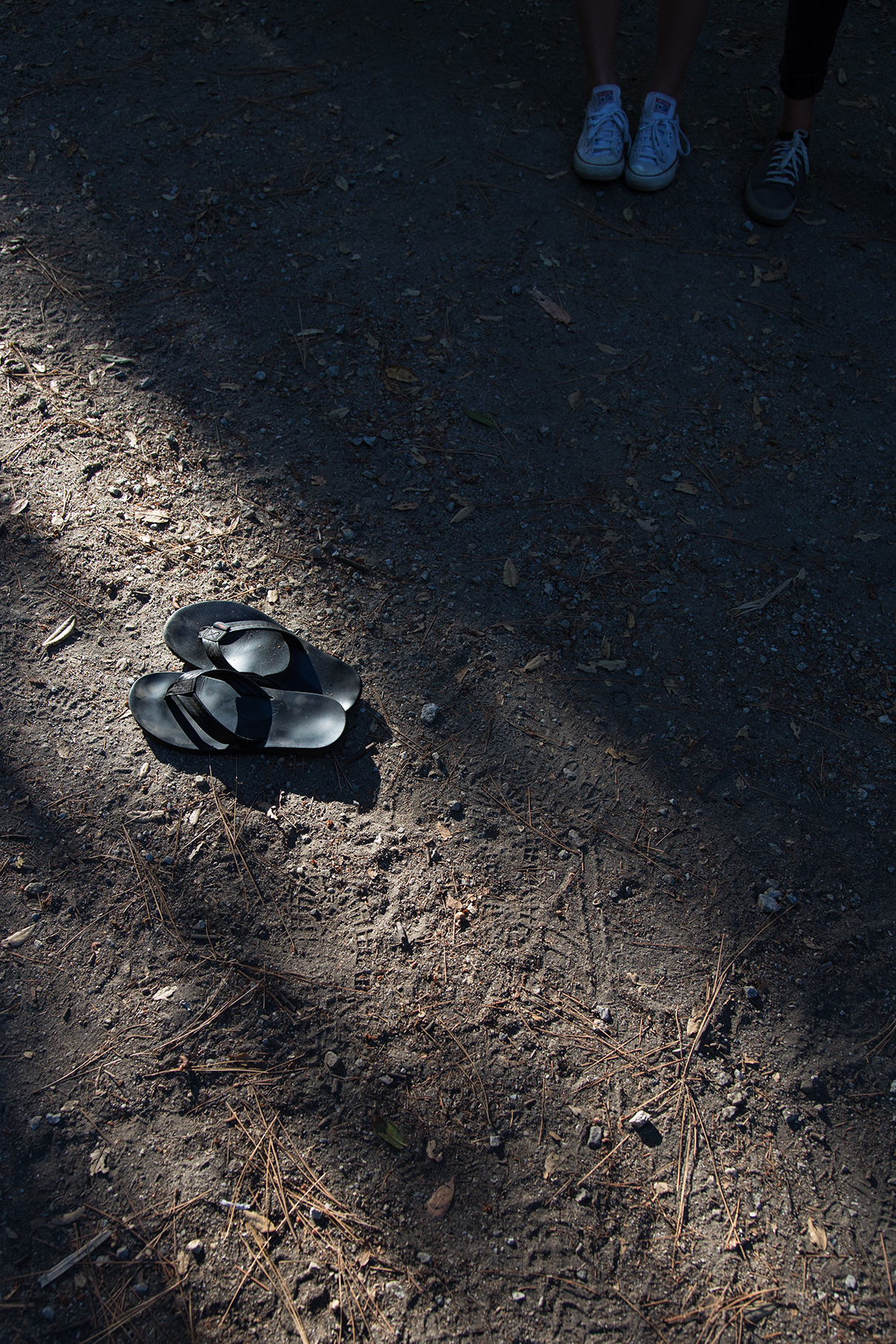 Corey - 8/8 - Rainbow Sandals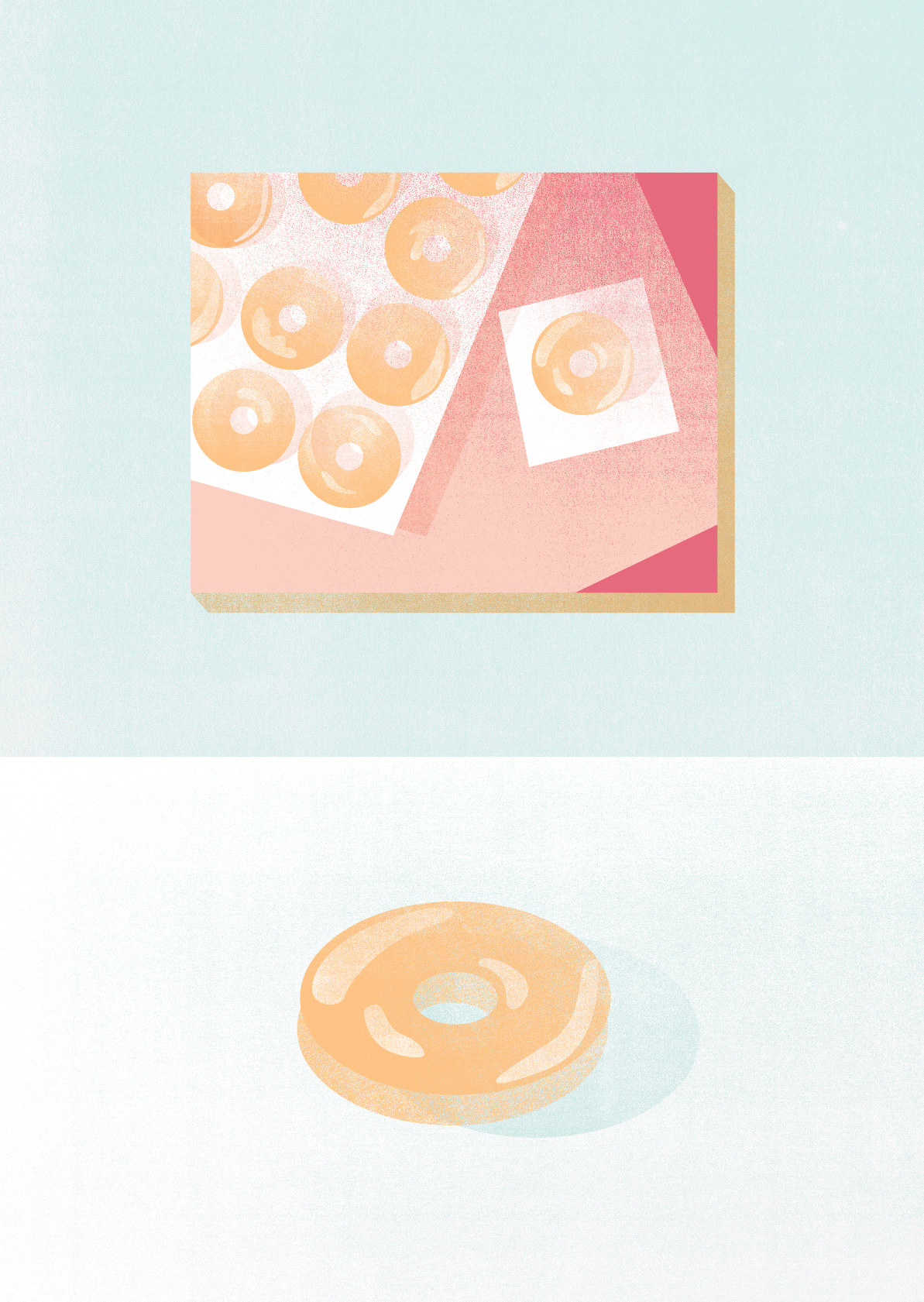 Emily - 8/7 - Donut Painting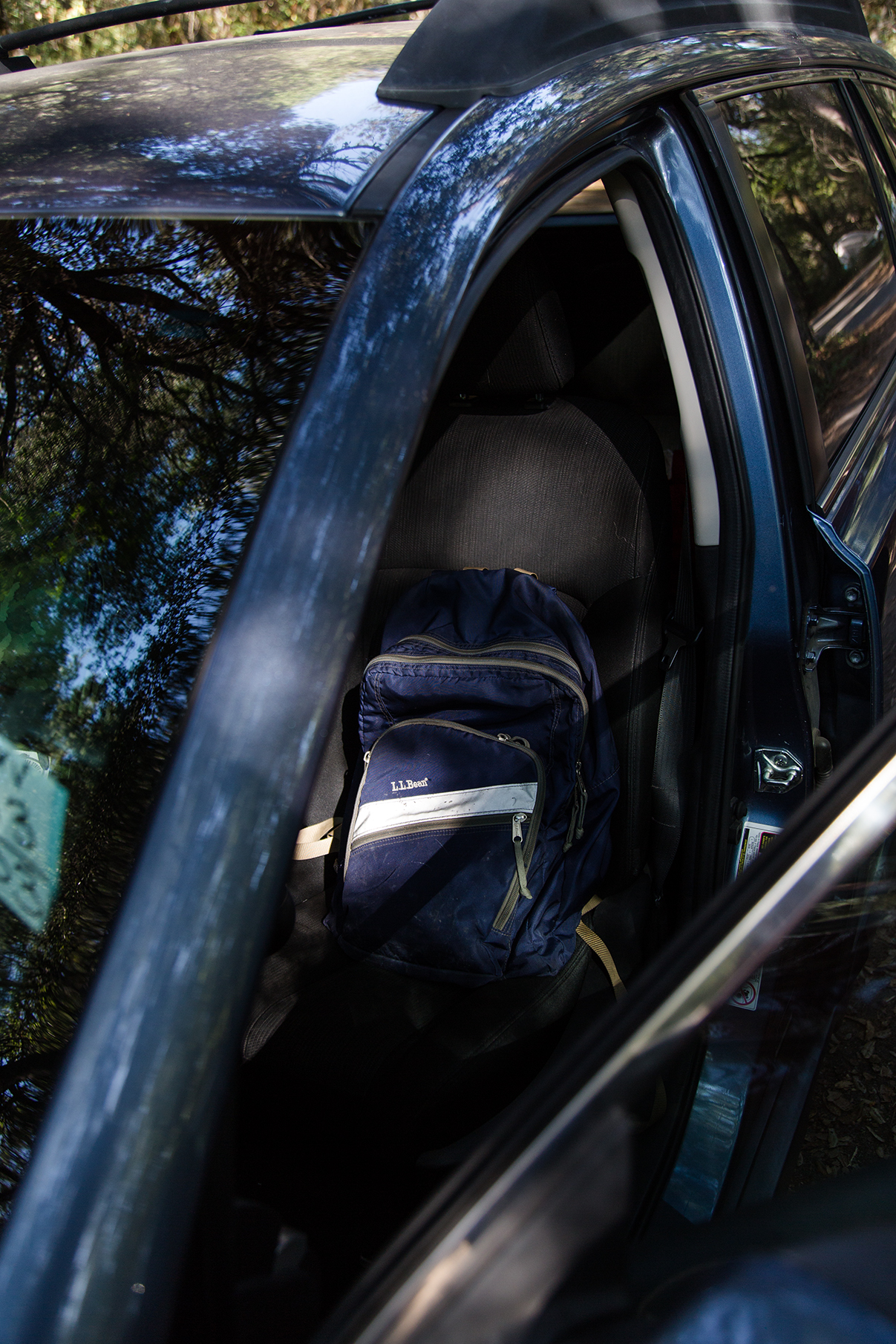 Corey - 8/7 - LL Bean Backpack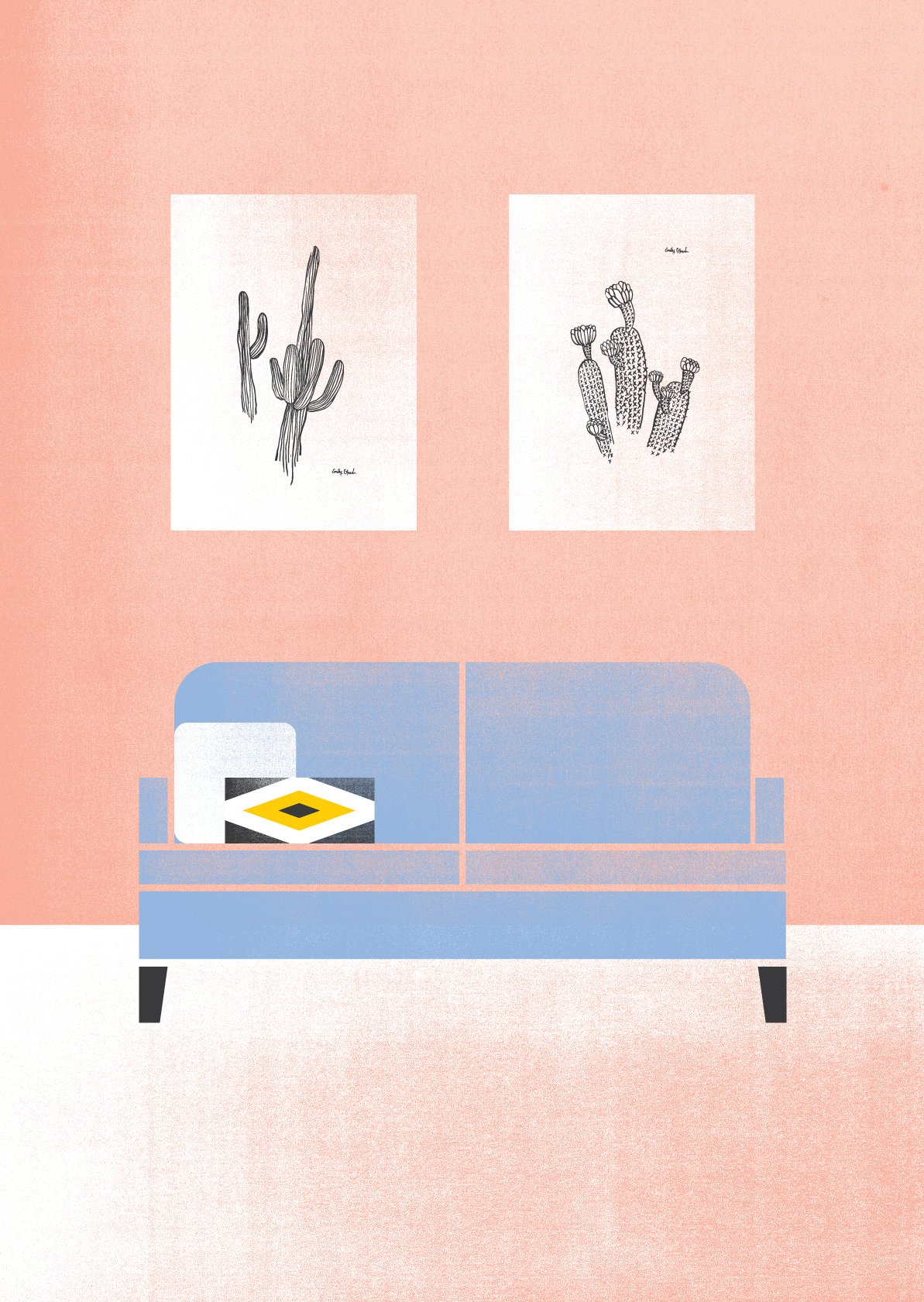 Emily - 8/6 - Couch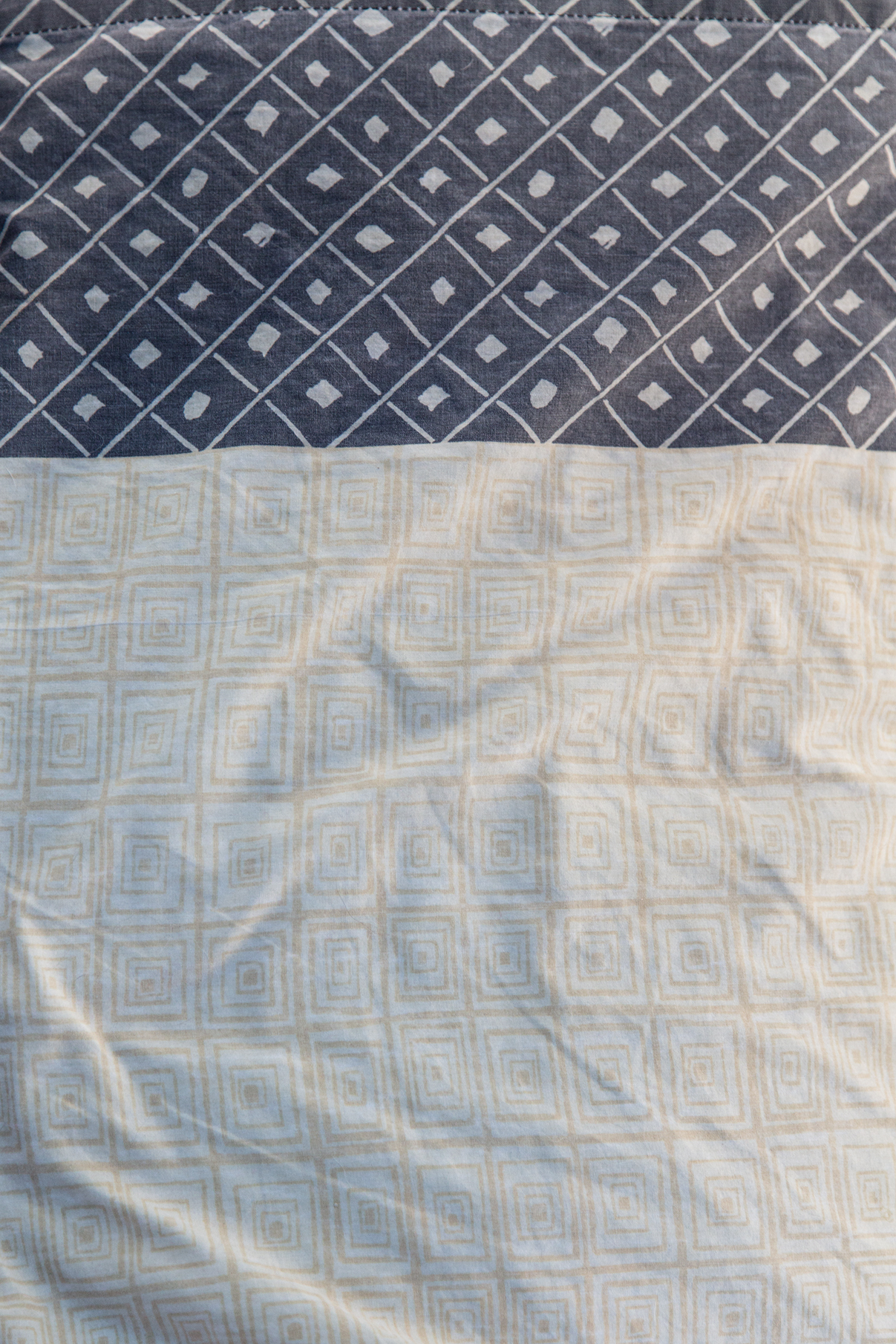 Corey - 8/6 - Pillowcase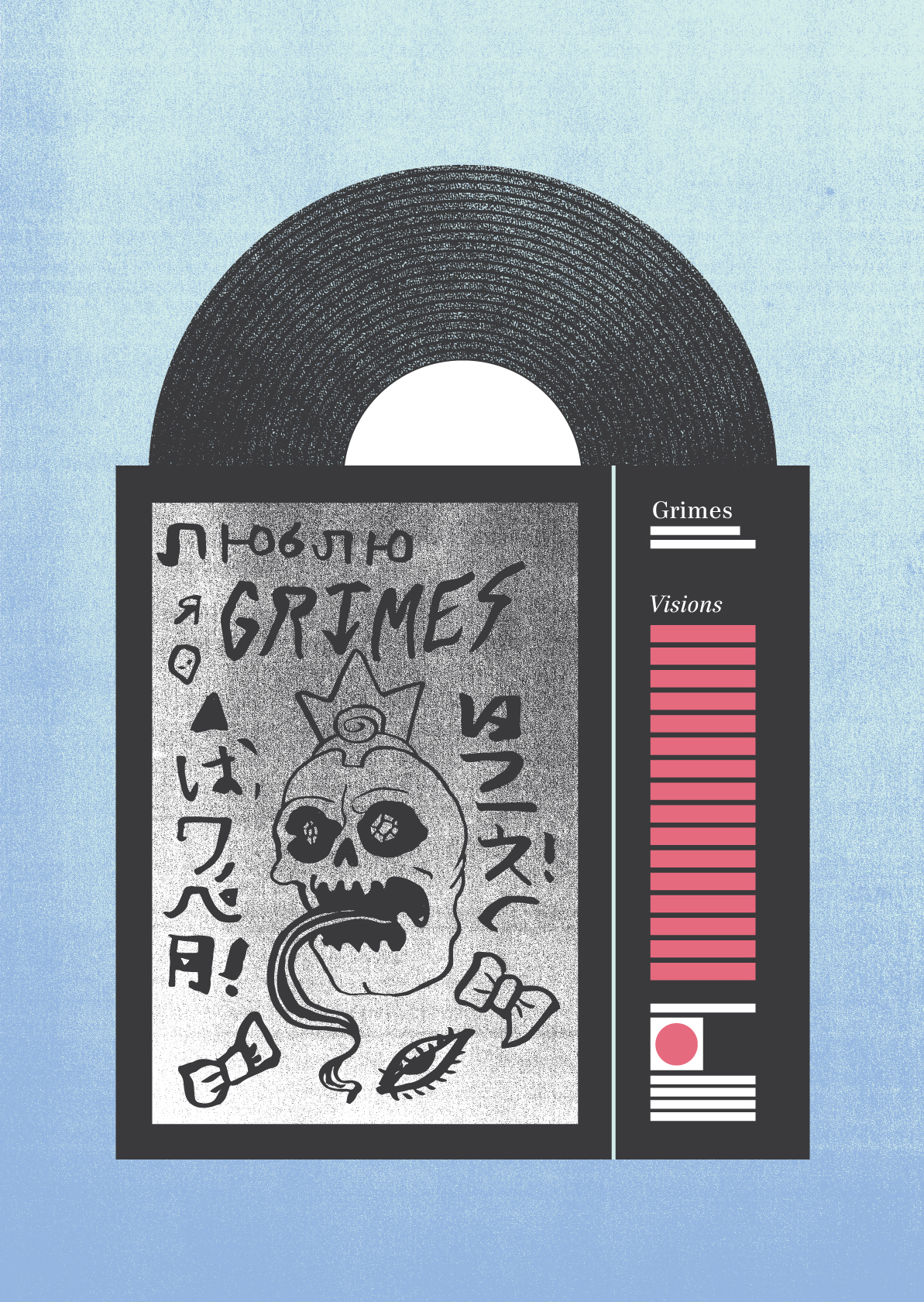 Emily - 8/5 - Grimes, "Visions" Vinyl
Corey - 8/5 - Sleeping Bag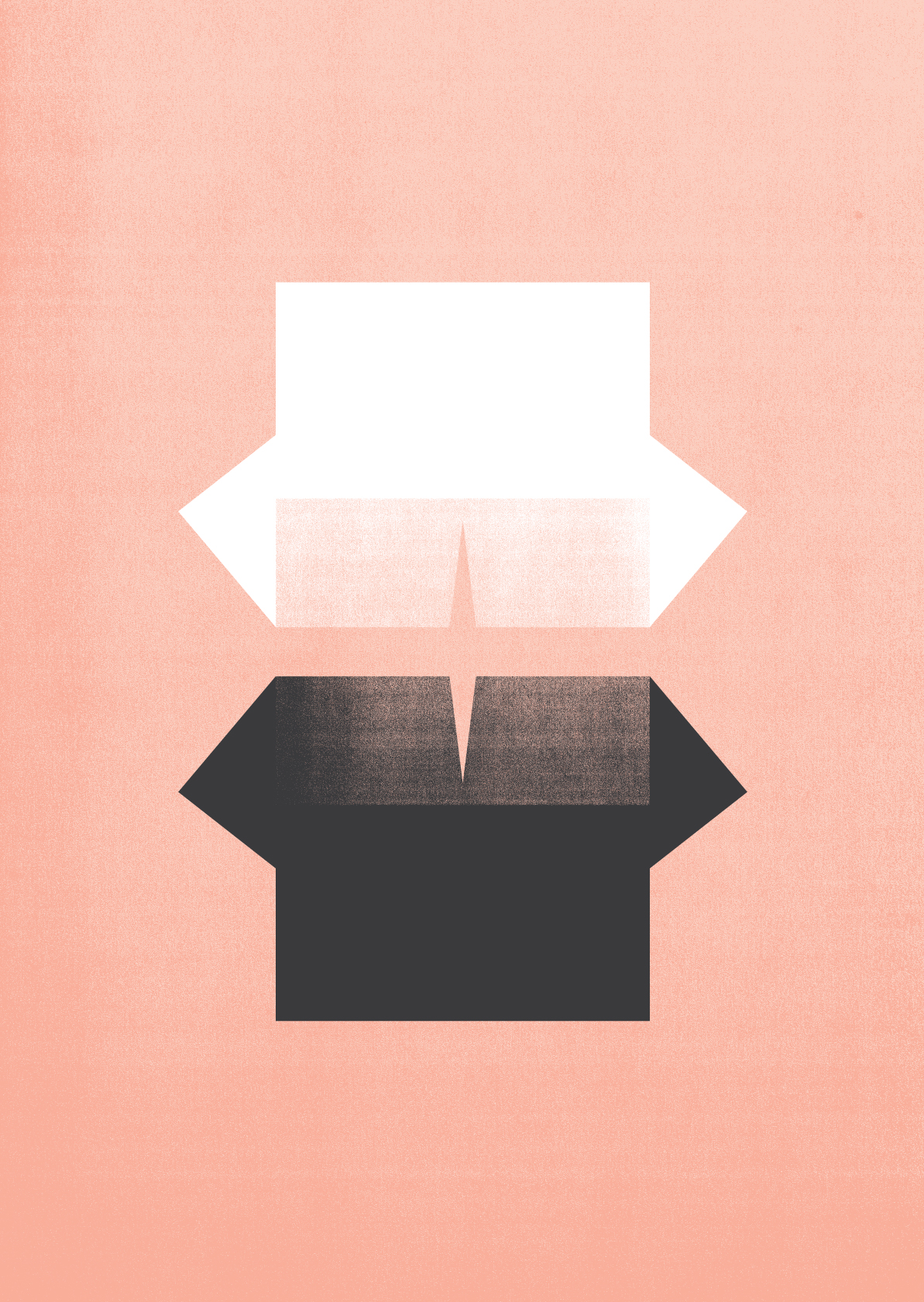 Emily - 8/4 - Vivian Chan "Chriselle" Tops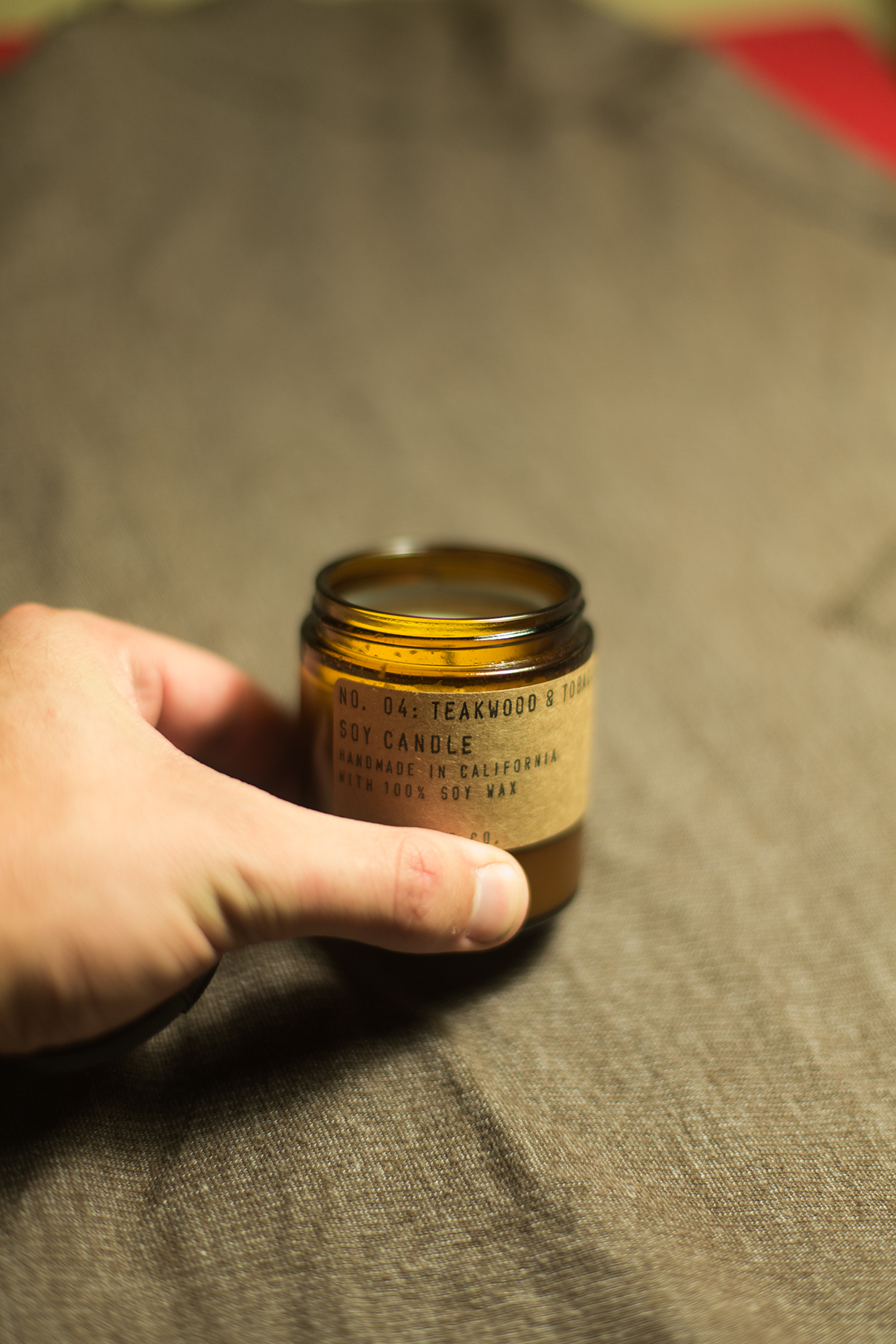 Corey - 8/4 - Teakwood & Tobacco Soy Candle from P.F. Candle Co.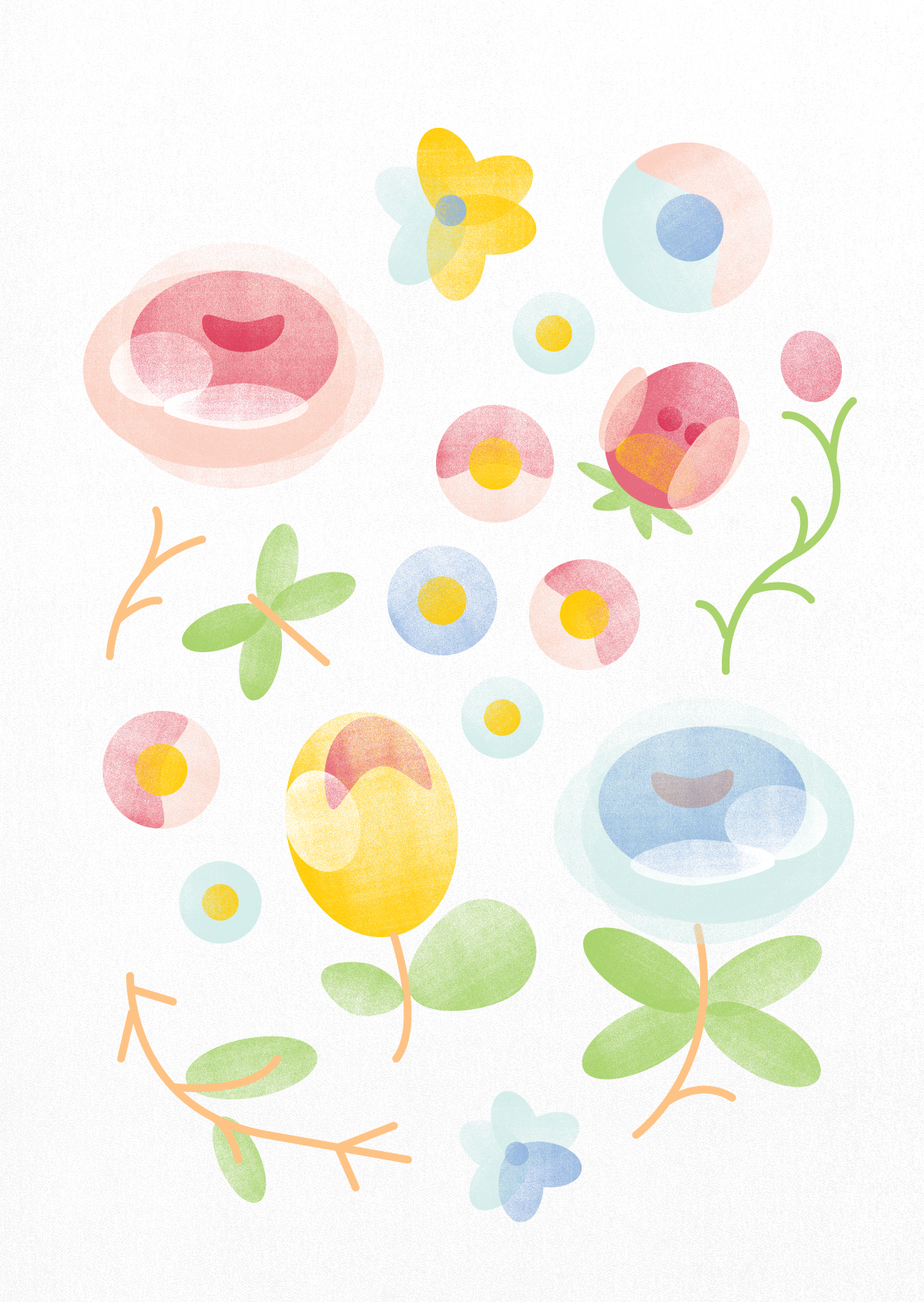 Emily - 8/3 - Floral Madewell Dress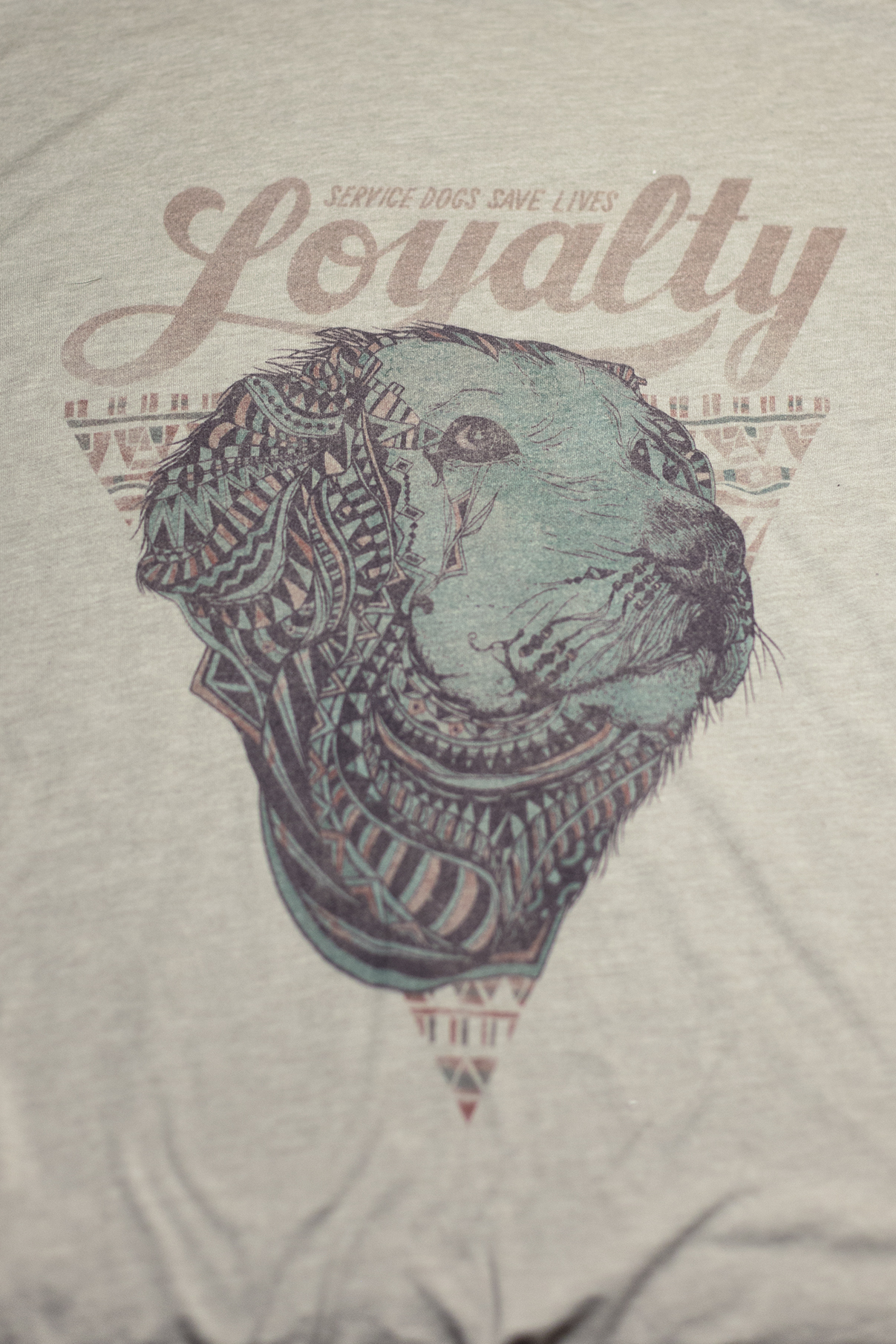 Corey - 8/3 - Service Dog Graphic T-Shirt
Emily - 8/2 - Notebook
Corey - 8/2 - Belt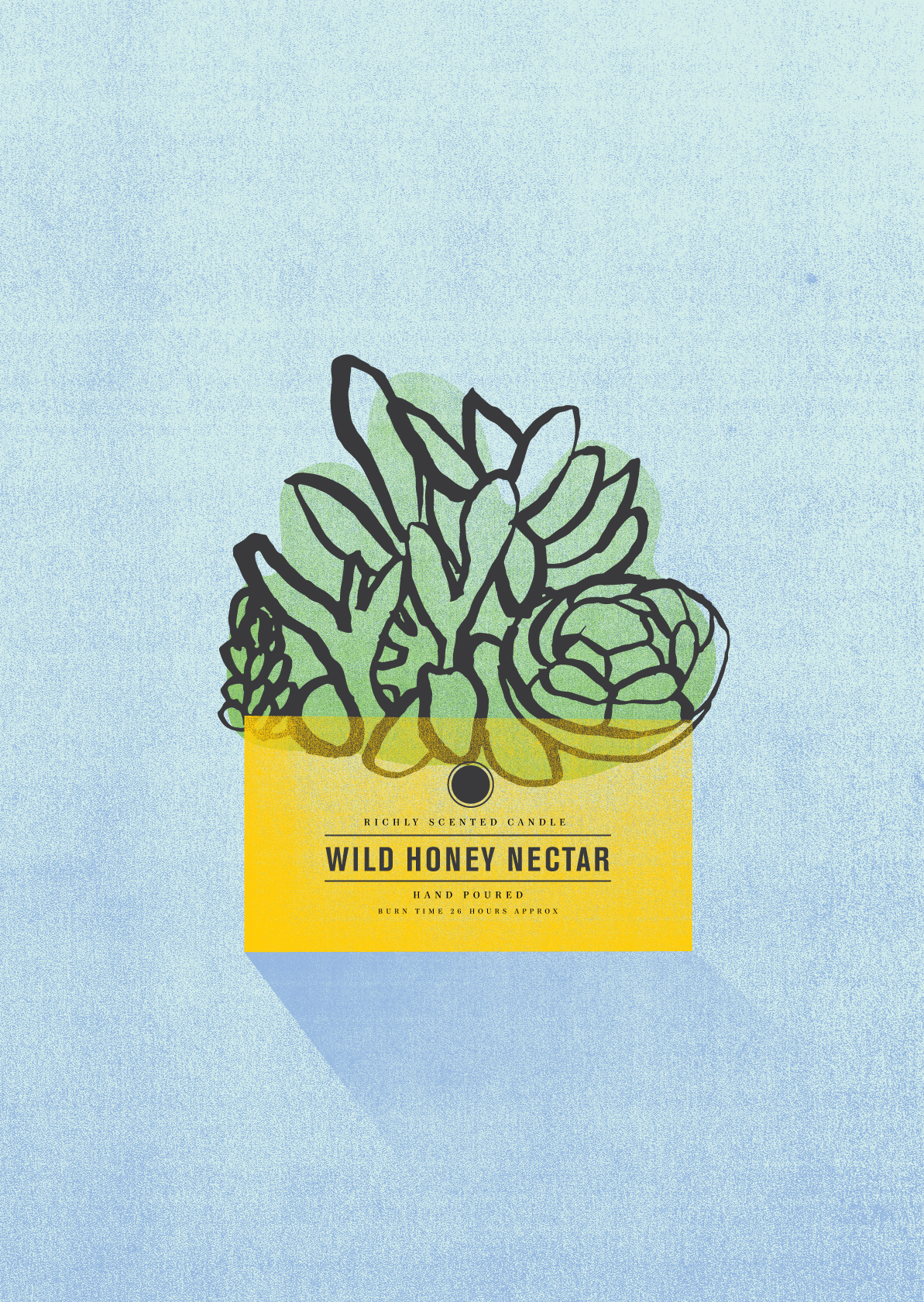 Emily - 8/1 - Succulents
Corey - 8/1 - Wool Socks
Emily - 8/31 - Posters
Left by Peter Judson and right by Linda Linko, both for Wrap Magazine, and both hanging over my bed.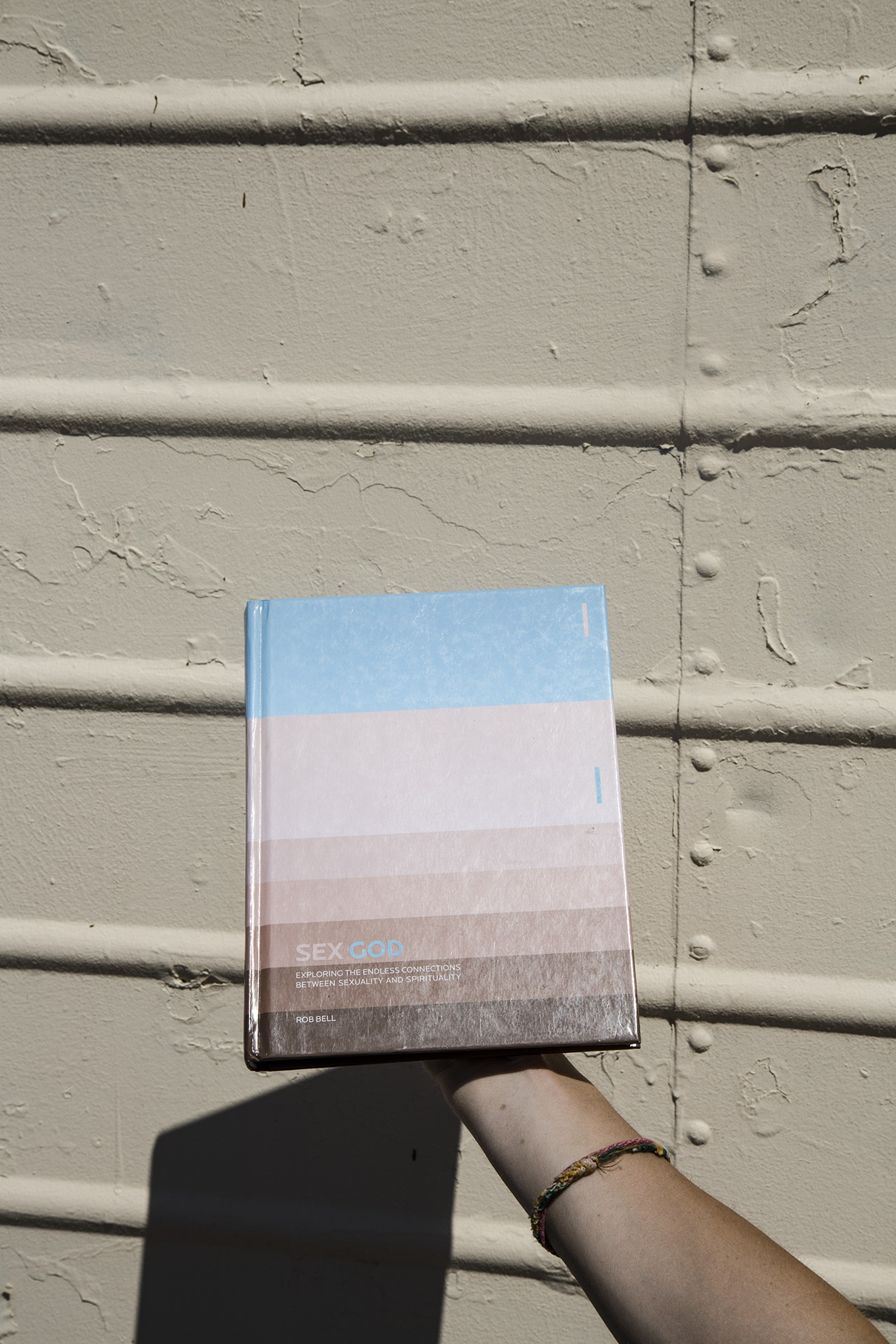 Corey - 8/31 - Sex God, by Rob Bell
"Our sexuality is all of the ways we strive to reconnect with our world, with each other, and with God."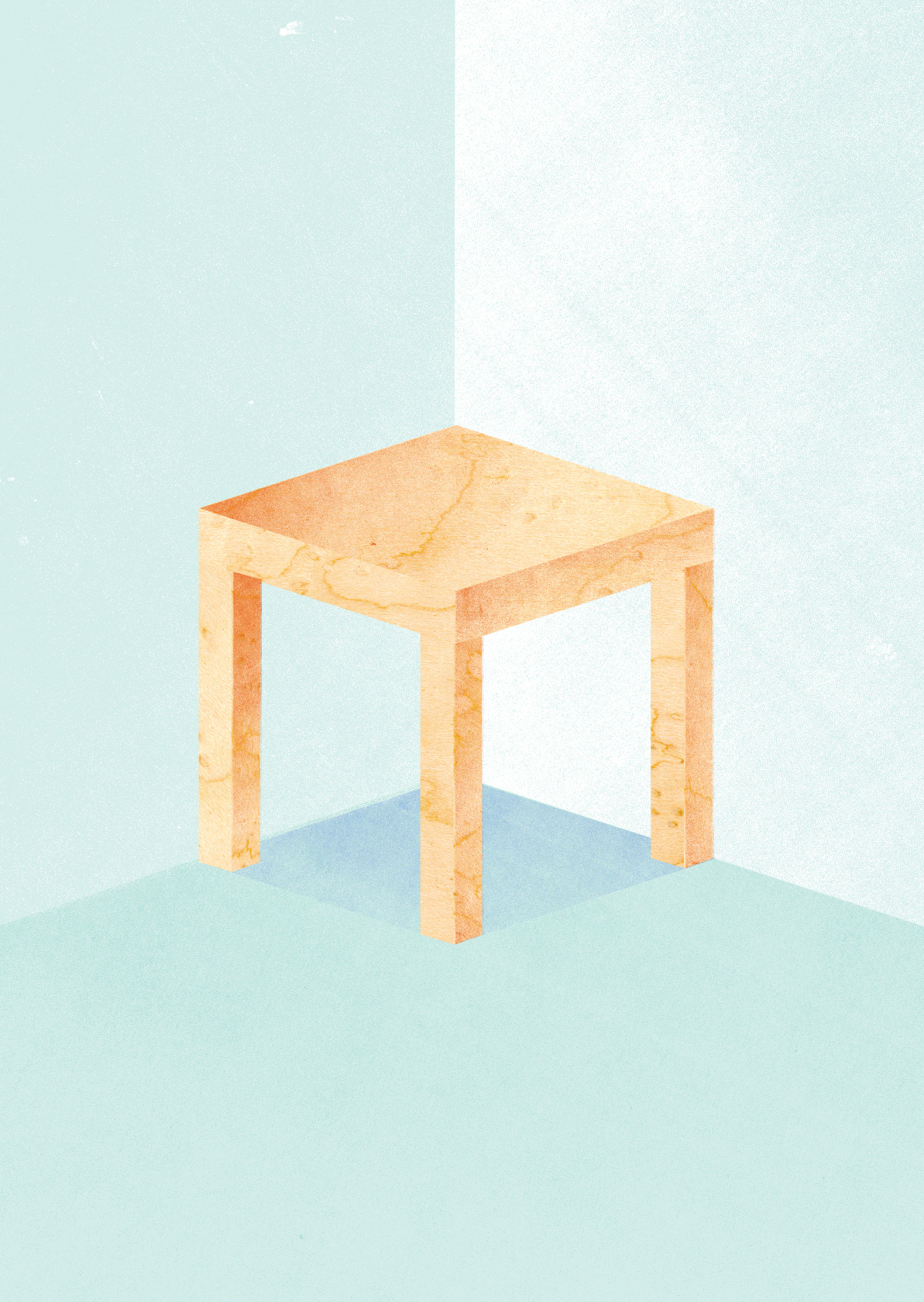 Emily - 8/30 - IKEA Side Table
Simple, functional, and leftover from college.
Corey - 8/30 - Sun Midnight Sun, by Sara Watkins
I bought this album after my sister and I saw Sara Watkins live at the Largo.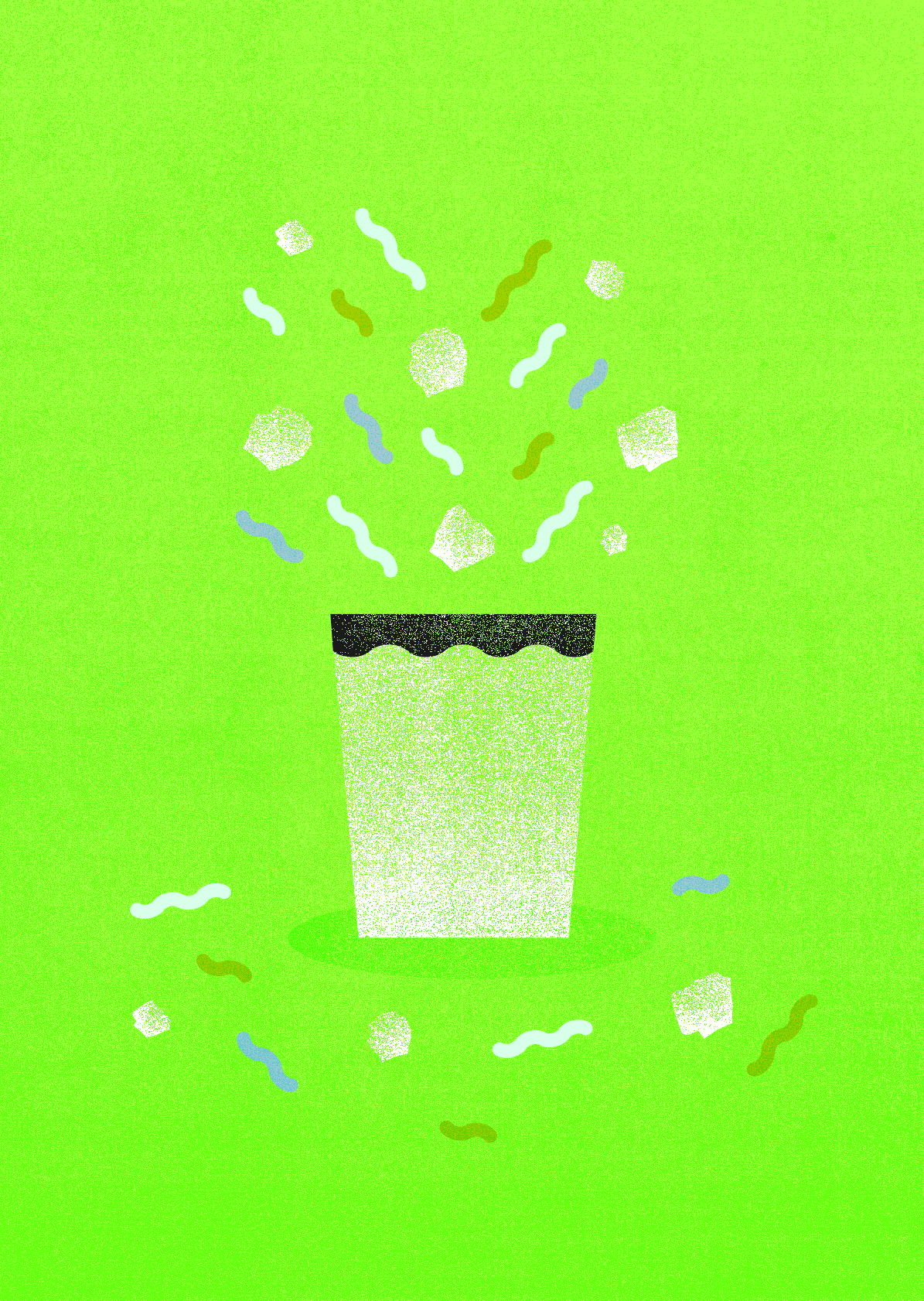 Emily - 8/29 - Trash Can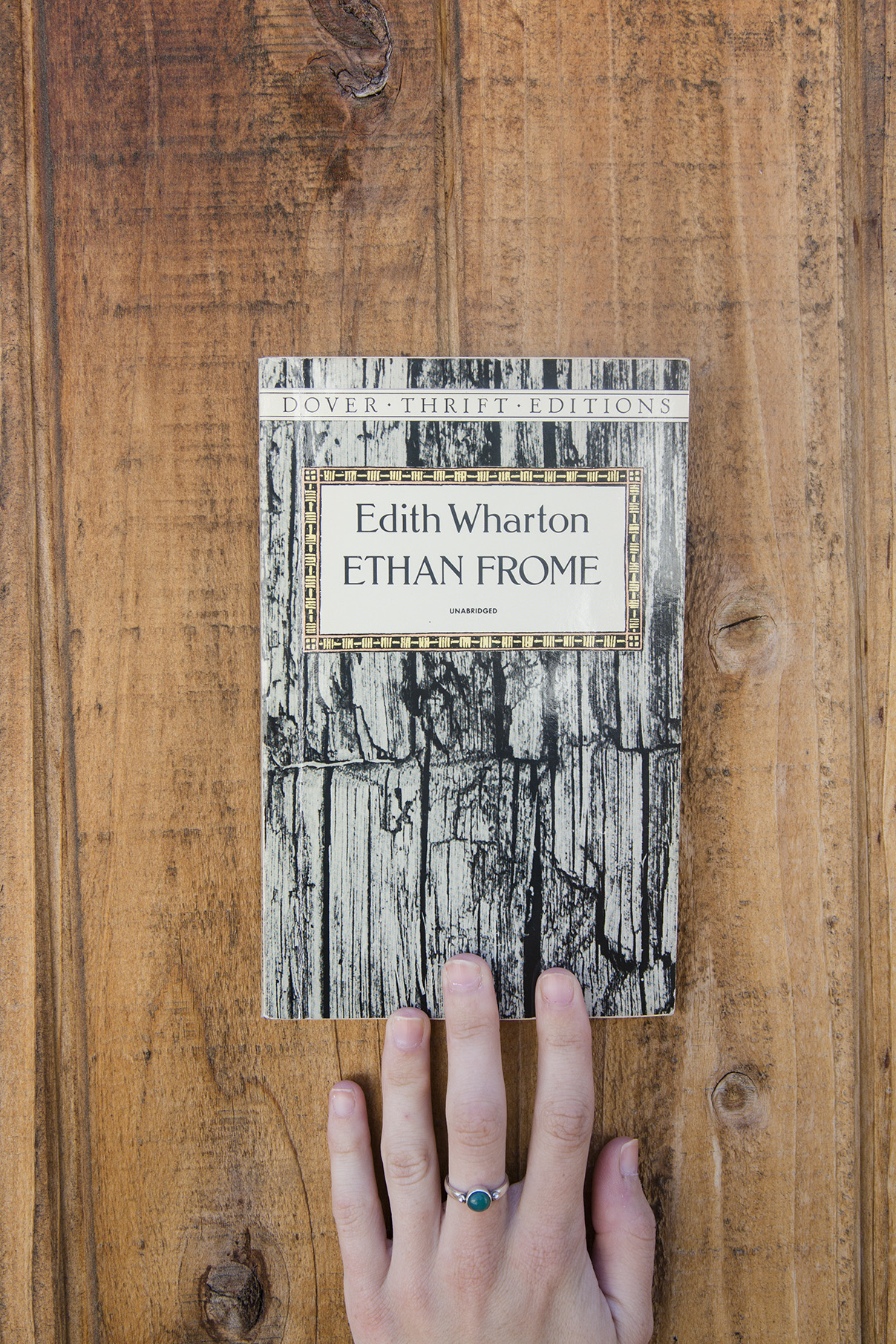 Corey - 8/29 - Ethan Frome, by Edith Wharton
I don't remember this book at all, but it has more underlines per capita than any other book I've ever read.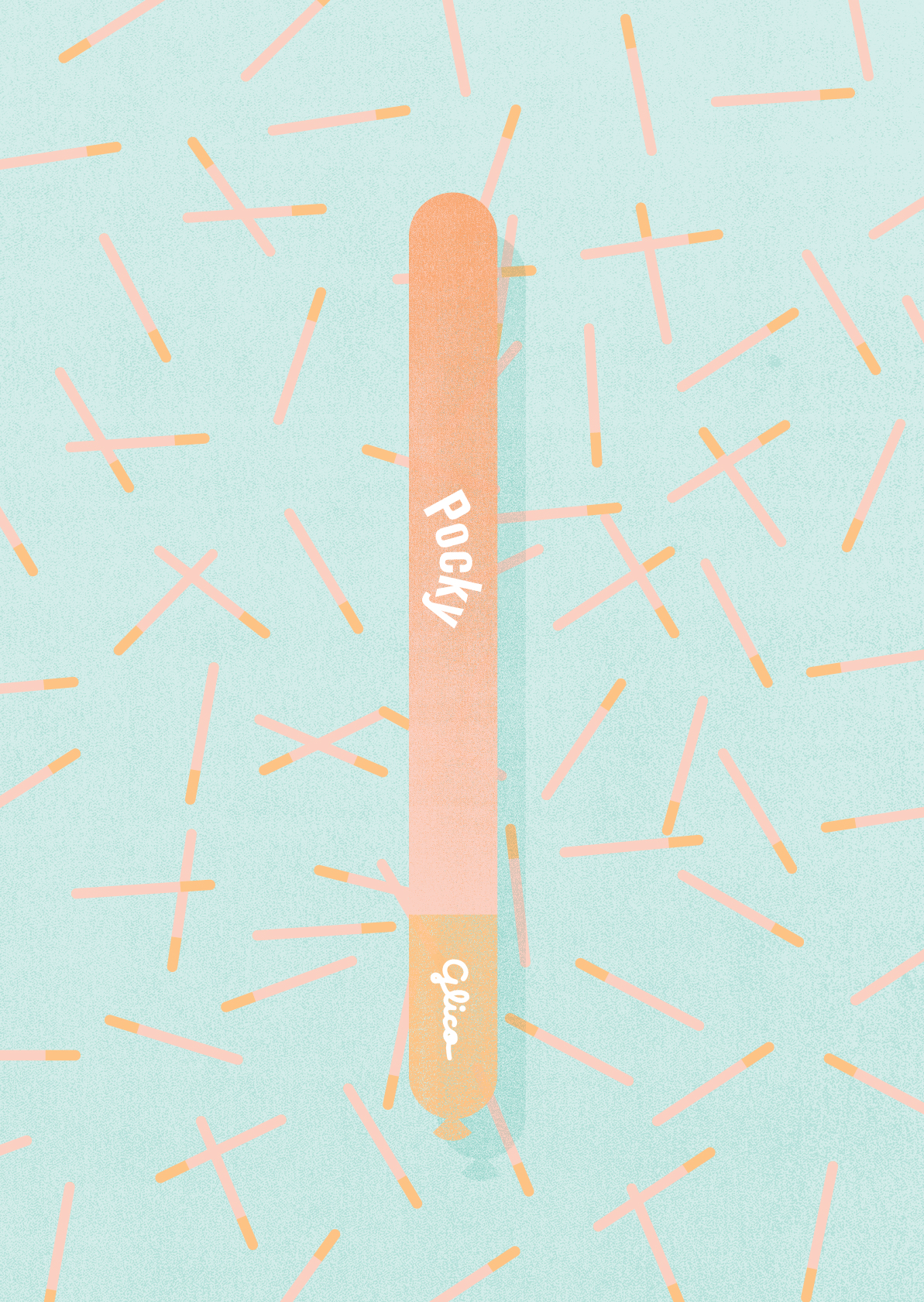 Emily - 8/28 - Pocky Balloon
A giveaway from Marukai that my cousin Lindsey bought me <3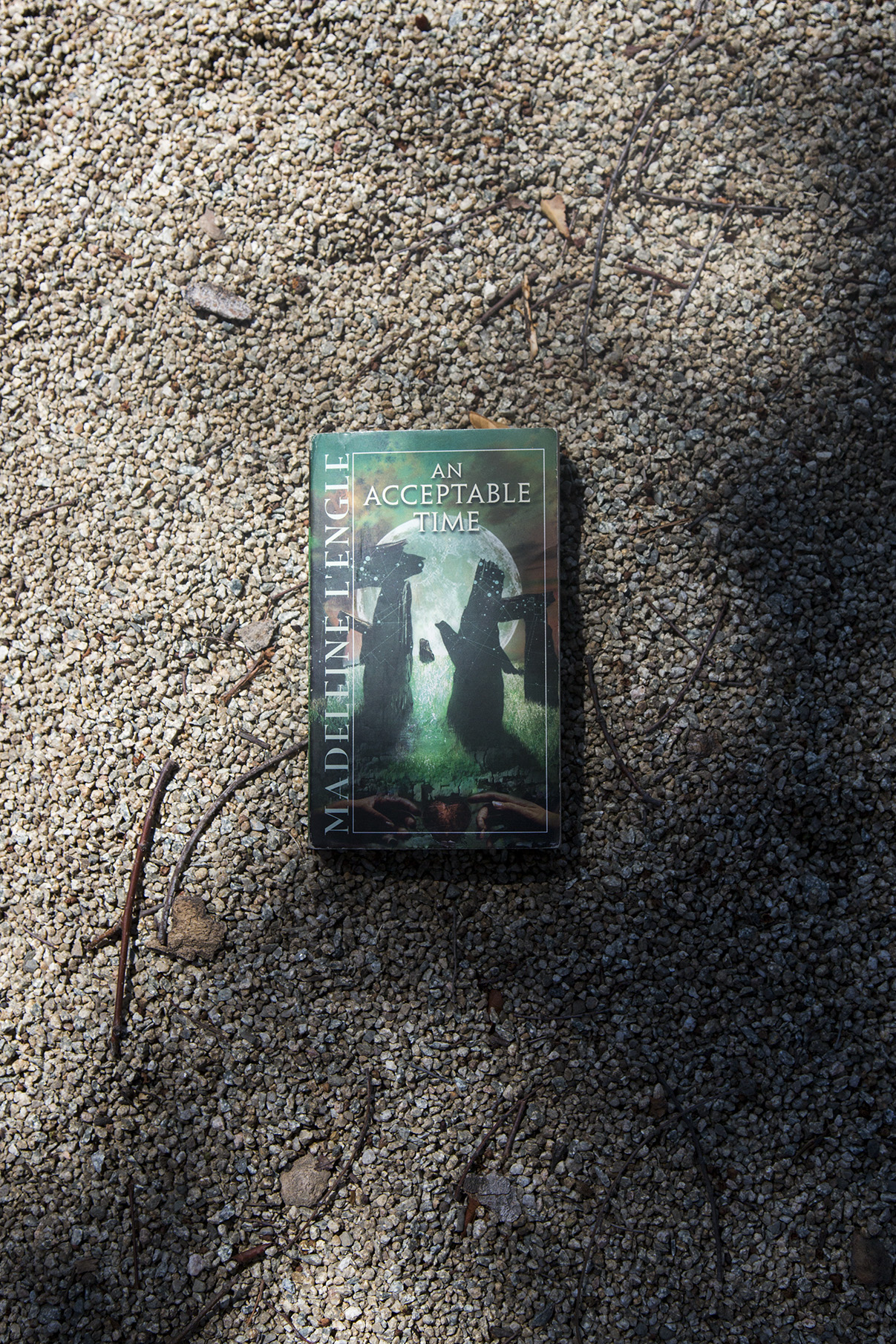 Corey - 8/28 - An Acceptable Time, by Madeleine L'Engle
I don't remember much about this book, but I remember a time-traveling bishop, praying to Jesus among druids and magic, holding out his hands, palms up, saying "I have tried to listen, to understand."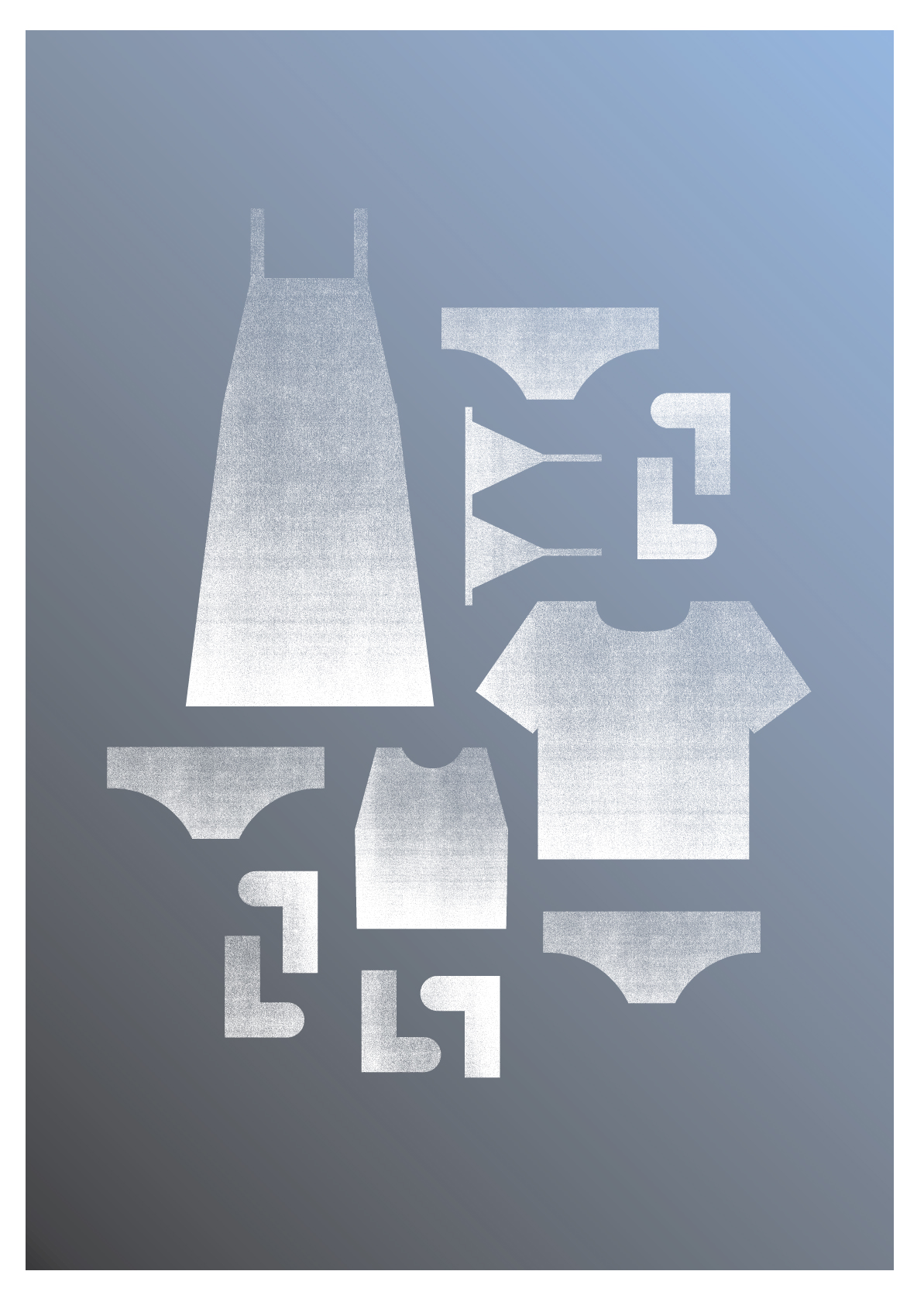 Emily - 8/27 - White Clothes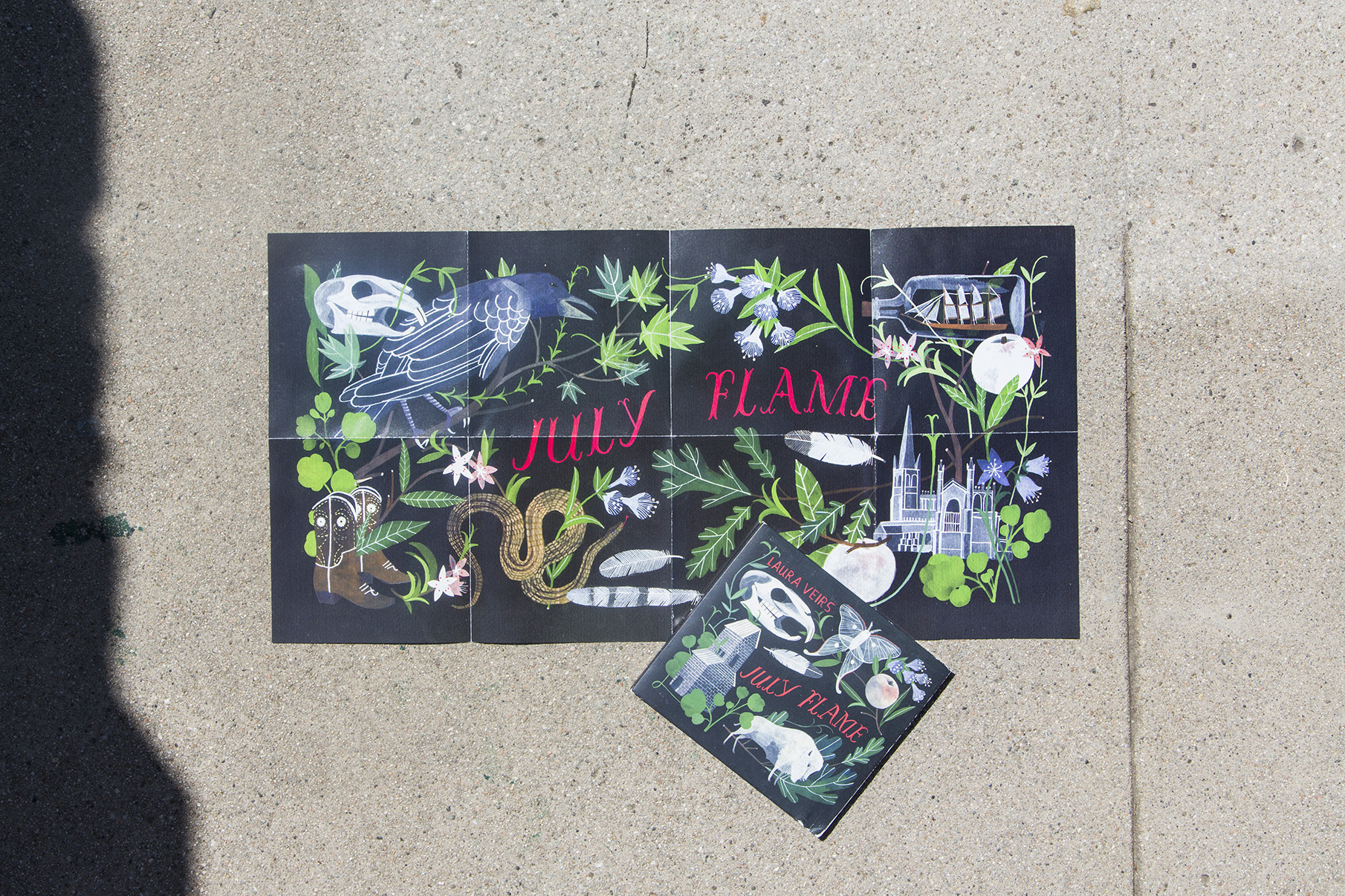 Corey - 8/27 - July Flame, by Laura Veirs
This is such a beautiful album. From When You Give Your Heart, "Since you lay my burdens, since you lay my burdens, since you lay my burdens down, all the troubles I've been dragging down this trail seep into the thirsty ground. And my stampeding buffalo stops in her tracks and watches the snow falling through the old oak tree,when you give your heart to me."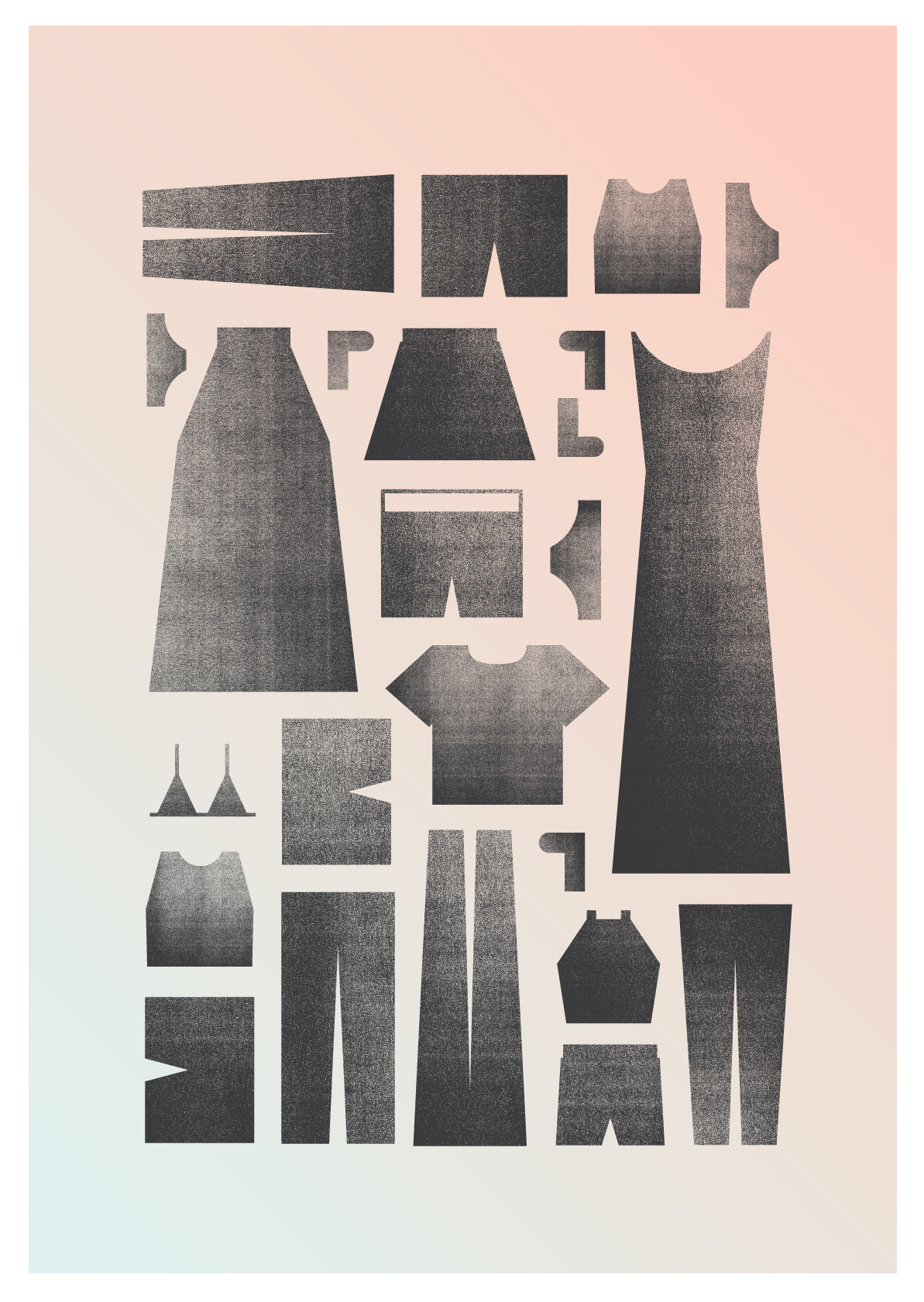 Emily - 8/26 - Black Clothing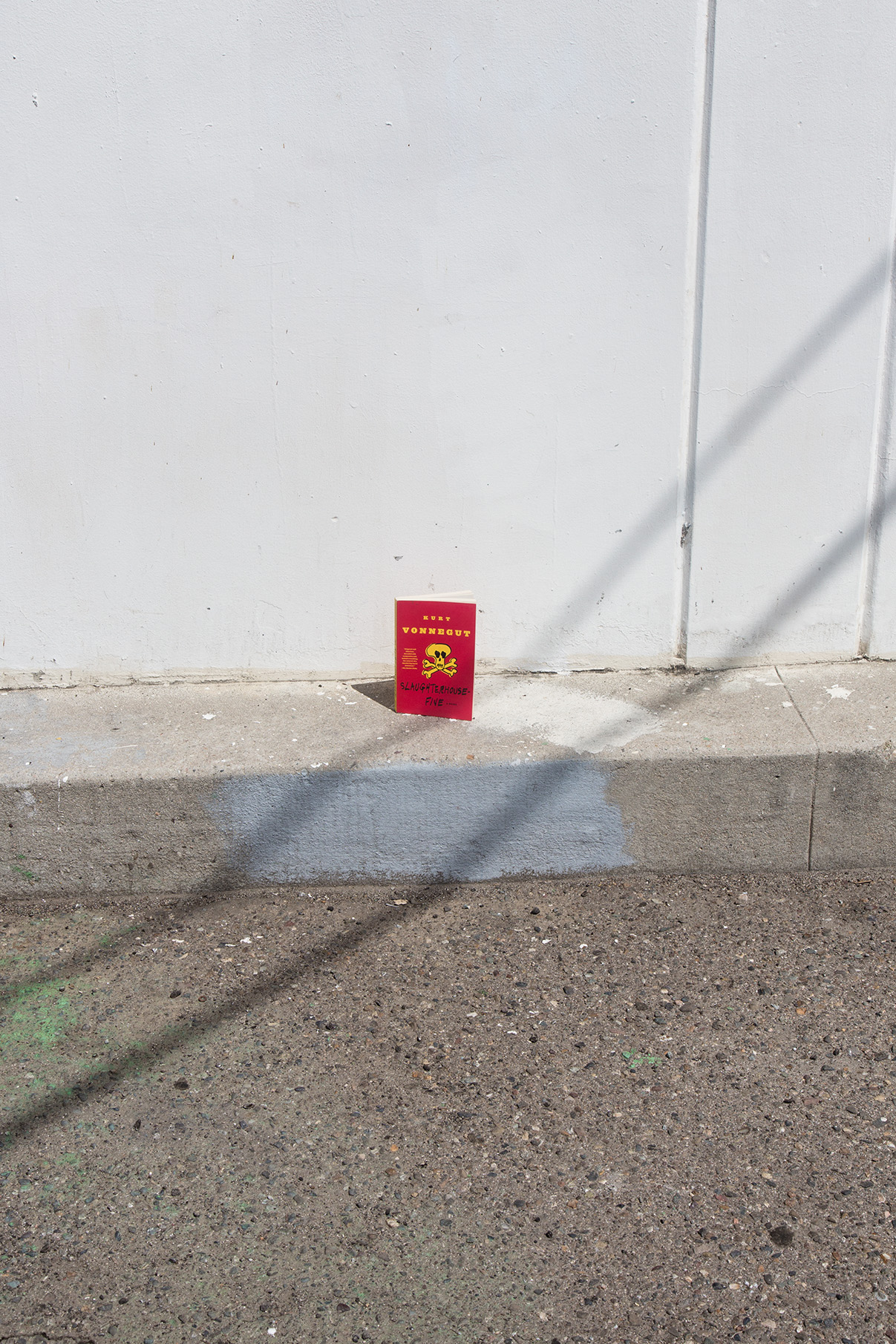 Corey - 8/26 - Slaughterhouse 5 by Kurt Vonnegut
The full name of this haunting book - "Slaughterhouse-Five or The Children's Crusade, a Duty-Dance with Death by Kurt Vonnegut, who, as an american infantry scout hors de combat, as a prisoner of war, witnessed the fire-bombing of Dresden, Germany, "The Florence of the Elbe," a long time ago, and survived to tell the tale. This is a novel somewhat in the telegraphic schizophrenic manner of tales of the planet Tralfamadore, where the flying saucers come from. Peace."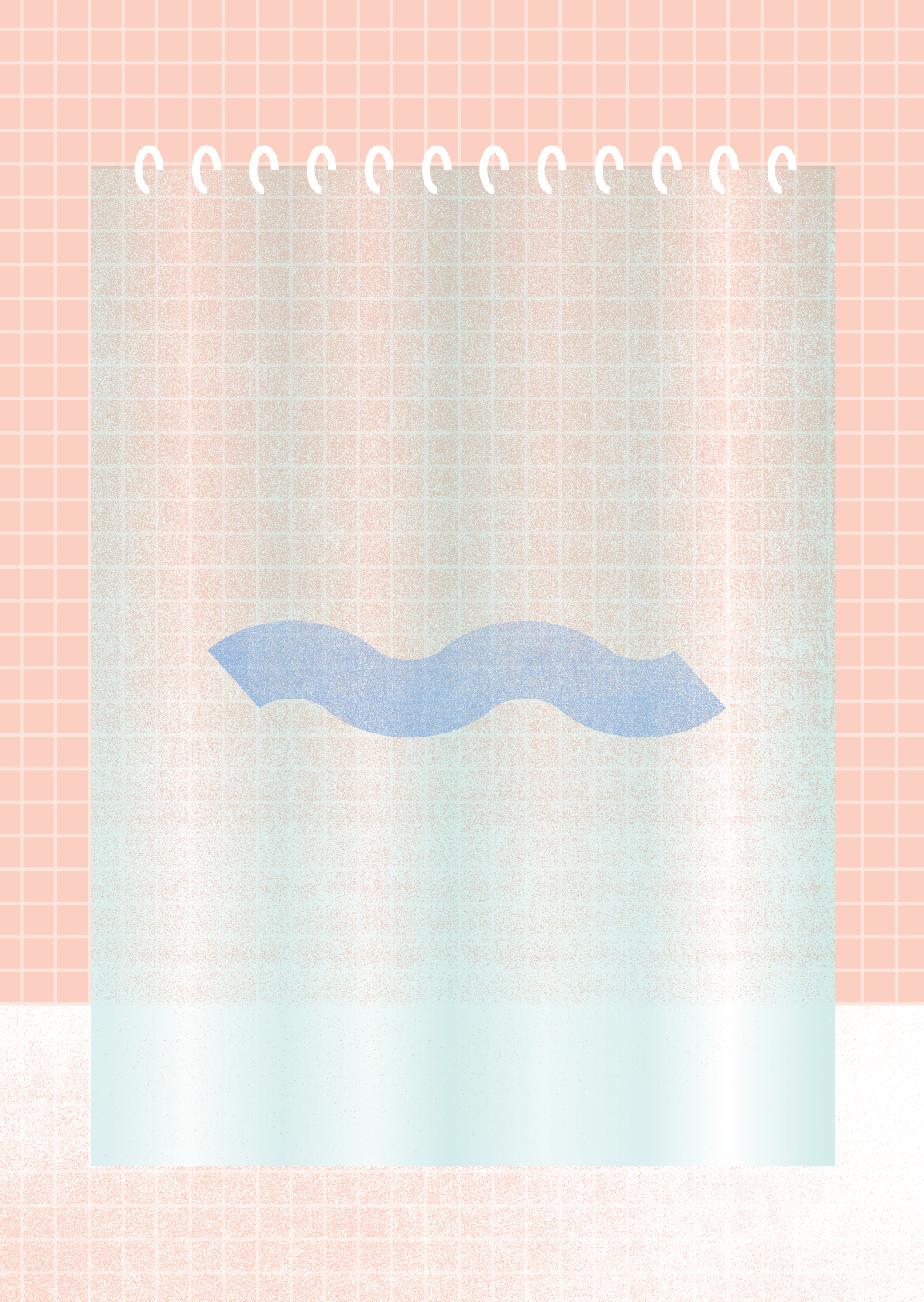 Emily - 8/25 - Muji Shower Curtain and Towel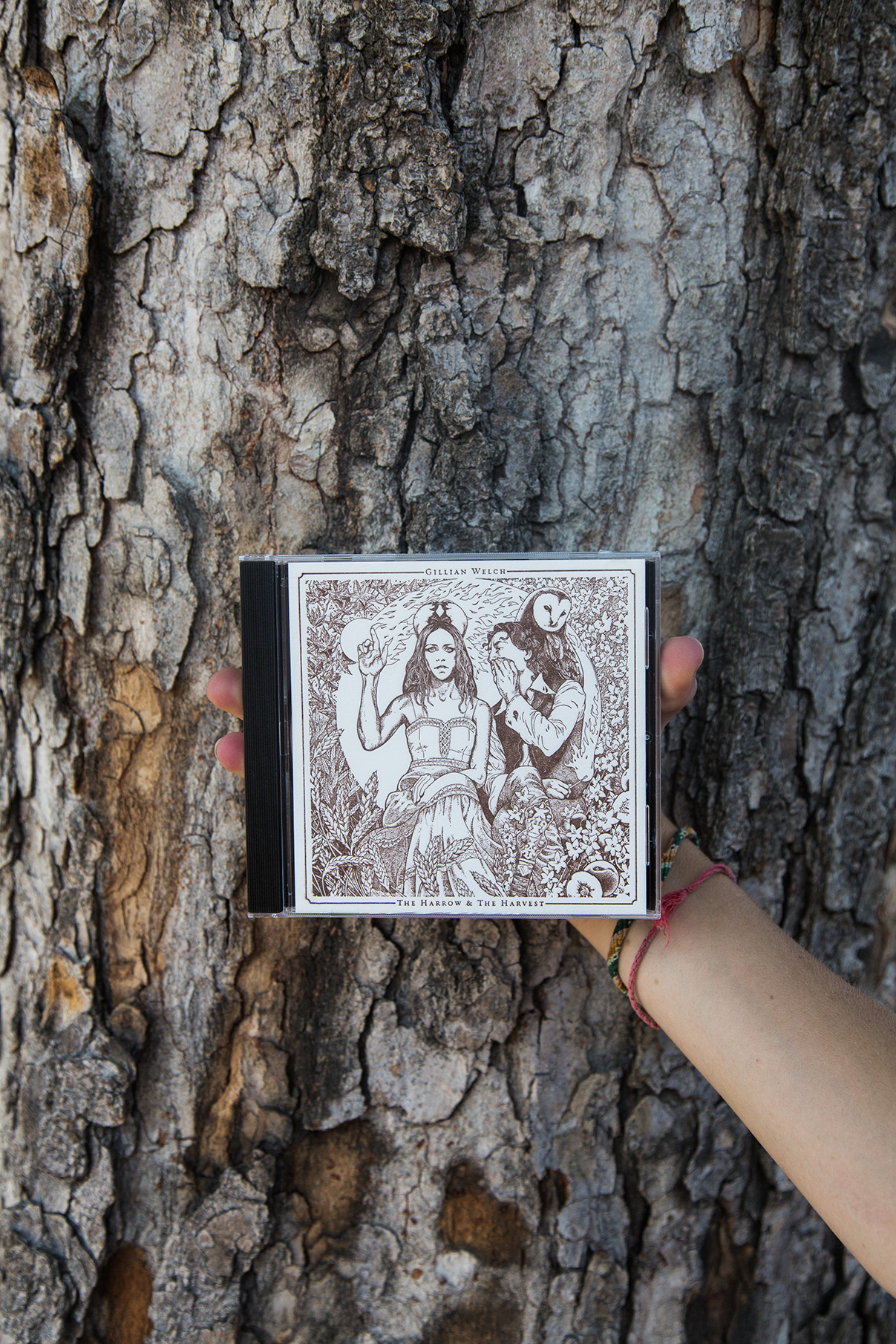 Corey - 8/25 - The Harrow & The Harvest by Gillian Welch
"On the day I came to Scarlet Town. You promised I'd be your bride. You left me here to rot away like holly on a mountainside."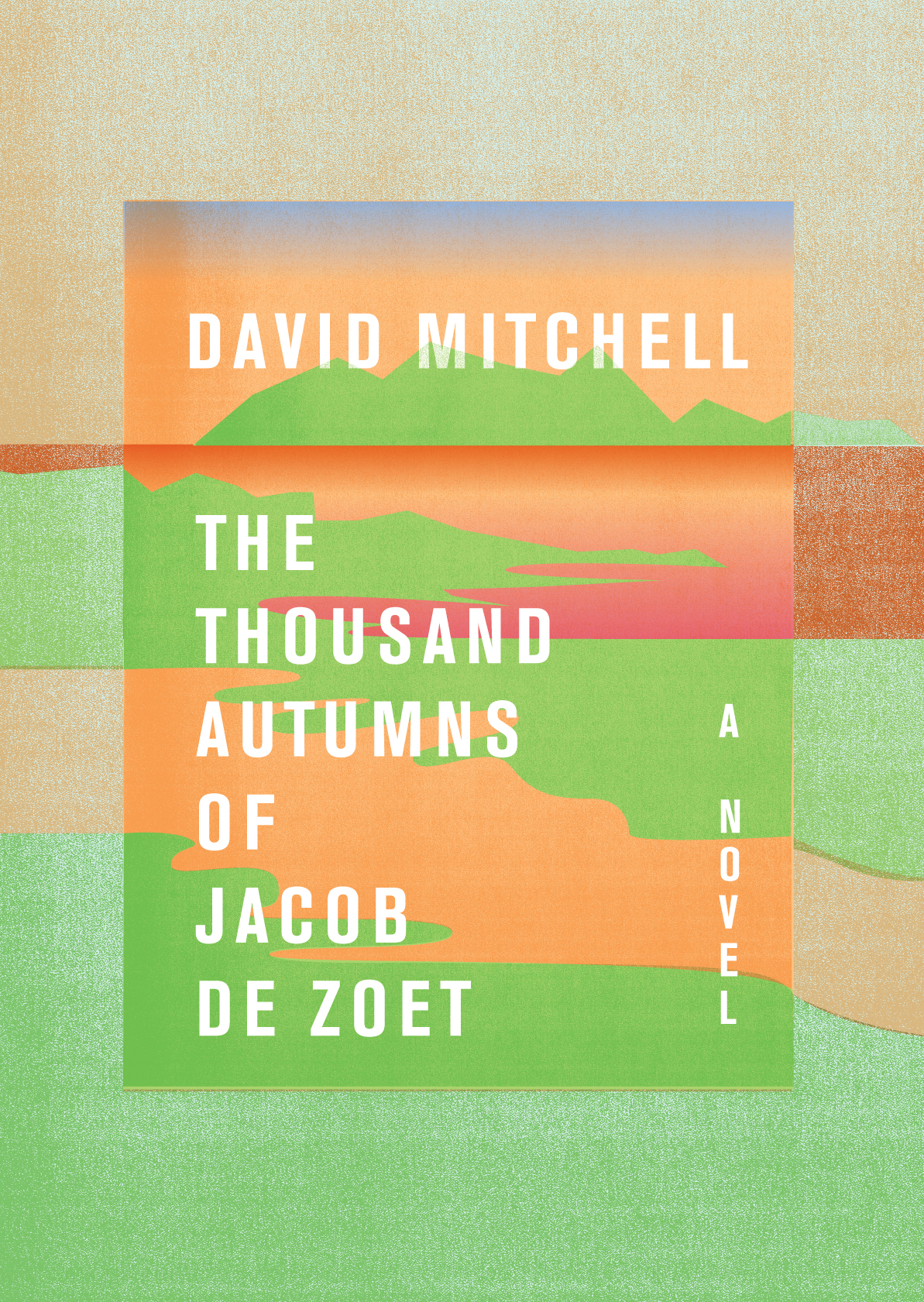 Emily - 8/24 - The Thousand Autumns of Jacob de Zoet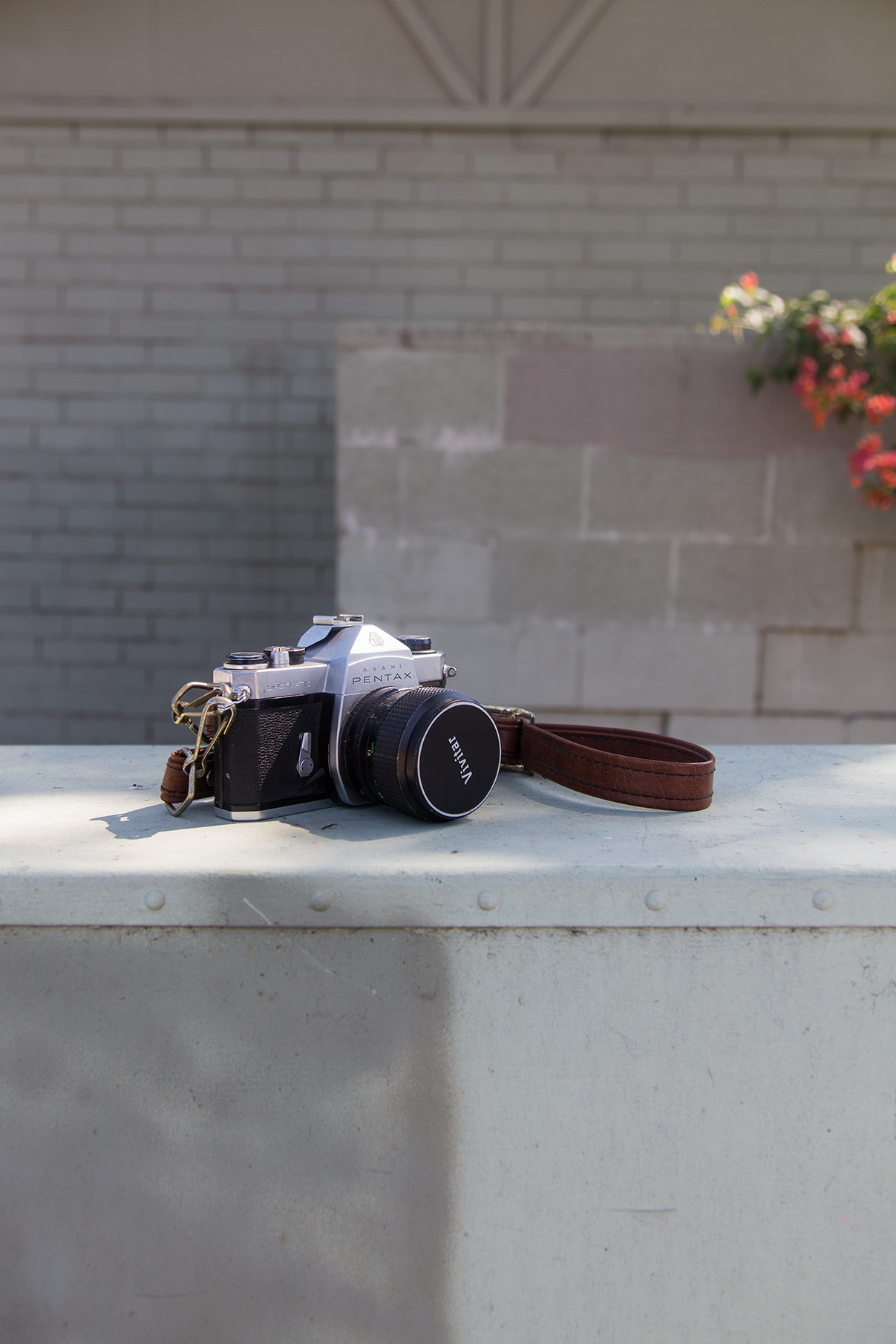 Corey - 8/24 - Asahi Pentax Spotmatic
My Dad used this camera as a young adult. It has some light leaks, but it still works fairly well. This was my first film camera!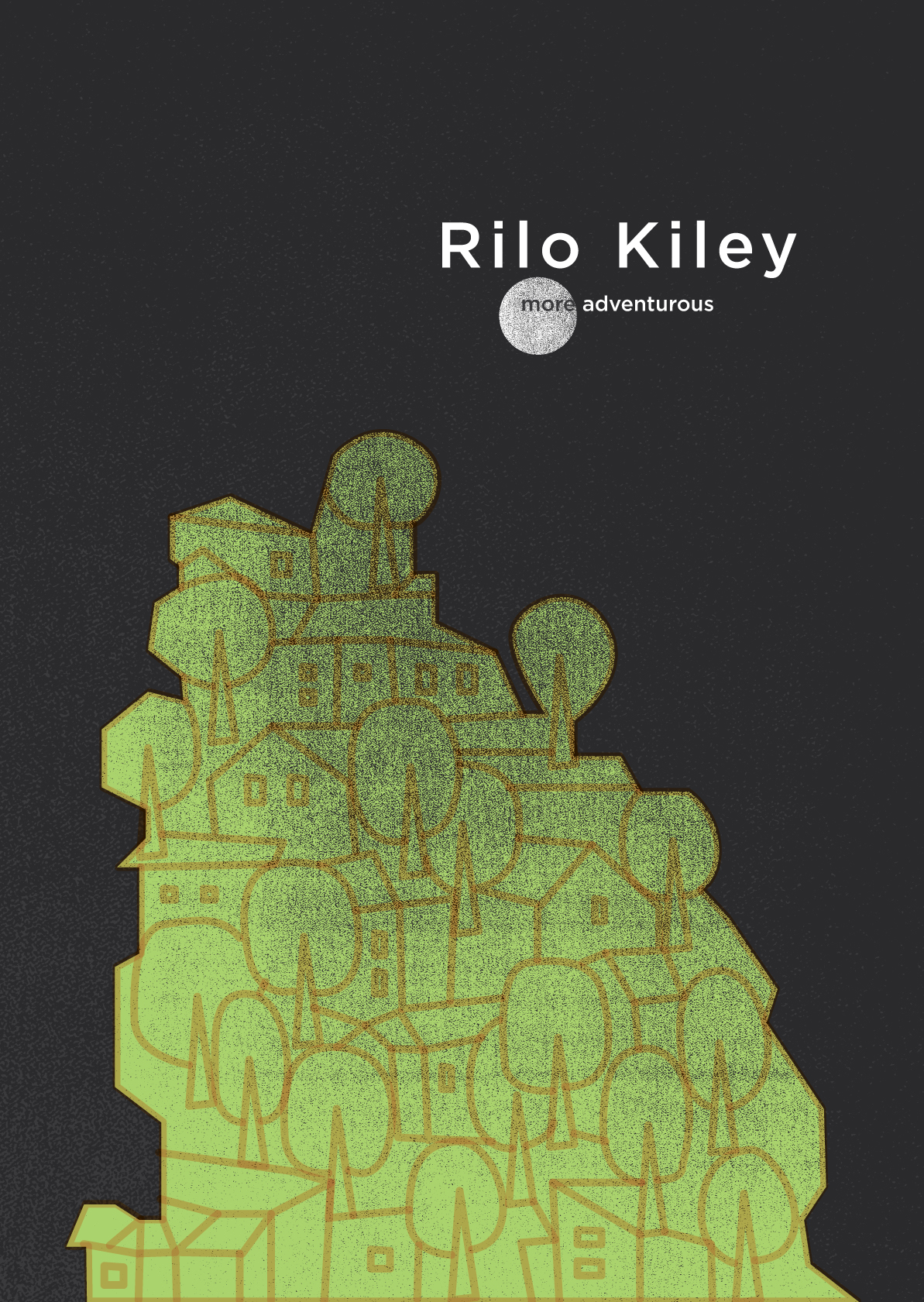 8/23 - More Adventurous Vinyl
One of my favorite albums from high school.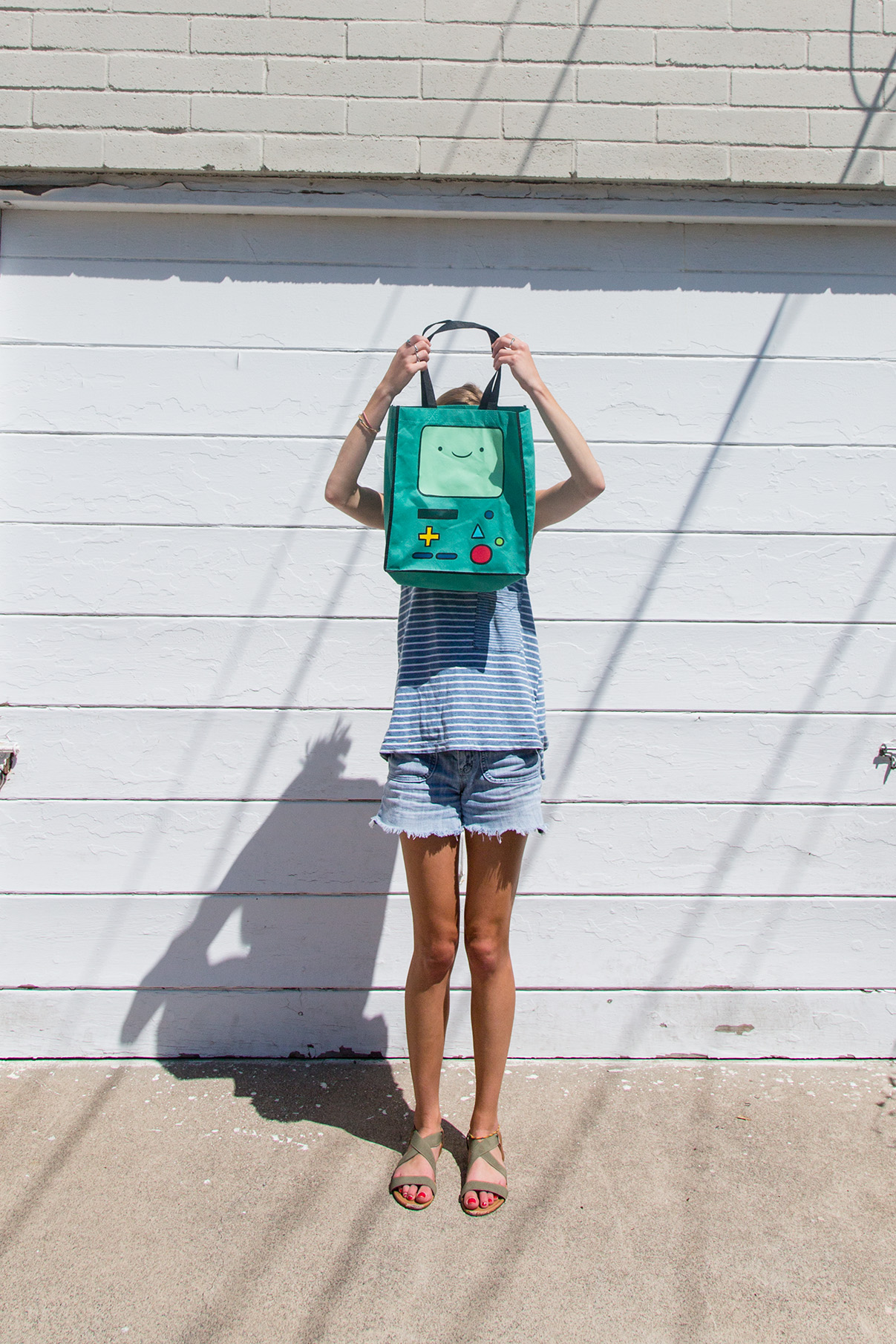 Corey - 8/23 - BMO Tote Bag
I purchased this tote bag at Kappa Toys in Las Vegas. I love Adventure Time, and couldn't pass up this perfect and well-priced bag.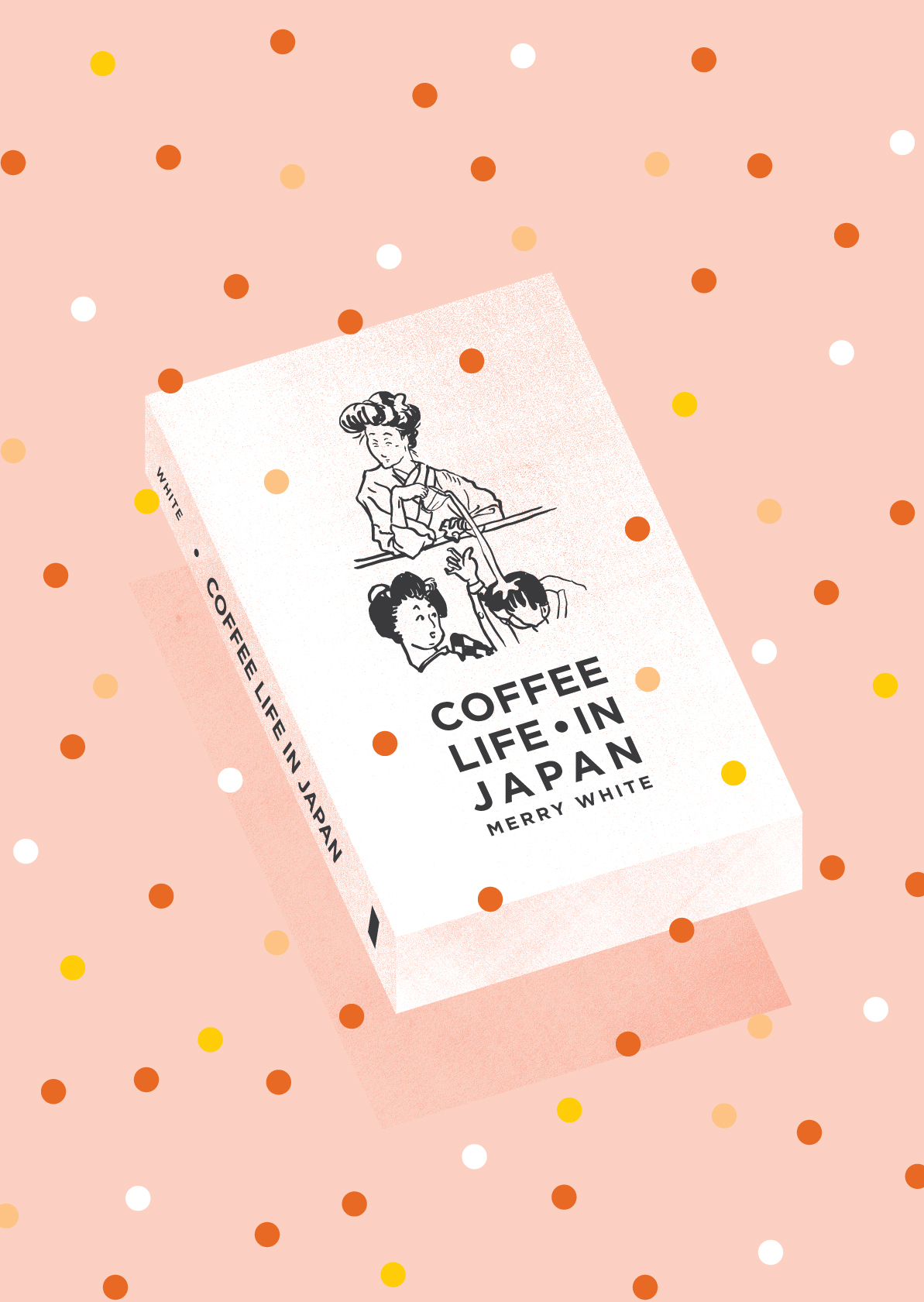 Emily - 8/22 - Coffee Life in Japan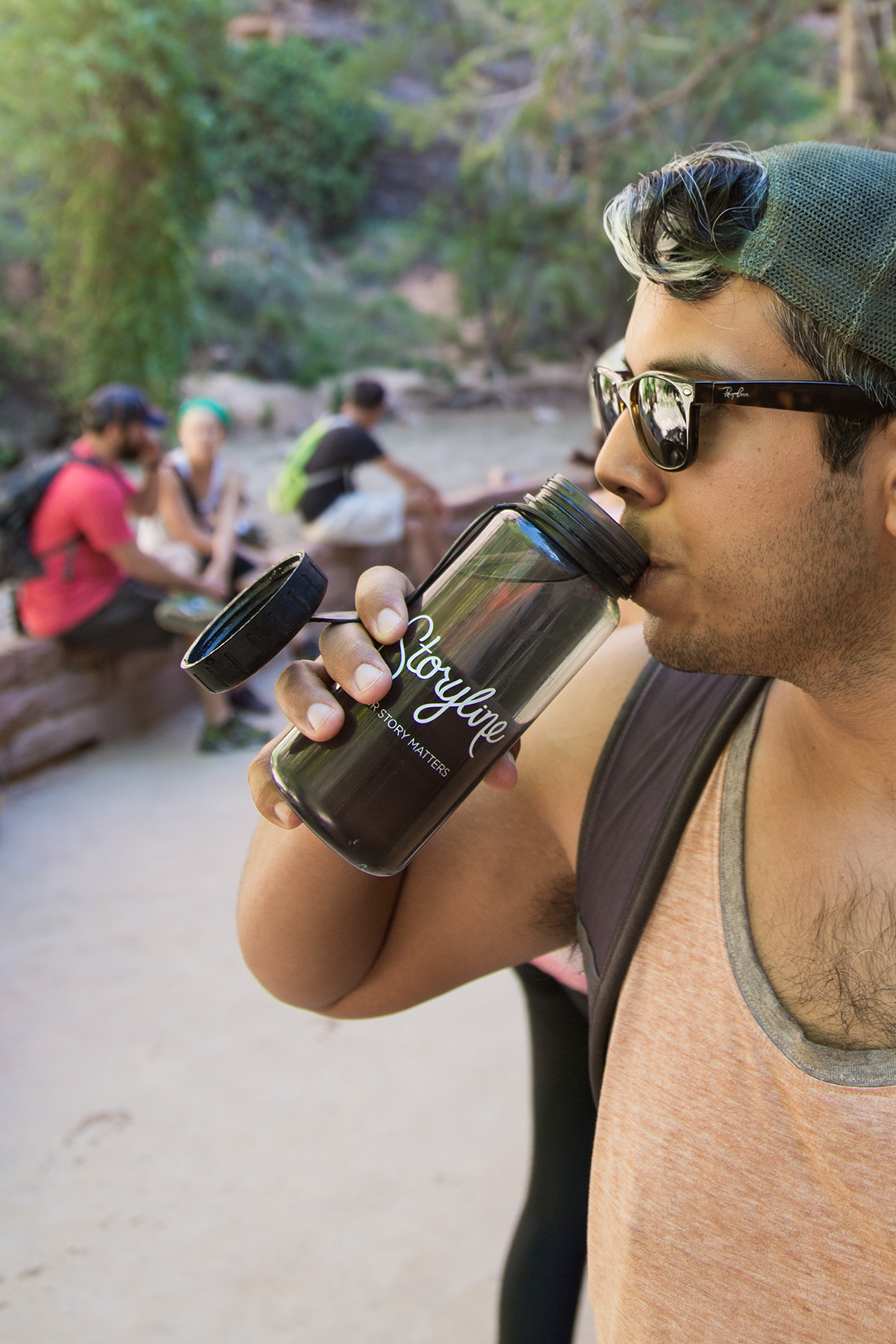 Corey - 8/22 - Storyline Canteen
Water swag from the 2014 Storyline Conference.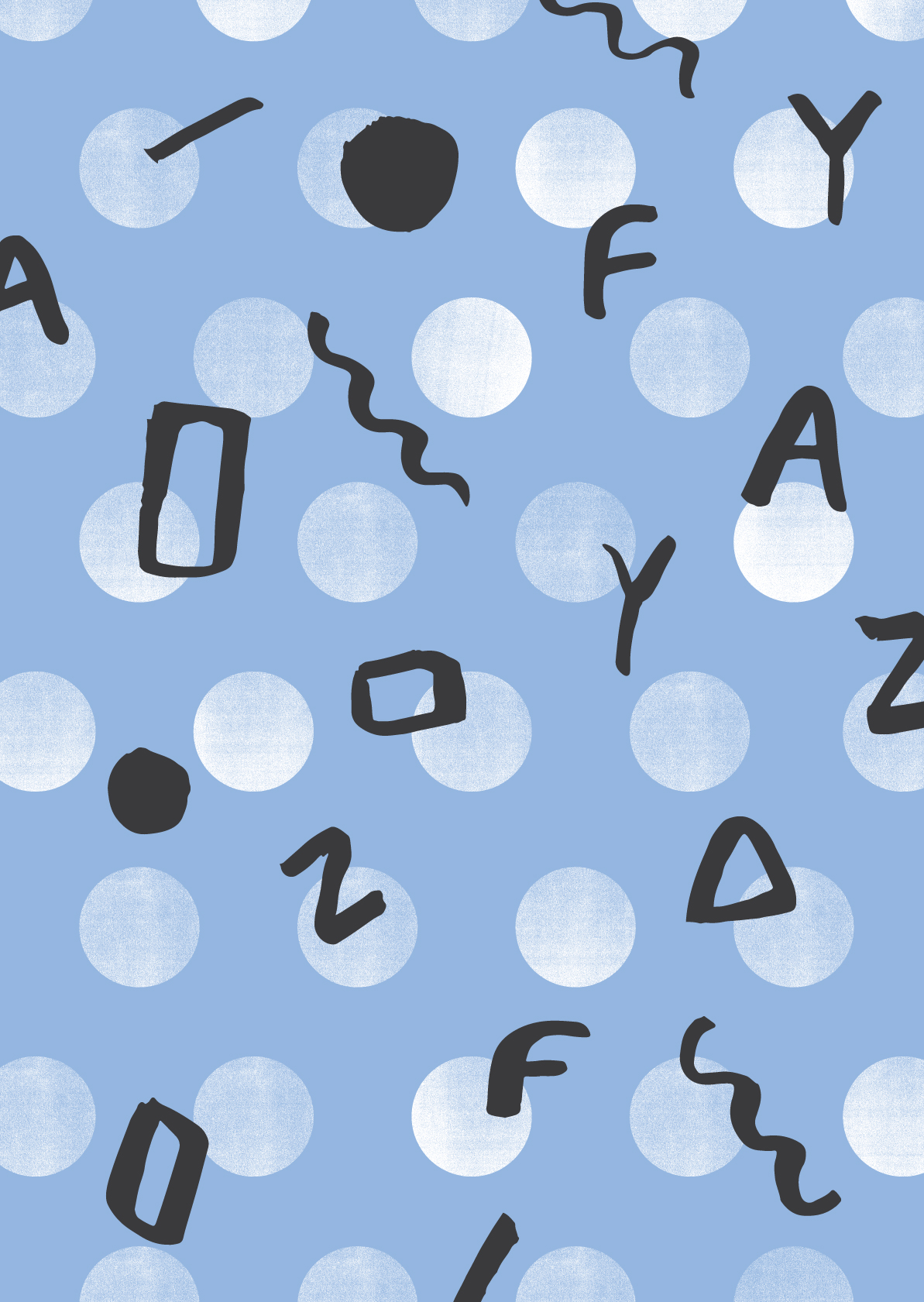 Emily - 8/21 - Lazy Oaf Dress
Childish looking but I love it.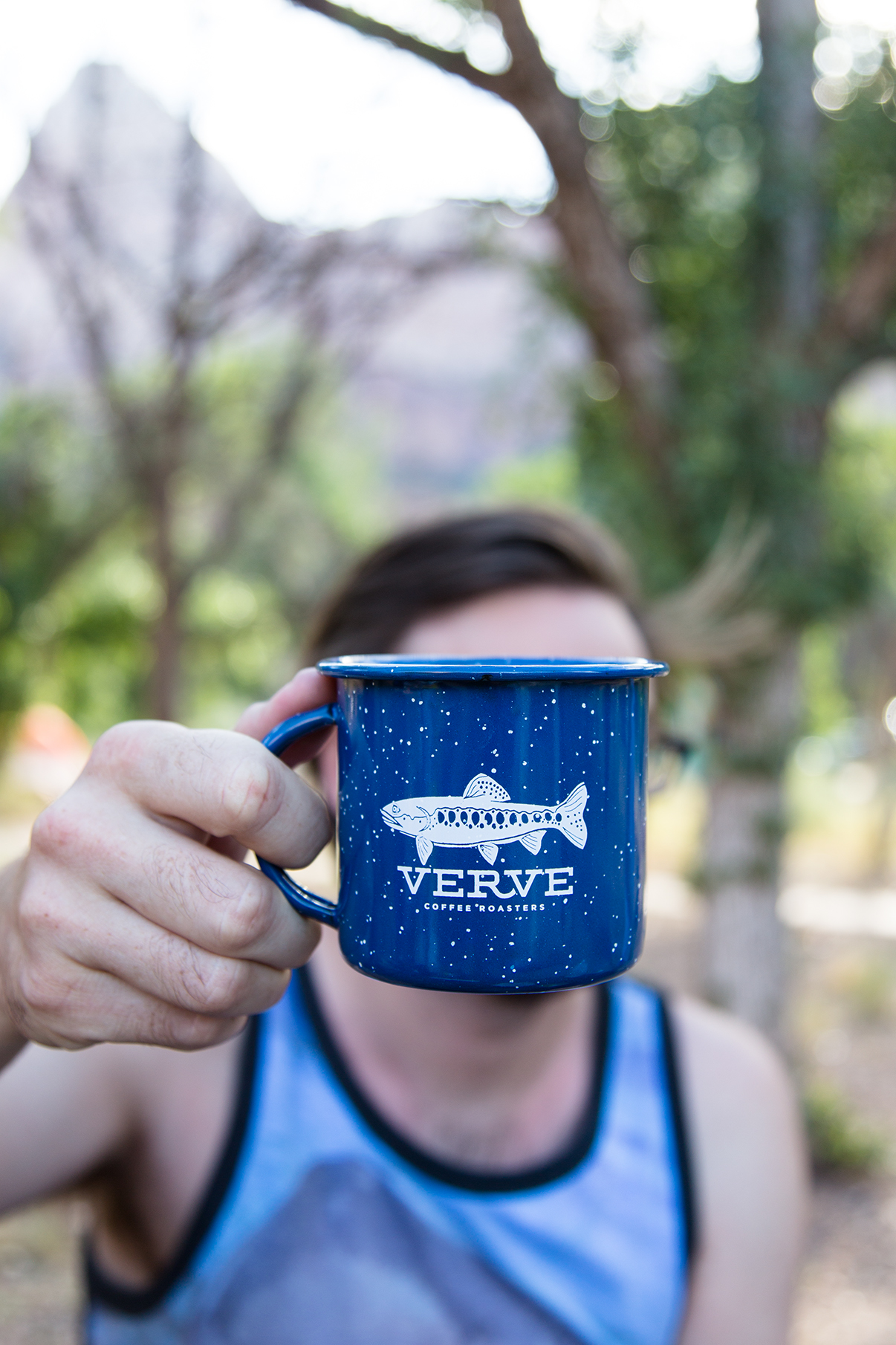 Corey - 8/21 - Verve Camping Tin Mug
I purchased this sweet mug a few weeks ago, in Santa Cruz.
Emily - 8/20 - Floral Print Skirt
Corey - 8/20 - Old Navy Amsterdam T-Shirt
Purchased at Old Navy several years ago. This is a regular member of my t-shirt repertoire. The armpits are kind of old and gross.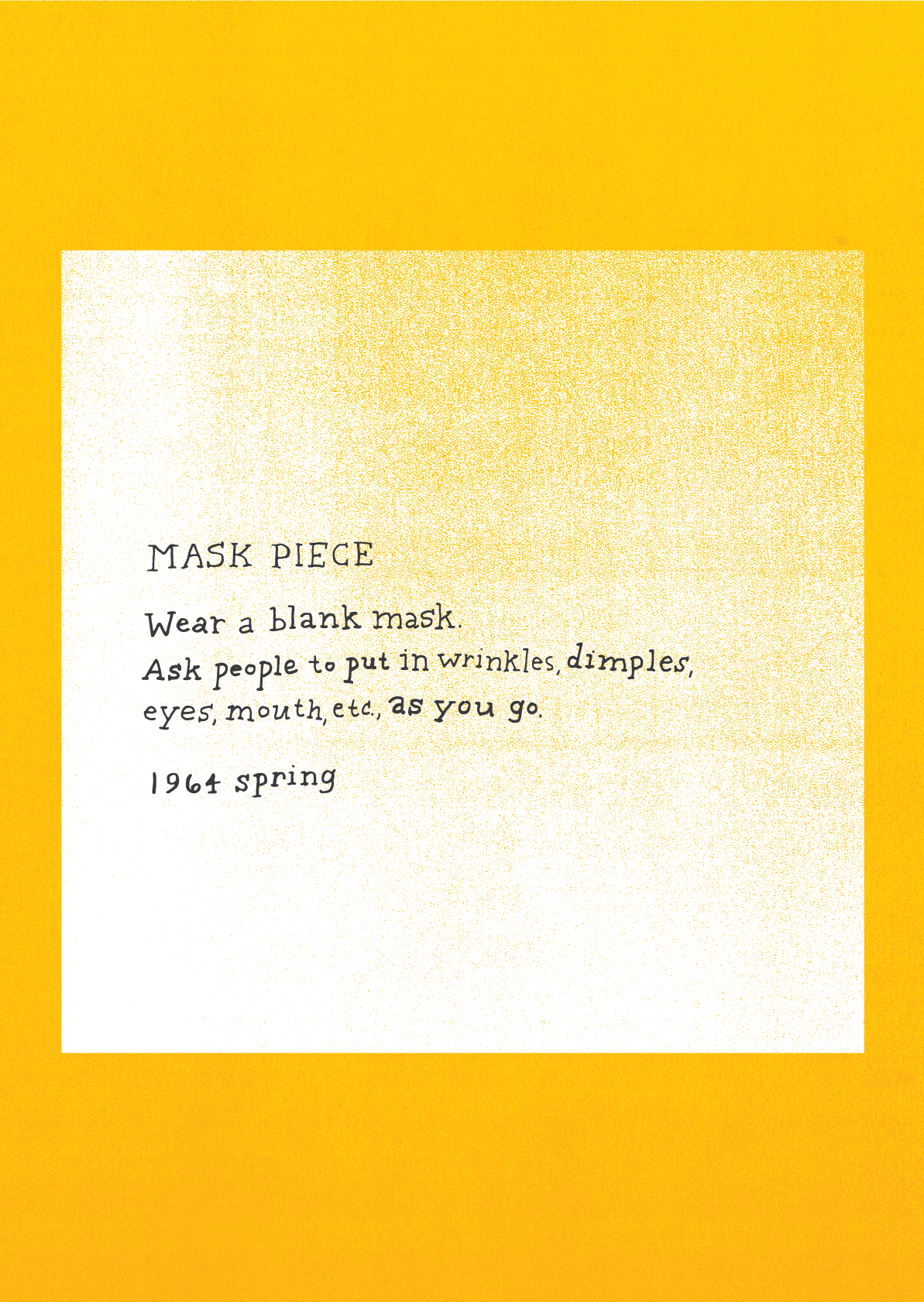 Emily - 8/19 - Grapefruit by Yoko Ono
This cute little book contains strange instructions like this one.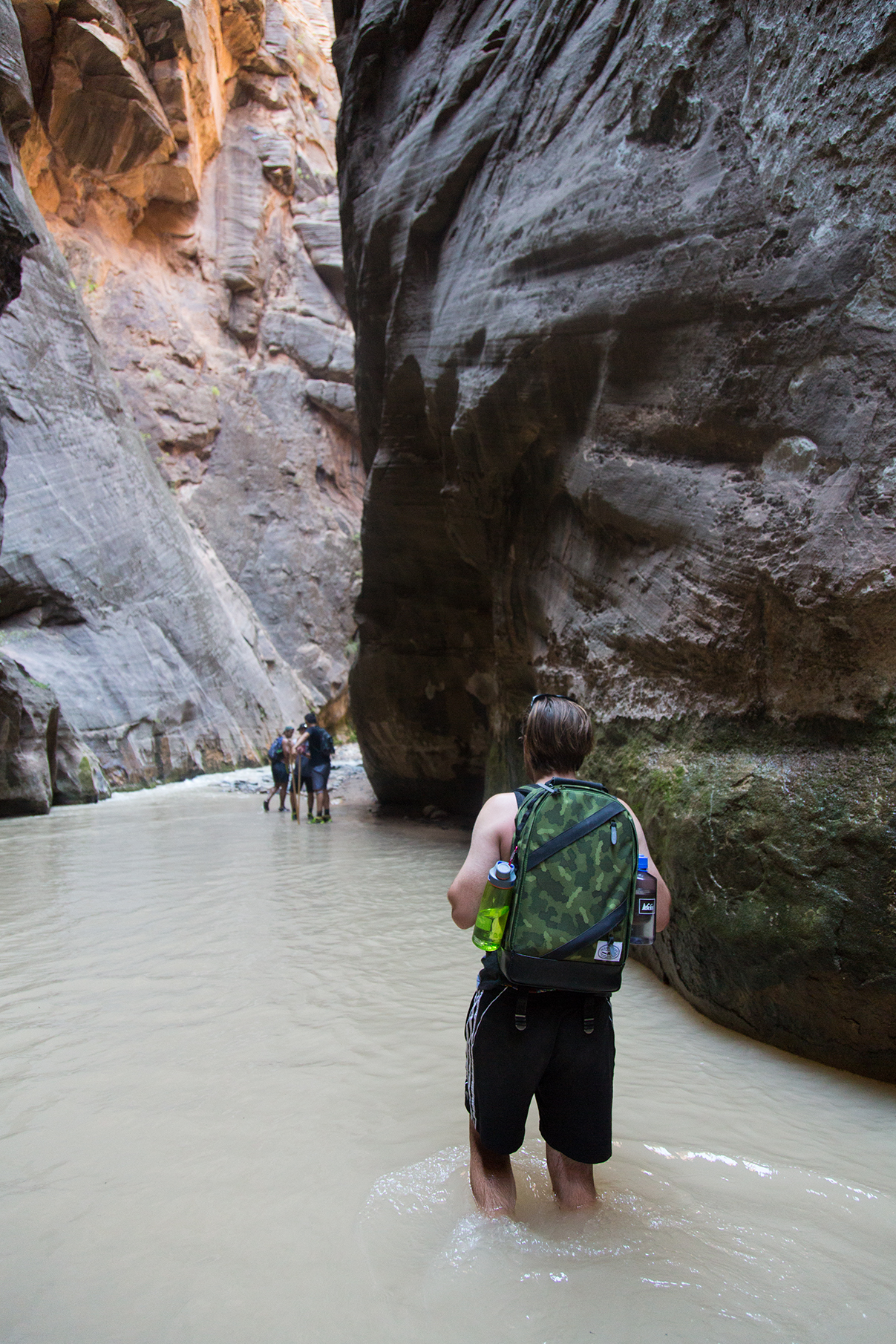 Corey - 8/19 - Poler Stuff Excursion Pack
I love this backpack. It has a sweet camera insert, and several pockets.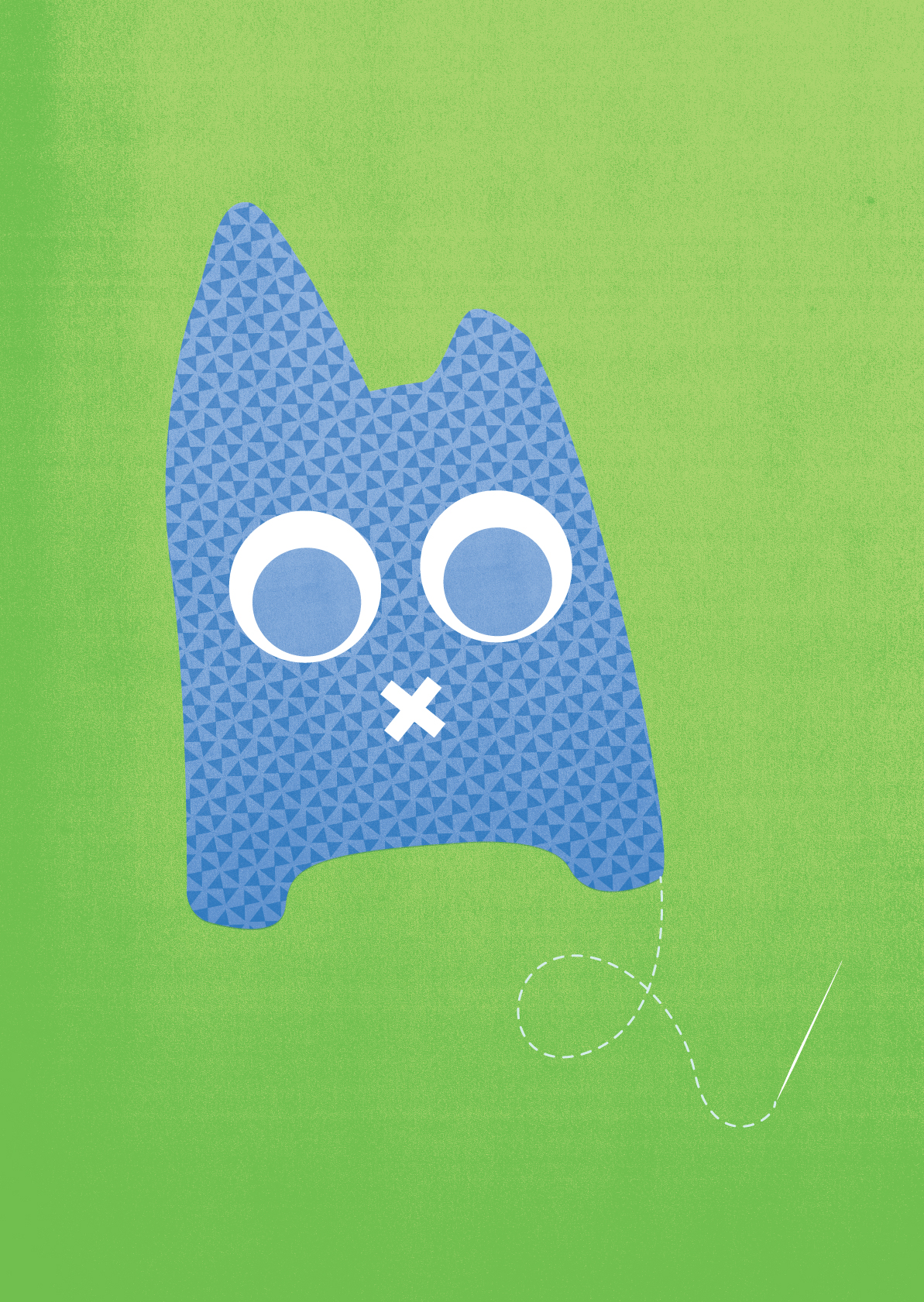 Emily - 8/19 - Stuffed Creature
I made this thing in high school out of my great-grandma's fabric.
Corey - 8/18 - Arcade Fire The Suburbs Vinyl
The Suburbs, by Arcade Fire, is more than my favorite album. It is a real and full re-telling of my life at 7 and 12 and 16 in the weird suburbs wedged between Los Angeles and Orange County. Every time I return to this album, I learn a little bit more about myself. I learn about who I am in my longing and when I'm by myself and in all the hours I've wasted. This particular song sits heavy with me; I remember the first time I rode my bike to the nearby shopping center, by myself, feeling like "something was mine" - "Cops shone their lights on the reflectors of our bikes. Said, do you kids know what time it is? Well, sir, it's the first time I felt like something was mine, like I have something to give. The last defender of the sprawl said, well where do you kids live? Well, sir, if you only know what the answer was worth; been searching every corner of the earth. "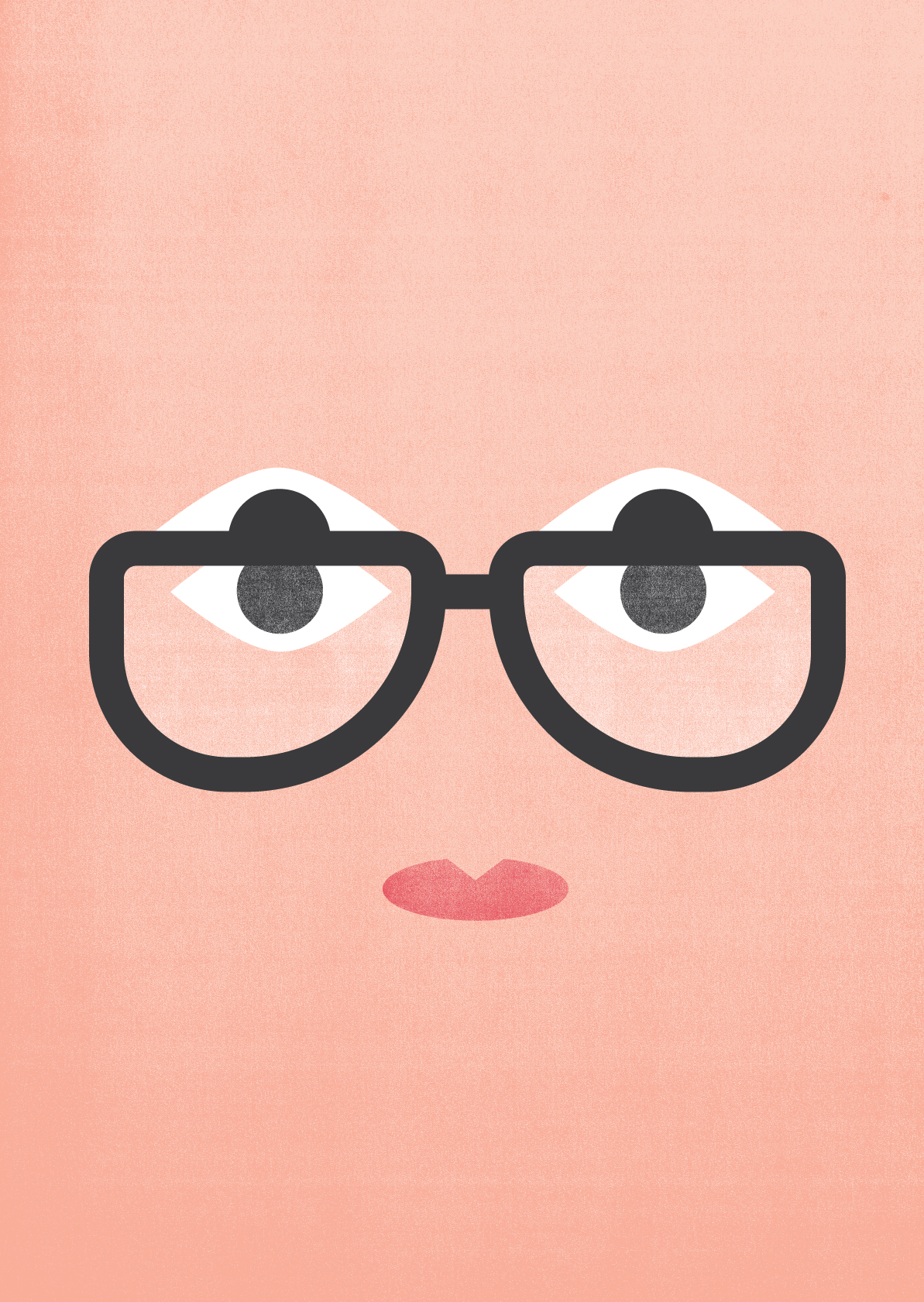 Emily - 8/17 - Glasses
I have terrible eyes and these glasses are so thick they make my face distorted.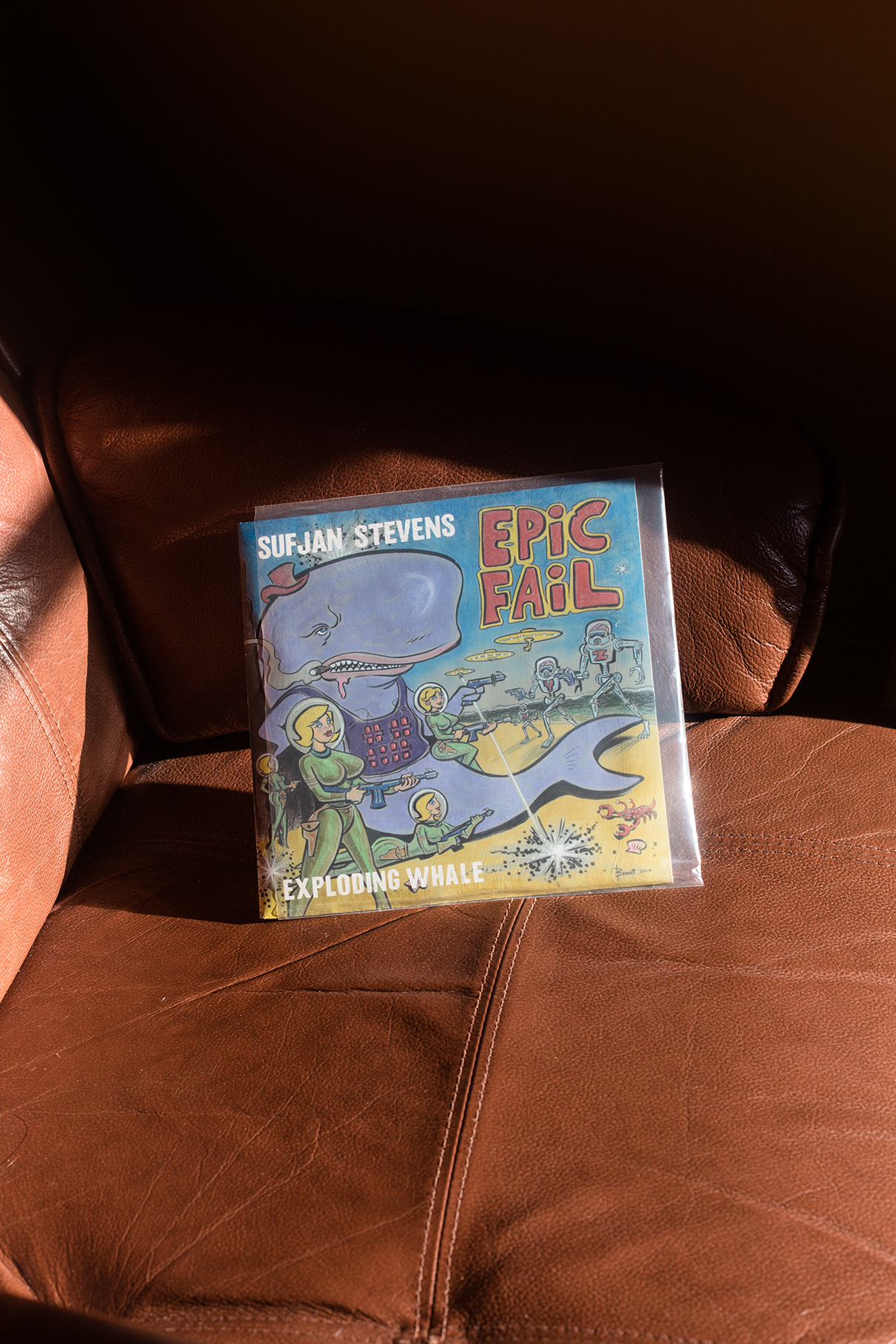 Corey - 8/17 - Sufjan Stevens Epic Fail EP
A few months ago I saw Sufjan at the Dorthy Chandler Pavilion (my friend Matt gave me a ticket). I bought this EP to solidify the memory of a good musical time. Also that whale is amazing.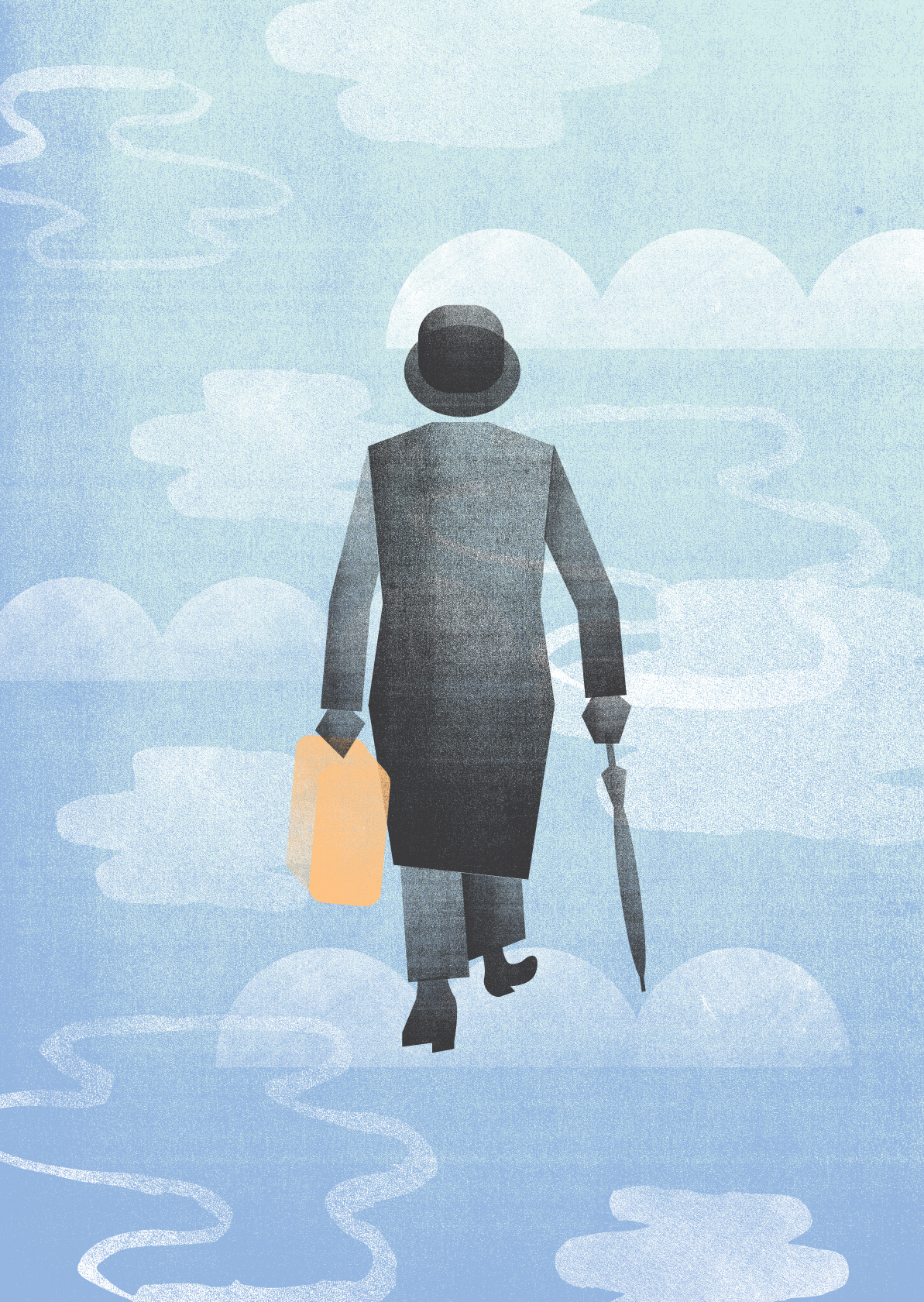 Emily - 8/16 - Being There
One of my favorite movies - about a mentally disabled man who accidentally becomes a celebrity.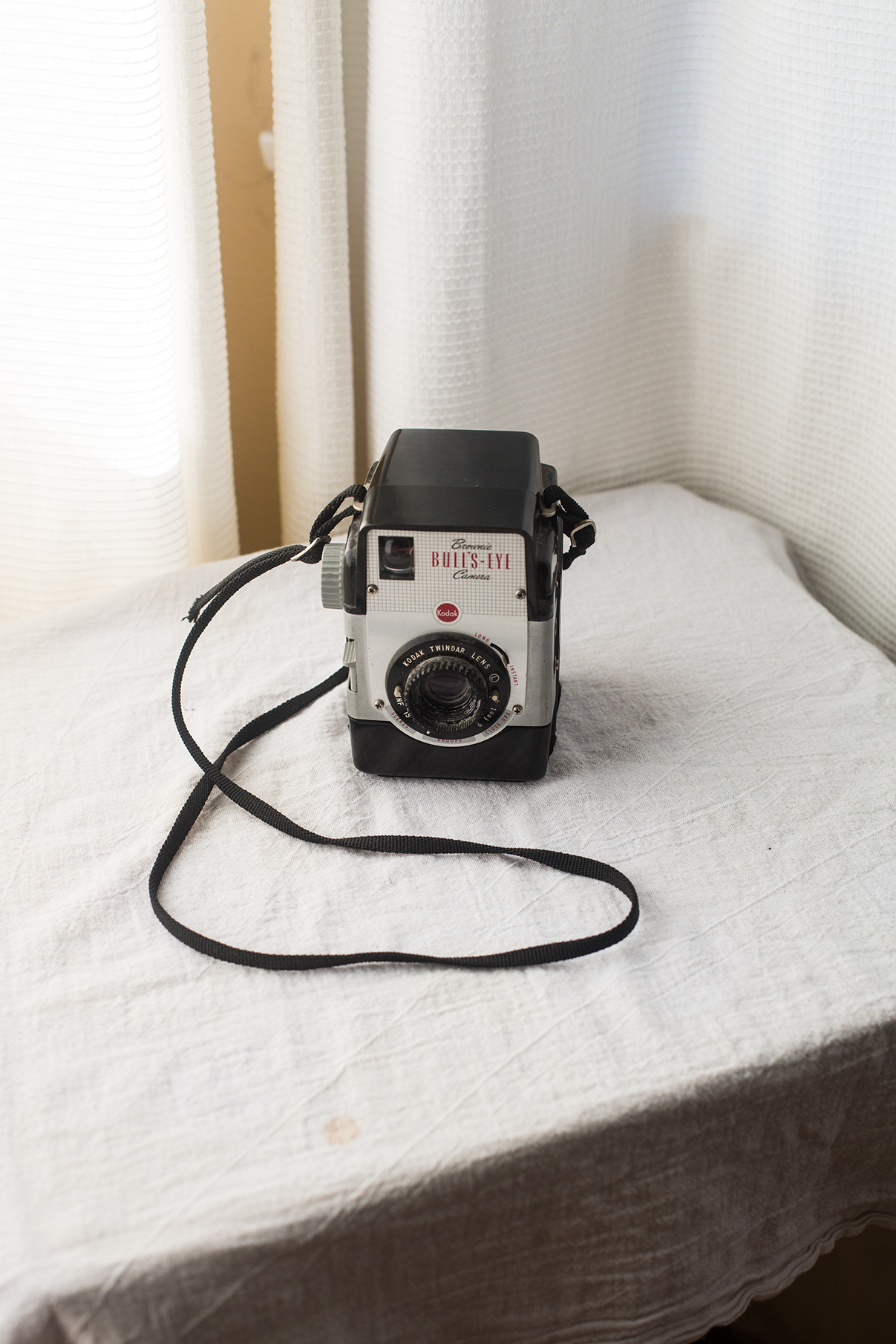 Corey - 8/16 - Brownie Bull's-Eye Camera
I was at the Long Beach Flea Market with Taryn and Angi when I found this beautiful little Brownie. I tried to do some shooting with it, but the light-leaks and the mis-sized film made it difficult. I'm happy just to have it in one piece!
Emily - 8/15 - Wrap Magazine Issue 11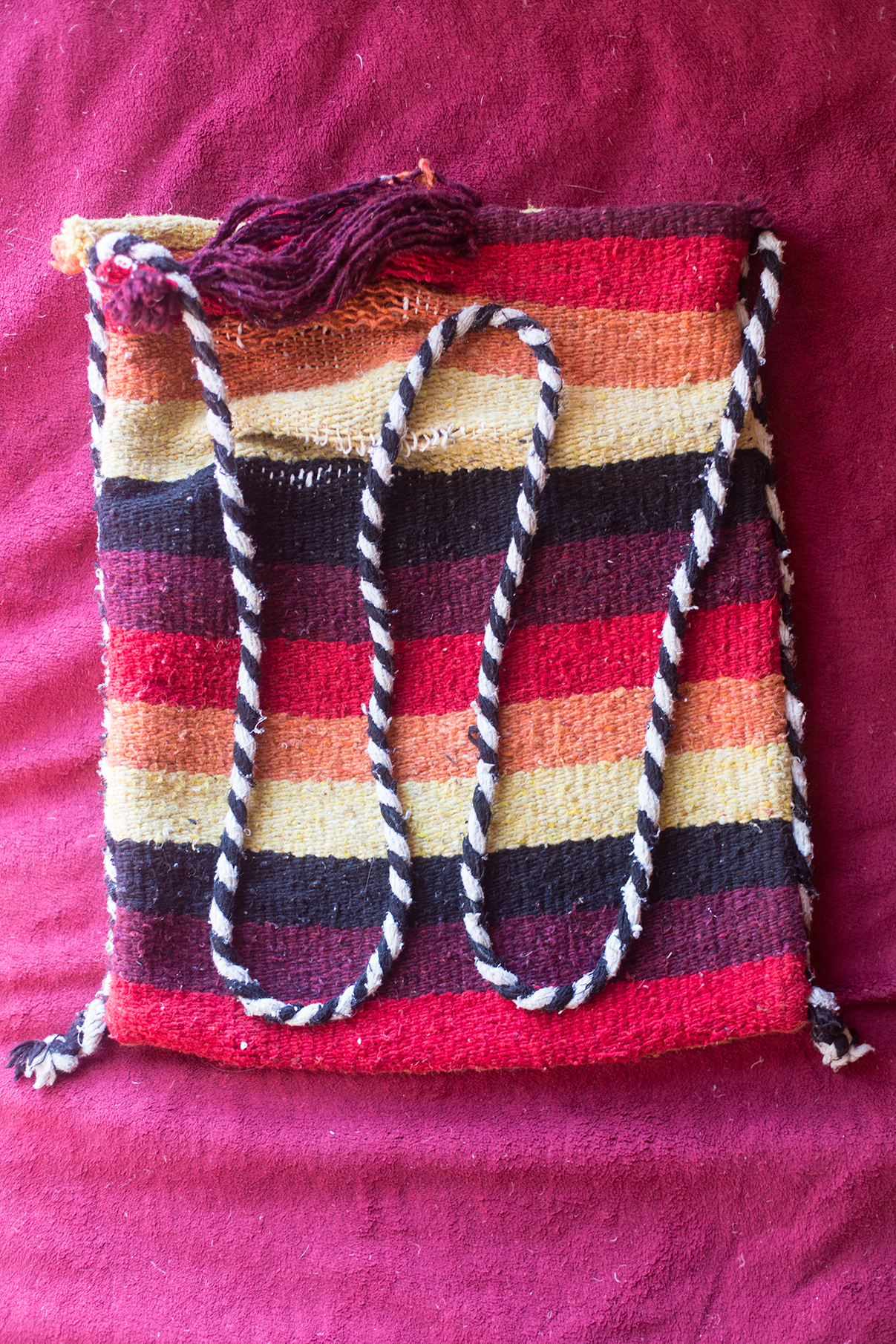 Corey - 8/15 - Mexican Tote Bag
My long standing side satchel tote, purchased in Mexico. I think I bought it in Loreto. It's falling apart, but I still use it from time to time.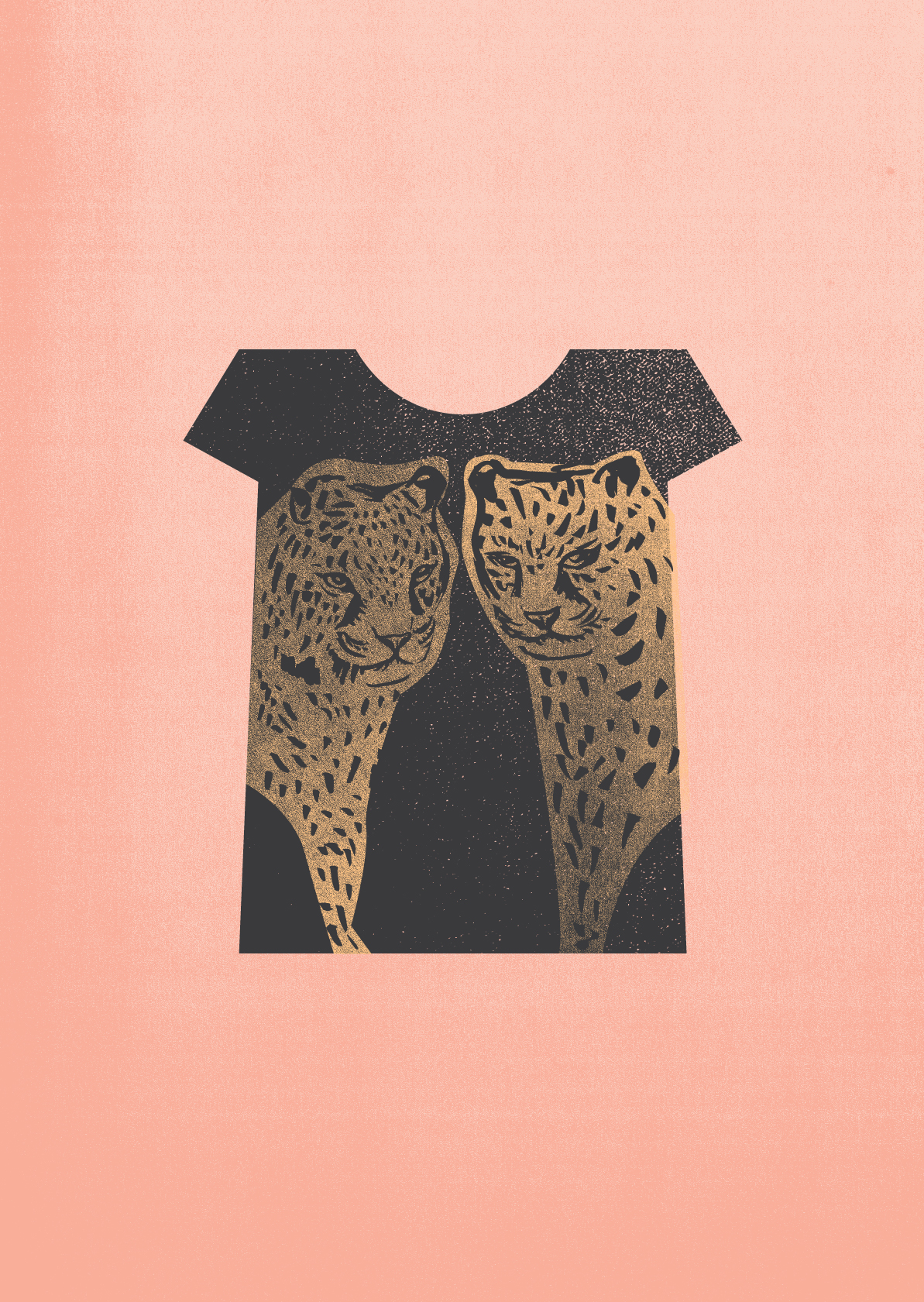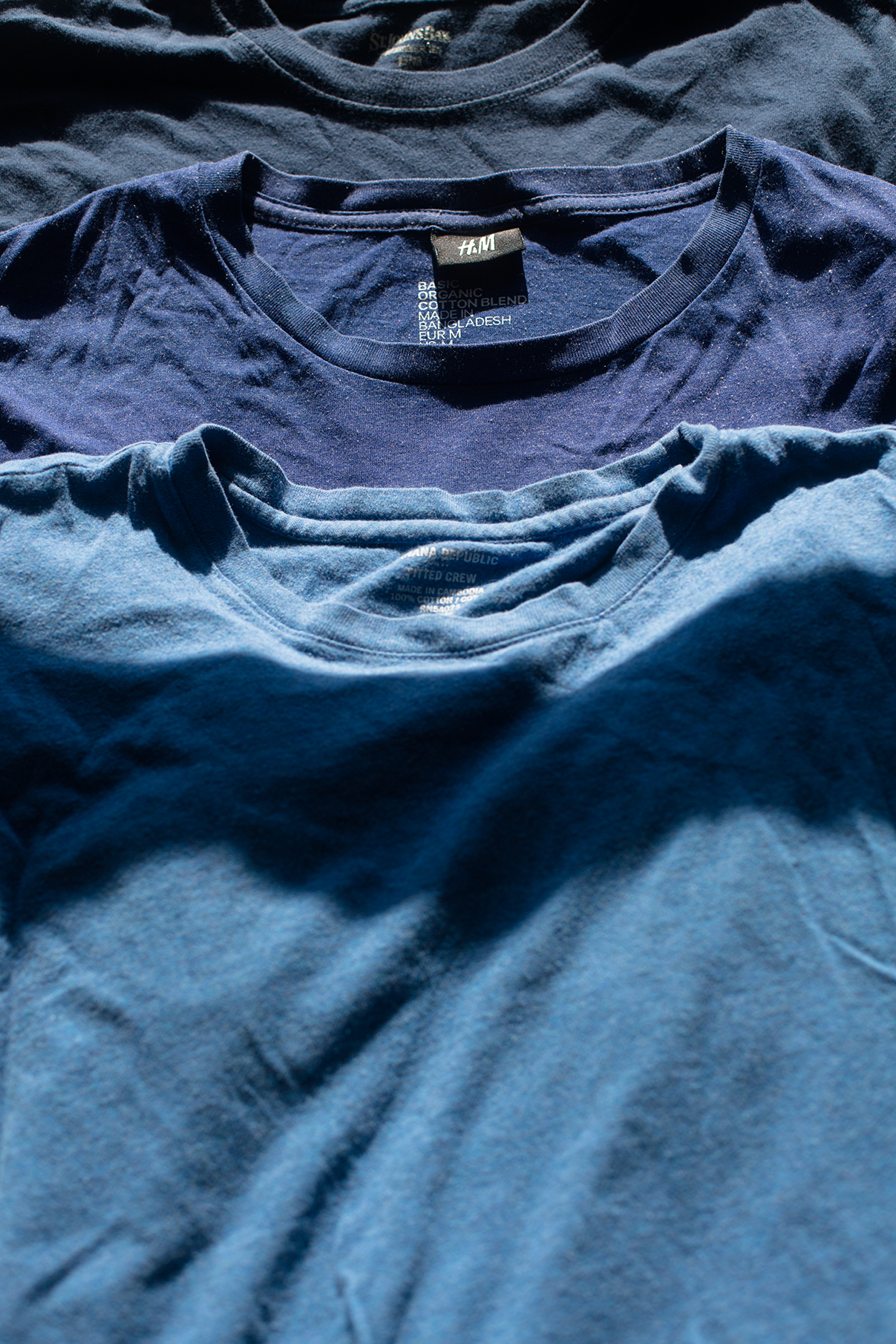 Corey - 8/14 - Blue Shirts
Blueish Shirts. That is all.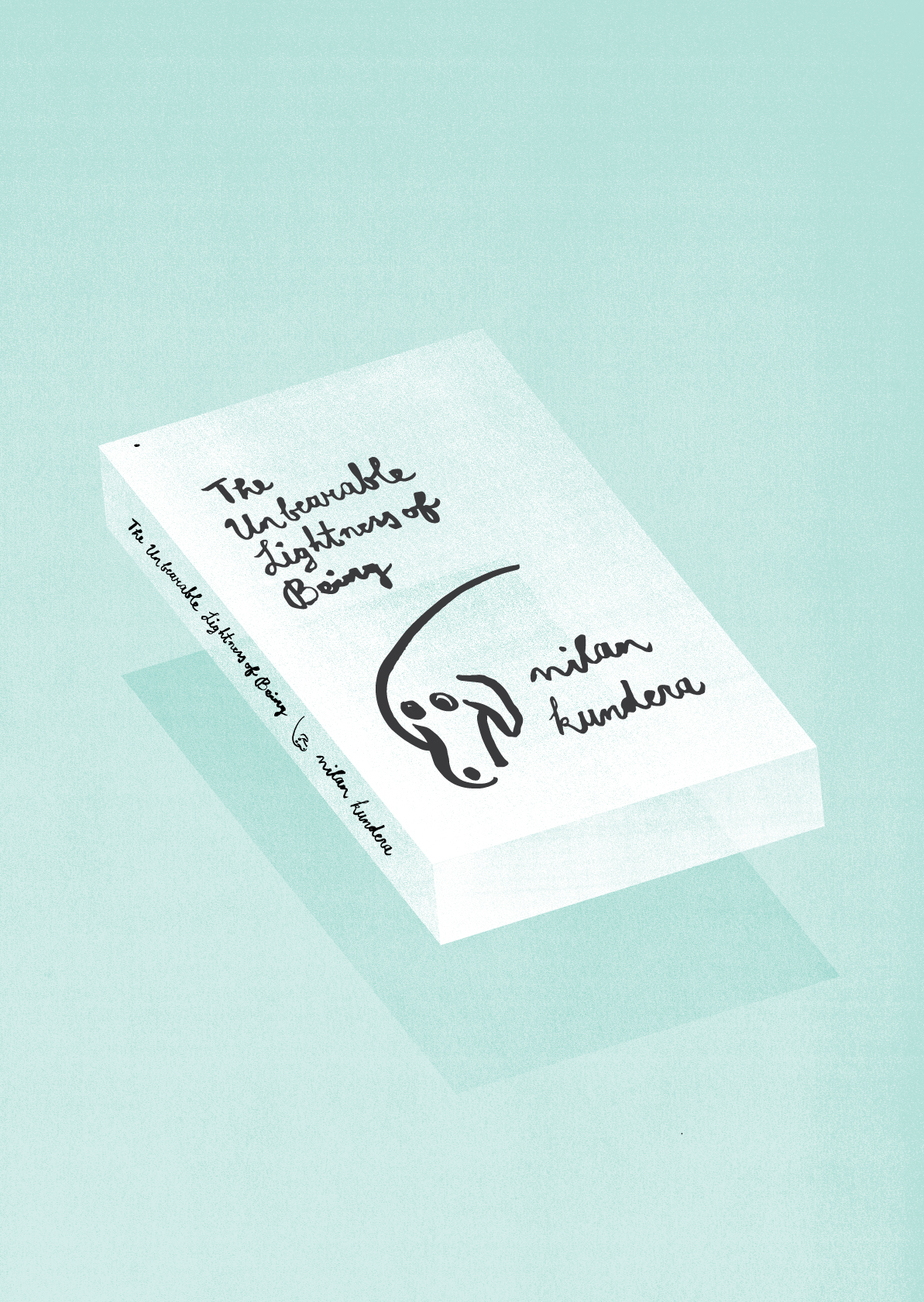 Emily - 8/13 - The Unbearable Lightness of Being
Corey - 8/13 - Brown T-Shirts
Three of my brown t-shirts. The two lighter shirts are very old!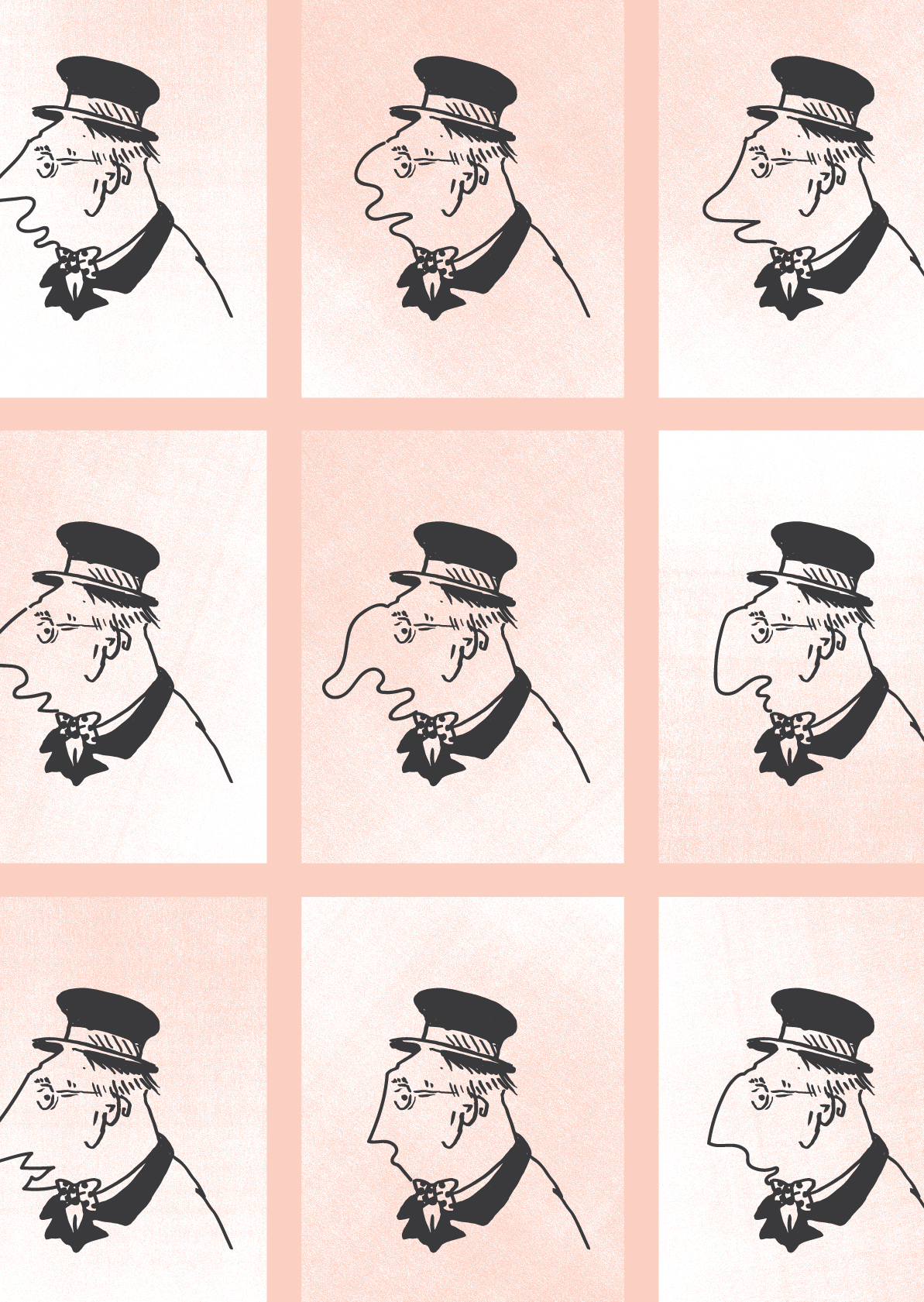 Emily - 8/12 - Nose Chain Toy
Received the loveliest mail from Michaela Quan today from when she was studying abroad in Europe. It included this weird nose chain toy where you can change this man's profile. It's strangely absorbing.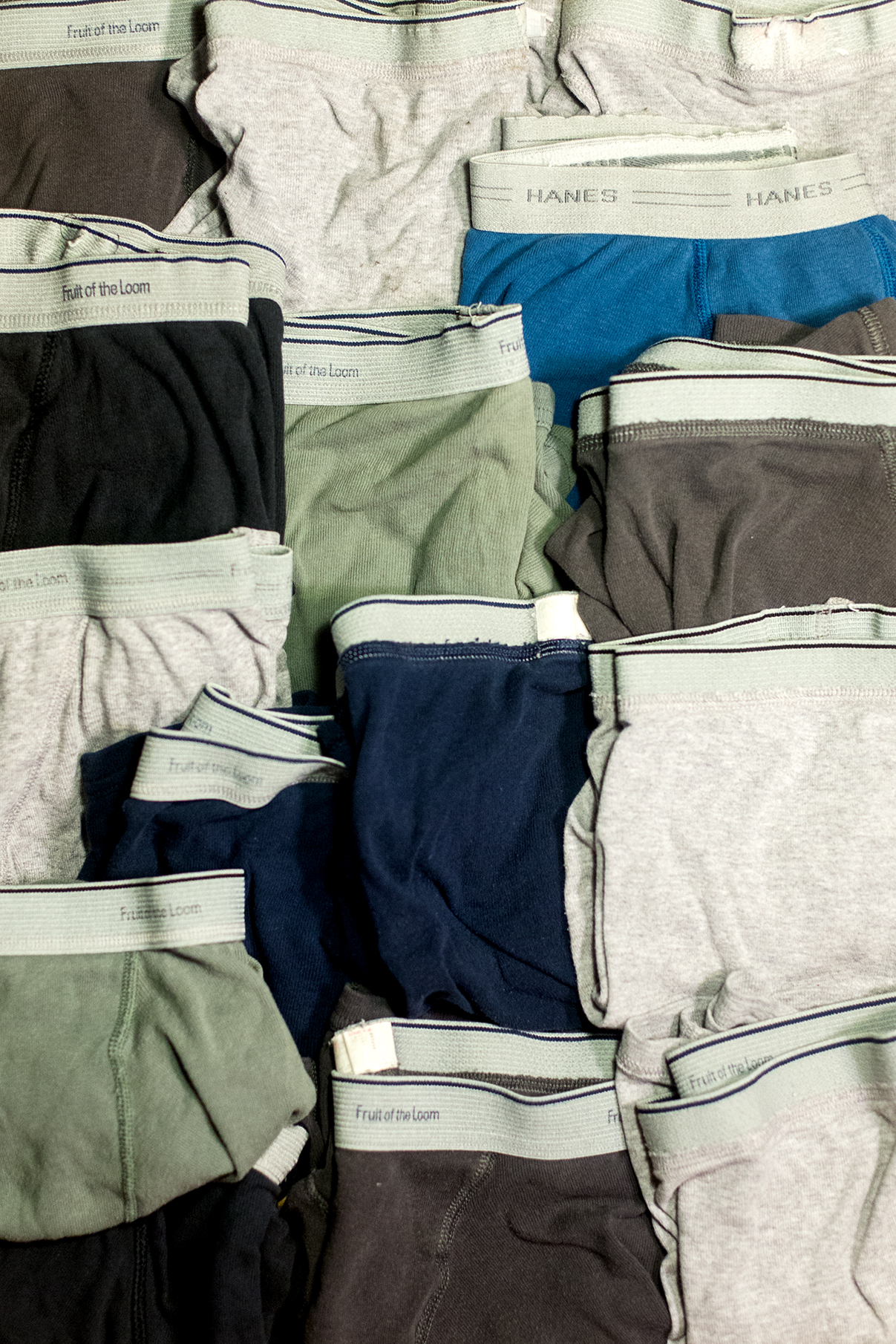 Corey - 8/12 - Underwear
You knew this would happen; many pairs of boxer briefs, mostly Fruit of the Loom, with one pair of Hanes.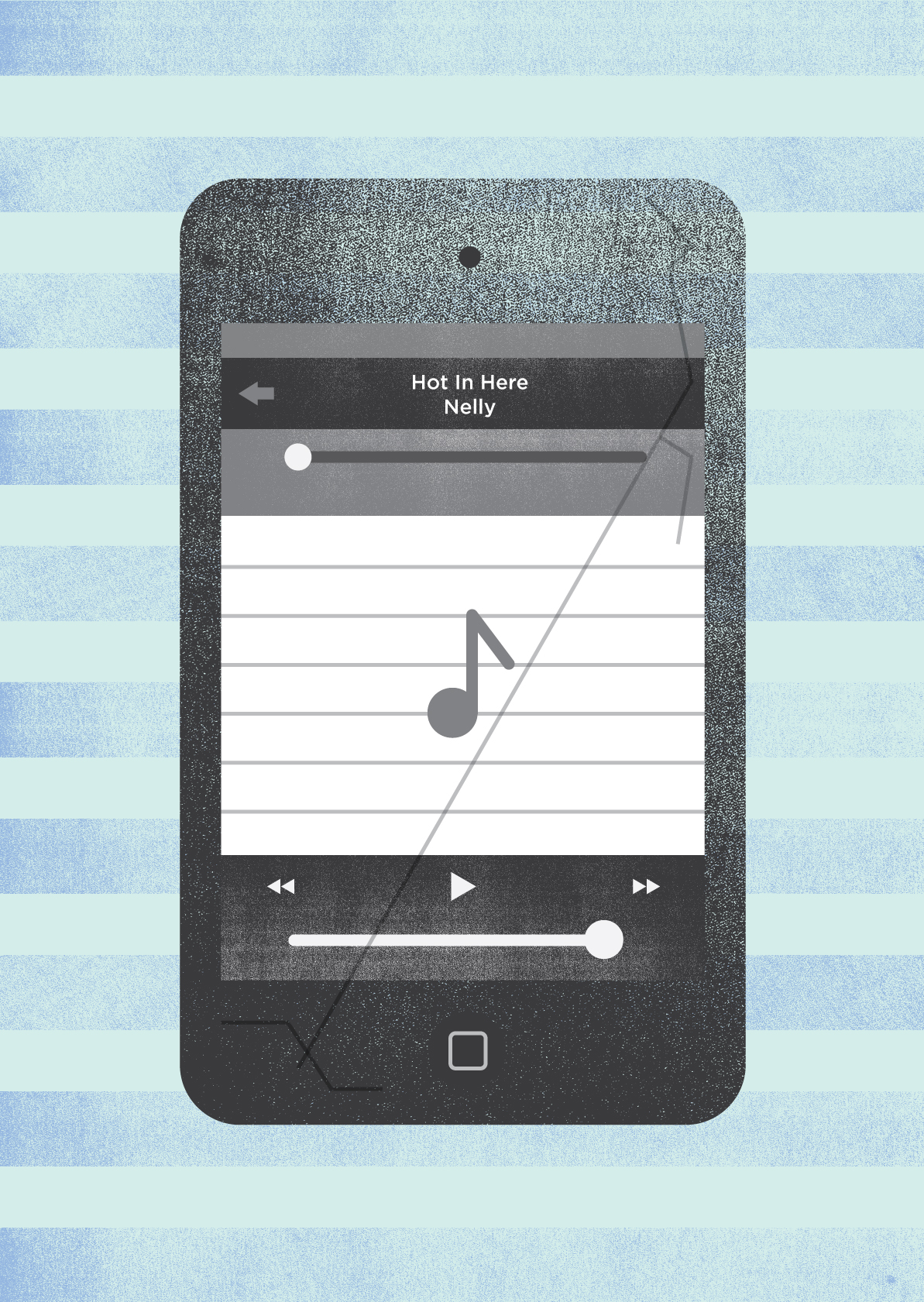 Emily - 8/11 - iPod TouchI lov
I love this poor cracked thing. It's a time capsule from when I still bought music.
Corey - 8/10 - Dark and Colored Socks
This part of my life is kind of a mess. So many socks.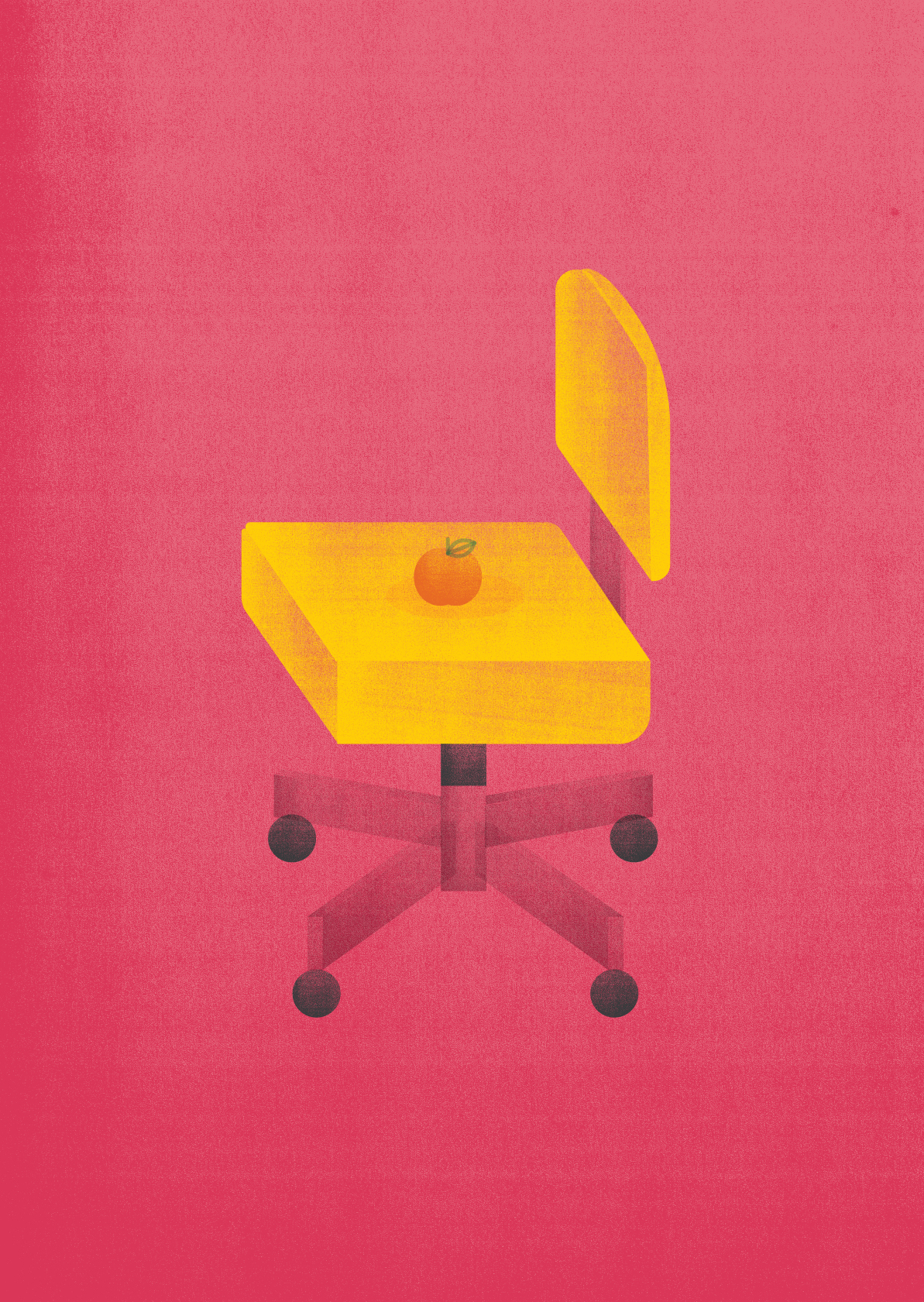 Emily - 8/10 - Yellow Swivel Chair
Corey - 8/10 - White Socks
A collection of white socks. I probably have a few more, but you get the idea.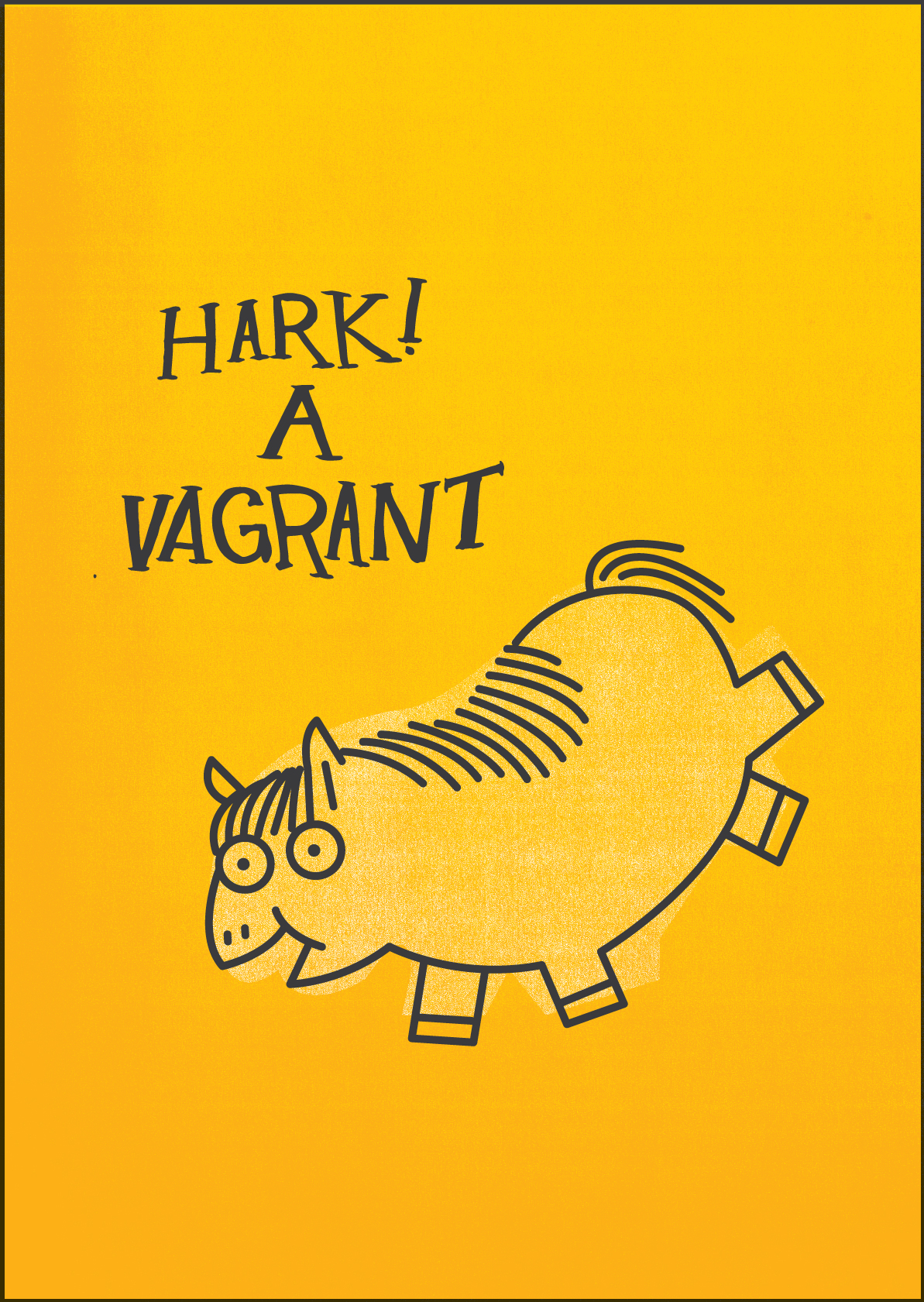 Emily - 8/9 - Hark! A Vagrant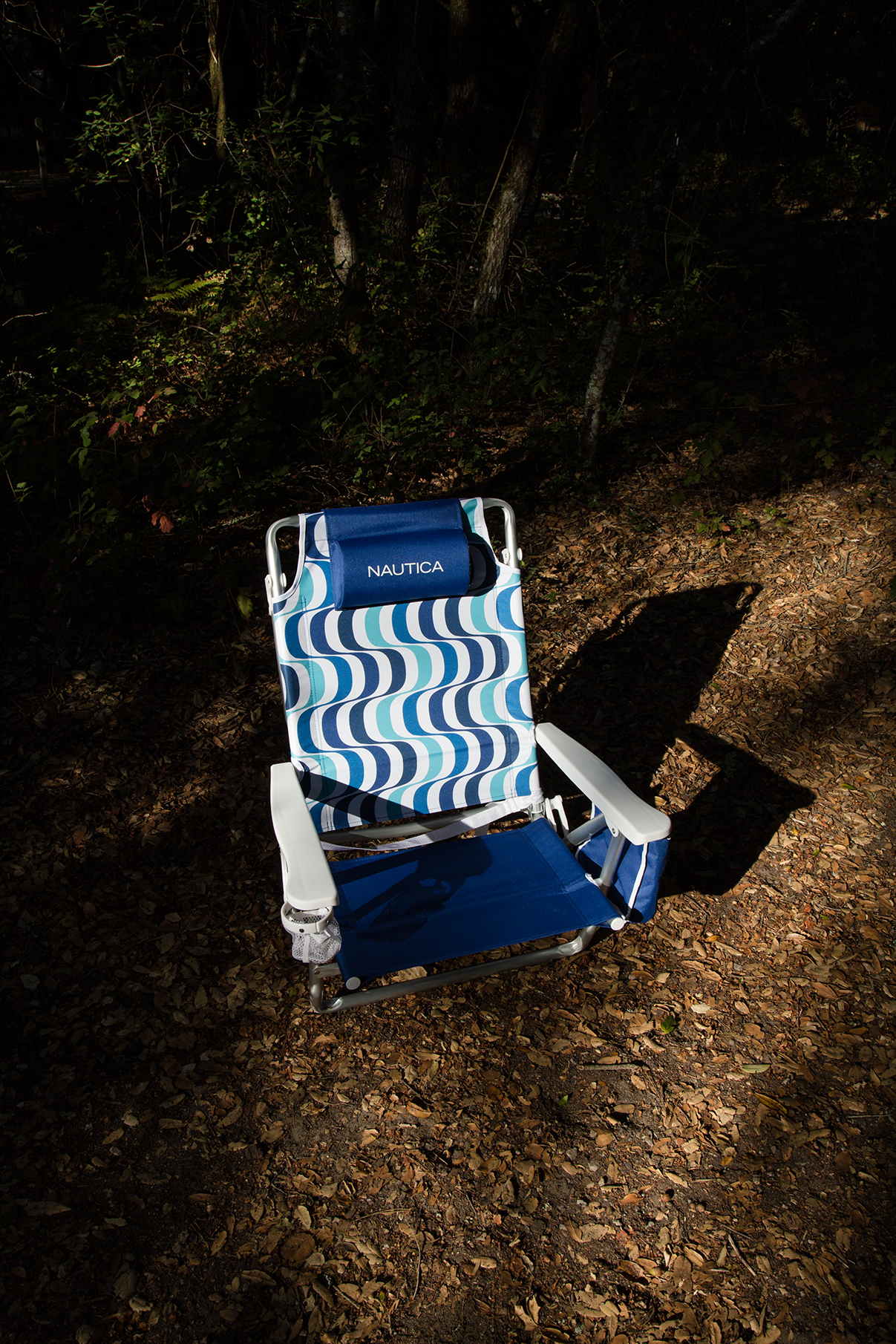 Corey - 8/9 - Nautical Beach Chair
My parents gave me this beach chair. It hasn't been actually used at the beach. Yet.
Emily - 8/8 - Plant Shelf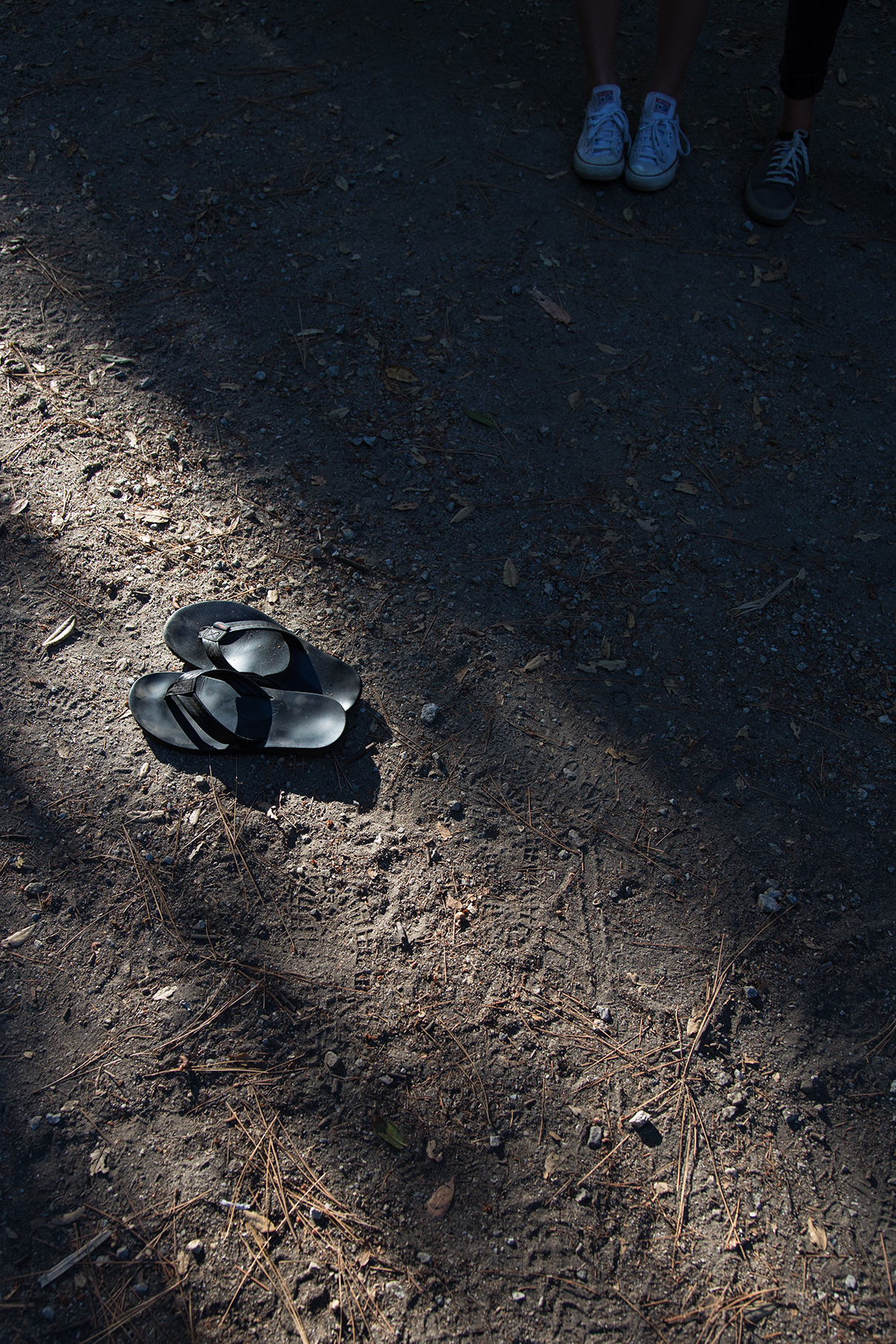 Corey - 8/8 - Rainbow Sandals
Somebody left this pair of Rainbow Sandals at my house a few years ago. When nobody claimed them, I slipped them on and never looked back.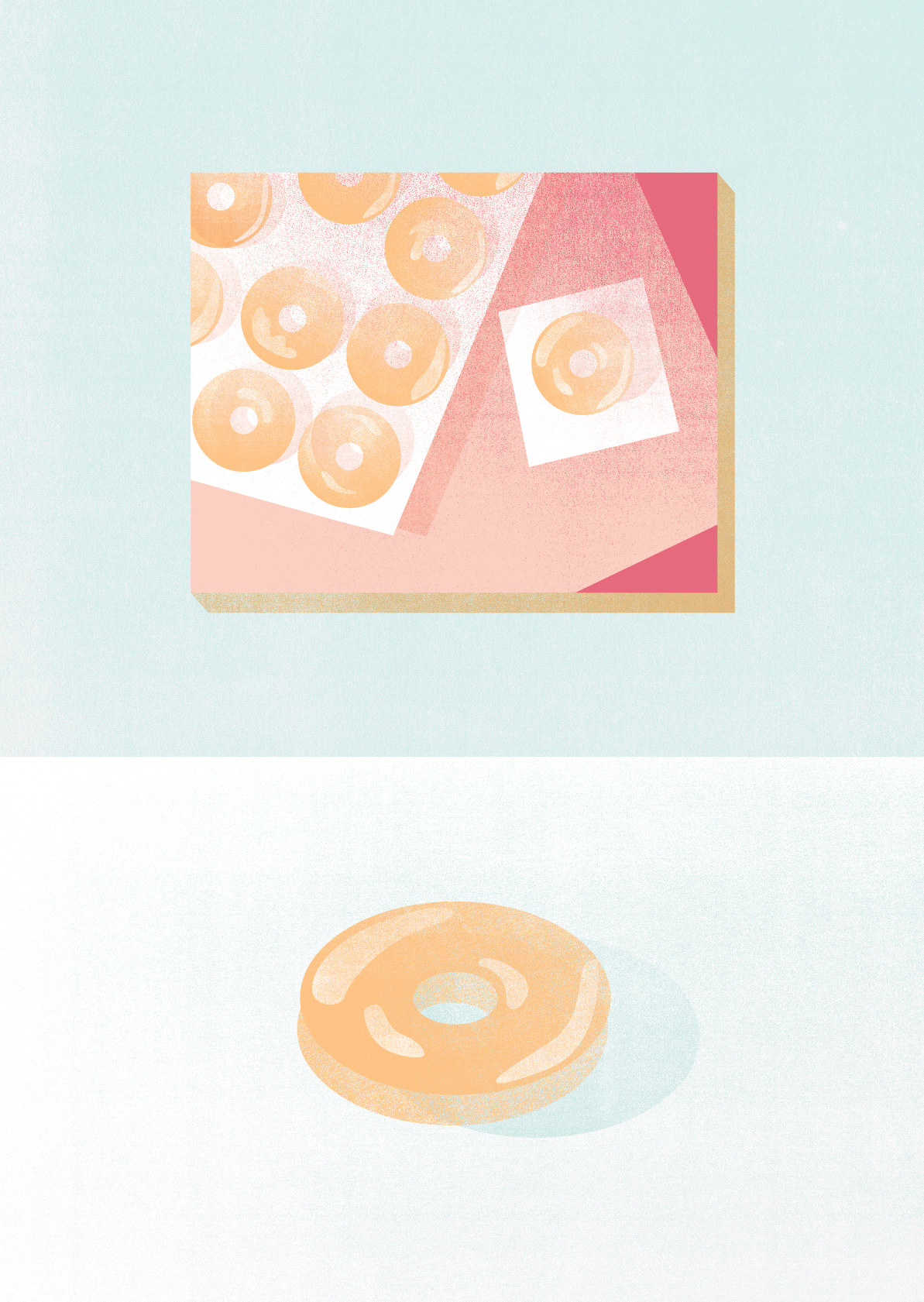 Emily - 8/7 - Donut Painting
Original by Trisha Chan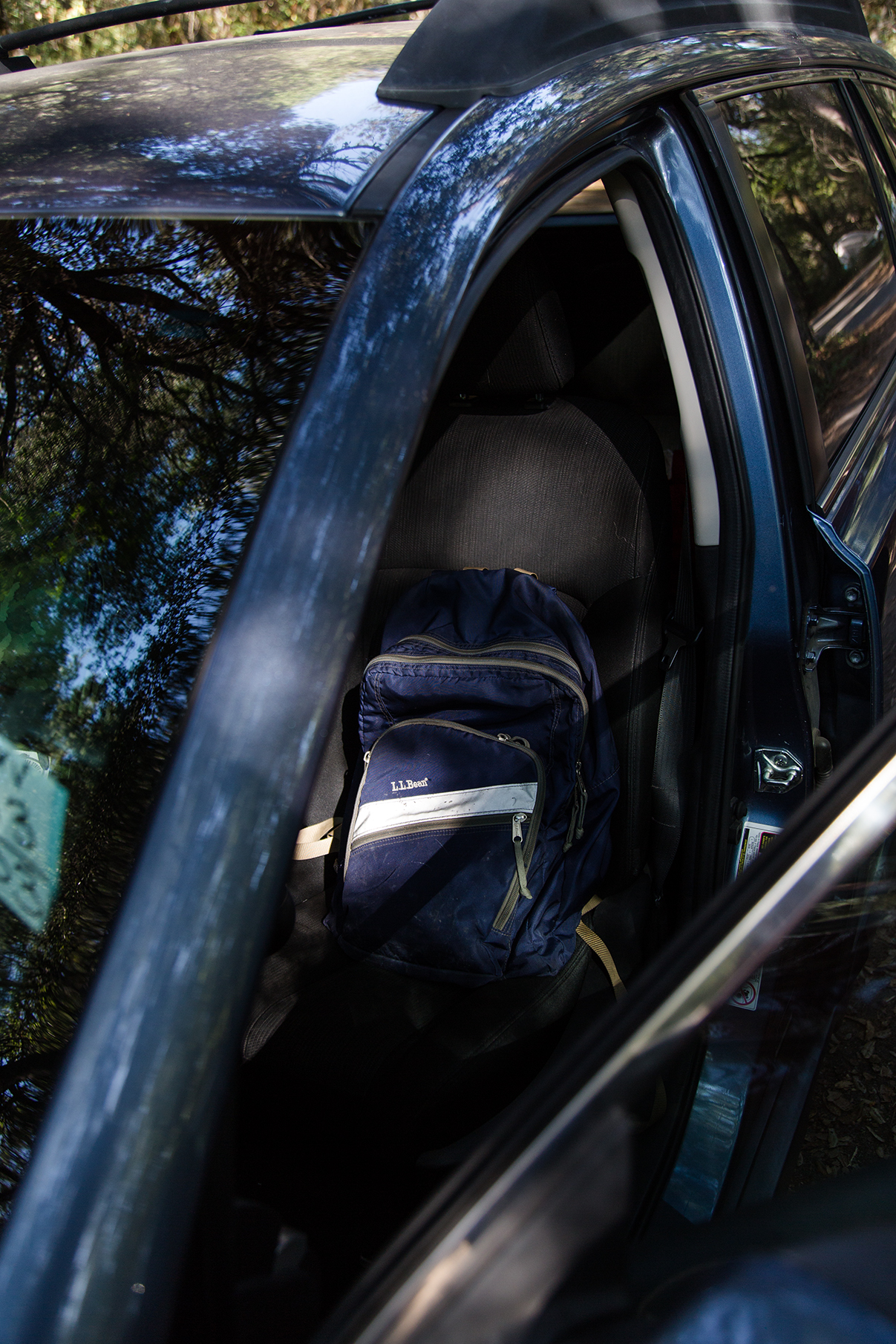 Corey - 8/7 - LL Bean Backpack
My mom bought this for me when I was in high school. She said: "this backpack will last forever." I rolled my eyes; I was annoyed that there weren't more pockets. A decade later, it's my oldest and most loyal bag. It really will last forever.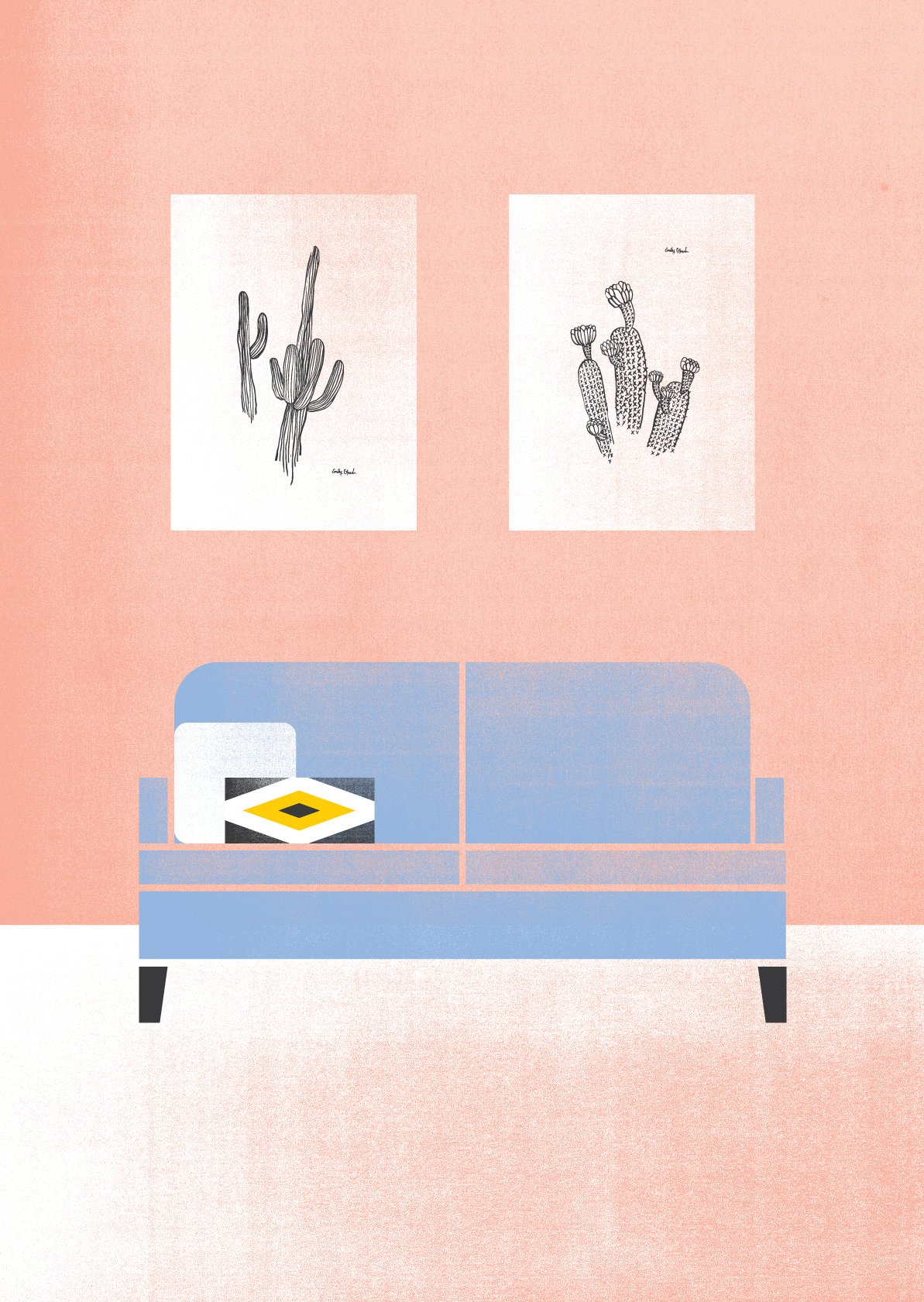 Emily - 8/6 - Couch
Bought this at a place called Jerome's Furniture.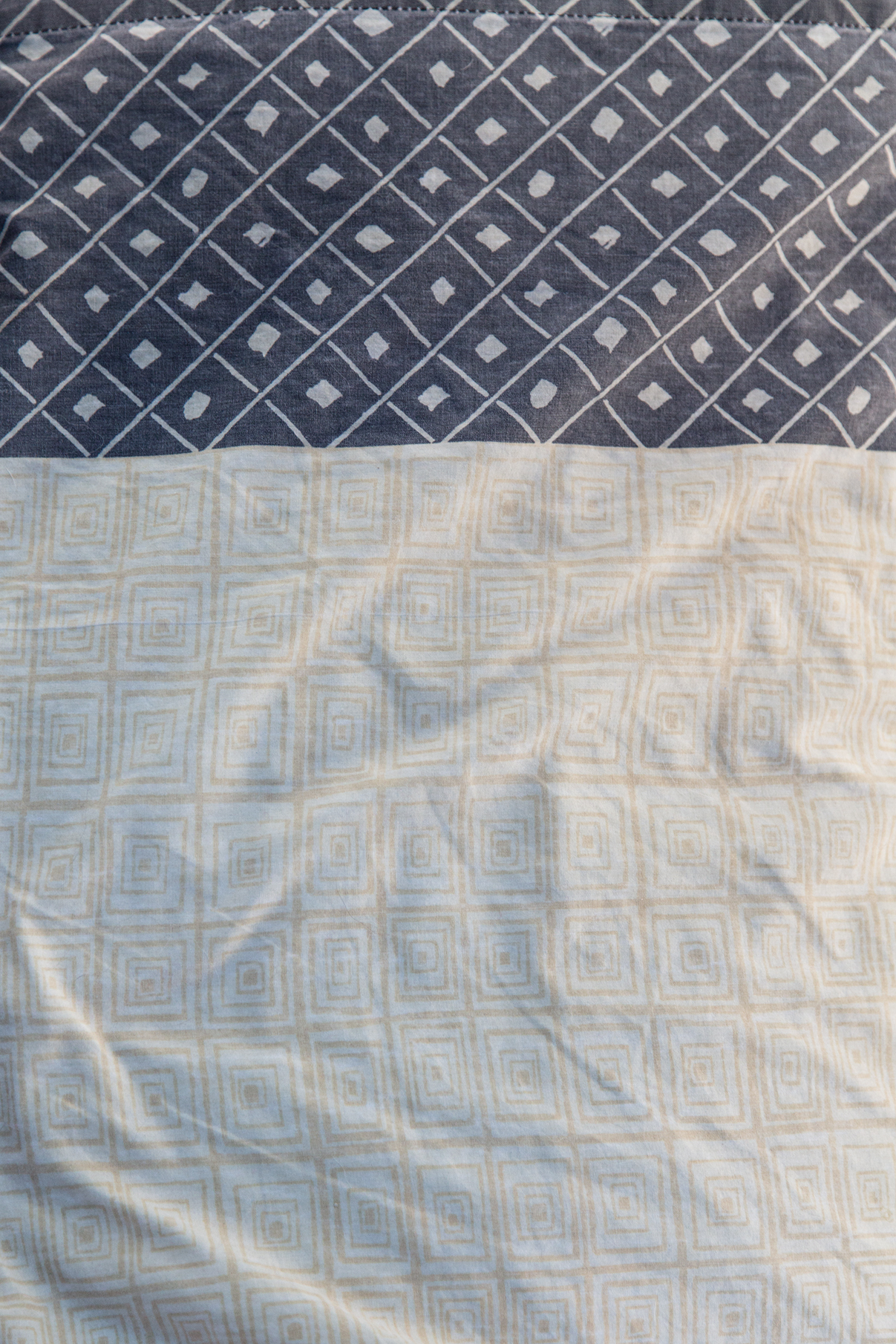 Corey - 8/6 - Pillowcase
The pillowcase I started using in high school. It is still in use today. I love the pattern!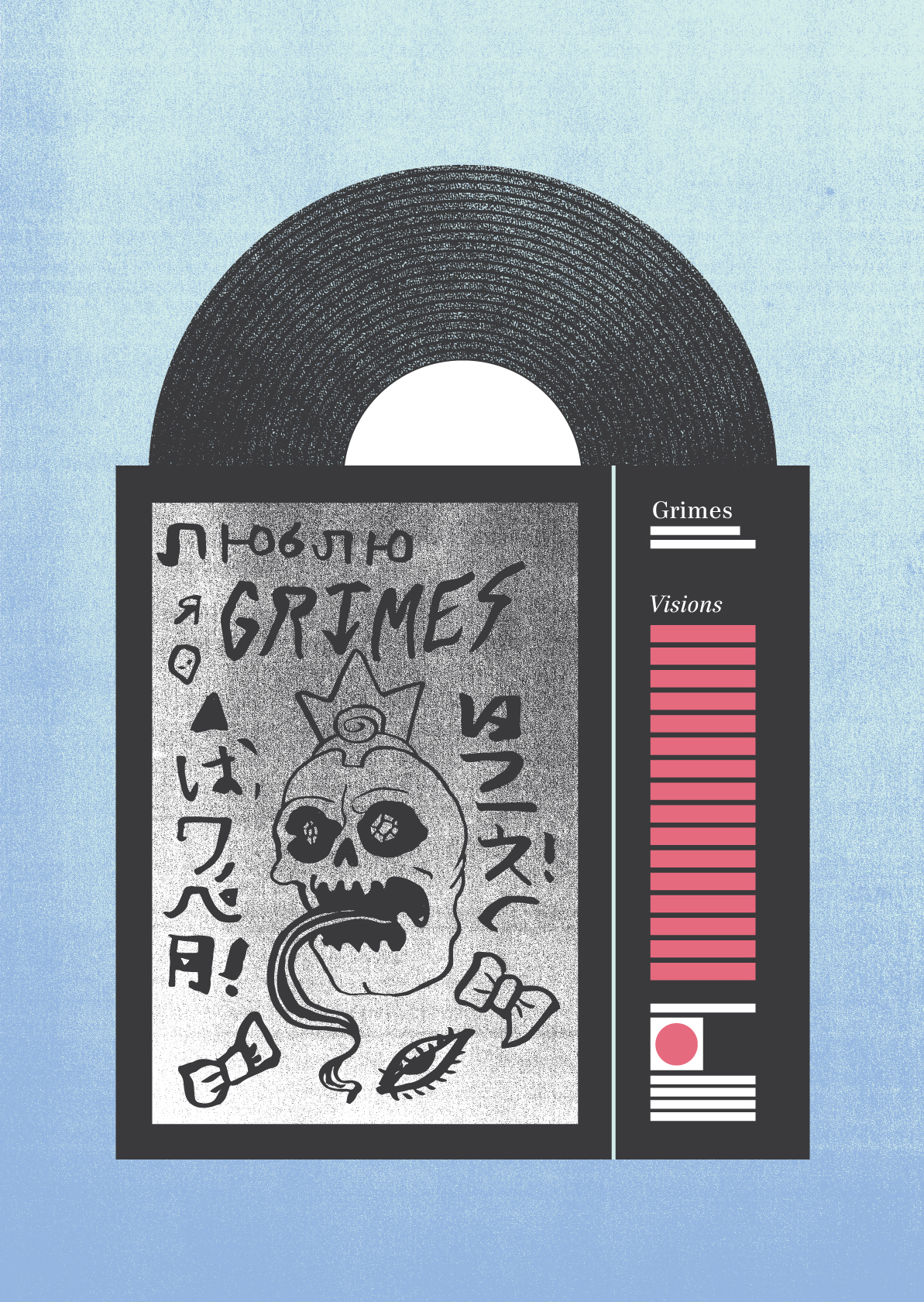 Emily - 8/5 - Grimes, "Visions" Vinyl
Love Grimes' slightly off-putting singing style.
Corey - 8/5 - Sleeping Bag
This sleeping bag was a gift from my grandparents, because Grandpa Jim heard me say I "needed a new sleeping bag" (I didn't). I guess they were right though, 7ish years later and I'm still using it.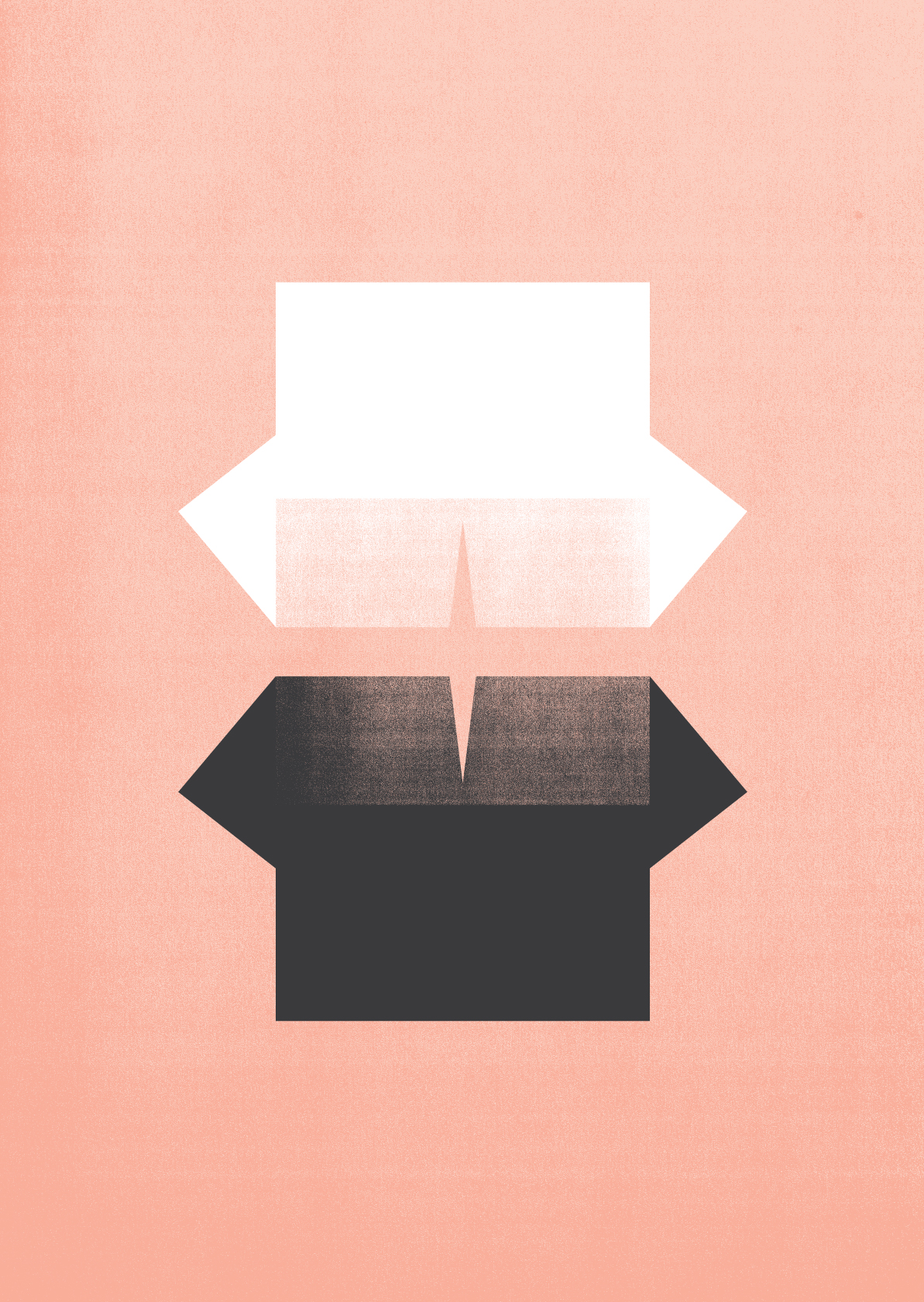 Emily - 8/4 - Vivian Chan "Chriselle" Tops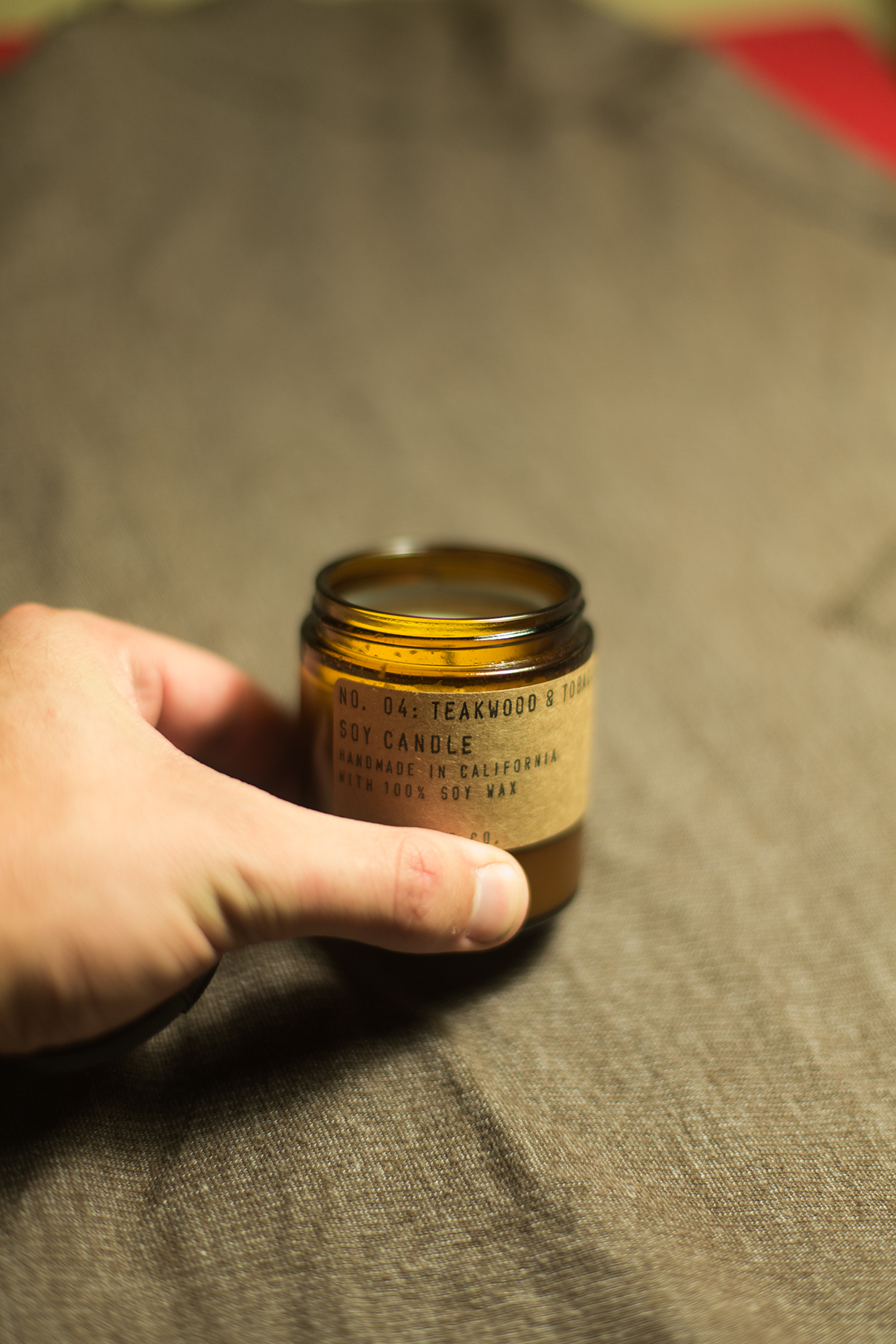 Corey - 8/4 - Teakwood & Tobacco Soy Candle from P.F. Candle Co.
A gift from friend and coworker Laurel Dailey, uptown the christening of our new photo editing studio team at AG Jeans. The candle smells great.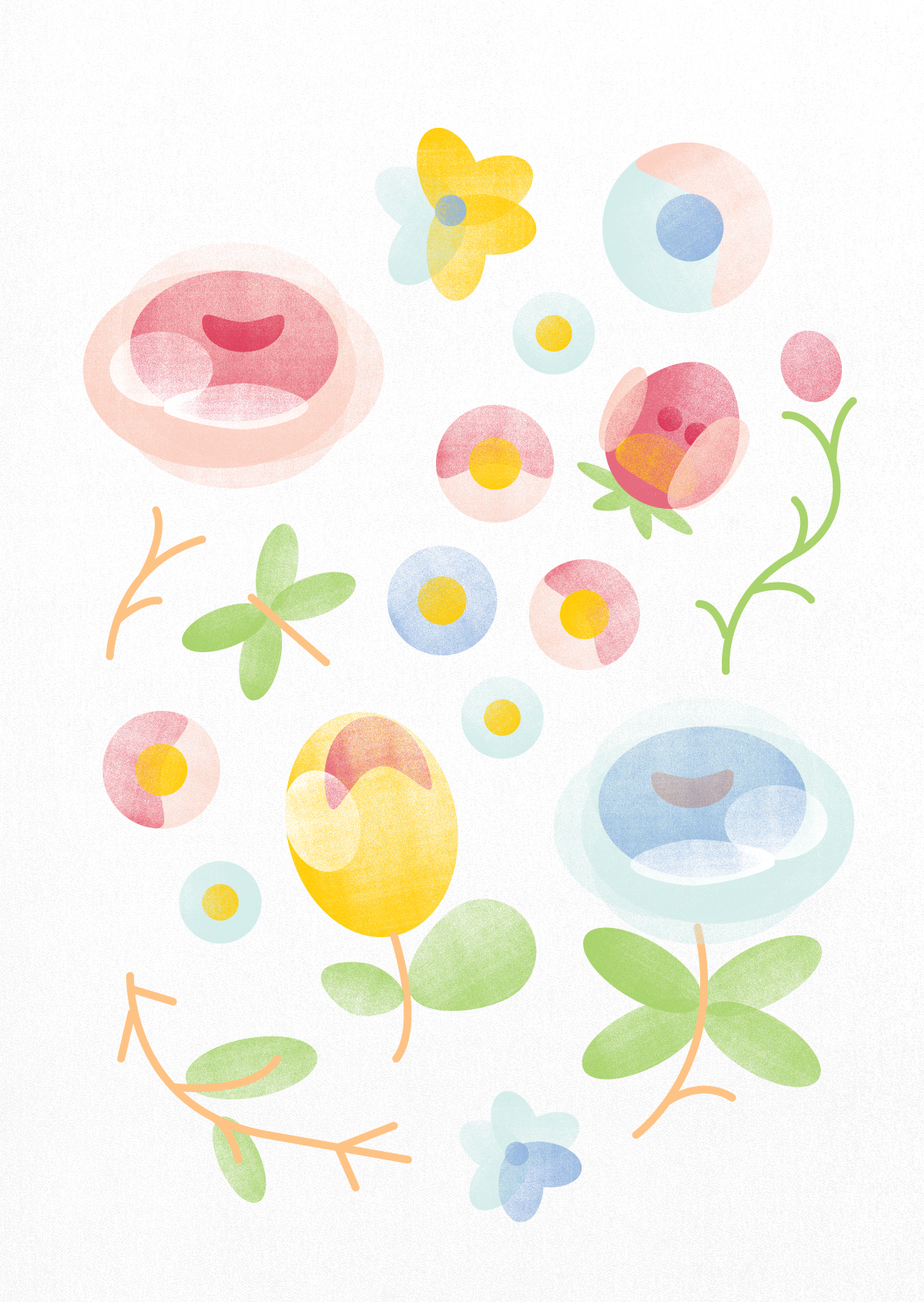 Emily - 8/3 - Floral Madewell Dress
One of the girliest dresses I own.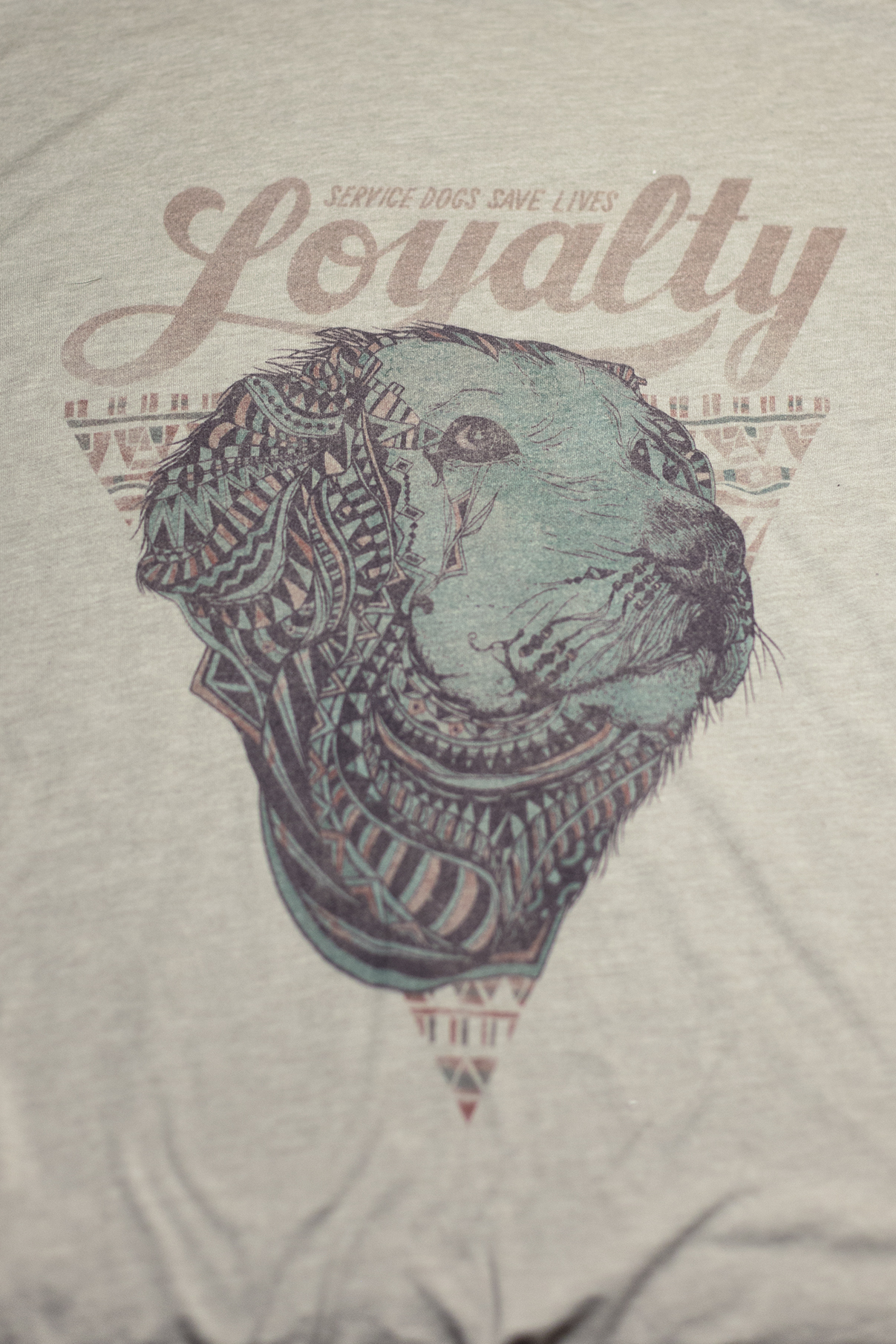 Corey - 8/3 - Service Dog Graphic T-Shirt
I recently bought this beautiful graphic t-shirt at Sevenly's sample sale.
Emily - 8/2 - Notebook
A birthday gift from my cousin Rachel that I've been putting to good use! Life is better when I can write down and sort through my thoughts. Original pattern is by Hannah Rampley.
Corey - 8/2 - Belt
I don't usually put forward money for a belt; this time I made a exception. I got my hair cut at Bar Beer several months ago, and with it came a 15% off coupon for their Mens Goods store. Thanks Bar Beer!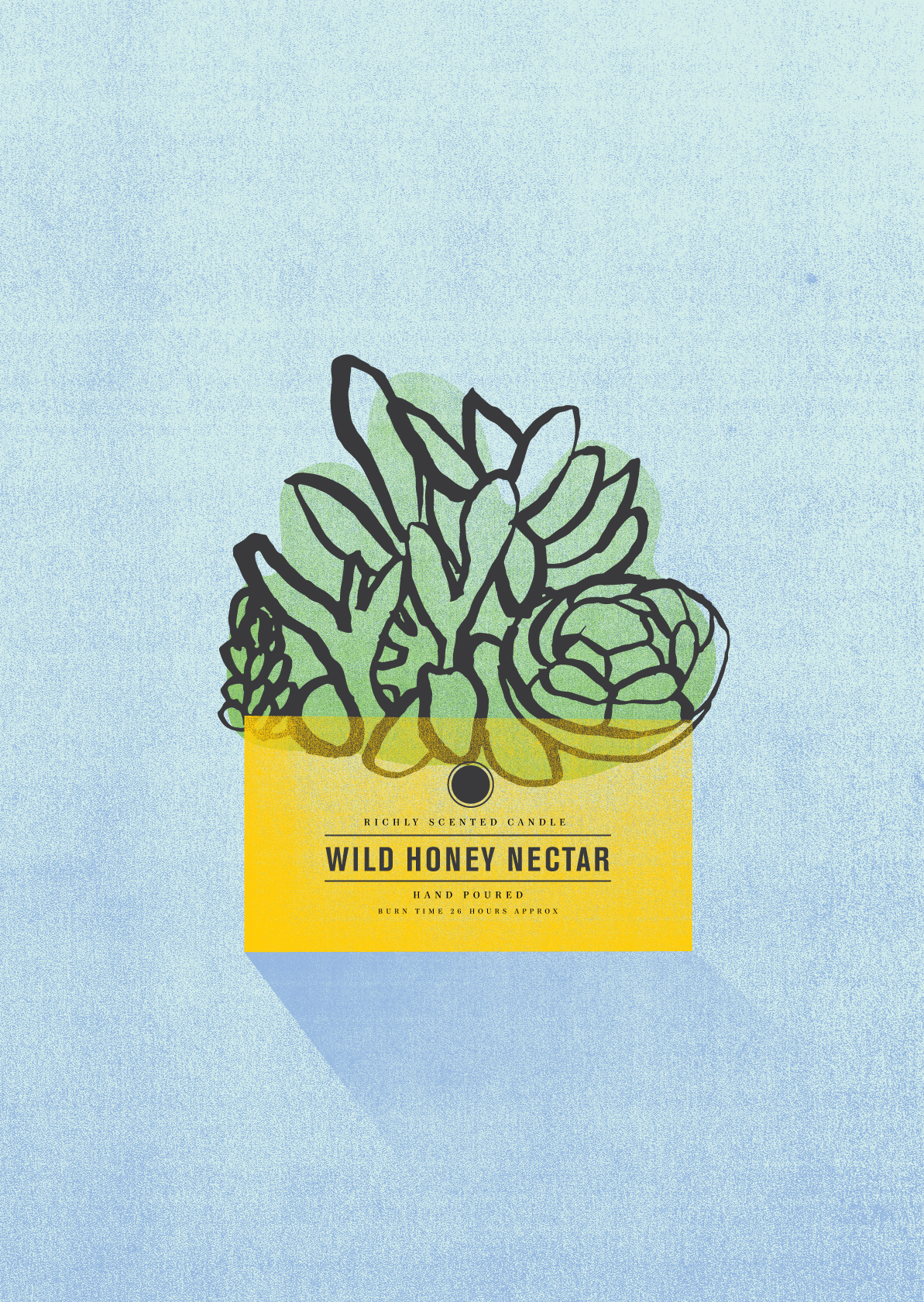 Emily - 8/1 - Succulents
An arrangement made by Eric Liddle.
Corey - 8/1 - Wool Socks
Purchased at Target. Comfortable and warm and stylish.
1
2
3
4
5
6
7
8
9
10
11
12
13
14
15
16
17
18
19
20
21
22
23
24
25
26
27
28
29
30
31
32
33
34
35
36
37
38
39
40
41
42
43
44
45
46
47
48
49
50
51
52
53
54
55
56
57
58
59
60
61
62
63
·
·
·
·
·
·
·
·
·
·
·
·
·
·
·
·
·
·
·
·
·
·
·
·
·
·
·
·
·
·
·
·
·
·
·
·
·
·
·
·
·
·
·
·
·
·
·
·
·
·
·
·
·
·
·
·
·
·
·
·
·
·
·