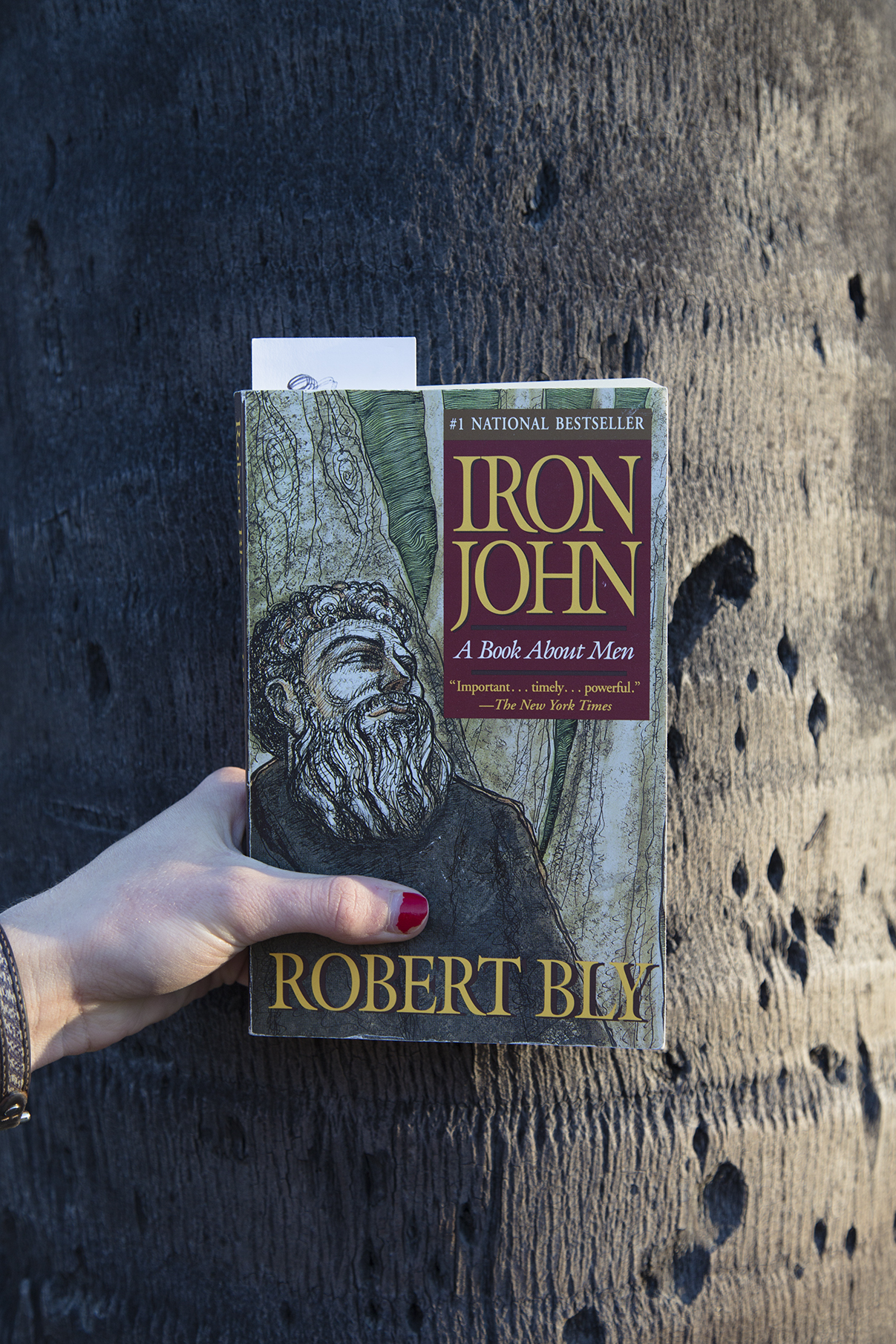 Corey - 3/31 - Iron John, by Robert Bly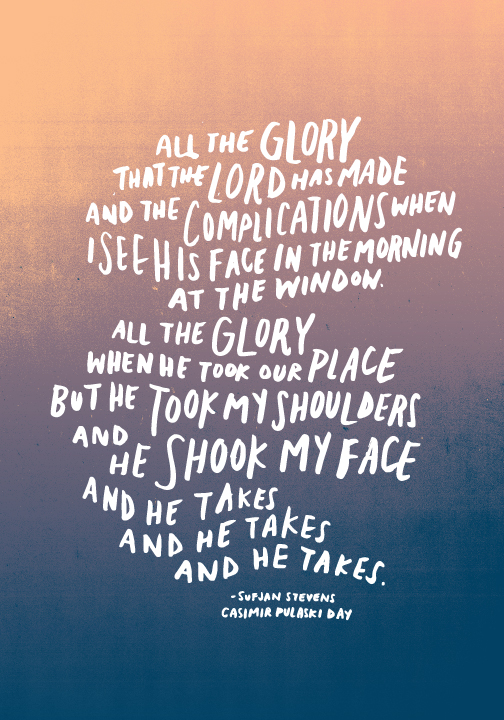 Emily - 3/31 - Come On, Feel the Illinoise! Vinyl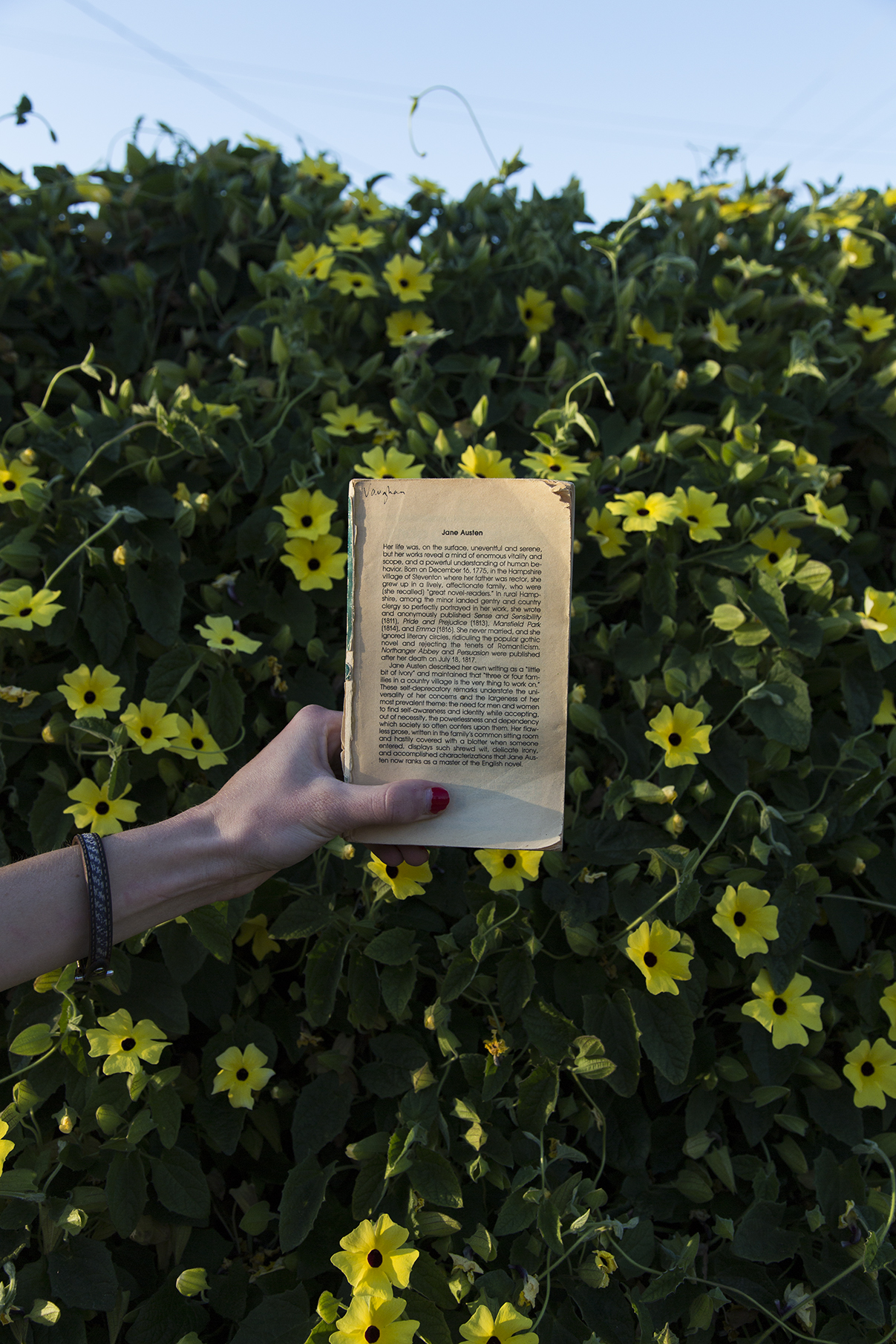 Corey - 3/30 - Pride and Prejudice, by Jane Austin
Emily - 3/30 - Apartamento Magazine Issue #13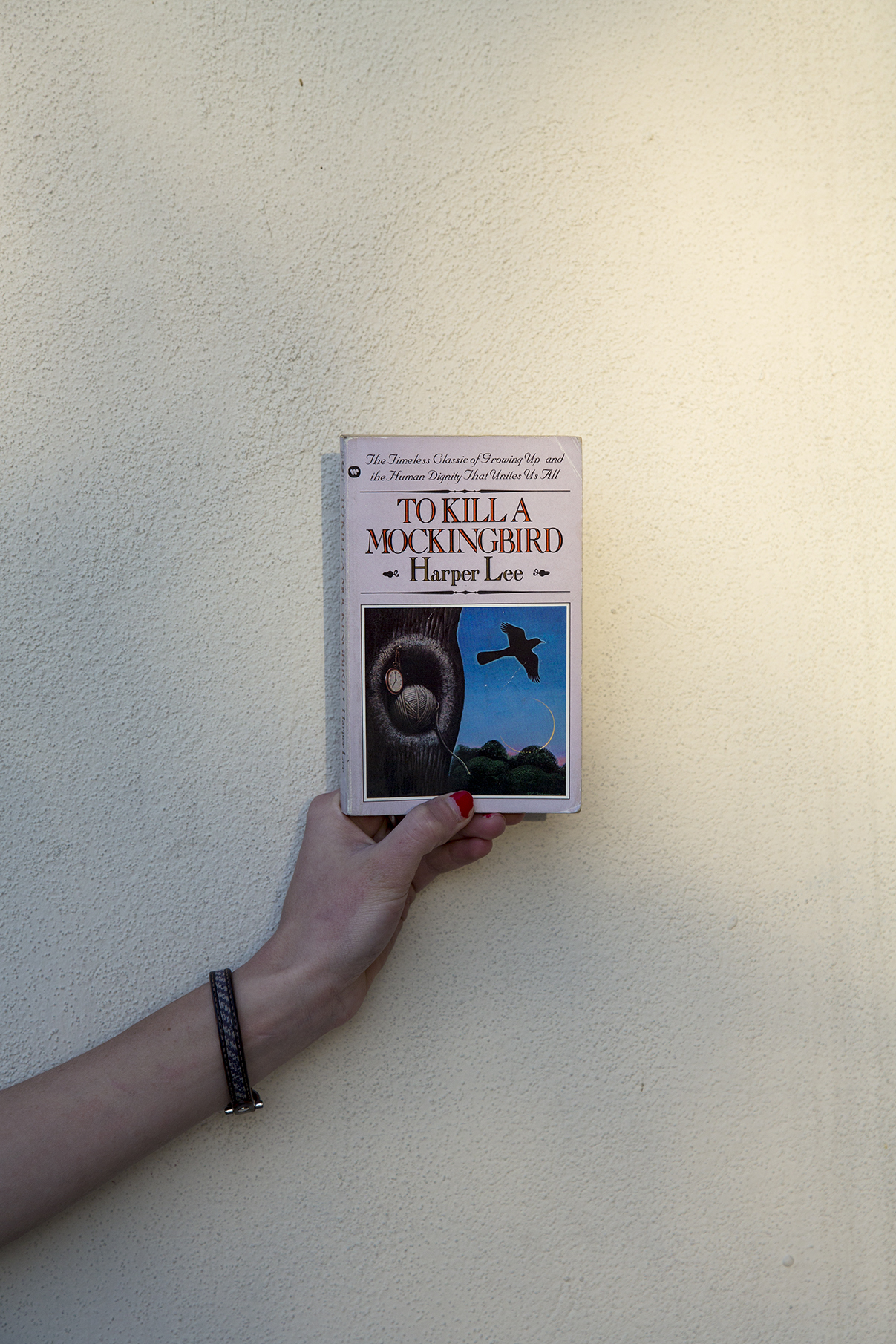 Corey - 3/29 - To Kill a Mockingbird, by Harper Lee
Emily - 3/29 - Palm Print Dress
Corey - 3/28 - Carrie and Lowell Bonus Sticker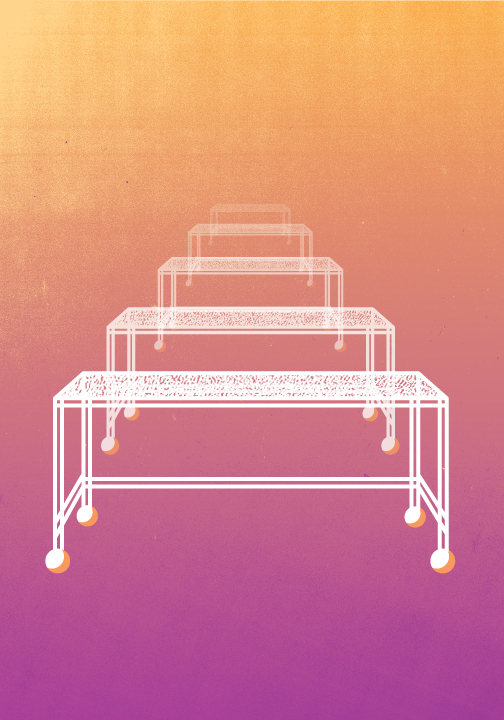 Emily - 3/28 - Movable Desk
Corey - 3/27 - Carrie and Lowell, vinyl by Sufjan Stevens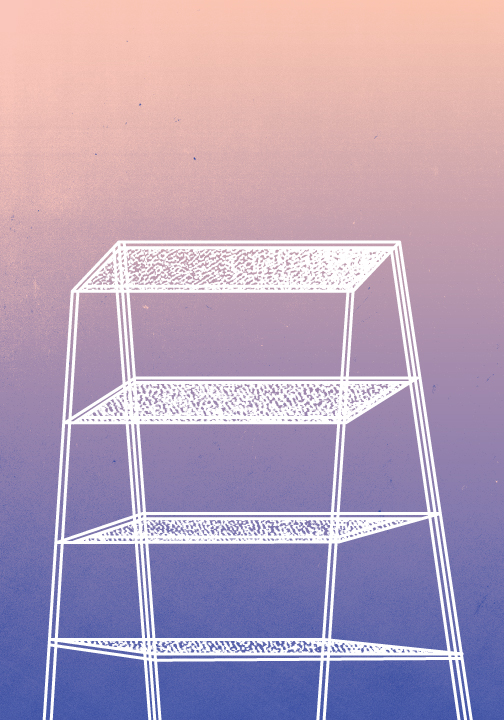 Emily - 3/27 - Ladder Shelf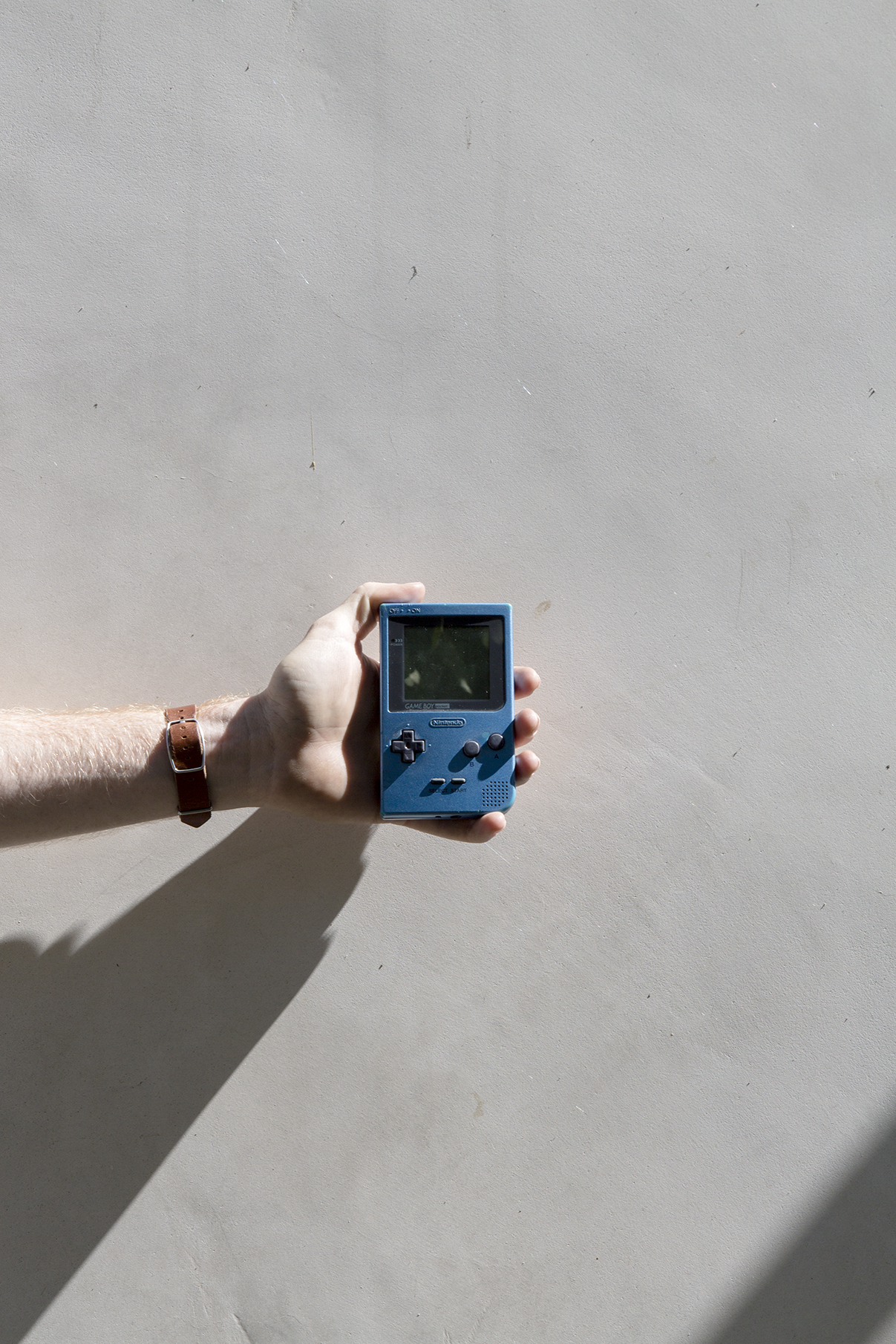 Corey - 3/26 - Metallic Blue Game Boy Pocket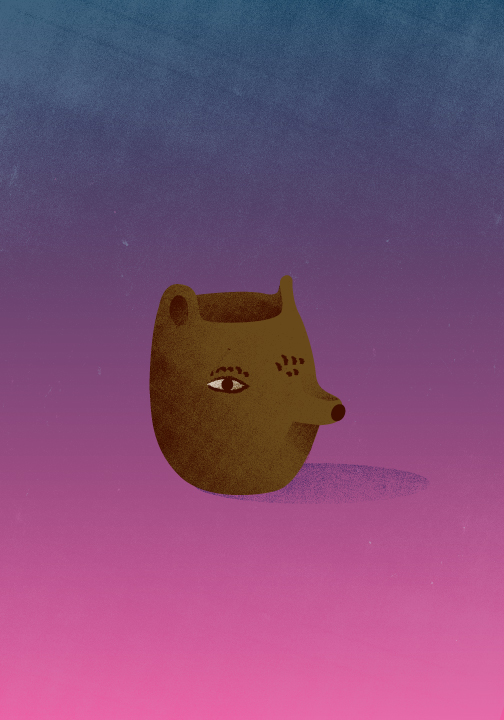 Emily - 3/26 - Fox Cup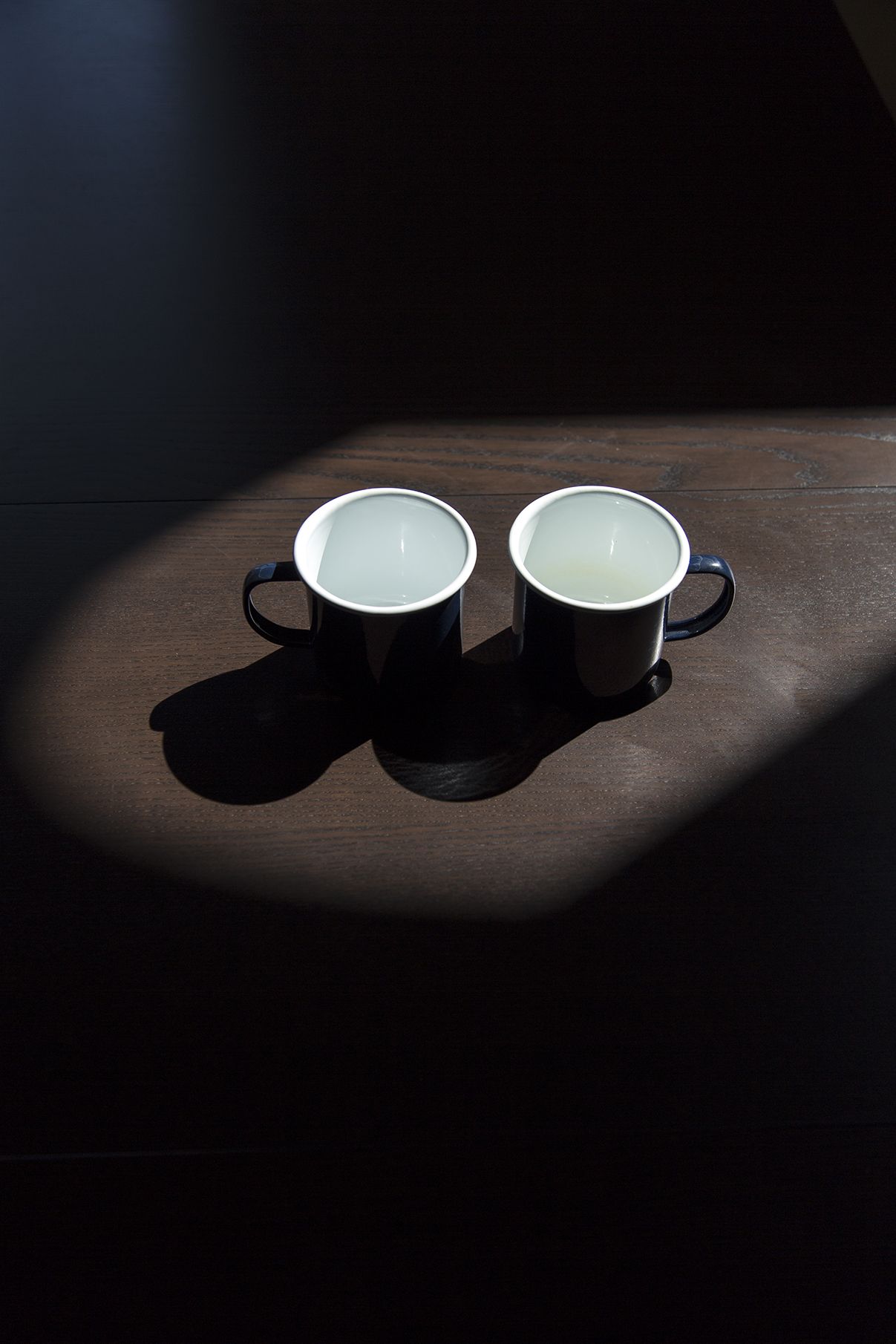 Corey - 3/24 - West Elm Tin Mugs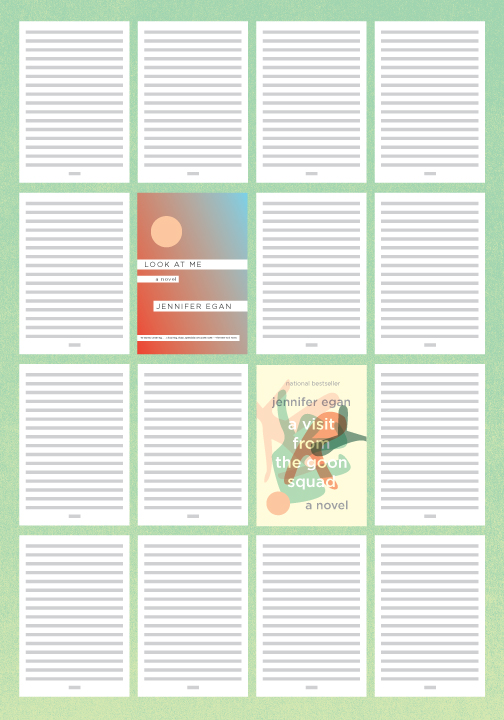 Emily - 3/25 - Jennifer Egan Novels
Corey - 3/24 - Can You Drink the Cup? by Henri Nouwen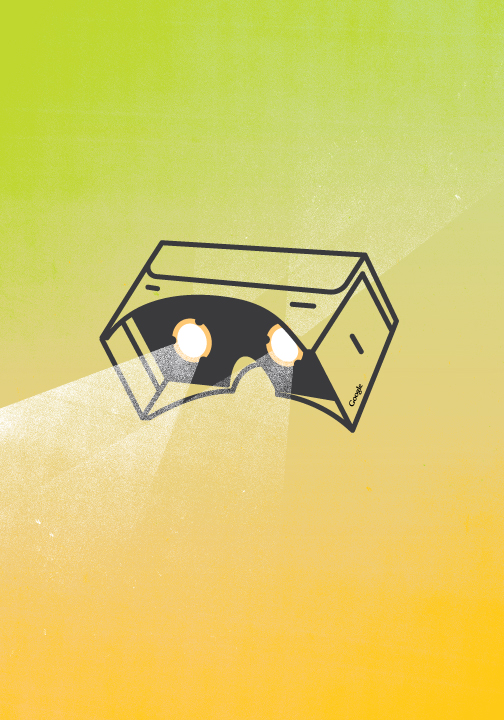 Emily - 2/23 - Google Cardboard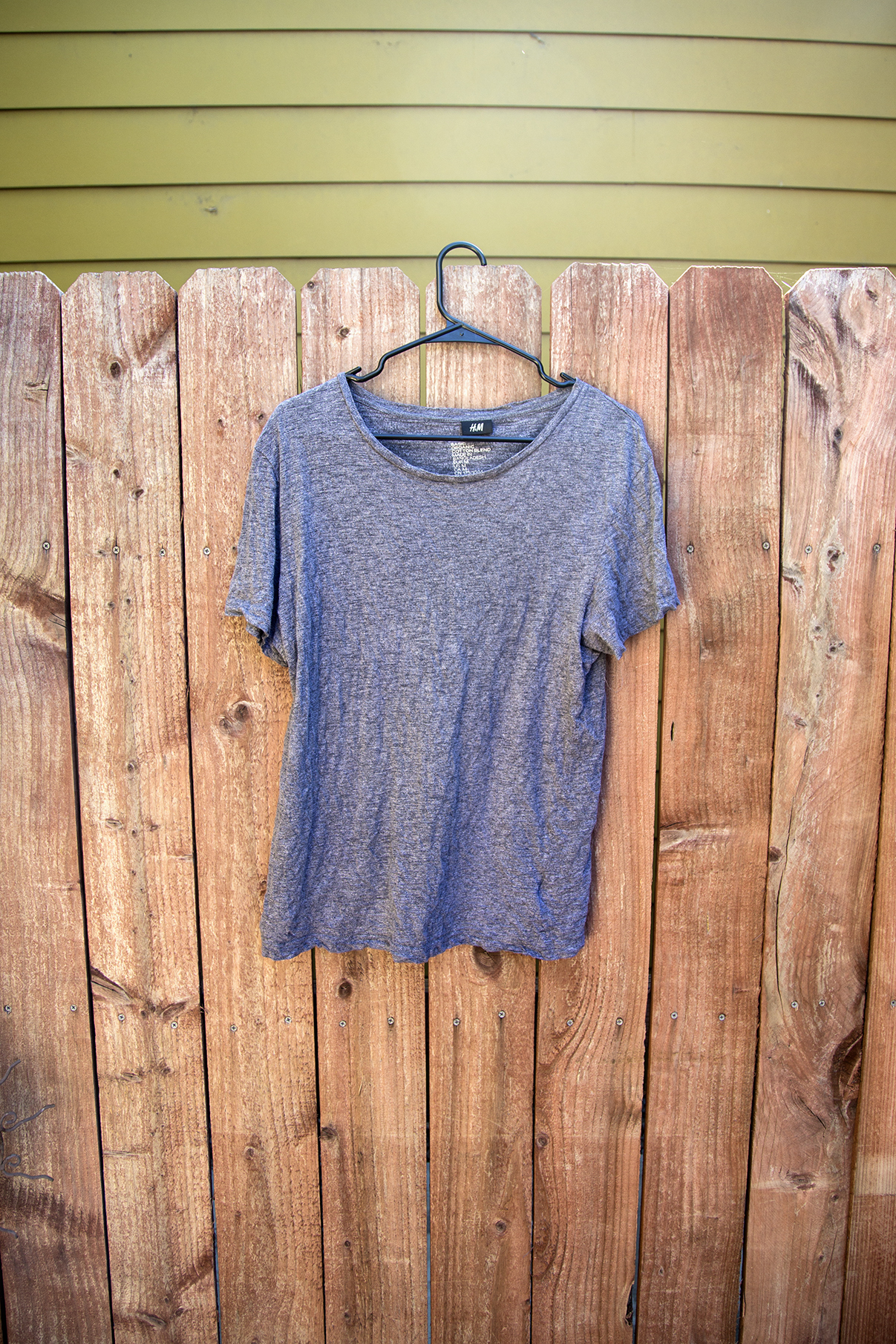 Corey - 3/23 - Gray Tee from H&M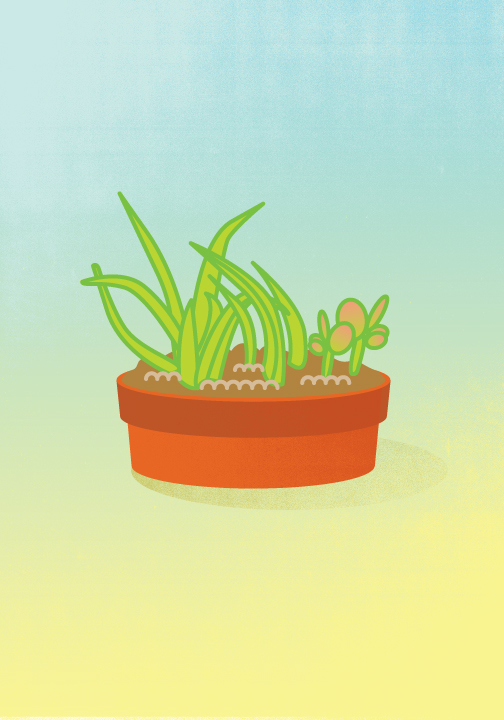 Emily - 2/23 - Cacti Arrangement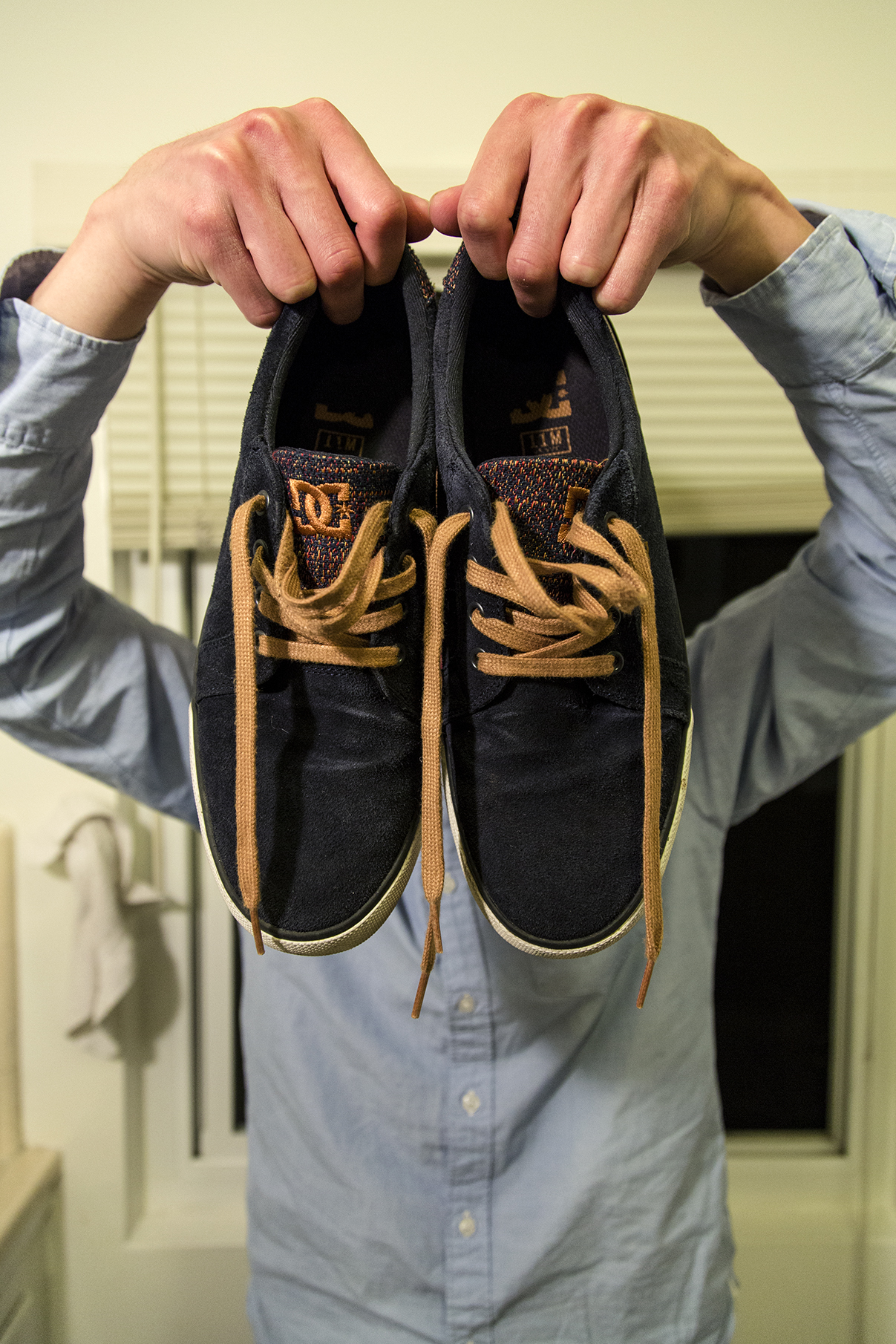 Corey - 3/22 - DC Shoes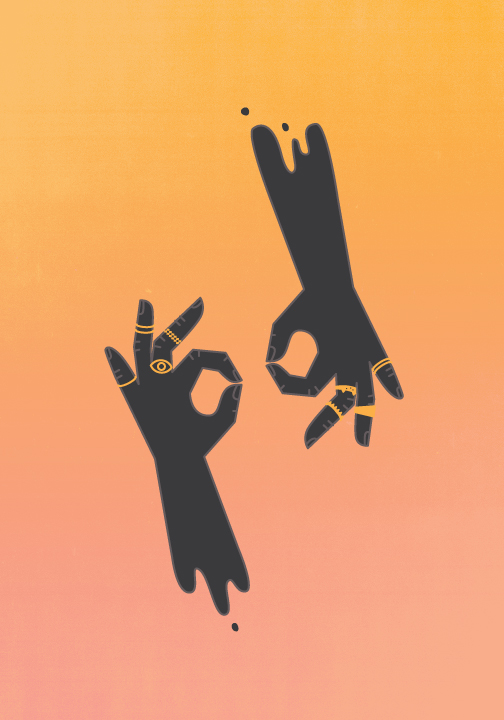 Emily - 2/22 - Rings
Corey - 3/21 - Rumours, vinyl, by Fleetwood Mac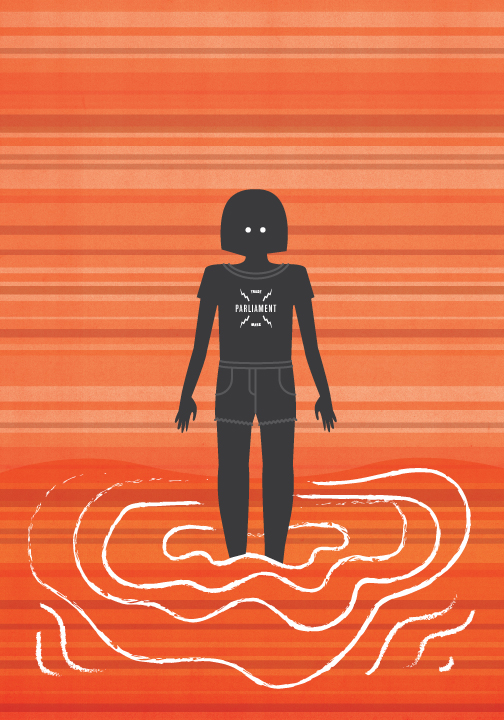 Emily - 3/21 - Parliament Tee
Corey - 3/20 - Drown, by Junot Díaz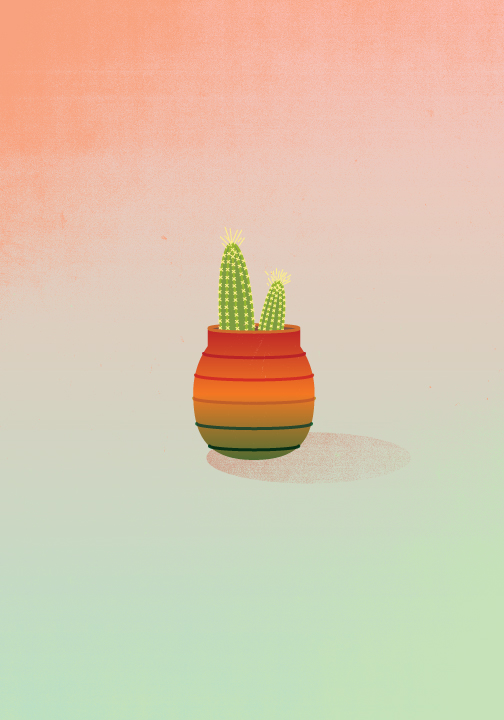 Emily - 3/20 - Amanda Evans Pot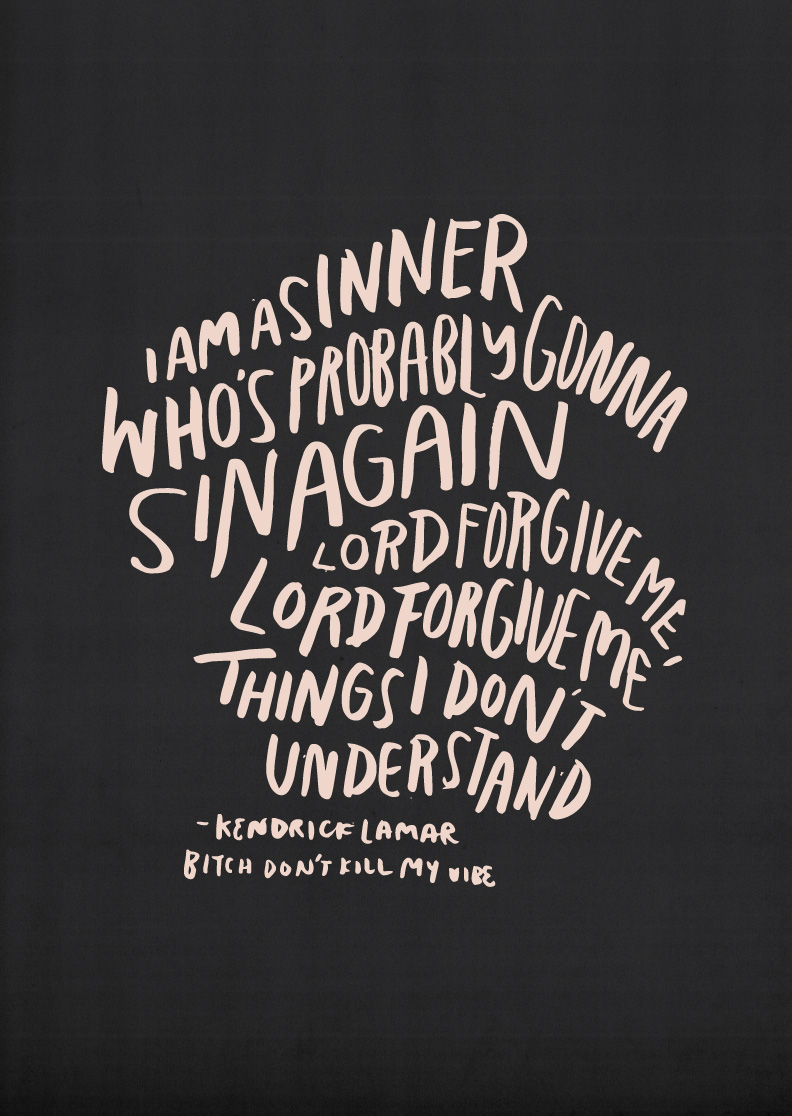 Emily - 3/19 - good kid, m.A.A.d. city vinyl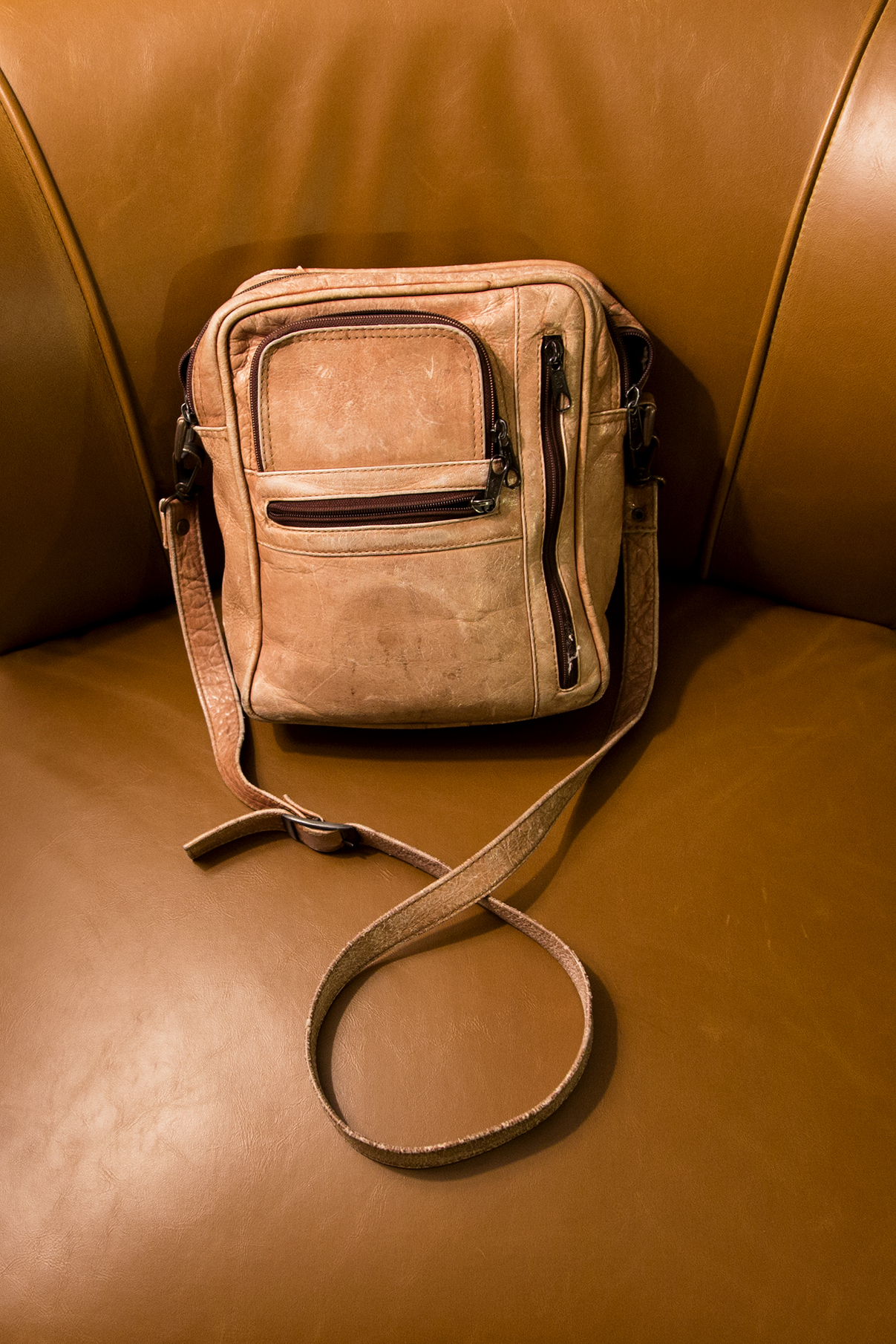 Corey - 3/19 - Leather Satchel
Emily - 3/18 - Golden Pretzel Bottle Opener
Corey - 3/18 - Various Identification Cards
Emily - 3/17 - 60's Dress
Corey - 3/17 - Holga 185-120 Holgawood 120N Medium Format Camera
Emily - 3/16 - Wine Glasses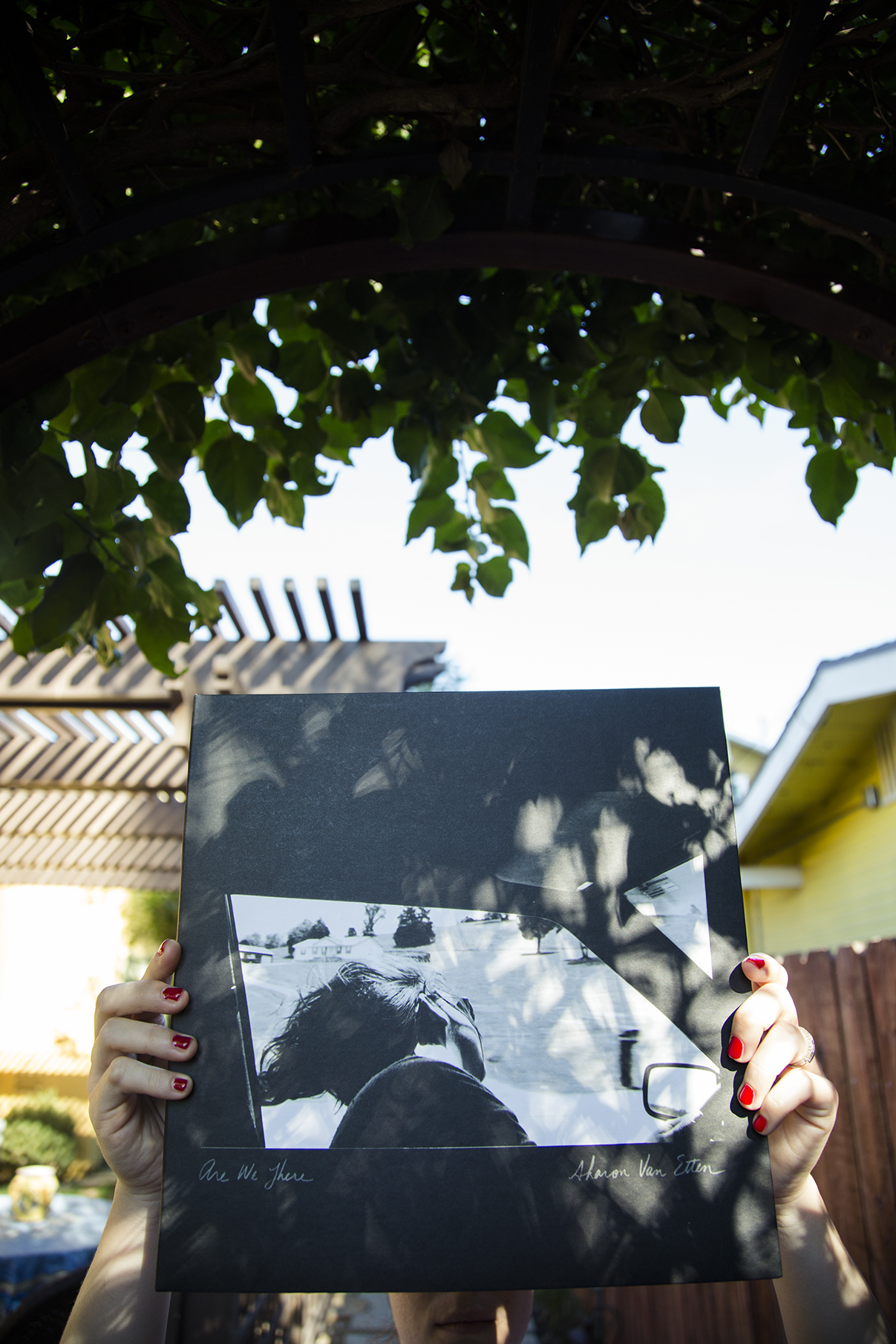 Corey - 3/16 - Are We There, vinyl, by Sharon Van Etten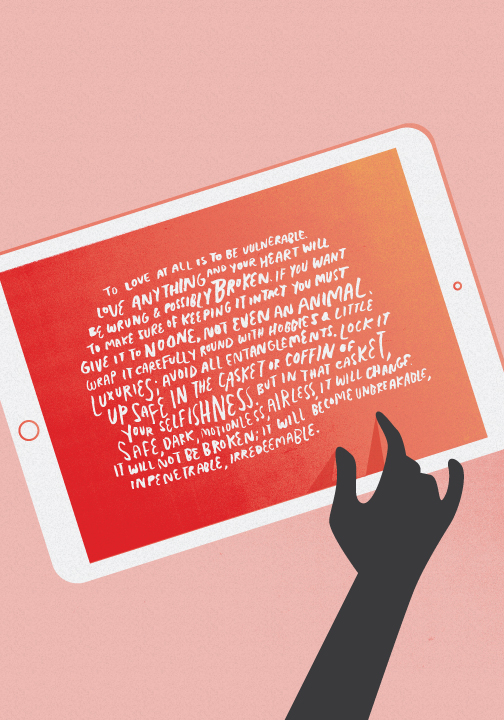 Emily - 3/15 - iPad Mini
Corey - 3/14 - Woman Hollering Creek by Sandra Cisneros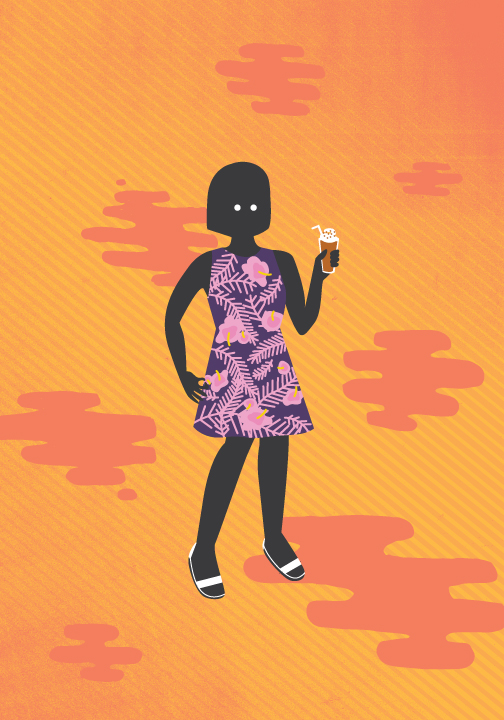 Emily - 3/14 - Hawaiian Print Dress
Corey - 3/13 - Collection of Fujifilm Instax Instant Photos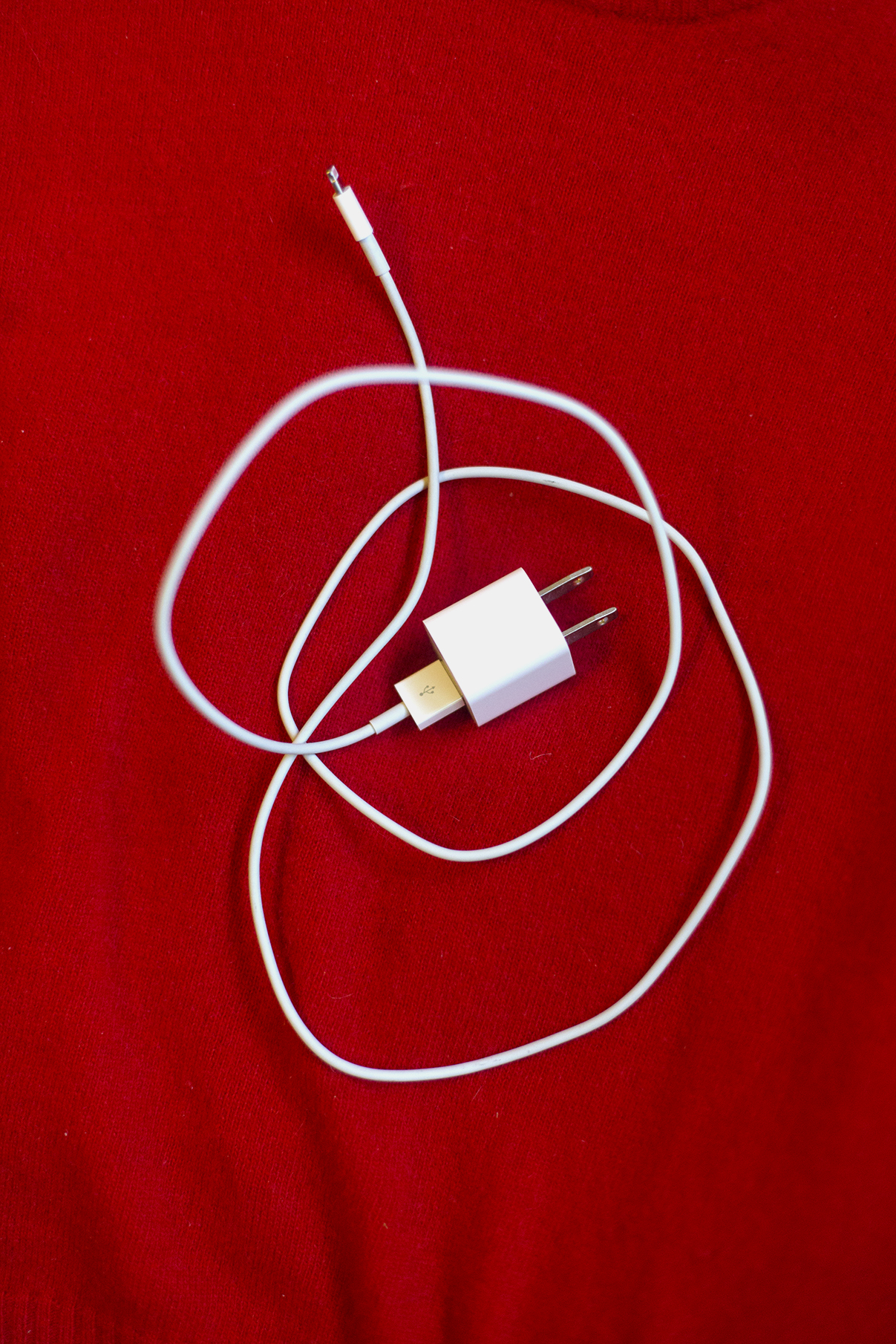 Corey - 3/12 - Lightning Charger Cable with Wall Adapter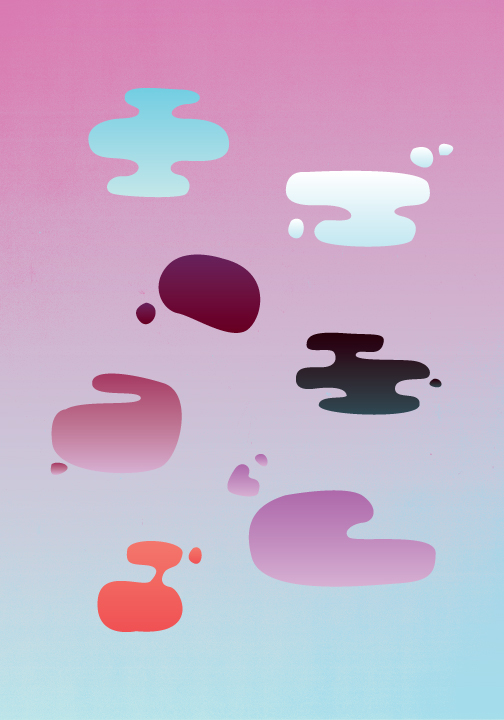 3/12 - Nail Polish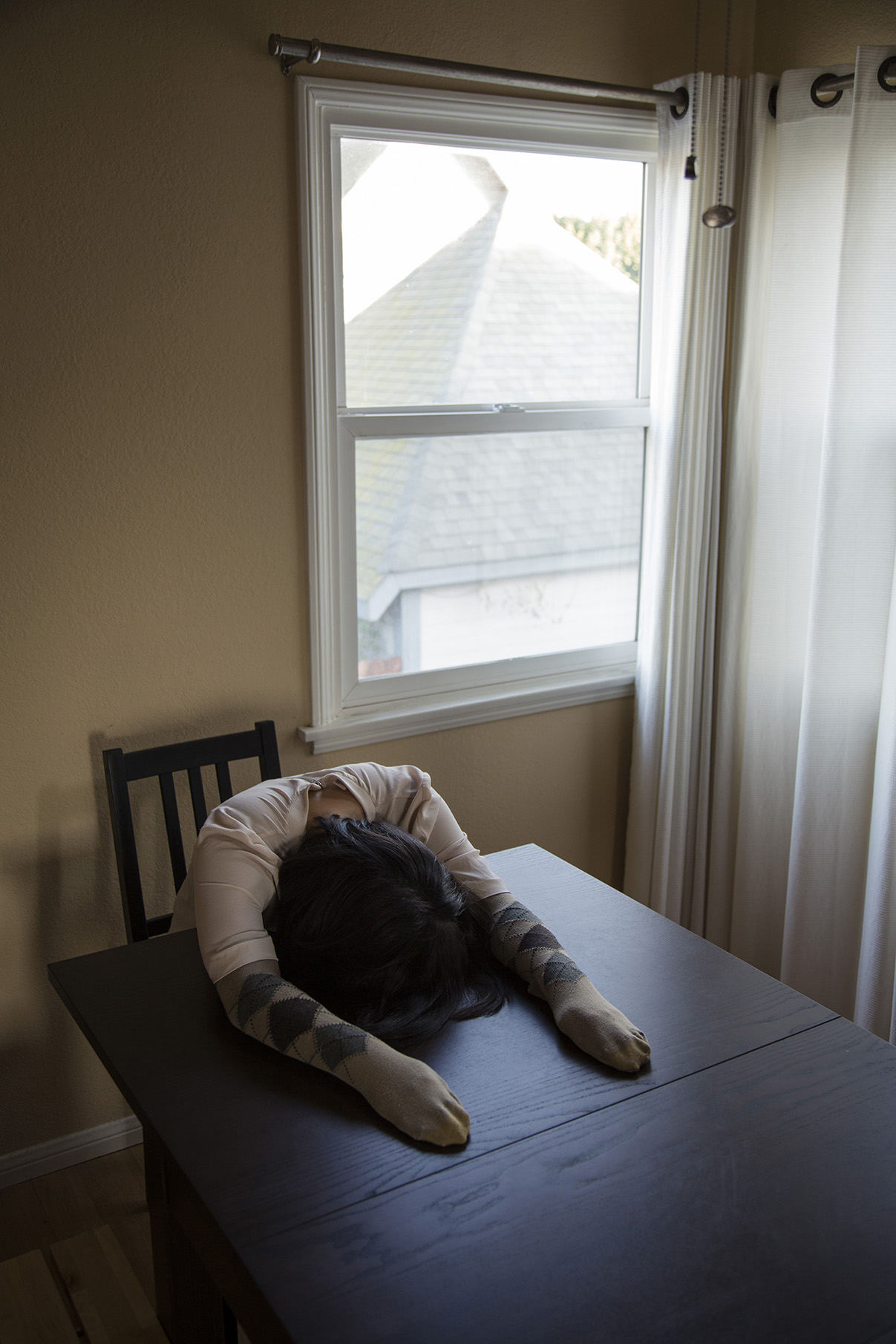 Corey - 3/11 - Tan Argyle Socks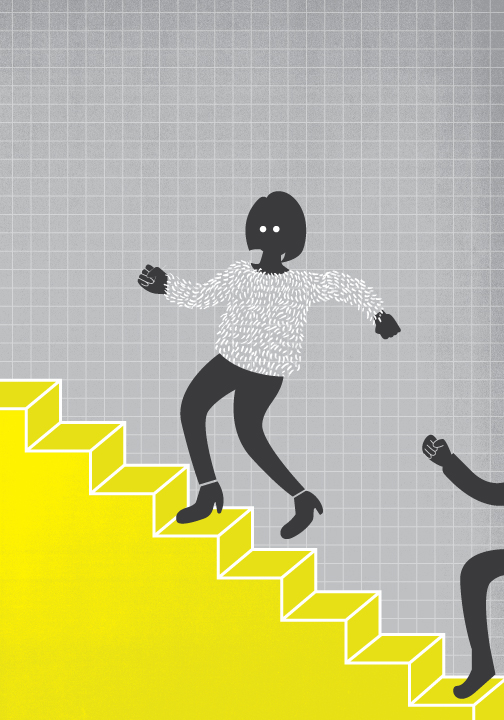 Emily - 3/11 - Fuzzy sweater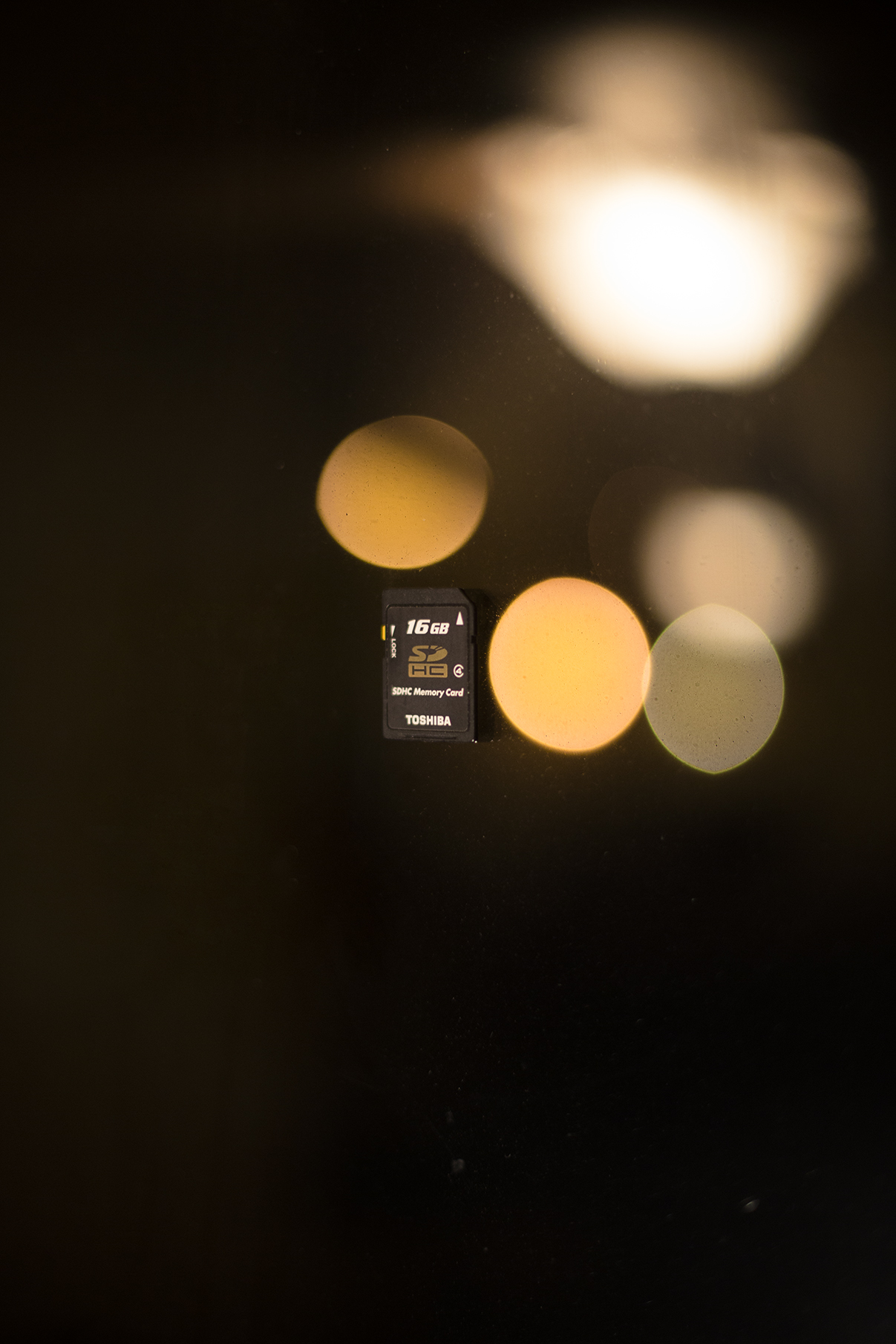 Corey - 3/10 - SDHC Memory Card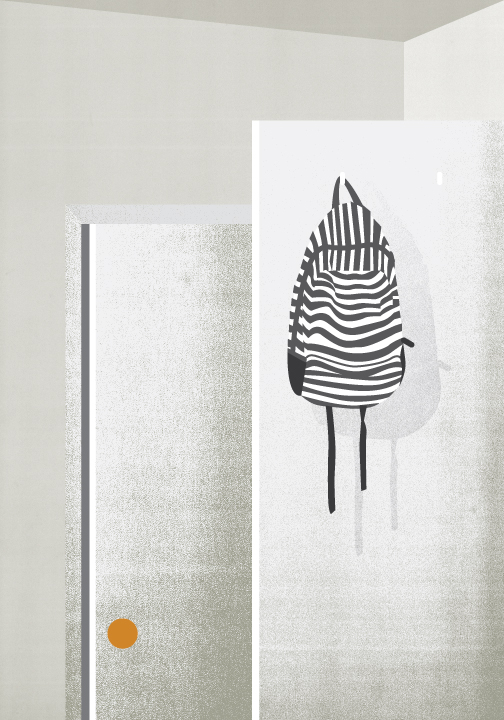 Emily - 3/10 - Poketo Backpack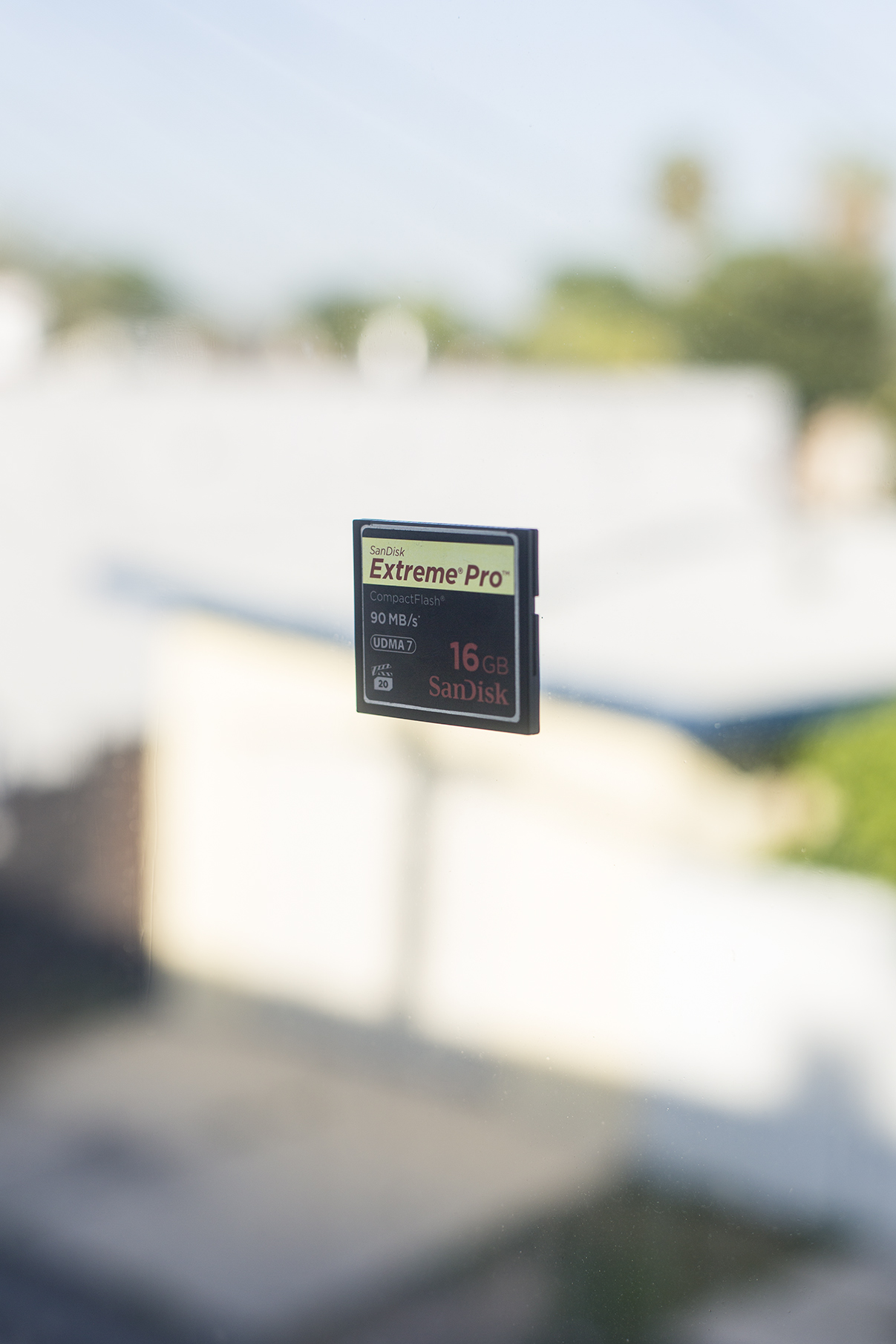 Corey - 3/9 - SanDisk Extreme Pro CompactFlash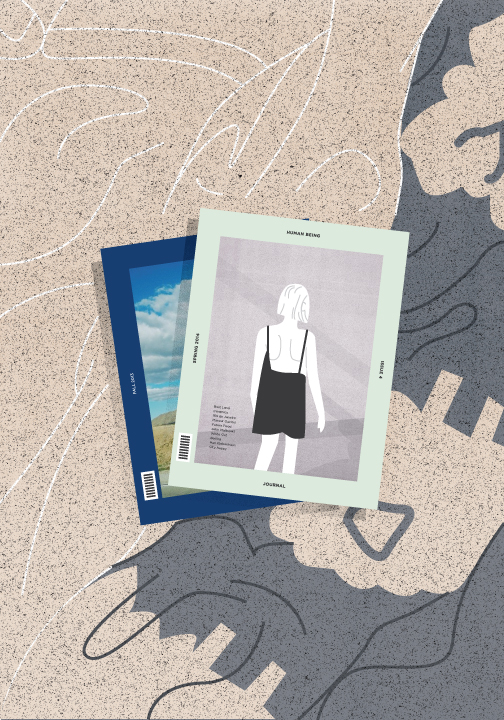 Emily - 3/9 - Human Being Magazine
Corey - 3/8 - Broken glasses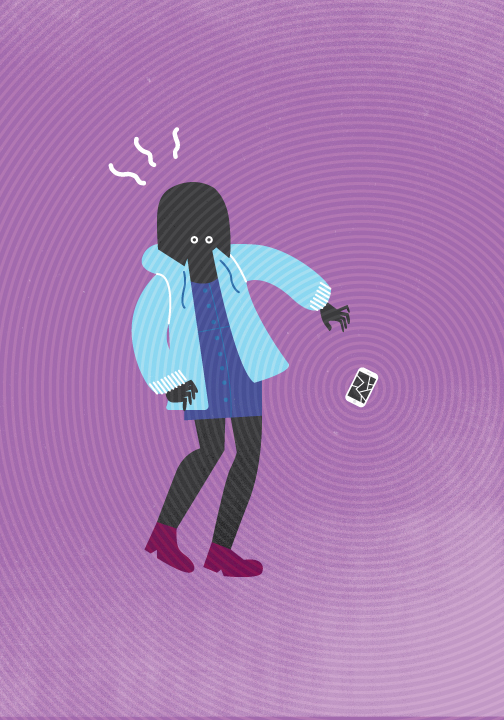 Emily - 3/8 - Blue Jacket & Dress
Corey - 3/7 - Broken Brick from Fire Pit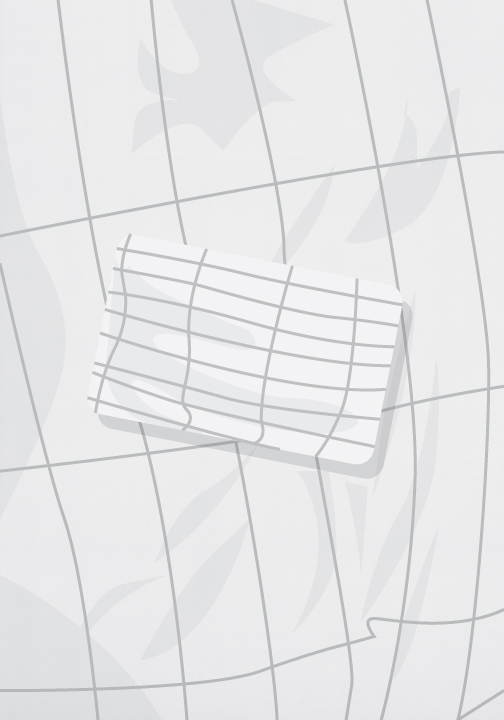 Emily - 3/7 - Childhood Bed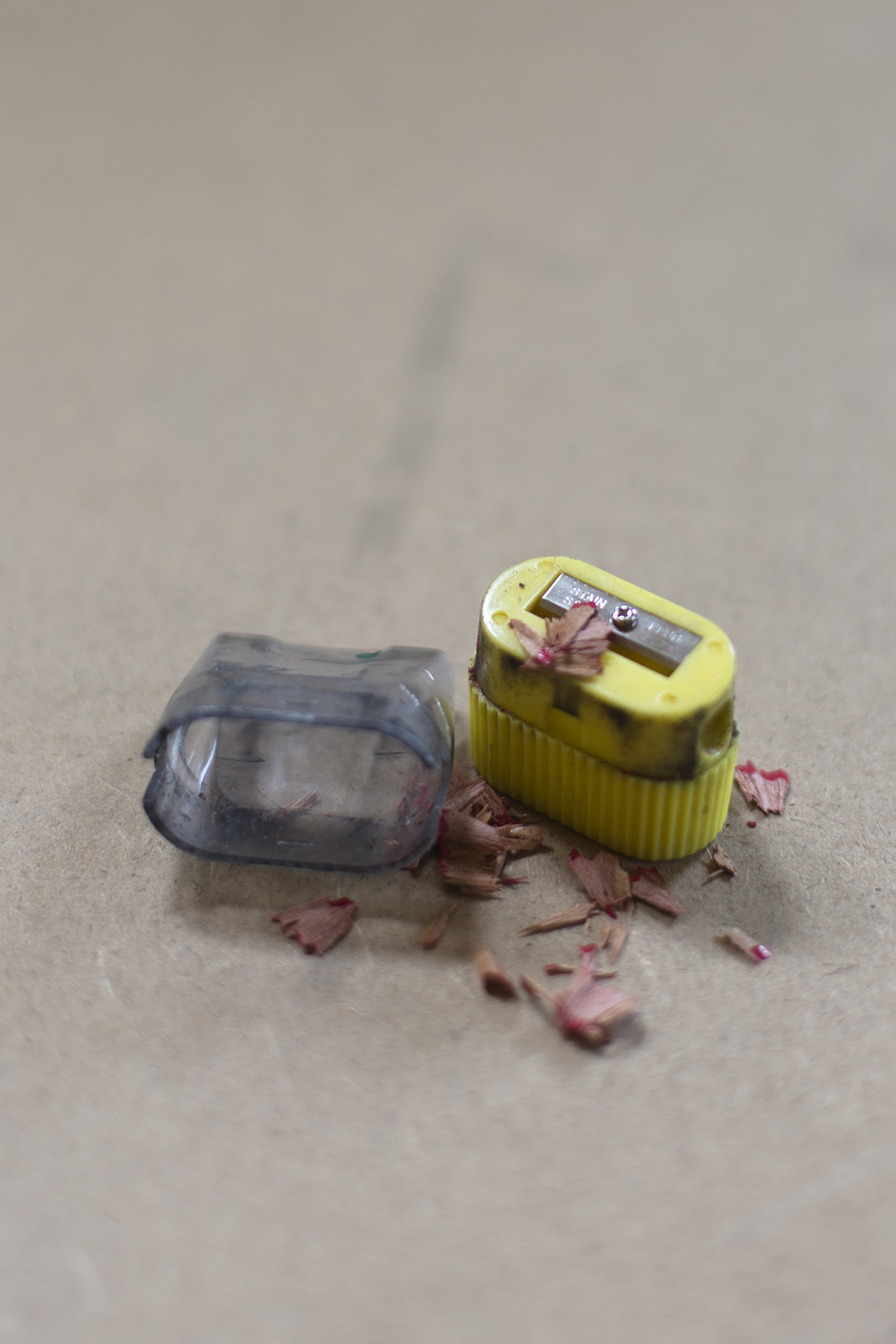 Corey - 3/6 - Yellow Pencil Sharpener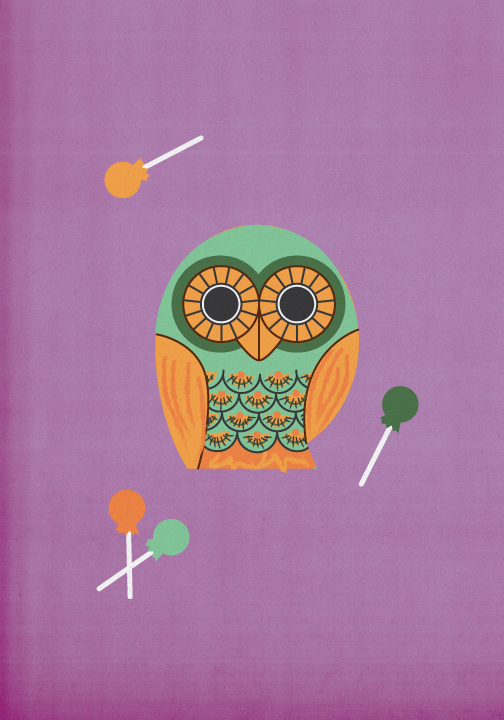 Emily - 3/6 - Wooden Owl
Corey - 3/5 - Fujifilm Instant Camera Instax 200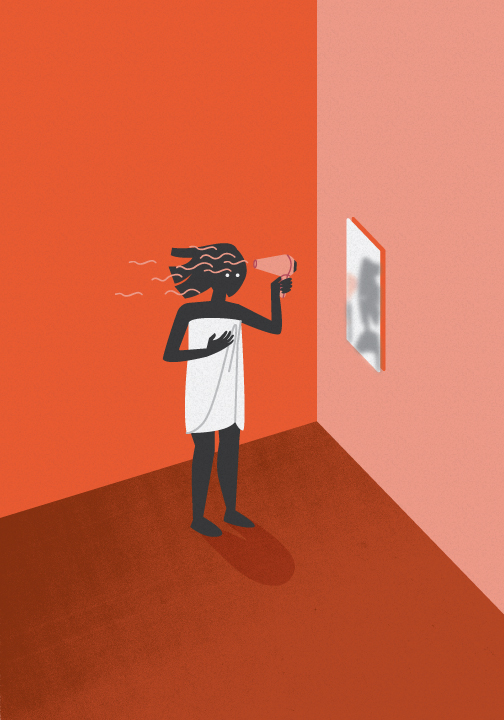 Emily - 3/5 - Blow Dryer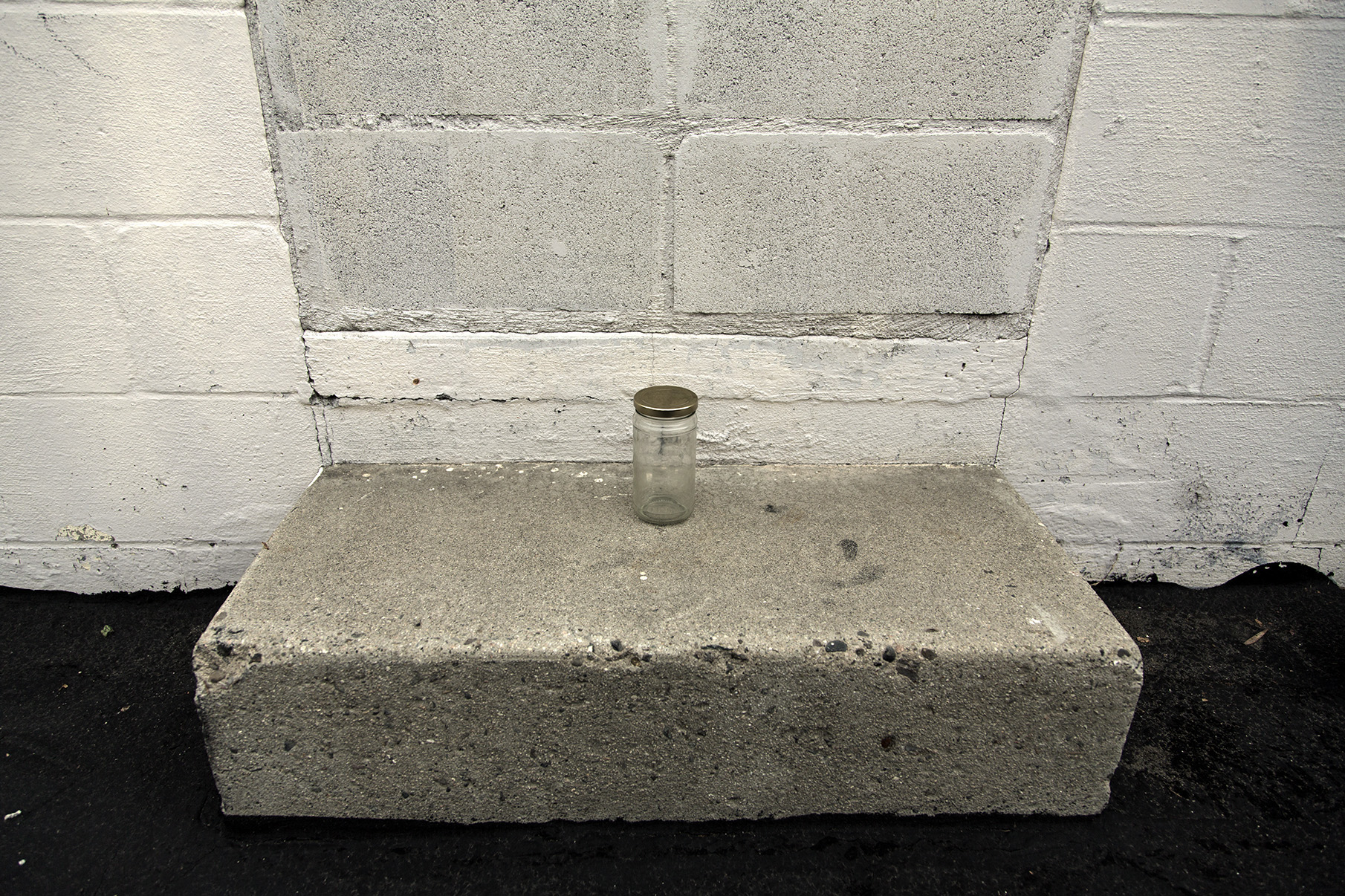 Corey - 3/4 - Jar from Bar Nine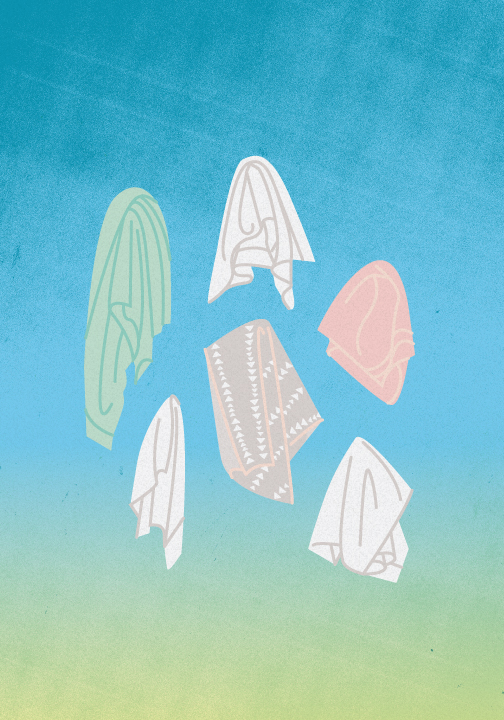 Emily - 3/4 - Towels
Corey - 3/3 - Straight Drapery Pins with Box
Emily - 3/3 - Striped Dress
Corey - 3/2 - Lake Wobegon Days by Garrison Keillor
Emily - 3/2 - Hello Kitty Toaster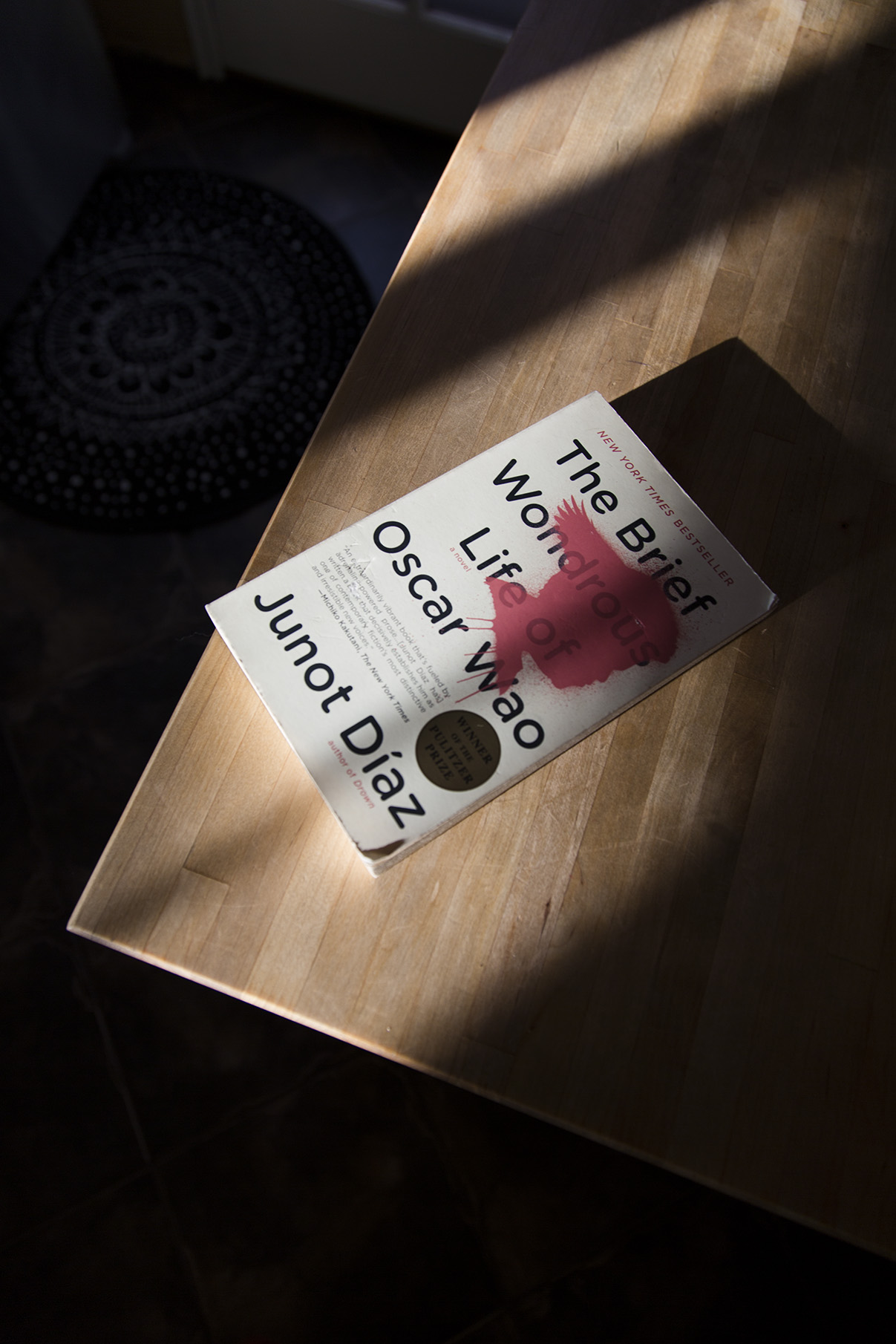 Corey - 3/1 - The Brief Wondrous Life of Oscar Wao by Junot Diaz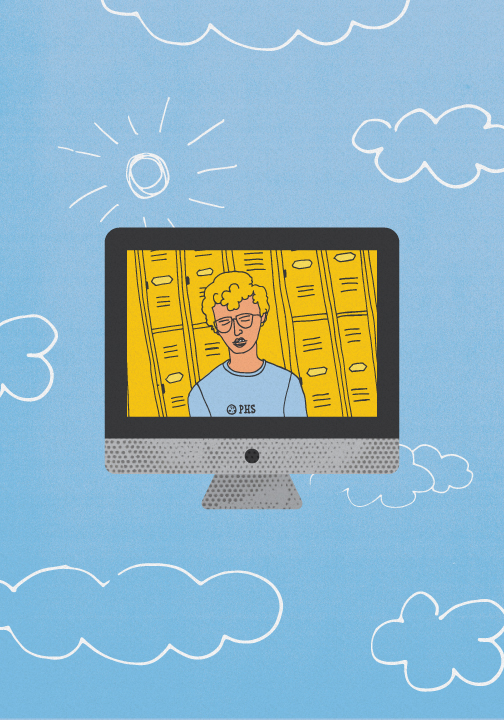 Emily - 3/1 - Napoleon Dynamite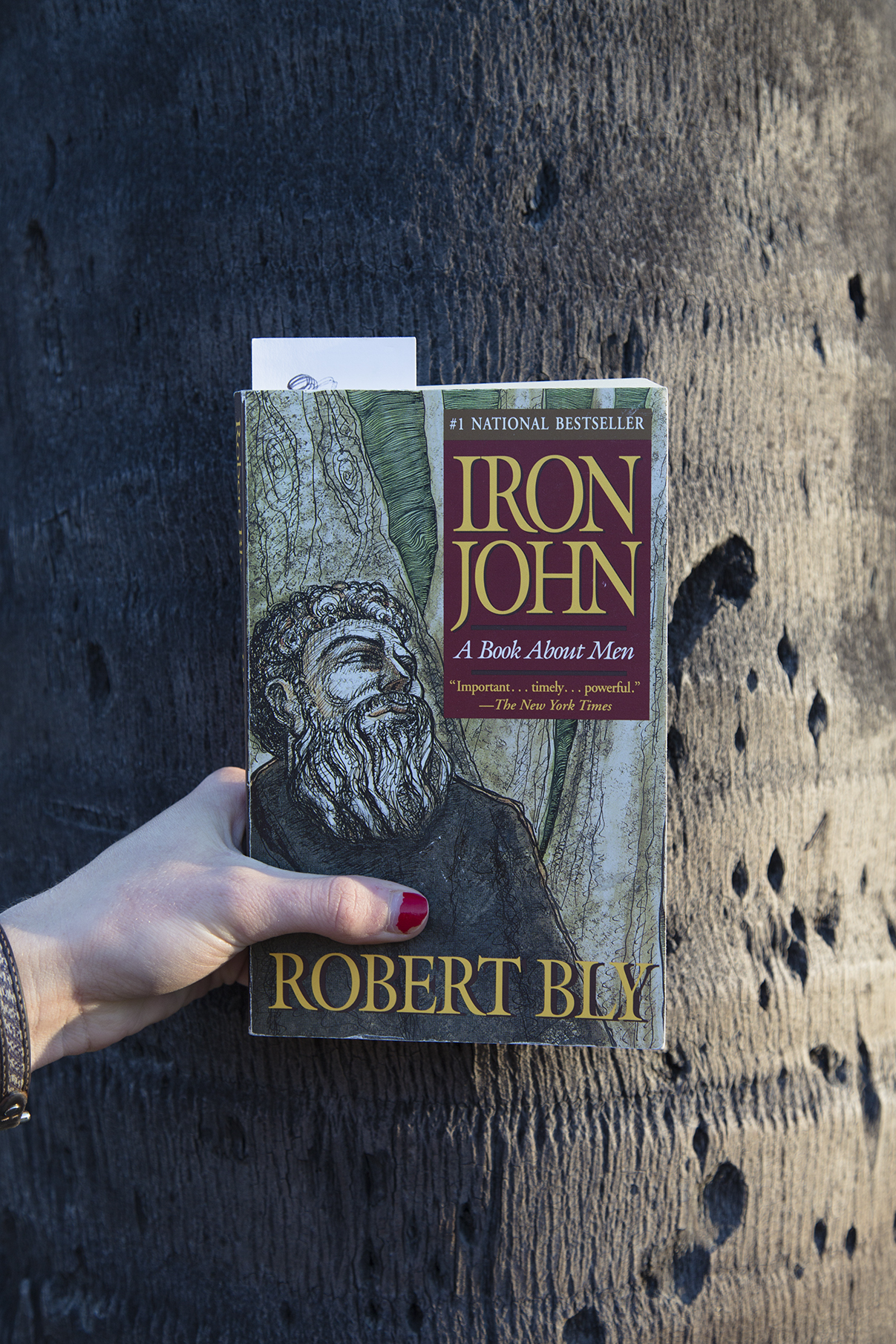 Corey - 3/31 - Iron John, by Robert Bly
Robert Bly's interpretation of the Iron John legend is intense and beautiful and provided me a truer understanding of manhood. He explains the story of a deep forest where knights and heroes seek adventure and never return. The local King sends in a young hunter into the forest with his dog in hopes of finding those lost men; upon reaching a giant lake, he witnessed a long, hairy arm pull the dog into the water. Every man has a piece of himself pulled into that lake. This book helped me empty that lake bucket by bucket.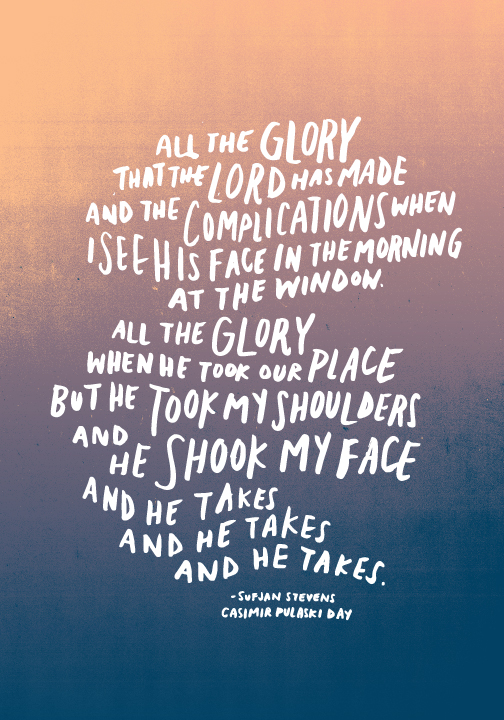 Emily - 3/31 - Come On, Feel the Illinoise! Vinyl
This was my favorite Sufjan Stevens album, but I think that Carrie and Lowell, which came out today, is maybe surpassing it.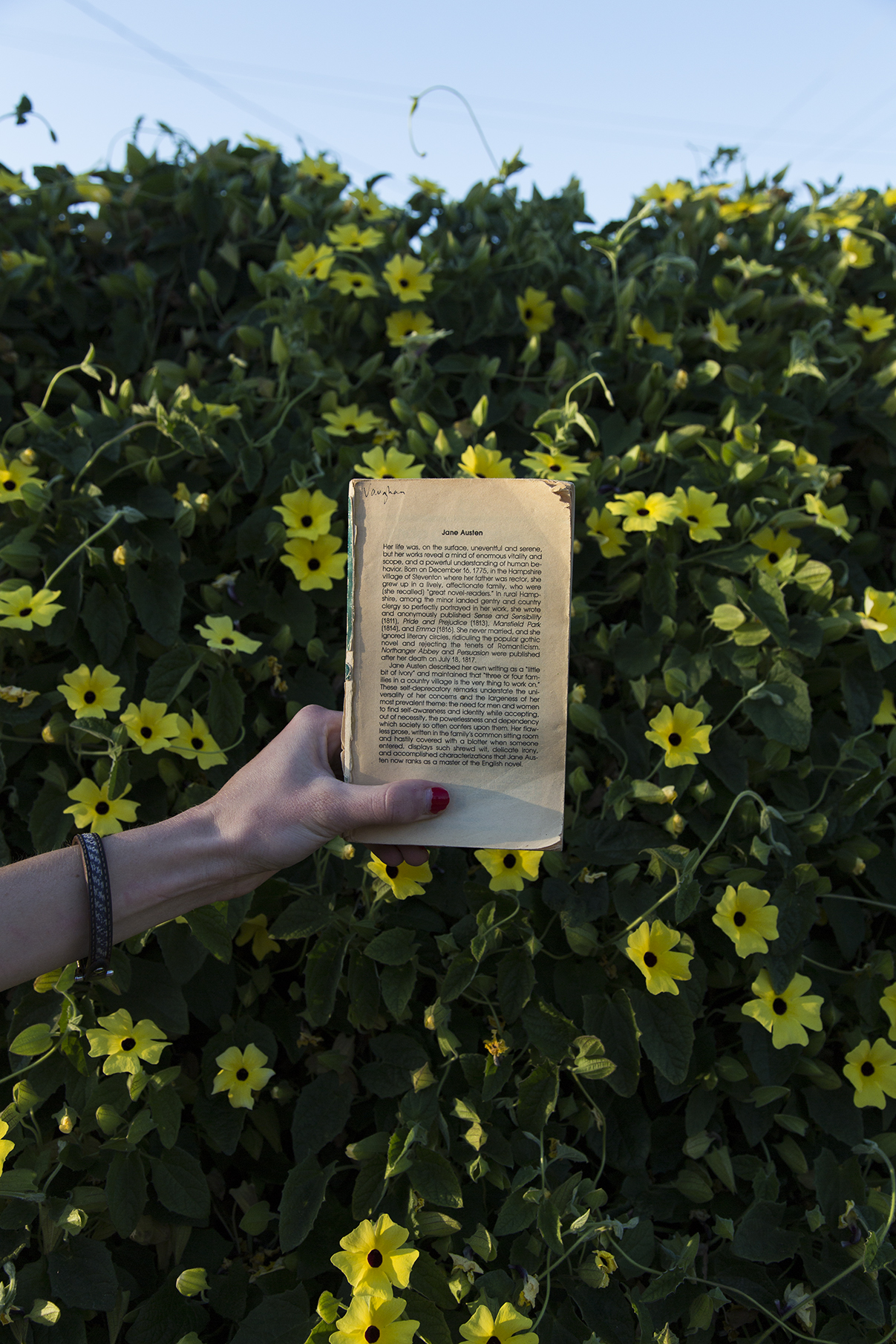 Corey - 3/30 - Pride and Prejudice, by Jane Austin
This copy was once my mother's, and after much use, it recently lost the front and back covers. I first read the book when I was 15, and was surprised by how much I liked it. While the opening chapters are soaked with pride, the beauty of the story is seeing that pride wash away to a fulfilling humility and gratitude. In conversation with her father about her engagement to Mr. Darcy, "'Have you any other objection,' said Elizabeth, 'than your belief of my indifference?' 'None at all. We all know him to be a proud, unpleasant sort of man; but this would be nothing if you really liked him.' 'I do, I do like him,' she replied, with tears in her eyes, 'I love him.'"
Emily - 3/30 - Apartamento Magazine Issue #13
A particularly nice spread of a very nice publication.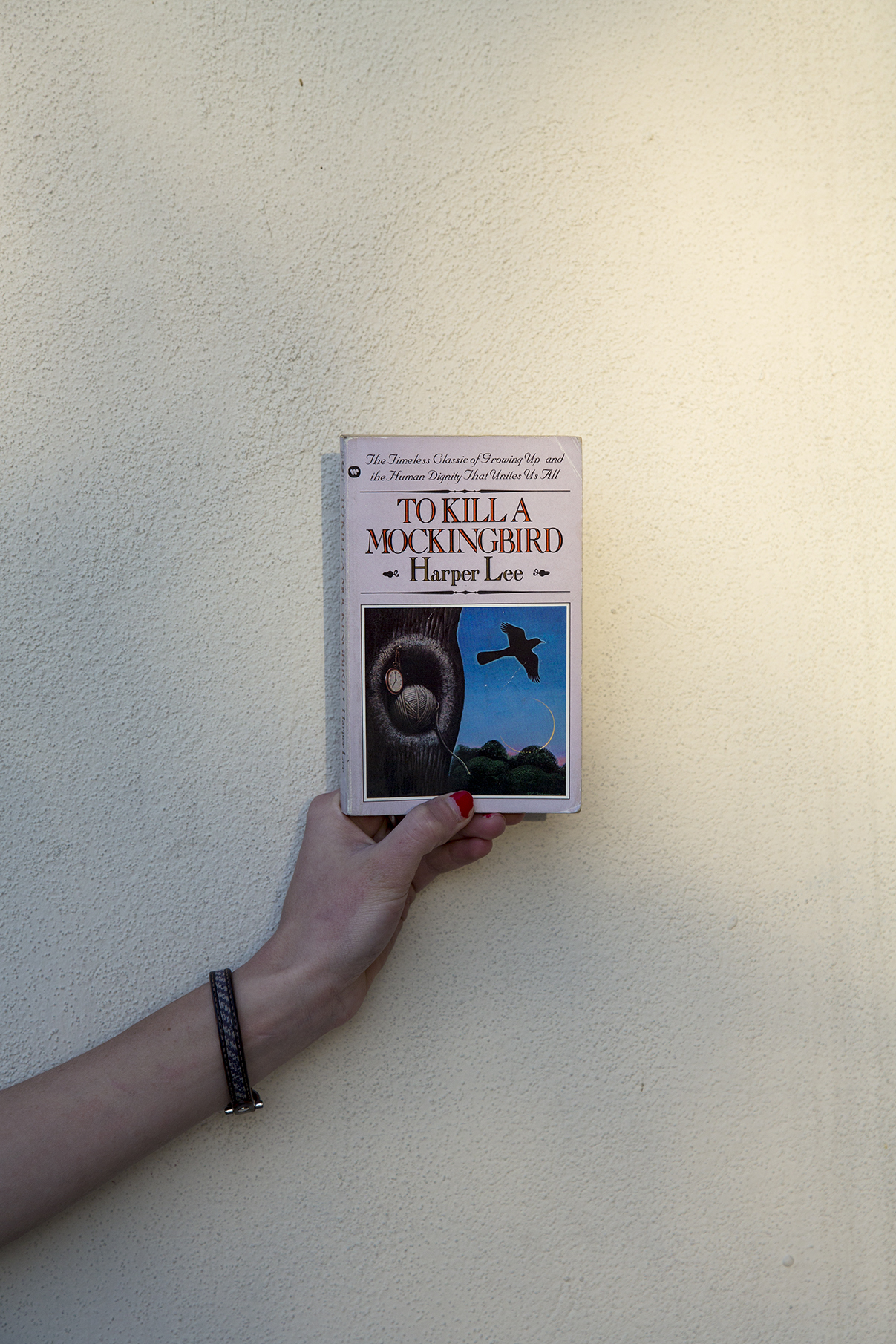 Corey - 3/29 - To Kill a Mockingbird, by Harper Lee
I read this book when I was 14, and I think it was the first time I realized the weight that written fiction can carry. It as a soft spot in my family; mention the name "Boo Radley" and you will bring a mist to my mother's eyes, because "Atticus was right. One time he said you never really know a man until you stand in his shoes and walk around in them. Just standing on the Radley porch was enough."
Emily - 3/29 - Palm Print Dress
Happy Palm Sunday!
Corey - 3/28 - Carrie and Lowell Bonus Sticker
This sticker of an unmarked landscape came as a bonus gift with the new Sufjan Stevens record. I'm not sure where it is, though I assume it's somewhere near Spencer's Butte (though my sister thinks it may be The Badlands).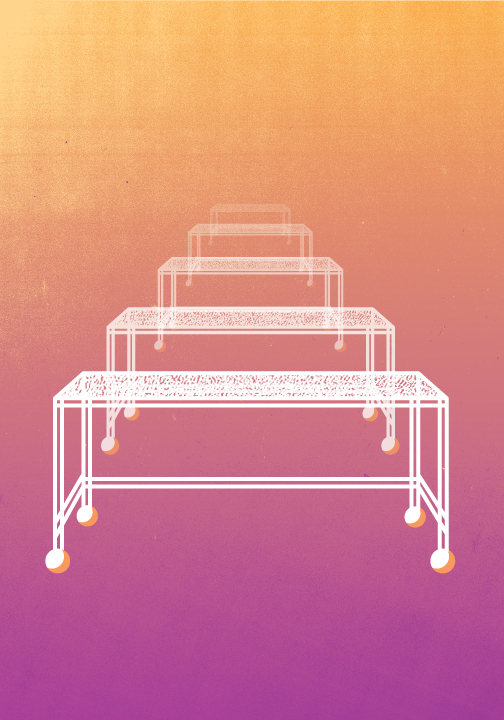 Emily - 3/28 - Movable Desk
This desk is on wheels, which is super helpful for when I want to point the computer at the couch and watch Drunk History with Kerin Higa.
Corey - 3/27 - Carrie and Lowell, vinyl by Sufjan Stevens
I just received this wonderful record in the mail today. It is a somber and heavy album, with small hints of hope and encouragement. "Did you get enough love, my little dove? Why do you cry? And I'm sorry I left, but it was for the best, though it never felt right my little Versailles."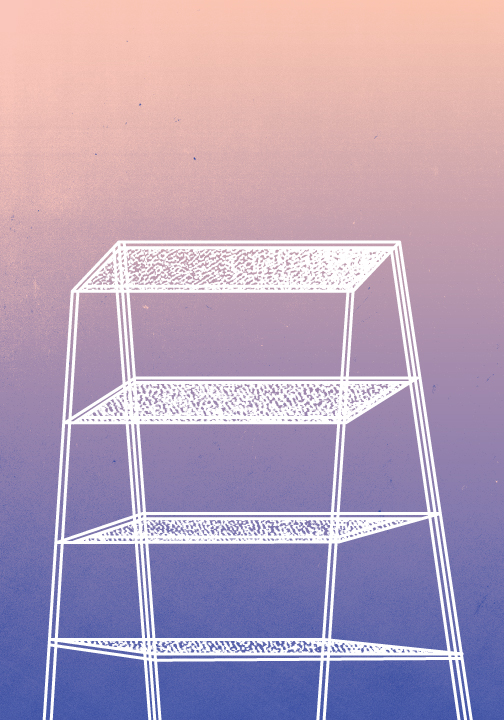 Emily - 3/27 - Ladder Shelf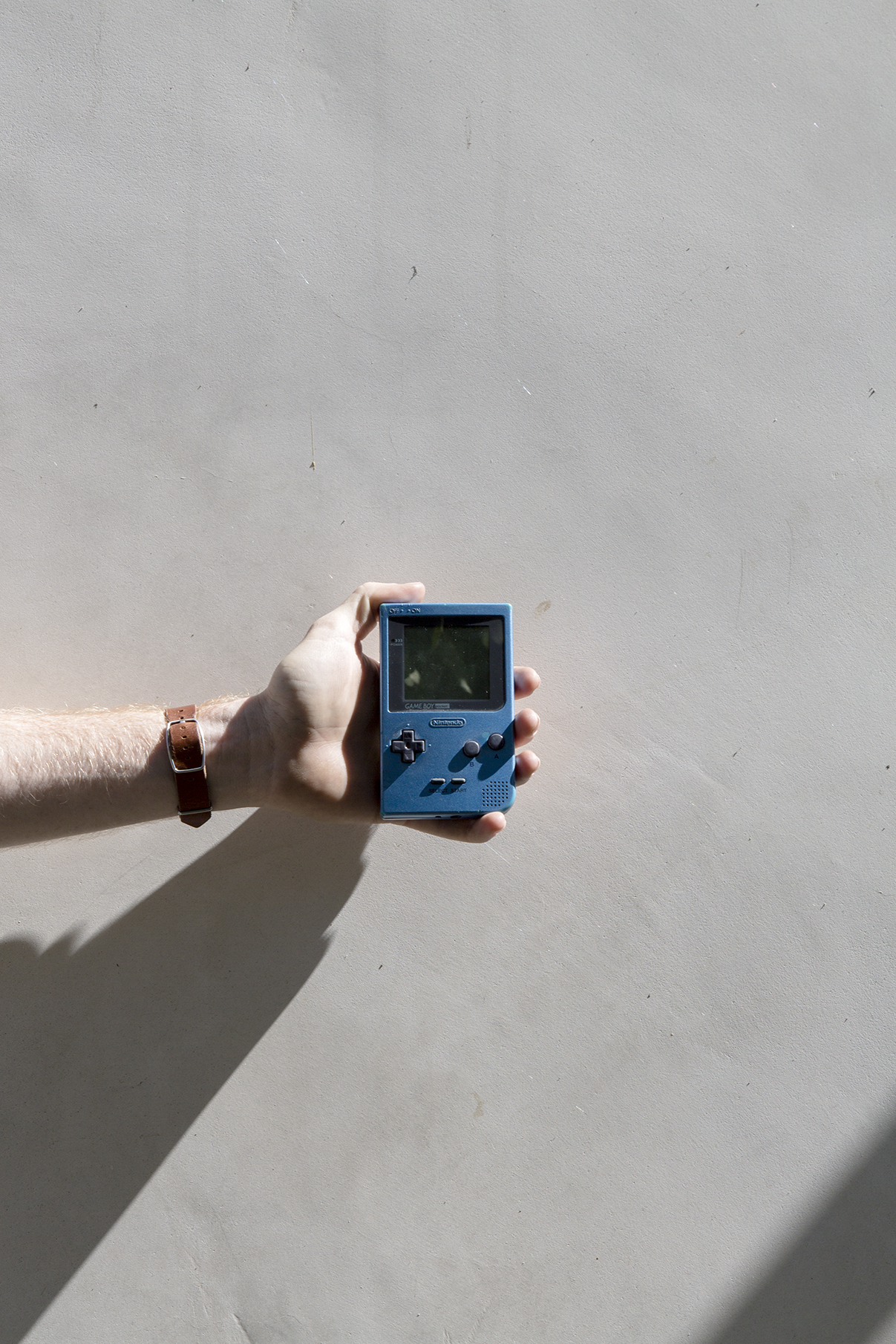 Corey - 3/26 - Metallic Blue Game Boy Pocket
This was my first video game system. My favorite game was Pokémon Blue (long gone and lost, unfortunately). I'm thinking of investing in some used games, and revisiting those nostalgic characters and stories.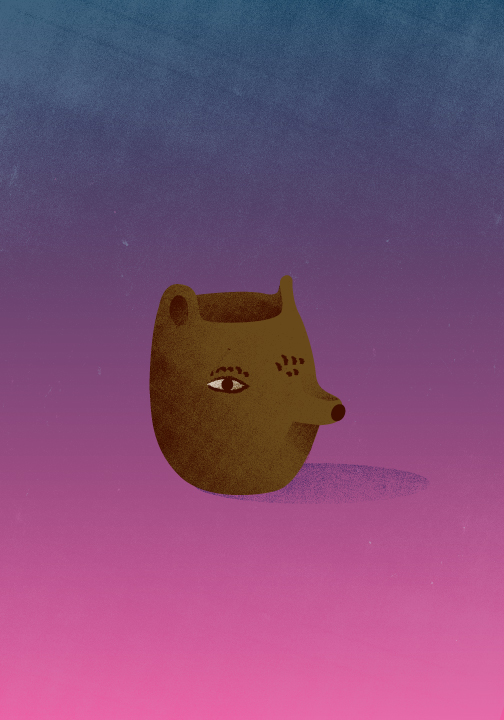 Emily - 3/26 - Fox Cup
Got this little guy from Anthropologie around Christmas time.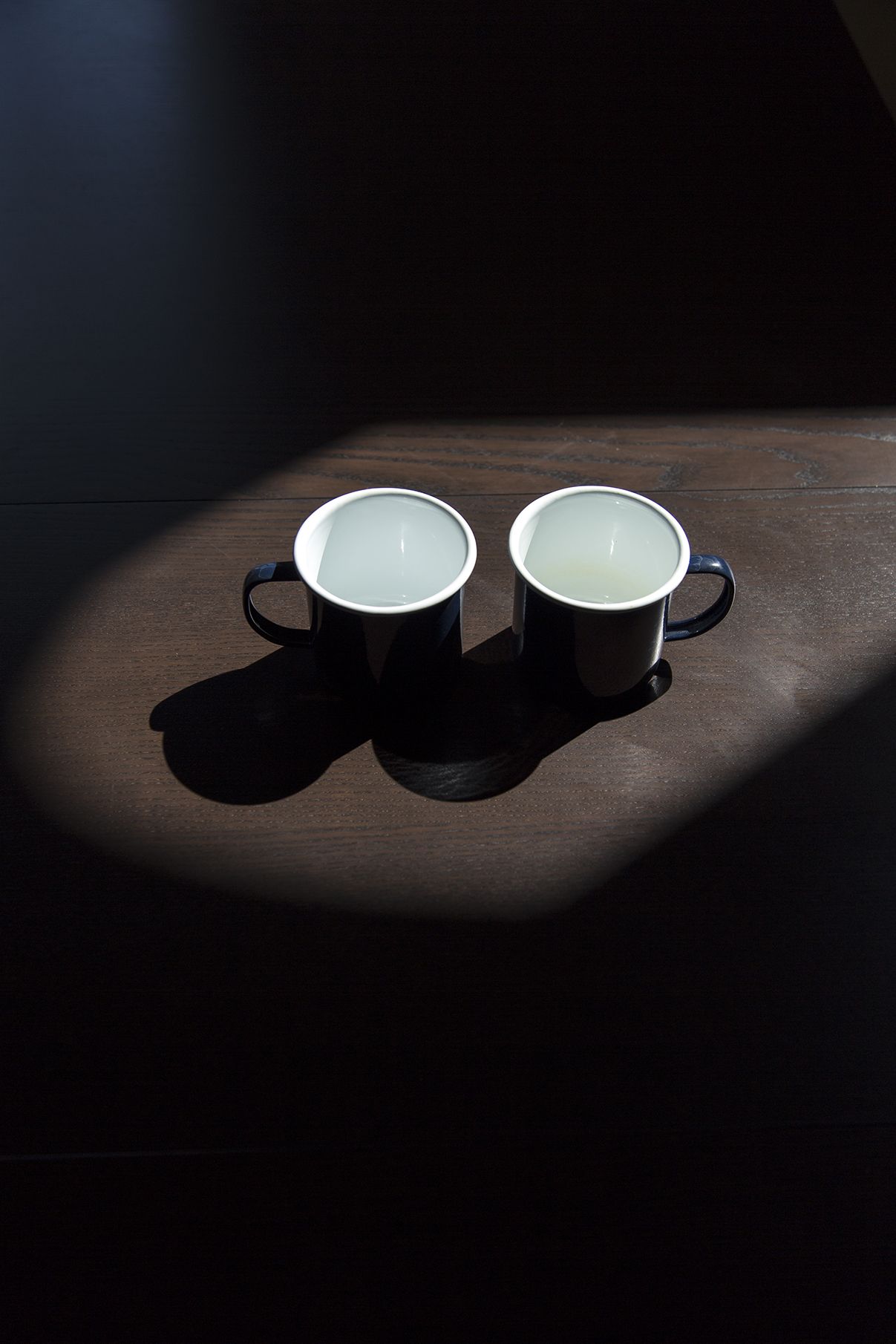 Corey - 3/24 - West Elm Tin Mugs
These were a gift from my sister. I take them camping sometimes.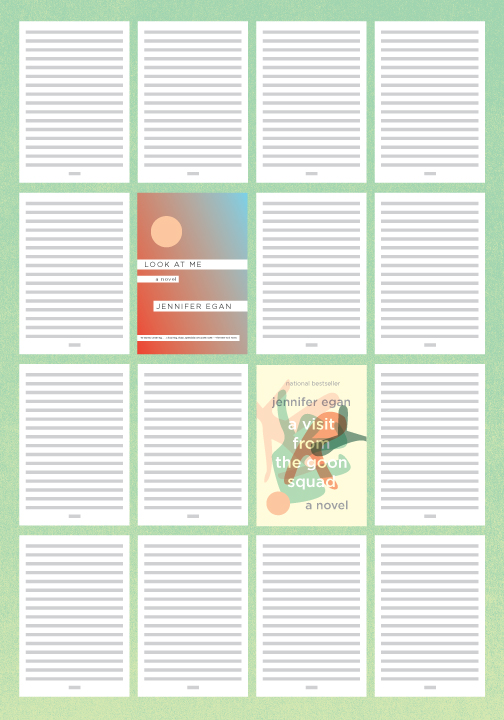 Emily - 3/25 - Jennifer Egan Novels
Currently almost done with Look at Me.
Corey - 3/24 - Can You Drink the Cup? by Henri Nouwen
I received this small book as a gift from a close friend. It is short and profound and moving. "When we lift the cup of our life and share with one another our sufferings and joys in mutual vulnerability, the covenant can become visible among us."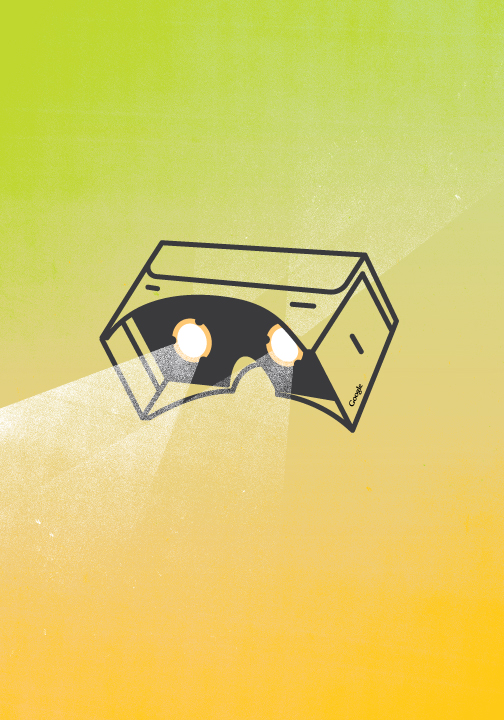 Emily - 2/23 - Google Cardboard
My wonderful coworkers got this for me from a VR convention this past weekend. Google Cardboard lets you use your smartphone as a virtual reality device! You just download some apps, put the phone in the cardboard holder, and you're set.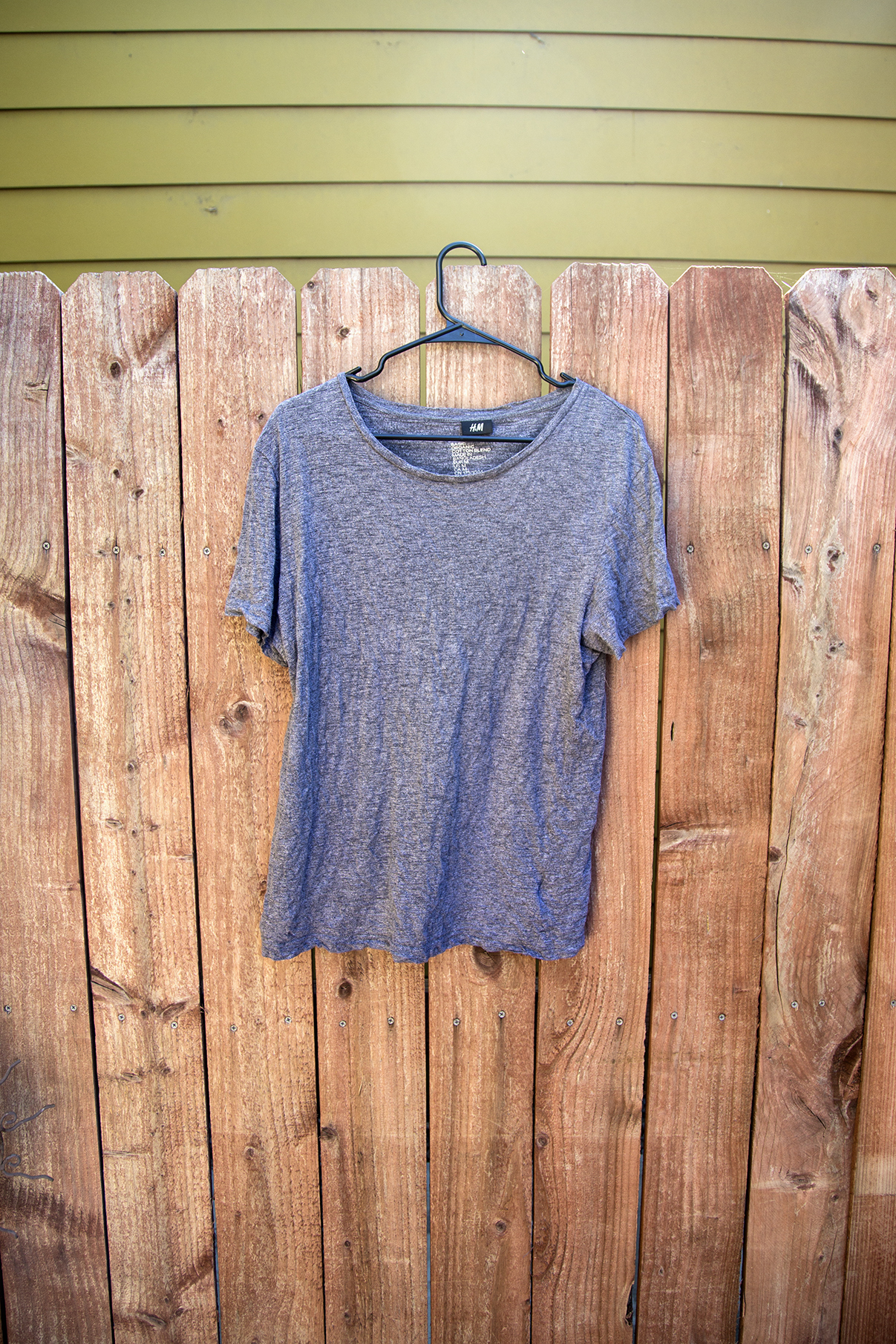 Corey - 3/23 - Gray Tee from H&M
Received this gray tee for Christmas a few years ago. Sized medium, great for layering.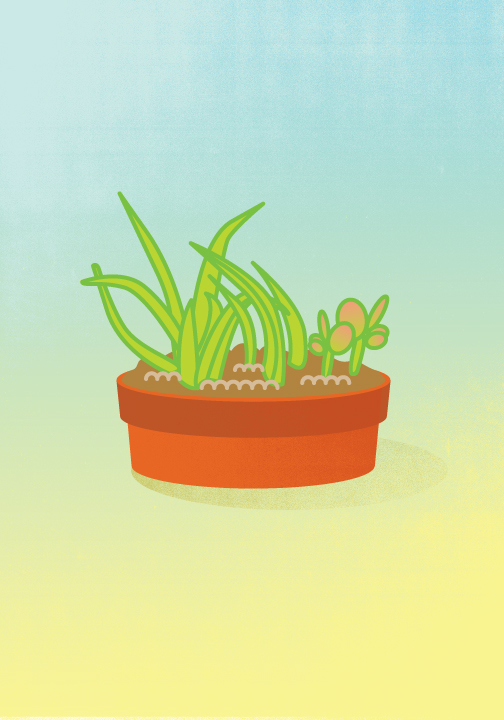 Emily - 2/23 - Cacti Arrangement
A housewarming gift from Alison Hu.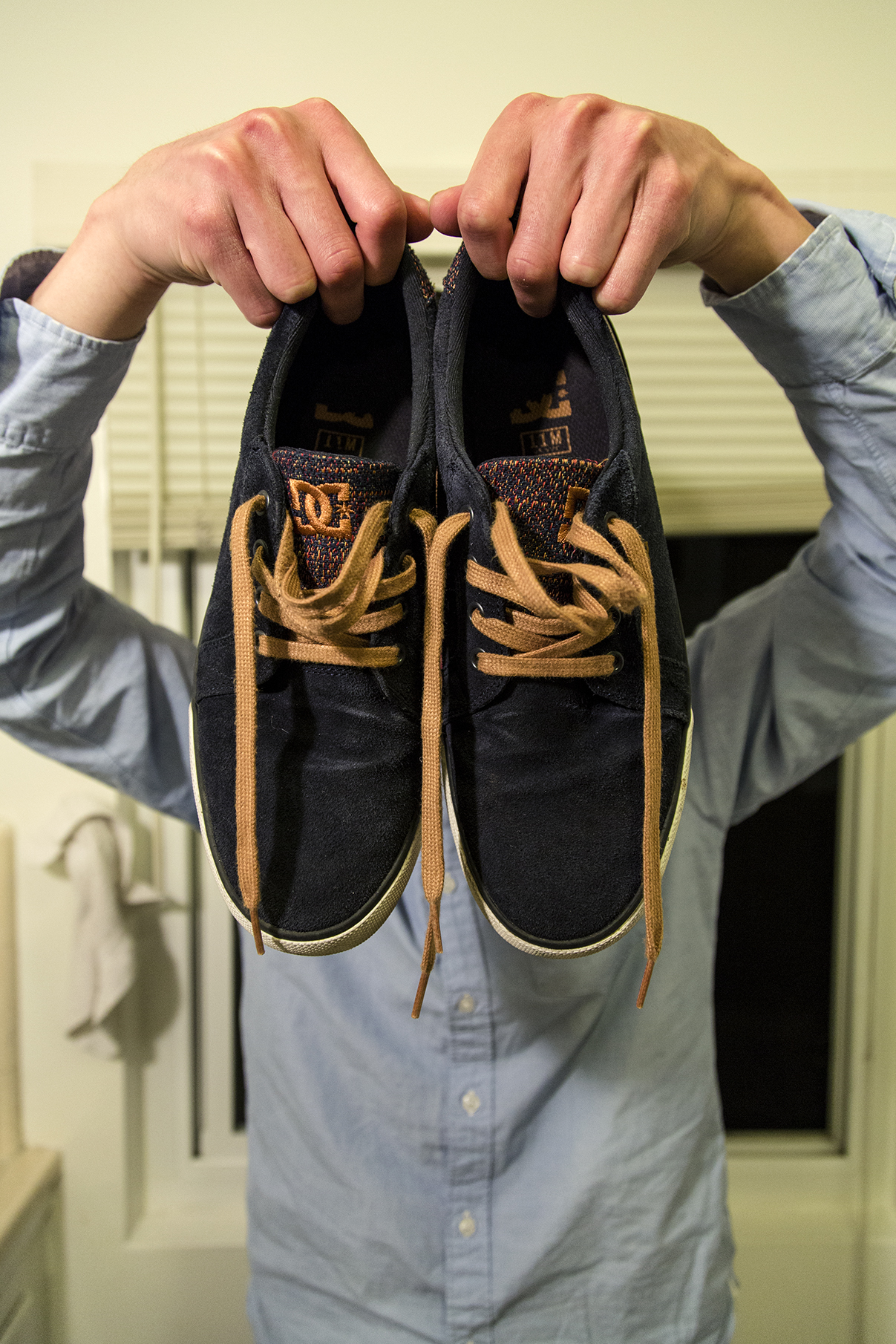 Corey - 3/22 - DC Shoes
Just a rad pair of DC shoes. Thanks for the Christmas gift, mom.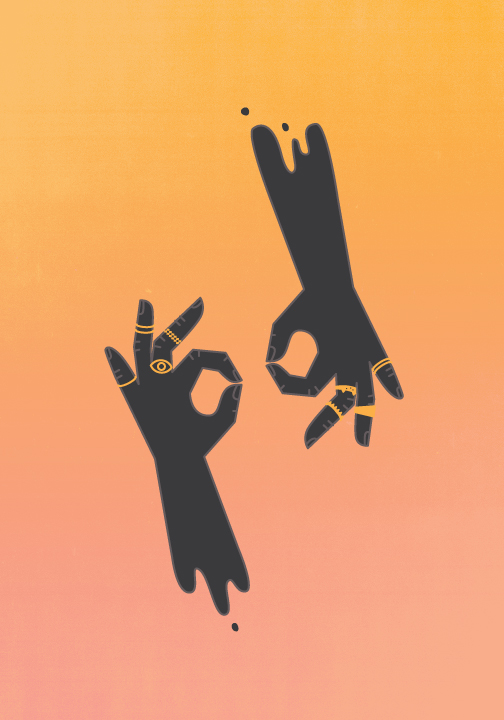 Emily - 2/22 - Rings
Very simple and mostly gold.
Corey - 3/21 - Rumours, vinyl, by Fleetwood Mac
I picked up this album at Amoeba Music late last summer. This album feels timeless to me, like it will always be relevant and groovy and heartbreaking. Ah, "But listen carefully to the sound of your loneliness. Like a heartbeat, drives you mad, in the stillness of remembering what you had, and what you lost, and what you had, and what you lost..."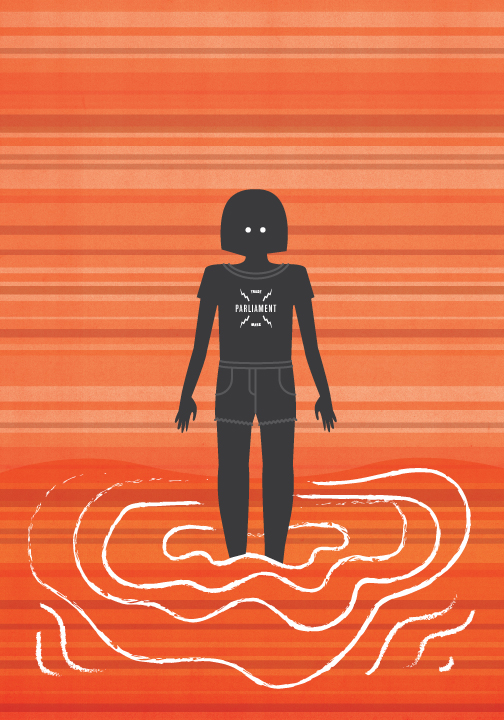 Emily - 3/21 - Parliament Tee
Repped Parliament, this great design agency from Portland, on my hike in Sedona today.
Corey - 3/20 - Drown, by Junot Díaz
Set of short stories by Junot Díaz. It opens with this wonderful poem/statement by Gustavo Pérez Firmat - "The fact that I am writing to you in English already falsifies what I wanted to tell you. My subject: how to explain to you that I don't belong to English though I belong nowhere else".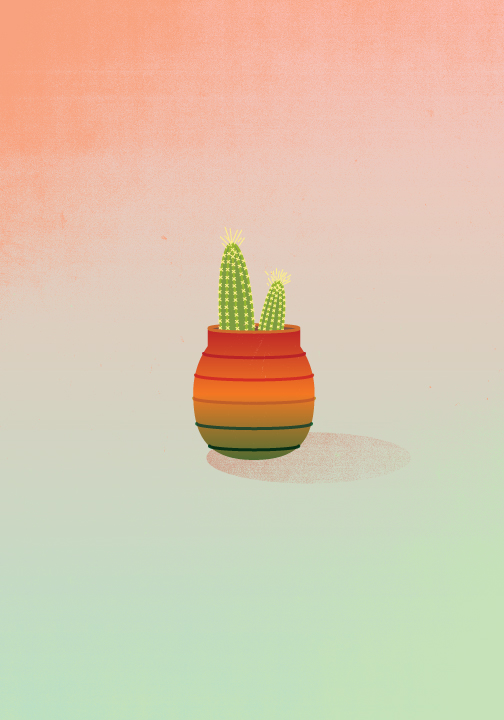 Emily - 3/20 - Amanda Evans Pot
Bought this little ceramic pot and cactus from the Golden Pines Falliday party this year! It was made by Amanda Evans, a talented artist I went to Biola with.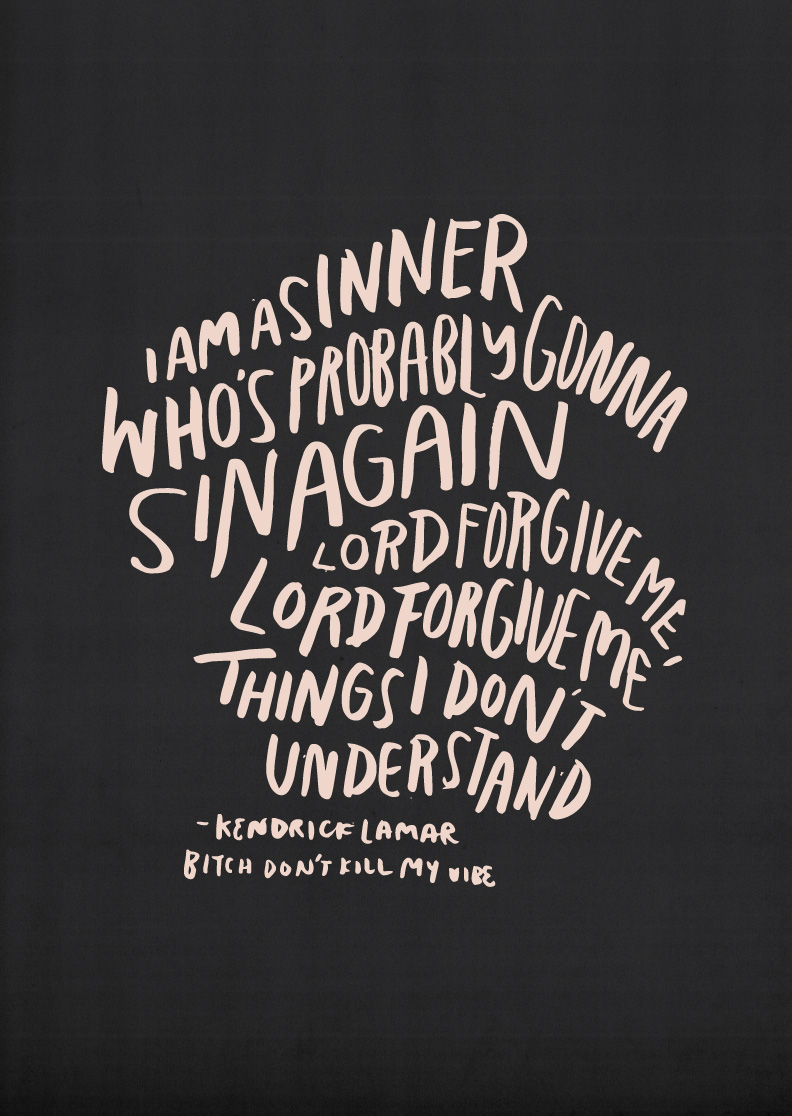 Emily - 3/19 - good kid, m.A.A.d. city vinyl
Listened to the new album today and had an existential crisis. It's so deep and convicting and I completely wasn't expecting it.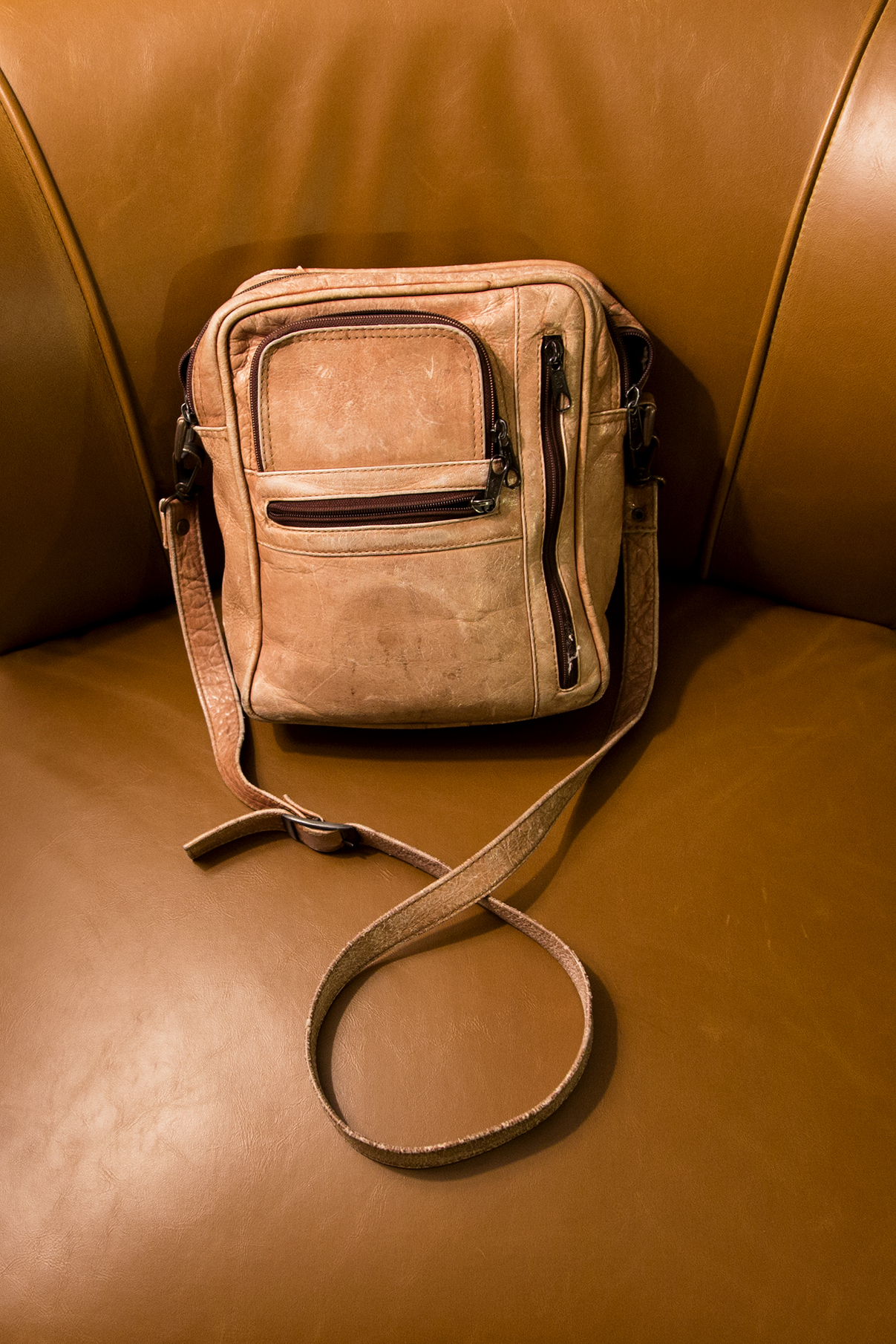 Corey - 3/19 - Leather Satchel
This is an amazing leather vintage satchel that my sister gave me for my birthday once. If I knew the brand or maker I would tell you. I usually use it as an around-town camera bag.
Emily - 3/18 - Golden Pretzel Bottle Opener
A Christmas gift from my mom!
Corey - 3/18 - Various Identification Cards
Driver's Licenses, Sam's Club Cards, AAA, Credit, Debit, etc.
Emily - 3/17 - 60's Dress
This is what I SHOULD have worn for St. Patrick's Day, but I completely forgot. It's a vintage dress from the Wintersburg rummage sale and is pretty fabulous.
Corey - 3/17 - Holga 185-120 Holgawood 120N Medium Format Camera
"Sunset Boulevard" edition. This is a fun experimental Medium Format camera, but I hardly use it. I need to revisit this little camera.
Emily - 3/16 - Wine Glasses
Nana gave me these vintage champagne/wine glasses for a housewarming gift! They're delicate and fancy and I've broken 2 already.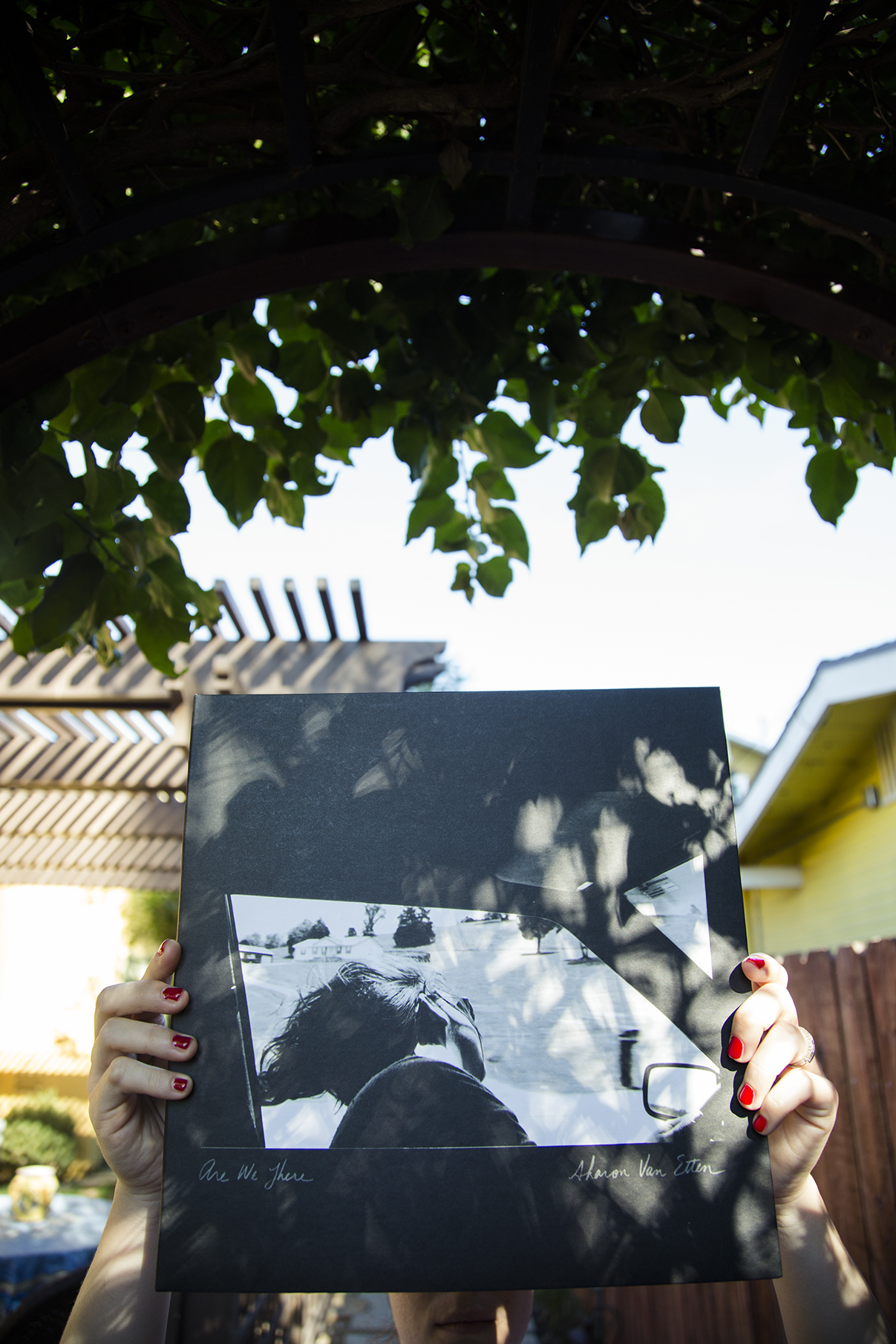 Corey - 3/16 - Are We There, vinyl, by Sharon Van Etten
A sad and slowly moving record, with wonderful words as this - "Pace mine for you. Hold my horses. Patience. Hey man. Tricks can't wait to hear my emotions. Every time the sun comes up I'm in trouble."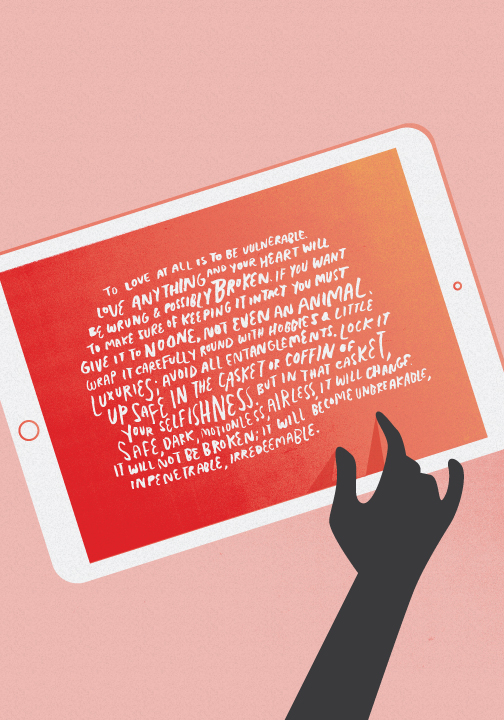 Emily - 3/15 - iPad Mini
A Christmas present from work, featuring one of my favorite C.S. Lewis quotes. Download the quote artwork as a background: http://goo.gl/hjf6Am
Corey - 3/14 - Woman Hollering Creek by Sandra Cisneros
One of many important books read for a feminist literature college course. This is a difficult book of mostly depth and sorrow, but starts out with a short story called "My Lucy Friend Who Smells Like Corn," which is charming and innocent.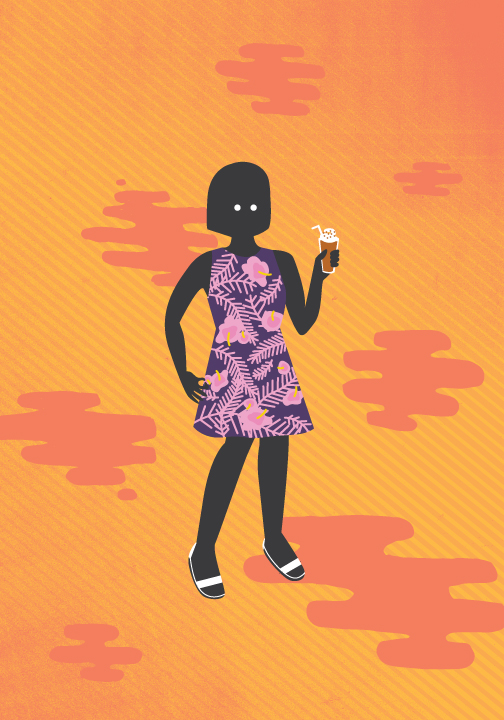 Emily - 3/14 - Hawaiian Print Dress
Today was too hot for sleeves.
Corey - 3/13 - Collection of Fujifilm Instax Instant Photos
5+ years of photos and memories, all shot with my Fujifilm Instax 200 Instant Camera.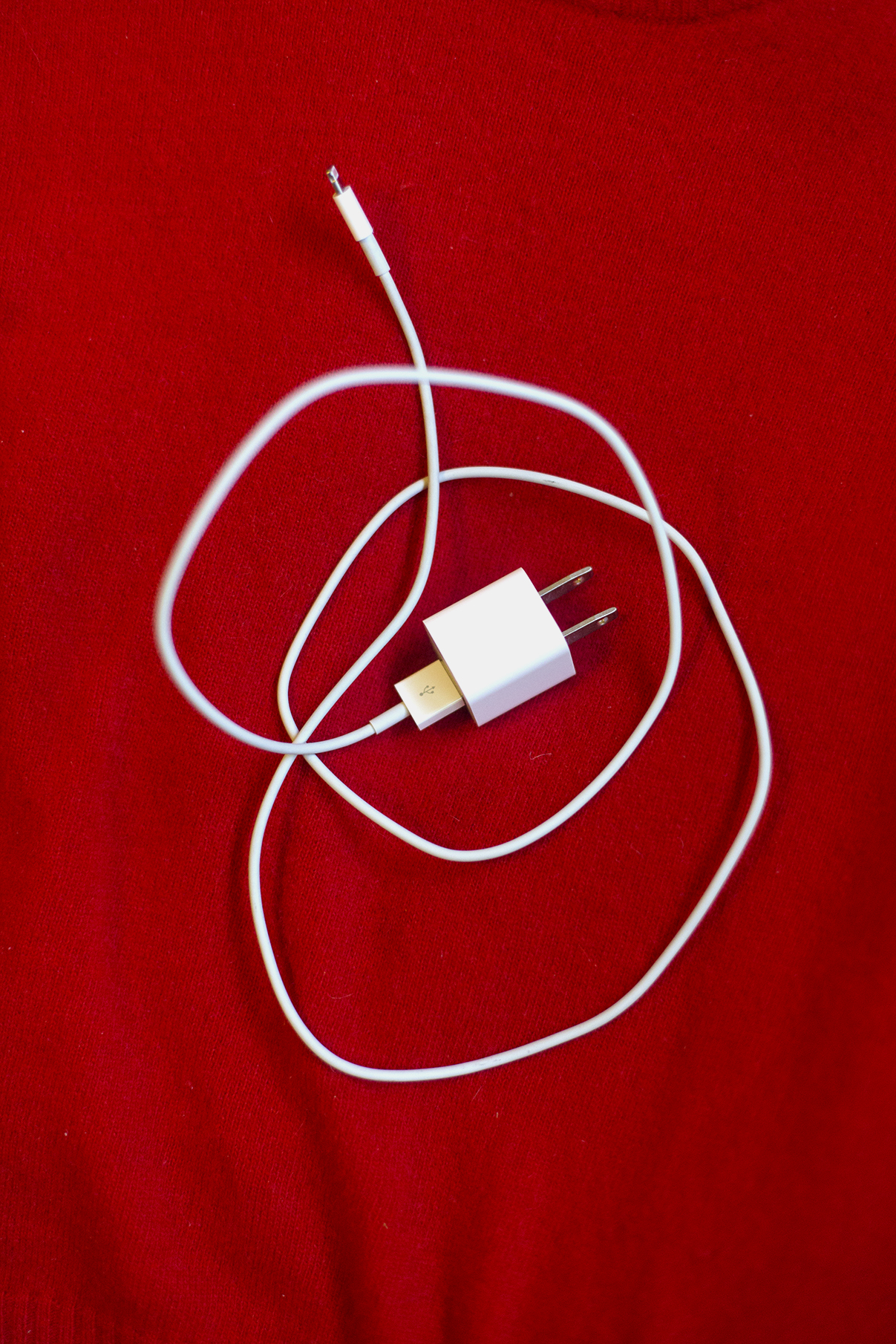 Corey - 3/12 - Lightning Charger Cable with Wall Adapter
Used to charge Apple products, specifically my iPhone 6.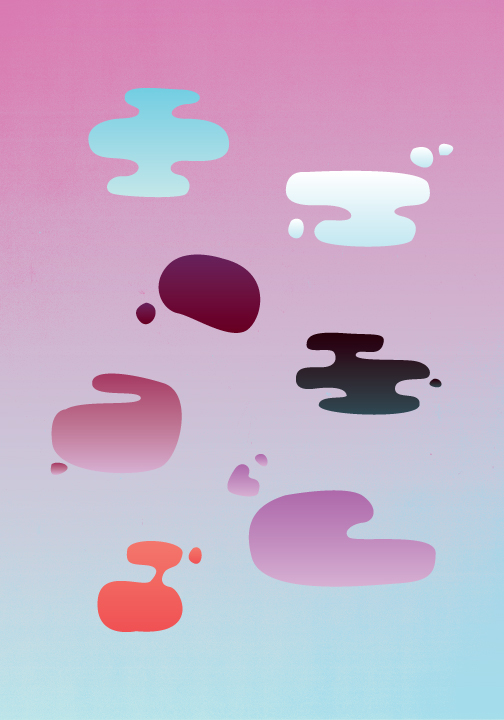 3/12 - Nail Polish
I've pared down my childhood collection and love these.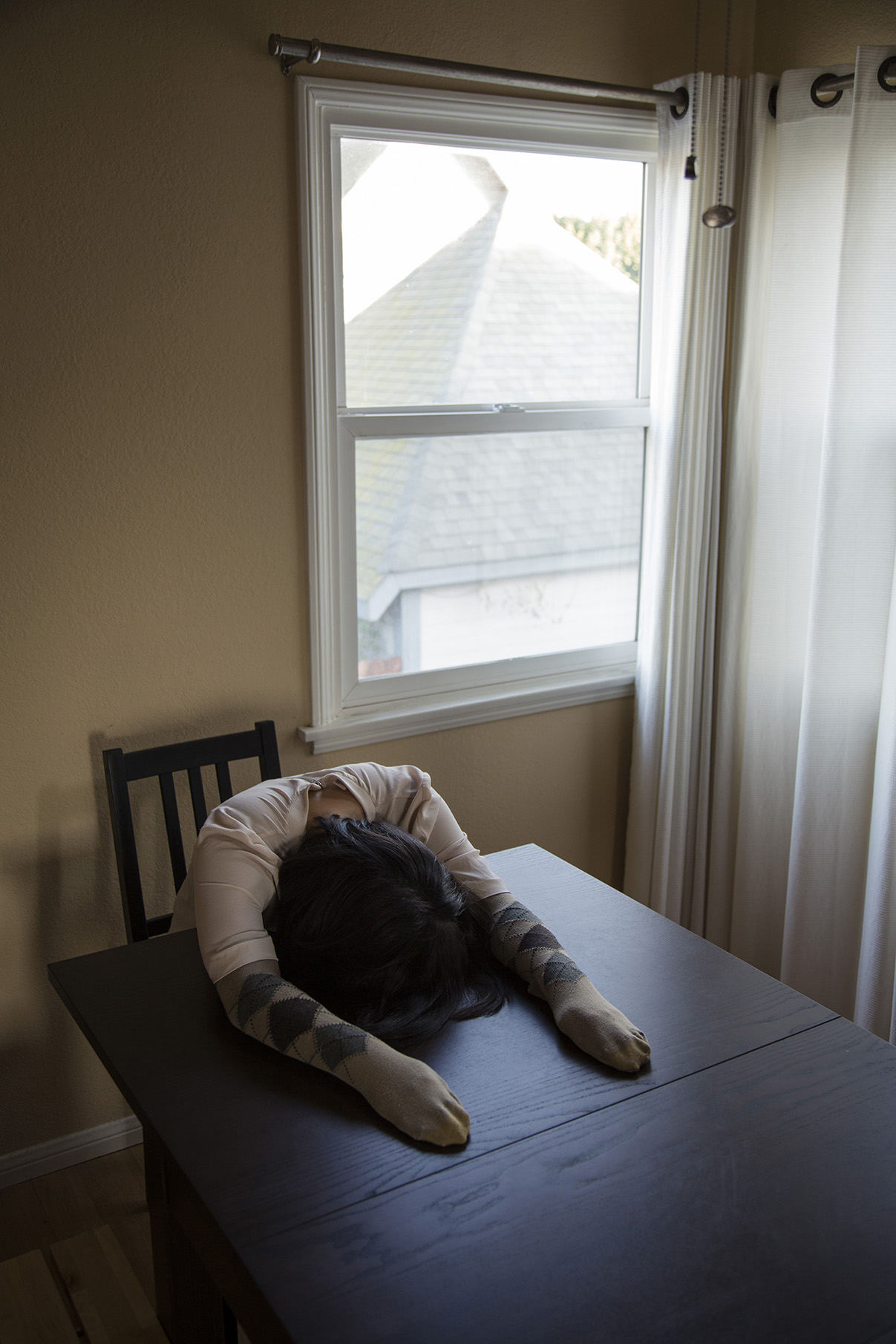 Corey - 3/11 - Tan Argyle Socks
My only argyle socks were picked up at a wedding. Somebody, likely from out of town, left the pair behind.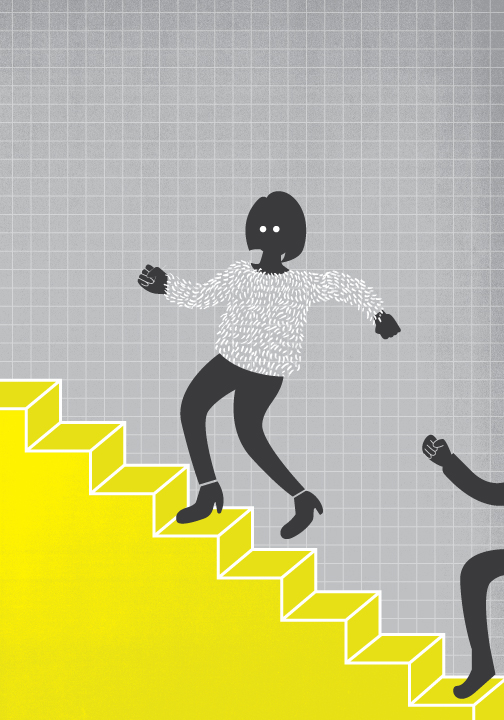 Emily - 3/11 - Fuzzy sweater
My friend and I ran up 4 flights of stairs at Shibuya 109 (Japanese Forever 21) to speed shop, and I got this sweater.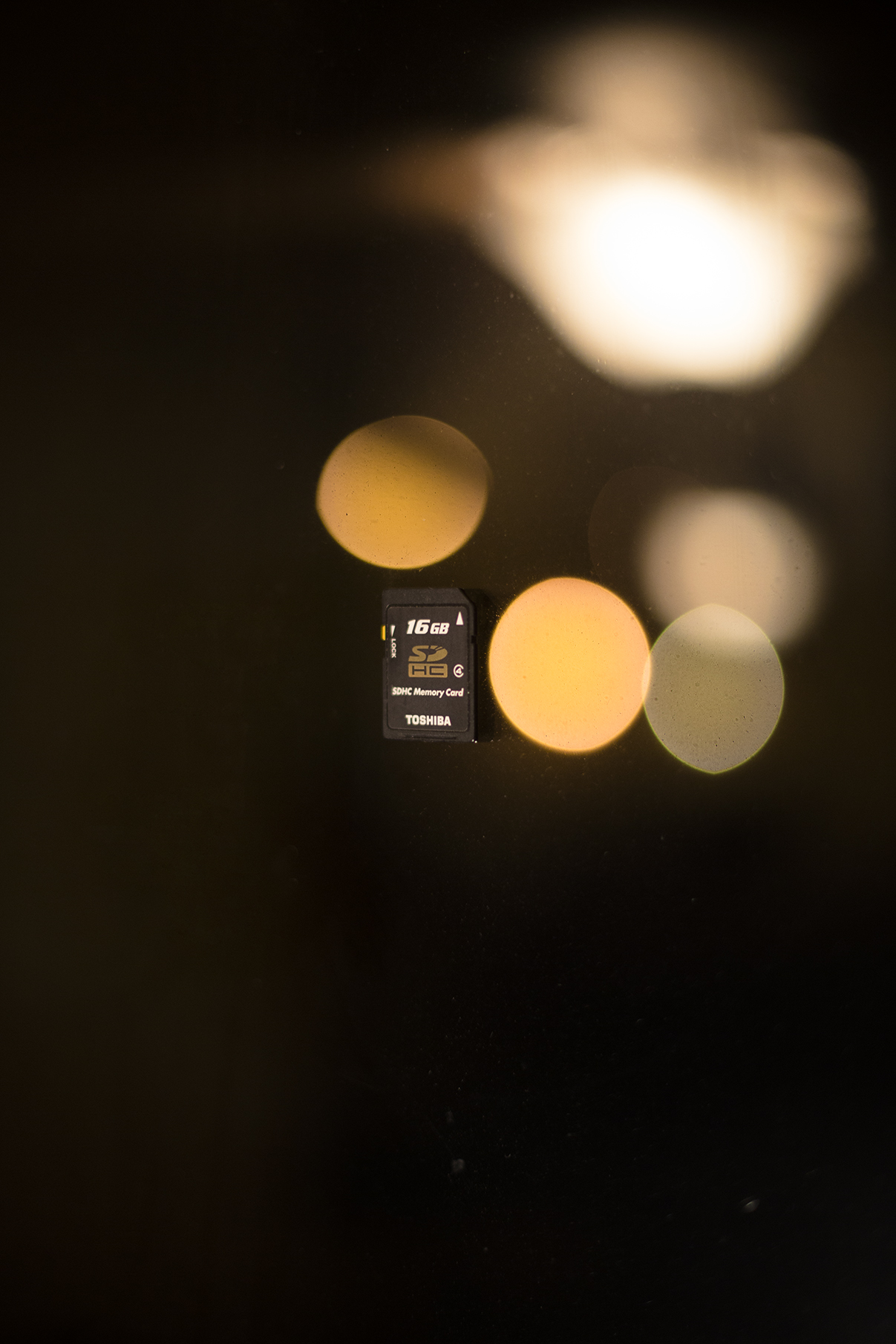 Corey - 3/10 - SDHC Memory Card
16GB. My back up memory card for my DSLR.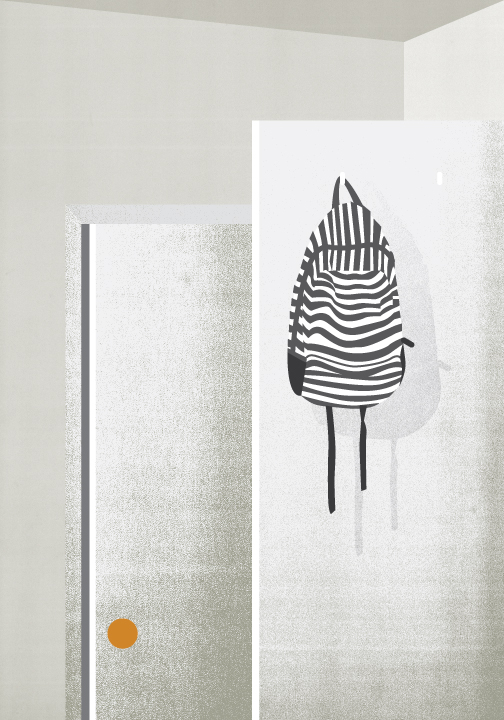 Emily - 3/10 - Poketo Backpack
Cute and inappropriate for hiking.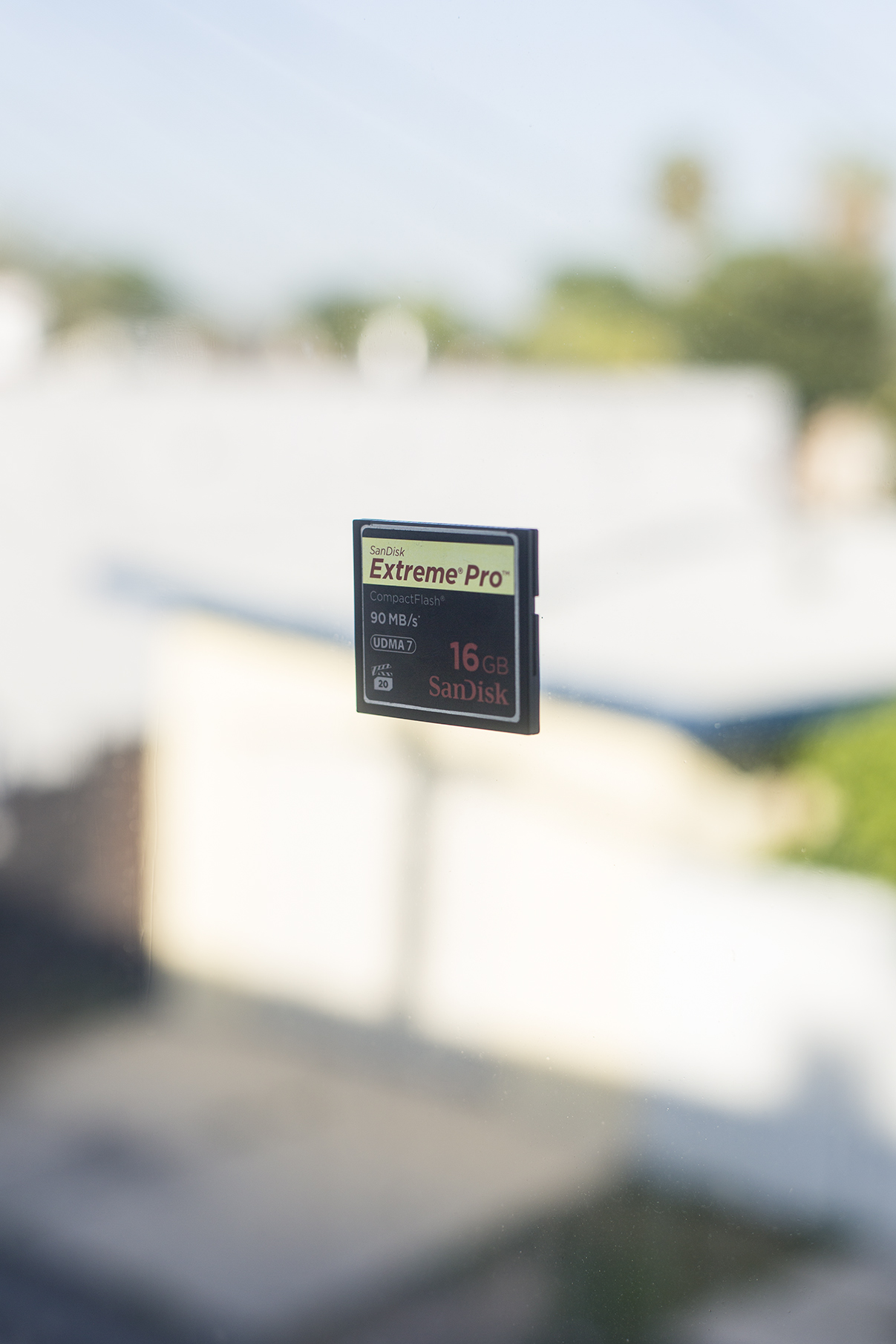 Corey - 3/9 - SanDisk Extreme Pro CompactFlash
90 MB/s, UDMA 7, 16GB. Pretty important for a photographer with a DSLR.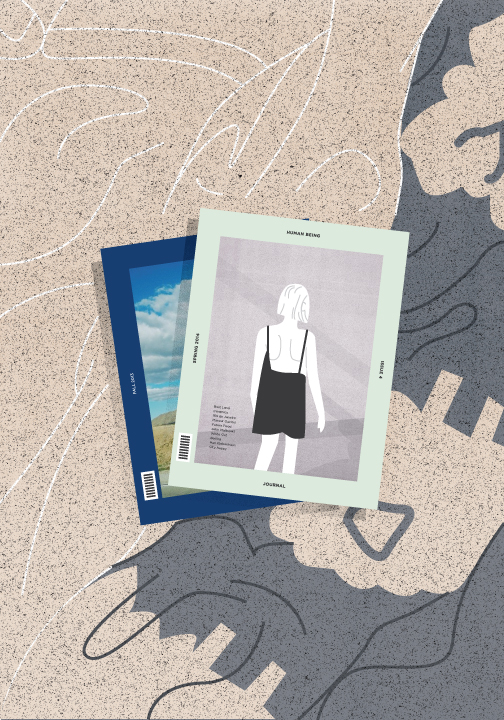 Emily - 3/9 - Human Being Magazine
Pretty much the only thing I buy from expensive LA boutiques.
Corey - 3/8 - Broken glasses
It's probably strange that I'm holding on to this broken pair of glasses. As an artist, I appreciate the strange metaphor: Glasses, a symbol of sight and knowledge and "vision", broken in half. That is tragic poetry.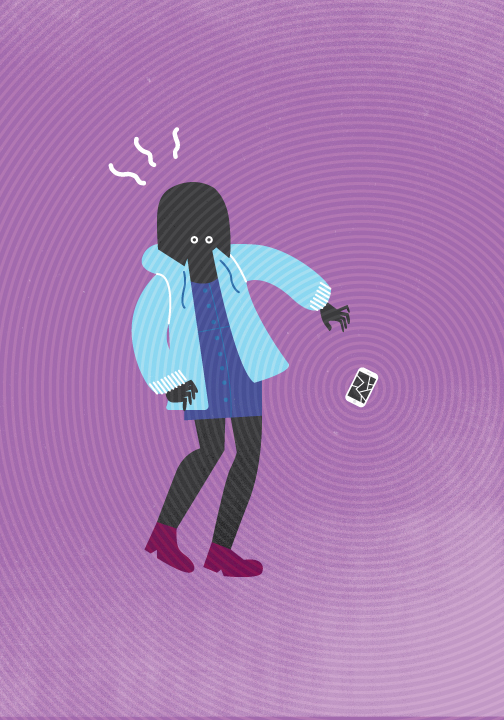 Emily - 3/8 - Blue Jacket & Dress
This is the outfit I was wearing Friday night, when I had a wonderful time hula dancing and hanging out with some friends... and threw my phone on the GROUND.
Corey - 3/7 - Broken Brick from Fire Pit
I've spent the last 8 years meeting around a campfire with a few other like-minded men. It's been extremely rewarding for my soul. A few years ago, the fire pit started falling apart. We each kept a piece of brick to represent the work we've done and the work we'll continue to do.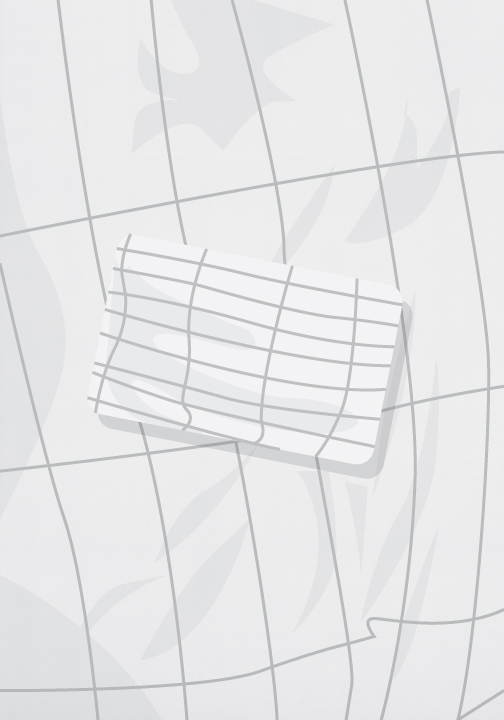 Emily - 3/7 - Childhood Bed
After a long few months, I'm finally at my parent's house for the weekend. It's been such a nice day full of comfort and peace.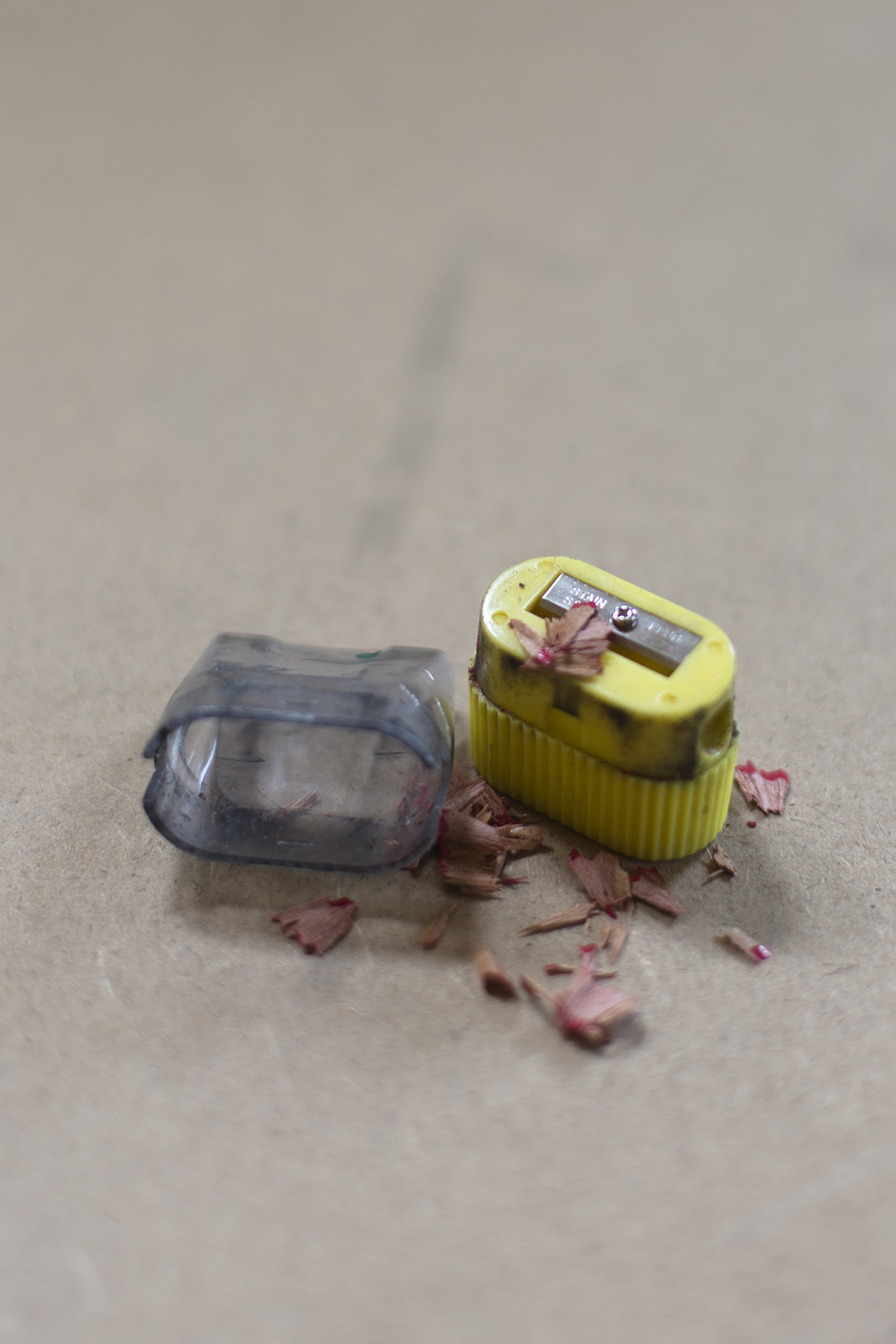 Corey - 3/6 - Yellow Pencil Sharpener
A little pencil sharpener. I've had it for years.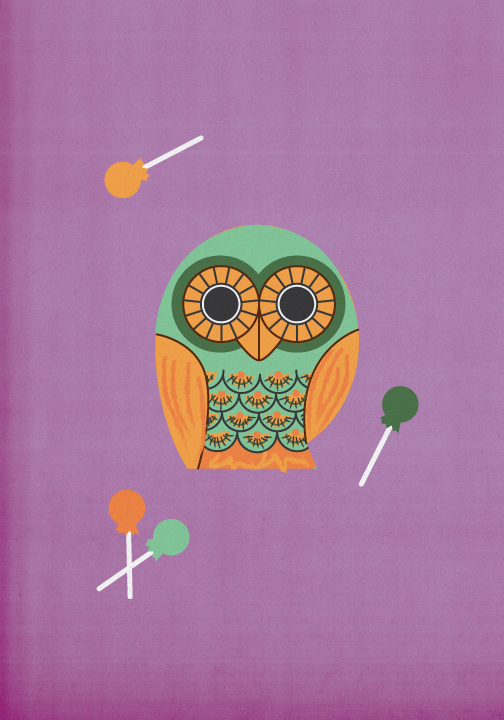 Emily - 3/6 - Wooden Owl
This cute dude has graced my walls since Biola dorm days.
Corey - 3/5 - Fujifilm Instant Camera Instax 200
I got this camera late 2009. I've taken hundreds of photos on this camera; it commonly gets mistaken as a child's toy.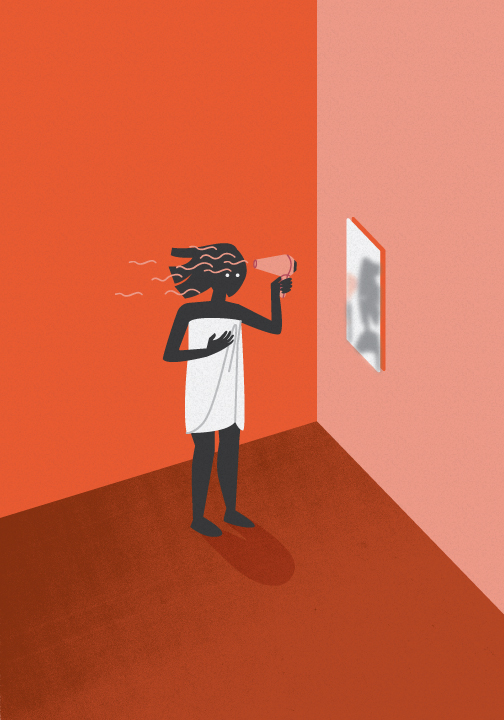 Emily - 3/5 - Blow Dryer
Crucial girl stuff.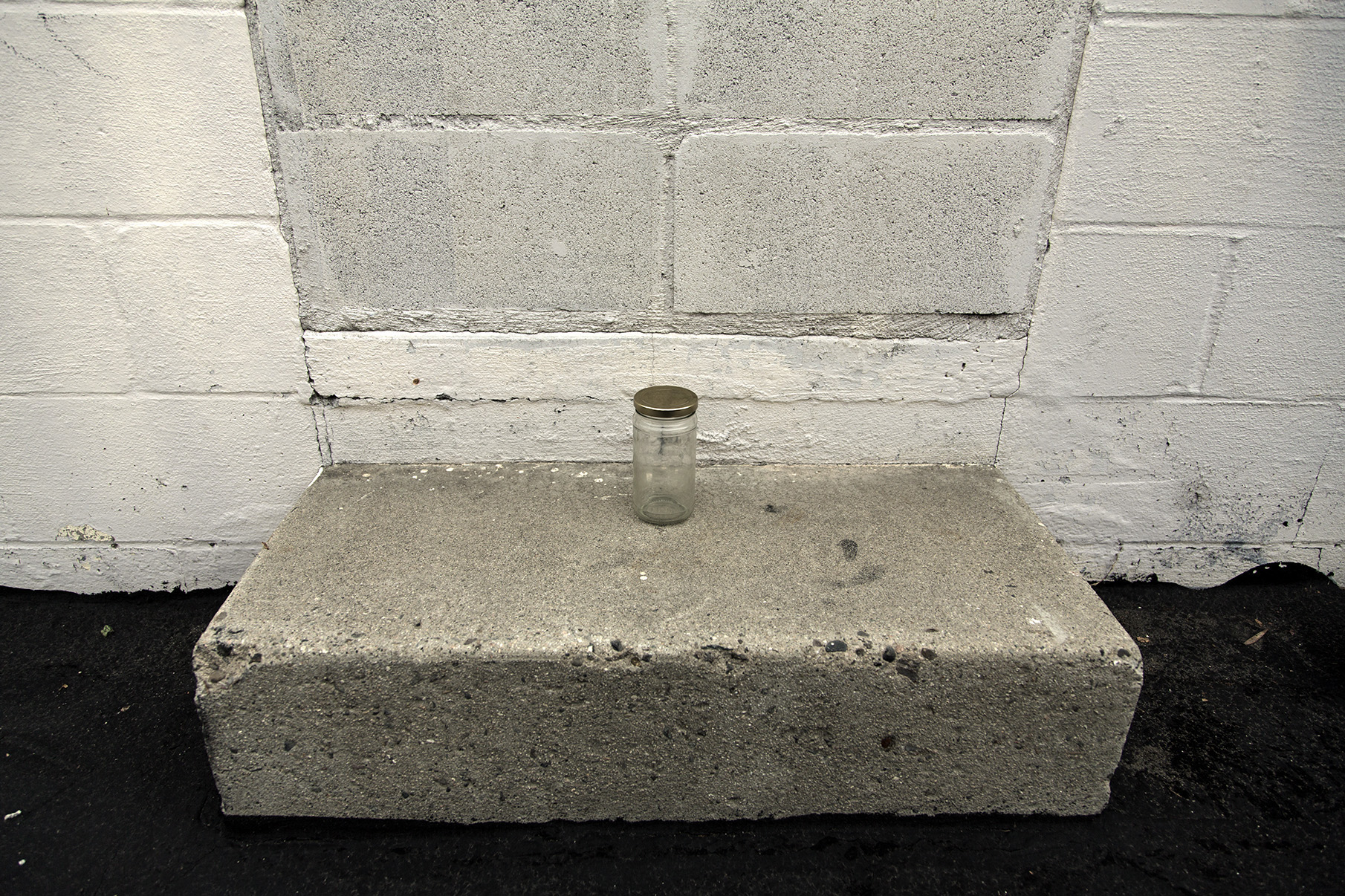 Corey - 3/4 - Jar from Bar Nine
I used to work in Culver City, where I would visit Bar Nine, a favorite place to take a coffee break. They use a pretty cool take out system - pay a dollar for a glass jar, great for coffee on the go, and ecologically sustainable in the long run.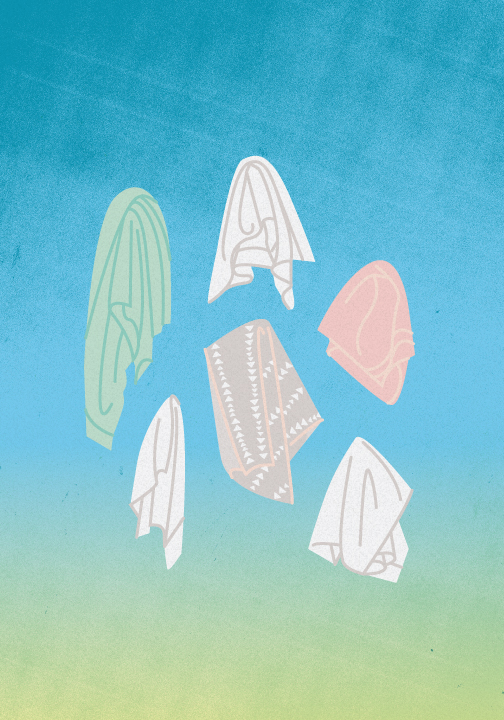 Emily - 3/4 - Towels
Fluffy goodness.
Corey - 3/3 - Straight Drapery Pins with Box
These are just simple little sewing pins. I use them to hang up wall art in minimalist fashion.
Emily - 3/3 - Striped Dress
Comfiest, easiest dress I own.
Corey - 3/2 - Lake Wobegon Days by Garrison Keillor
My parents have two copies, so I took one. A memory from GK - "When I left Lake Wobegon, Donna Bunsen and I promised each other we'd read the same books that summer as a token of our love, which we sealed with a kiss in her basement. She wore white shorts and a blue blouse with white stars. She poured a cup of Clorox bleach in the washing machine, and then we kissed."
Emily - 3/2 - Hello Kitty Toaster
Yes, I have a Hello Kitty toaster. And yes, it makes imprints of her face in each piece of toast.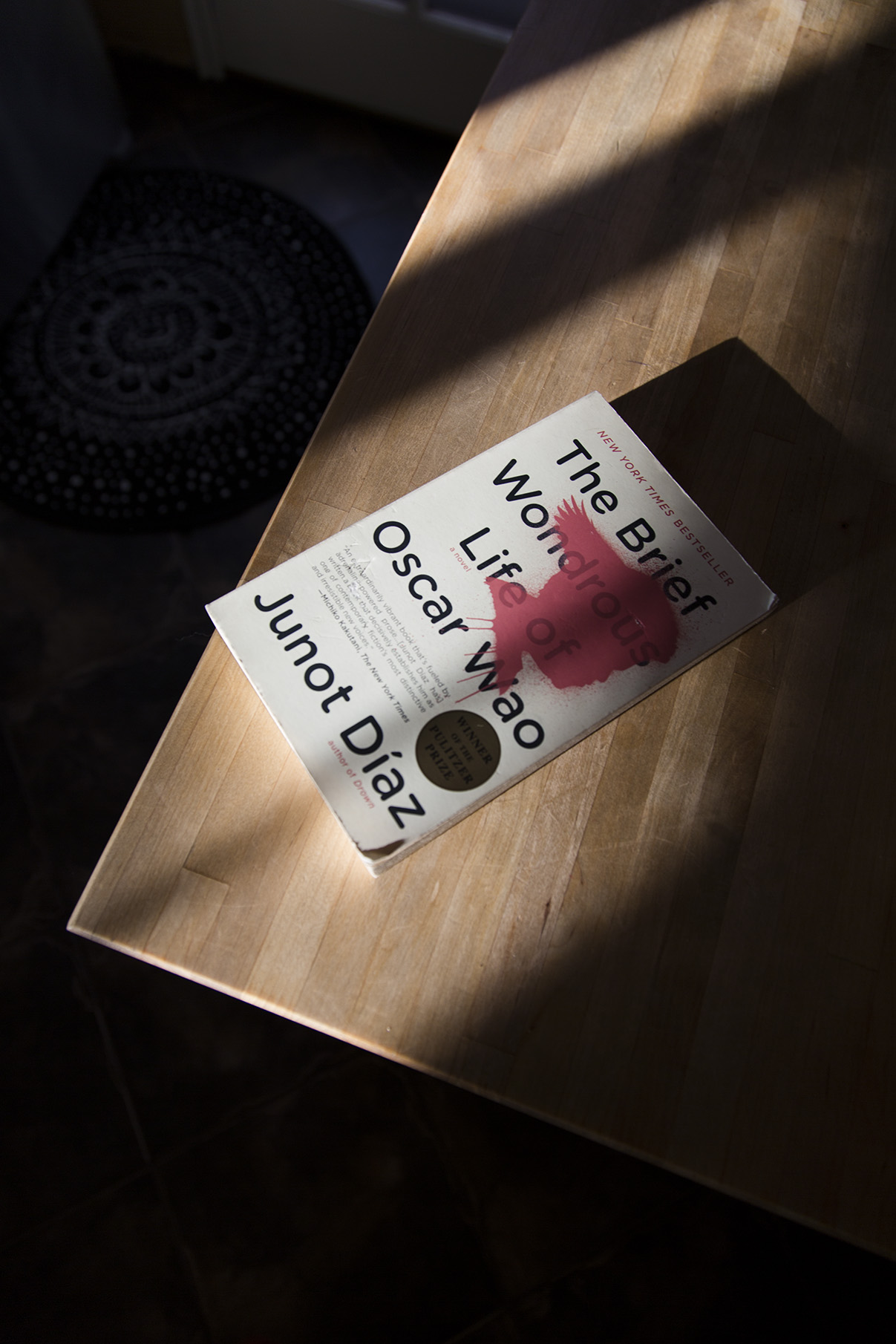 Corey - 3/1 - The Brief Wondrous Life of Oscar Wao by Junot Diaz
"But the fukú ain't just ancient history, a ghost story from the past with no power to scare. In my parents' day the fukú was real as shit, something your everyday person could believe in. Everybody knew someone who'd been eaten by the fukú..."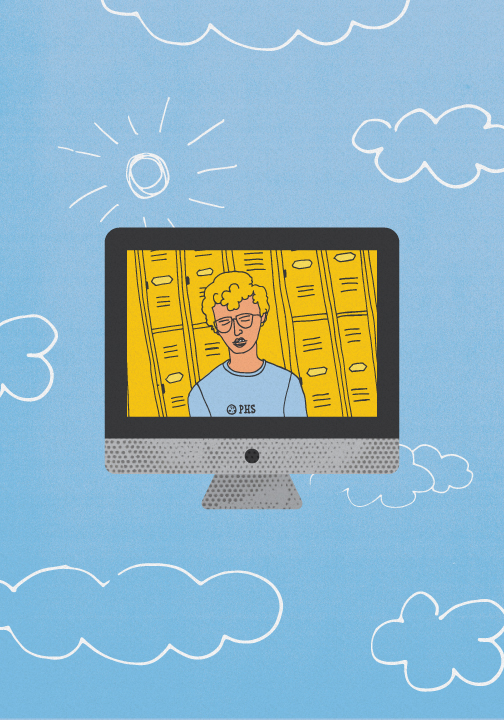 Emily - 3/1 - Napoleon Dynamite
Pedro offers you his support.
1
2
3
4
5
6
7
8
9
10
11
12
13
14
15
16
17
18
19
20
21
22
23
24
25
26
27
28
29
30
31
32
33
34
35
36
37
38
39
40
41
42
43
44
45
46
47
48
49
50
51
52
53
54
55
56
57
58
59
60
61
·
·
·
·
·
·
·
·
·
·
·
·
·
·
·
·
·
·
·
·
·
·
·
·
·
·
·
·
·
·
·
·
·
·
·
·
·
·
·
·
·
·
·
·
·
·
·
·
·
·
·
·
·
·
·
·
·
·
·
·
·