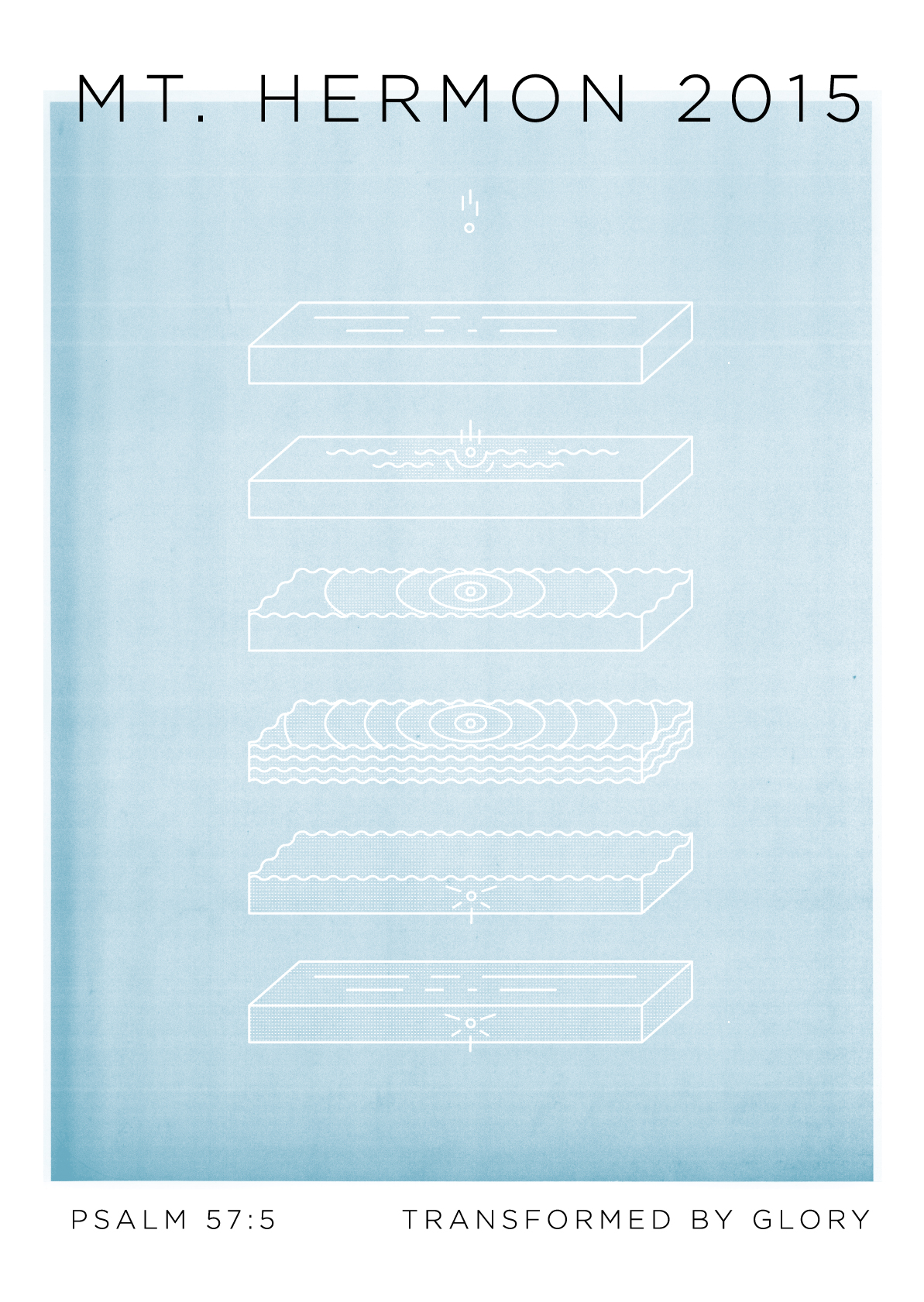 Emily - 7/31 - Mount Hermon 2015 Shirt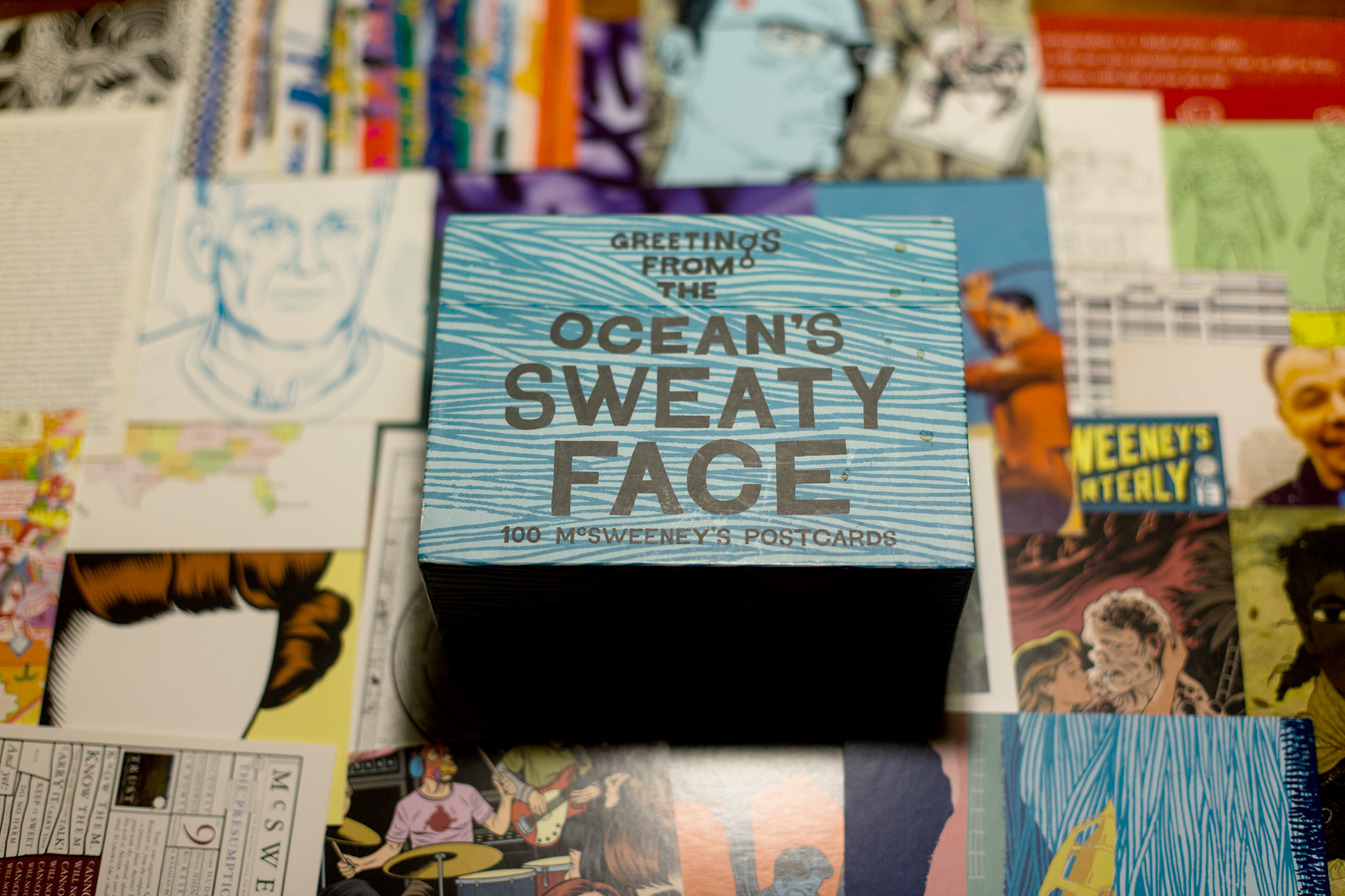 Corey - 7/31 - McSweeney's Postcards and Box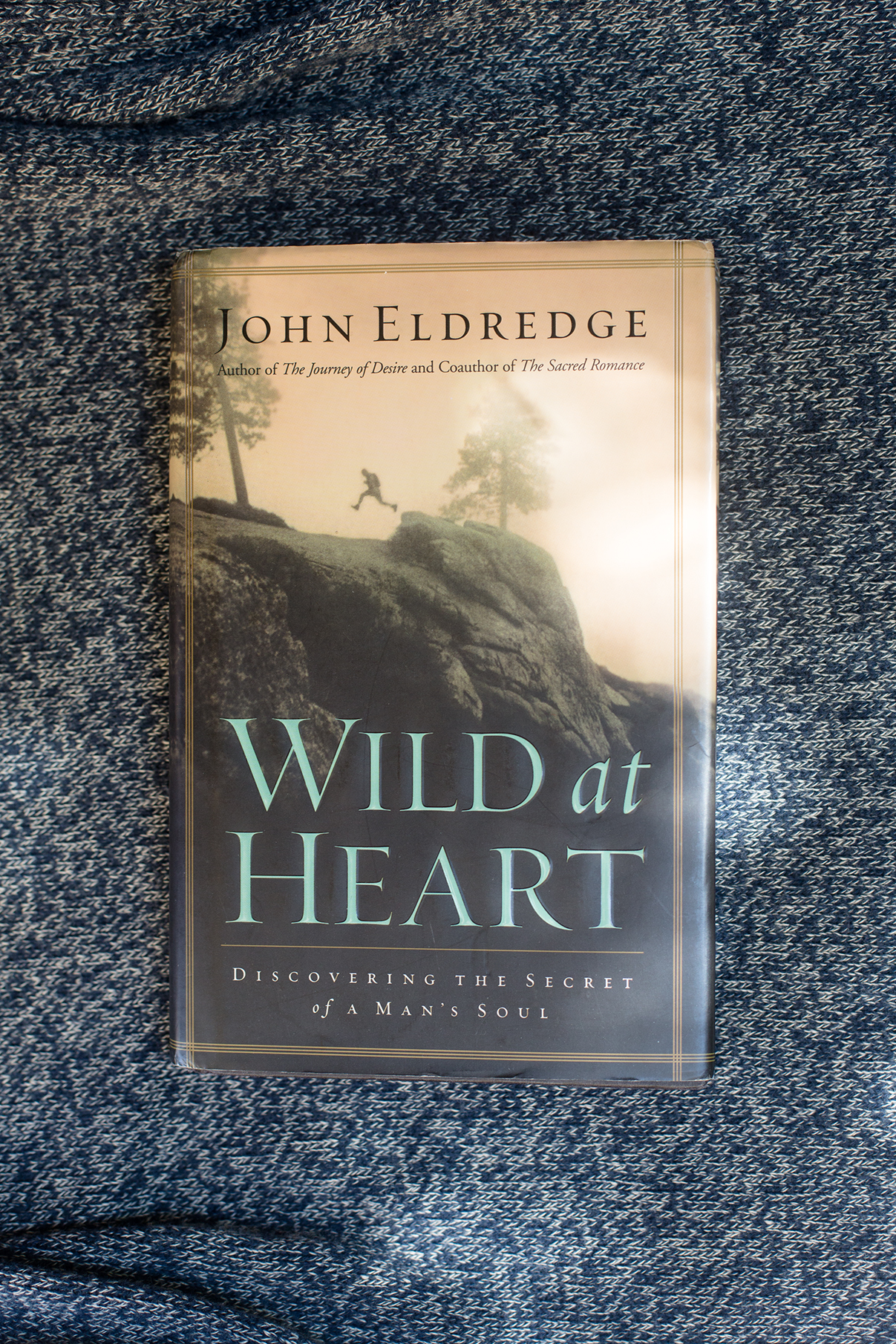 Corey - 7/30 - Wild at Heart, by John Eldredge, on a Broken H&M Sweater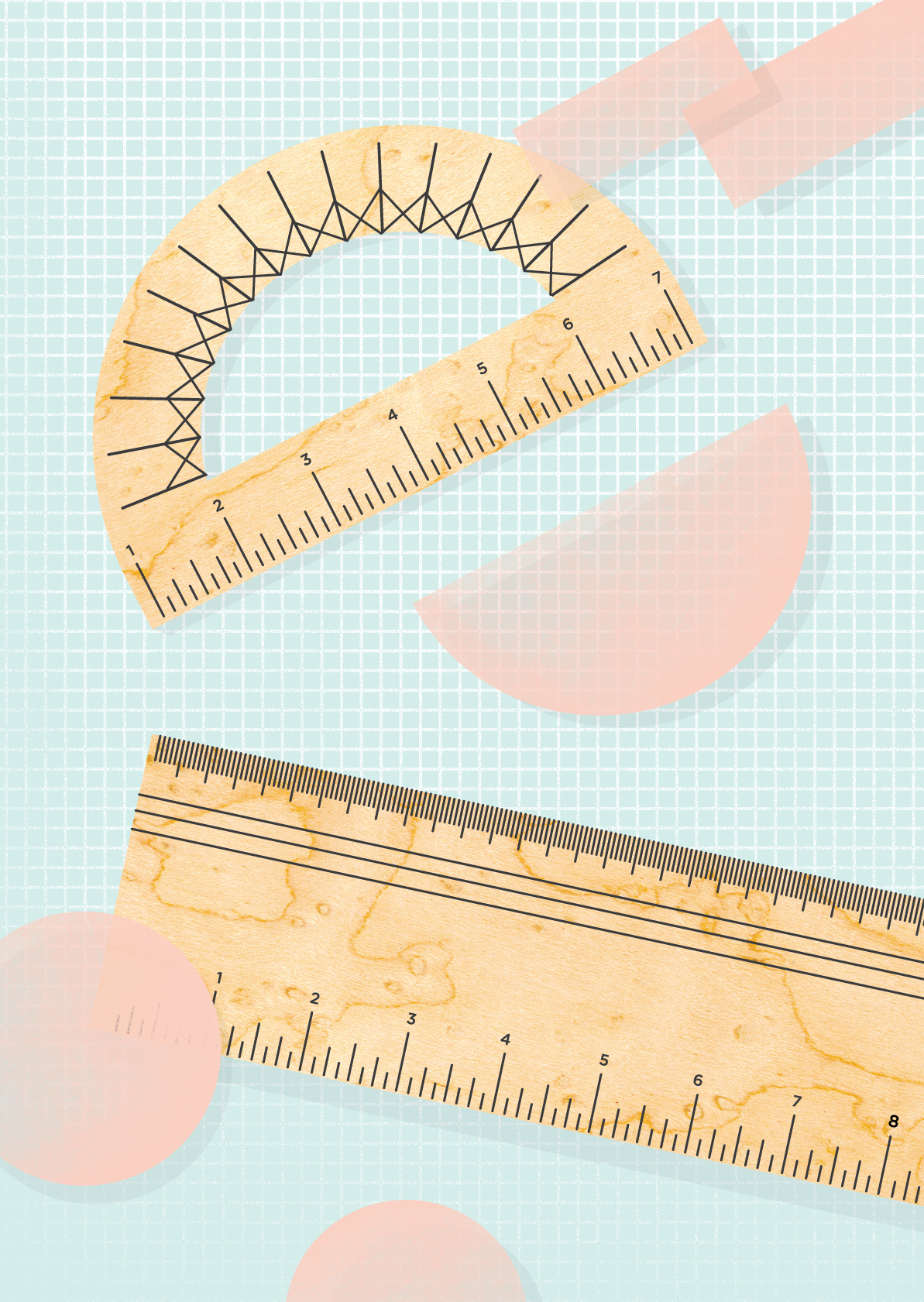 Emily - 7/29 - Wooden Rulers
Corey - 7/29 - The Alchemist on a Red T-Shirt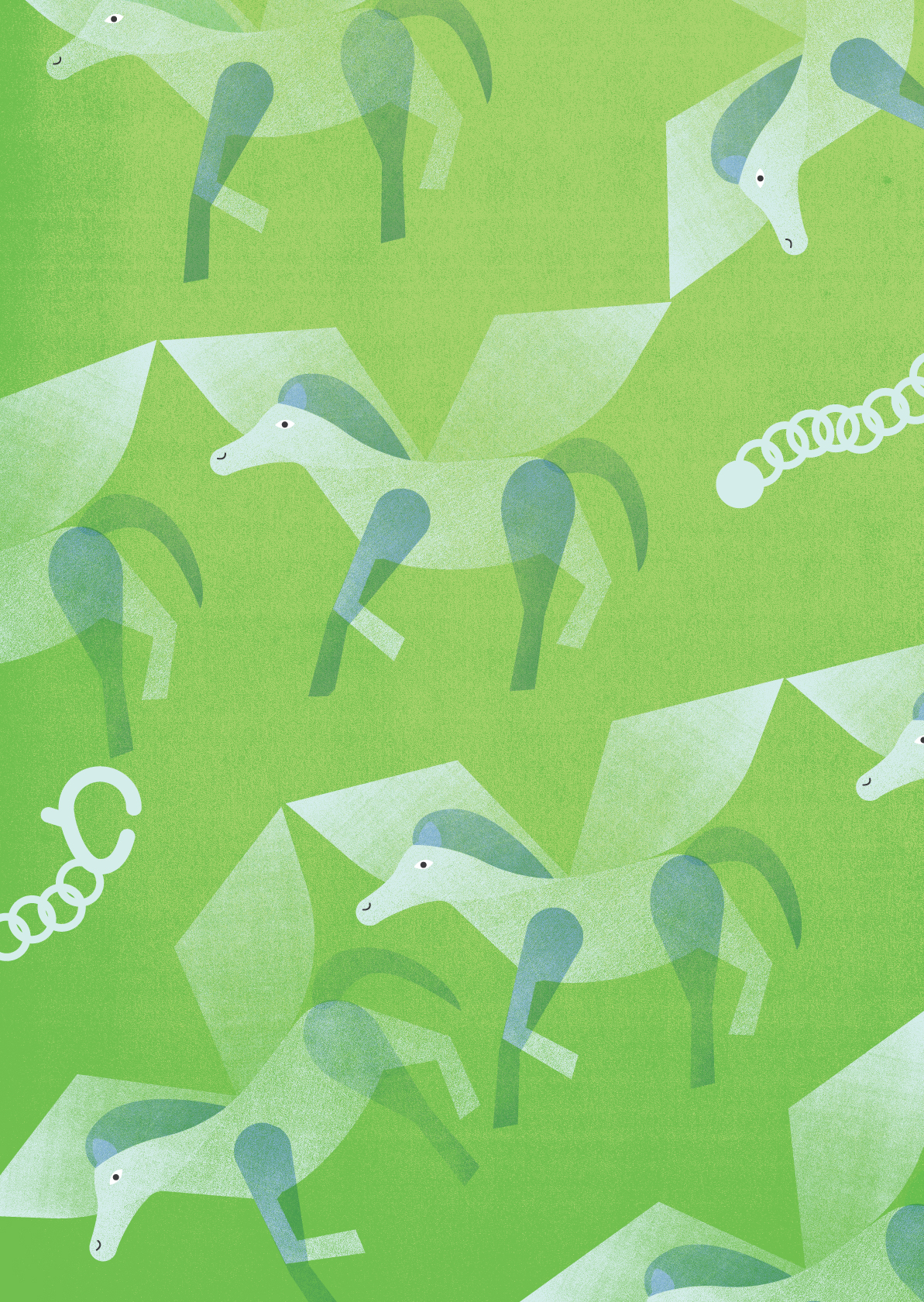 Emily - 7/28 - Pegasus Necklace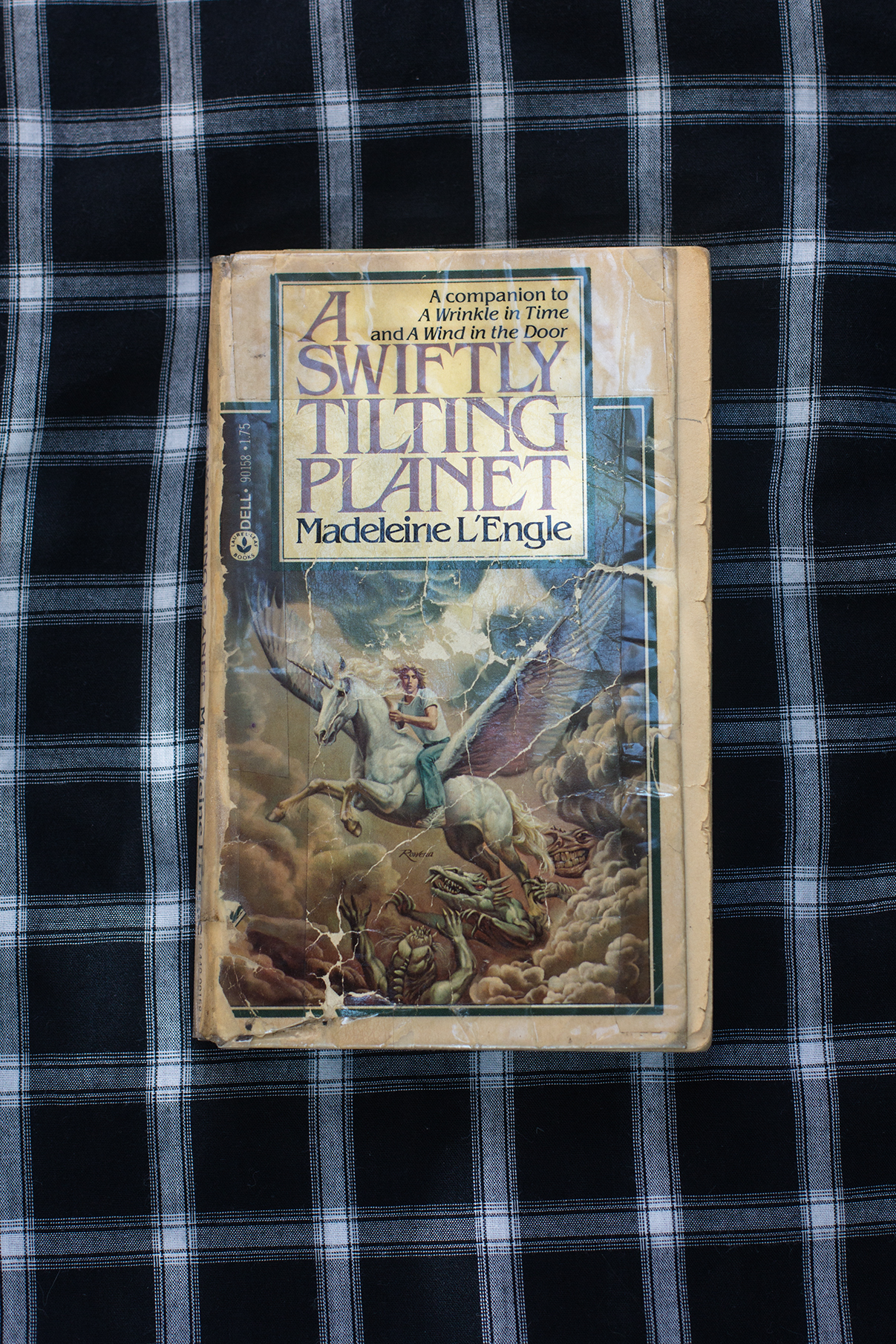 Corey - 7/28 - A Swiftly Tilting Planet, by Madeleine L'Engle, on a Black and White Plaid Shirt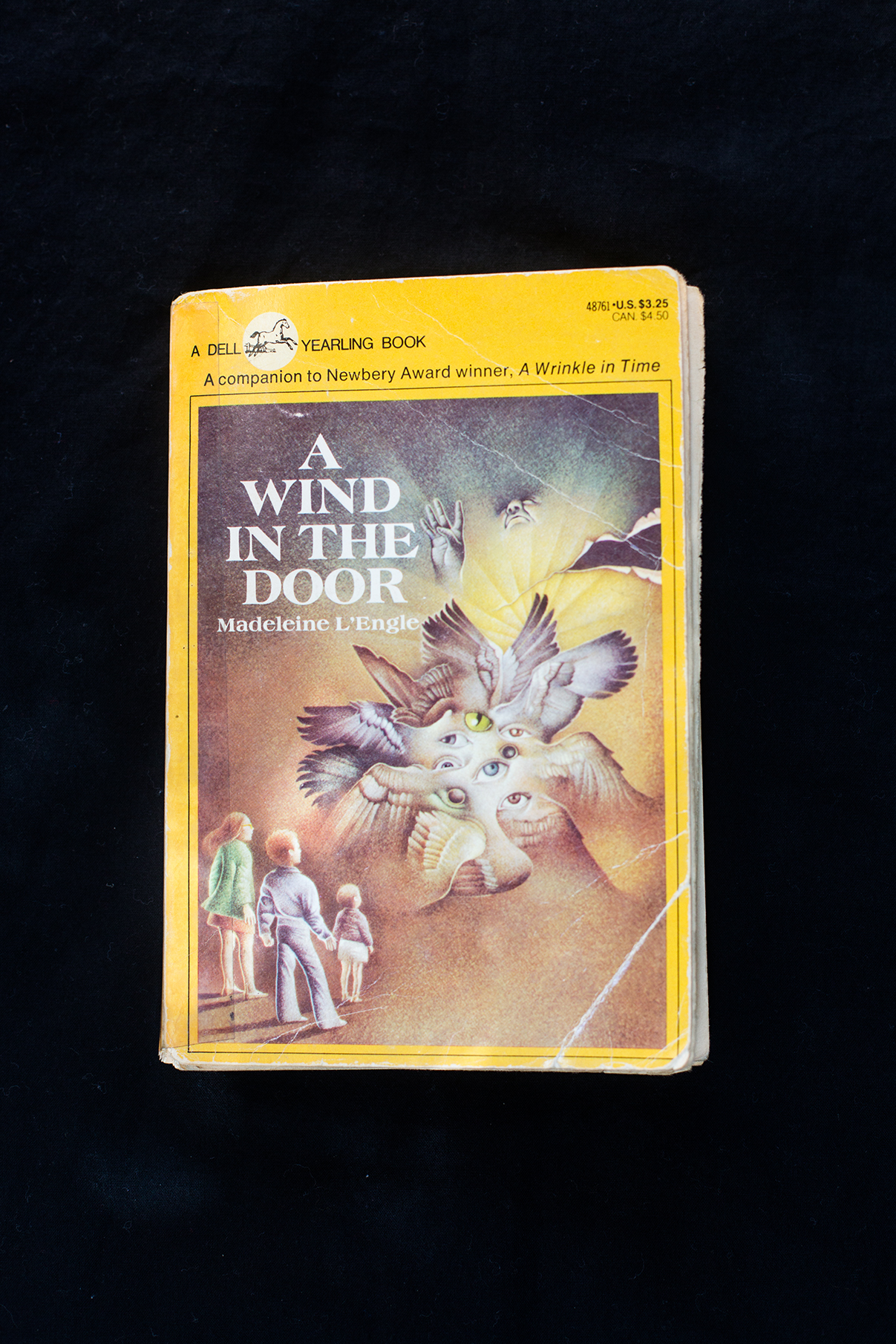 Corey - 7/27 - A Wind in the Door, by Madeleine L'Engle, on a Basic Black Button-Up Shirt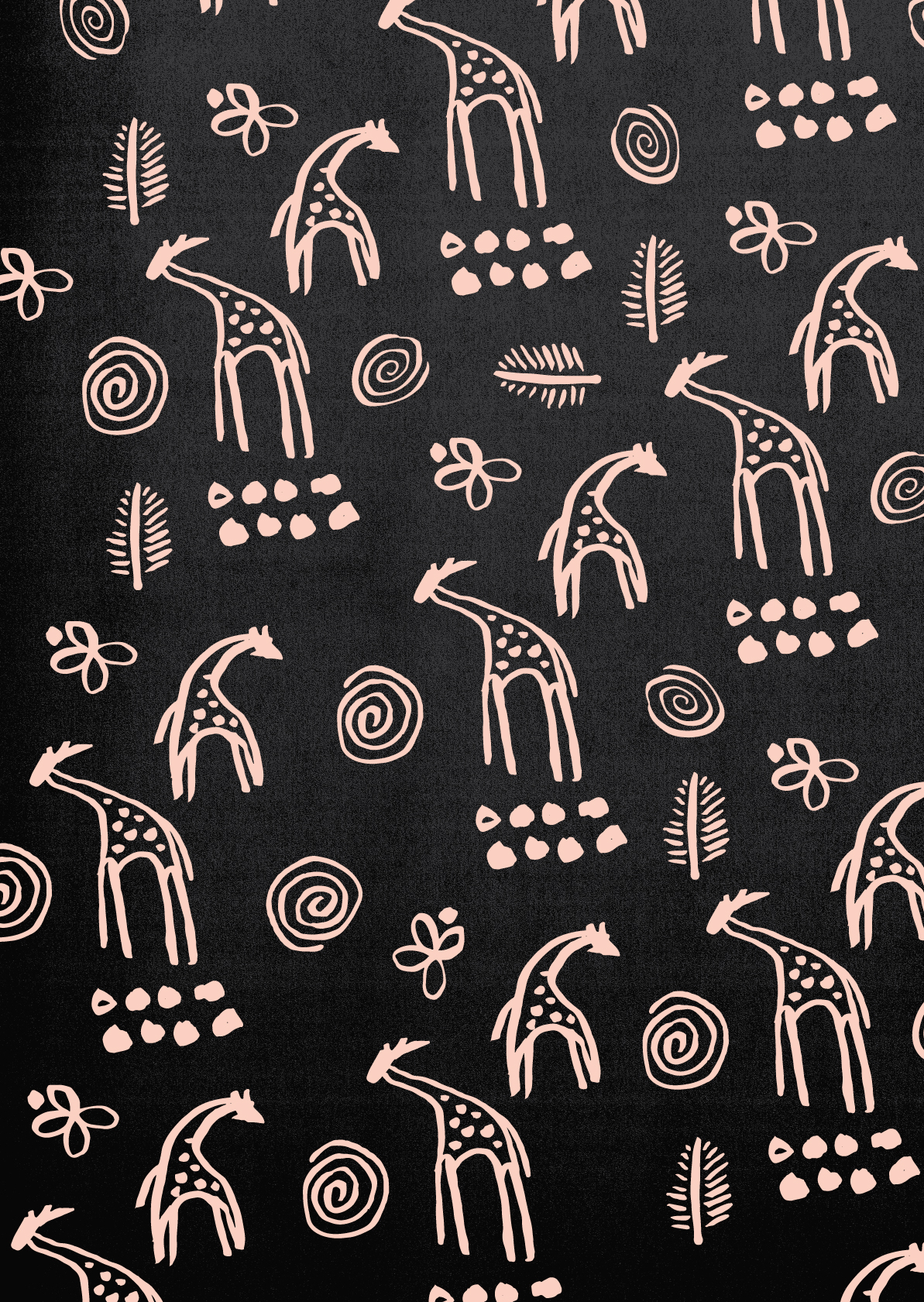 Emily - 7/26 - Tribal Print Dress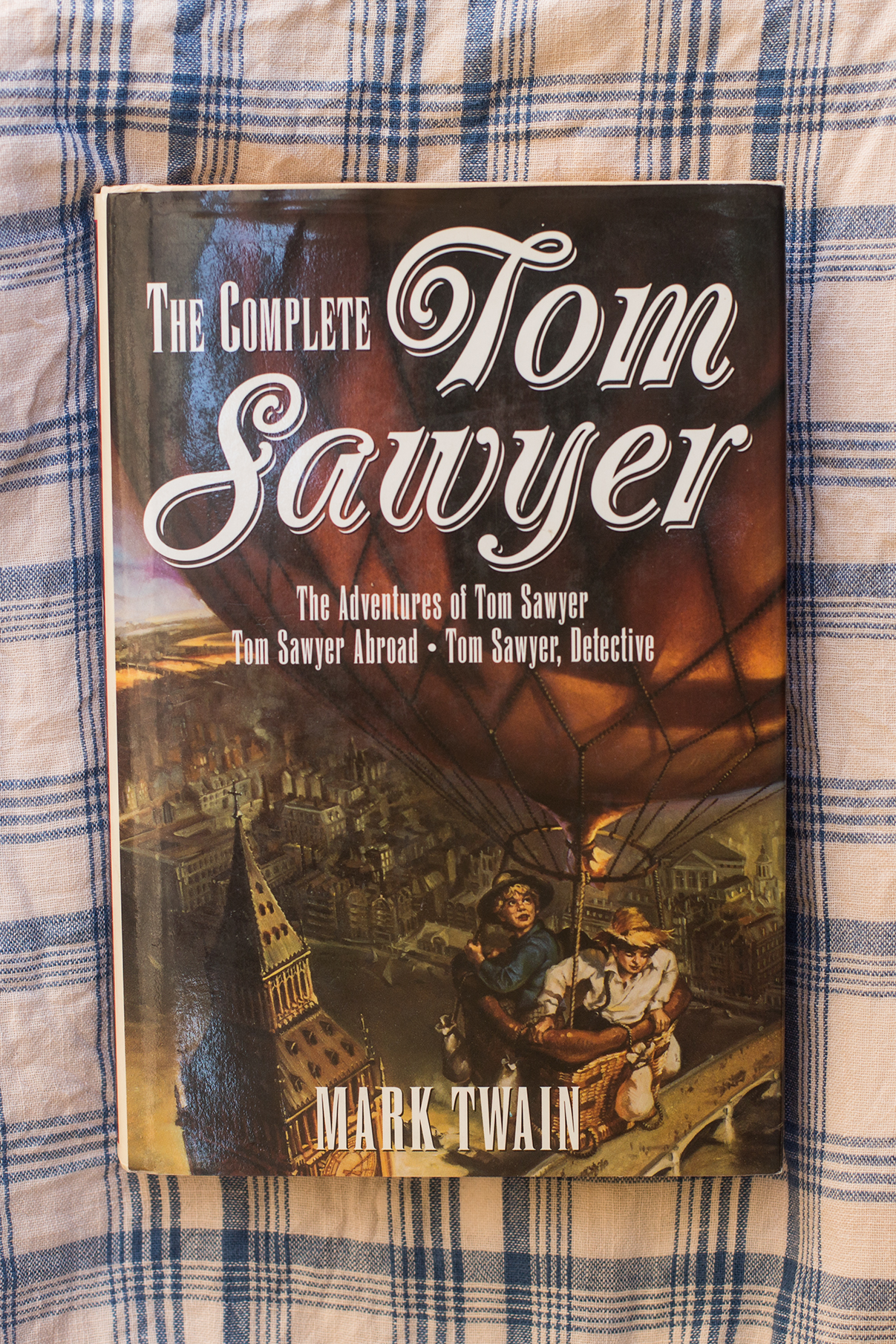 Corey - 7/26 - The Complete Tom Sawyer and Scotch and Soda Plaid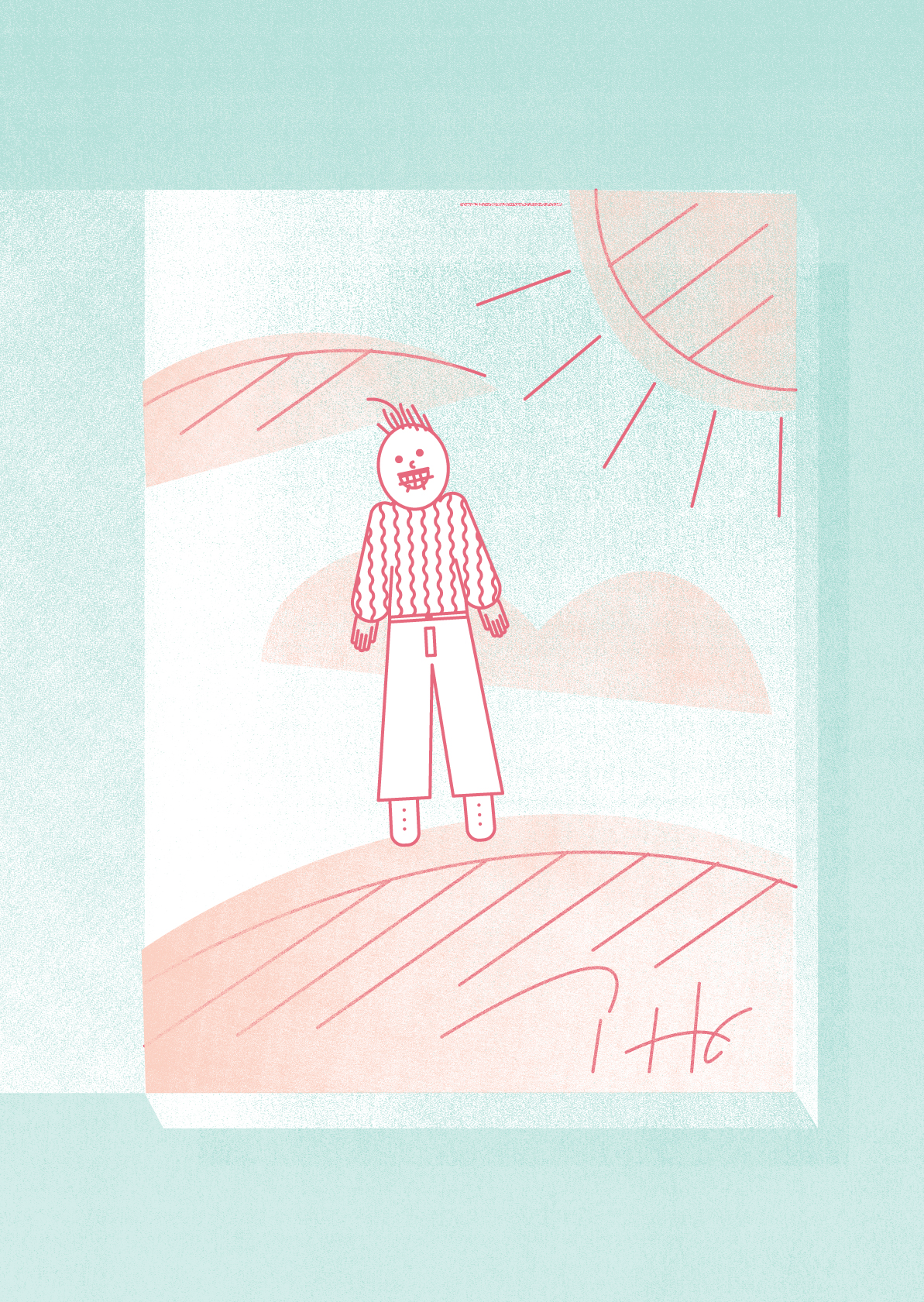 Emily - 7/25 - MUJI Sketchbook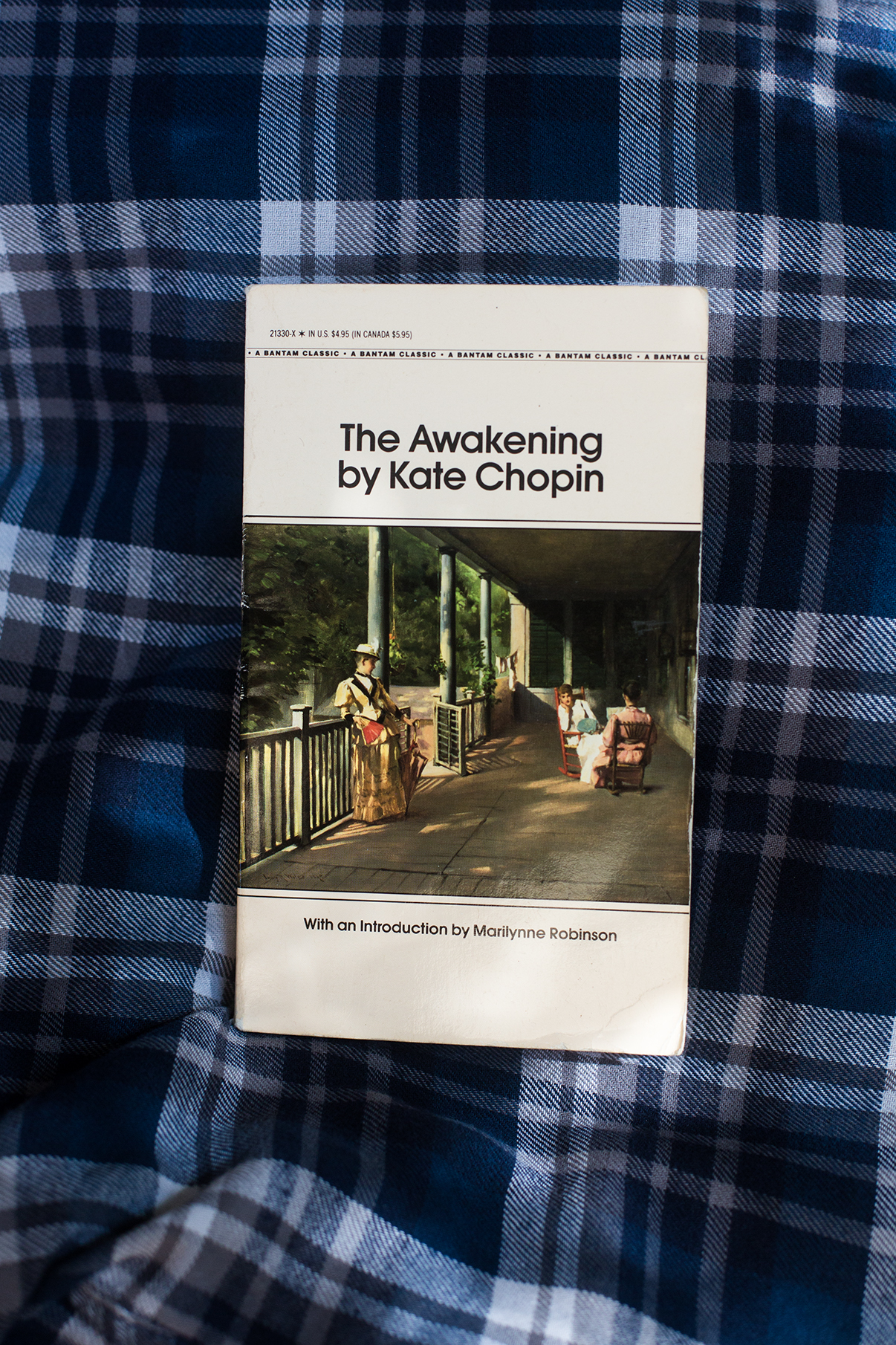 Corey - 7/25 - The Awakening, by Kate Chopin, and Plaid Flannel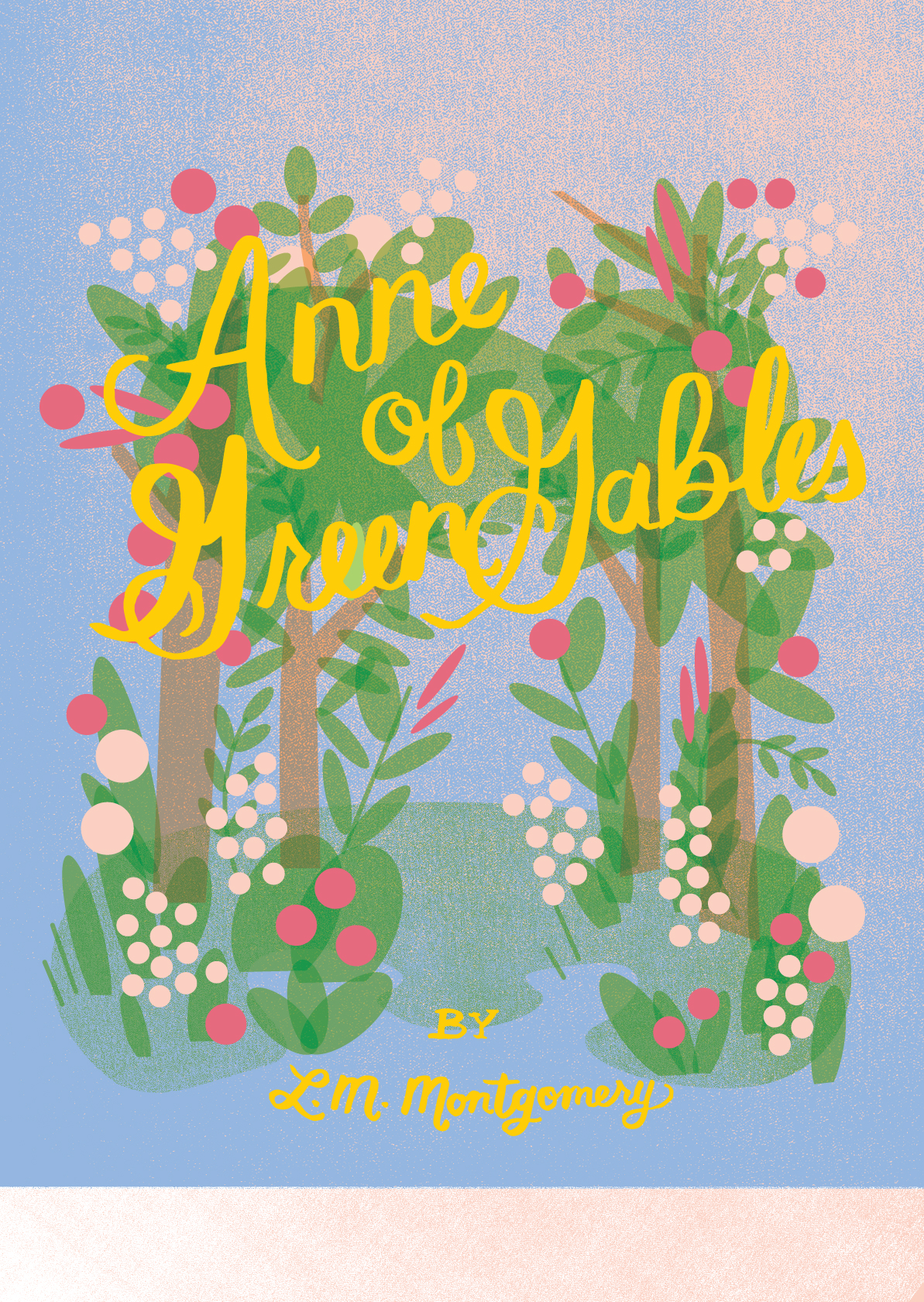 Emily - 7/24 - Anne of Green Gables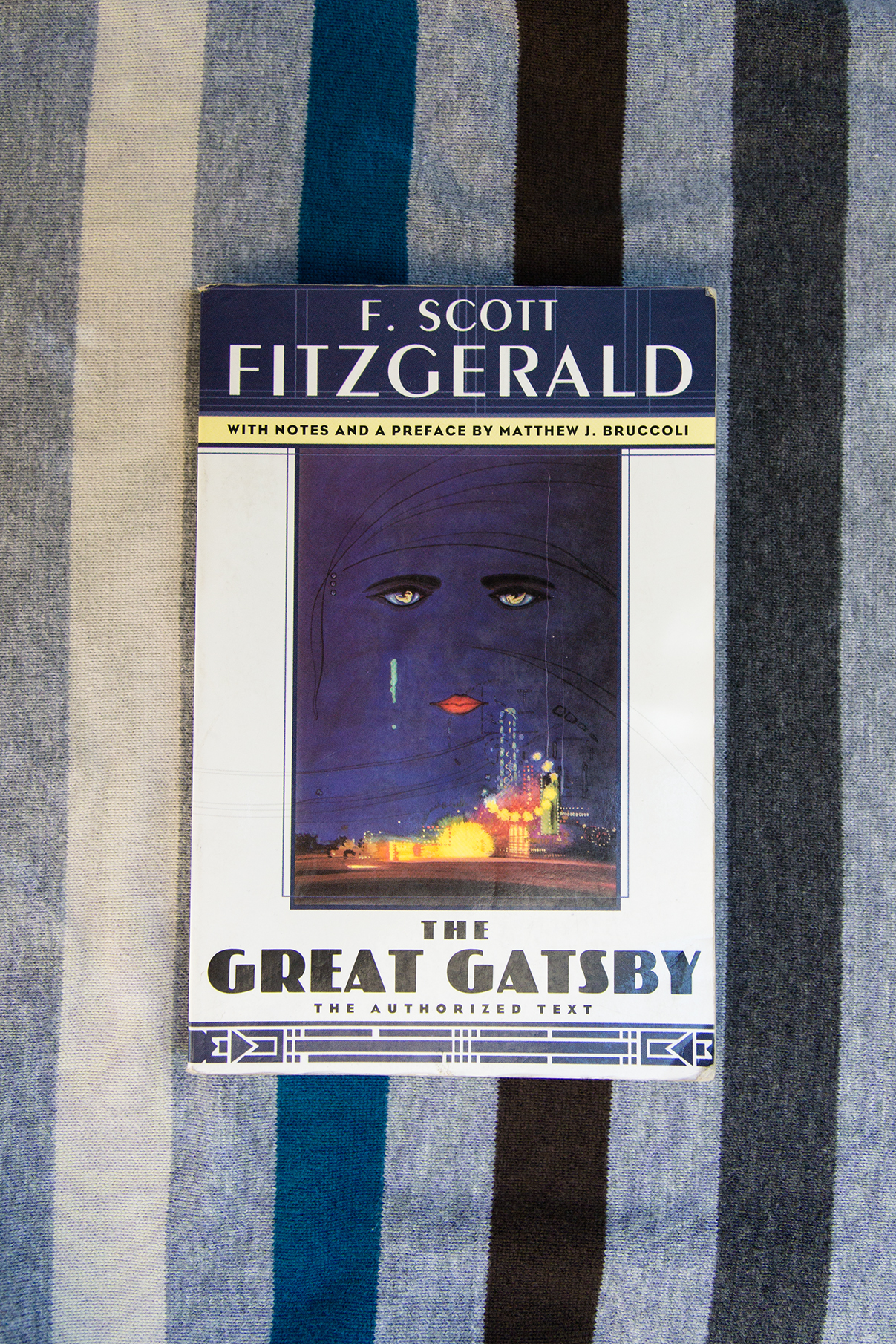 Corey - 7/24 - The Great Gatsby, by F. Scott Fitzgerald, on Old Navy Multicolor Sweater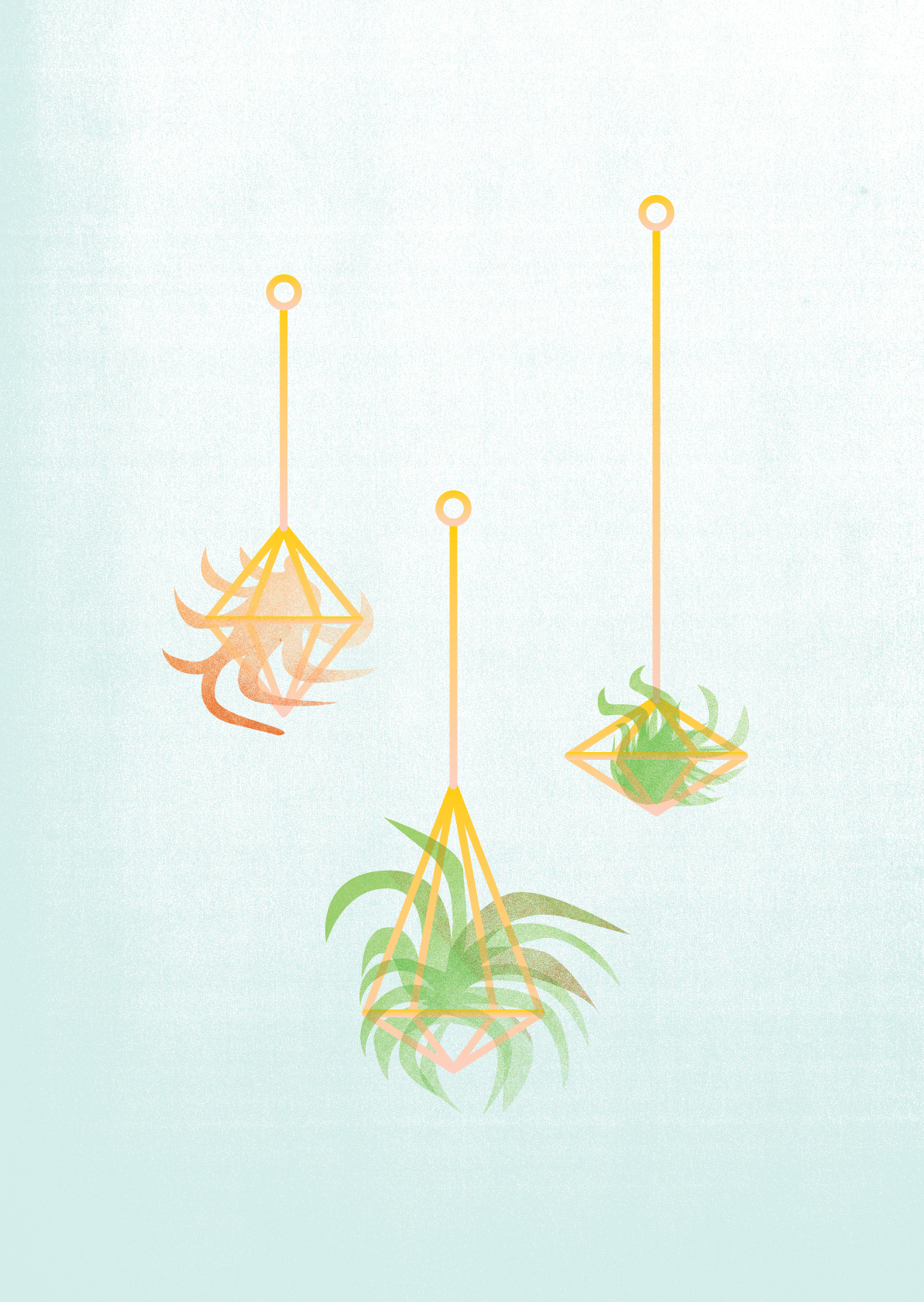 Emily - 7/23 - Hanging Prism Air Plant Holders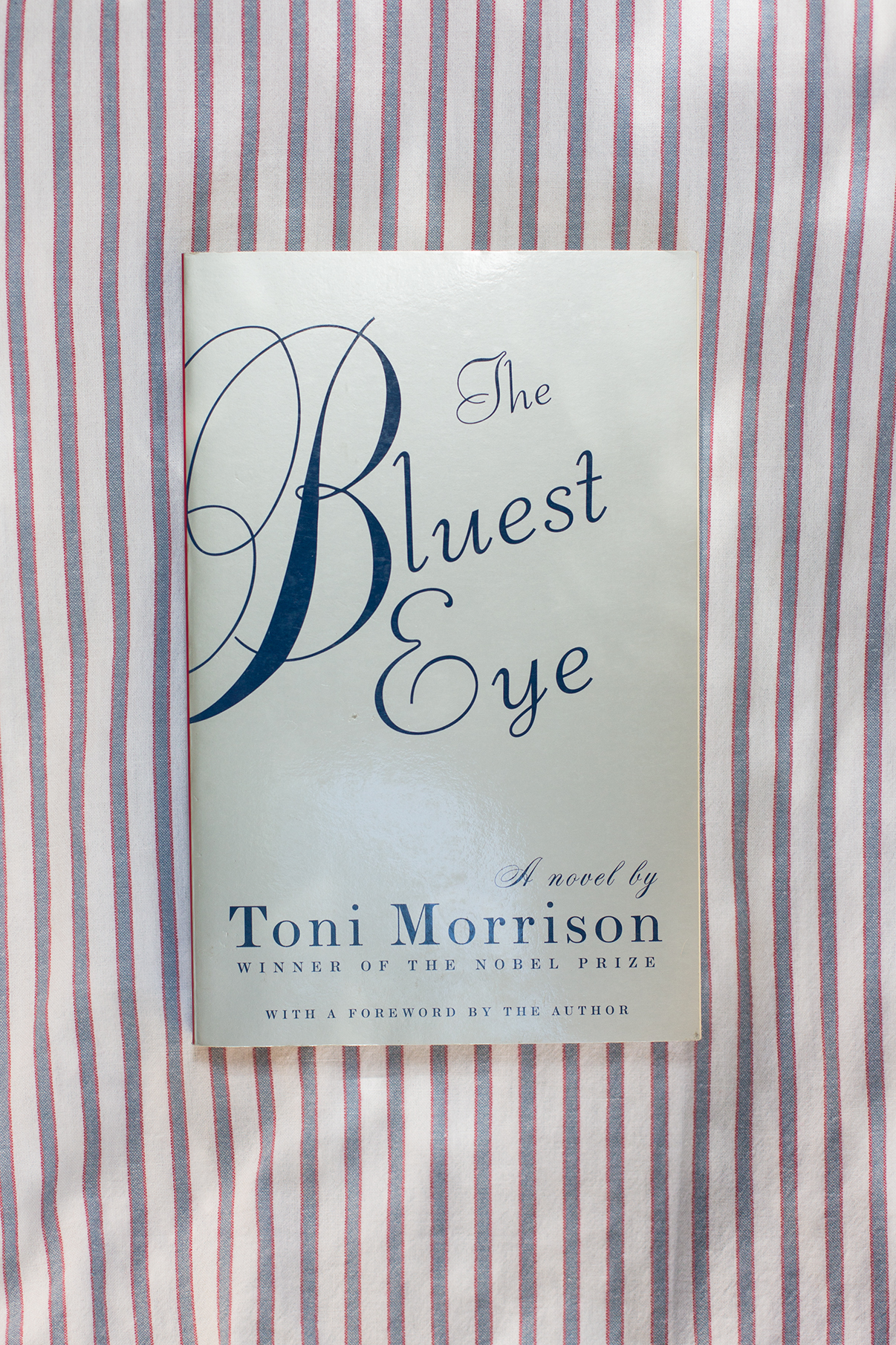 Corey - 7/23 - The Bluest Eye, by Toni Morrison, one Striped Shirt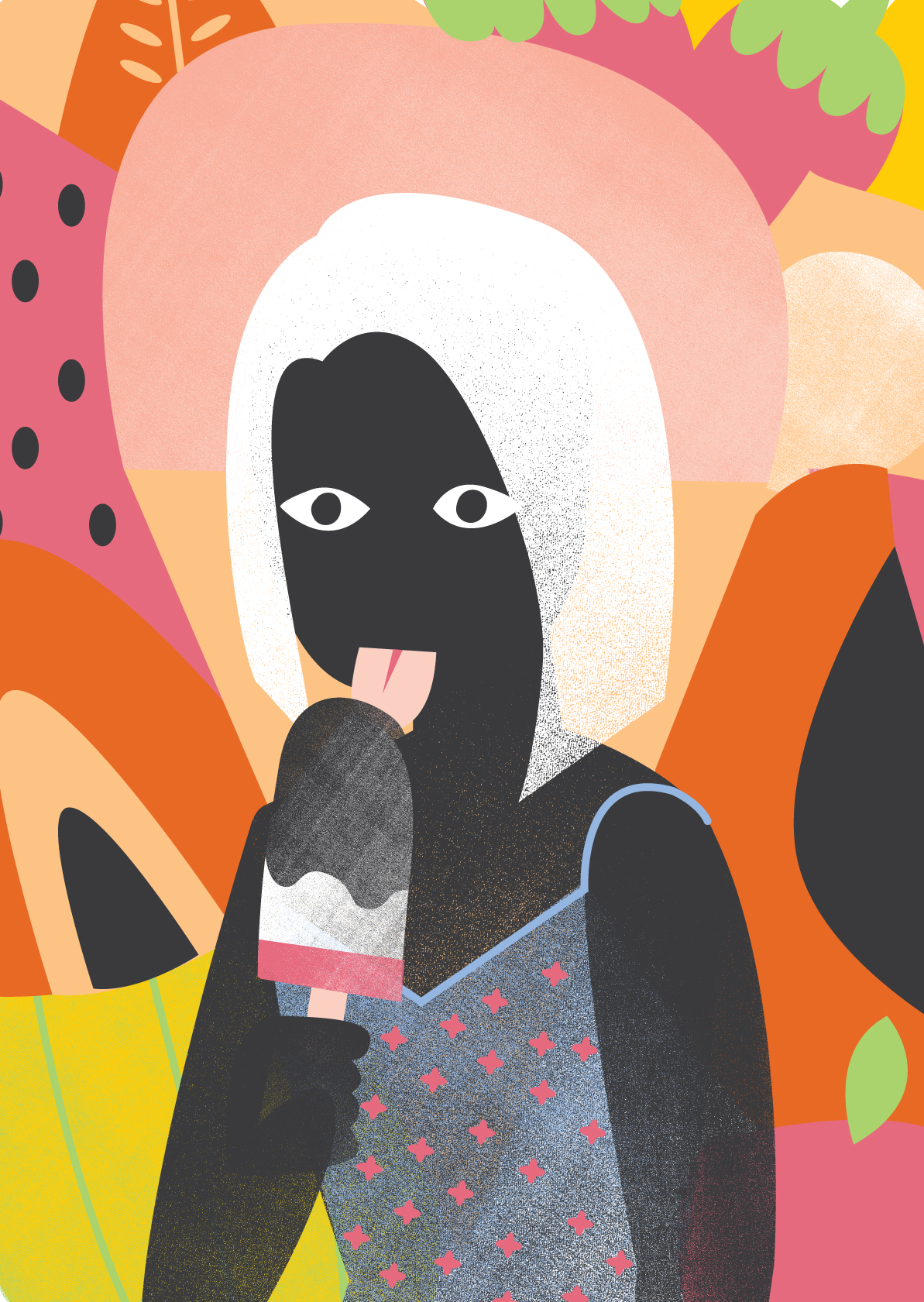 Emily - 7/22 - Floral Summer Dress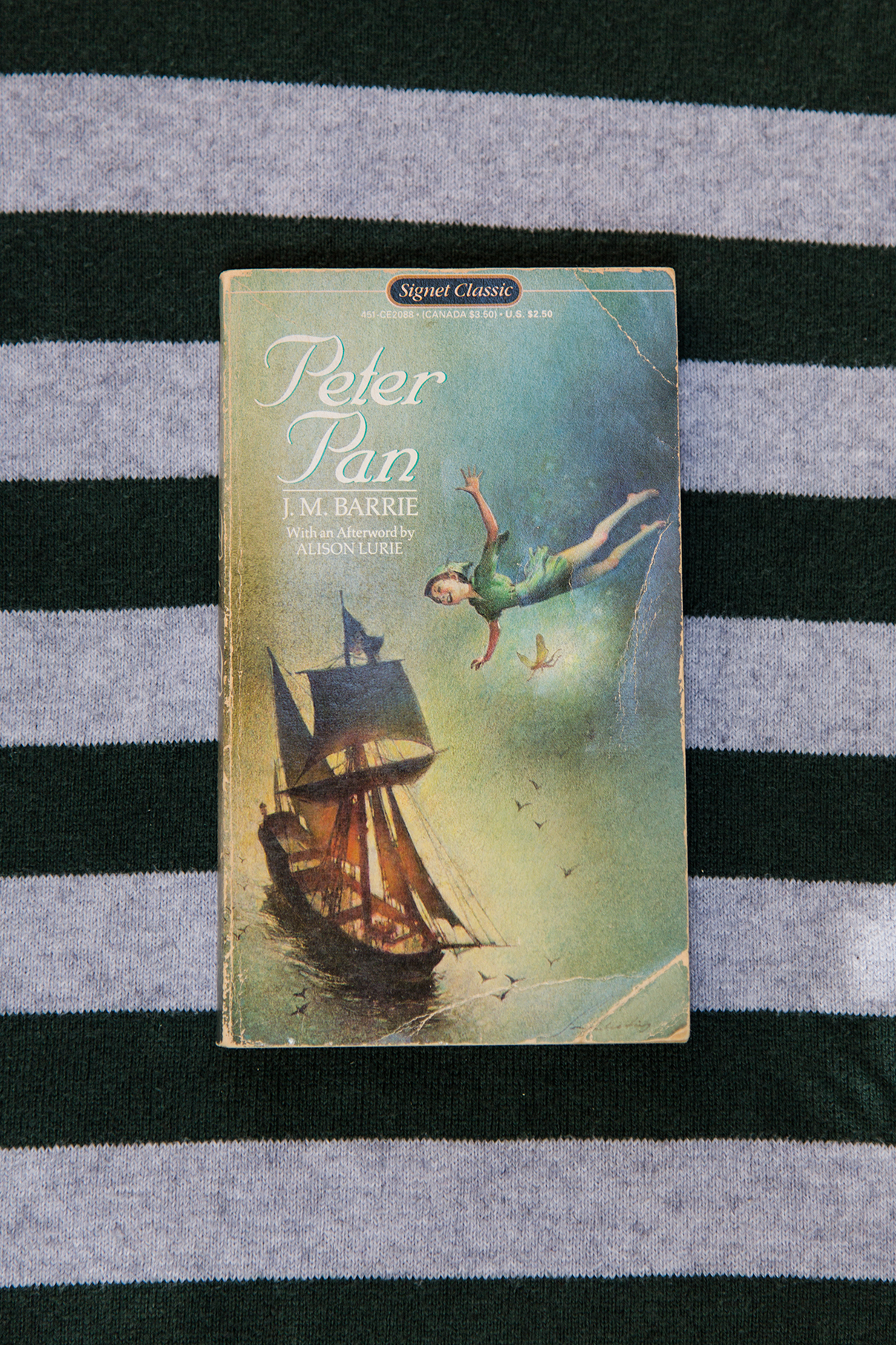 Corey - 7/22 - Peter Pan, by J.M. Barrie, on Striped Sweater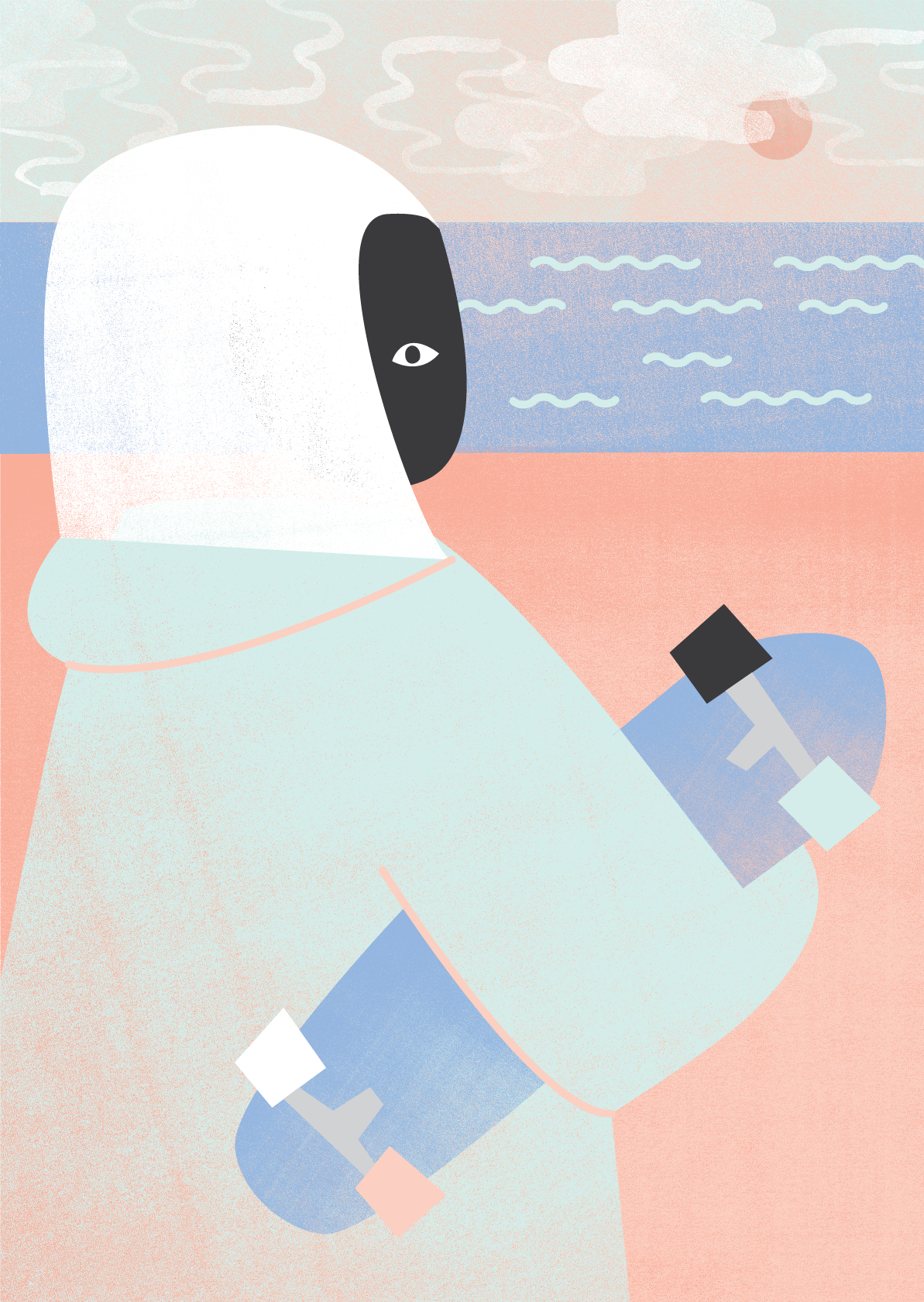 Emily - 7/21 - Globe Skateboard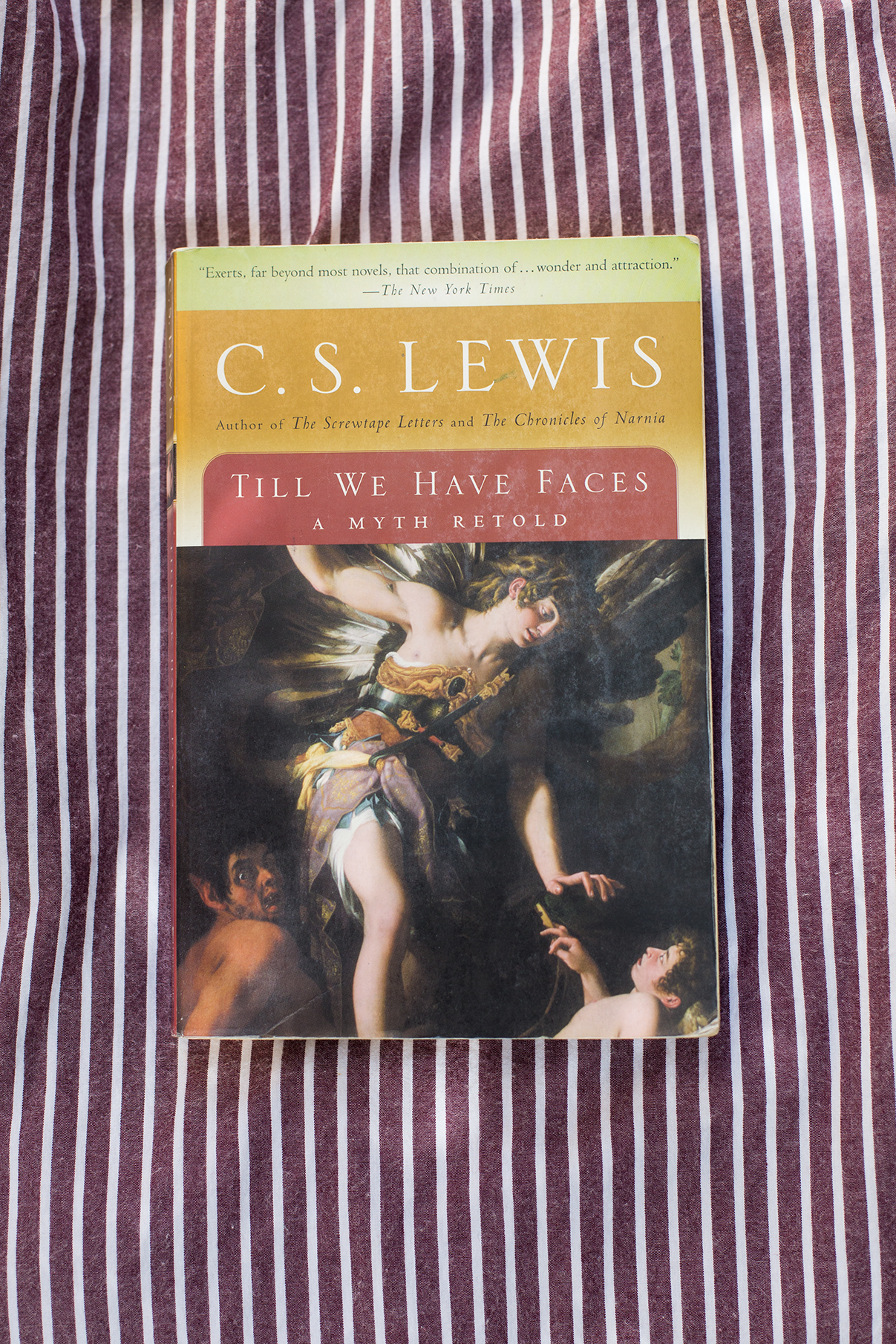 Corey - 7/21 - Till We Have Faces, by C.S. Lewis, on Striped Shirt
Emily - 7/20 - 90s Asian Tourist Dad Shirt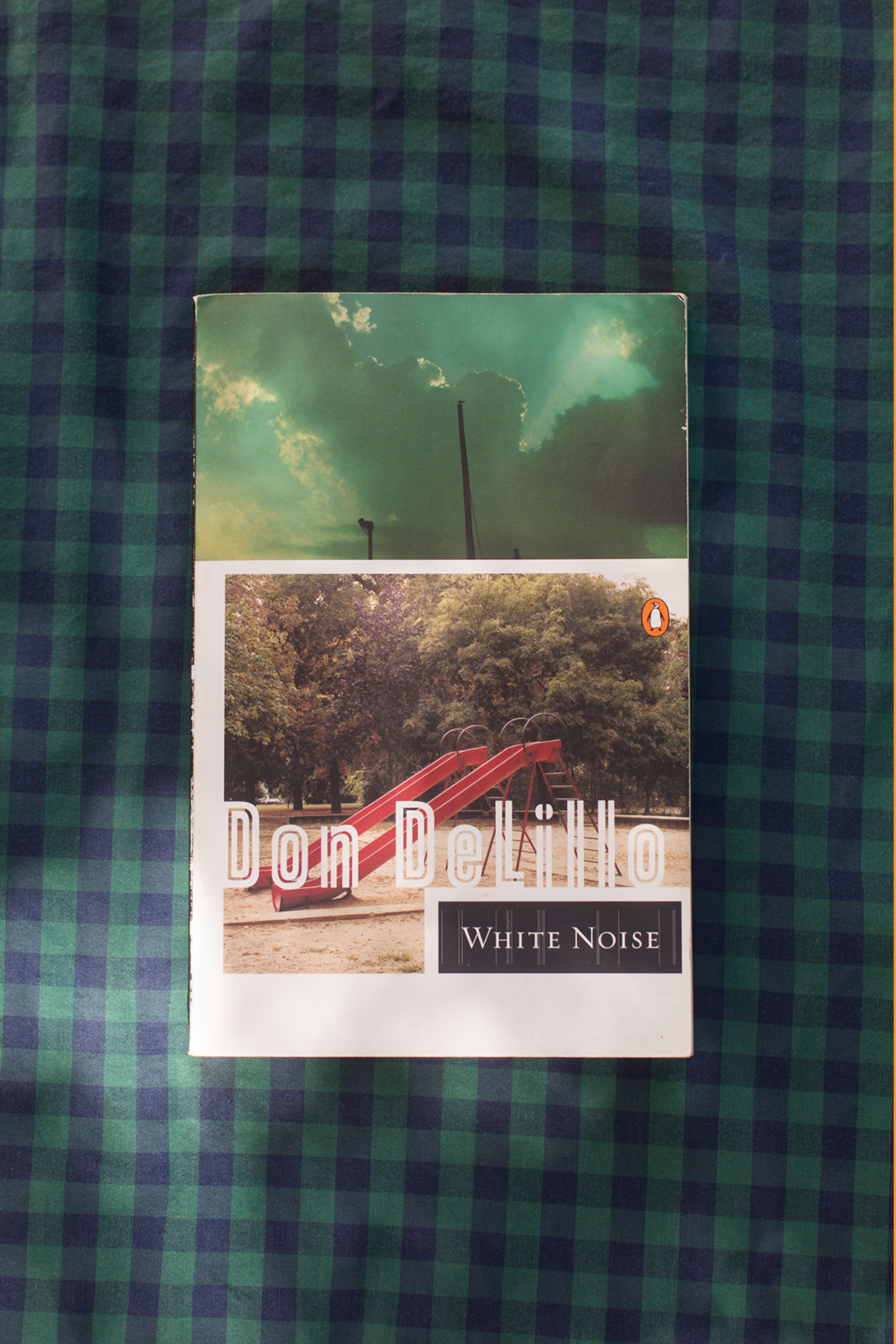 Corey - 7/20 - White Noise, by Don DeLillo on Checkered Shirt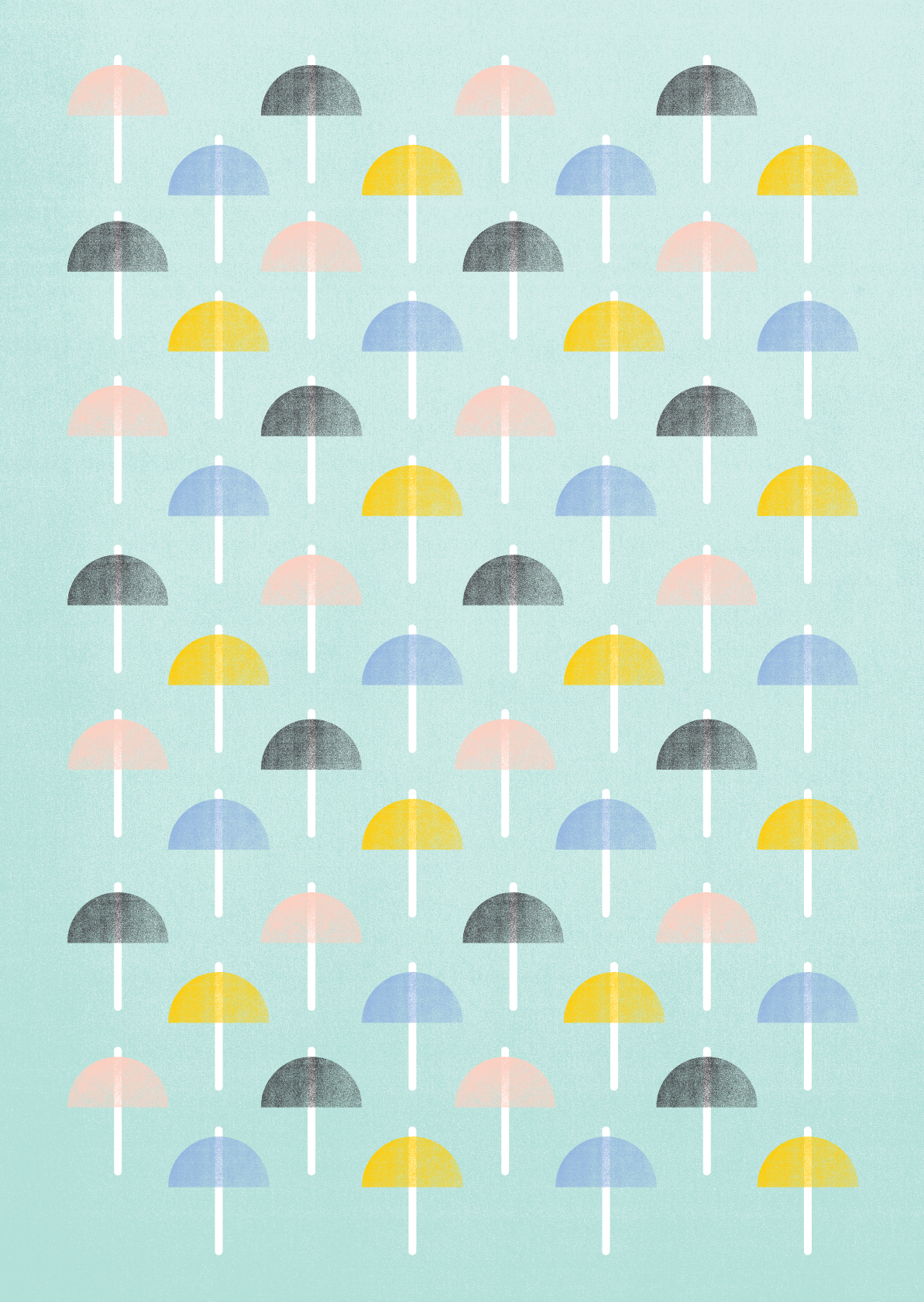 Emily - 7/19 - Umbrellas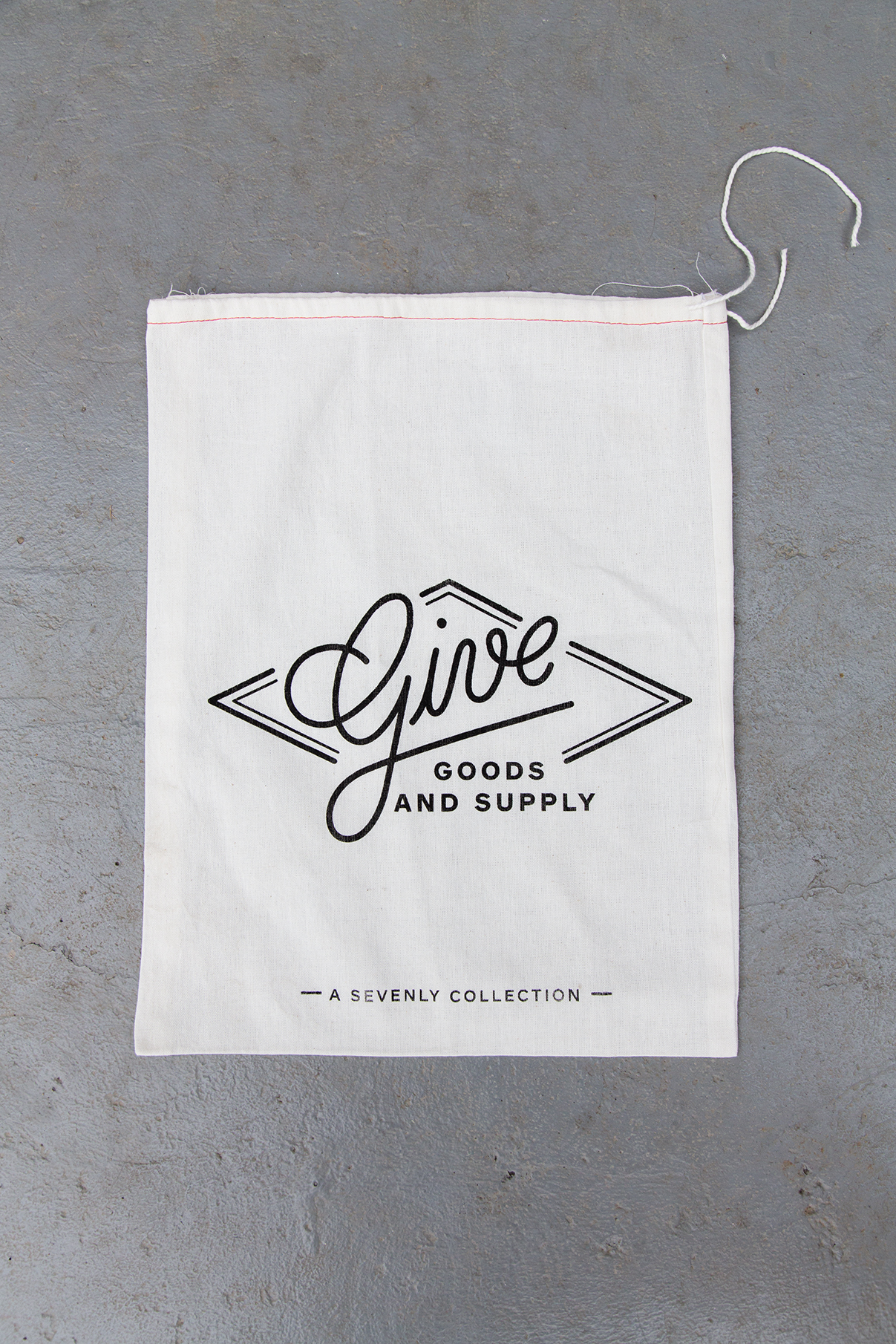 Corey - 7/19 - Sevenly Canvas Bag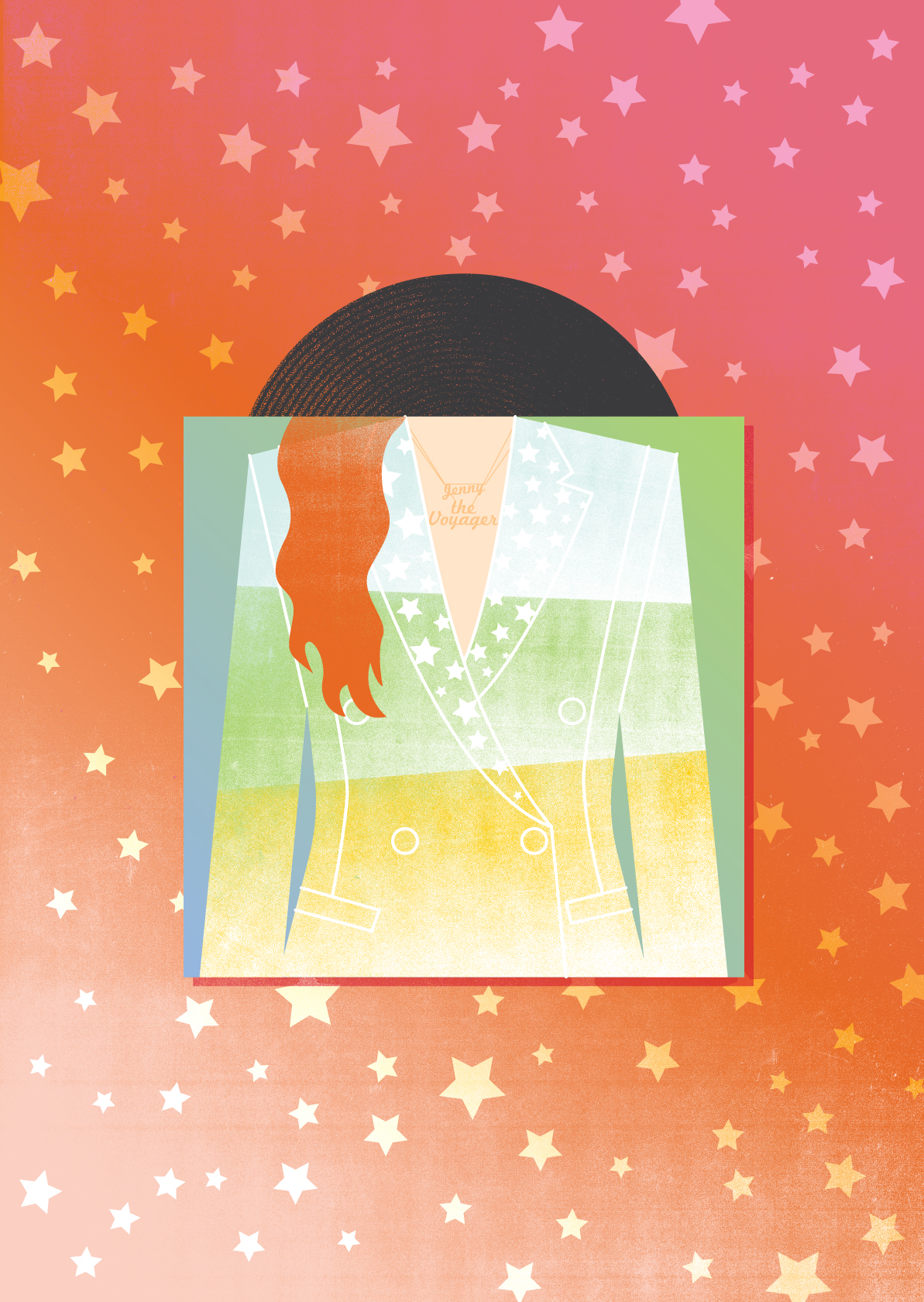 Emily - 7/18 - Jenny Lewis' The Voyager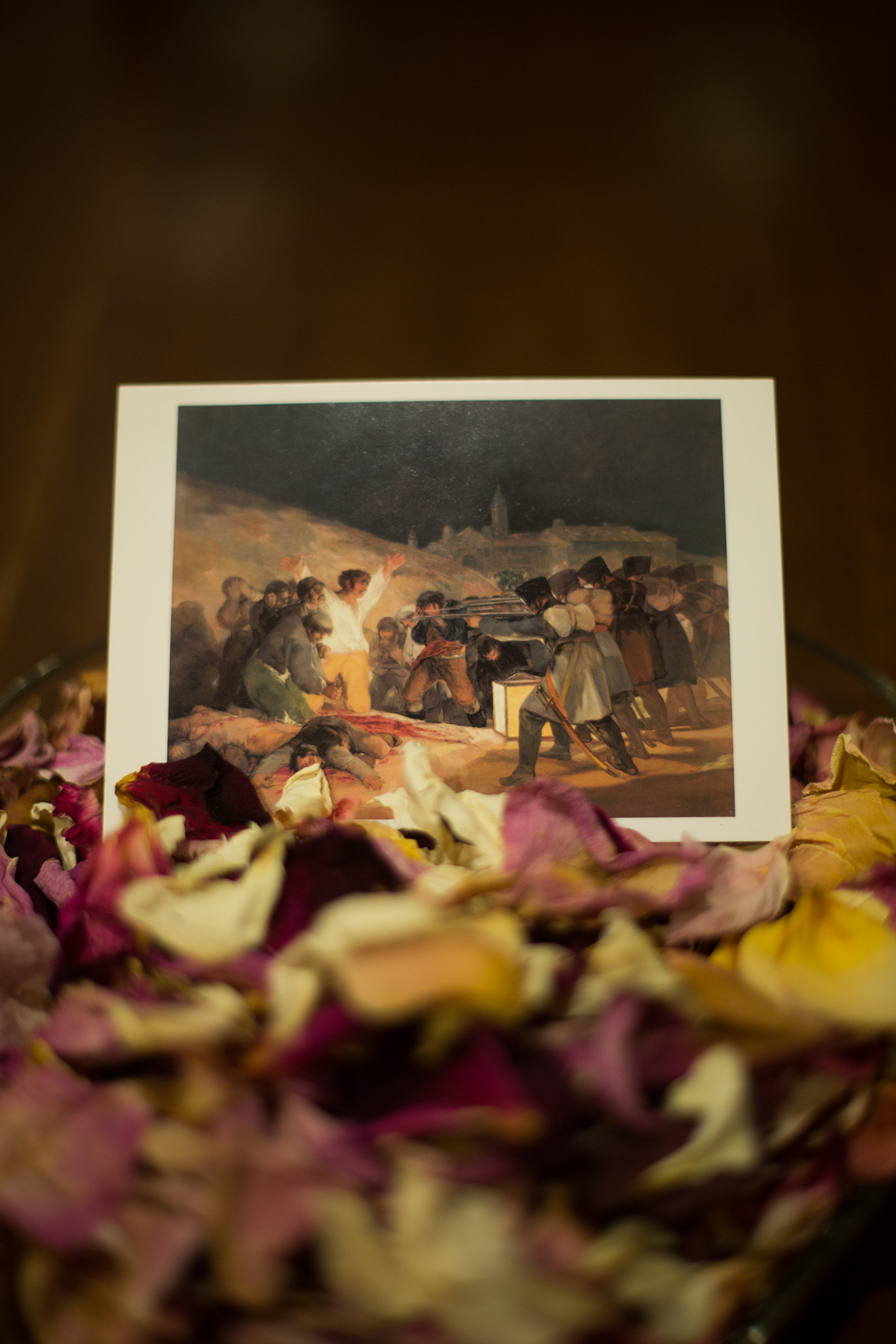 Corey - 7/18 - Postcard of The Third of May 1808, by Francisco Goya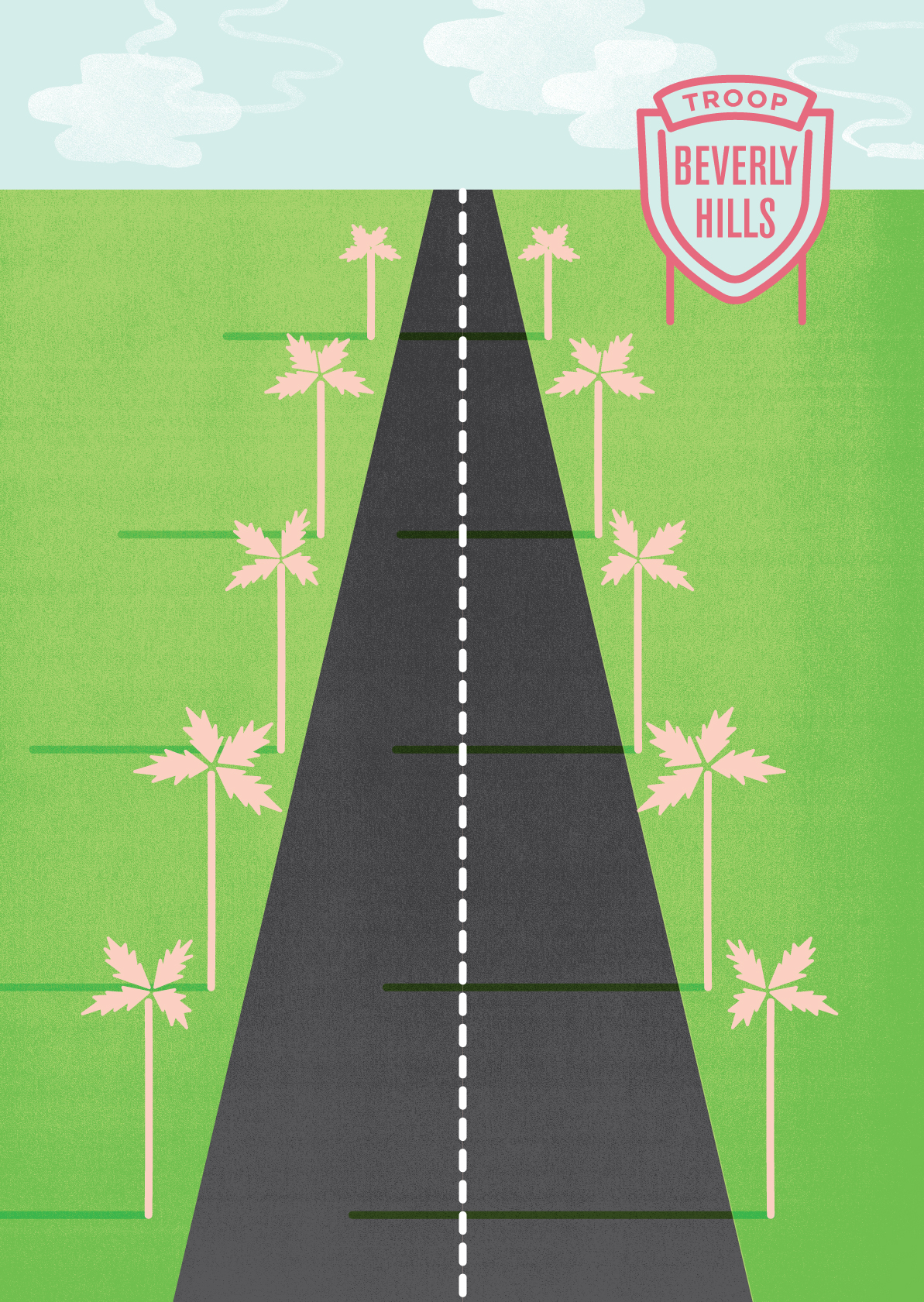 Emily - 7/17 - Troop Beverly Hills DVD
Corey - 7/17 - Great Grandmother Zo's Braided Octagonal Rug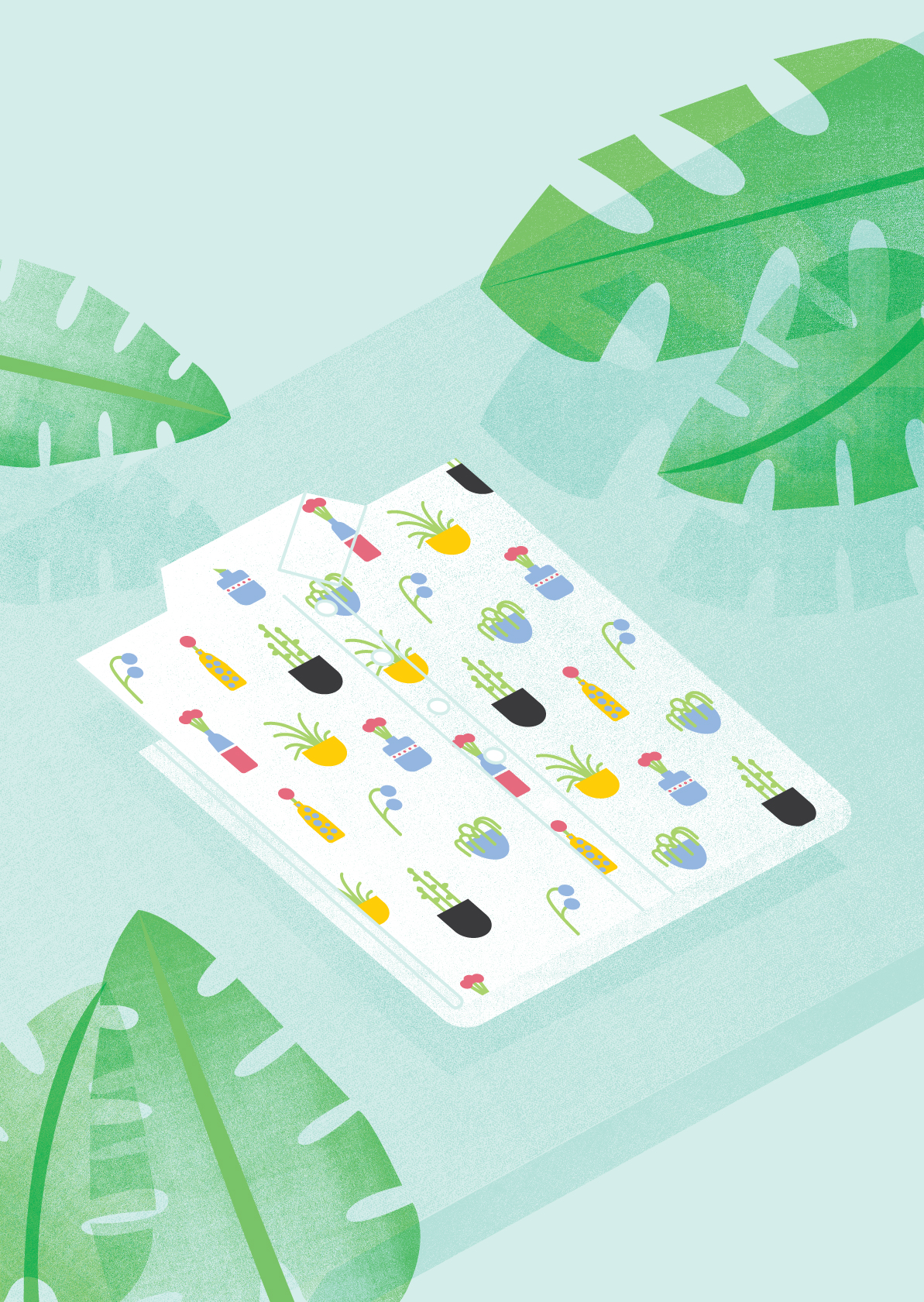 Emily - 7/16 - Plant Shirt
Corey - 4/16 - Adventureland Pluto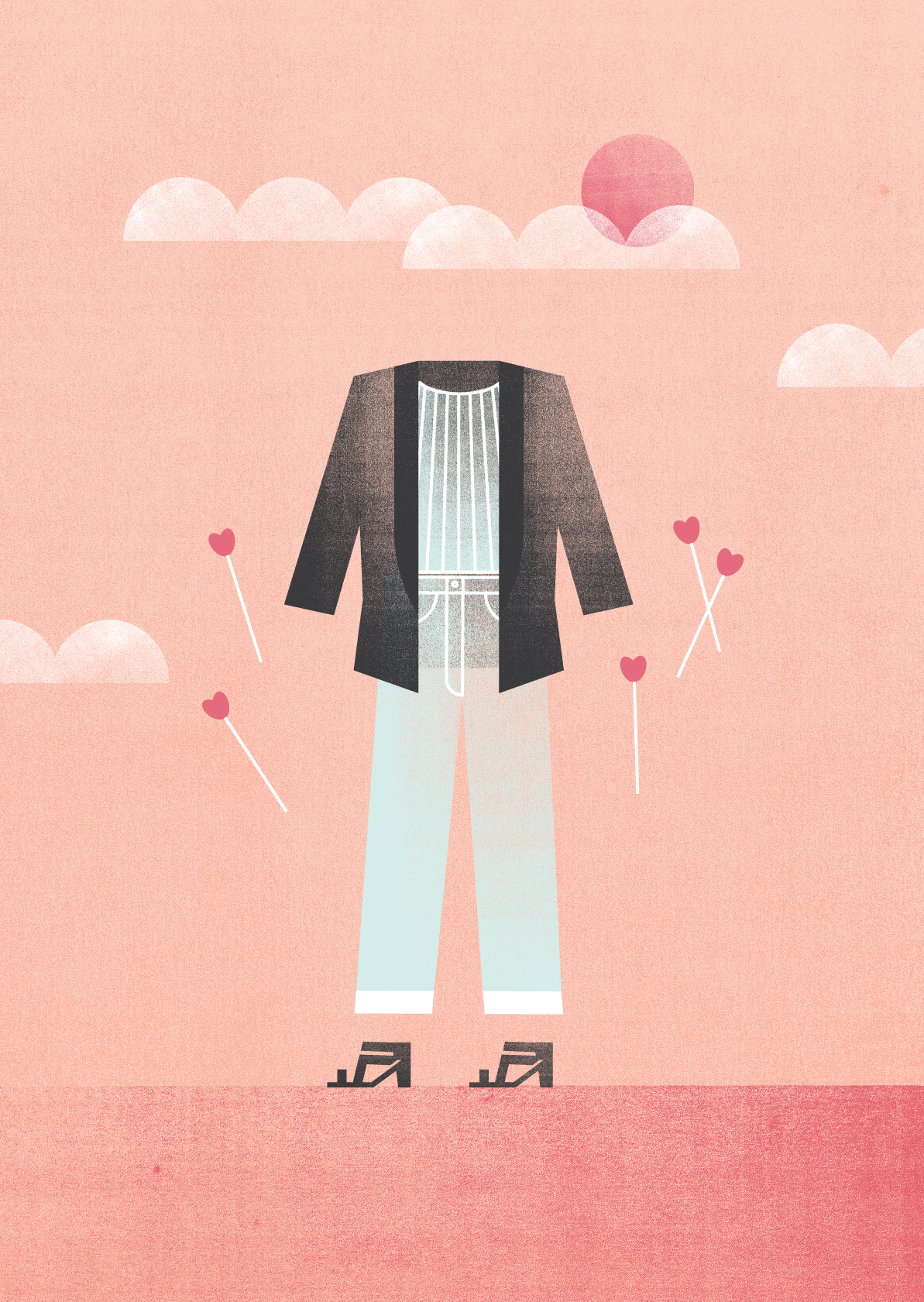 Emily - 7/15 - Tuxedo Jacket
Corey - 7/15 - The Year of Magical Thinking, by Joan Didion, with notes and receipt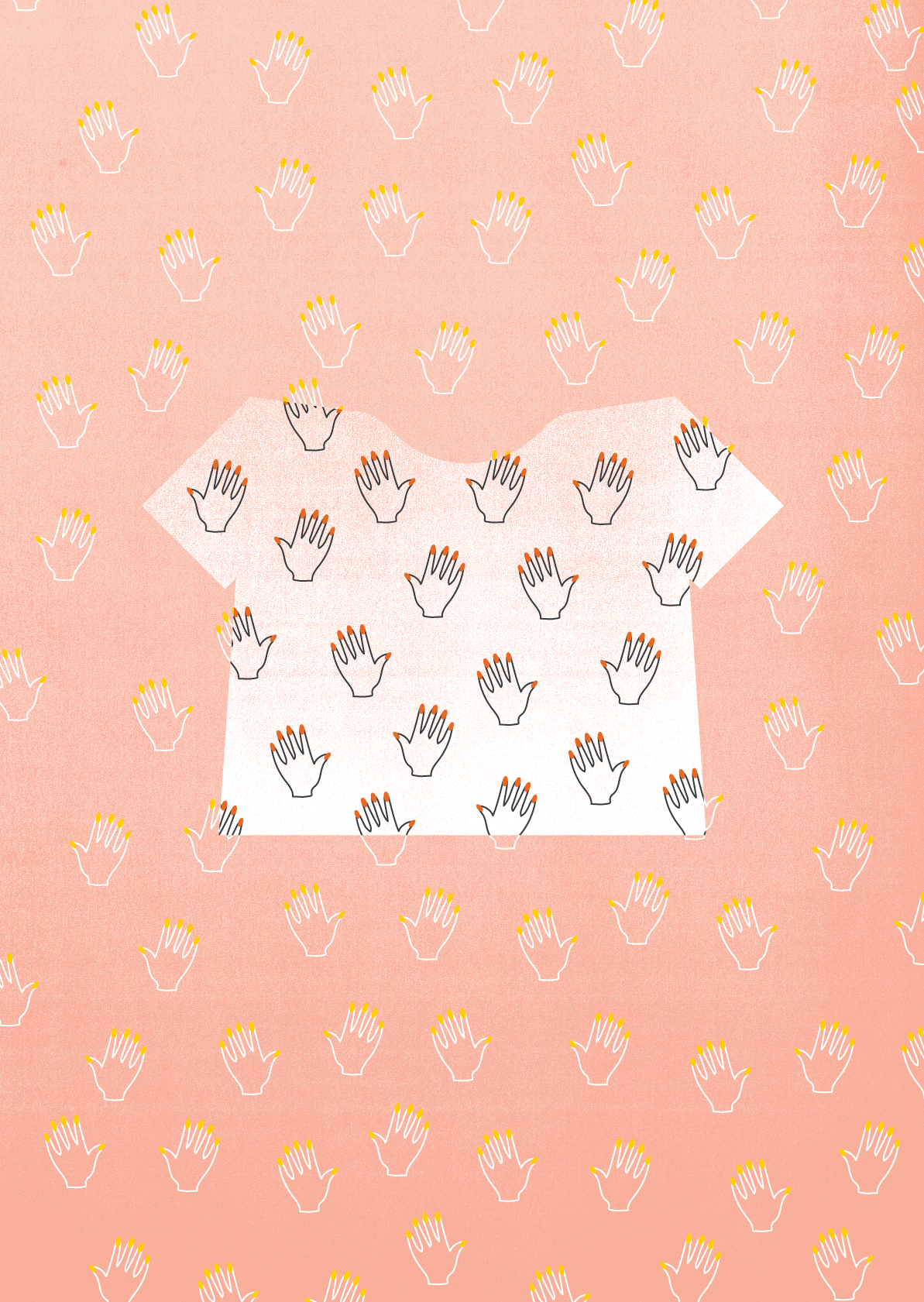 Emily - 7/14 - Hand Shirt
Corey - 7/14 - A Wrinkle in Time, by Madeleine L'Engle, and A Night-Sky Button-Up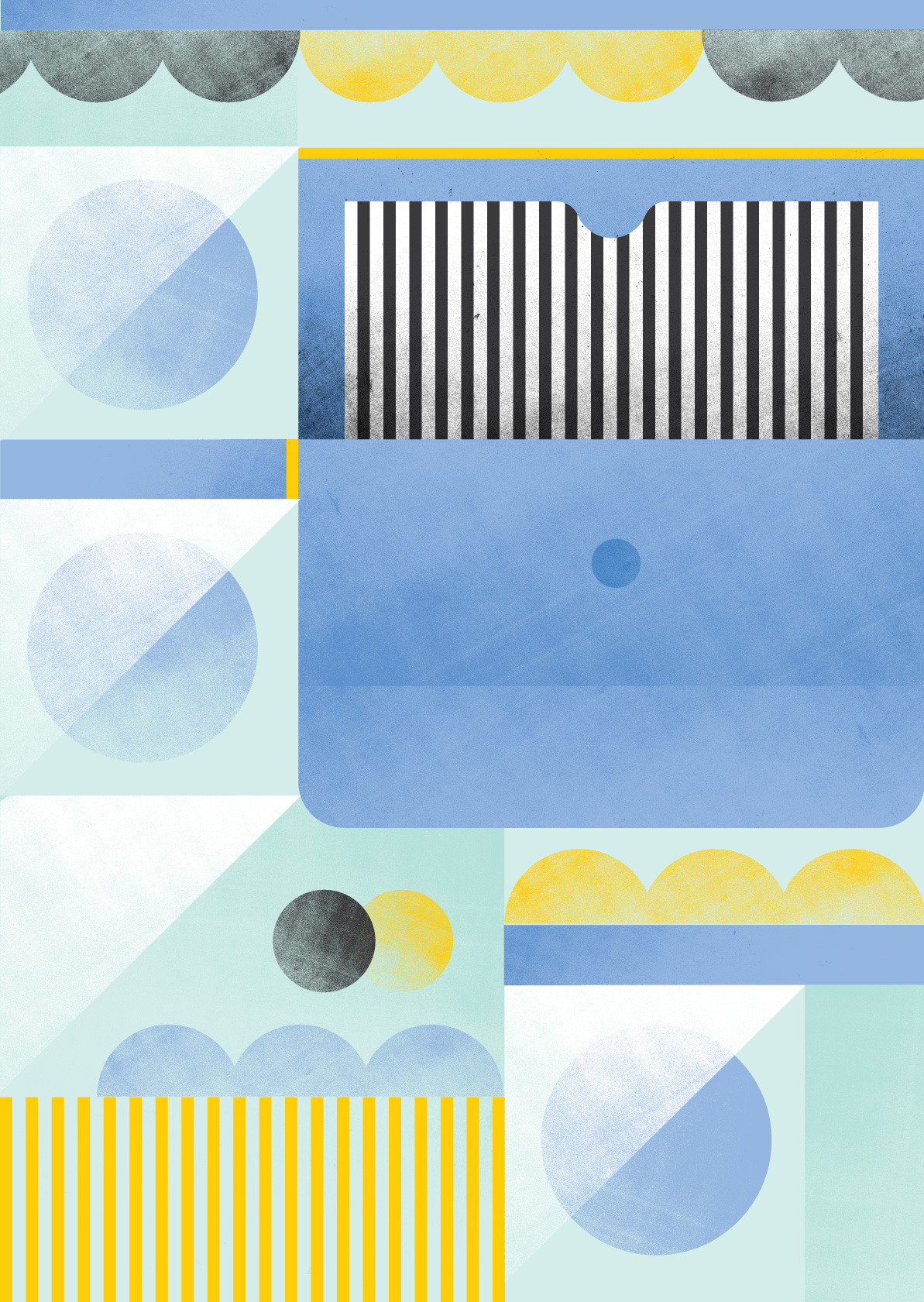 Emily - 7/13 - Kate Spade Purse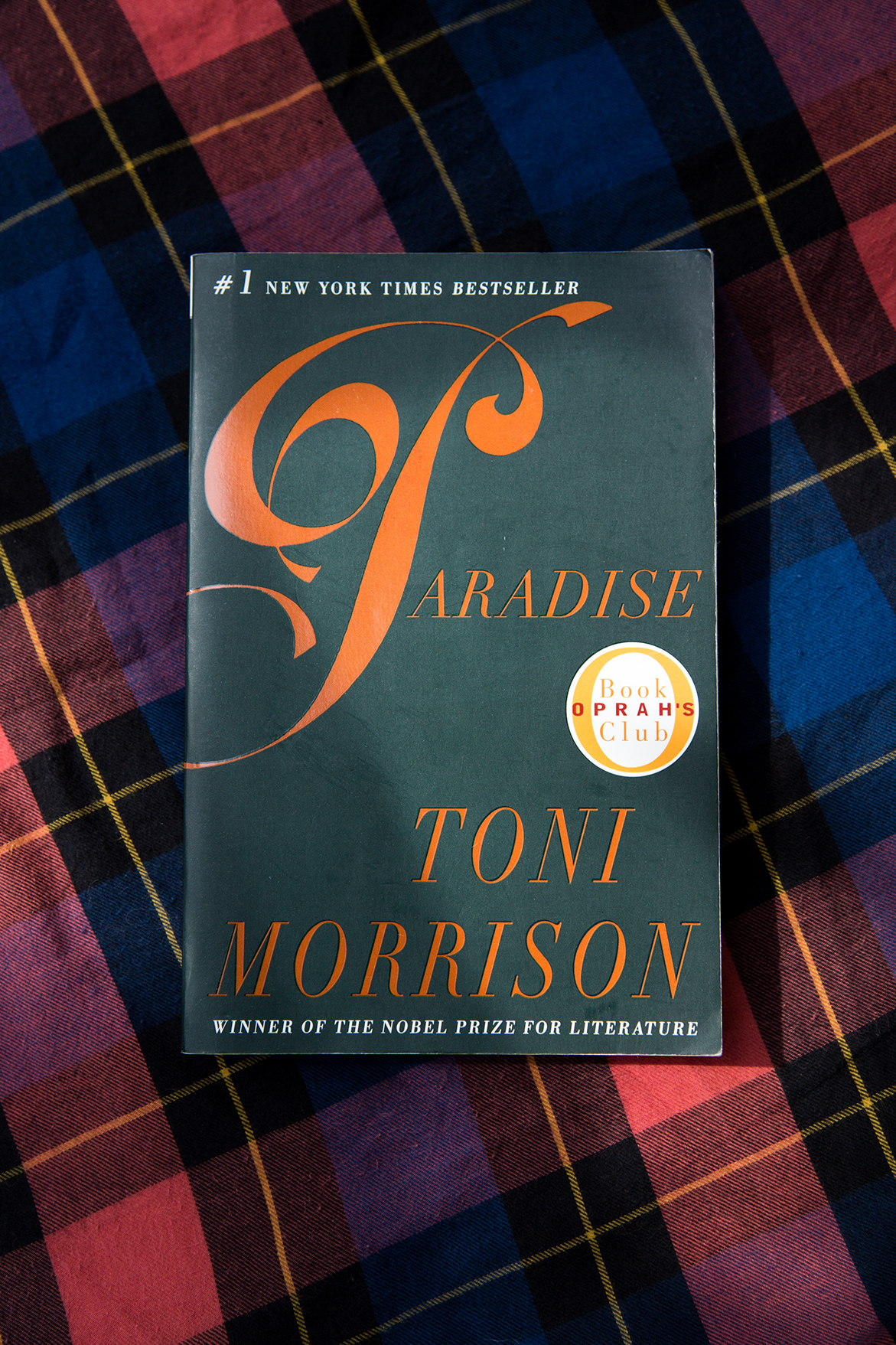 Corey - 7/12 - Paradise, by Toni Morrison / Plaid Shirt
Emily - 7/12 - Macbook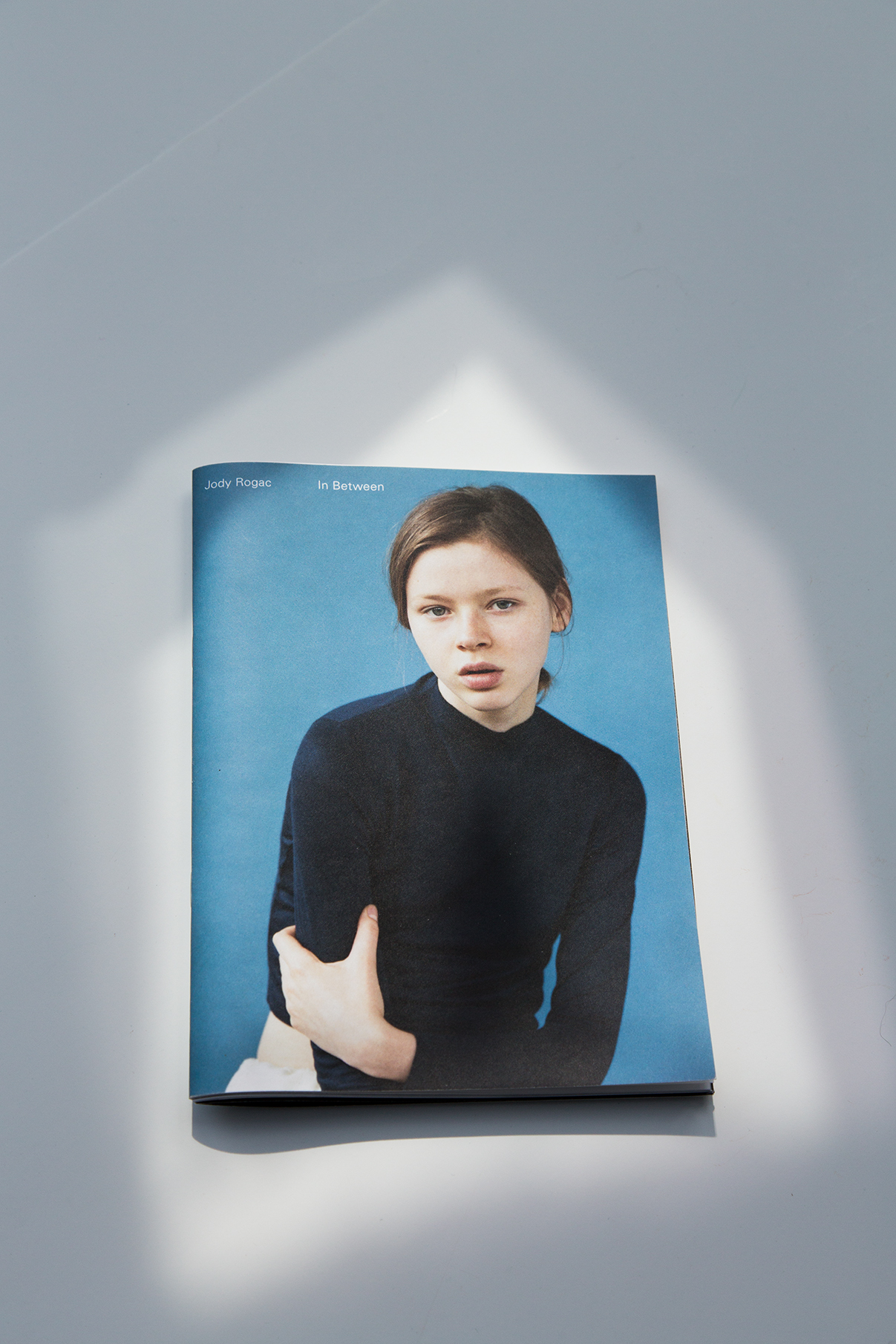 Corey - 7/12 - In Between, by Jody Rogac
Emily - 7/11 - Rubber Bands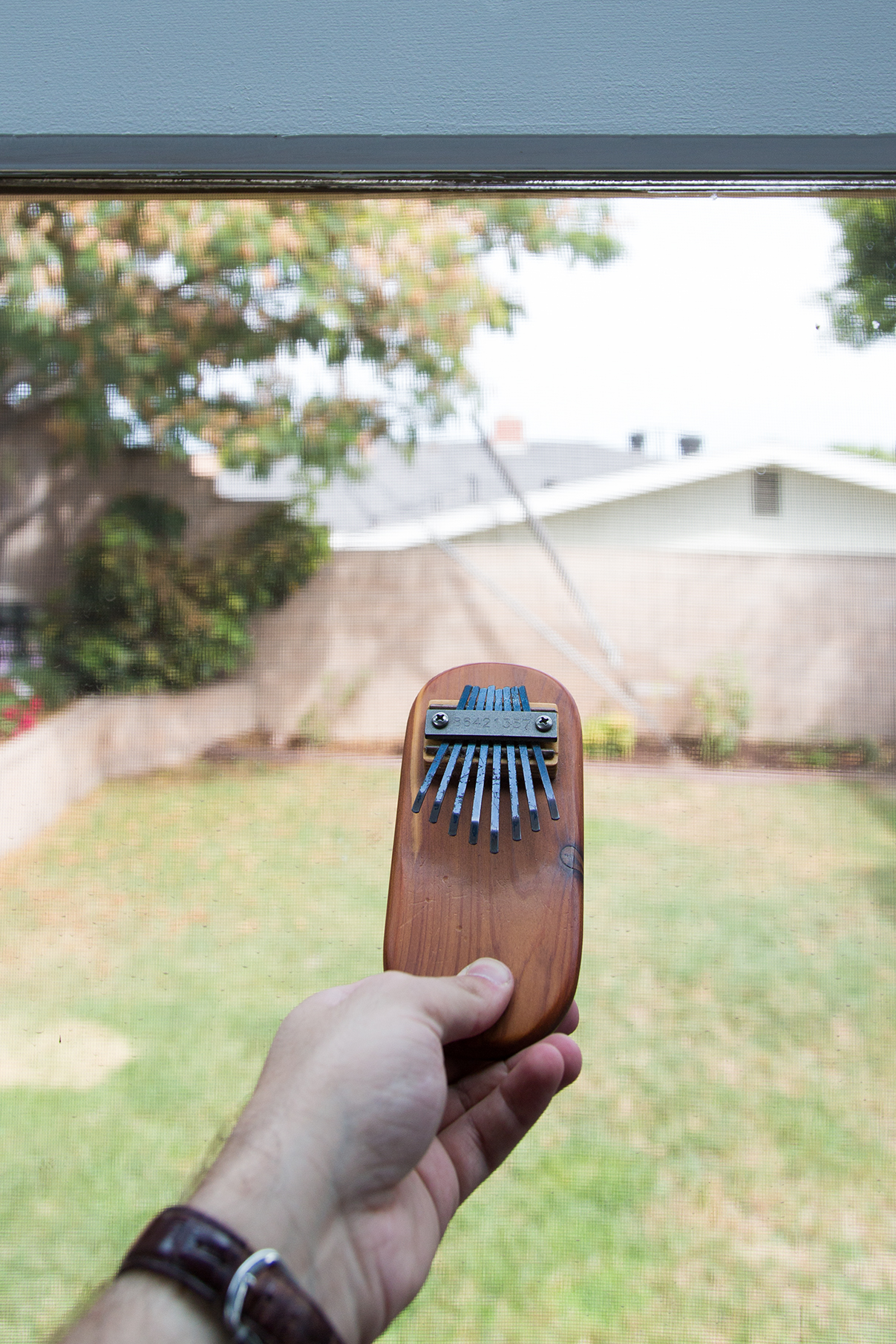 Corey - 7/11 - Thumb Harp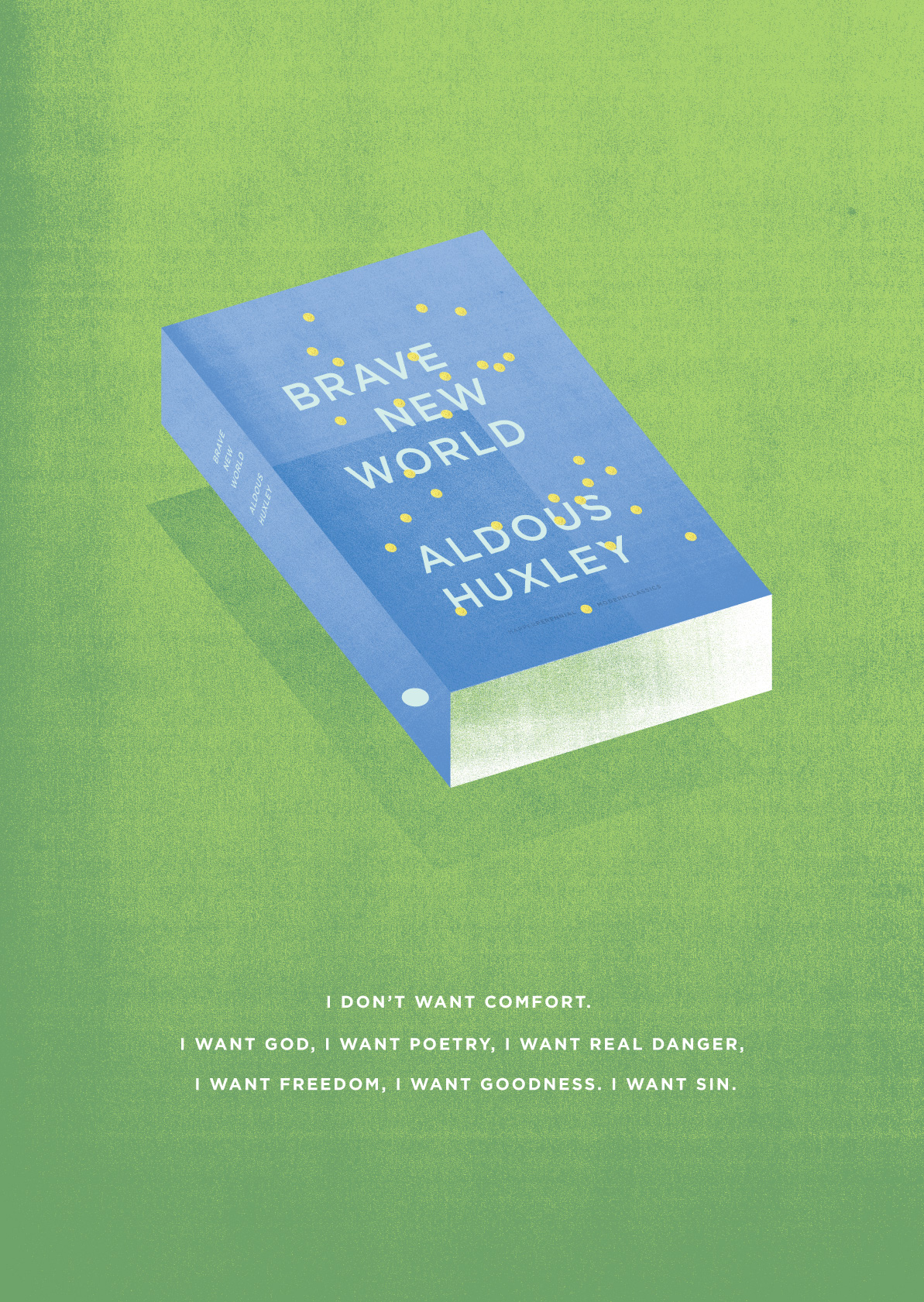 Emily - 7/10 - Brave New World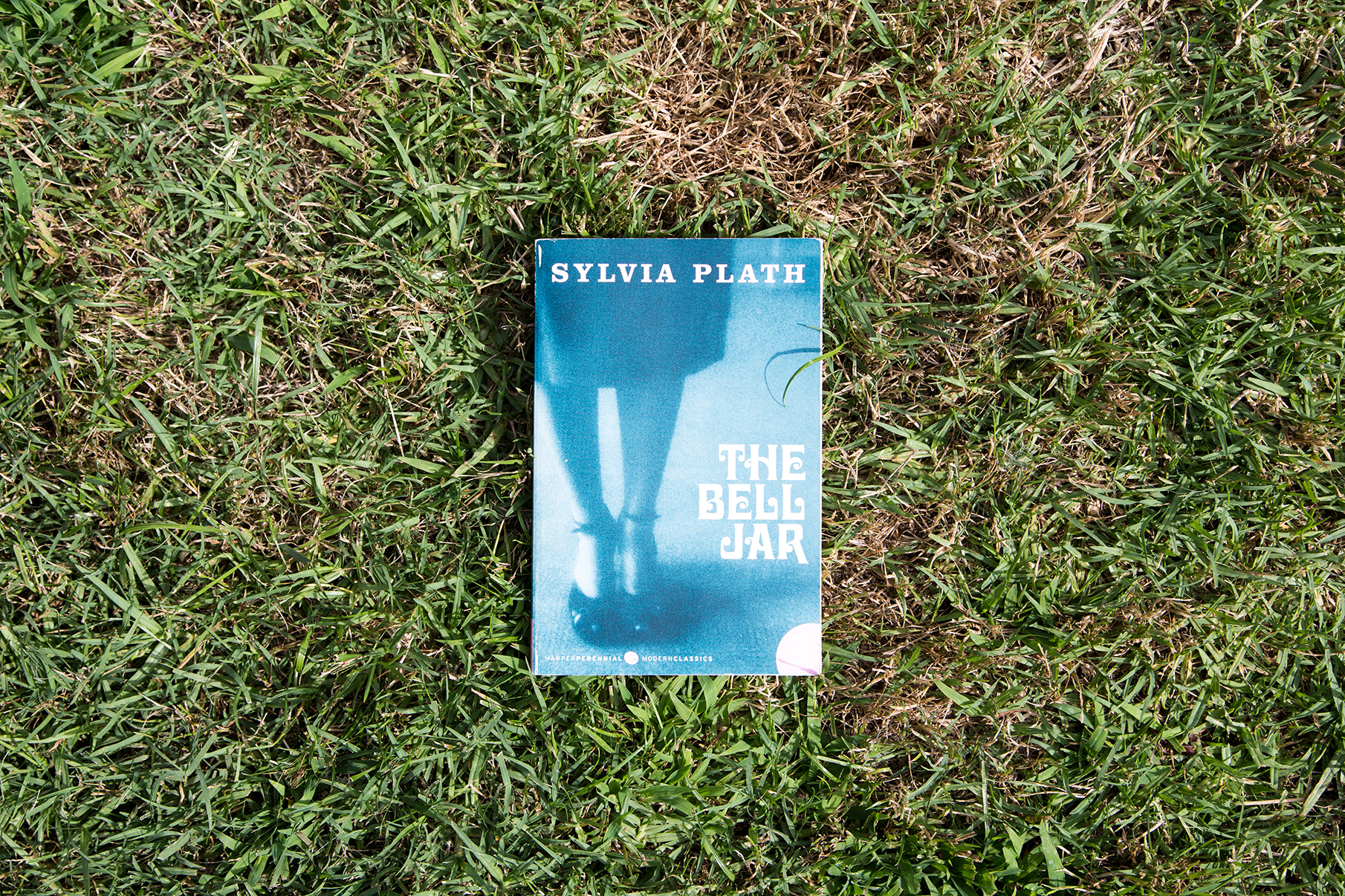 Corey - 7/10 - The Bell Jar, by Sylvia Plath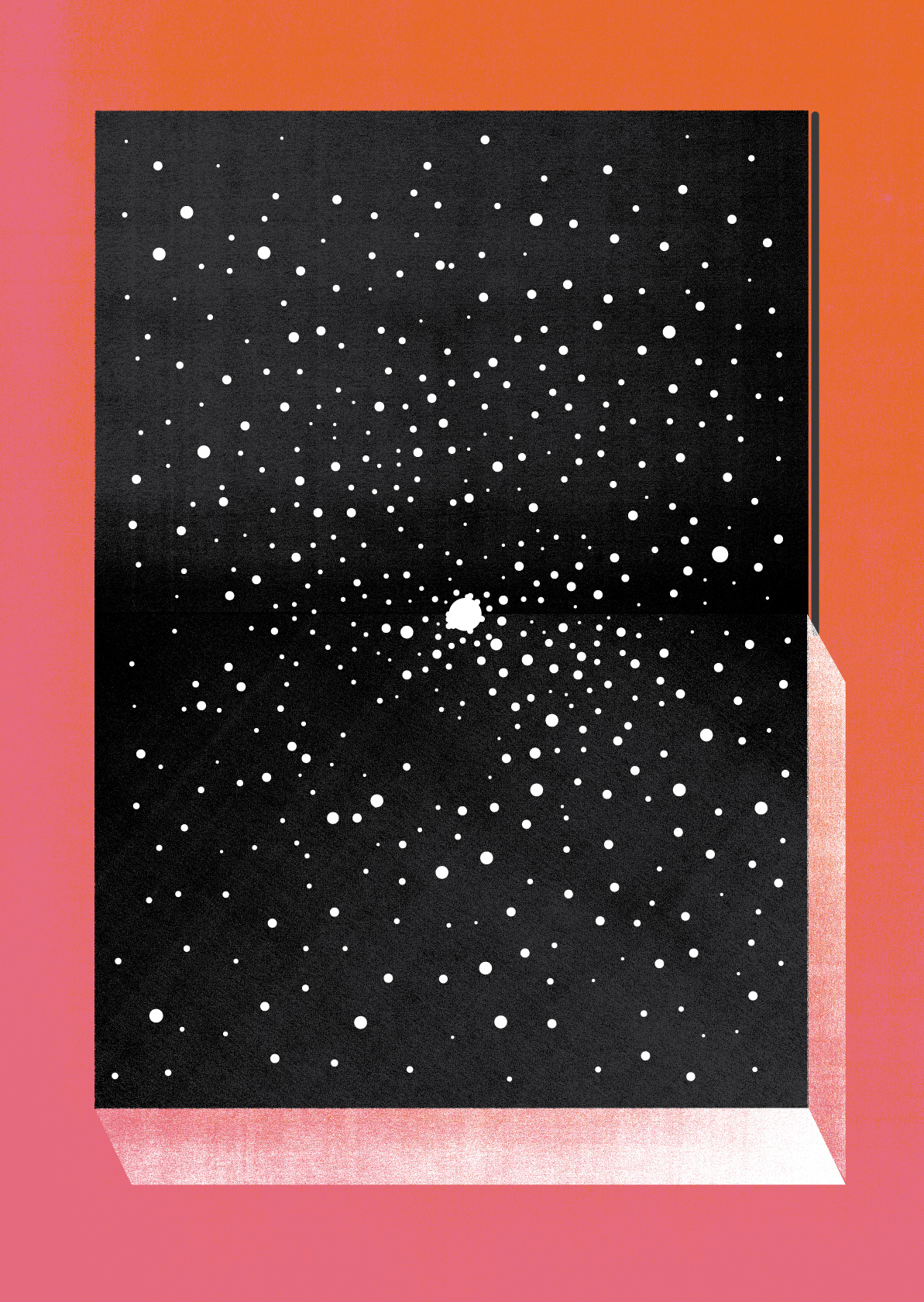 Emily - 7/9 - Black Hole by Charles Burns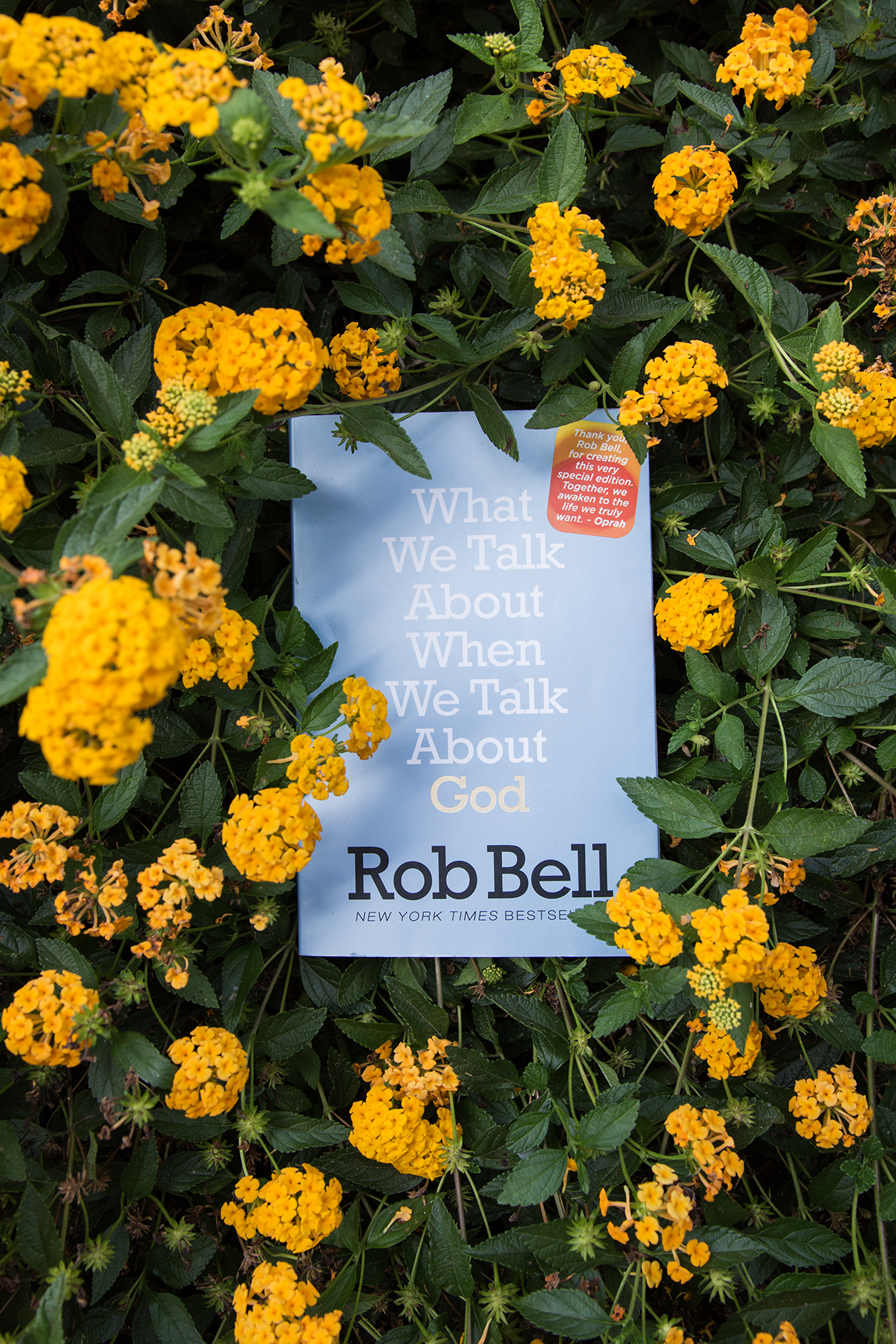 Corey - 7/9 - What We Talk About When We Talk About God, by Rob Bell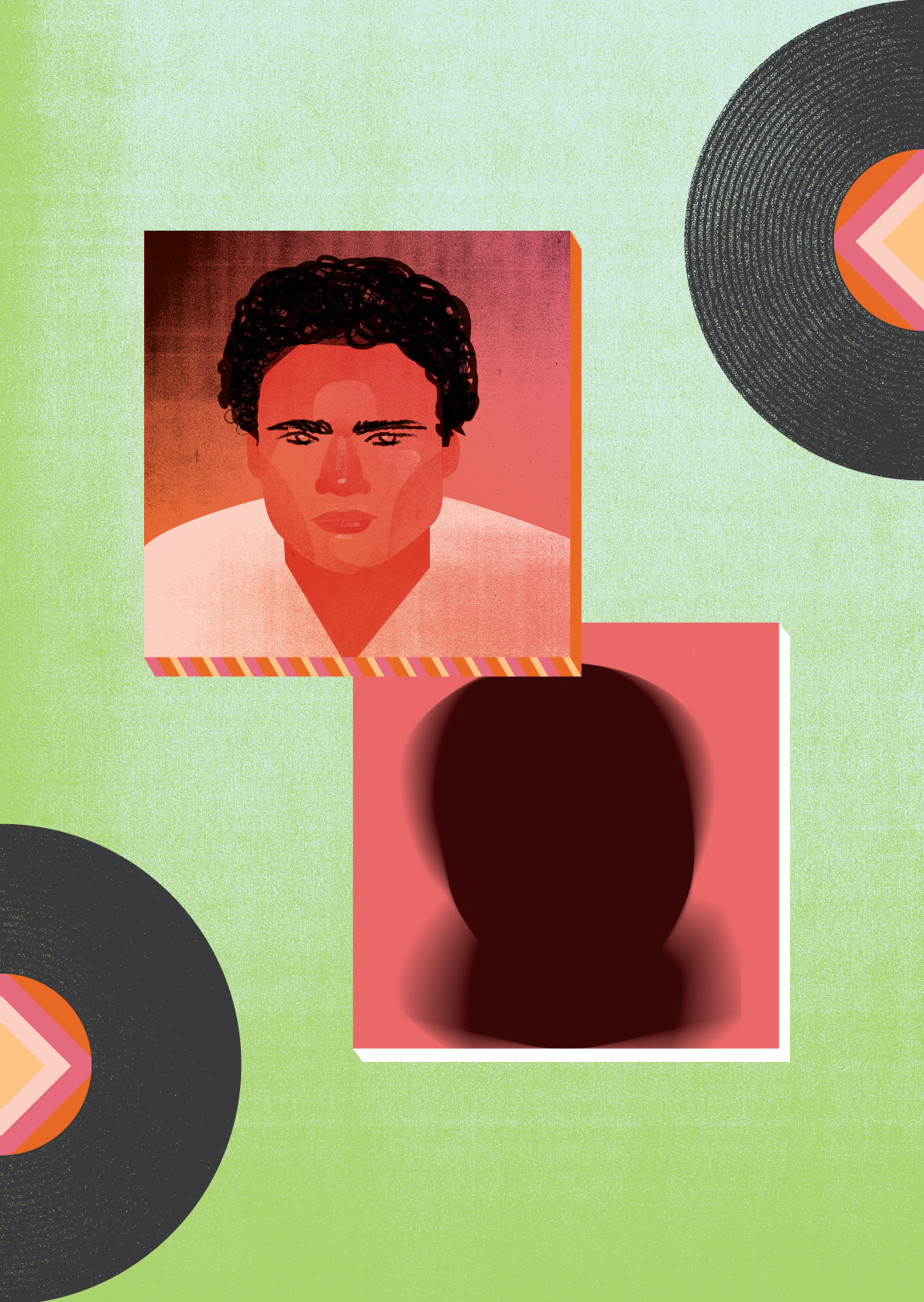 7/8 - Because the Internet Vinyl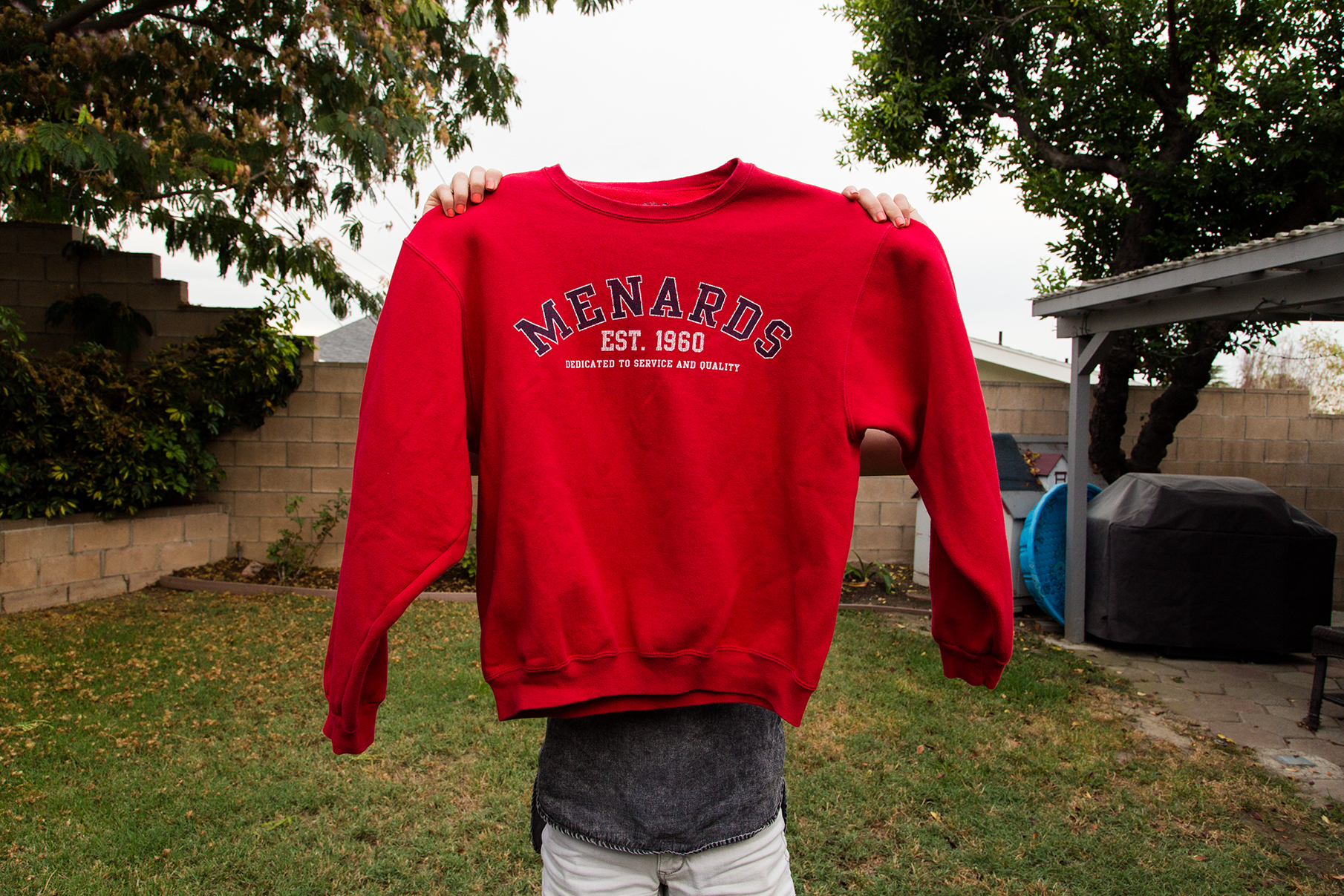 Corey - 7/8 - Menards Sweatshirt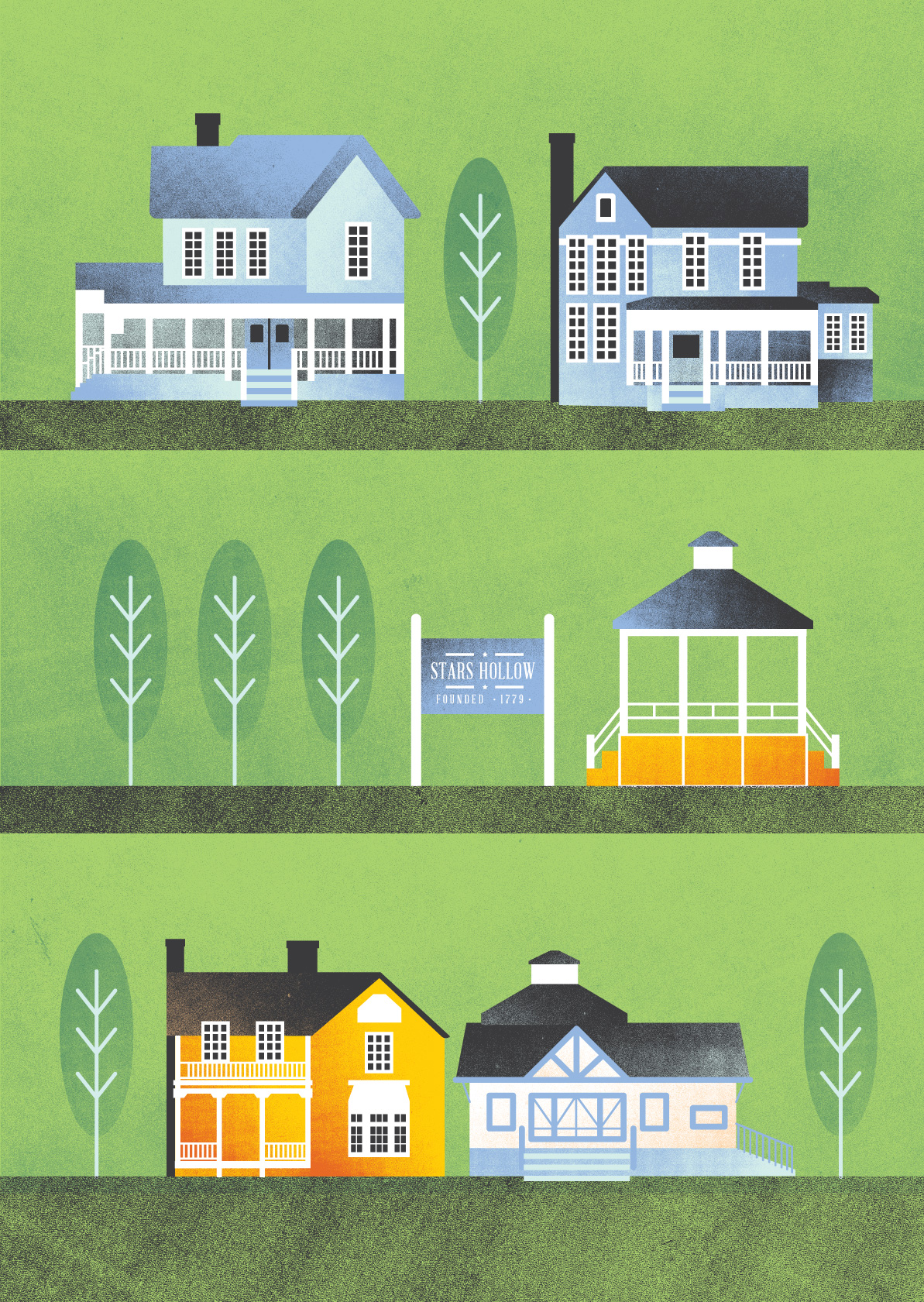 Emily - 7/7 - Gilmore Girls DVDs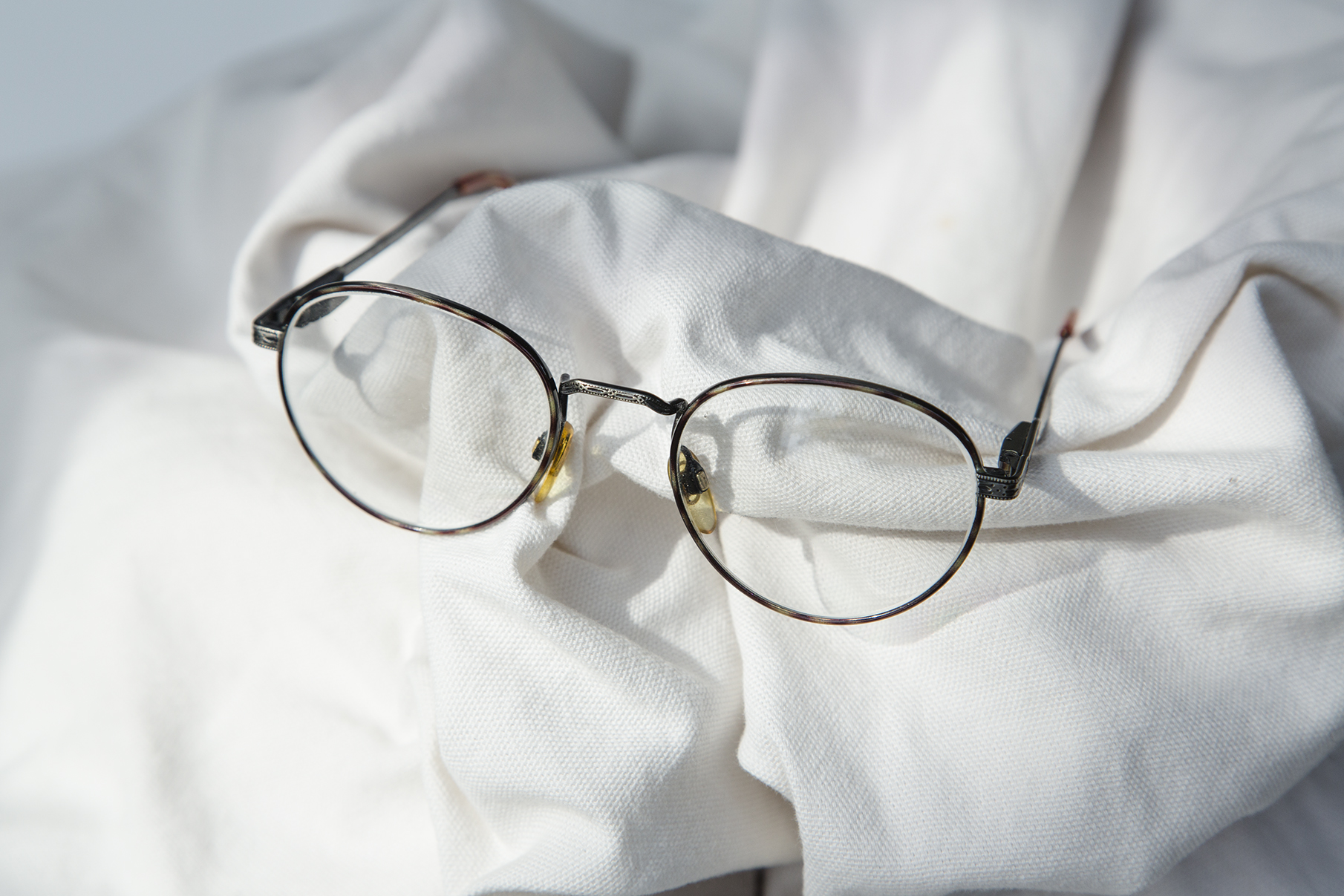 Corey - 7/7 - Childhood Glasses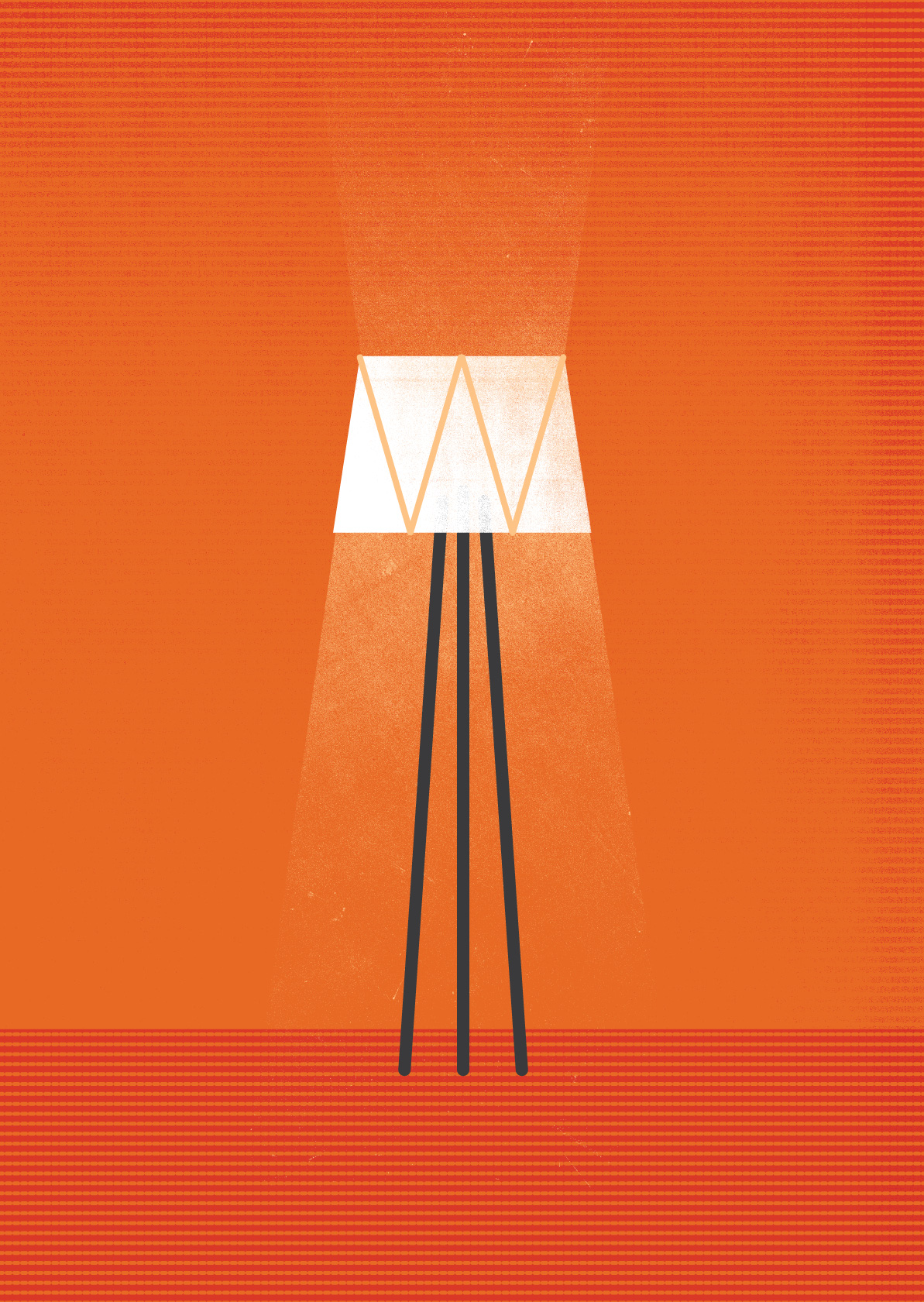 Emily - 7/6 - Lamp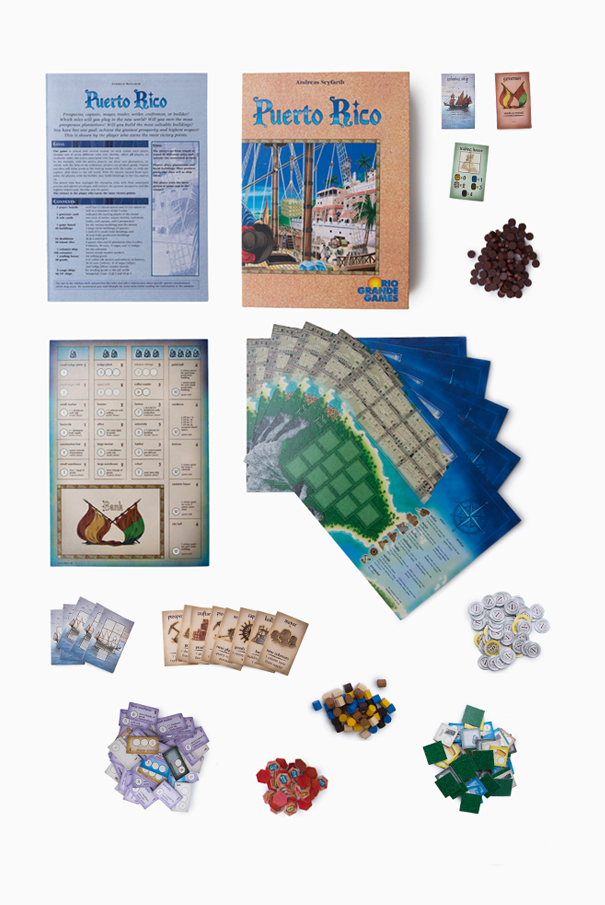 Corey - 7/6 - Puerto Rico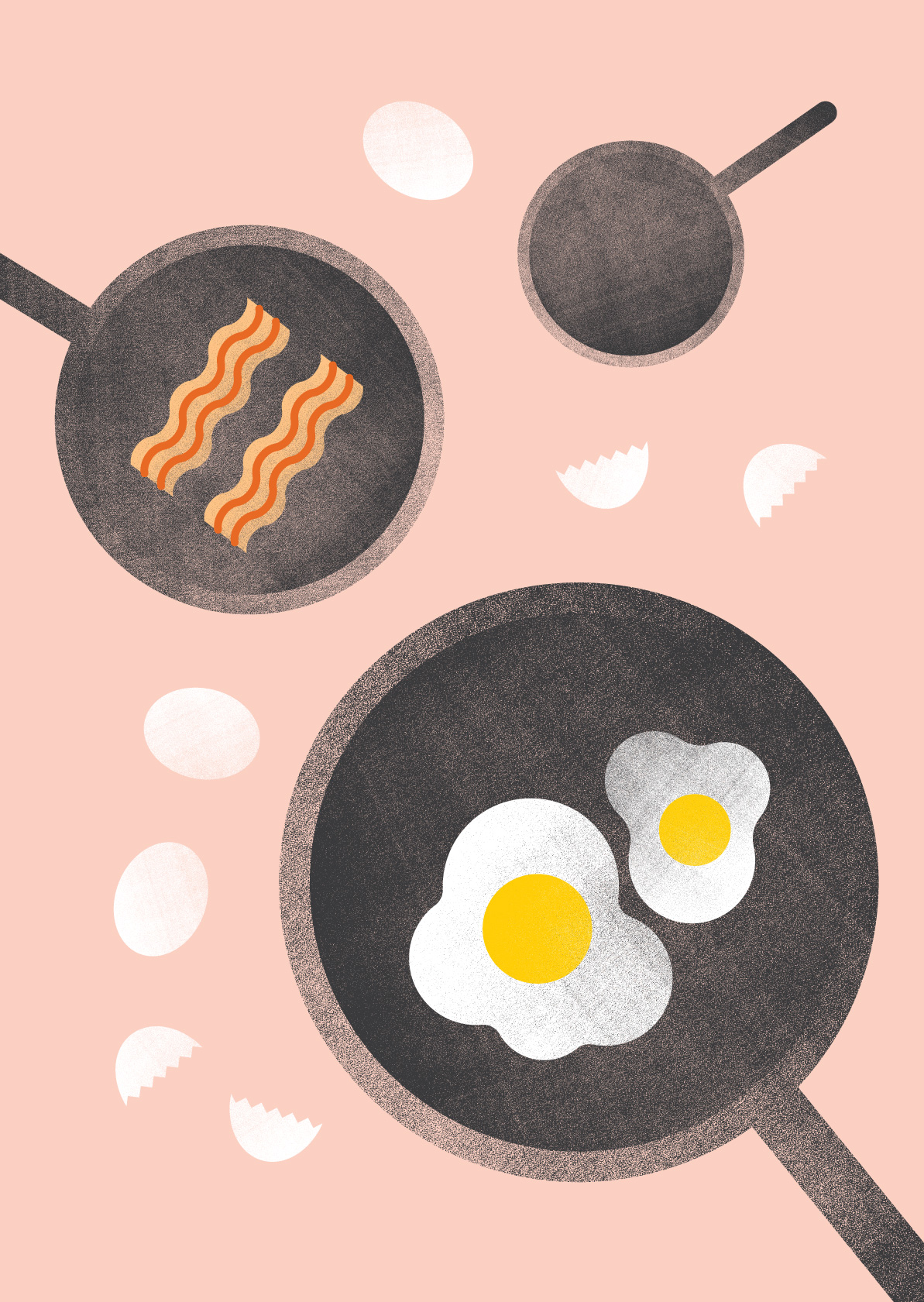 Emily - 7/5 - Pans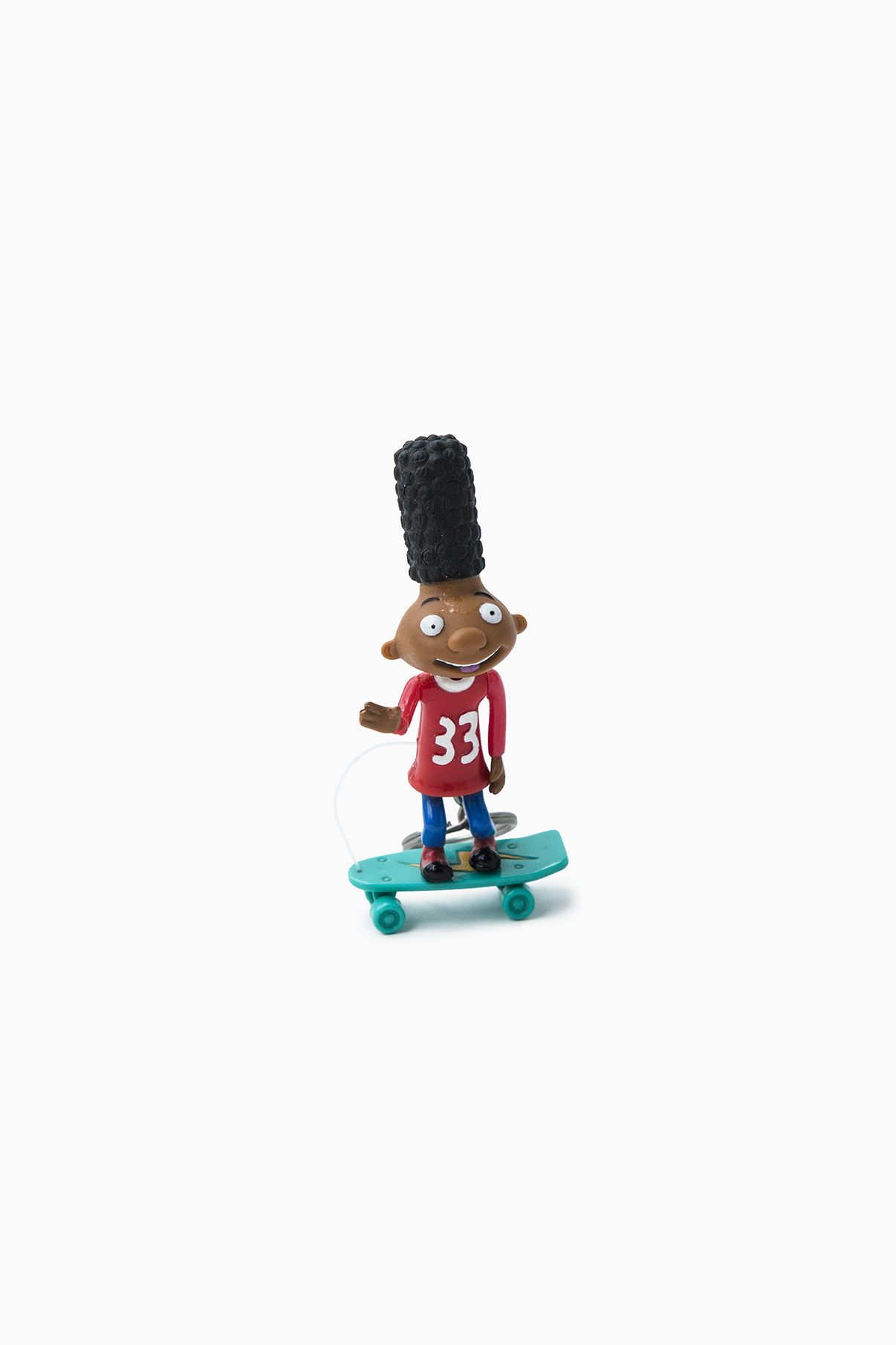 Corey - 7/5 - Gerald Johanssen Keychain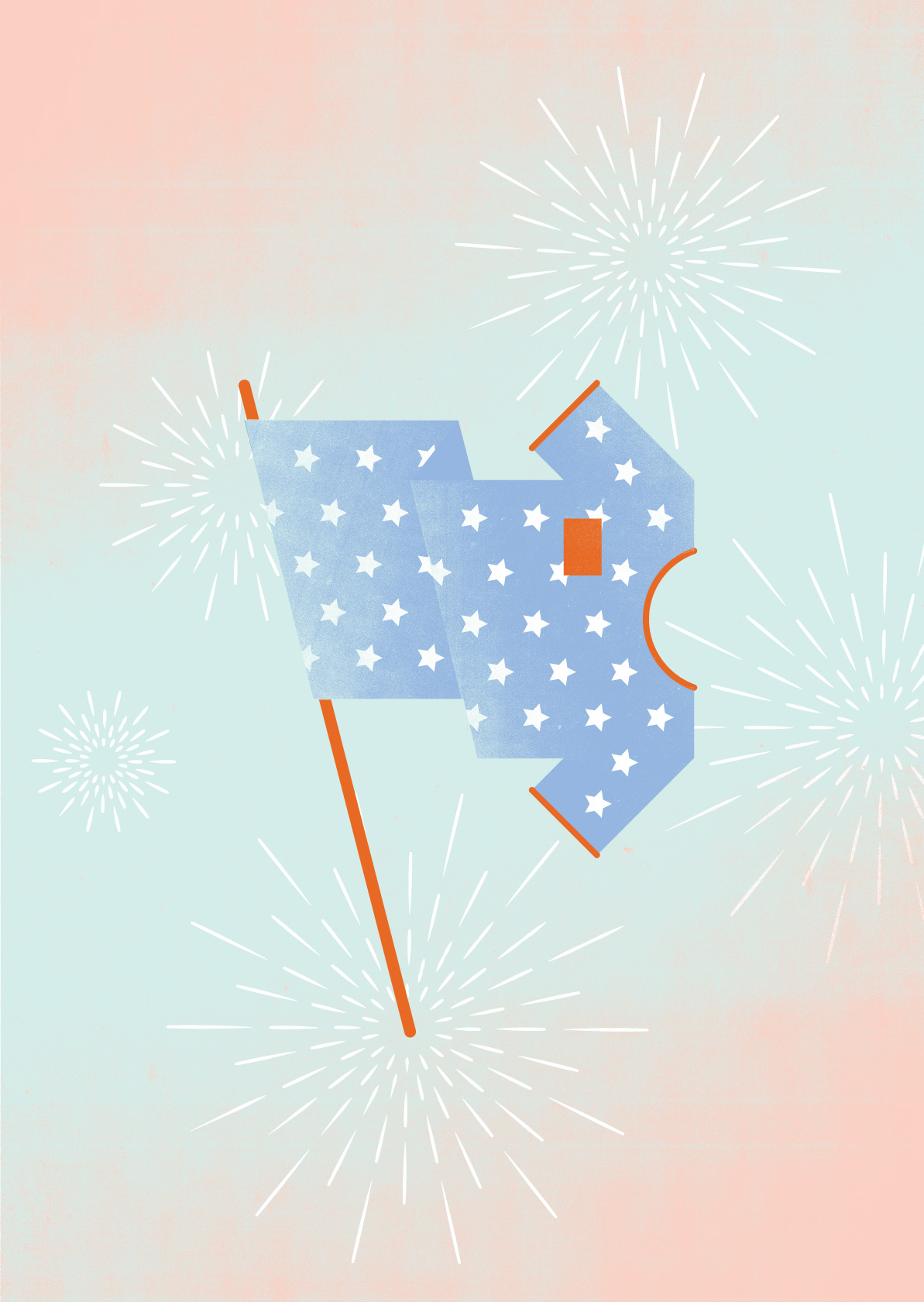 Emily - 7/4 - Patriotic Shirt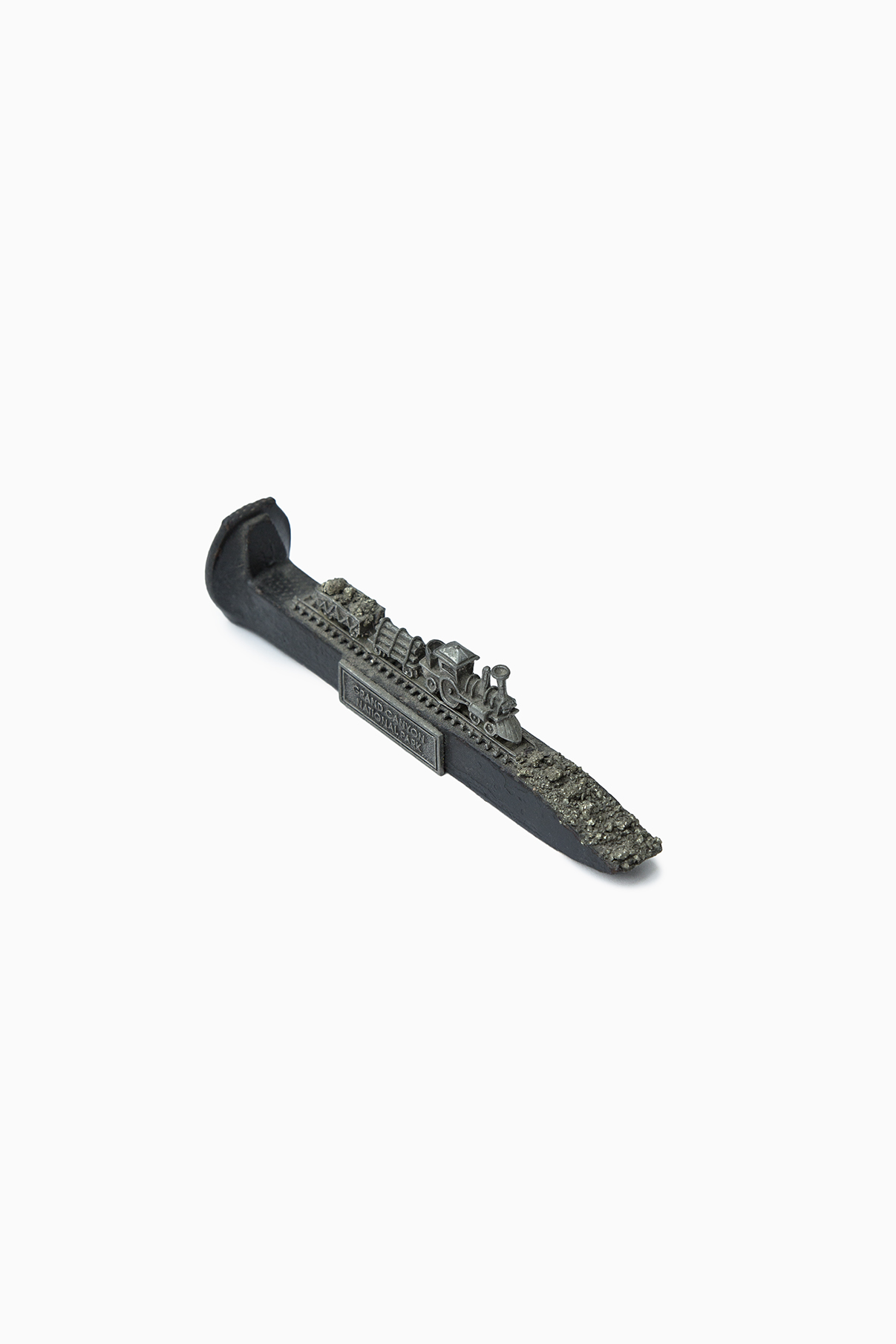 Corey - 7/4 - Grand Canyon Souvenir
Emily - 7/3 - Arrested Development DVDs
Jaqk Cellar Playing Cards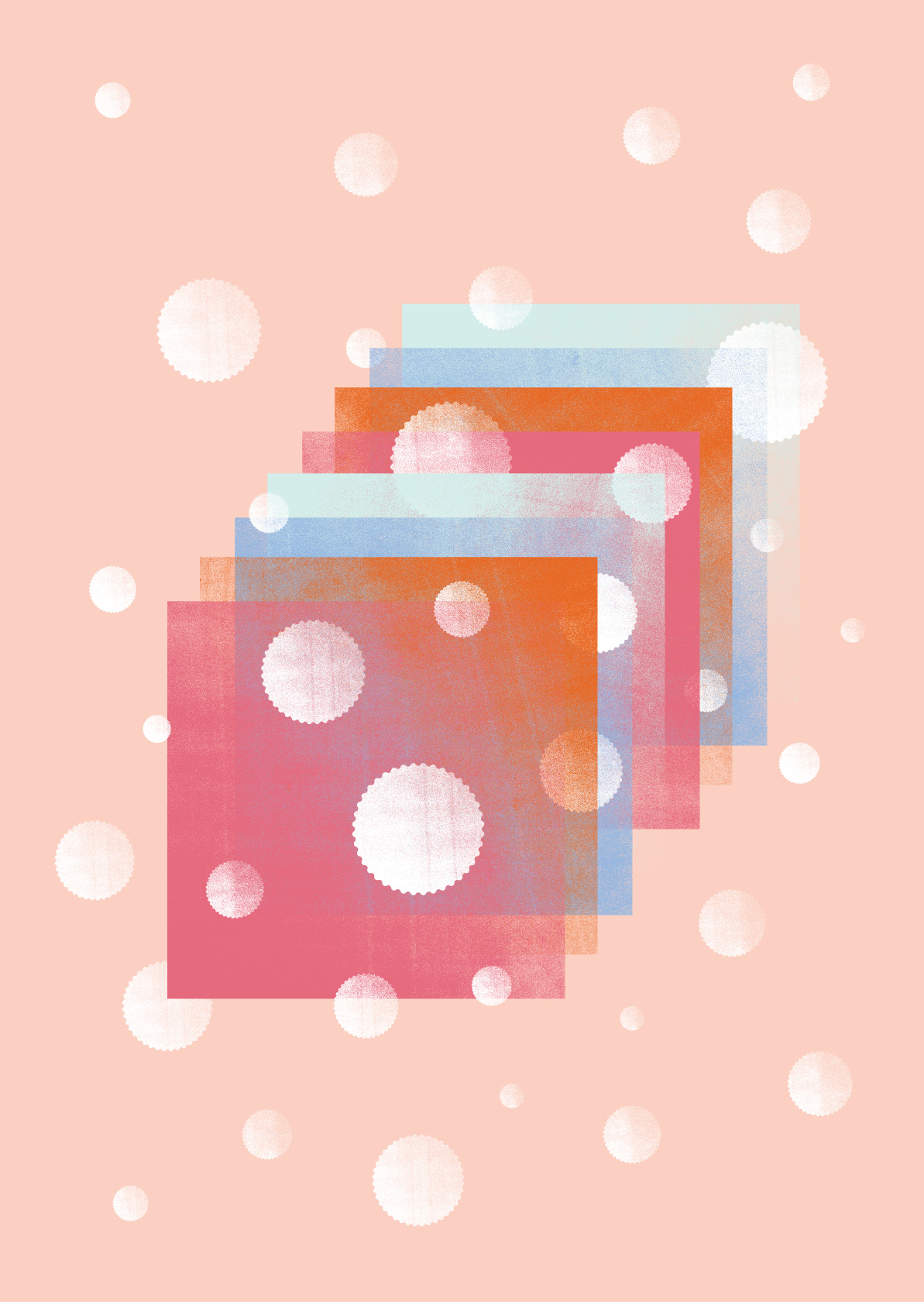 Emily - 7/2 - Craft Supplies
Corey - 7/2 - Shell from Baja, Mexico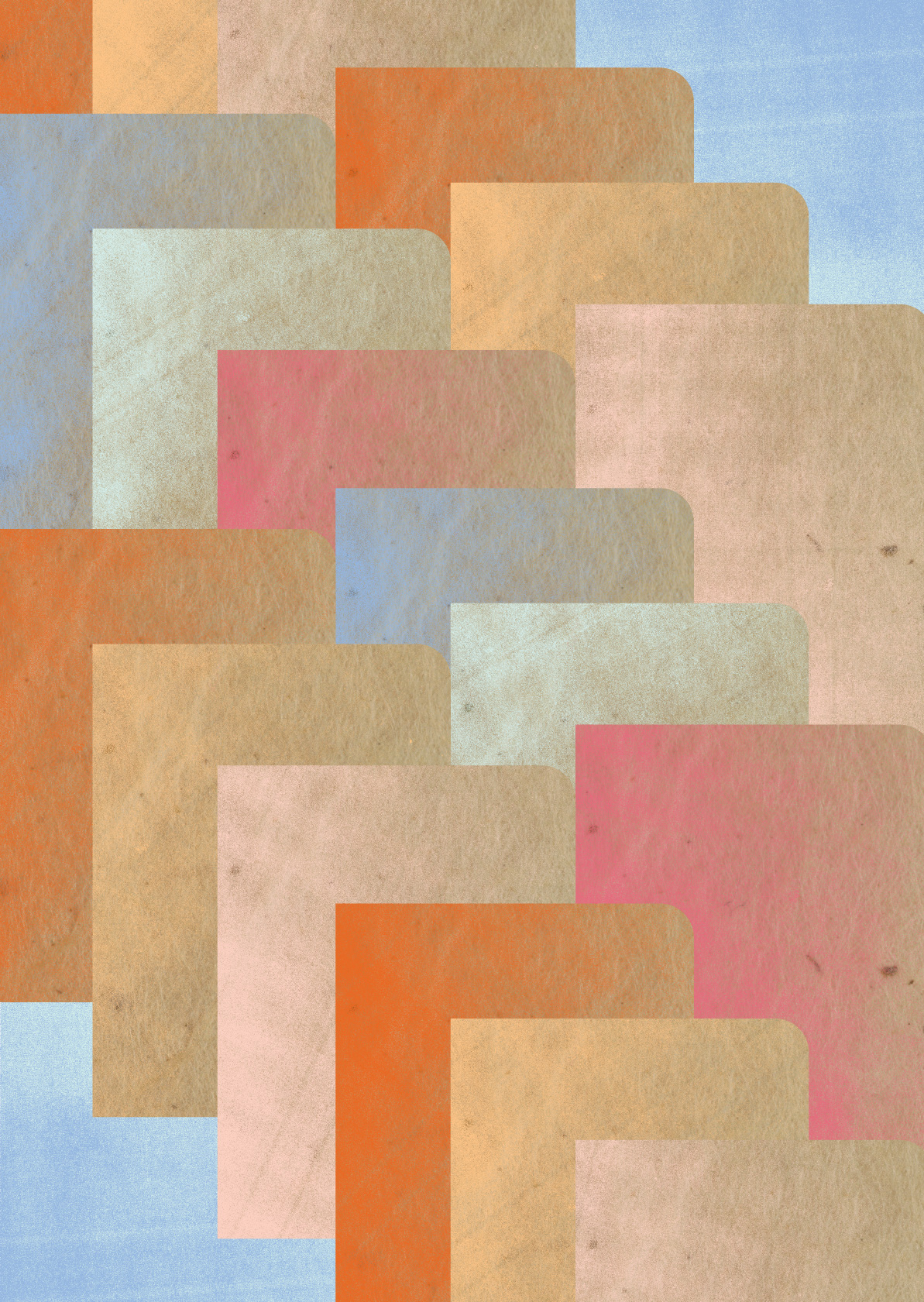 Emily - 7/1 - Moleskine Notebooks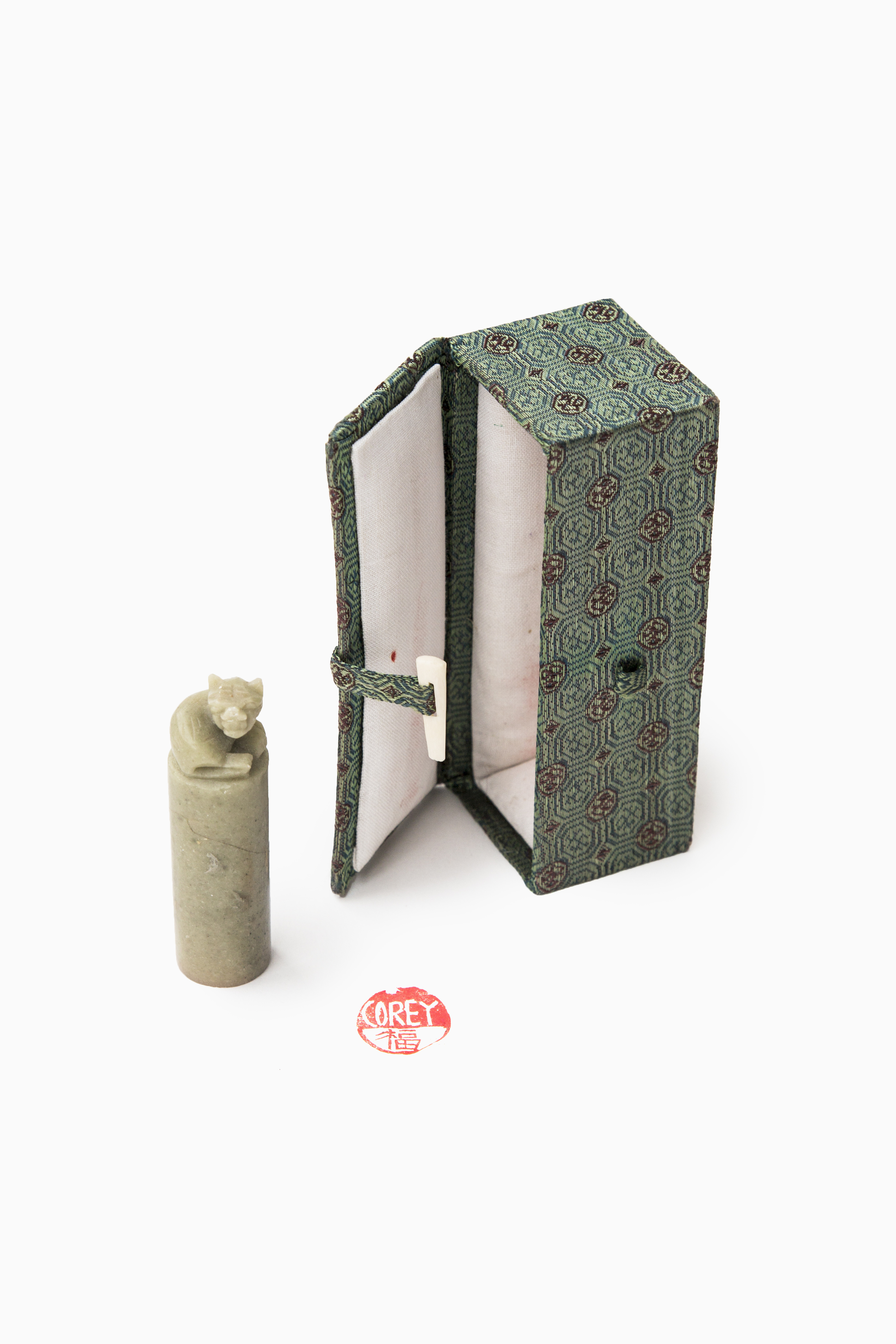 Corey - 7/1 - Stamp with Name, from China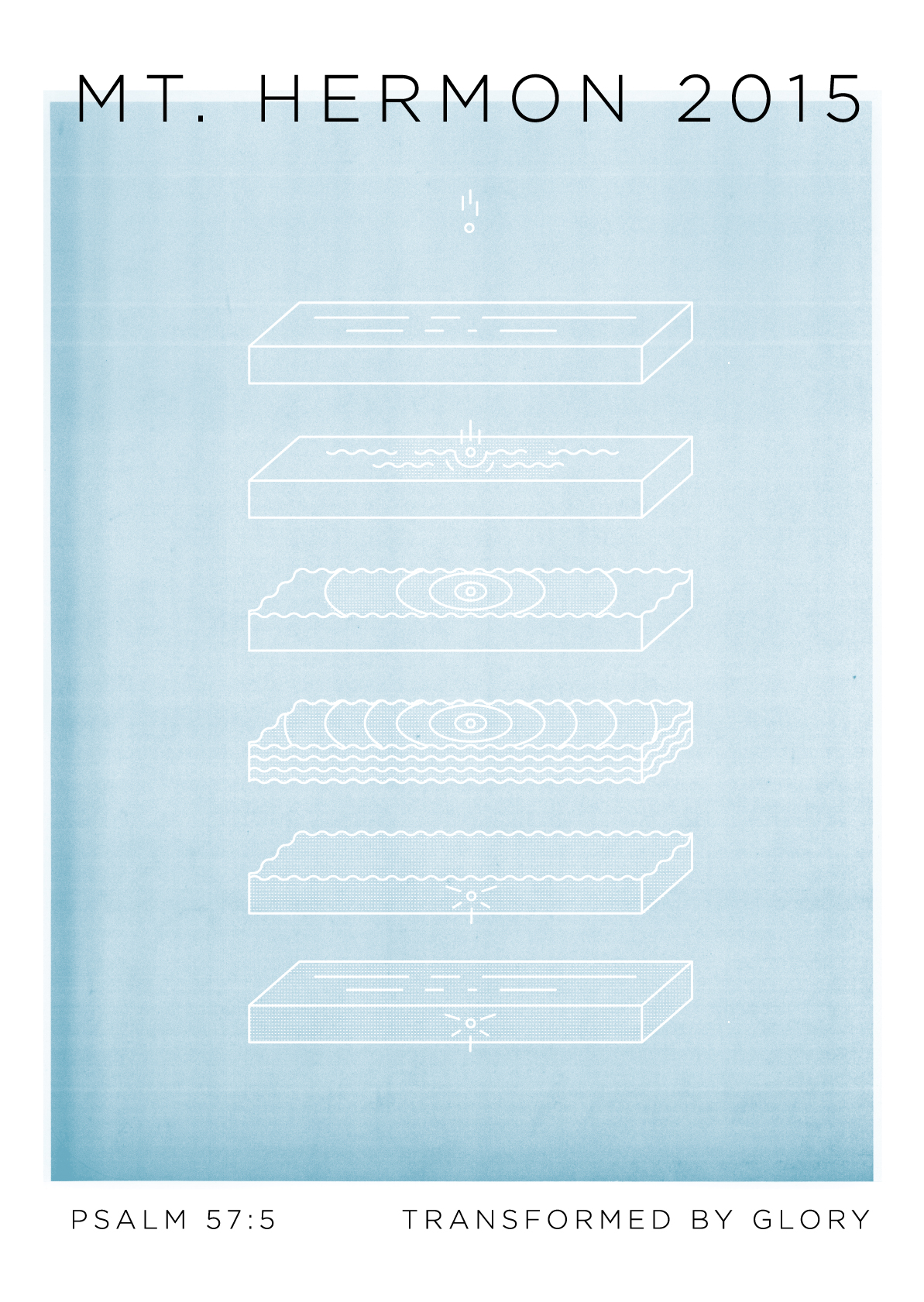 Emily - 7/31 - Mount Hermon 2015 Shirt
Didn't get to serve this year, but recently got one of the shirts I designed!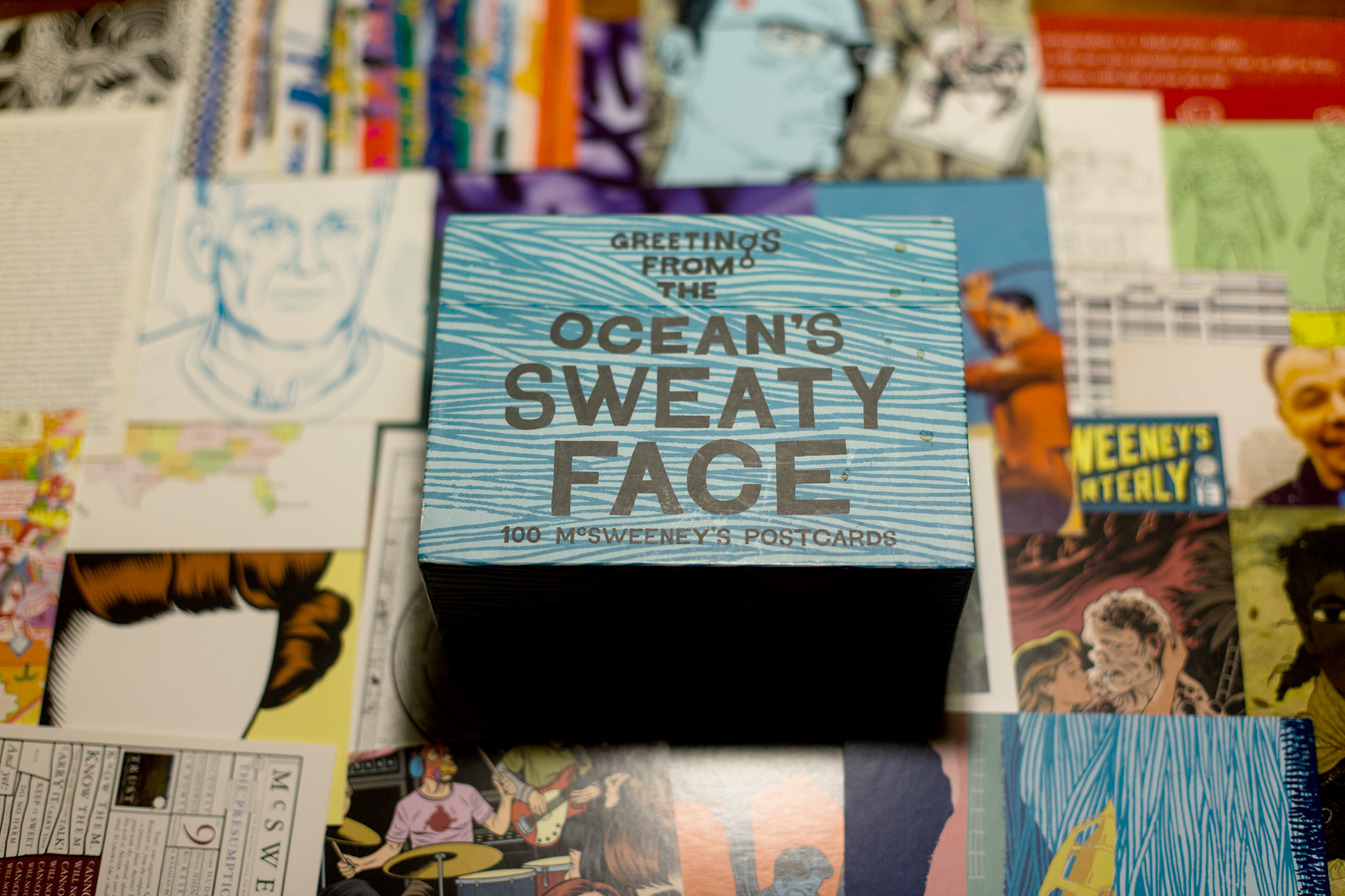 Corey - 7/31 - McSweeney's Postcards and Box
One of the best purchases I've ever made. I've used probably 50 of the 100 postcards, and there are still so many good ones! I bought this set at the Chicago Art Institute in 2008 or 2009.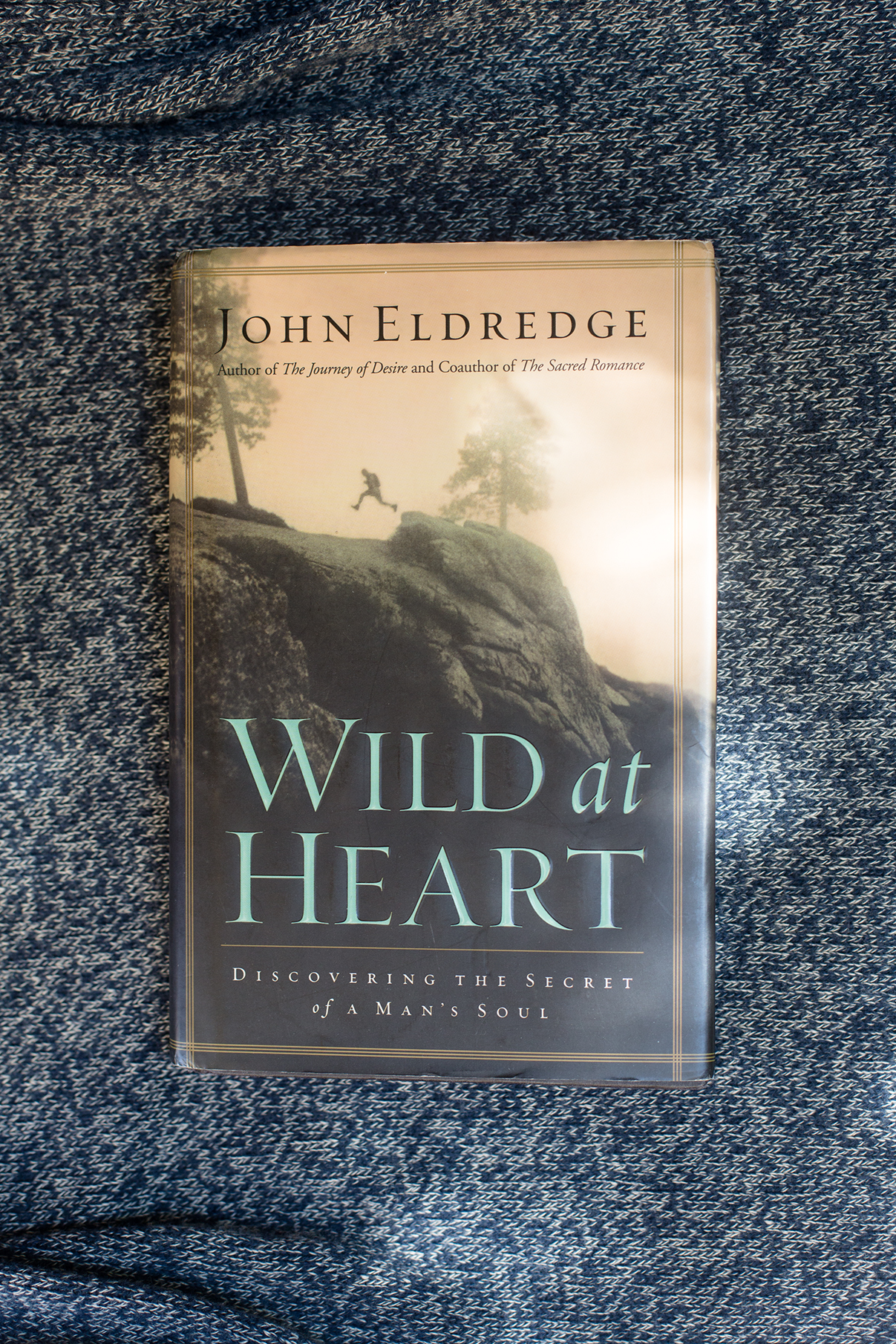 Corey - 7/30 - Wild at Heart, by John Eldredge, on a Broken H&M Sweater
That beautiful sweater is a gift from my sister; unfortunately, the zipper is totally broken. I love it though, so I've held on it it. As for Wild at Heart - I know it is initially perceived as a book for football-playing manly men, but this book has indeed touched me. Pull away the Braveheart quotes and wartime metaphors, and you will find a book with nuance and thought and sensitivity. It encouraged me to ask questions about my identity and desires. "Every man carries a wound. I have never met a man without one."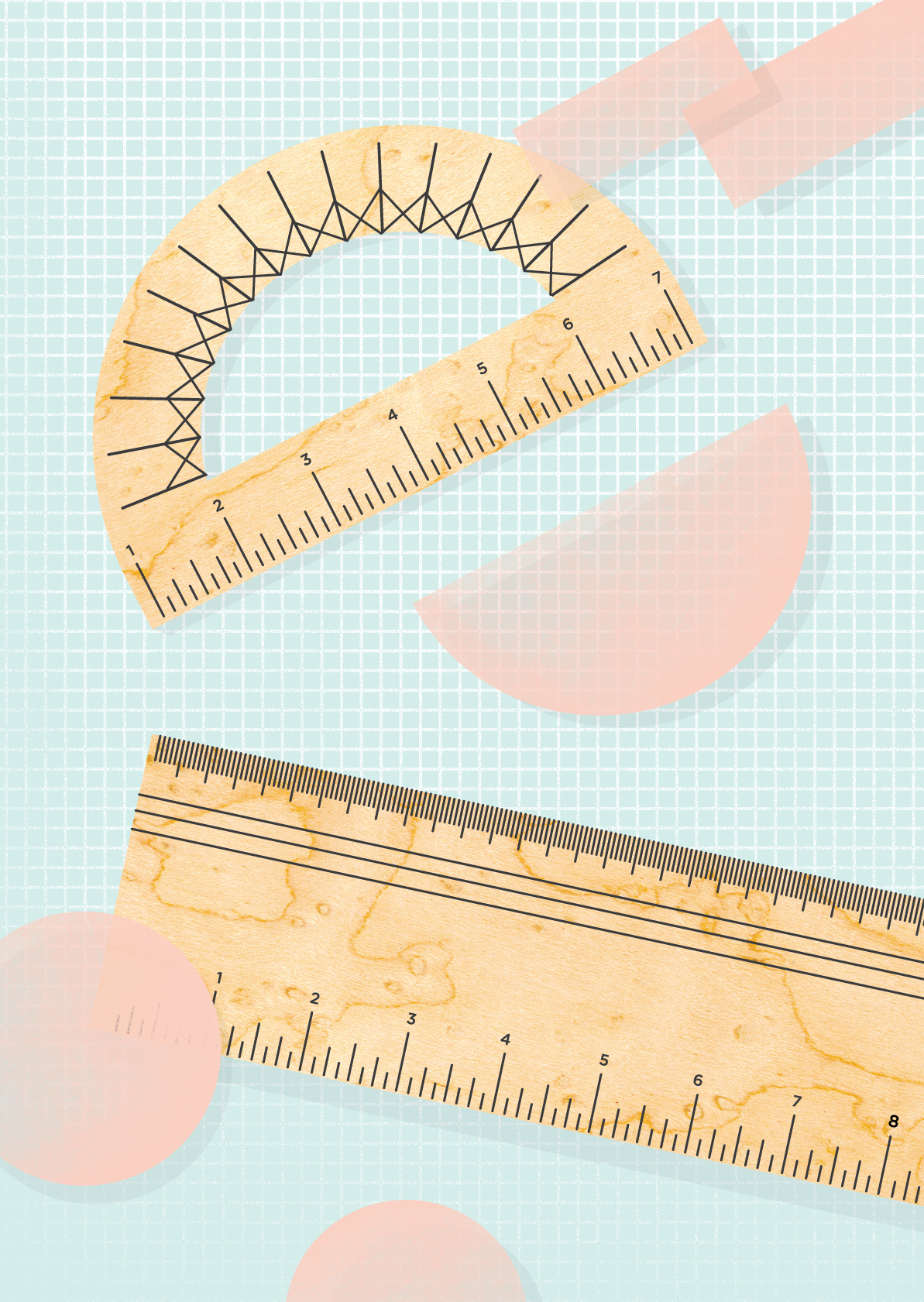 Emily - 7/29 - Wooden Rulers
Birthday gift from Rachel!
Corey - 7/29 - The Alchemist on a Red T-Shirt
This book is my Uncle Paul's used copy, which he gave to me. It is set on my red shirt. The Alchemist is a mysterious and mystical book, with transcendent wisdom dripping from each page. "From then on, the boy understood his heart. He asked it, please, never to stop speaking to him. He asked that, when he wandered from his dreams, his heart press him and sound the alarm. The boy swore that, every time he heard the alarm, he would heed its message."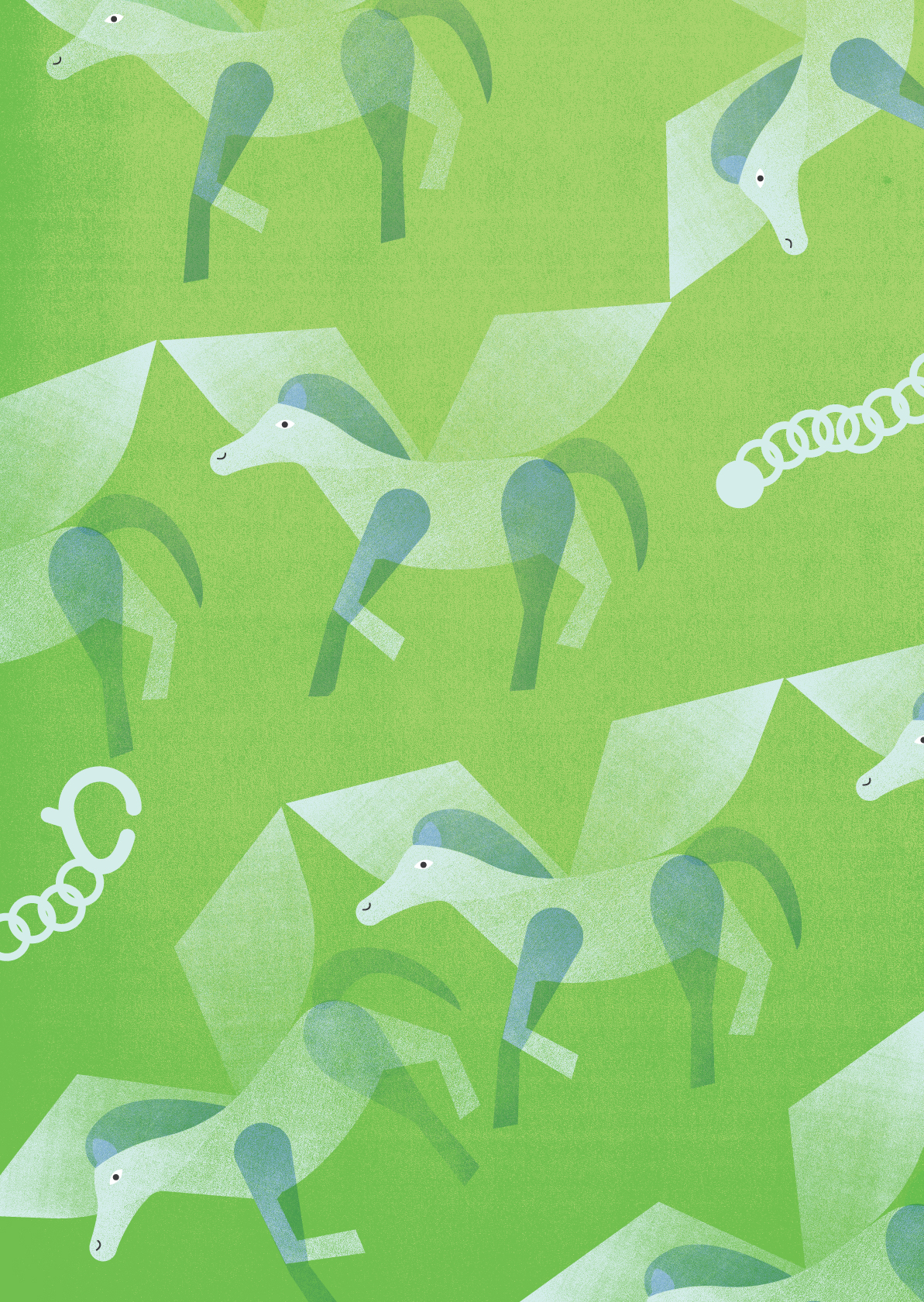 Emily - 7/28 - Pegasus Necklace
A whimsical Christmas present from Megumi last year.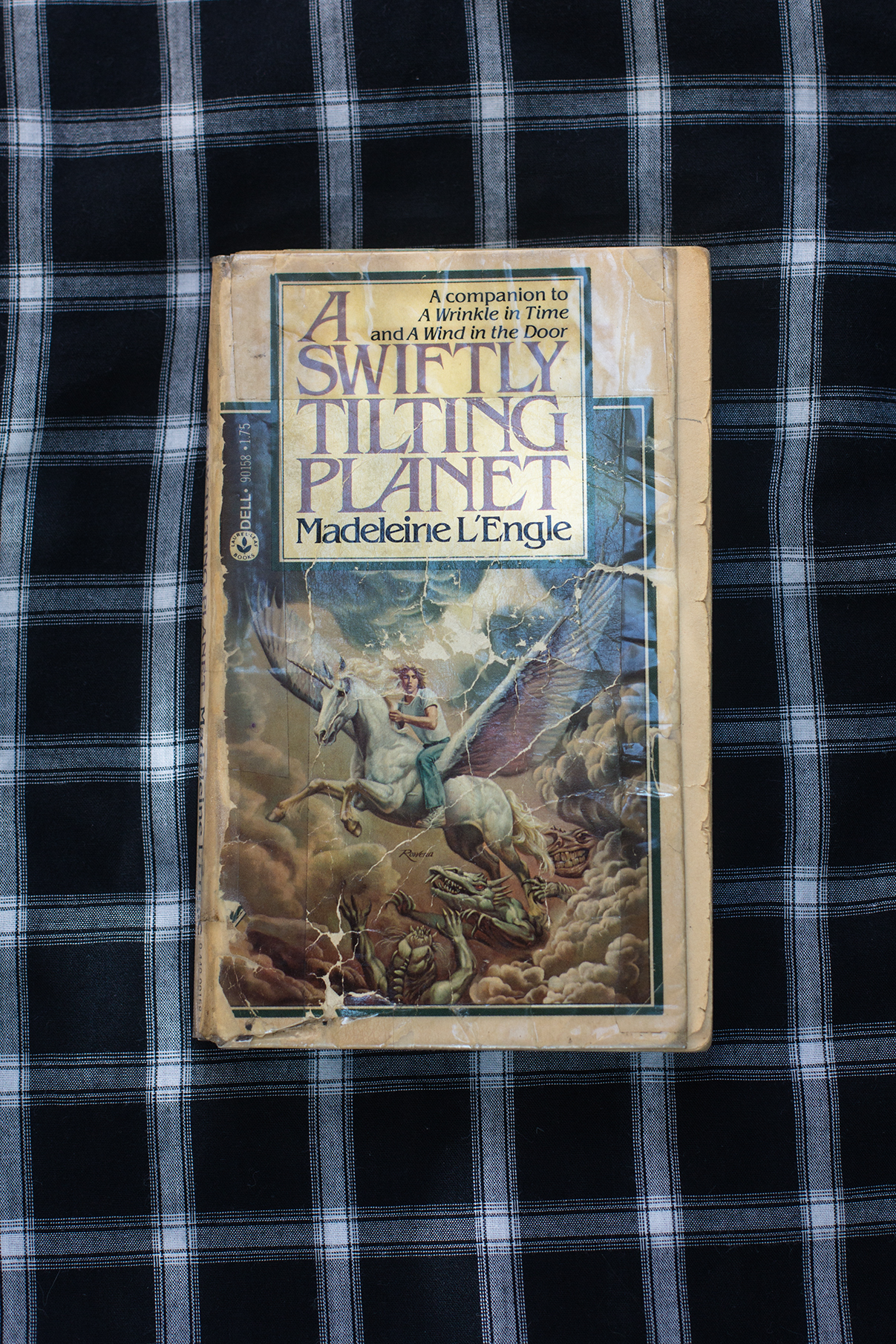 Corey - 7/28 - A Swiftly Tilting Planet, by Madeleine L'Engle, on a Black and White Plaid Shirt
I bought that plaid shirt a few summers ago at a bro-ish shop in Mammoth, CA. The book was once in my mother's 6th grade classroom book collection, and is now falling apart. Here is a powerful poem that is found in and around the narrative of Charles Wallace and his time-travelling Unicorn: "At Tara in this fateful hour, I place all Heaven with its power, un the sun with it's brightness, and the snow with its whiteness, and the fire with all the strength it hath, and the lightning with its rapid wrath, and the wind with its swiftness along its path, and sea with its deepness, and the rocks with their steepness, and the Earth with it's starkness, all these I place by God's almighty help and grace between myself and the powers of darkness."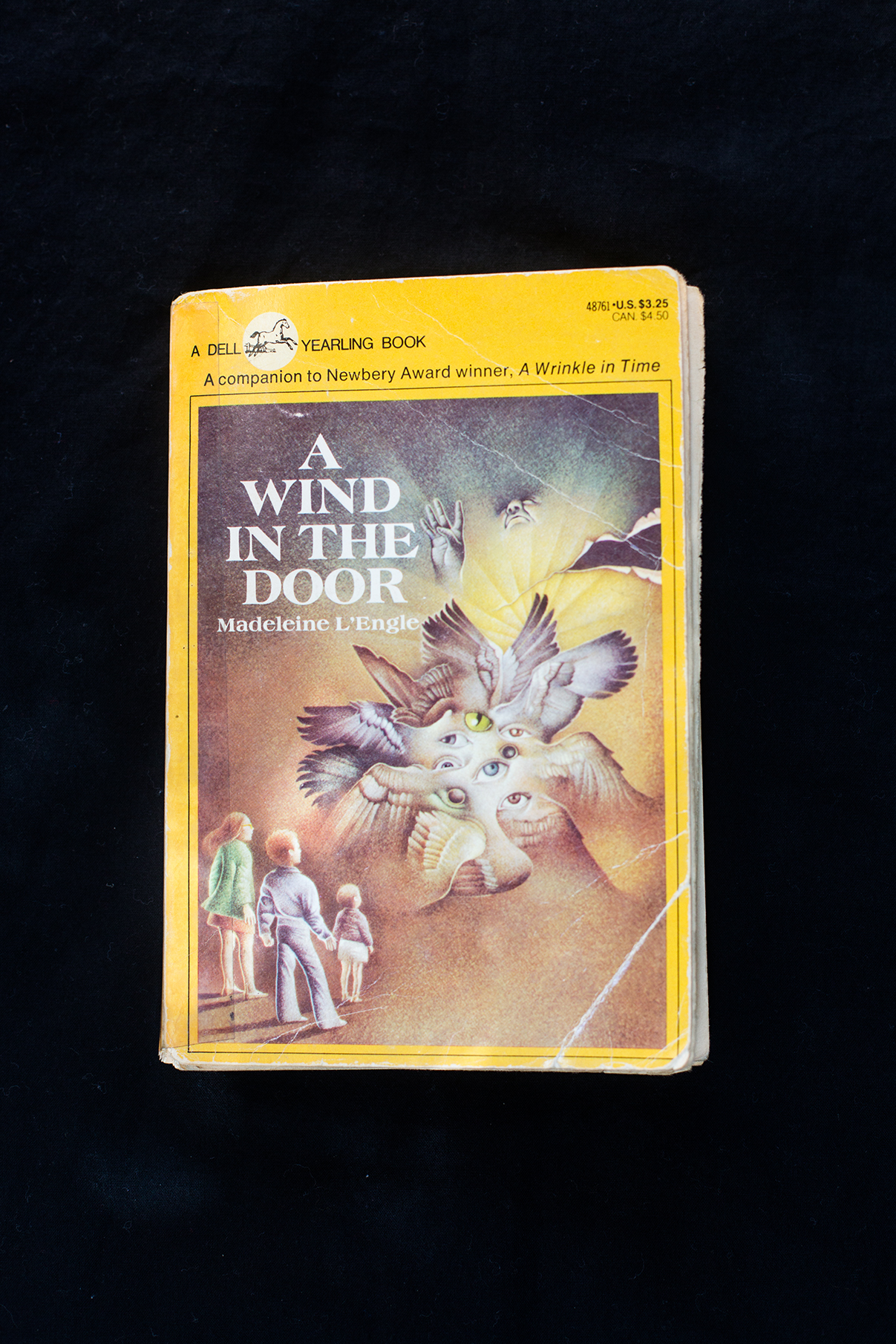 Corey - 7/27 - A Wind in the Door, by Madeleine L'Engle, on a Basic Black Button-Up Shirt
I've just been flipping through this book, looking for some quotes that stand out. I haven't read the book in years, and it's physically falling apart; yet there are a dozen quotes I've already found that are moving me to misty eyes and a full heart. "I Name you, Echthroi. I Name you Meg. I Name you Calvin. I Name you Mr. Jenkins. I Name you Proginoskes. I fill you with Naming. Be! Be, butterfly and behemoth, be galaxy and grasshopper, star a sparrow, you matter, you are, be!"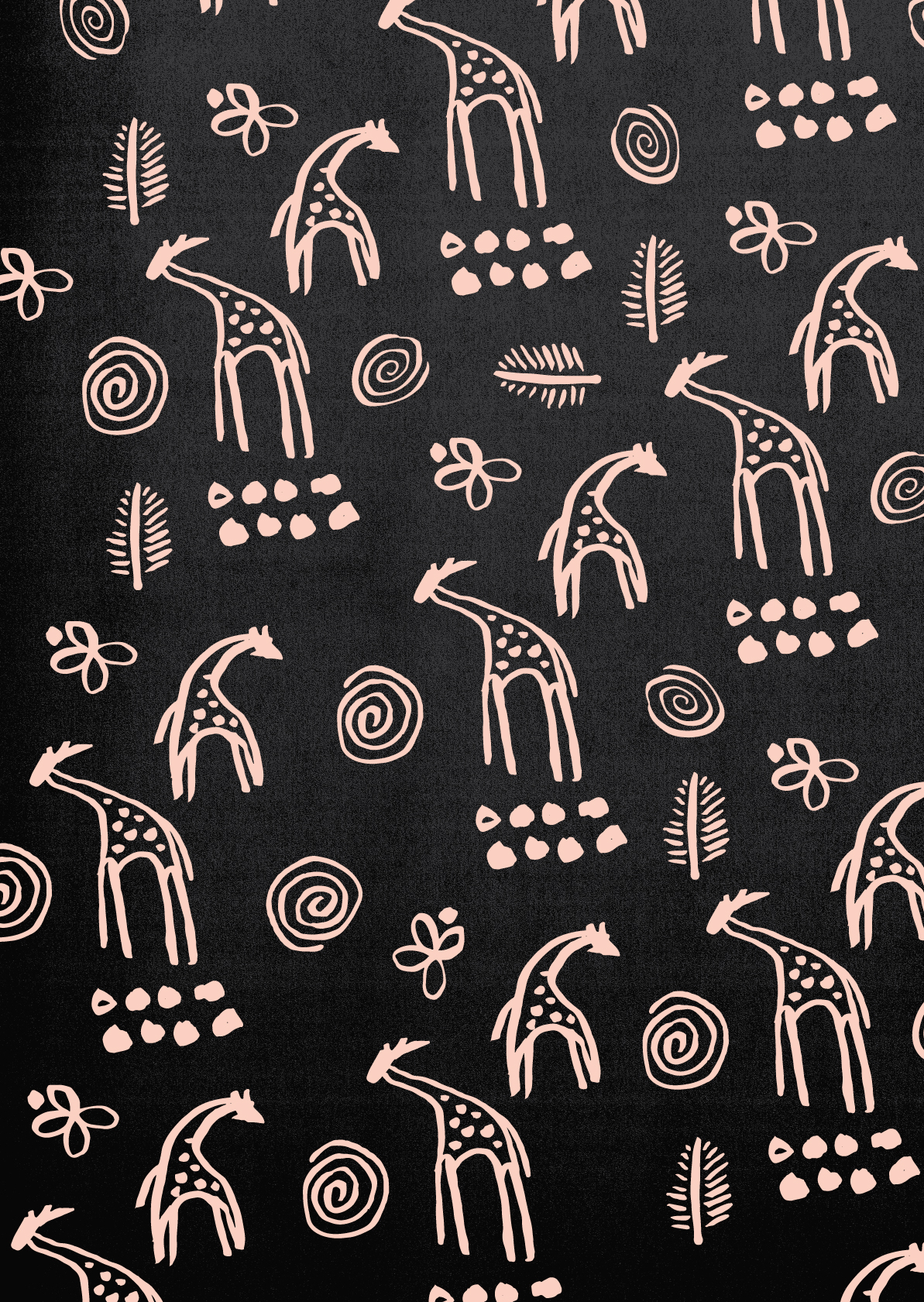 Emily - 7/26 - Tribal Print Dress
An impulse buy at the OC Fair.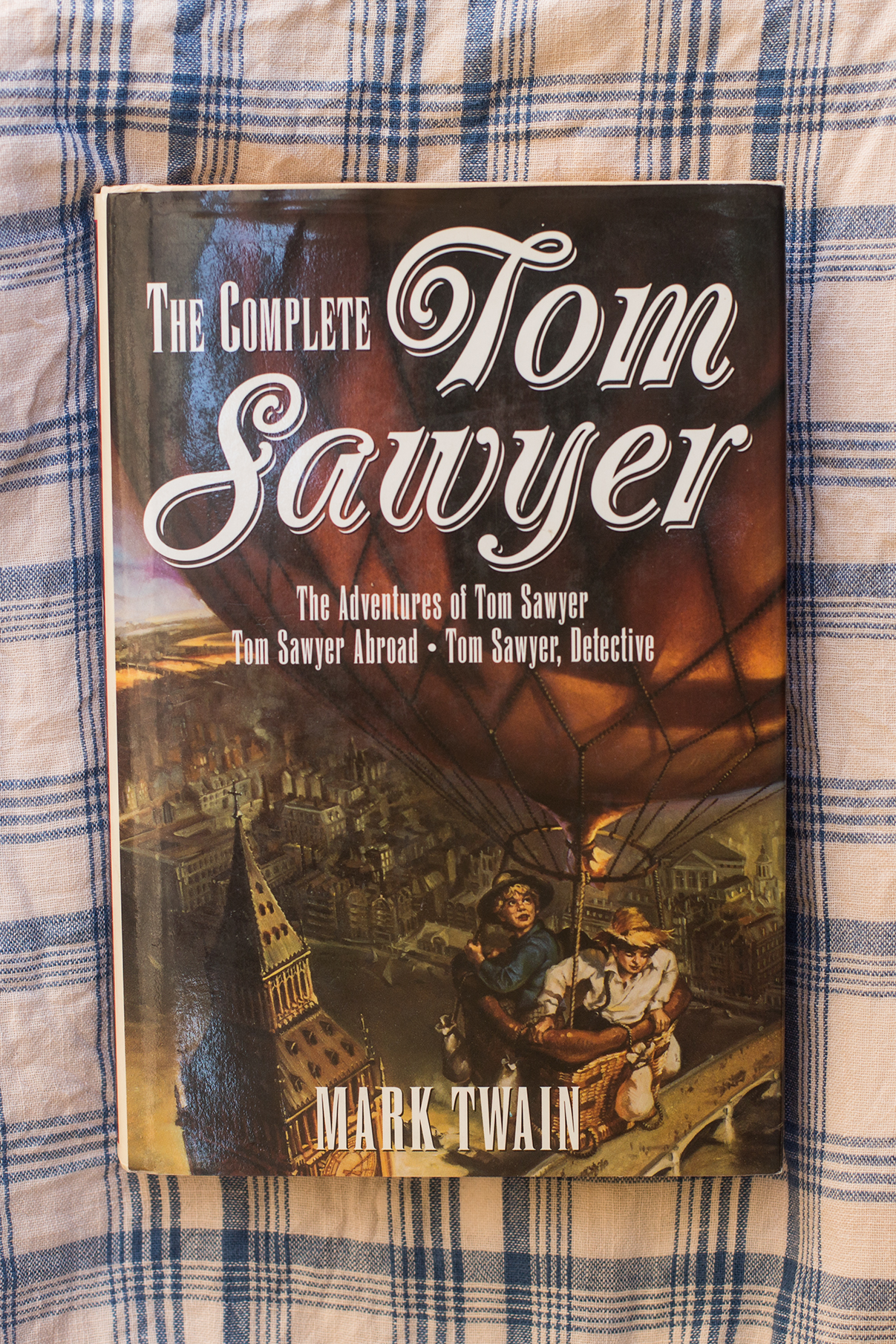 Corey - 7/26 - The Complete Tom Sawyer and Scotch and Soda Plaid
My Dad used to read these stories to my sister and me late into the night.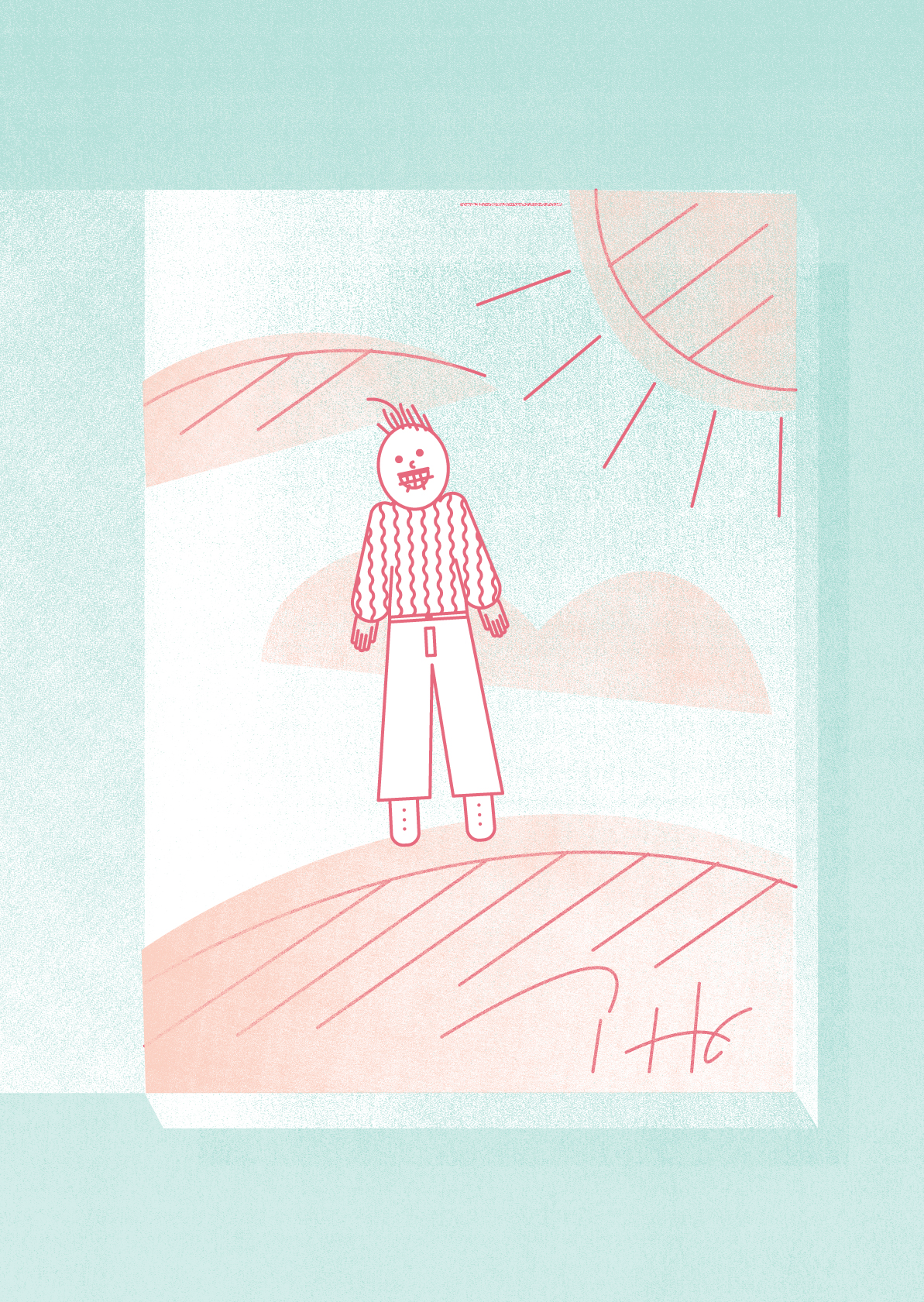 Emily - 7/25 - MUJI Sketchbook
For a while now I've been having my friends draw a page in this notebook. This spread by Tim Healy might be my favorite.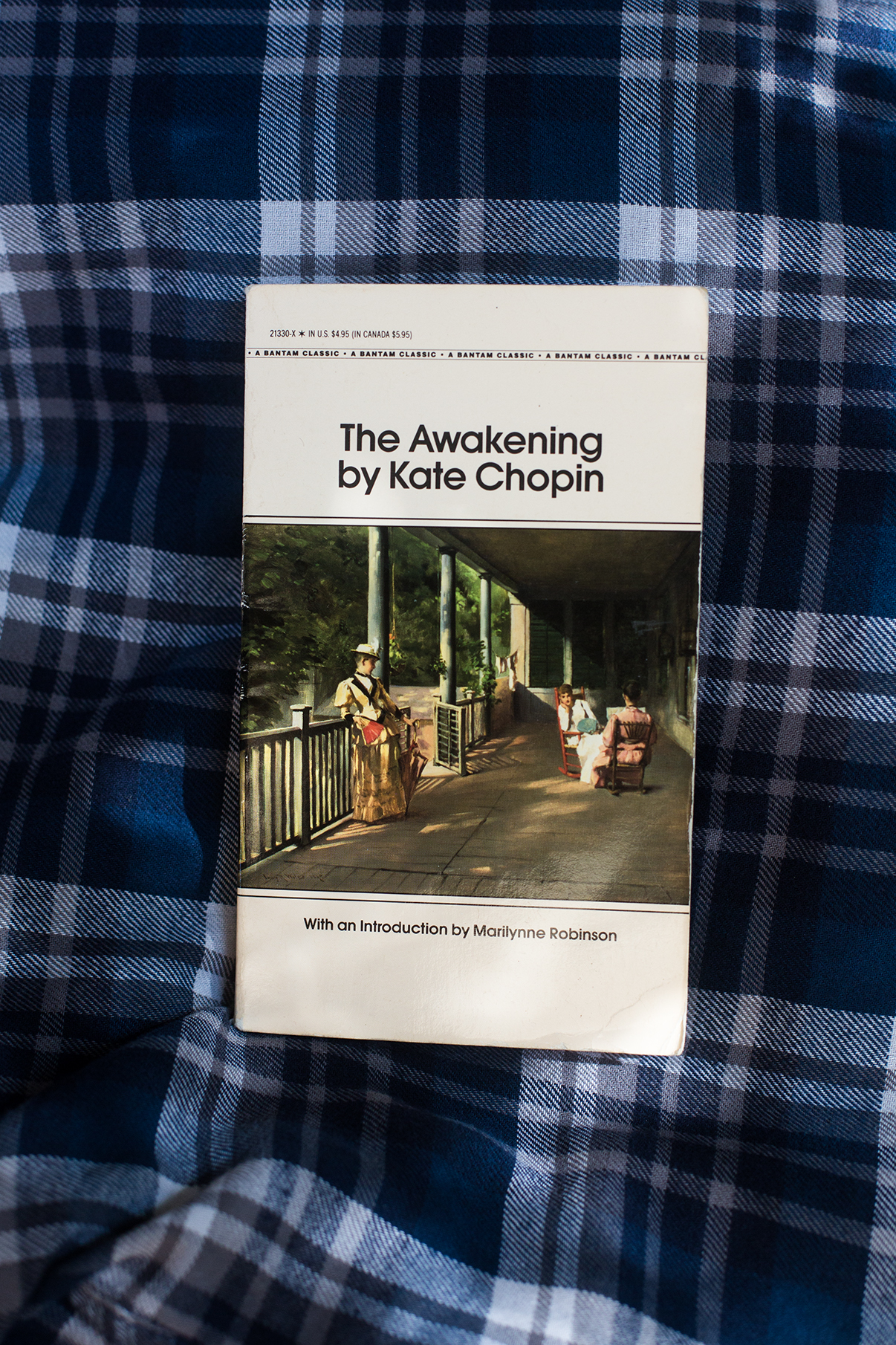 Corey - 7/25 - The Awakening, by Kate Chopin, and Plaid Flannel
The flannel, a gift from my parents. I read The Awakening in high school, and I remember the vocal anger of my classmates when Edna Pontellier walked into the Gulf of Mexico to die. That image has haunted me for my entire life; I've created photographic images inspired by that moment, and I swear, every time I walk into the ocean I think of Edna. What could have brought a woman to such despair and hopelessness? Could patriarchy do such a thing? "She went on and on. She remembered the night she swam far out, and recalled the terror that seized her at the fear of being unable to regain the shore. She did not look back now, but went on and on..."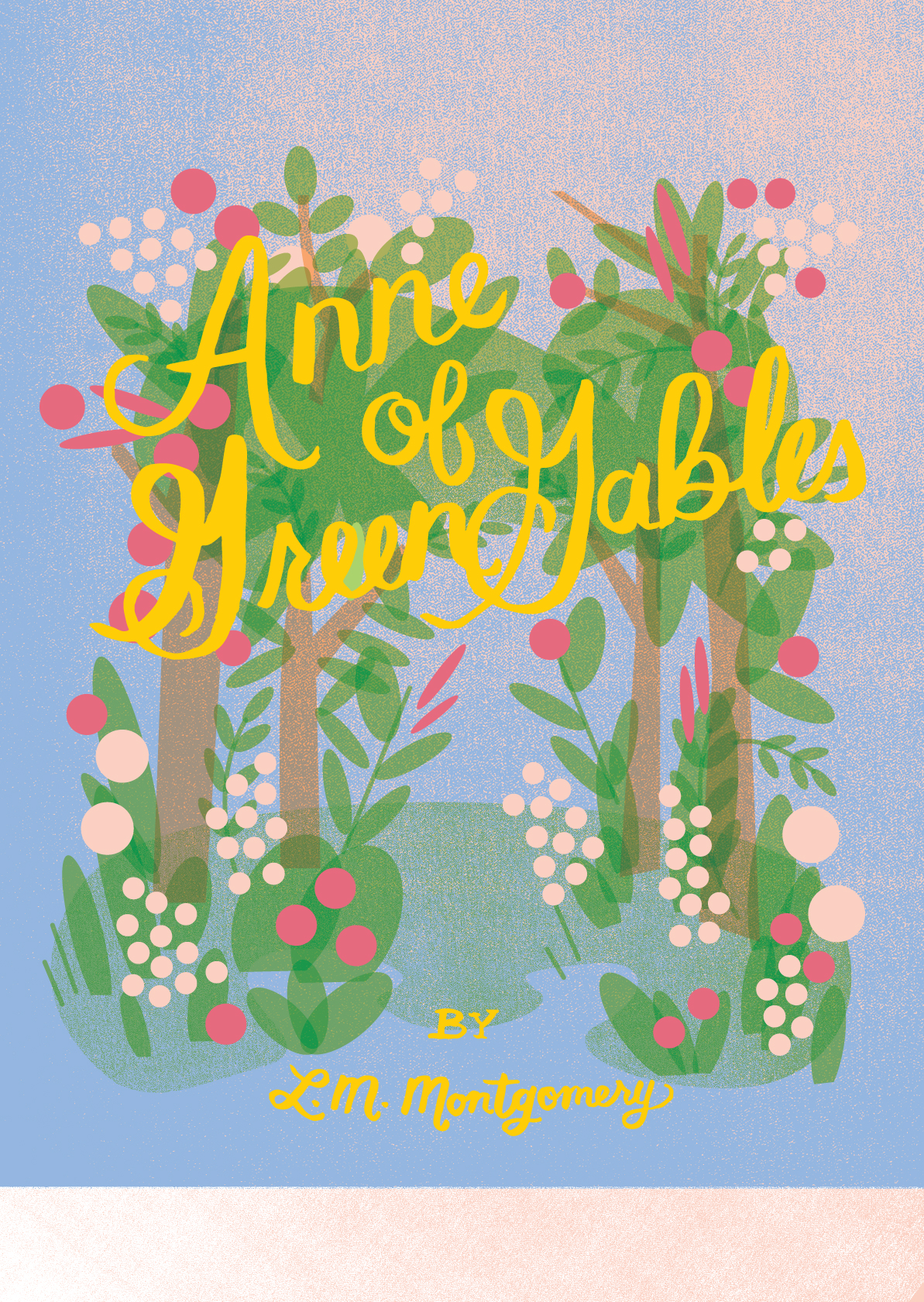 Emily - 7/24 - Anne of Green Gables
Rifle Paper Co edition—a Christmas gift from my sister.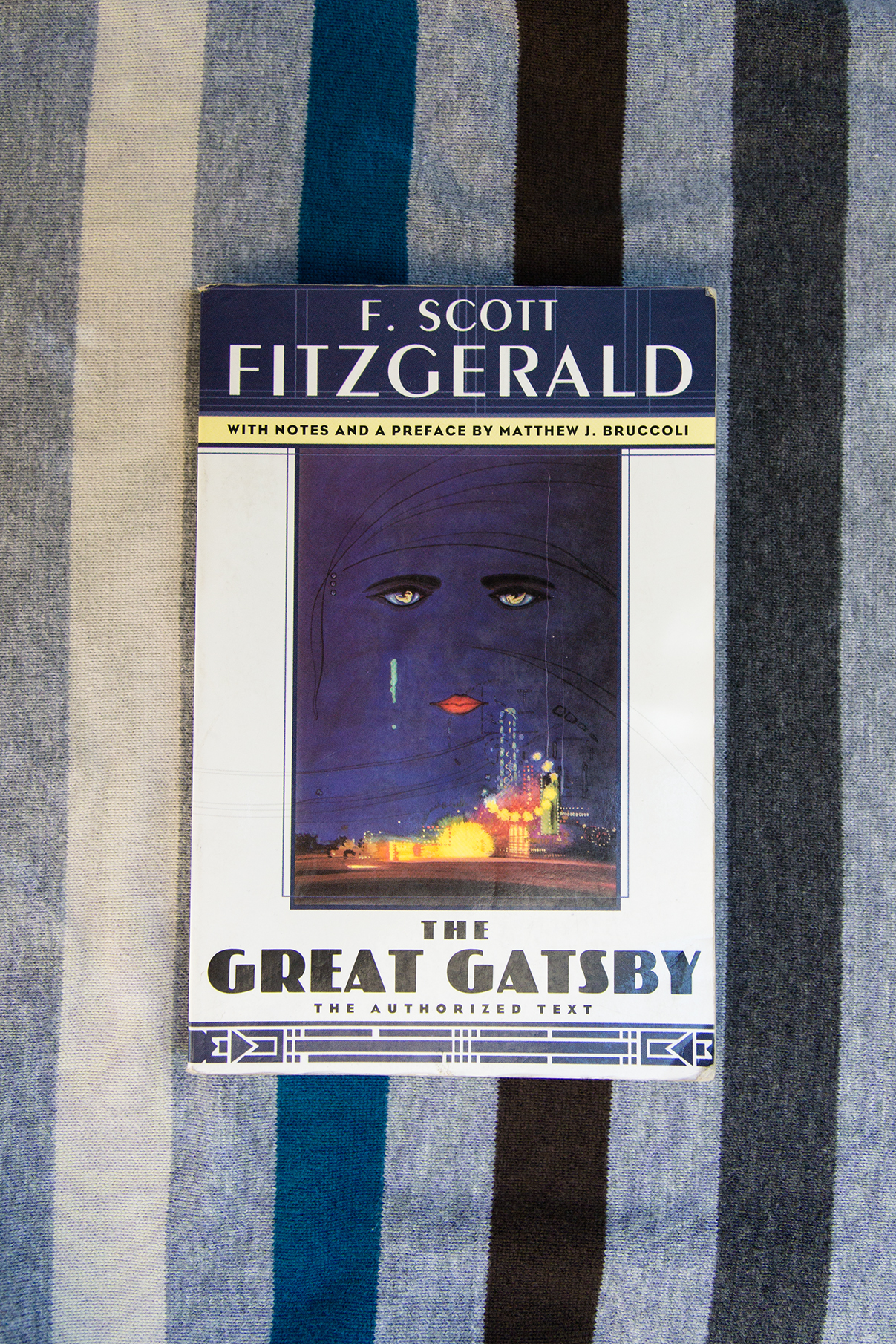 Corey - 7/24 - The Great Gatsby, by F. Scott Fitzgerald, on Old Navy Multicolor Sweater
A perfect book, read when I was a sophomore in Mr. Biggs' sophomore Honors English class. Multicolor striped sweater was purchased at Old Navy. "And as I sat there, brooding on the old unknown world, I thought of Gatsby's wonder when he first picked out the green light at the end of Daisy's dock. He had come a long way to this blue lawn and his dream must have seemed so close that he could hardly fail to grasp it. He did not know that it was already behind him, somewhere back in that vast obscurity beyond the city, where the dark fields of the republic rolled on under the night."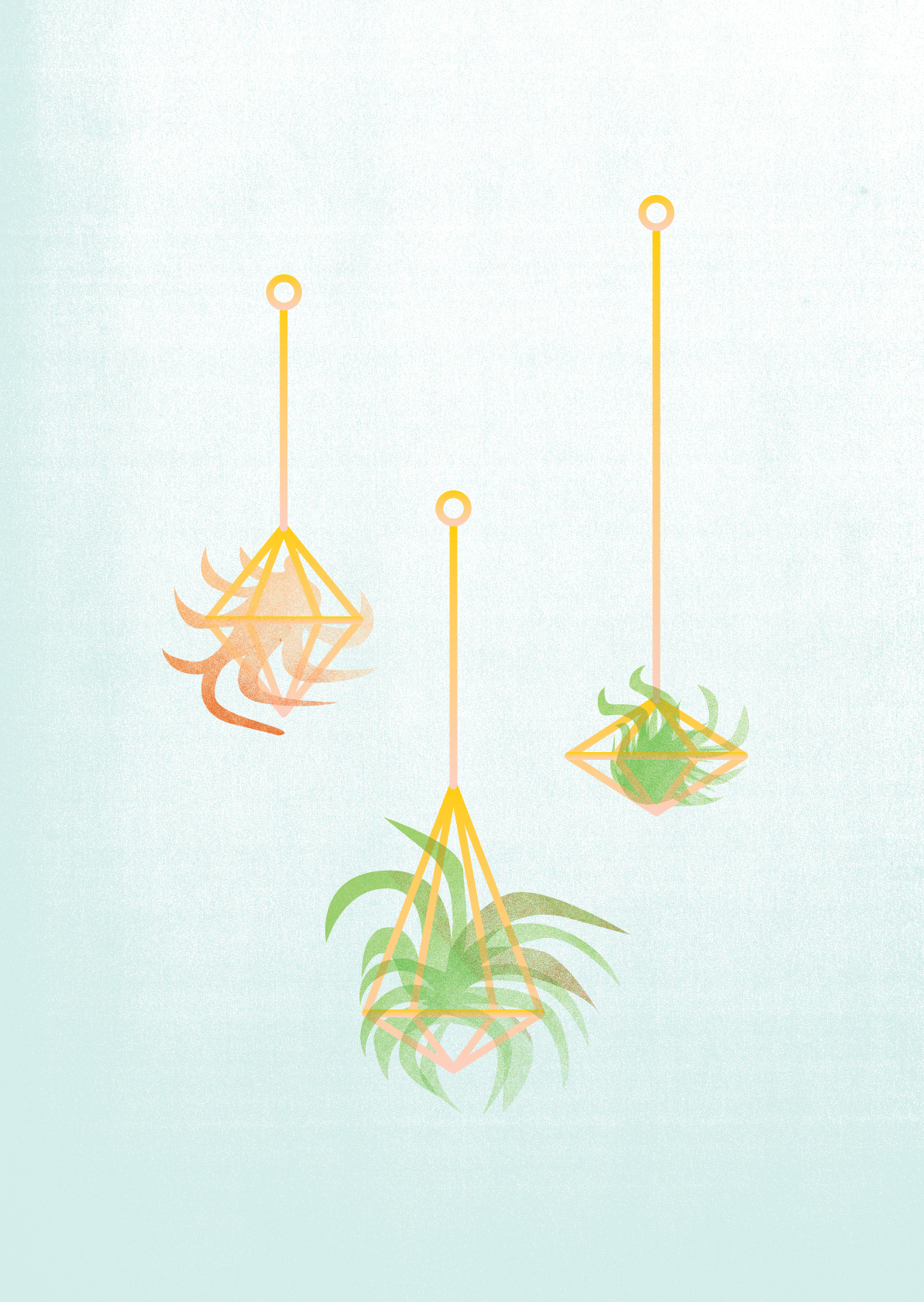 Emily - 7/23 - Hanging Prism Air Plant Holders
I somehow killed the actual air plants ages ago, but the geometric metal parts are still pretty!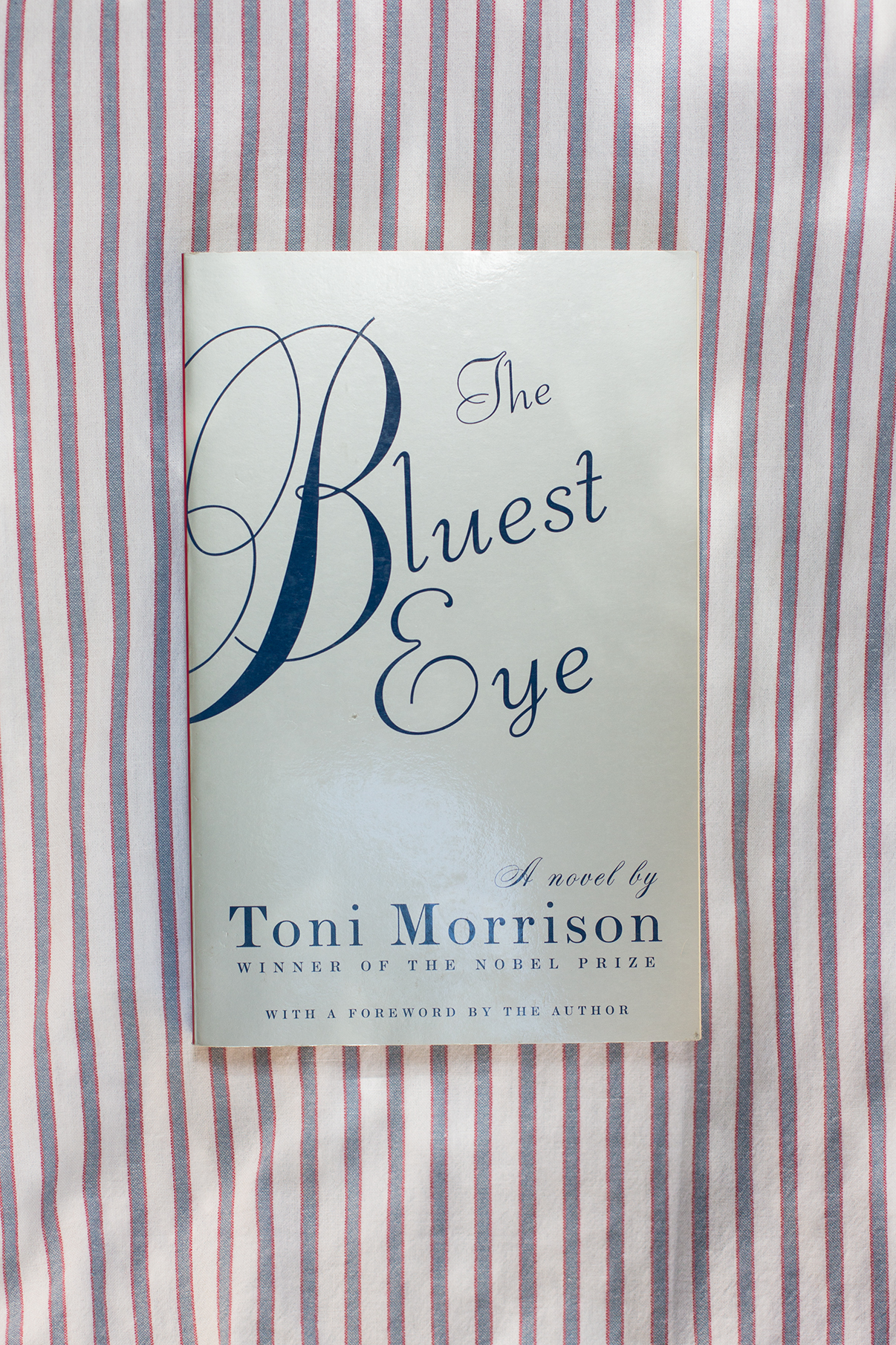 Corey - 7/23 - The Bluest Eye, by Toni Morrison, one Striped Shirt
A sweet and sad novel about race, gender, and class. "My daddy's face is a study. Winter moves into it and presides there. His eyes become and cliff of snow threatening to avalanche; his eyebrows bend like black limbs of leafless trees." I bought the shirt from Urban Outfitters on the sale rack.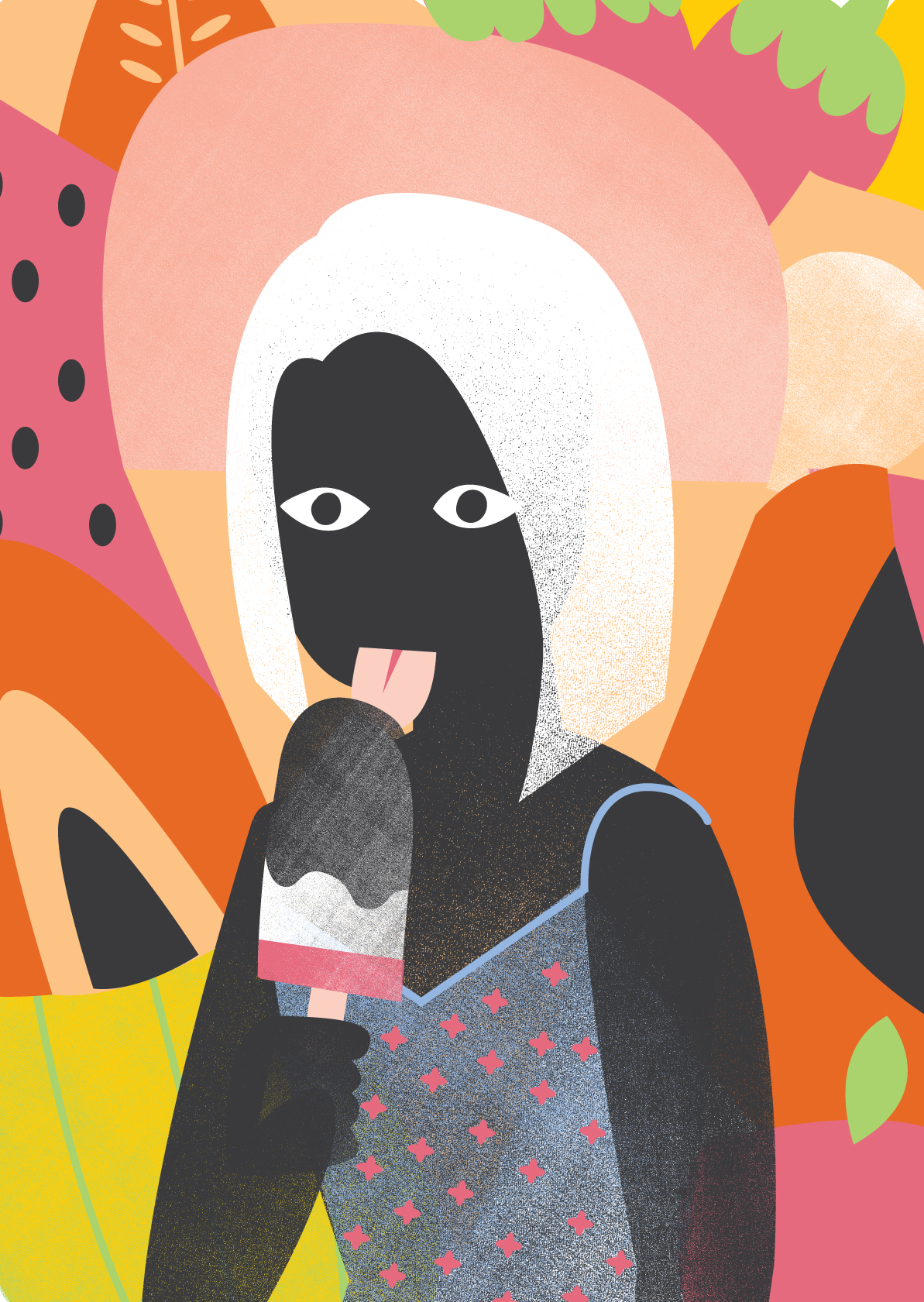 Emily - 7/22 - Floral Summer Dress
Went to Mateo's for the first time today and got the smoked milk paleta dipped in chocolate!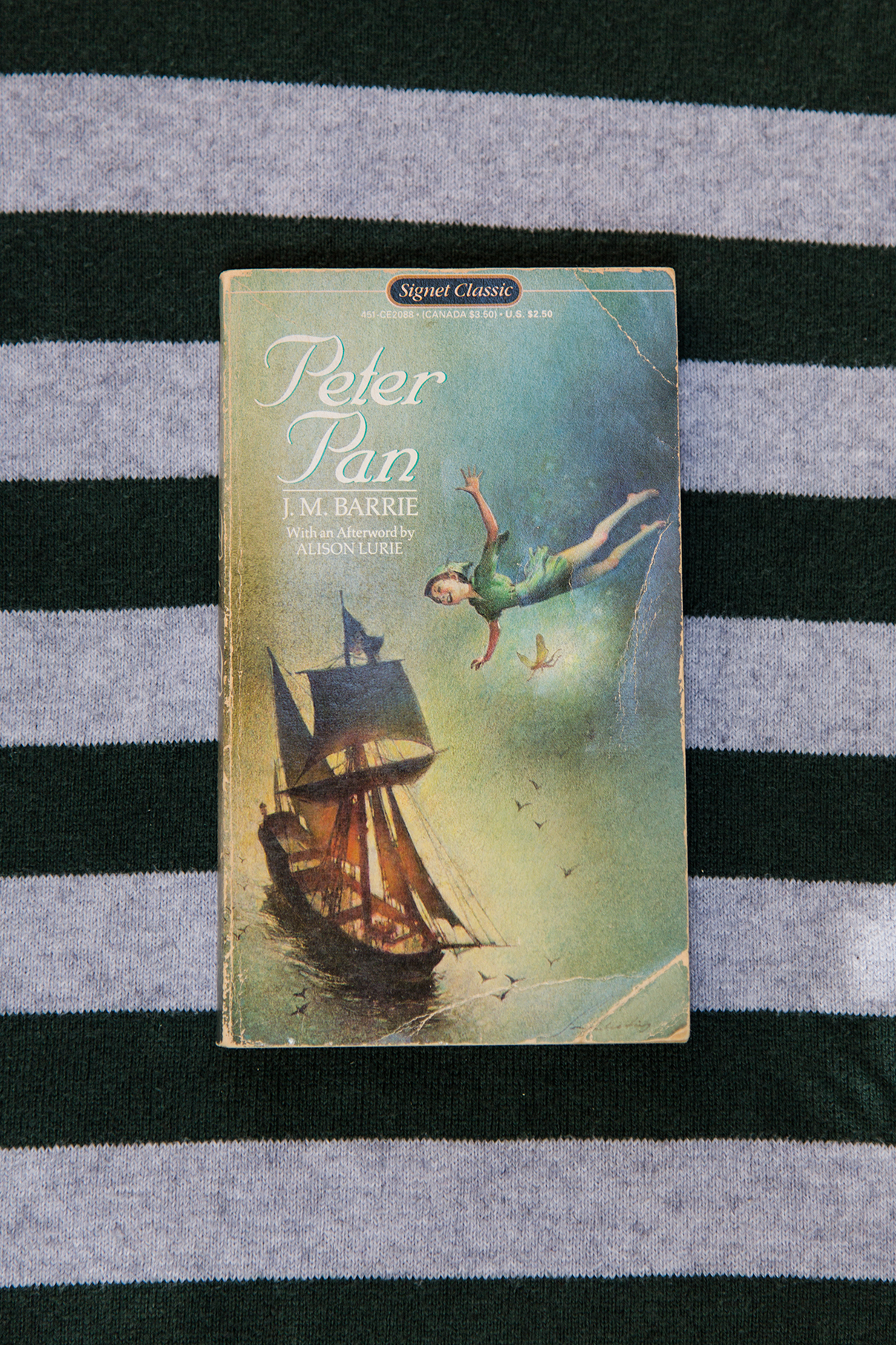 Corey - 7/22 - Peter Pan, by J.M. Barrie, on Striped Sweater
A gift to my Mother, when she was pregnant with me, from some couple, "Denise" and "Chris". On the inside cover is a note - "Kathy - Every good mother should know the story of Peter Pan. Hope you enjoy this story as you are waiting for your baby. Love, Denise & Chris." This book has been in my room since I was very young. Sweater is from Old Navy.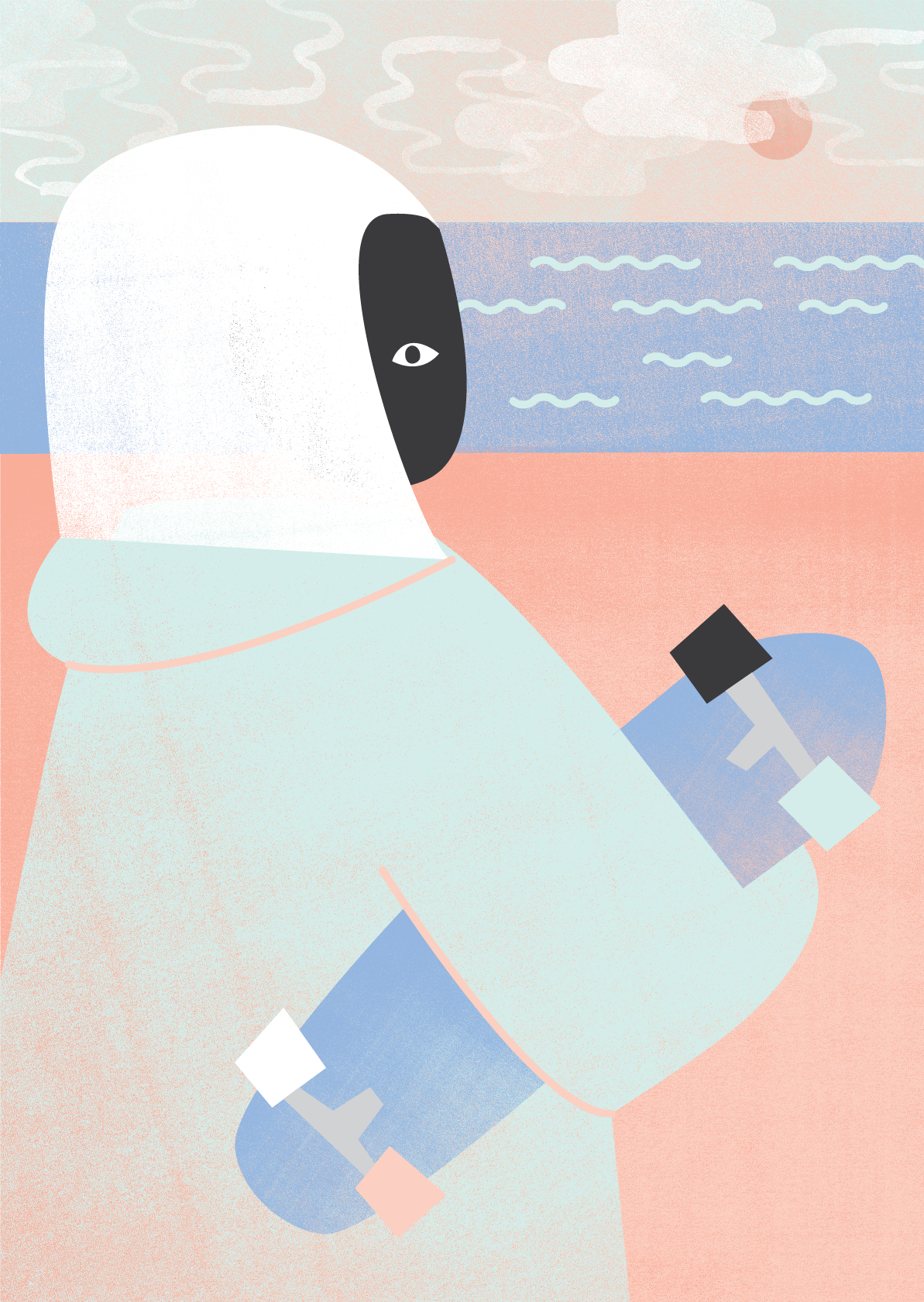 Emily - 7/21 - Globe Skateboard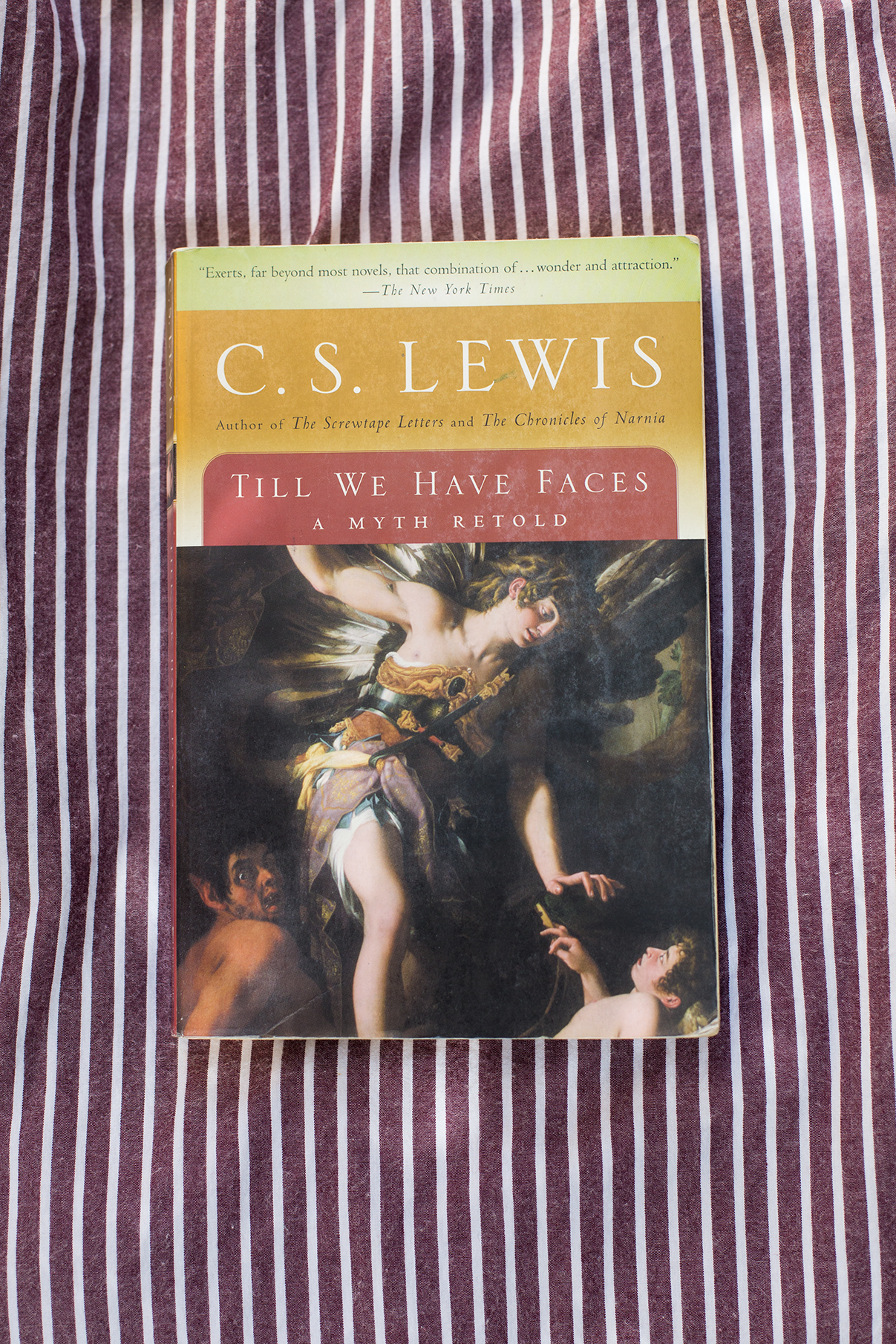 Corey - 7/21 - Till We Have Faces, by C.S. Lewis, on Striped Shirt
One of my favorite books; I may need to re-read it soon. Shirt comes from Old Navy. "Who can feel ugly when the heart meets delight?"
Emily - 7/20 - 90s Asian Tourist Dad Shirt
My other favorite shirt. After drawing it I've found a new appreciation for how amazing this print is. Also a WPC rummage sale find.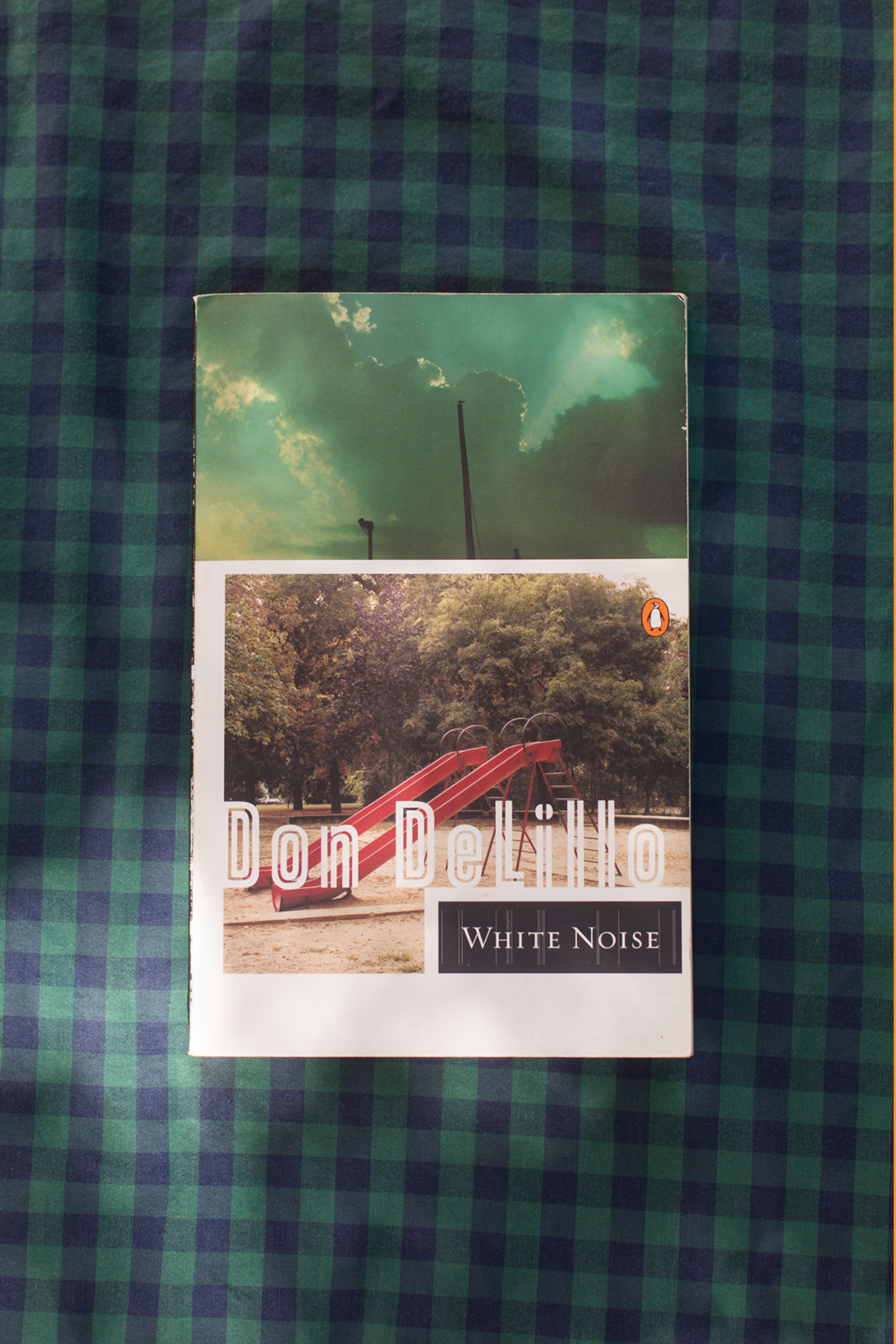 Corey - 7/20 - White Noise, by Don DeLillo on Checkered Shirt
Some light reading recommended by Matt Barrios and Joel Hasemeyer. Thanks dudes! "The small boy remained at the TV set, within inches of the dark screen, crying softly, uncertainly, in low heaves and swells, as Murray took notes." The shirt was a gift from my sister.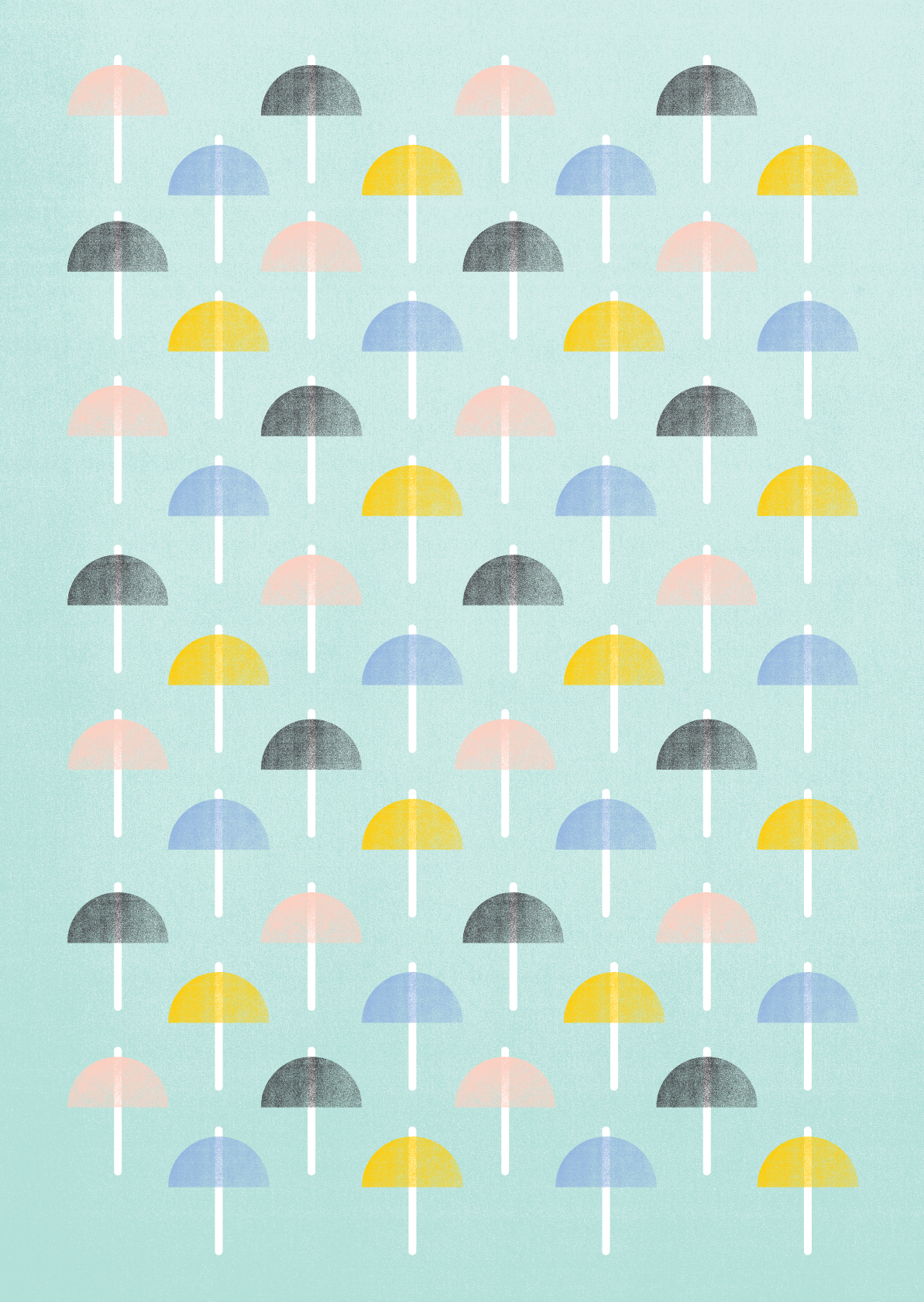 Emily - 7/19 - Umbrellas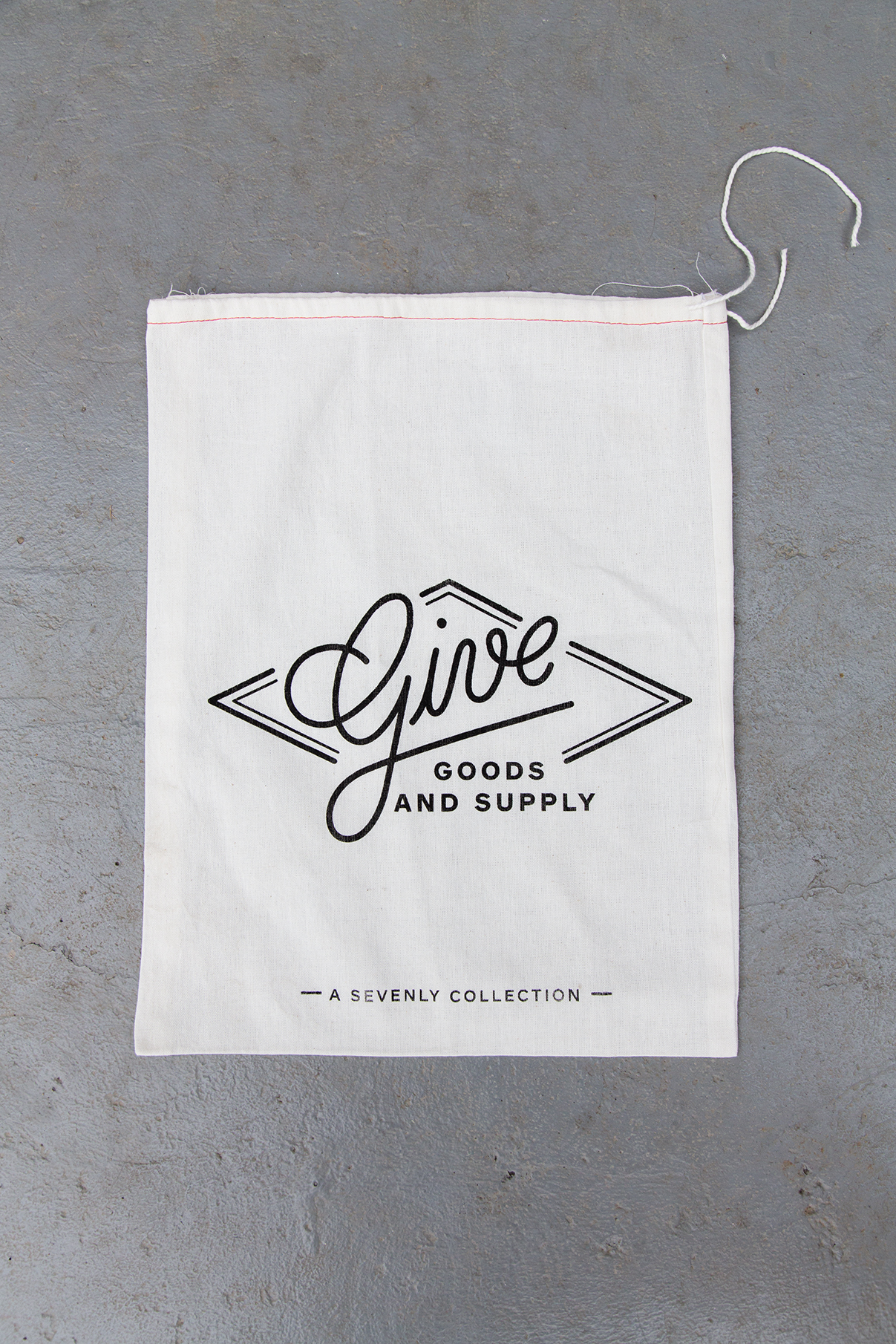 Corey - 7/19 - Sevenly Canvas Bag
Gotta love a good canvas bag. Thanks Sevenly!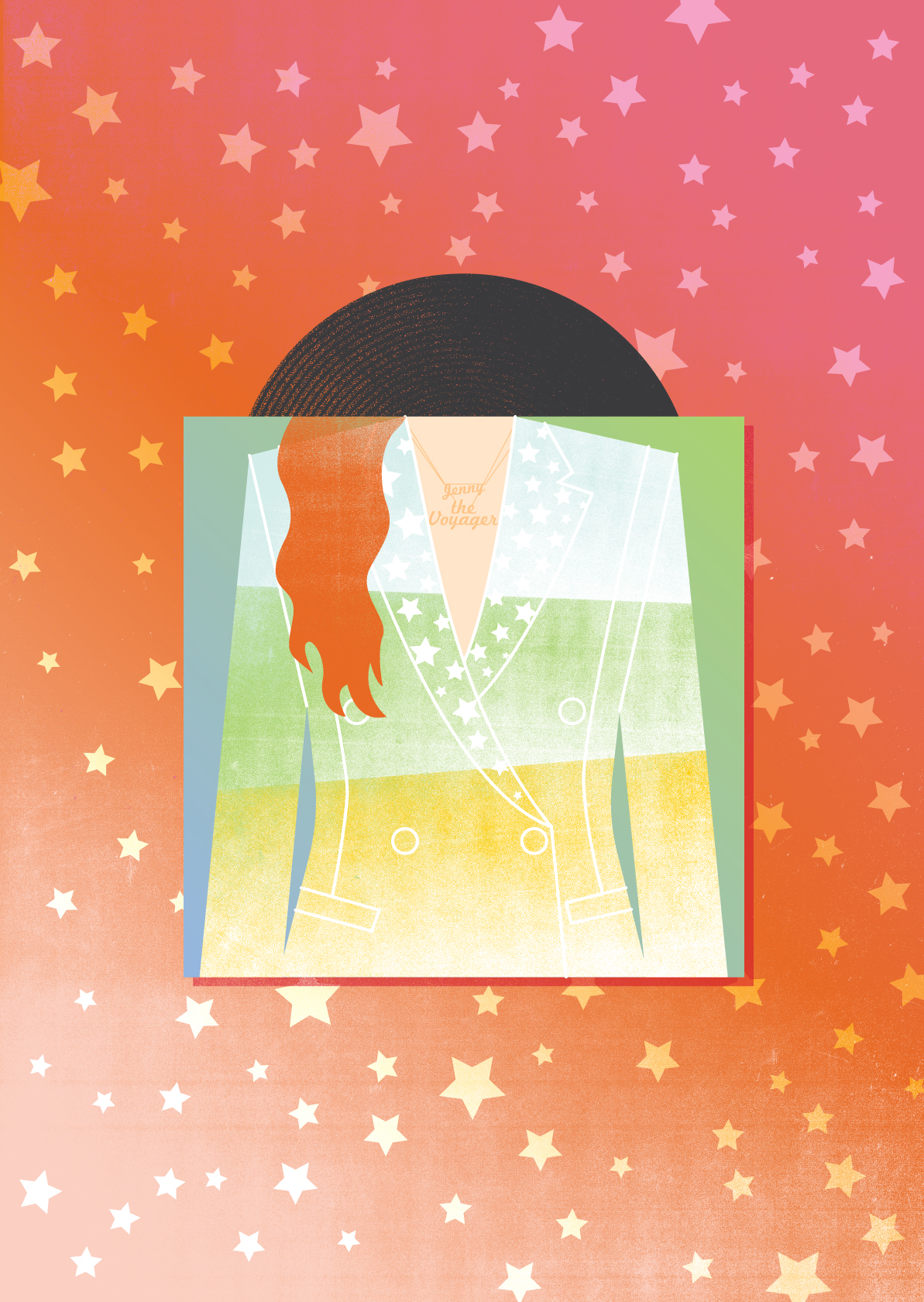 Emily - 7/18 - Jenny Lewis' The Voyager
Great record, great suit.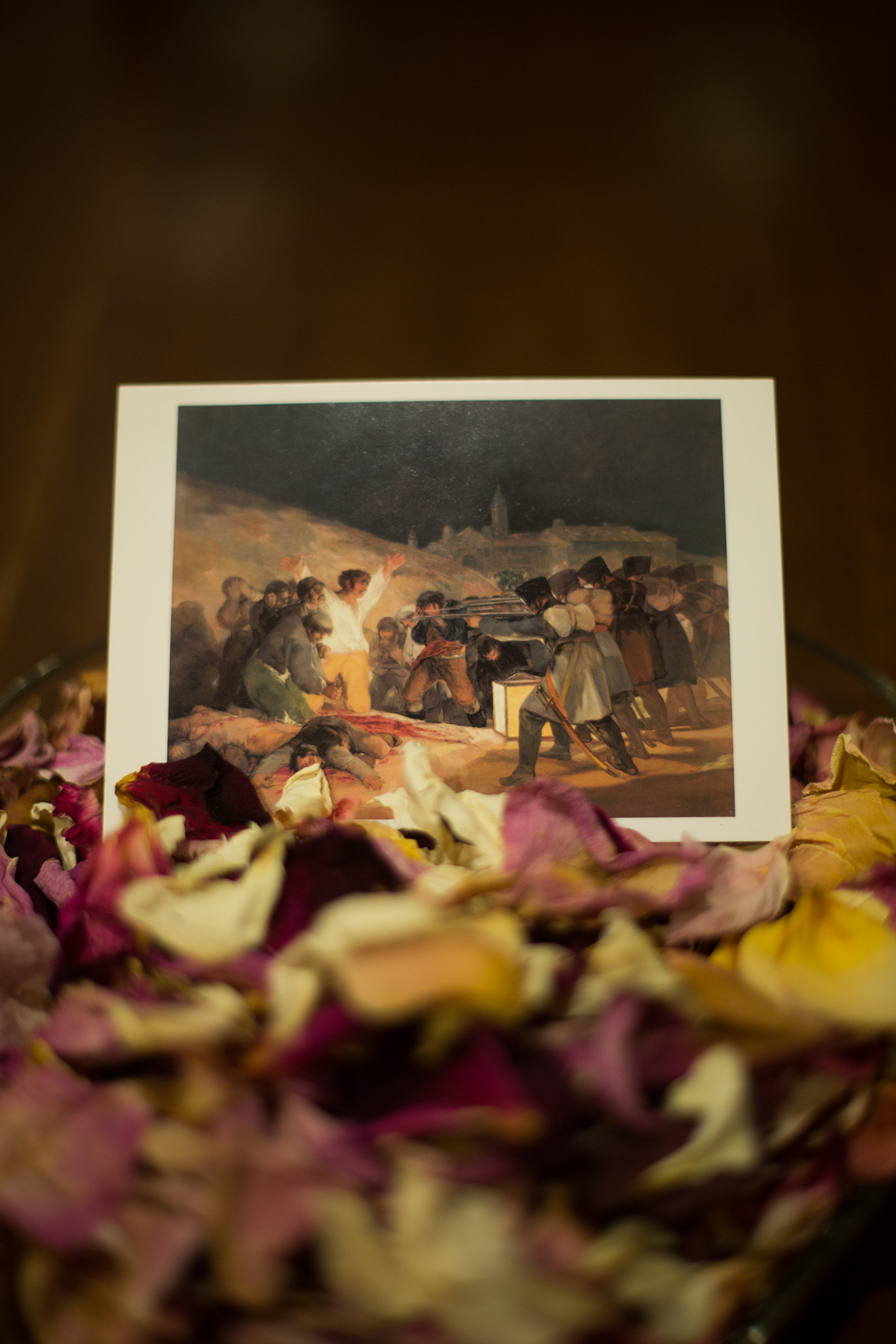 Corey - 7/18 - Postcard of The Third of May 1808, by Francisco Goya
A postcard of one of my favorite paintings. I picked this up at the Museo del Prado, in Madrid.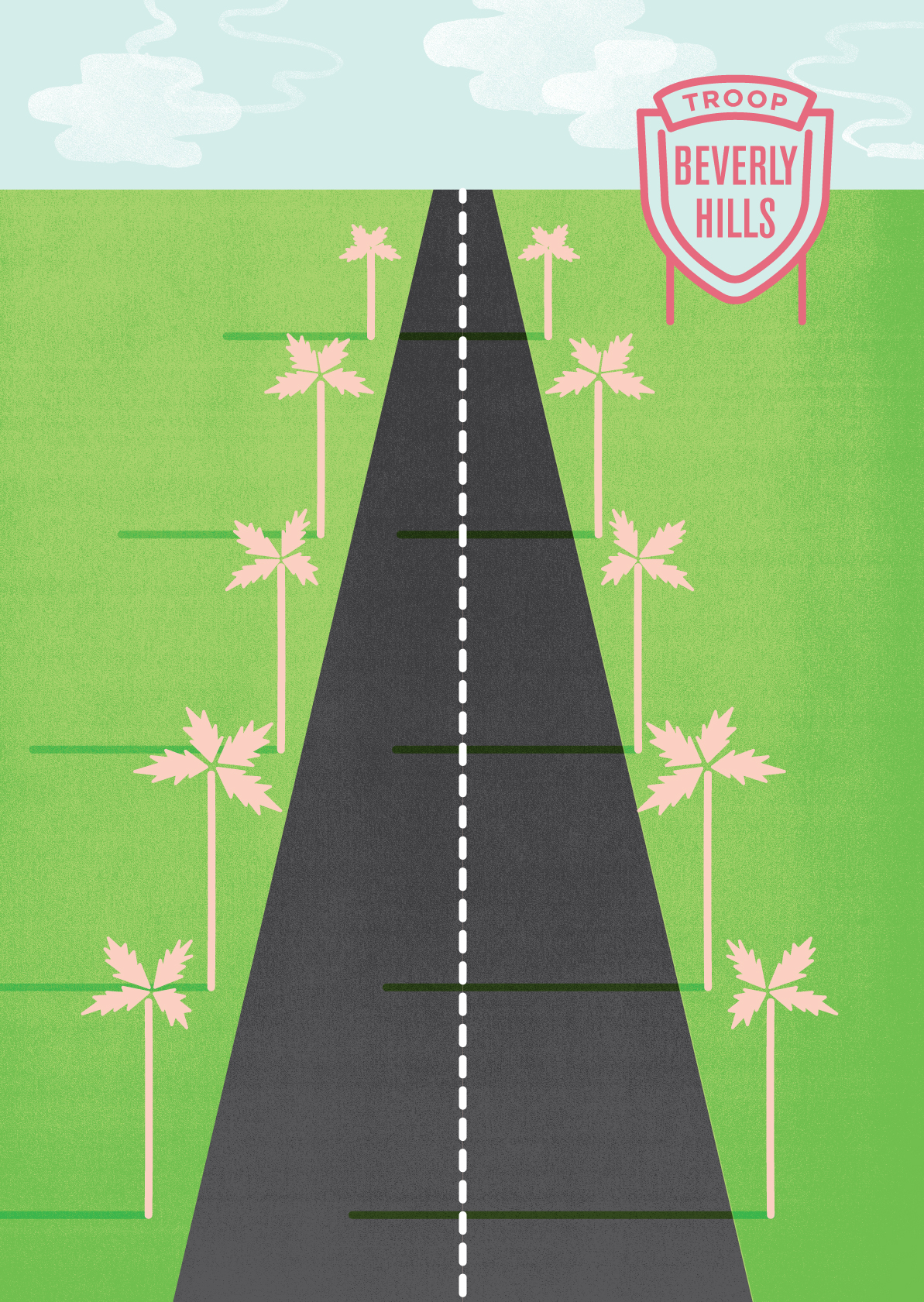 Emily - 7/17 - Troop Beverly Hills DVD
So much love and nostalgia for this movie. Phyllis Nefler 4 ever.
Corey - 7/17 - Great Grandmother Zo's Braided Octagonal Rug
This belonged to my Father's maternal grandmother, Zo. A family member was getting rid of it, and I snagged it. This rug is probably 75 years old! What a great heirloom.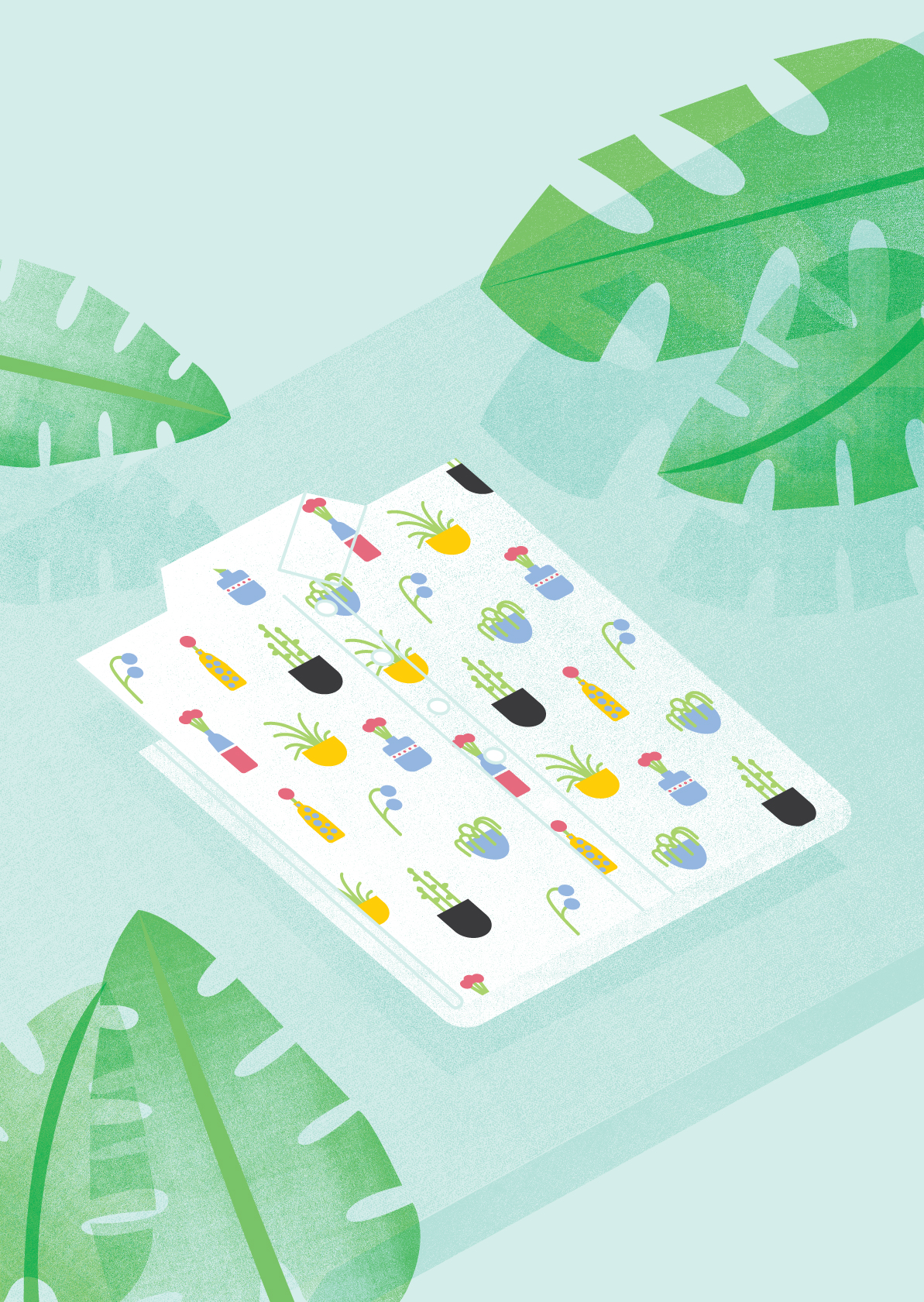 Emily - 7/16 - Plant Shirt
By Lazy Oaf. My current favorite shirt!
Corey - 4/16 - Adventureland Pluto
Purchased several years ago at the Bazaar across from The Jungle Cruise, at Disneyland.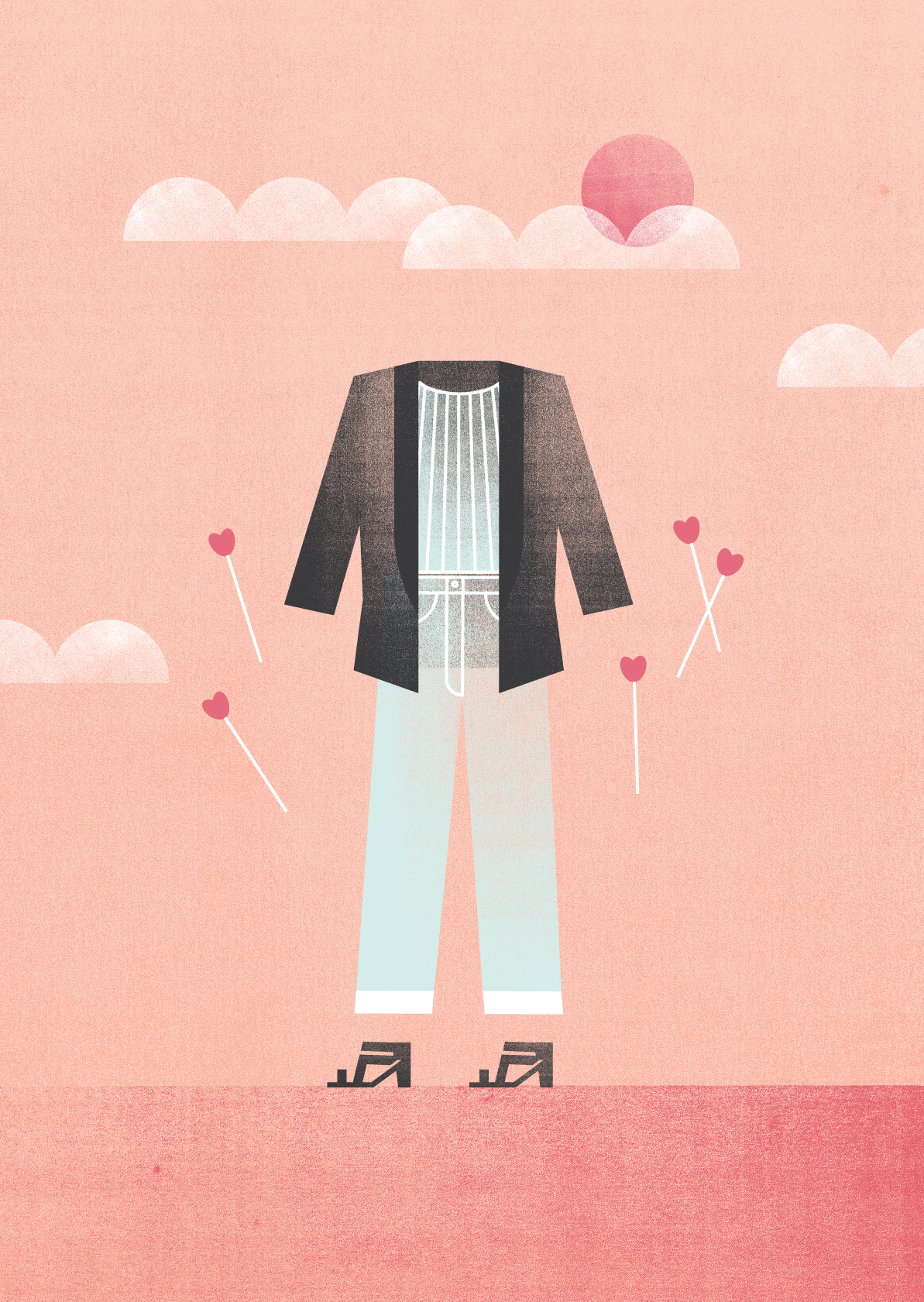 Emily - 7/15 - Tuxedo Jacket
Today's outfit was inspired by menswear/Wayne's World power suits.
Corey - 7/15 - The Year of Magical Thinking, by Joan Didion, with notes and receipt
This is a tragic book, but I love it so much. I bought it used; inside was a Borders receipt, and a small paper with notes scribbled out. Inside, there is a note on the first page: "Finished 4-24-07". The first line of the first chapter, a mournful bit of prose: "Life changes fast. Life changes in the instant. You sit down to dinner and life as you know it ends. The question of self-pity."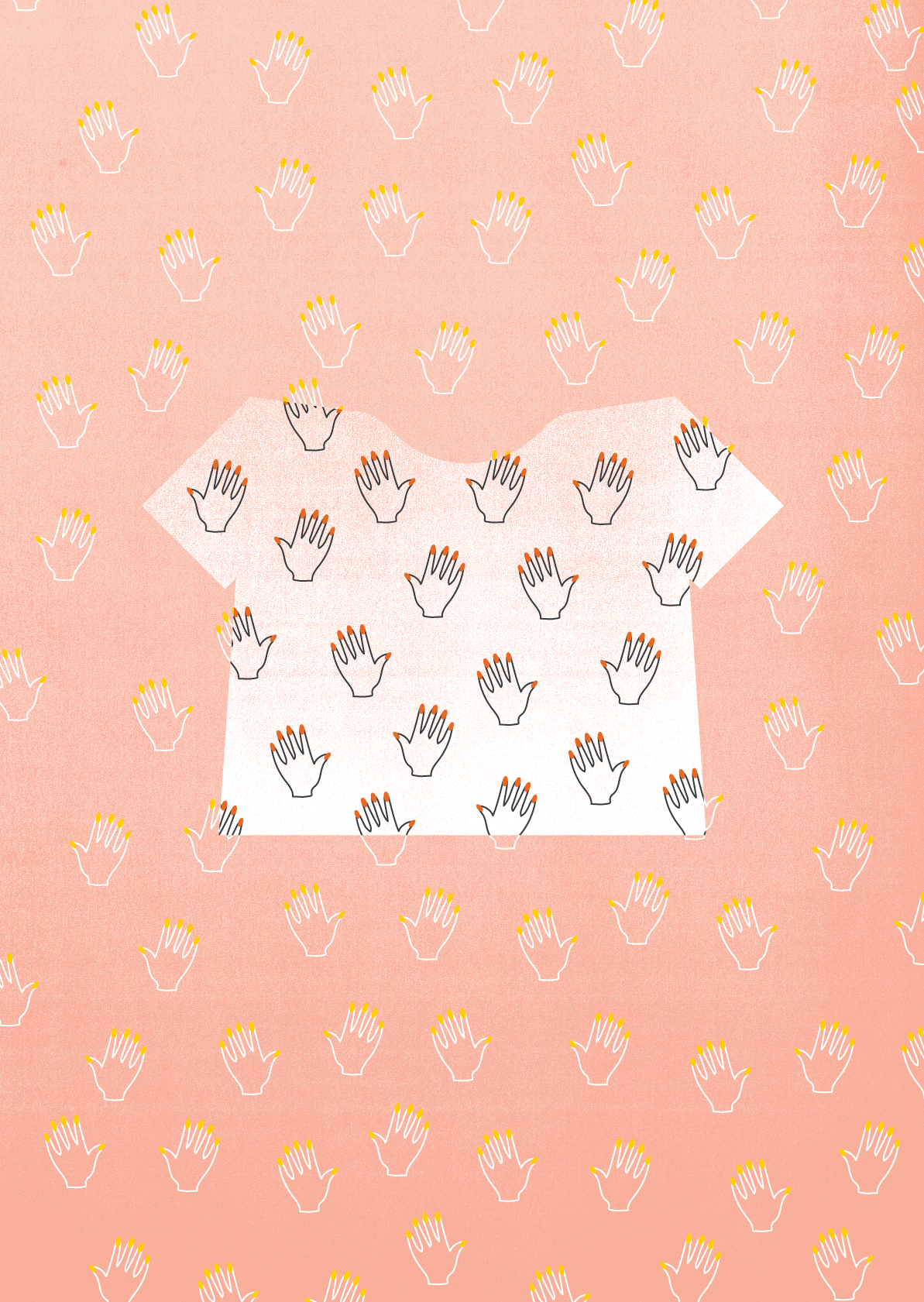 Emily - 7/14 - Hand Shirt
By Lazy Oaf, one of my current brand loves.
Corey - 7/14 - A Wrinkle in Time, by Madeleine L'Engle, and A Night-Sky Button-Up
This is my long standing favorite book. My imagination was first opened up reading about the time-space-continuum adventures of Meg Murray and co. Book on the left has an autograph. Book on the right is marked up with notes and highlights. And, by the way, "there is such thing as a tesseract".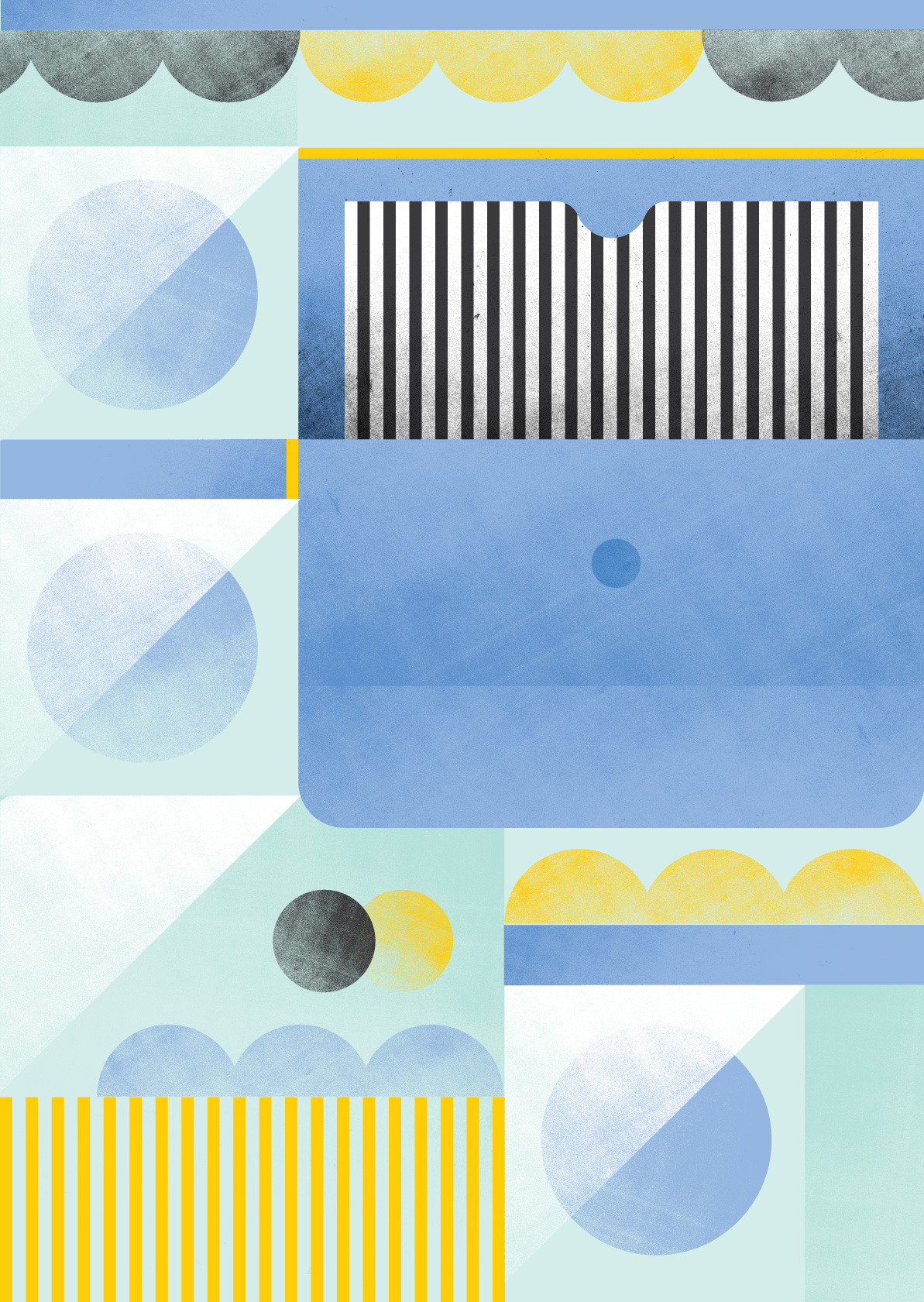 Emily - 7/13 - Kate Spade Purse
Got this at an outlet on the way back from the Shinoda wedding.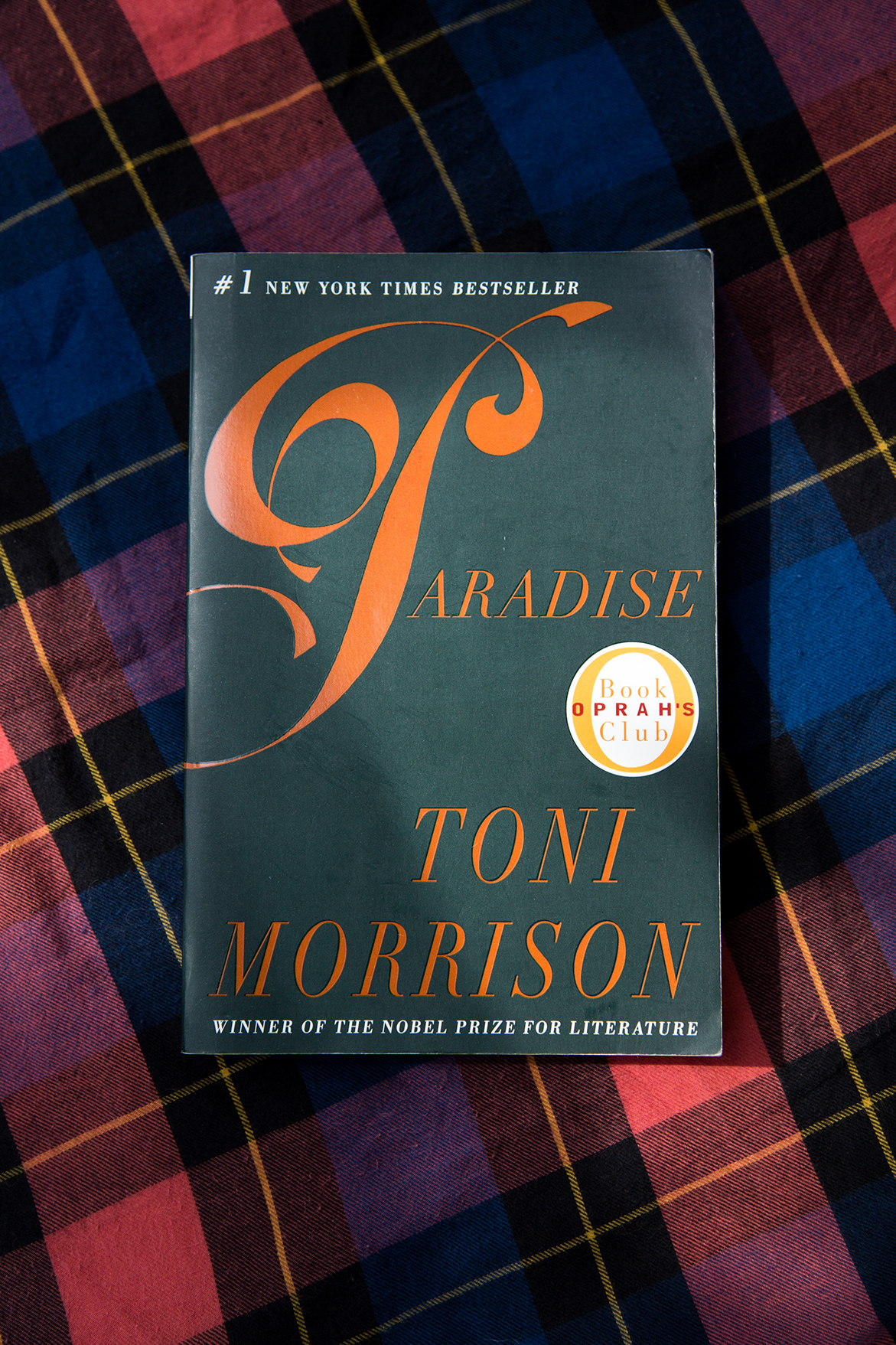 Corey - 7/12 - Paradise, by Toni Morrison / Plaid Shirt
"Love is divine only and difficult always"
Emily - 7/12 - Macbook
For some reason I prefer designing on this tiny screen instead of my giant iMac.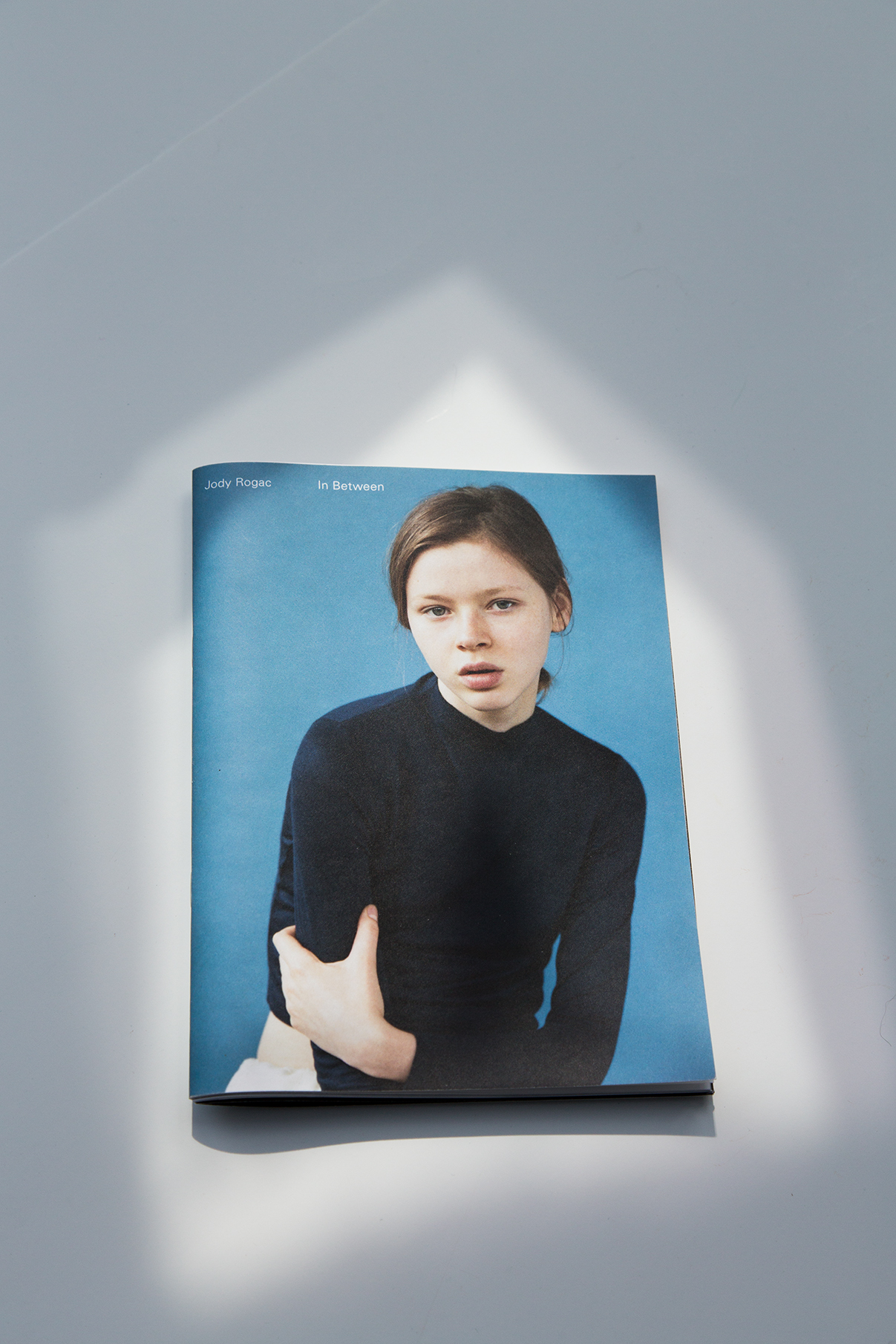 Corey - 7/12 - In Between, by Jody Rogac
A small book full of images from one of my favorite photographers (and nice person) Jody Rogac. My friend Tracy picked it up for me when she lived in New York.
Emily - 7/11 - Rubber Bands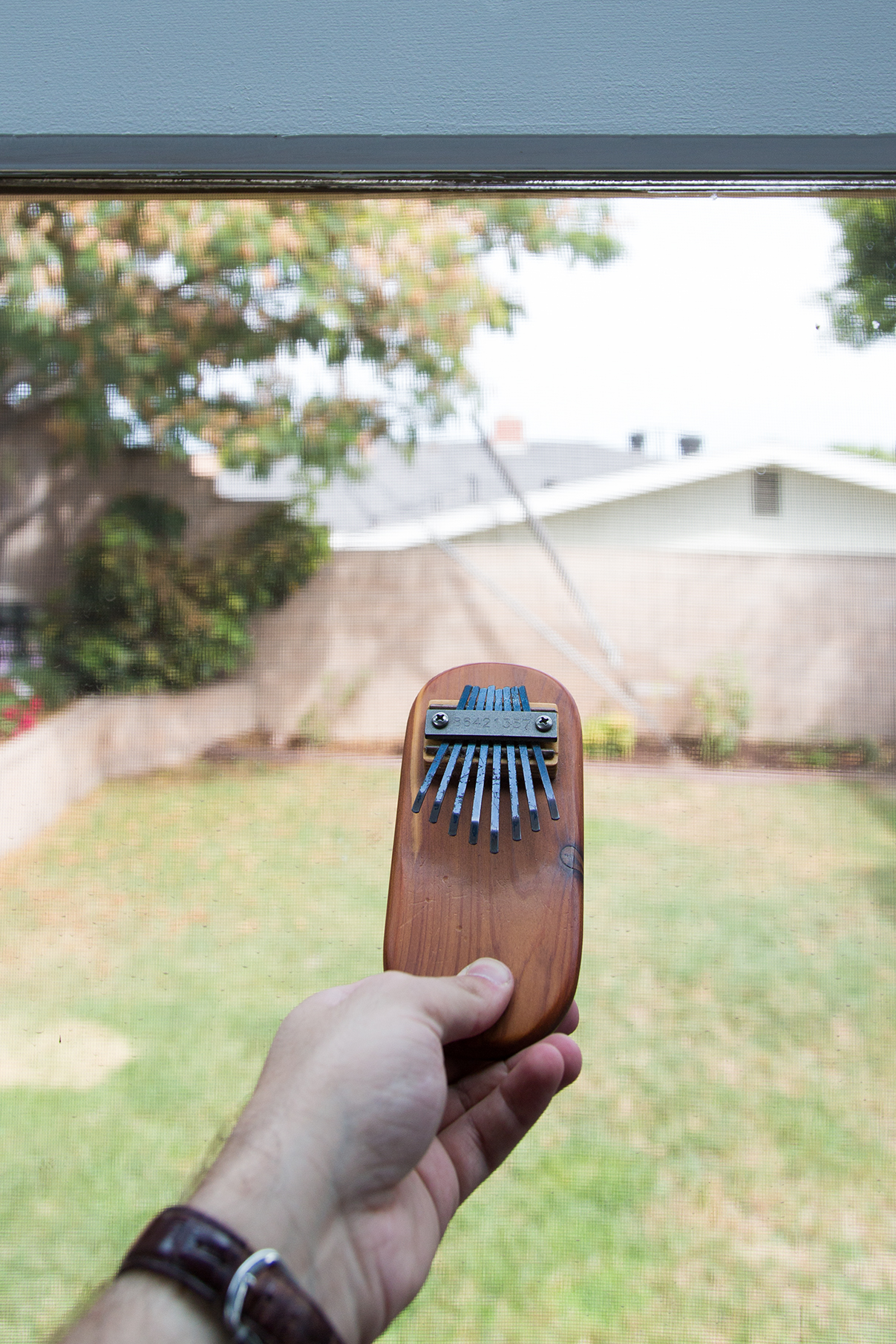 Corey - 7/11 - Thumb Harp
I bought this weird thumb harp at The Wild Animal Park probably 15 years ago. The "1" note has grown very flat.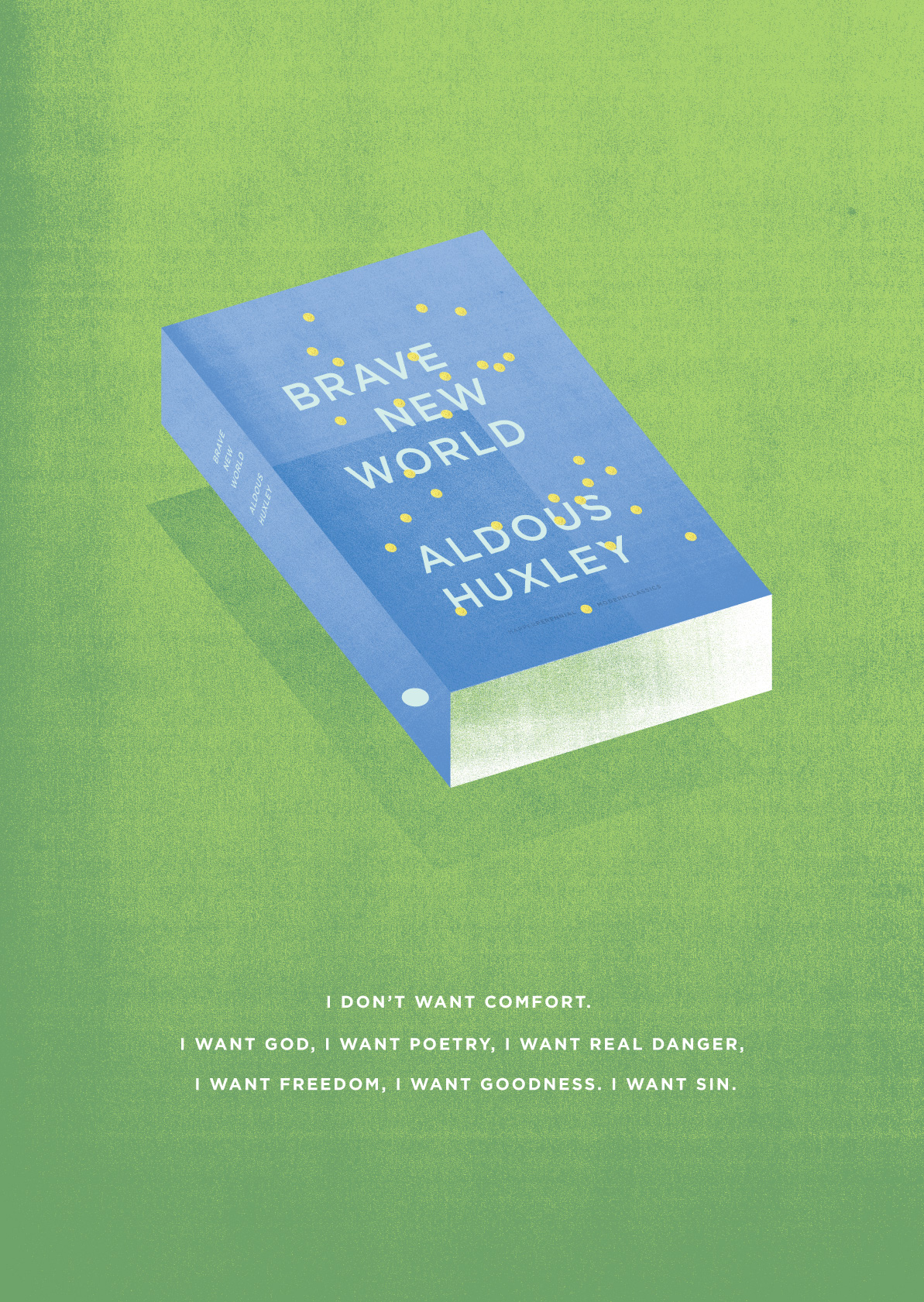 Emily - 7/10 - Brave New World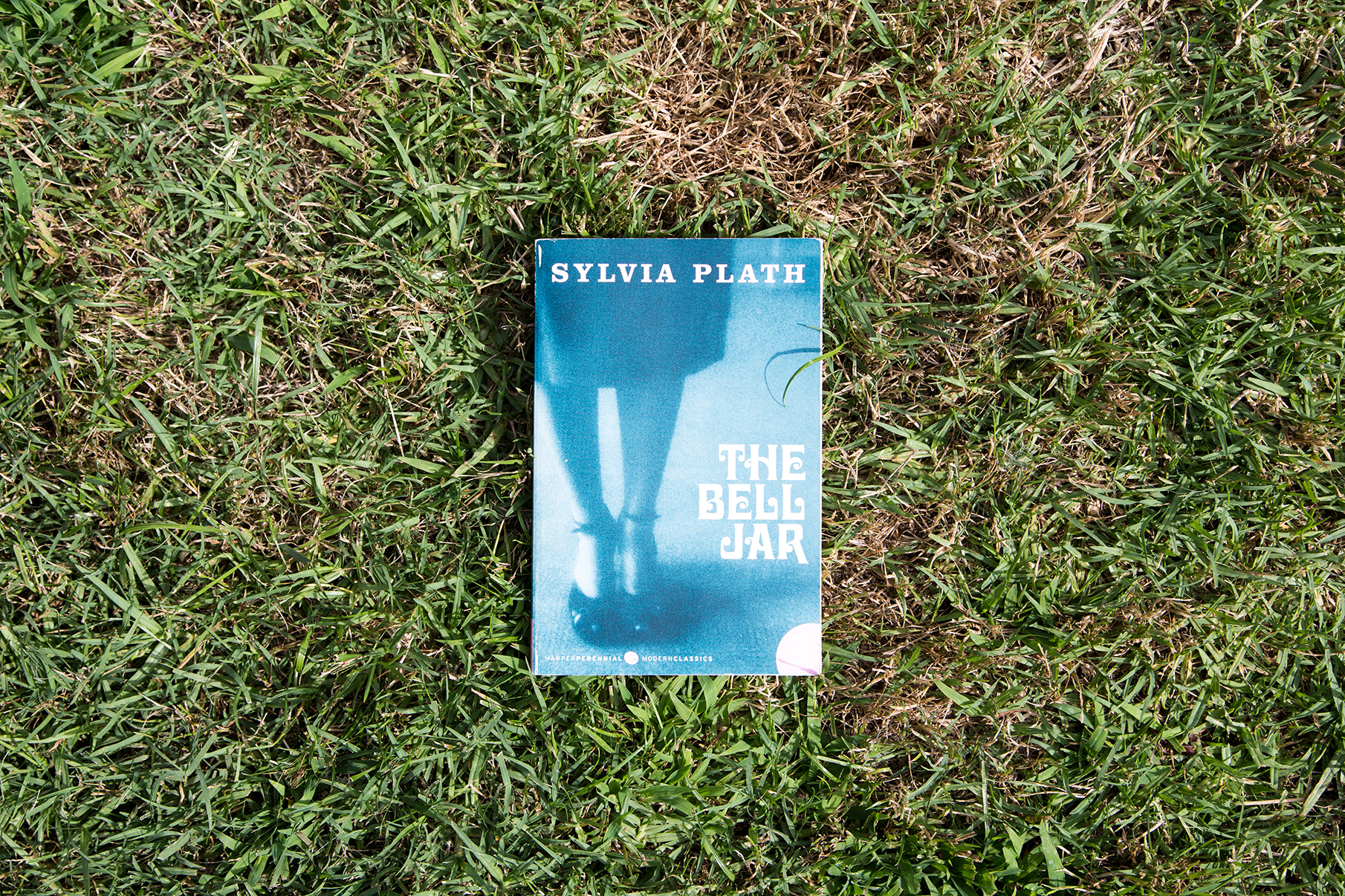 Corey - 7/10 - The Bell Jar, by Sylvia Plath
An abject book about depression and the plight of women. "I thought I would swim out until I was too tired to swim back. As I paddled on, my heartbeat boomed like a dull motor in my ears. I am I am I am."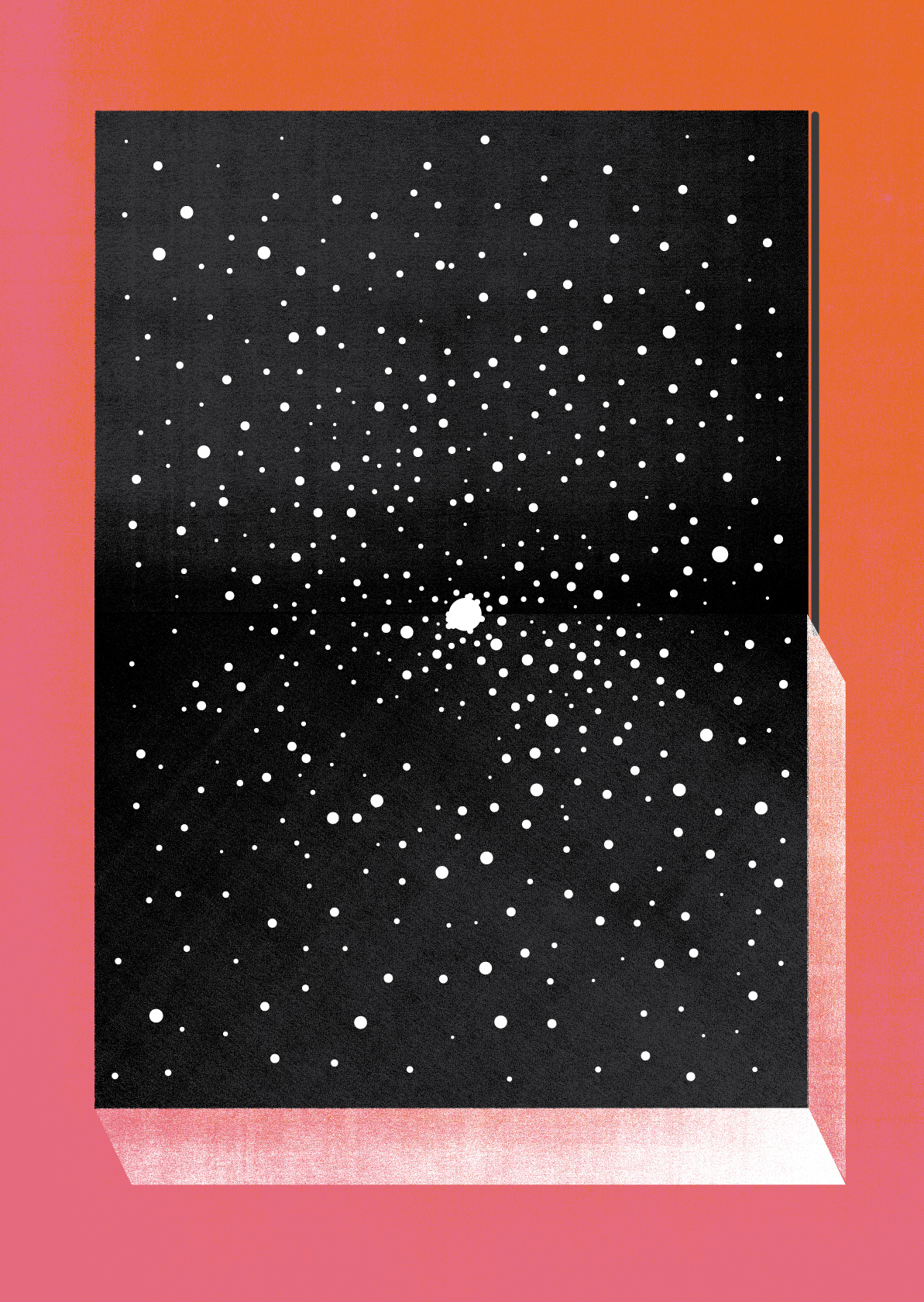 Emily - 7/9 - Black Hole by Charles Burns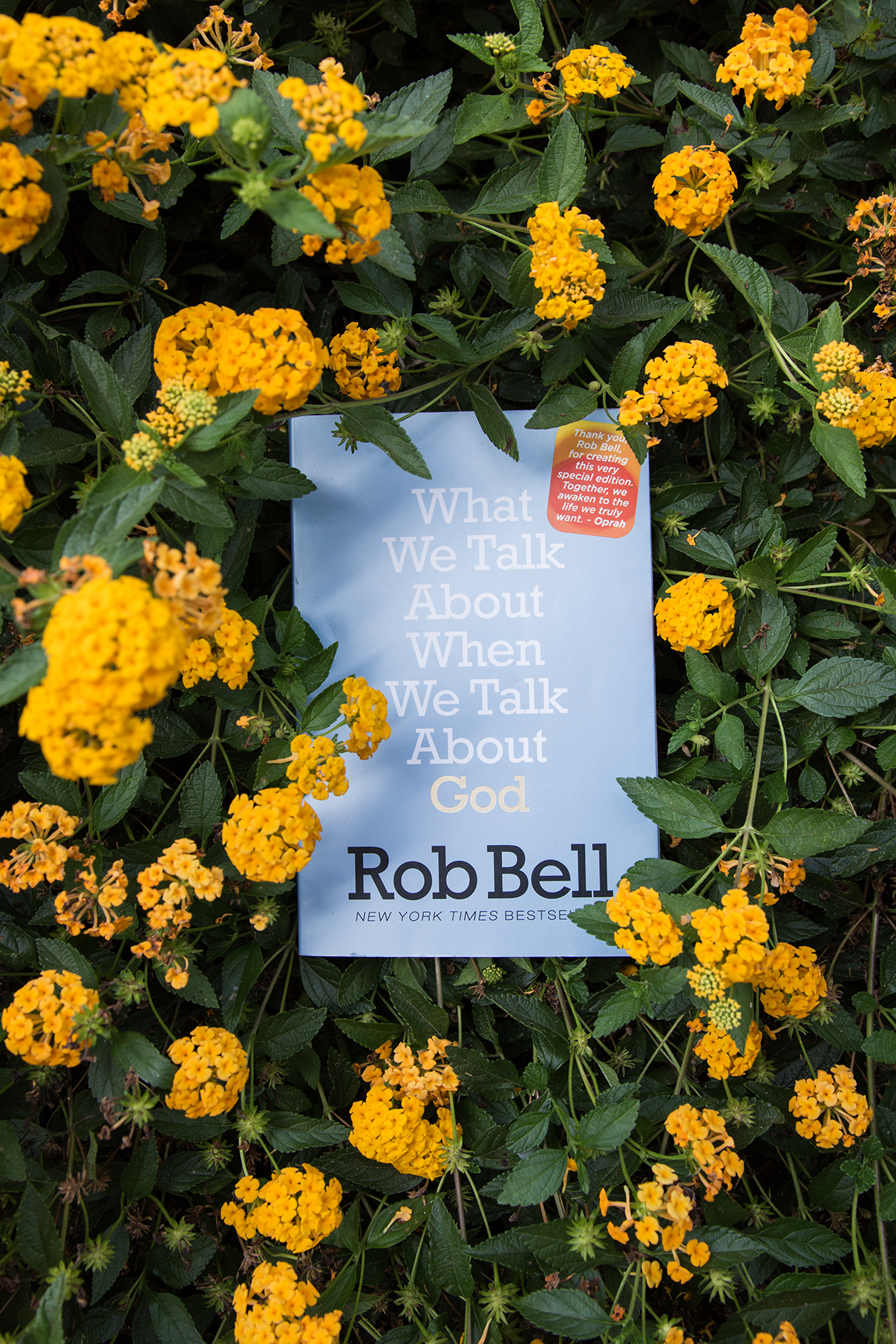 Corey - 7/9 - What We Talk About When We Talk About God, by Rob Bell
This book, this book, this book! "You can believe something with so much conviction that you'd die for that belief, and yet in the exact same moment you can also say, 'I could be wrong... ' This is because conviction and humility, like faith and doubt, are not opposites; they're dance partners."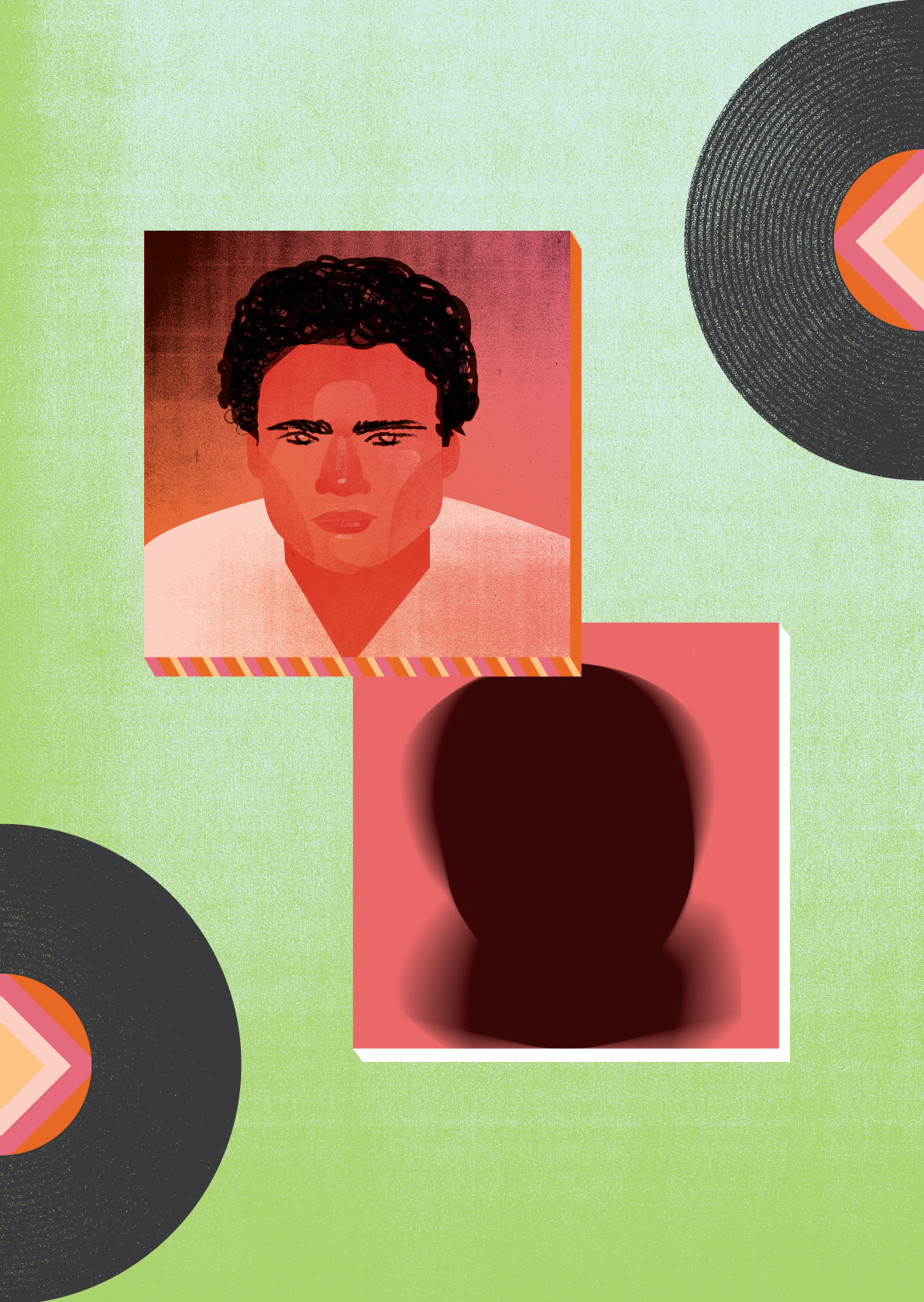 7/8 - Because the Internet Vinyl
By Childish Gambino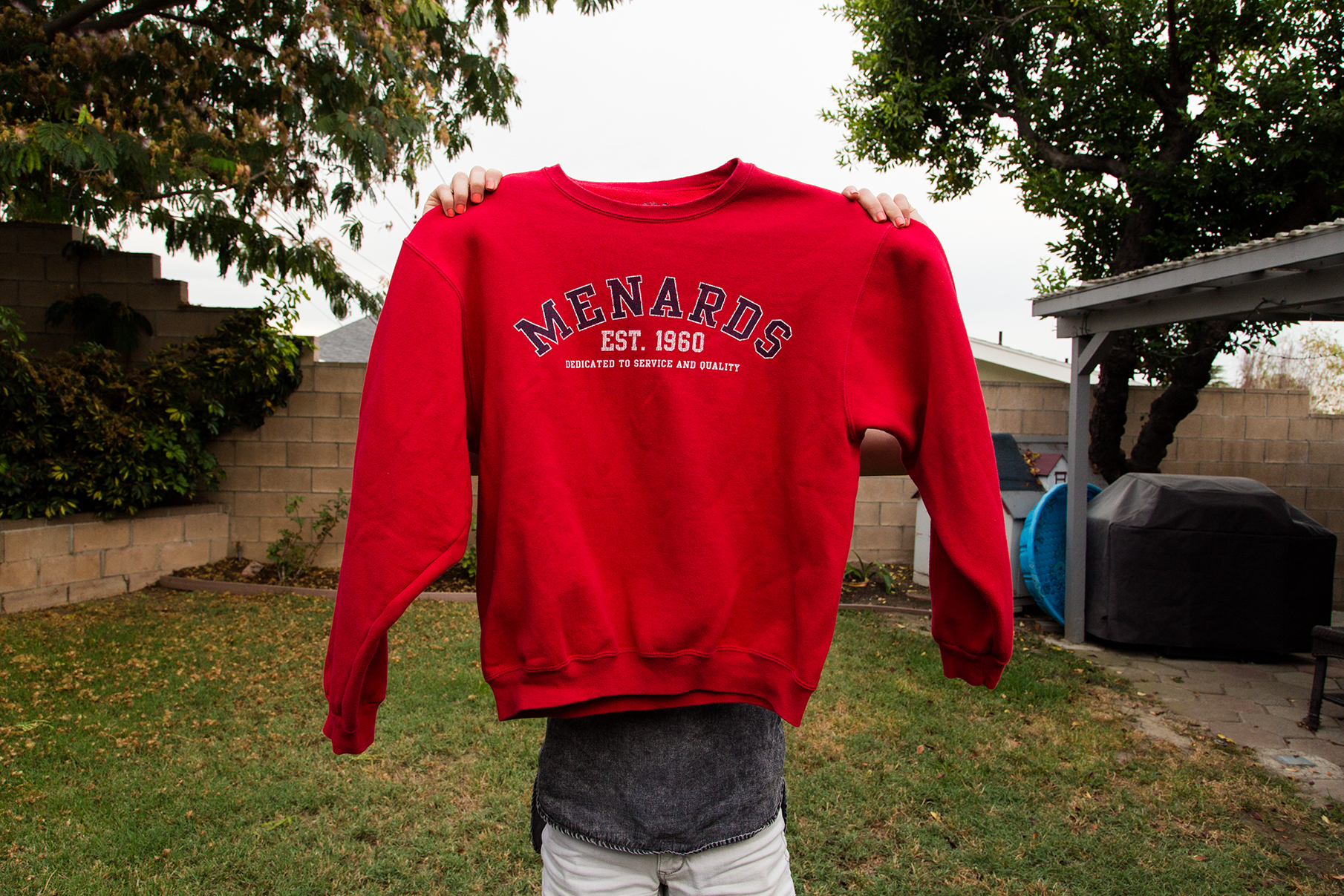 Corey - 7/8 - Menards Sweatshirt
A sweatshirt from Menards, a goofy and amazing gift from my good friend Kyle McNulty.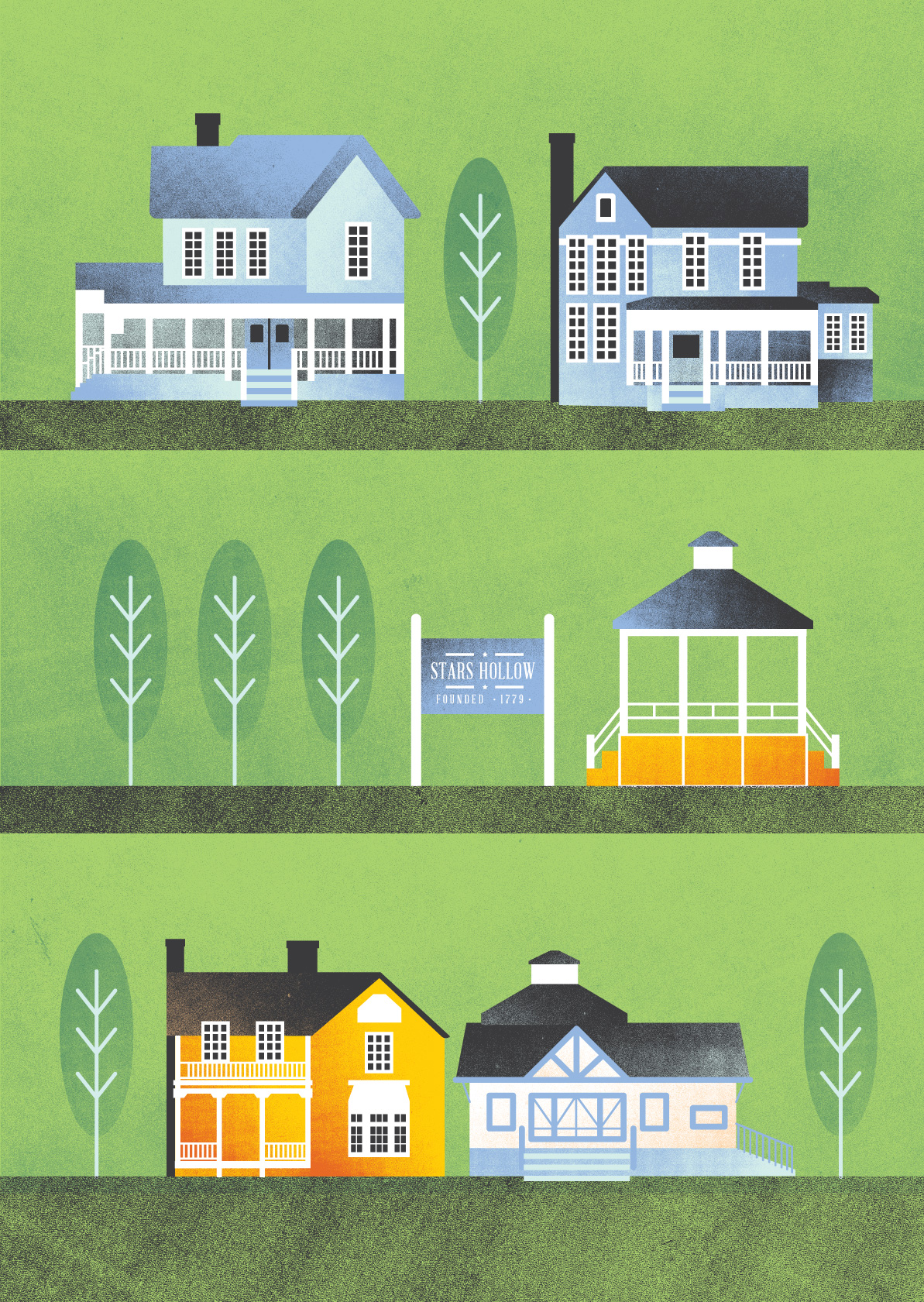 Emily - 7/7 - Gilmore Girls DVDs
One of my favorite shows and fake towns of all time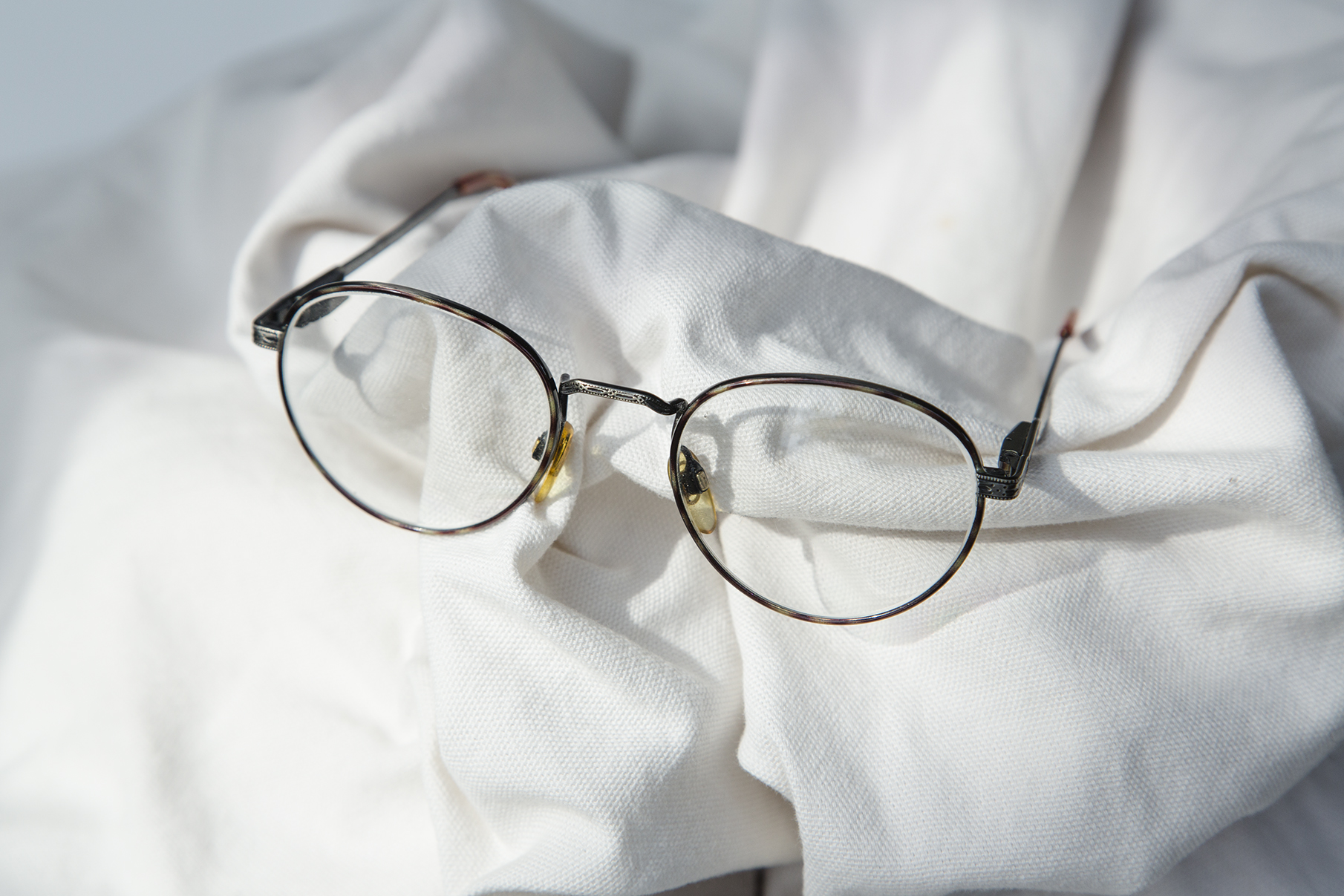 Corey - 7/7 - Childhood Glasses
In honor of my today, my birthday, I thought I'd pull out a thing from the past. These are my glasses, worn by my 8-year-old self. I'm considering bringing them back into rotation.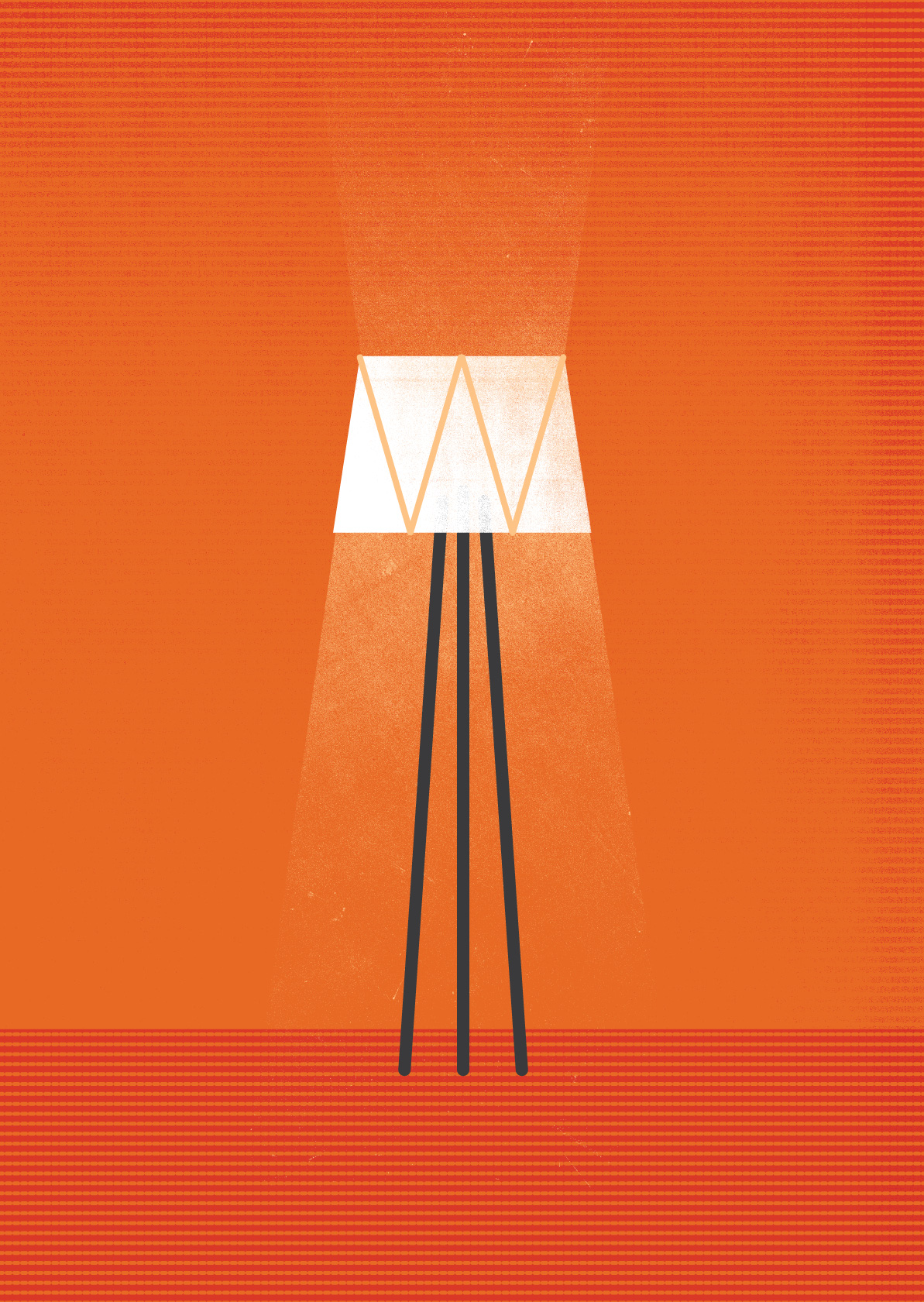 Emily - 7/6 - Lamp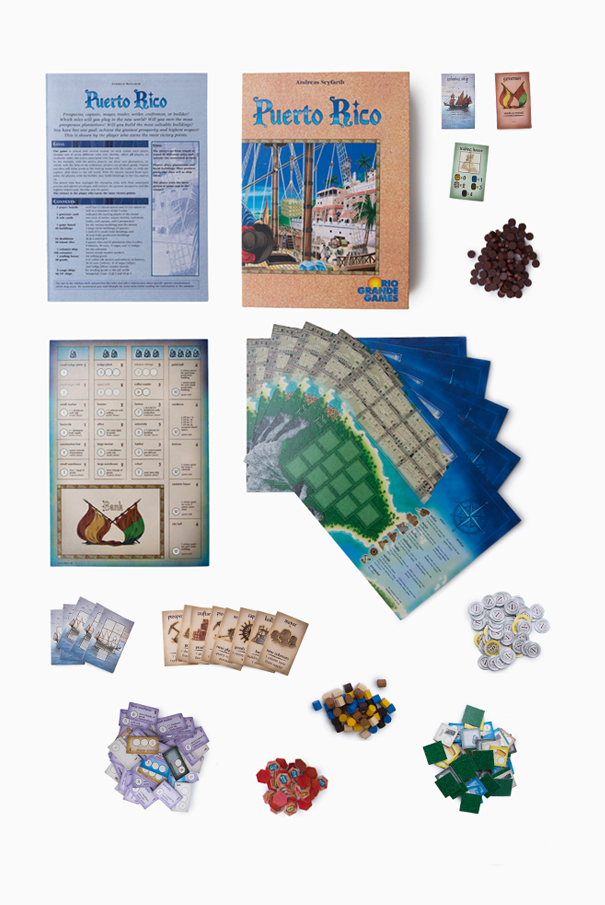 Corey - 7/6 - Puerto Rico
Puerto Rico, a tabletop game. In it, players build up plantations and buy and sell goods. Play! Win!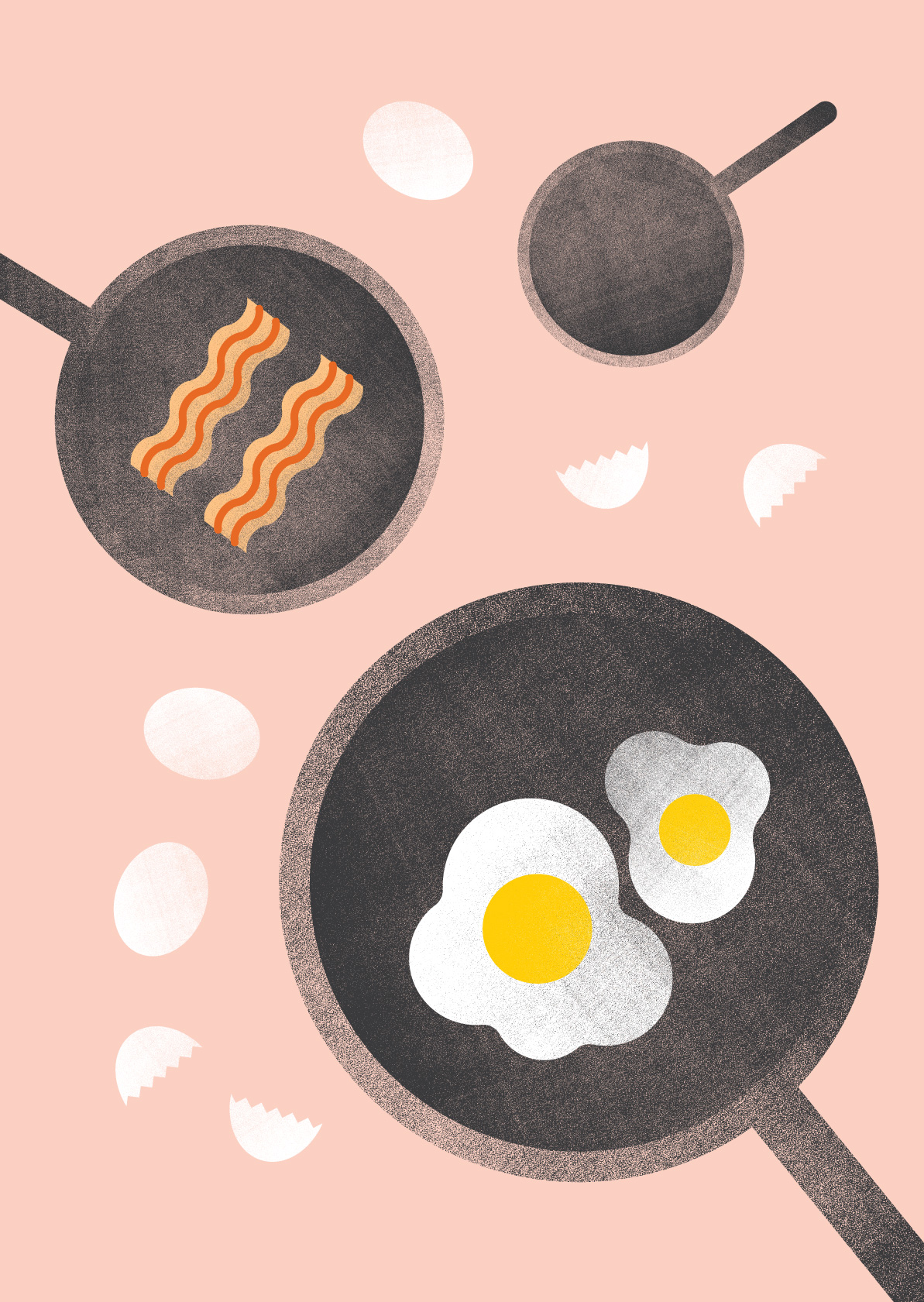 Emily - 7/5 - Pans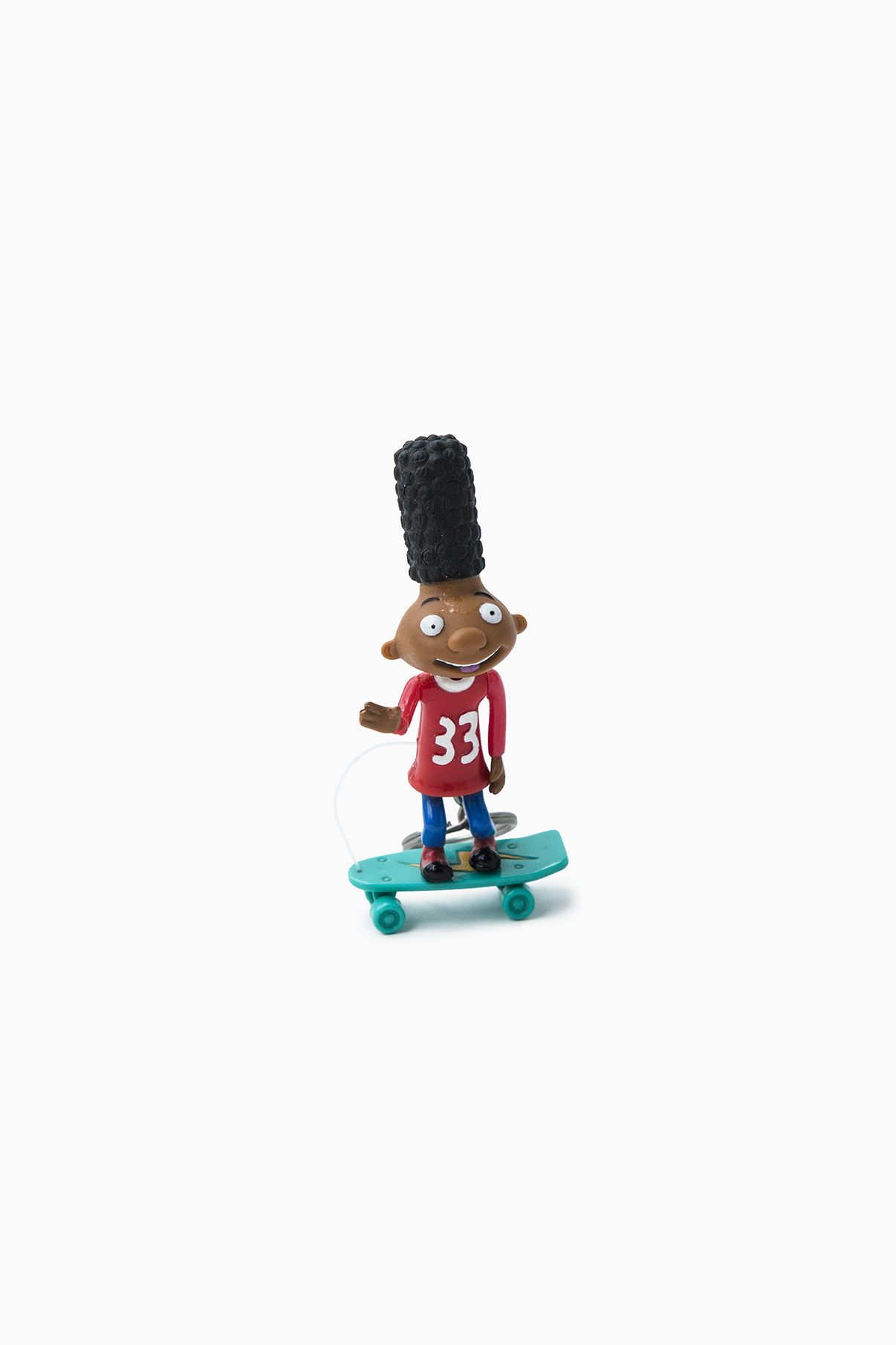 Corey - 7/5 - Gerald Johanssen Keychain
A little keychain figure of Gerald, from my favorite cartoon, Hey Arnold. It came with a helmet, but I lost that long ago.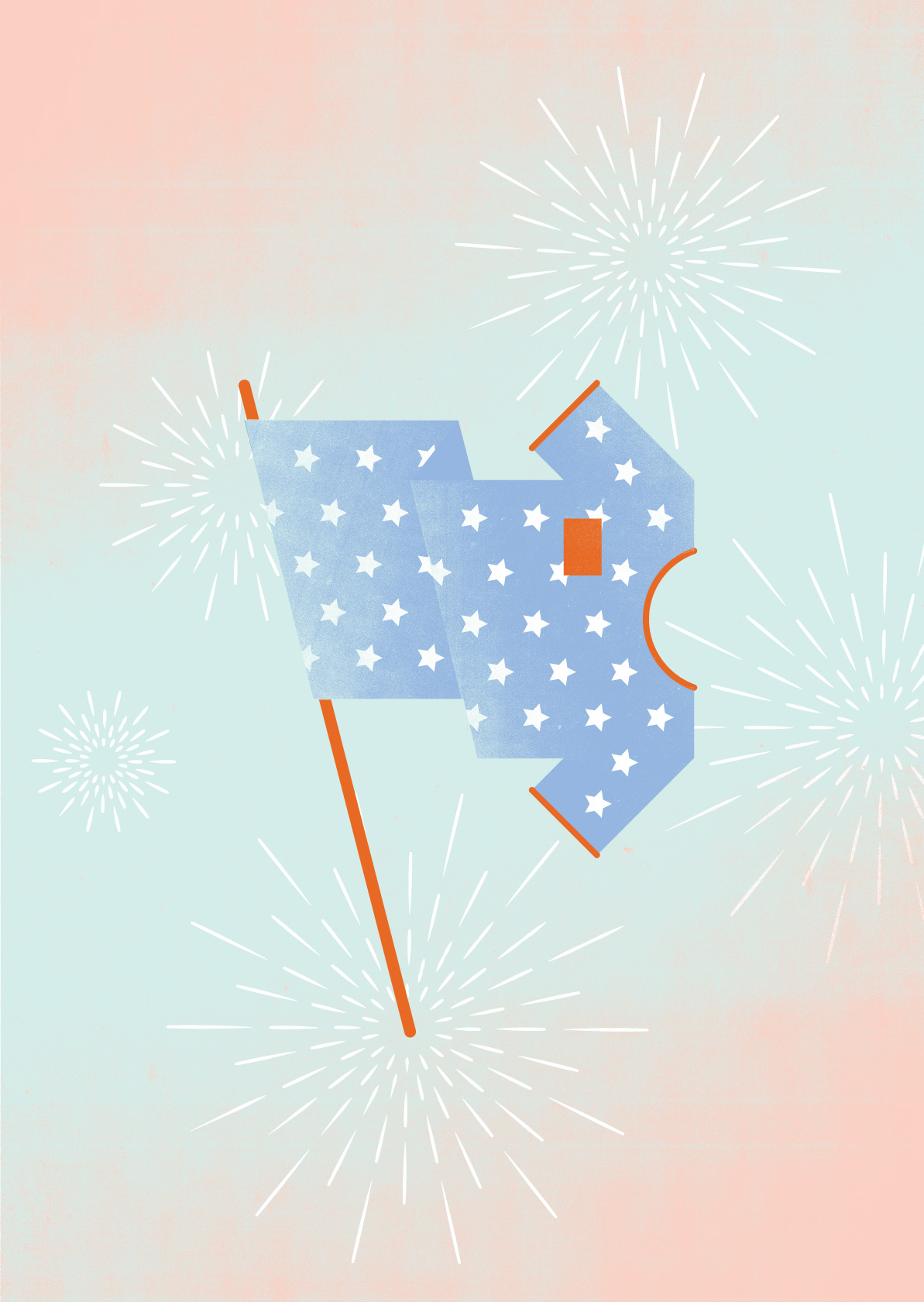 Emily - 7/4 - Patriotic Shirt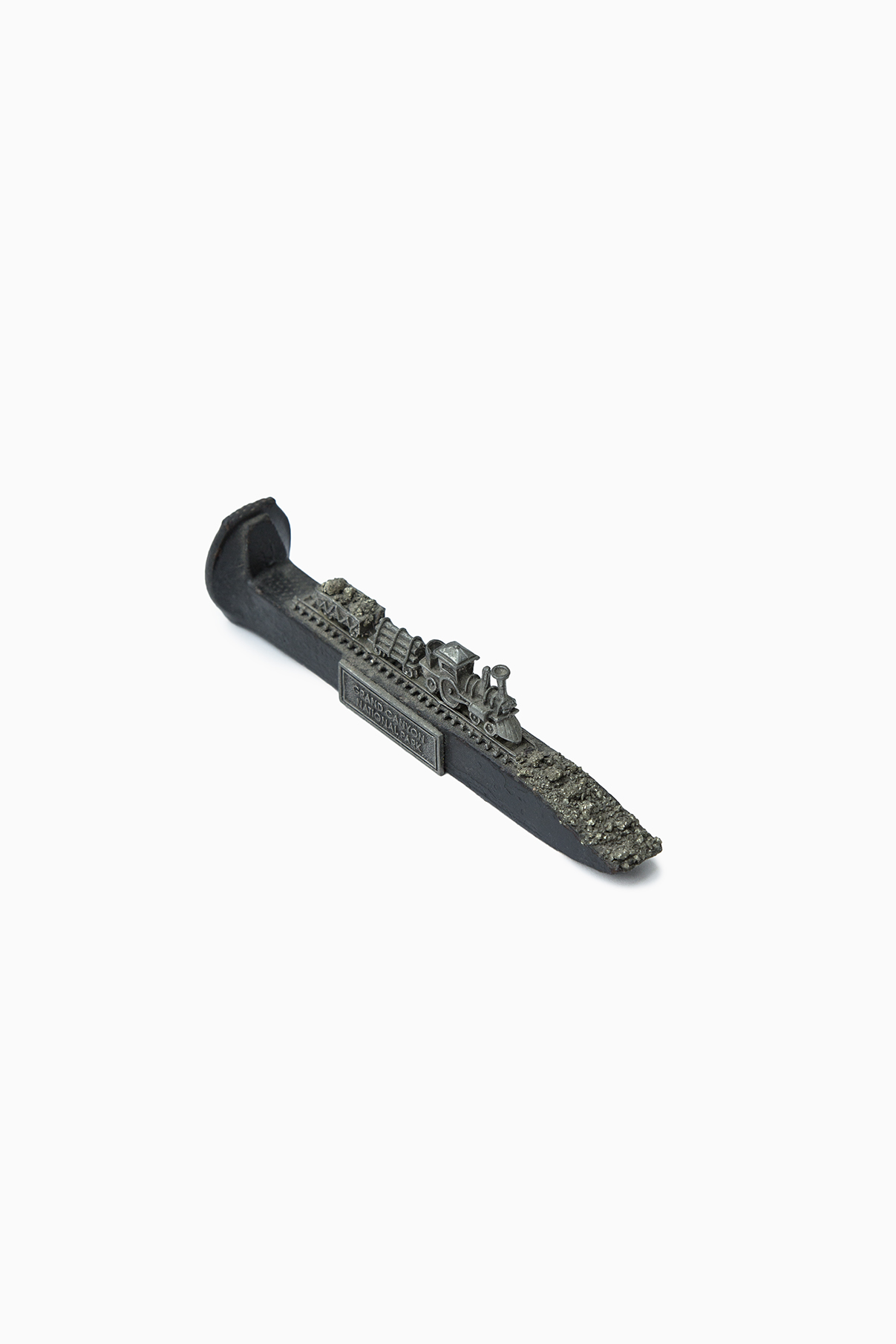 Corey - 7/4 - Grand Canyon Souvenir
If anything is a patriotic thing, it has to be this old-time railroad nail commemorating our most prized National Park, the advances of the industrial revolution, and kitsch.
Emily - 7/3 - Arrested Development DVDs
There's always money in the banana stand.
Jaqk Cellar Playing Cards
A gift from my roommate, because he knows I like playing cards.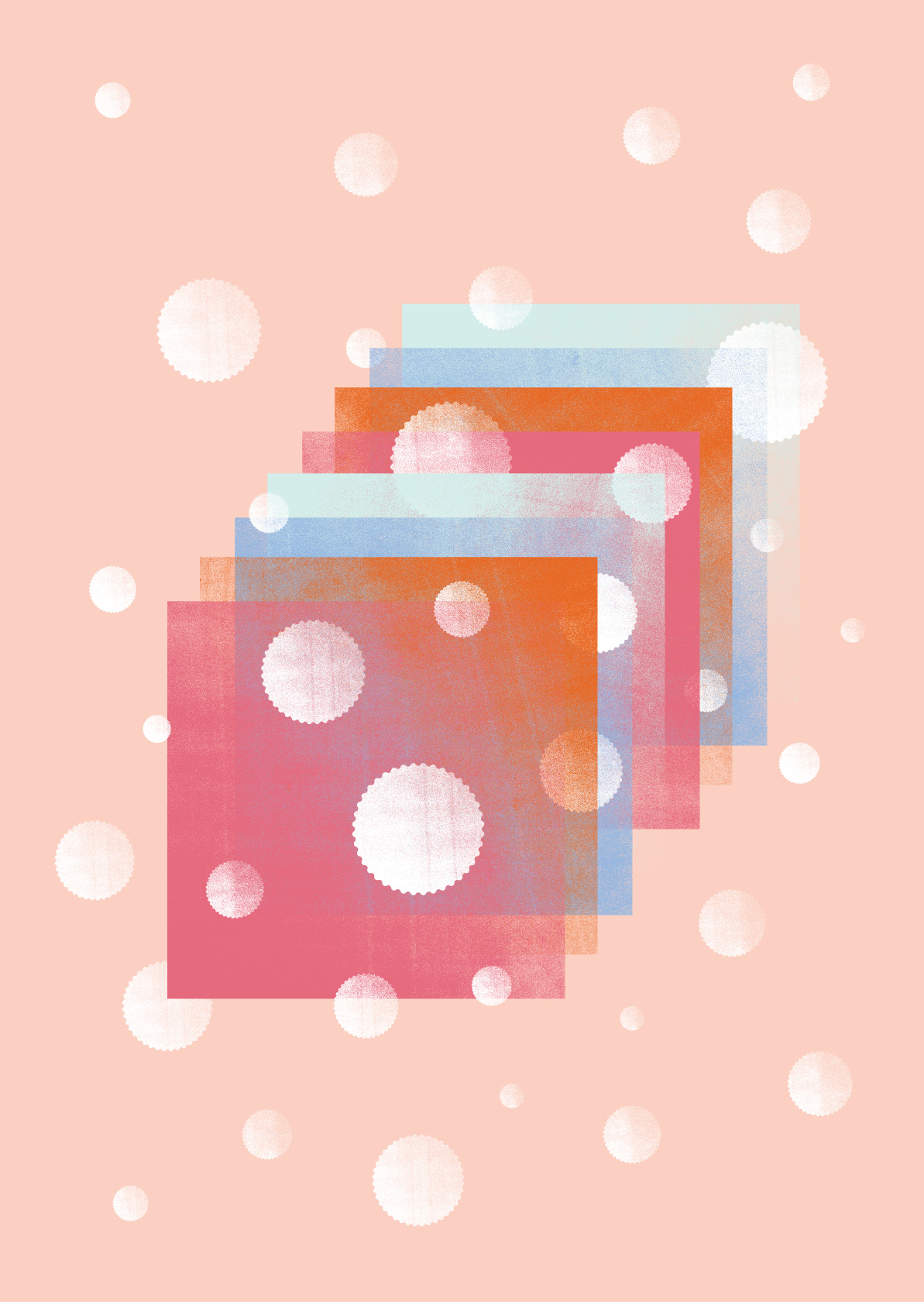 Emily - 7/2 - Craft Supplies
Corey - 7/2 - Shell from Baja, Mexico
I picked this up during a trip down through Baja.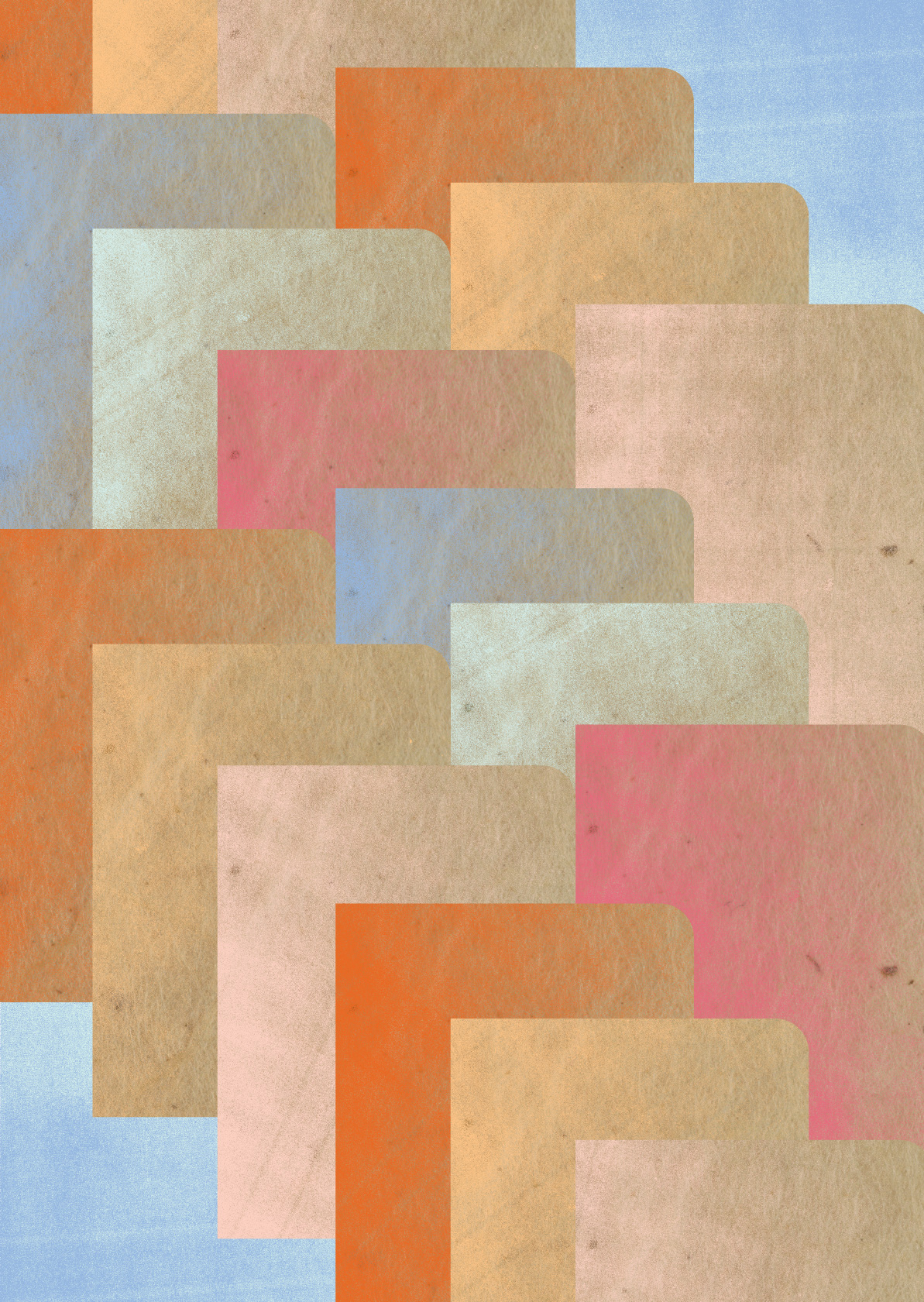 Emily - 7/1 - Moleskine Notebooks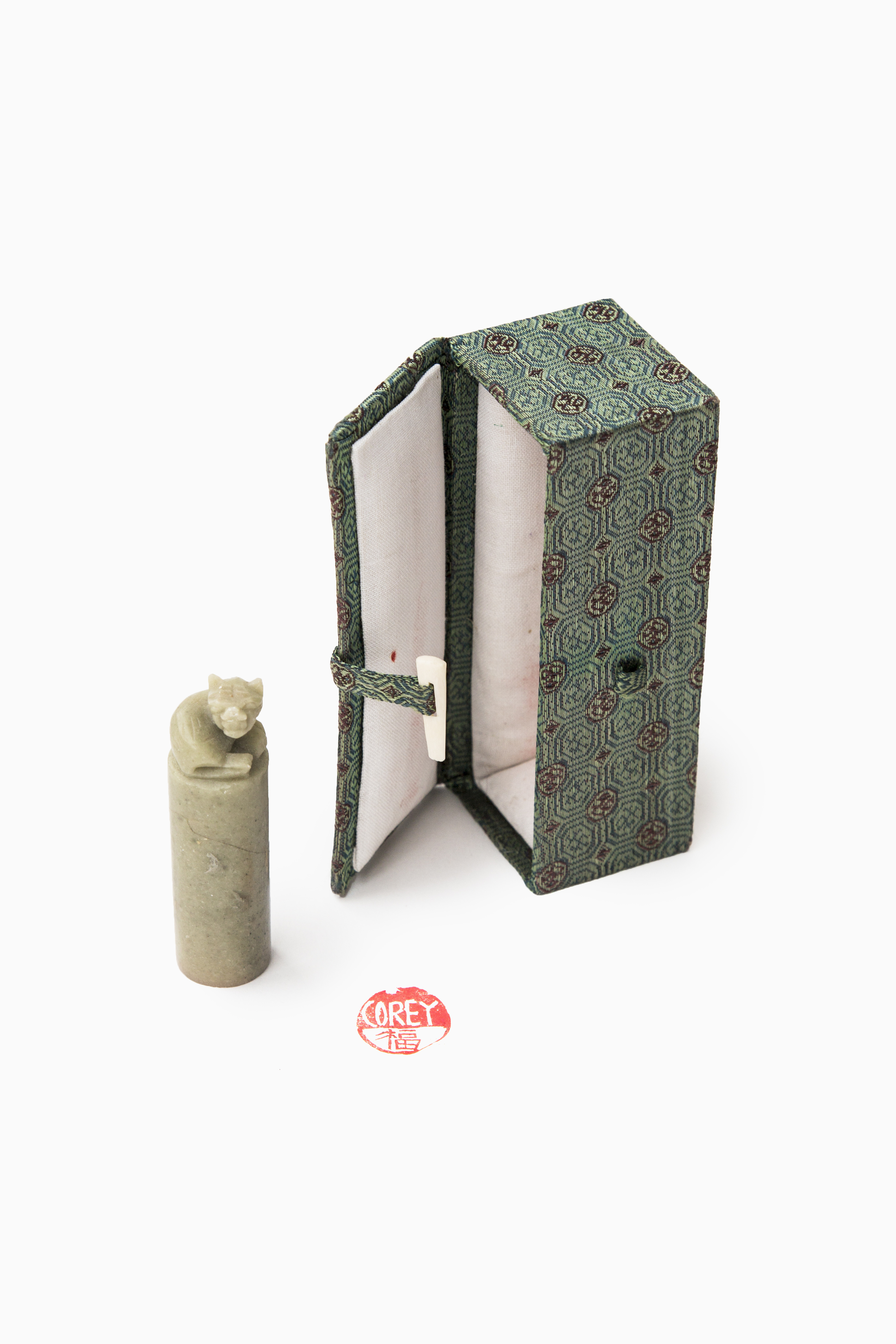 Corey - 7/1 - Stamp with Name, from China
A gift I received from missionaries that my family supported for years and years. It's such a weird little carving. I am glad I've kept it, though the significance of the wild cat is beyond me.
1
2
3
4
5
6
7
8
9
10
11
12
13
14
15
16
17
18
19
20
21
22
23
24
25
26
27
28
29
30
31
32
33
34
35
36
37
38
39
40
41
42
43
44
45
46
47
48
49
50
51
52
53
54
55
56
57
58
59
60
61
62
·
·
·
·
·
·
·
·
·
·
·
·
·
·
·
·
·
·
·
·
·
·
·
·
·
·
·
·
·
·
·
·
·
·
·
·
·
·
·
·
·
·
·
·
·
·
·
·
·
·
·
·
·
·
·
·
·
·
·
·
·
·